There is nothing better than freshly baked bread. This rosemary focaccia bread is so fragrant, comforting, and full of delicate herby flavors.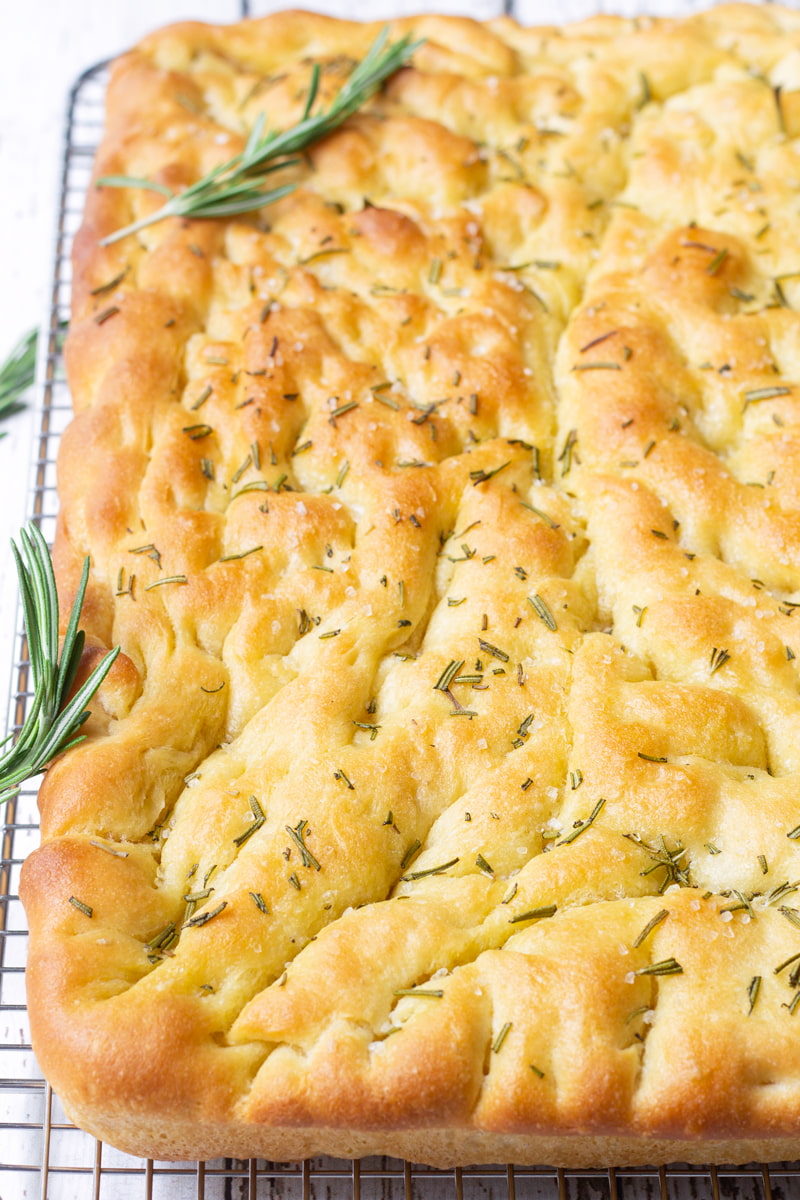 I am so excited to share this recipe with you guys because it's one of my favorites! I love freshly baked bread, especially savory breads. This rosemary focaccia bread is so flavorful. Seriously, every bite is like a piece of heaven. I could eat it for breakfast, lunch, and dinner, and I'd still want more!
Making focaccia might seem daunting, but it's actually pretty easy. All it takes is time for the dough to rise.
The Basics of Focaccia
So, focaccia is made with yeast, which means you have to let the dough rise after kneading. Focaccia, just like most breads, needs to rise twice for about 1 hour each time. The second rise will give it a finer texture, more structured shape, and better bread flavor as the gluten continues to develop.
Check out my post on How to Proof Yeast and Let Dough Rise to learn more about yeast! 🙂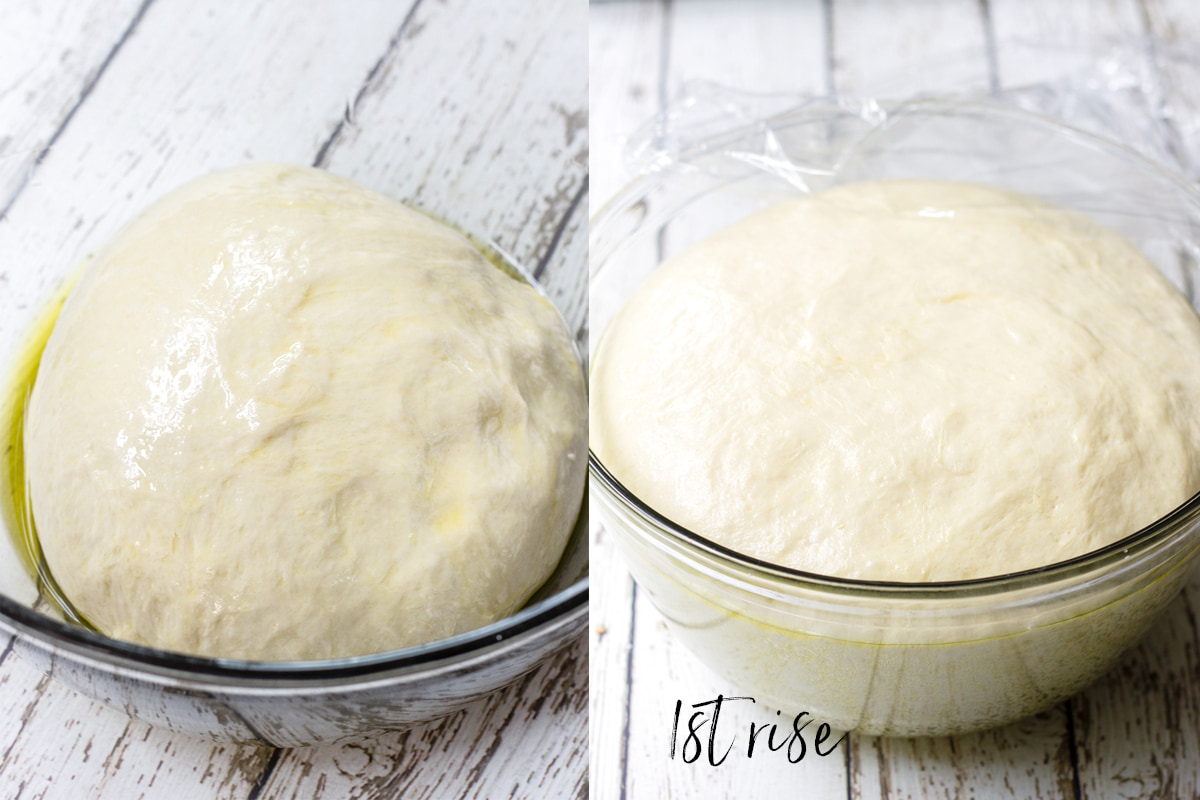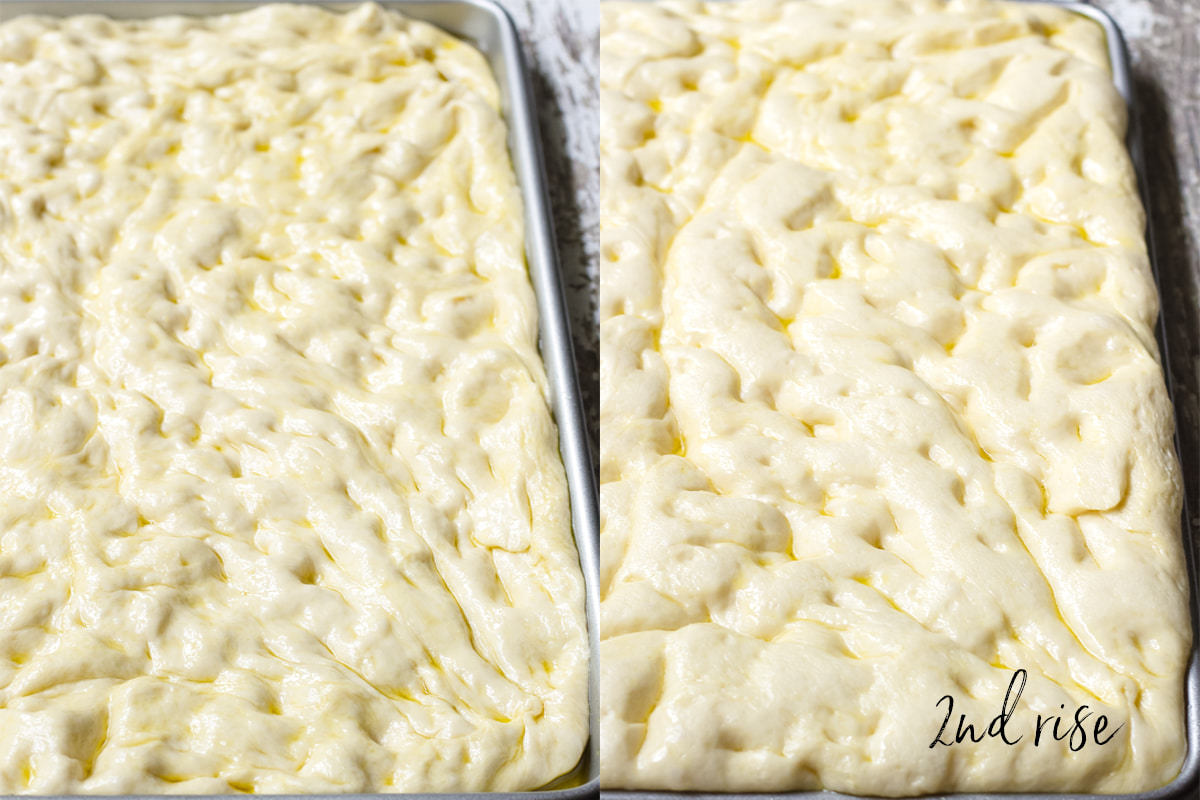 After the second rise, it's all about dressing it with more olive oil, rosemary, and sea salt. The risen dough will already have lots of olive oil flavor, but a final olive oil drizzle, plus freshly chopped rosemary and sea salt flakes are what will bring all the flavors together for extra deliciousness. Then, in the oven it goes for about 20 minutes, and done!
House smelling great: check. Happy tummy: check. Happy heart: check.
Life is good.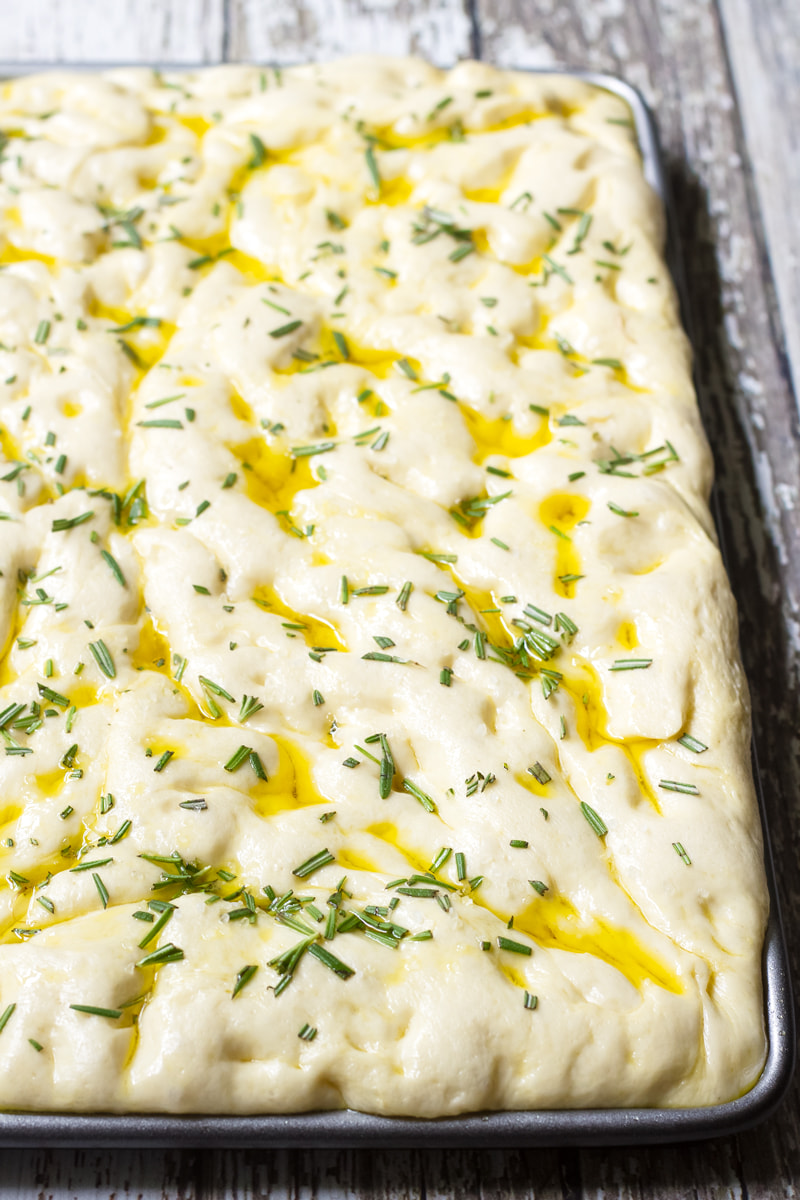 My husband and I finished an entire sheet pan of rosemary focaccia in 1 day. We also made a focaccia turkey sandwich with sundried tomato pesto and fresh mozarella, which was to die for.
The bread is light, with a perfect balance between olive oil and rosemary flavor.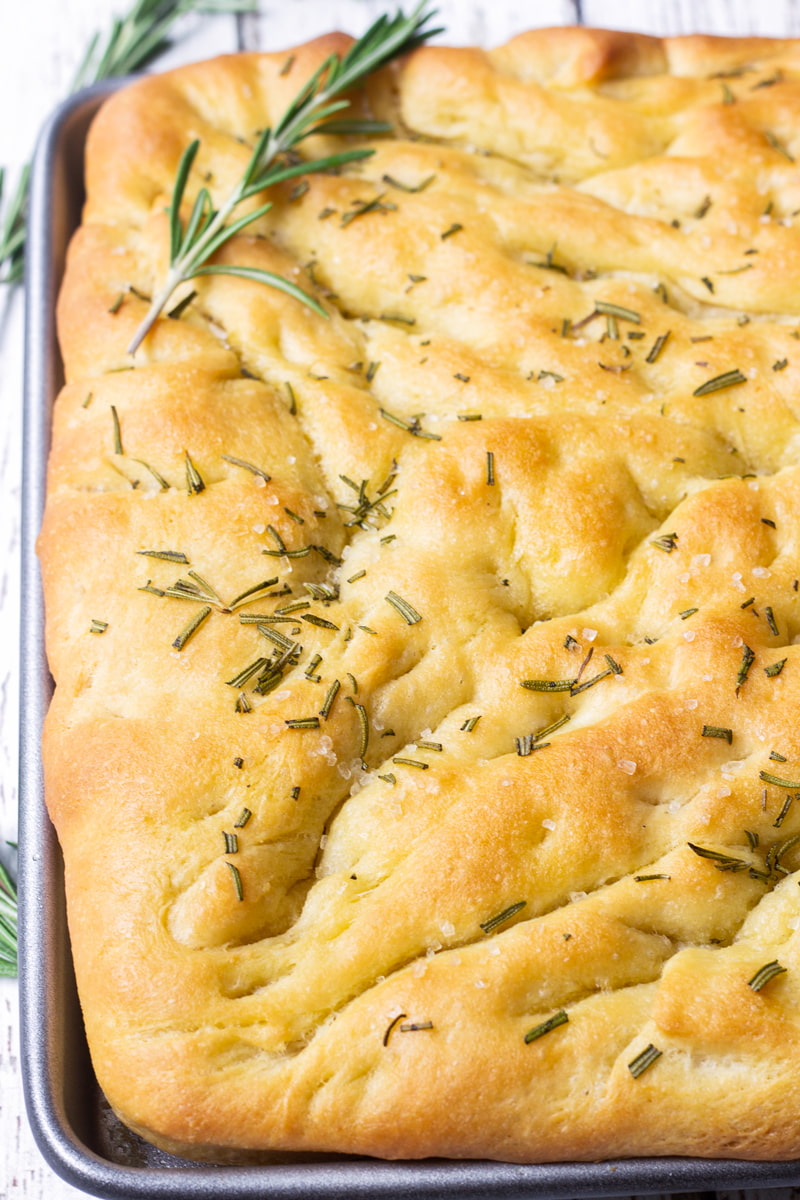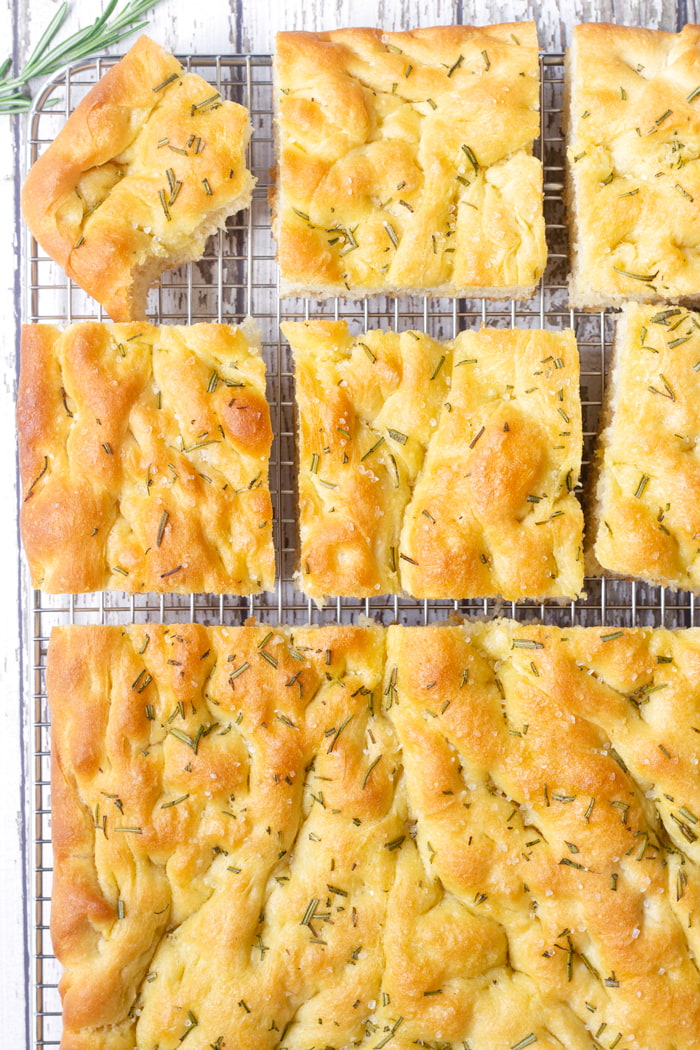 Ideas for Serving Rosemary Focaccia
Sandwiches! Focaccia goes well with freshly shaved deli turkey or simple marinated vegetables.
With soup! It would go well with a bowl of minestrone. Yum.
As is! With some olive oil for dipping.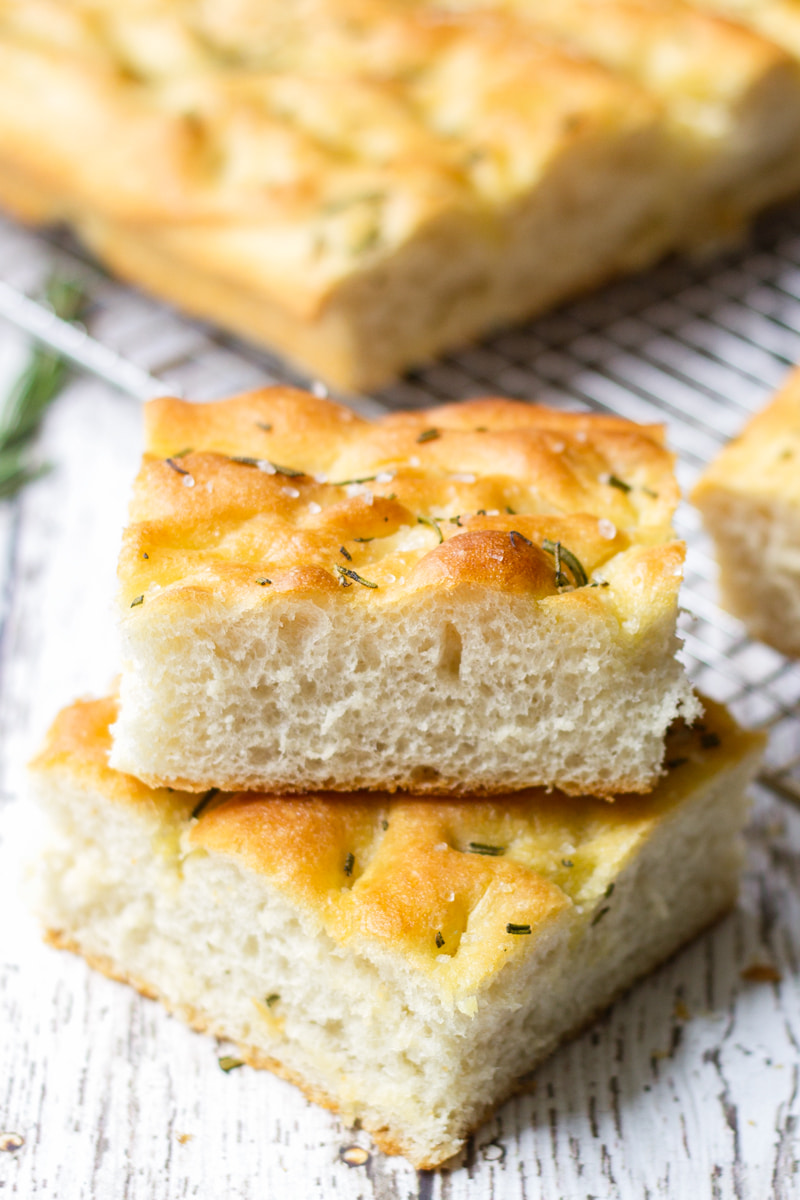 Thanks for reading and please don't forget to pin this recipe!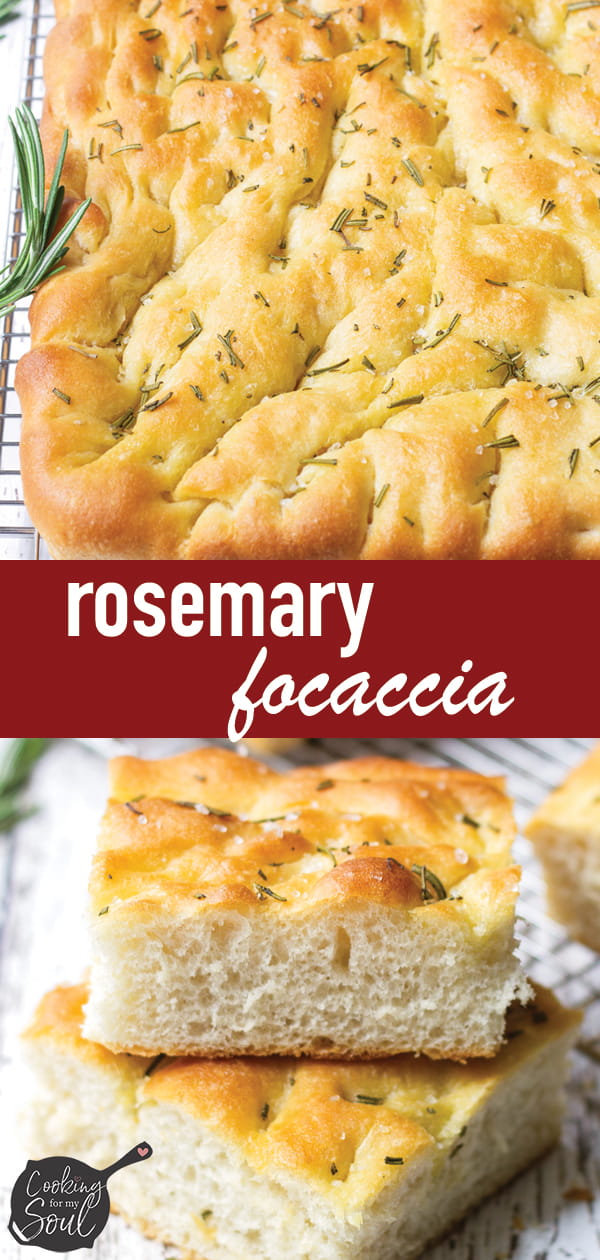 Kitchen Tips
Make sure you knead the dough until smooth and elastic. To quickly test if you've kneaded it enough, poke it with your finger – if it springs back, you're all set.
Create a warm and draft-free environment for the dough to rise beautifully. Check out my guide on proofing yeast for tricks to do this.
This recipe calls for lots of olive oil, so be generous with it. Trust me, it will only make your focaccia taste better.
Use good quality extra virgin olive oil. Olive oil is one of the stars of this recipe.
Use fresh rosemary for best results. Dried rosemary is more potent and could make the focaccia taste too strong.
Rosemary Focaccia
This rosemary focaccia bread is so delicious, comforting, and delicate. The olive oil, rosemary, and sea salt make this savory Italian bread the best thing ever!
Ingredients
1 ½

cups

warm water

(between 110 to 115 degrees F)

2

teaspoons

granulated sugar

1

(0.25 ounce) package

active-dry yeast

4 ¼

cups

all-purpose flour

plus more as needed

⅓

cup

extra virgin olive oil

plus more for pan and drizzling

2

teaspoons

Kosher salt

2

sprigs

fresh rosemary, coarsely chopped

½

teaspoon

coarse sea salt for topping
Instructions
In a bowl of a stand mixer with the dough hook attachment, combine warm water (110 to 115 degrees F), yeast, and sugar. Stir to combine and let sit for 10 minutes until foamy. See more about proofing yeast.

Add 4 cups of the flour, salt, olive oil, and Kosher salt to the yeast mixture, and mix/knead at low speed to combine. Increase to medium speed, and continue mixing/kneading until dough is smooth and elastic, about 6-8 minutes. If too sticky, add the remaining ¼ cup flour.

Remove dough from bowl and shape dough into a ball with your hands. Oil a large bowl with olive oil. Place the dough in the bowl, making sure to coat the dough with the oil. Cover with bowl with plastic wrap and let rise in a warm place for 1 to 1.5 hours, or until doubled in size.

Once dough has doubled in size, oil a 15x10 inch sheet pan with more olive oil, about 2 tablespoons. Dump the dough onto the prepared sheet pan. Using all your fingers, stretch to a rectangle, turning the dough over a few times to make sure both sides are covered with oil.

Deliberately, with all your fingers, press down almost all the way down to the bottom of the pan (yes, you heard me!) without creating large holes.

Cover the dough with plastic wrap again, and let rise for 1 hour in a warm and draft-free place.

While dough is rising, preheat oven to 425 degrees F.

Remove plastic wrap. Drizzle more olive oil (I know, it's a lot!) on the dough, about 2-3 more tablespoons. Sprinkle the top evenly with rosemary and ½ teaspoon flaked sea salt.

Bake until golden brown, about 20 minutes on the middle rack. Remove from oven and brush with more olive oil, and let cool for 10-15 minutes before serving. Enjoy!
Notes
Disclaimer: Nutritional values (per serving) are approximates only.
Nutrition
Serving:
1
slice
|
Calories:
261
kcal
|
Carbohydrates:
41
g
|
Protein:
6
g
|
Fat:
8
g
|
Saturated Fat:
1
g
|
Polyunsaturated Fat:
1
g
|
Monounsaturated Fat:
5
g
|
Sodium:
468
mg
|
Potassium:
58
mg
|
Fiber:
1
g
|
Sugar:
1
g
|
Vitamin A:
1
IU
|
Vitamin C:
1
mg
|
Calcium:
10
mg
|
Iron:
3
mg