This week at Cooking For My Soul, it's all about this easy key lime pie! I love everything about it: the homemade graham crust, the key lime filling, and the decoration. This key lime pie is so delicious and simple. Make it for a special occasion…or just because.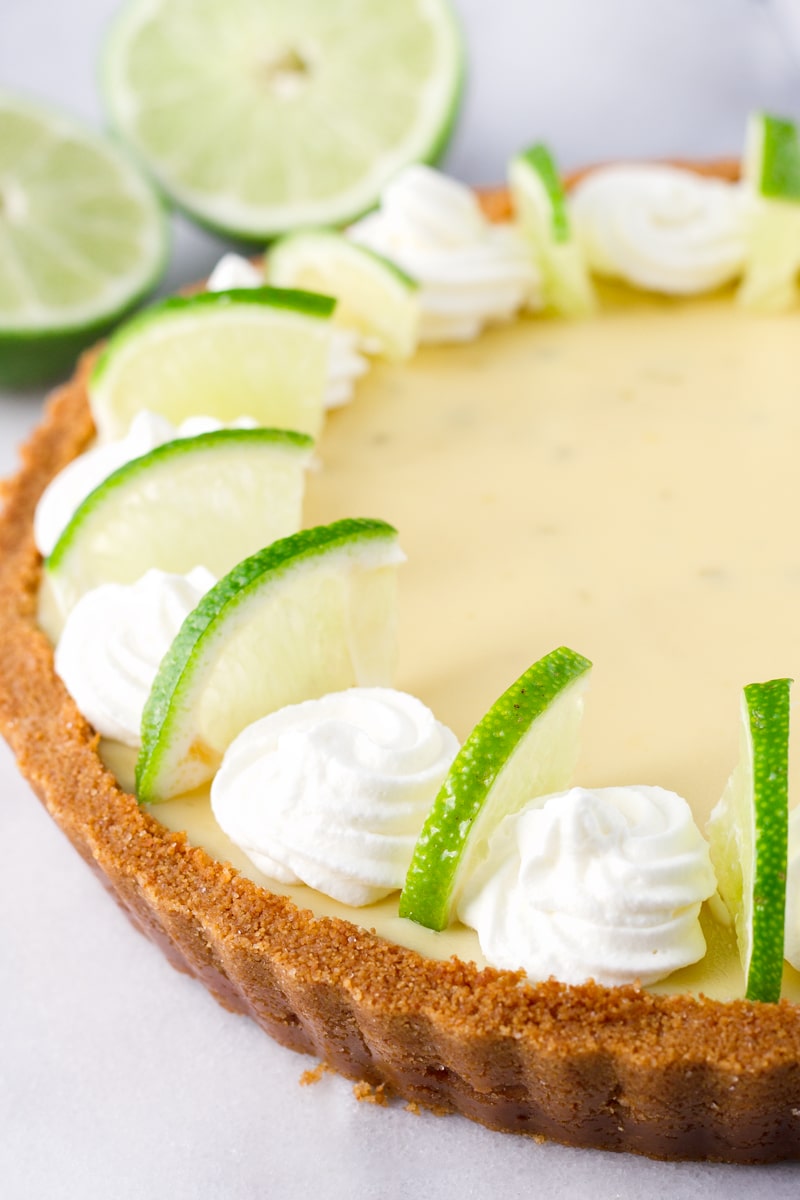 I am seriously obsessed with this super easy key lime pie! It requires only a few ingredients and a bit of patience while it chills in the fridge. The homemade graham pie crust is ultra delicious and simple. The filling, made of condensed milk, lime juice, lime zest, eggs, and sour cream is perfectly sweet and balanced. And to make it pretty, just decorate it with whipped cream and lime slices!
I've made it several times, so I'll share all the tips and tricks with you so you can make a foolproof key lime pie. It's one of my all-time favorite desserts, especially during summer. Just imagine…sitting by the porch, eating a delicious slice of key lime pie with a glass of blackberry iced tea…so so good!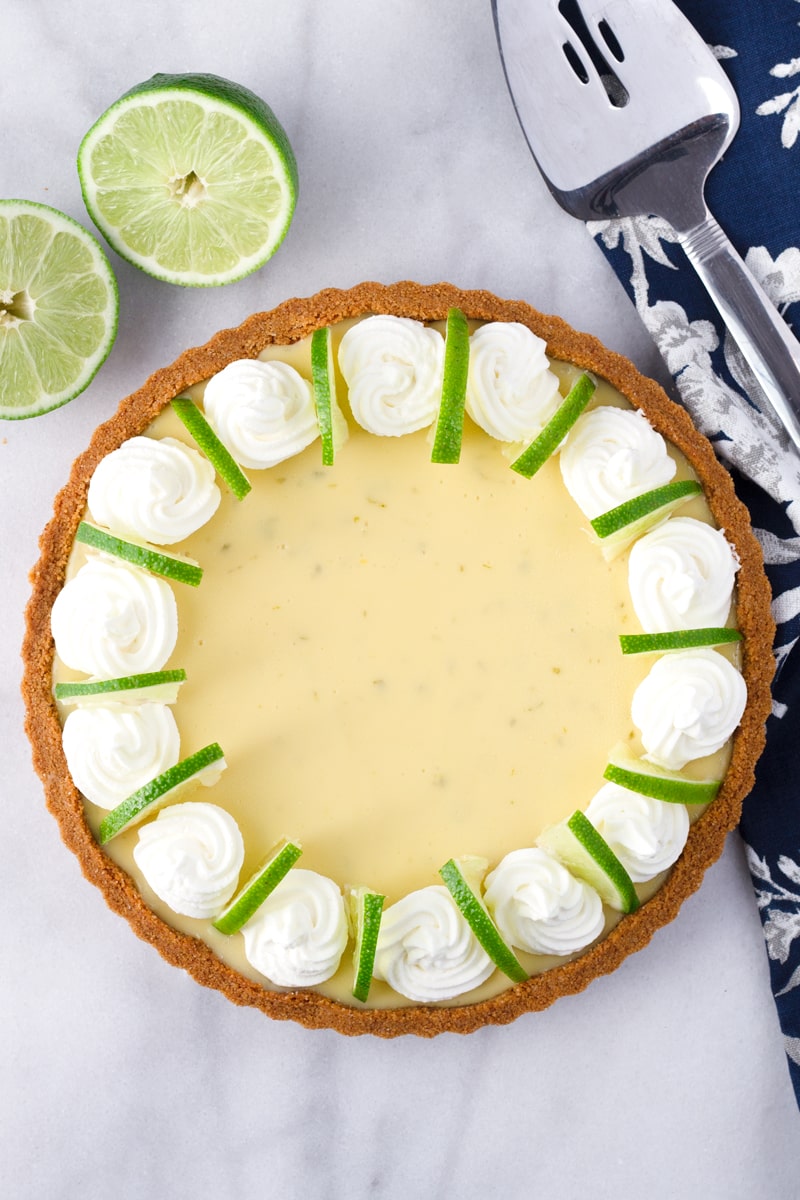 Let's run through the key lime pie ingredients to start –
For the crust:
graham crackers
granulated sugar
melted butter
For the filling:
sweet condensed milk
egg yolks
key lime juice
lime zest
sour cream
Decoration:
whipped cream (heavy cream, sugar, vanilla extract)
lime slices
That's all you need. Note: If you can't find key limes, you can use regular limes or even bottled key lime juice. I love Nellie & Joe's Famous Key West Lime Juice, which you can get at your local grocery store or online. The quality is excellent and tastes great, but freshly squeezed lime juice is definitely best!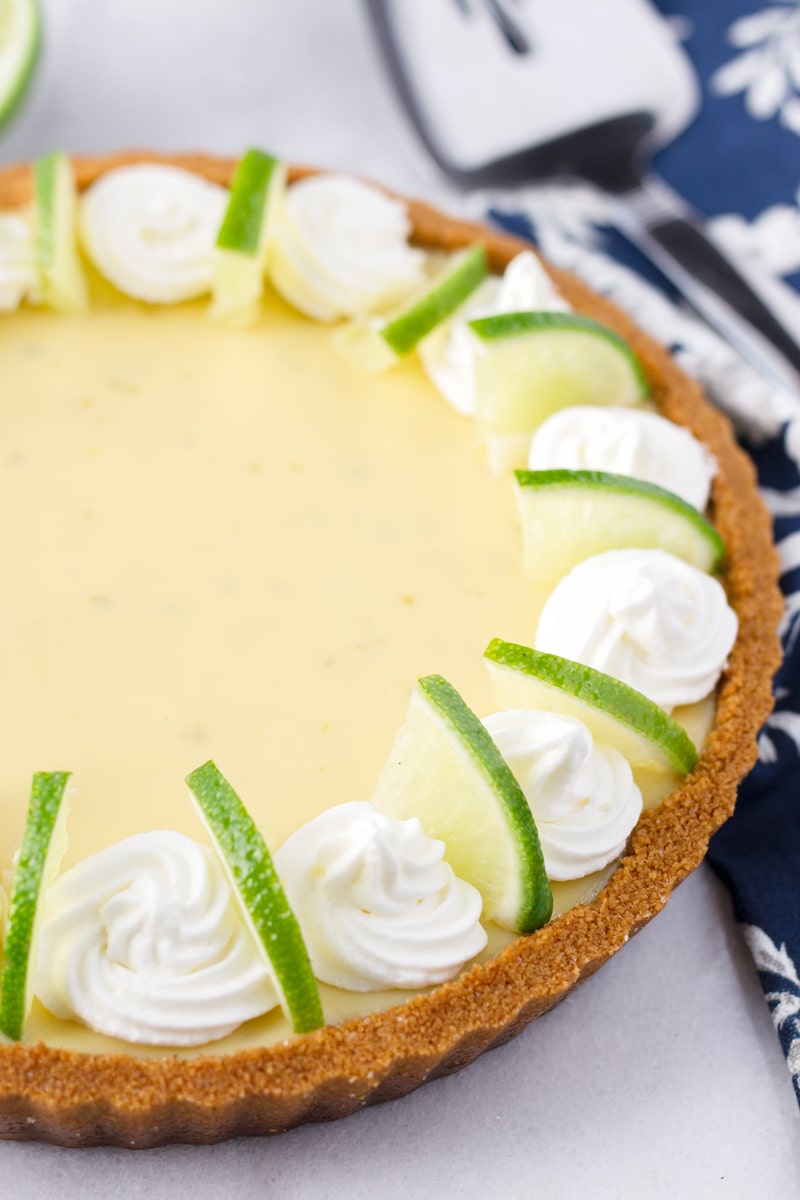 How to Make the Graham Cracker Crust
Making the key lime pie crust is super easy! In a food processor, pulse the graham crackers with granulated sugar and milted butter until you get fine crumbs. The transfer the mixture to a shallow 9 inch pie or tart pan. I like to use a tart pan with a removable bottom, such as this one. It makes removing the key lime pie from the pan super easy!
After you transfer the graham cracker mixture to the tart pan, spread it out and press down the bottom and along the edges of the pie dish with a measuring cup until the mixture is compact throughout.
Then bake at 350 degrees F for about 10 minutes until set and toasted.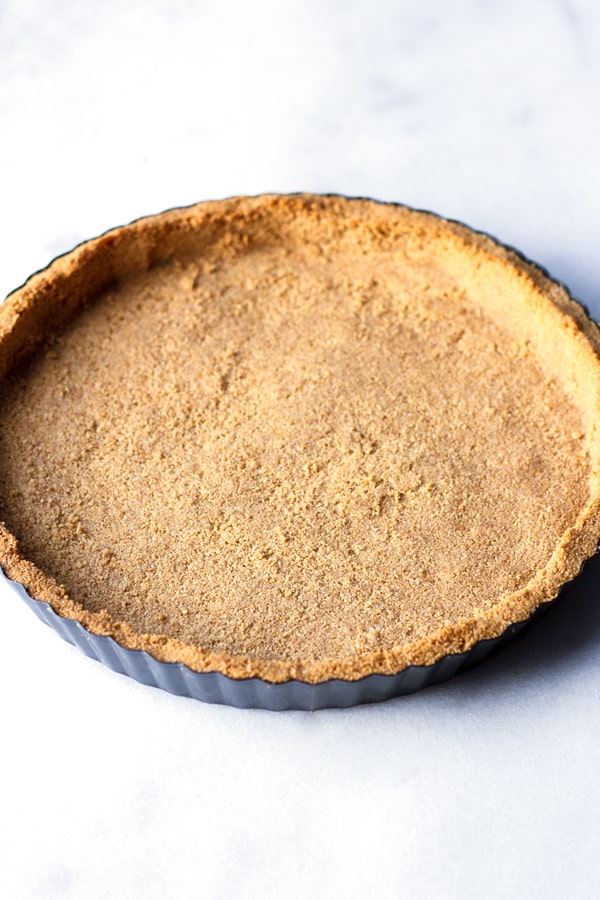 The Key Lime Pie Filling
The filling is really simple too: in a bowl, mix key lime juice with condensed milk, sour cream, egg yolks, and lime zest. Yup, that's all. Ready to go in the pre-baked pie crust for baking!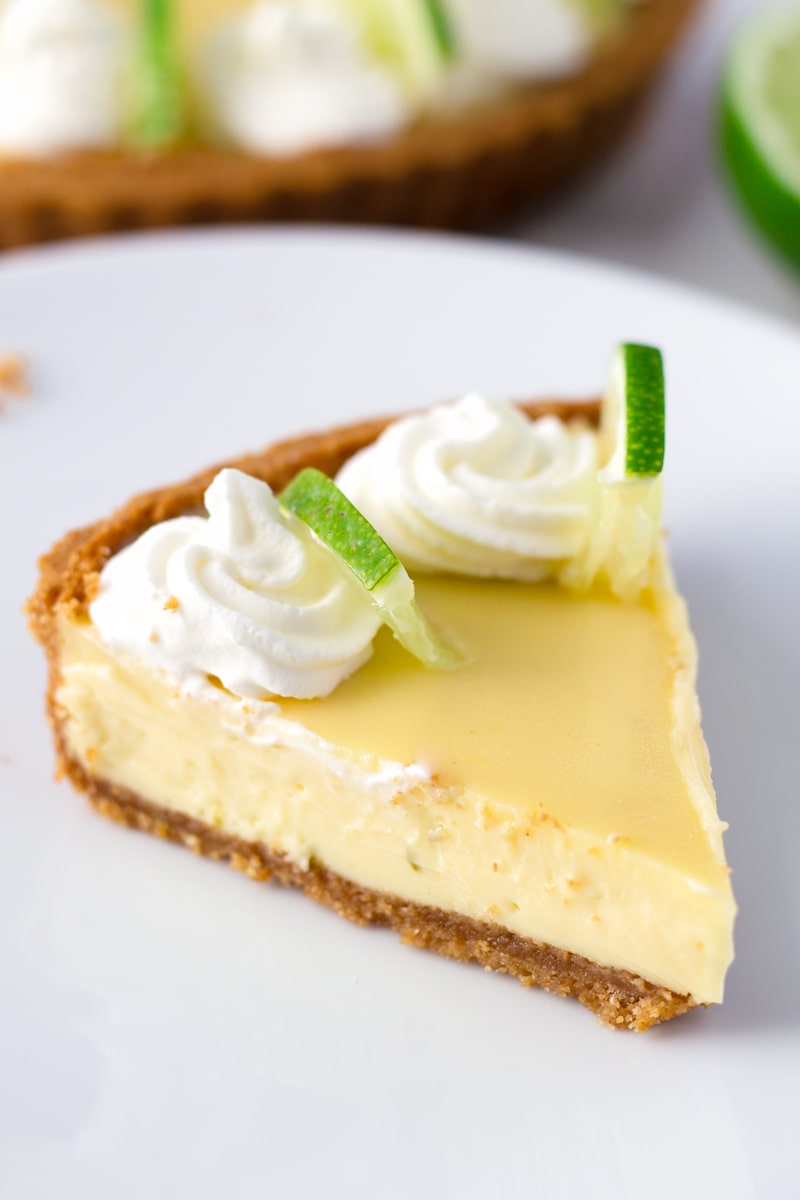 How to Make this Key Lime Pie
Alright, so now that we talked about the graham pie crust and the filling, let's go over how to make this easy key lime pie plus some tips and tricks. Per usual, you can find the exact measurements in the recipe card.
Make the graham cracker crust: in a food processor, pulse graham crackers until you get fine crumbs. Then add granulated sugar and melted butter, and process until well combined. Transfer mixture to a shallow 9 inch round pie or tart pan with a removable bottom.
Using a measuring cup or anything with a round edge, press down the crumbs to the bottom of the pan and along the edges until firmly packed throughout the pan. See picture above. Make sure the bottom and the sides are even in thickness.
Pre-bake the crust for about 10 minutes at 350 degrees F. Why? This will help the crust set before you add the filling. It will provide a better structure to the pie.
Meanwhile, make the filling. Whisk sweet condensed milk, sour cream, egg yolks,  key lime juice, and lime zest until combined. Tip: If possible, don't skip the sour cream – it helps to balance out the acidity of the lime juice and also adds richness to the filling.
Pour into the pre-baked crust and bake at 350F for 16-18 minutes, until the edges are set and the center is slightly loose. Why? Baking the filling will help the pie set thanks to the egg yolks.
Let cool completely, and then chill in the fridge for at least 6 hours or overnight. Tip: wait the full 6 hours before cutting into it so it has time to fully set.
Before serving, decorate with whipped cream and lime slices. See the recipe card for instructions on how to make whipped cream from scratch.
That's all!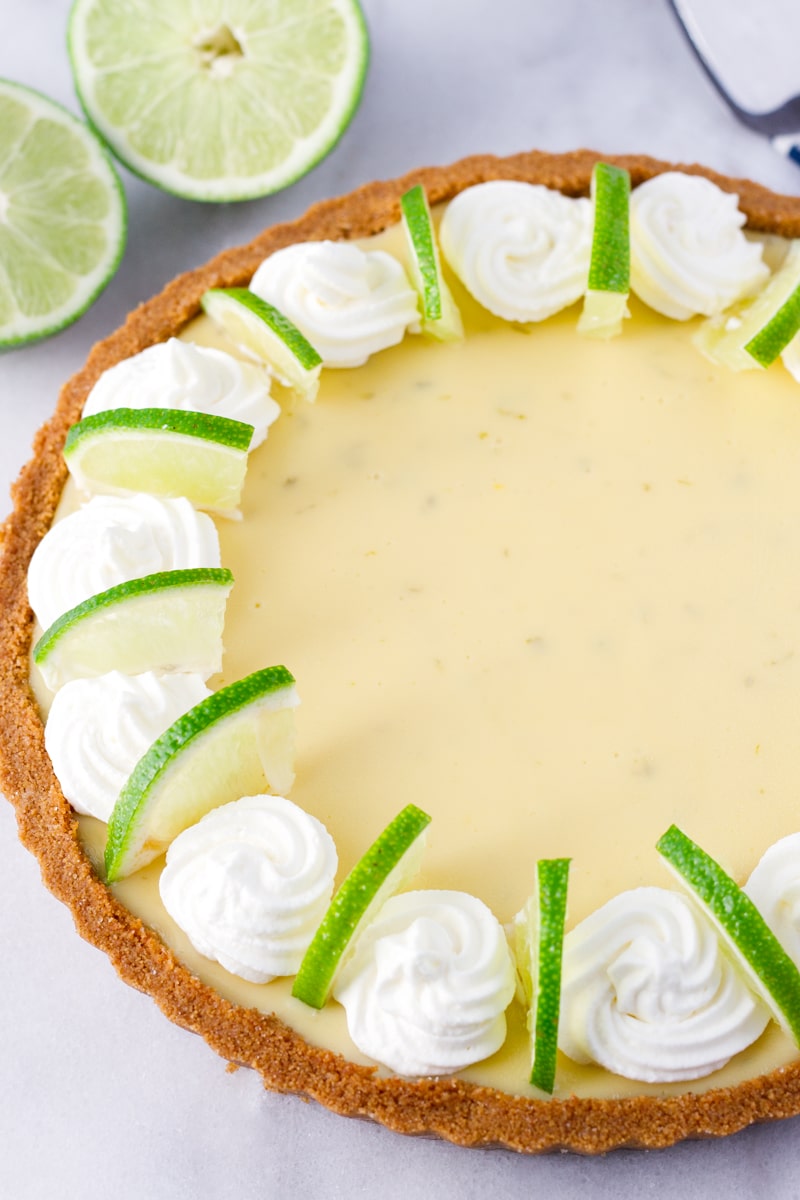 I hope you like this delicious pie! Every time I make key lime pie, my husband gets really really excited. It's that good! Let me know how it turns out, and thank you so much for reading.
If you have a sweet tooth, like me, check out my fave desserts:
And please don't forget to pin my recipe: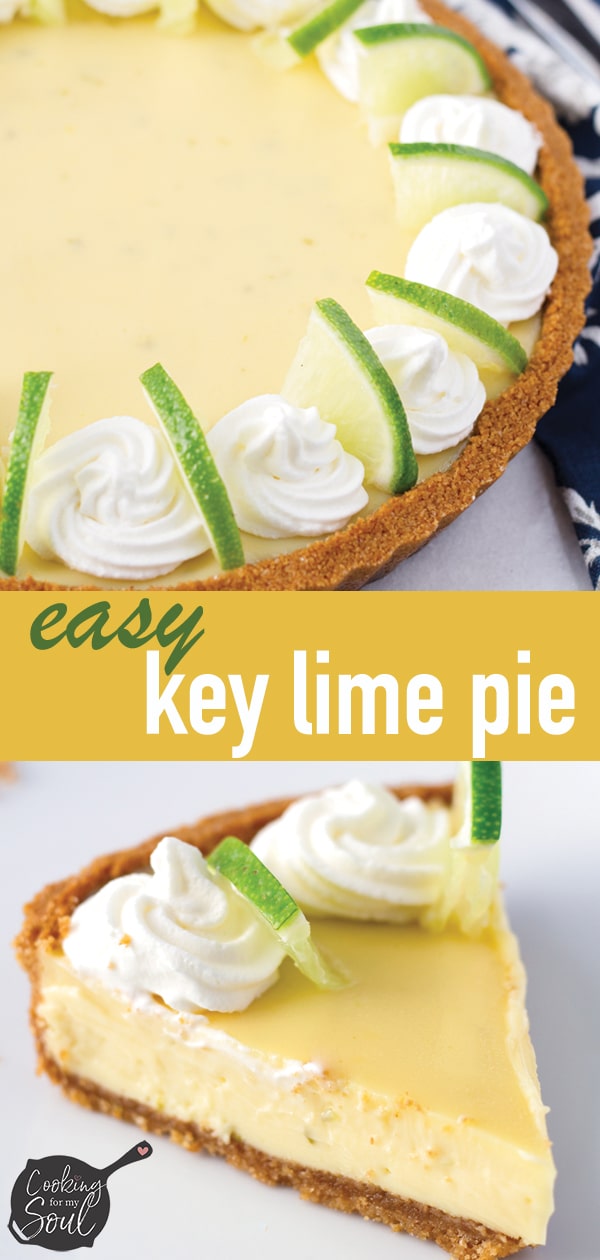 If you try my recipe, use #cookingformysoul on Instagram! Follow me on Pinterest, Instagram, Facebook for the latest fun updates and recipes!
Easy Key Lime Pie
Key lime pie is a favorite at my house! Made with a homemade graham pie crust and a super easy custard filling. You will love it!
Ingredients
Graham pie crust
10

graham crackers

-

(2 ½ x 5 inches each)

2

tablespoons

granulated sugar

5

tablespoons

unsalted melted butter
Pie filling
21

oz

sweet condensed milk

4

large egg yolks

3/4

cups

key lime juice

1

teaspoon

lime zest

1/4

cup

sour cream
Decoration (whipped cream + garnish)
1

cup

cold heavy cream

1/4

cup

granulated sugar

1/4

teaspoon

vanilla extract

Thin lime slices
Instructions
Preheat oven to 350 degrees F.

Make the crust: in a food processor, pulse the graham crackers until fine crumbs form. Add the sugar and melted butter, and process until well combined. Transfer mixture to a shallow 9-inch tart pan with a removable bottom. Press down bottom and sides using a measuring cup. Place prepared crust on a sheet pan to prevent any crumbs from falling in the oven. Bake for about 10 minutes, until the crust is set, slightly golden brown and fragrant. Let cool slightly.

Meanwhile, whisk sweet condensed sugar with egg yolks, sour cream, key lime juice, and lime zest until a smooth mixture forms.

Pour the filling into crust and smooth out the surface. Place pie on a sheet pan, if you prefer. Bake for 16-18 minutes until filling is set on the edges. The center should be slightly loose. Cool completely at room temperature, and then chill for about 6 hours or overnight in the refrigerator.

Beat the heavy cream on high speed using a stand mixer or electric mixer, using whisk attachment, until soft peak forms. Incorporate sugar, vanilla, and lime zest, and continue to beat until stiff peaks form.

Decorate the pie using your favorite decorative pipe. Garnish with lime wedges. Enjoy!