This fresh homemade strawberry lemonade is a must during hot summer days! Made with freshly squeezed lemon juice and fresh strawberries, this sweet and refreshing lemonade will become a favorite.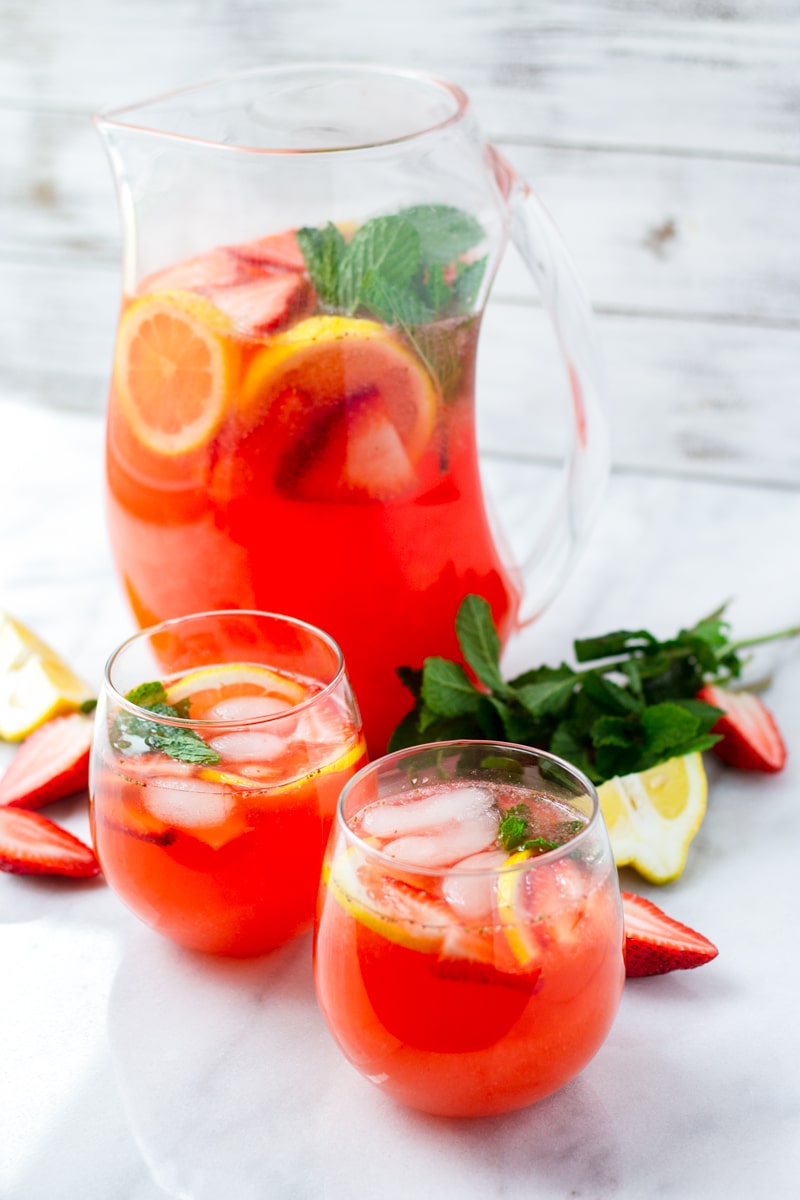 The days are finally warming up after a long winter and a rather chilly spring here in Michigan. I am very excited for warm days and evenings, grilling outside and having a good time with family and friends. One of my favorite things about summer is enjoying a refreshing cold drink. It's the little things, you know? This freshly squeezed strawberry lemonade is my go-to beverage because it's so refreshing and good! It's made with fresh lemons, strawberries, sugar, and lots of ice. Perfect for summer!
The great thing about this fresh strawberry lemonade is that it's super easy to prepare and you can totally make it ahead. In fact, it tastes much better after sitting in the fridge overnight as this allows the flavors to fully develop. And you also avoid all the artificial flavors from store-bought lemonade by making your own.
Ahhhh! Nothing better than fresh strawberry lemonade!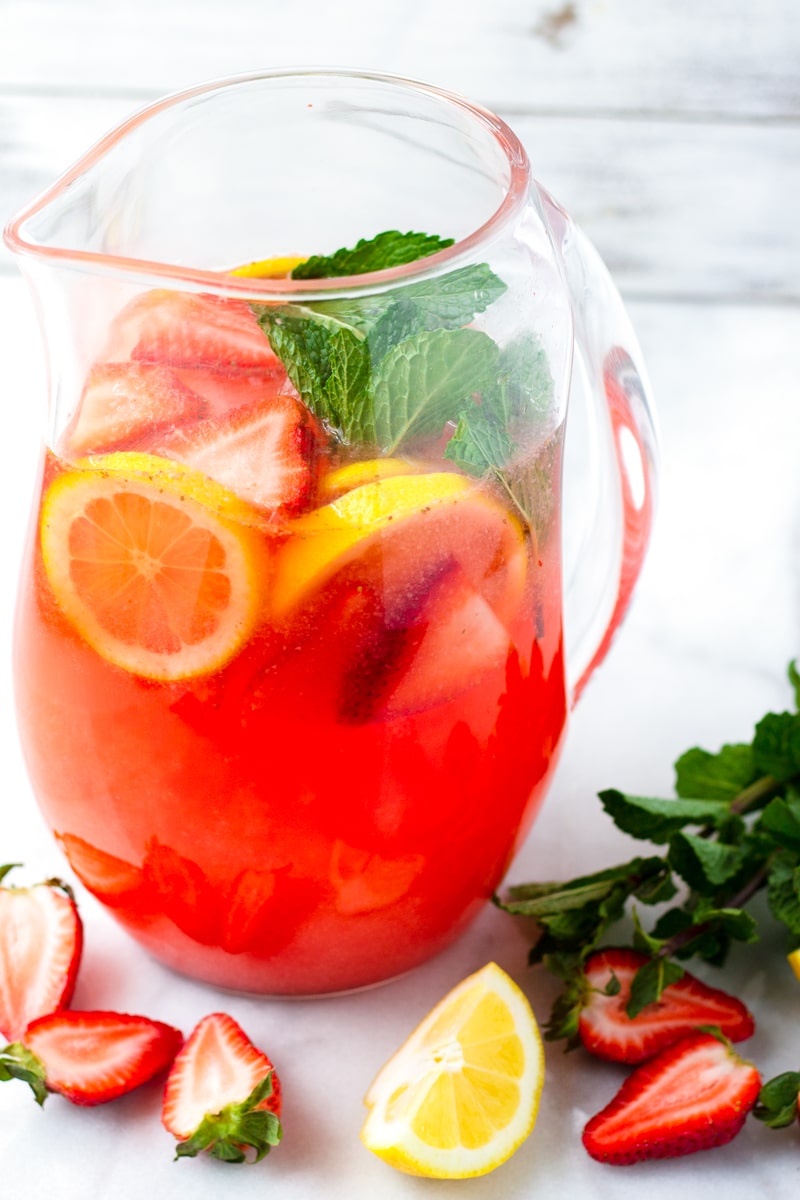 Fresh Strawberry Lemonade Ingredients
This easy strawberry lemonade requires only a few ingredients:
water
fresh strawberries
fresh lemons
granulated sugar
ice
For garnish, you can use more lemon slices, strawberry slices, and mint. Up to you!
To make this, you'll also need a blender, a fine sieve, and, if possible, a citrus squeezer. This recipe calls for about 8 lemons…so if you want to squeeze them with your hands only, feel free to do it, but I'd highly recommend a citrus squeezer. You won't regret it.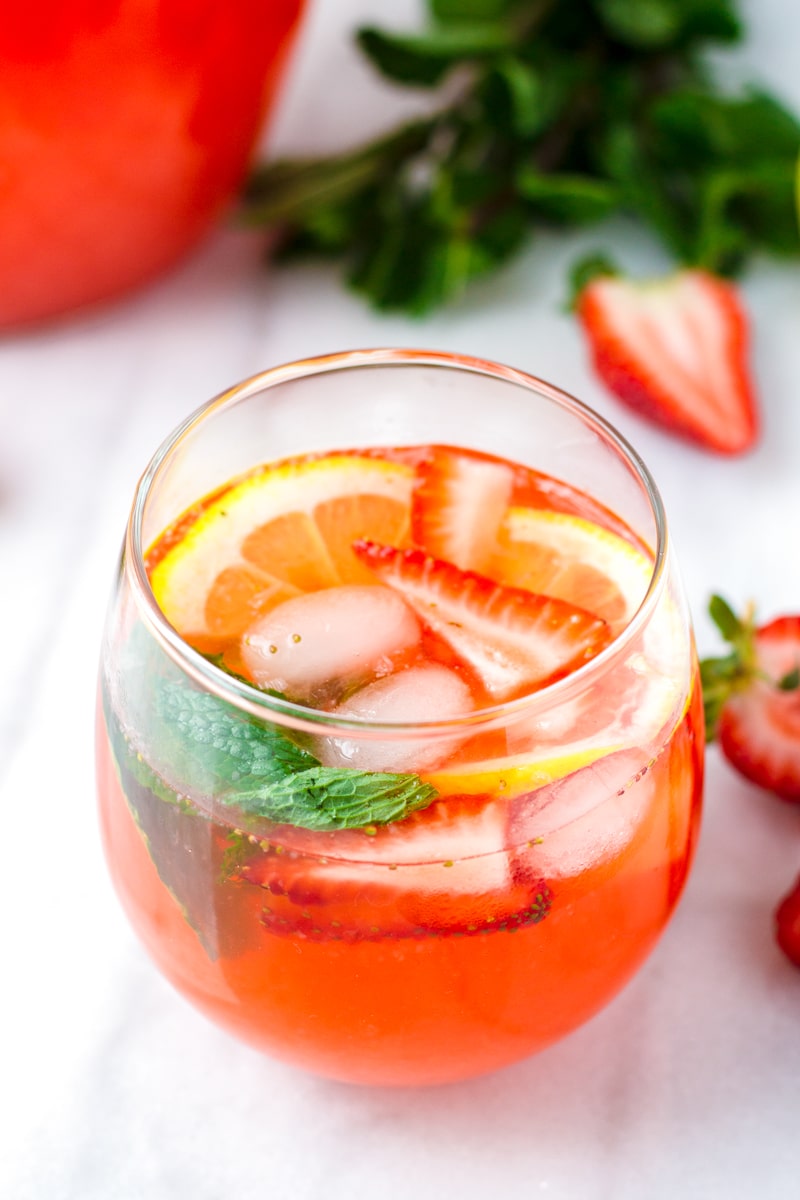 How to Make Homemade Strawberry Lemonade
Here's how you make this easy strawberry lemonade. As usual, you can find the specific ingredient measurements in the recipe card.
In a bowl, combine the diced strawberries with 3 tablespoons of sugar. Roughly mash them with a fork until incorporated. Let it sit for 20-30 minutes. Why? This step intensifies the flavors of the strawberries and gives it a softer texture so you don't get chunks of strawberries in your lemonade. This is a very quick way to macerate strawberries.
Make the strawberry puree: blend the prepared strawberries and strain through a fine sieve onto a bowl to catch all the seeds.
Melt the sugar: boil 2 cups water and melt 1 cup granulated sugar. Set aside. Why: don't just add the sugar to the lemonade, or you'll get grainy lemonade. The sugar needs to be melted in hot water first.
Squeeze about 8 large lemons. You should end up with 2 cups of fresh lemon juice.
To a large pitcher, add the strained strawberry puree, lemon juice, 5 cups cold water. Stir to combine.
When ready to serve, add ice, and garnish with mint leaves, lemon slices, and strawberry slices.
You can either serve it immediately or let it sit overnight in the fridge. If letting it sit overnight, follow the make ahead tips below.
Serve this lemonade with my strawberry and and spinach salad with chicken!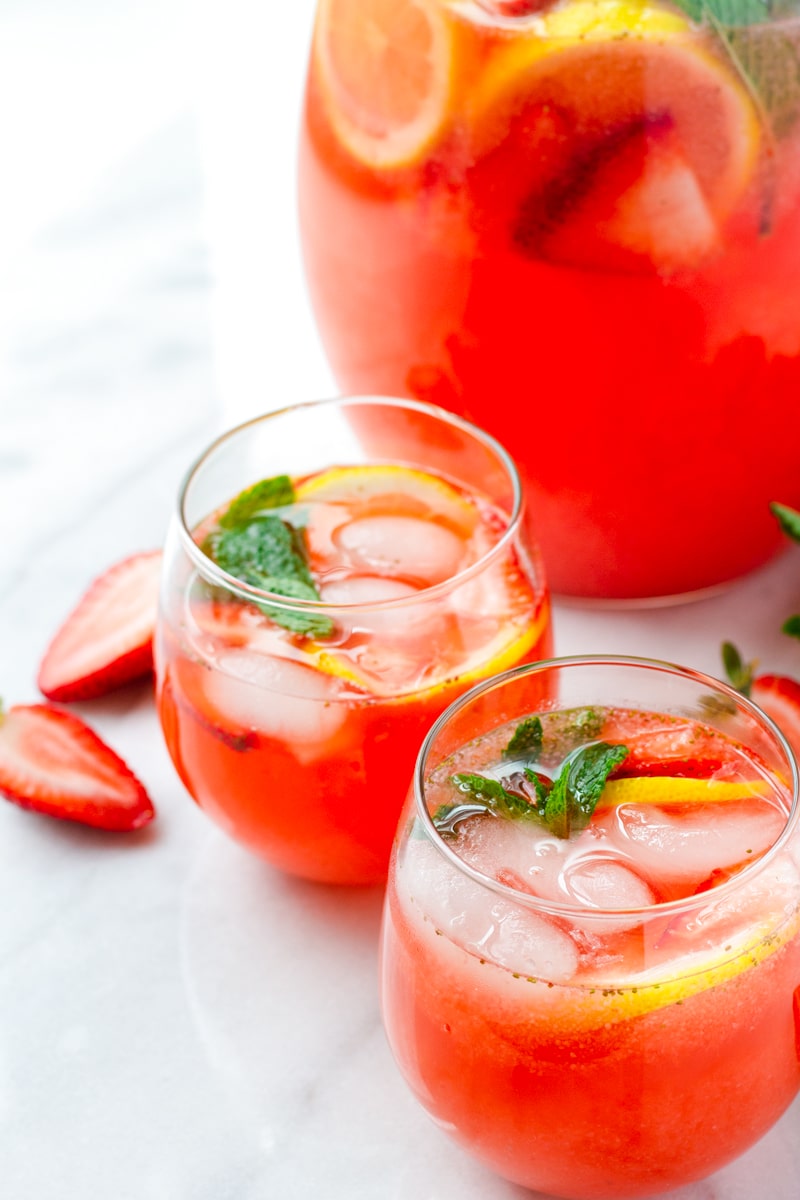 Make Ahead Tips
Make the lemonade up to 1 day in advance.
Add these when ready to drink: ice, mint, lemon slices, and strawberry slices.
Don't add the ice overnight. It will dilute the lemonade.
This recipe can be easily multiplied if you're planning to throw a party.
That's all! It's very simple and easy to make. You will love and need it, especially during those hot summer days. And it's very refreshing, colorful, and pretty!
Thank you for reading, and please don't forget to pin this recipe. Much appreciated!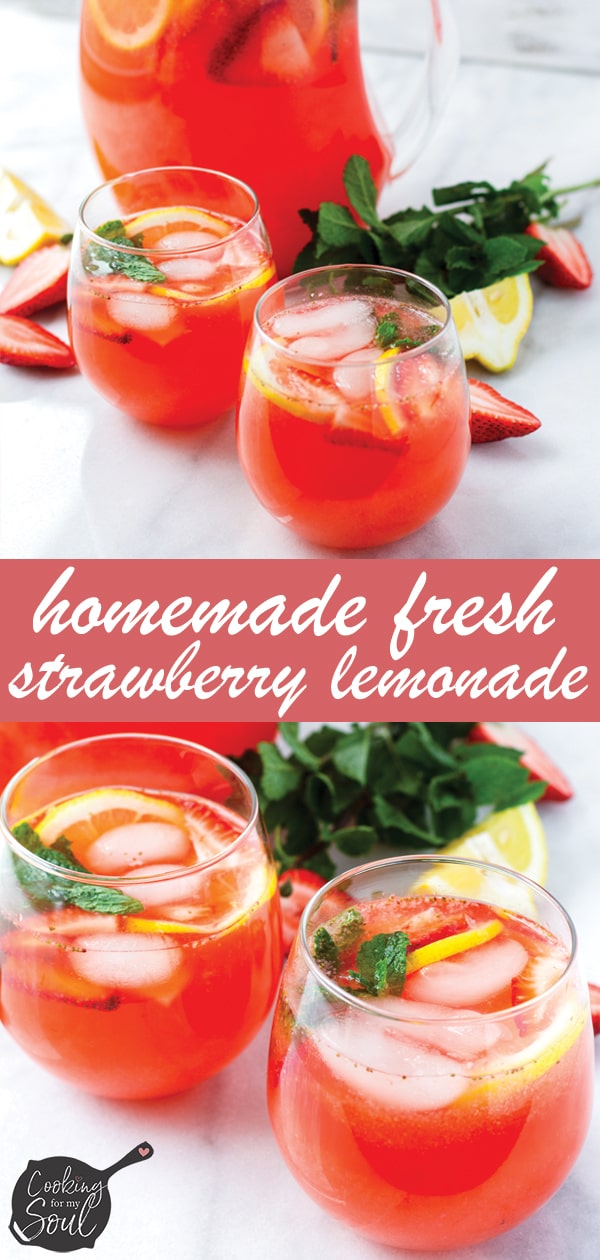 And if you're looking for more summer drinks, check these out:
If you try my recipe, use #cookingformysoul on Instagram! Follow me on Pinterest, Instagram, Facebook for the latest fun updates and recipes!
Homemade Strawberry Lemonade
This fresh homemade strawberry will be much needed during hot summer days. No artificial ingredients. Try this easy strawberry lemonade. You can make it ahead too.
Ingredients
7

cups

cold water, divided

3

cups

fresh strawberries, diced

2

cups

freshly squeezed lemon juice, plus more to taste

-

(about 8 large lemons)

1

cup

granulated sugar, plus 3 tablespoons

-

(plus more to taste)

Ice
Garnish
Sliced lemons

Sliced strawberries

Mint leaves
Instructions
Place strawberries in a bowl and add 3 tablespoons sugar. Roughly mash them with a fork until the sugar and the strawberries are incorporated. Cover and let sit for 30 minutes at room temperature.

Blend the strawberries until you get a puree. Then strain through a fine sieve so catch all the seeds onto a bowl. Set aside.

Boil 2 cups water and add 1 cup of granulated sugar. Stir to combine until completely dissolved. Set aside.

To a large pitcher, add the remaining 5 cups of cold water, the sugar-water mixture, the strawberry puree (strained), and freshly squeezed lemon juice. Stir to combine. If not sweet enough, dissolve more sugar in hot water and add to the pitcher until desired sweetness. Note: if making ahead, let it sit in the fridge overnight at this point.

When ready to serve, add ice, sliced lemons, sliced strawberries and mint leaves for garnish. Serve cold.