A bit fudgy on the inside, a little cakey on the outside, and slightly chewy overall, these perfect brownies will become your new go-to brownie recipe!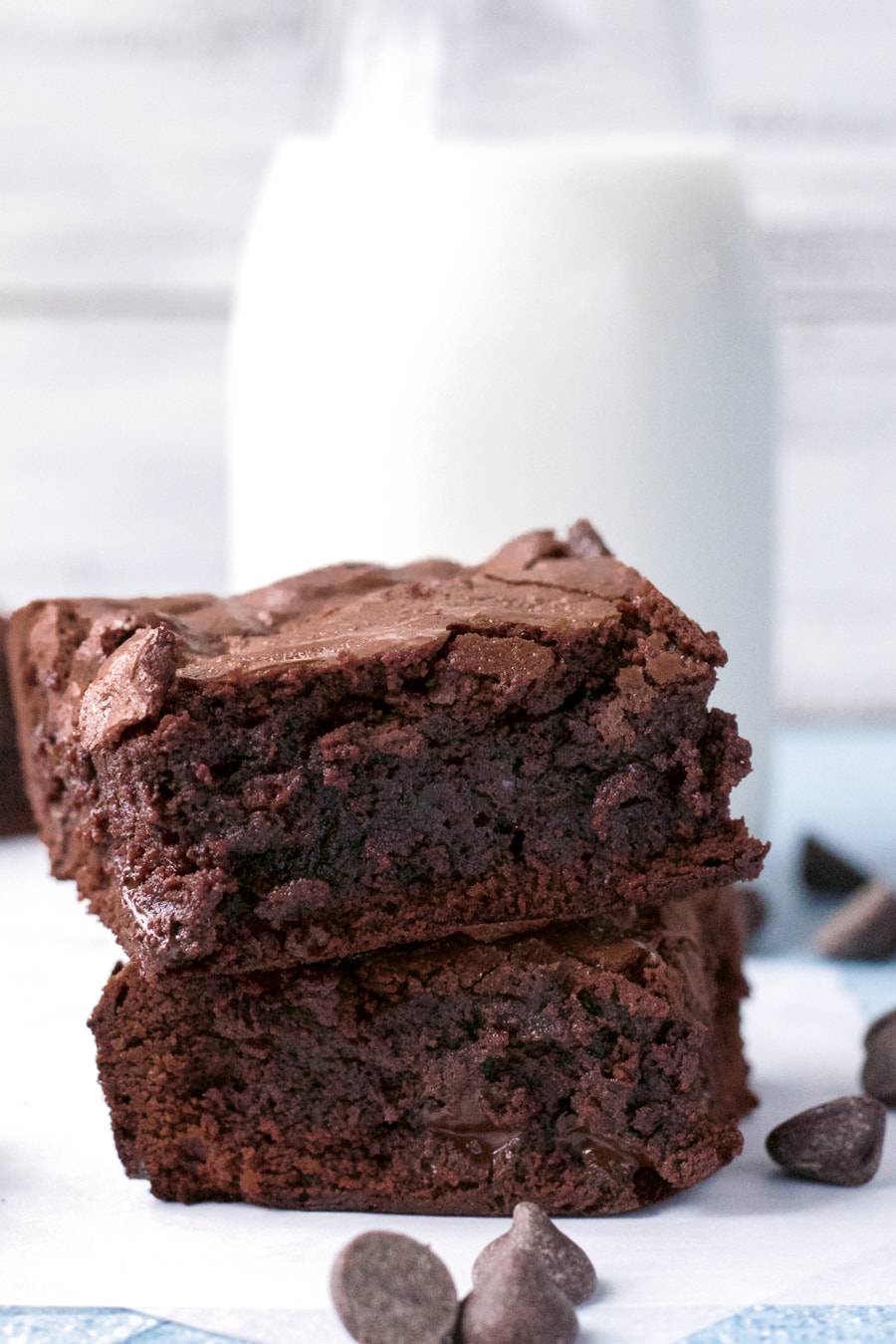 I feel like I MUST start this post by asking you guys THE brownie question. Here we go:
Are you a fudgy brownie person? Or are you more of a cakey brownie person? Or a chewy brownie person maybe?
No matter what your answer is, I think we can all agree that brownies are everything. Drooling right now…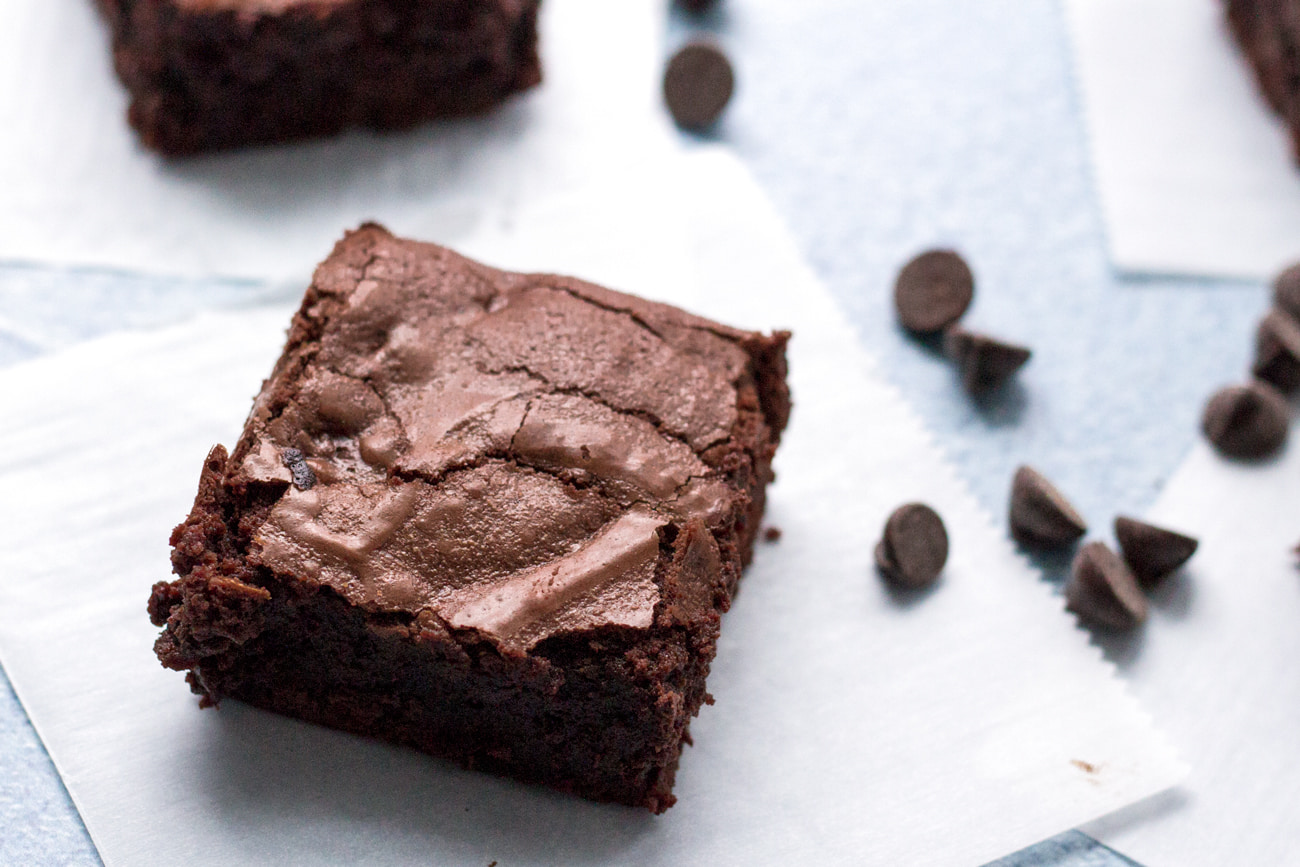 I like cakey brownies okay, and I think fudgy brownies really highlight the intensity of chocolate flavor but they are sometimes too dense for me. So I had to make a brownie both cakey and fudgy at the same time to satisfy my cravings. I've tried so many different versions, and I gotta say, these are SO damn good – a little bit cakey on the outside, somewhat fudgy on the inside, and slightly chewy overall. Seriously my absolute favorite!
After all, the most important thing about brownies is texture, right?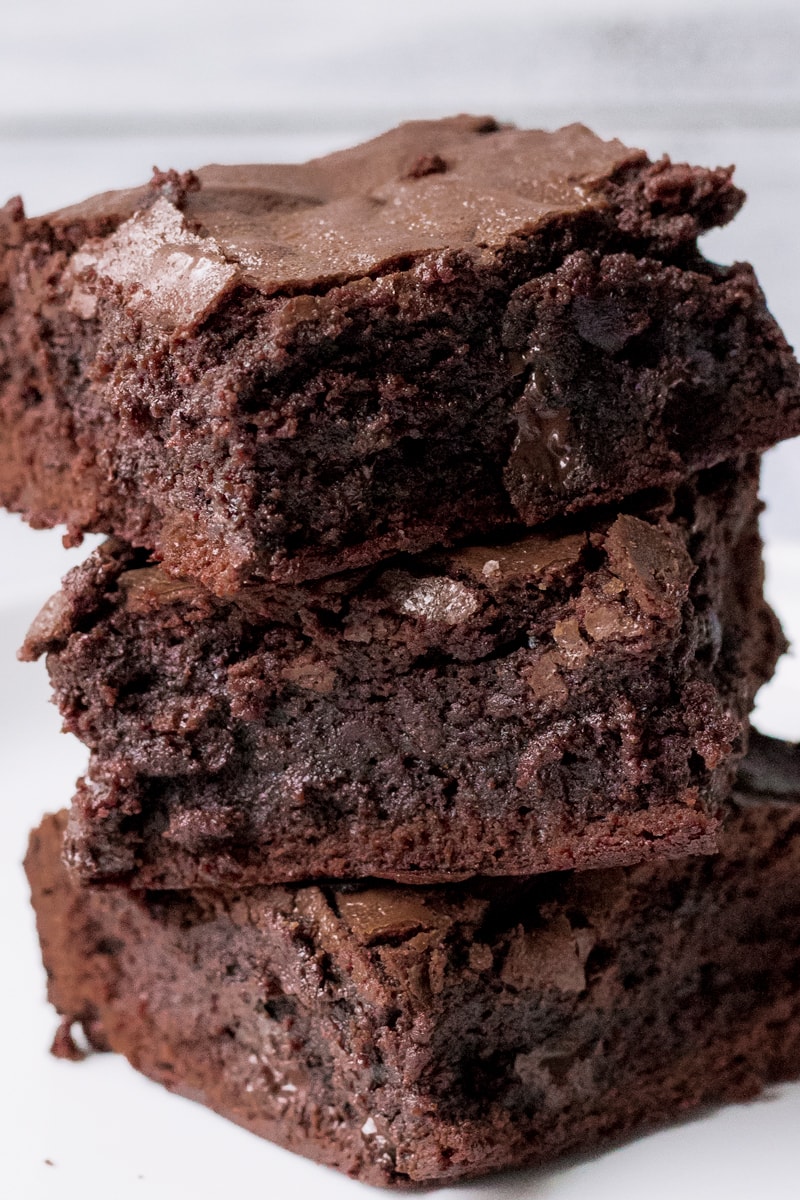 It's All About Ratios
Brownie texture is all about the ratio between flour and fat (chocolate and butter). For example, a fudgy brownie has more chocolate and butter and less flour than a cakey brownie. Chewy brownies usually contain brown sugar too. So, pretty much, making your perfect brownie is possible if you play with ratios!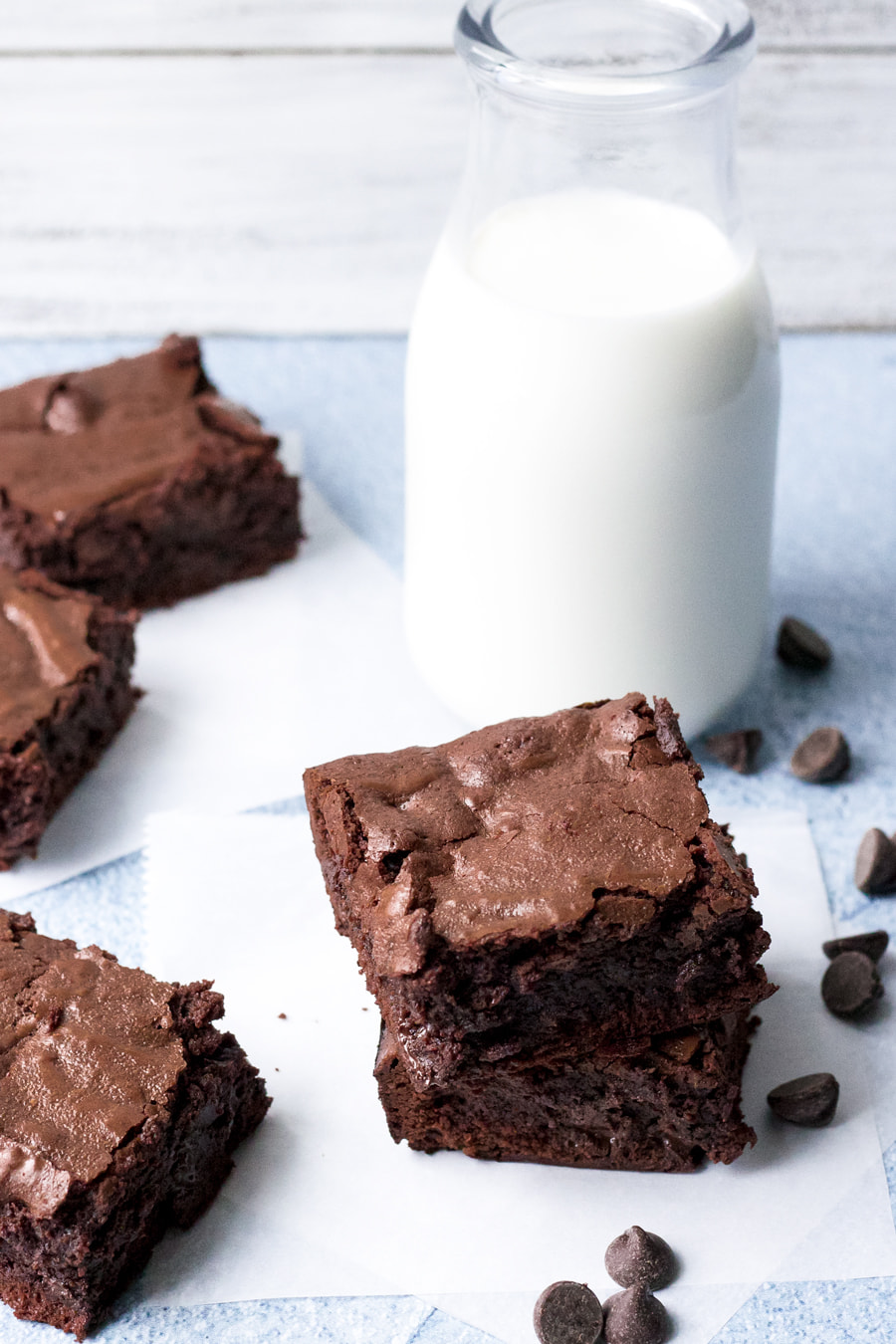 What's in These Brownies?
butter
granulated sugar and salt
eggs
all-purpose flour
semi-sweet chocolate bar
unsweetened cocoa powder
chocolate chips
vanilla
Did you realize that this recipe calls for chocolate chips in addition to semi-sweet chocolate and cocoa powder? I've found that folding in chocolate chips to the batter at the end adds another layer of chocolate flavor, as well as moisture and delicious gooeyness. Can you spot the melted chocolate chips in the photos above? 🙂

How to Melt the Chocolate
Melting the chocolate and butter properly is a crucial step. I used a DIY double-boiler. Here's how to do it: add some water (a few inches) to a saucepan and bring to a simmer. Then place a pyrex bowl on top of the saucepan, and melt the butter and semi-sweet chocolate bar chunks in there.
Why use this method?
gentle heat helps with consistency
prevents water from touching the chocolate: if water droplets touch the chocolate, it will seize, meaning that the chocolate will become paste-like
low heat makes it easier to mix in the rest of the ingredients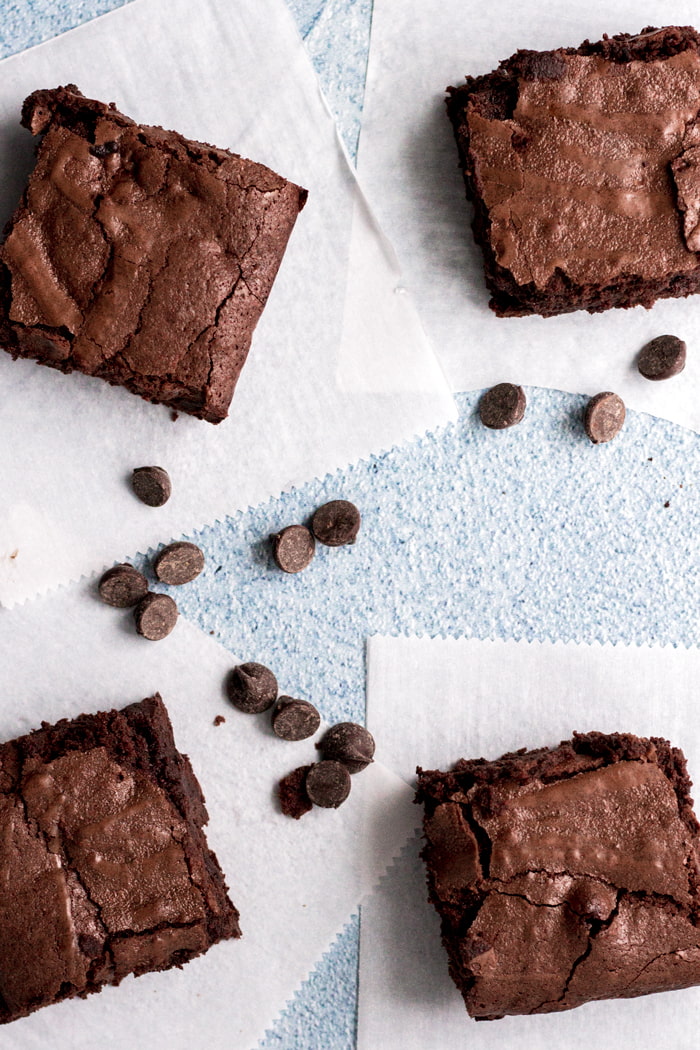 Thickness, Baking Time and Texture
Thickness and baking time can affect texture too. These brownies have to bake for about 40 minutes. I used an 8×8 square inch pan to achieve some extra thickness. They are quite thick (about 1 1/4 inches), meaning that with about 38-40 minutes bake time, you'll be able to achieve a somewhat crumbly and cakey texture on the exterior + a moist and fudgy texture in the center.
Alright, time to make those heavenly brownies now! I hope you love them as much as I do 🙂
And don't forget to pin this recipe! 🙂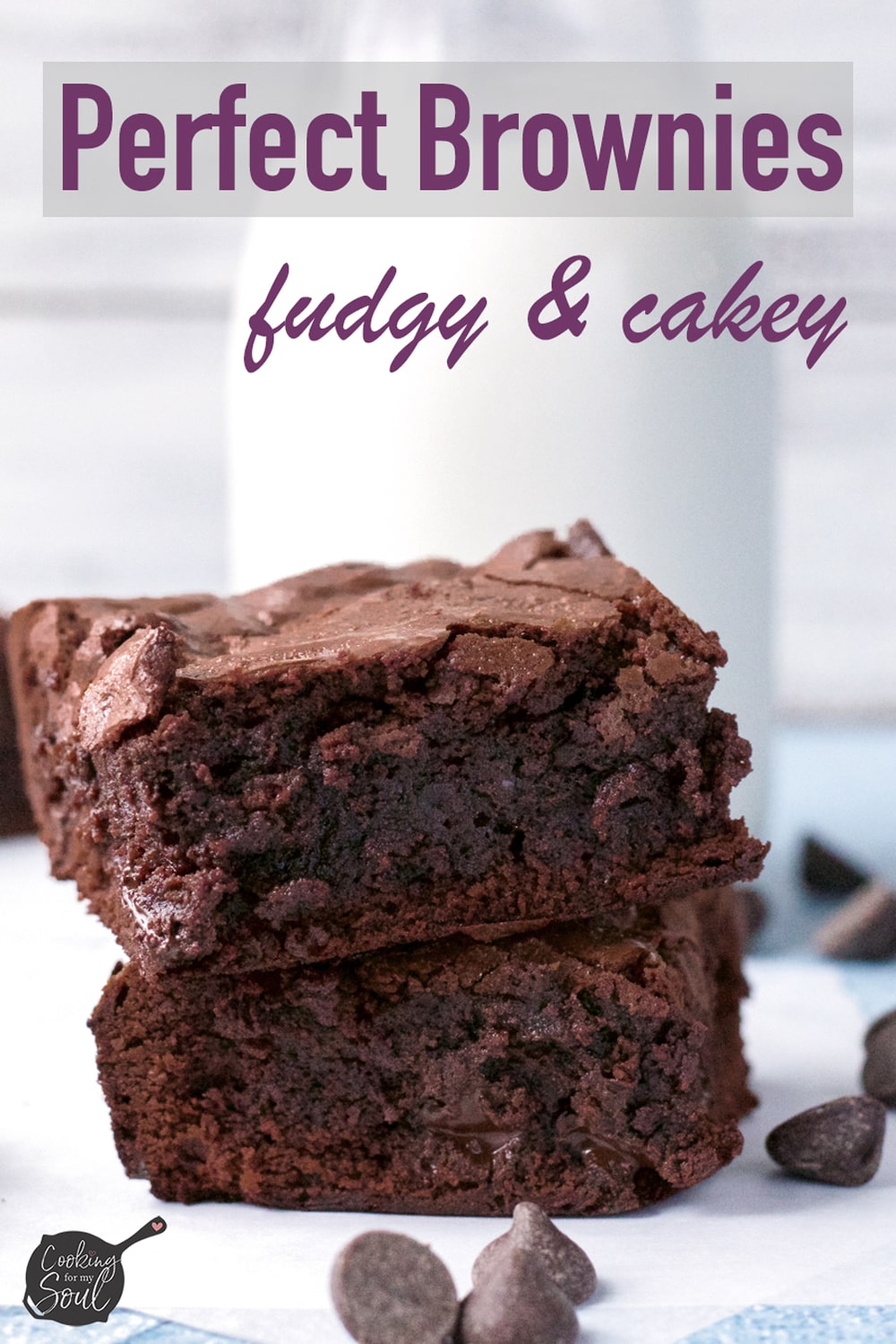 Kitchen Tips
When melting the chocolate, don't cover the bowl. Covering will create condensation and the water droplets will cause the chocolate to seize.
Check for doneness at 30 mins, and then again every 2-3 minutes. Insert a toothpick into the center. It should come out clean with a few moist crumbs. If you inserted it right into a melted chocolate chip, do it again for accuracy.
Perfect Brownies
The perfect brownie recipe! Cakey, fudgy, and chewy all in one. Make a batch or two to share!
Servings
9
square brownies
Ingredients
8

tablespoons

unsalted butter, plus more for pan

8

ounces

semi-sweet chocolate bar, coarsely chopped

1 ¼

cups

granulated sugar

3

large eggs, at room temperature

1

teaspoon

pure vanilla extract

¼

cup

unsweetened cocoa powder

½

cup

all-purpose flour, plus 2 tablespoons

½

cup

semi-sweet chocolate chips

-

plus more if desired

¼

teaspoon

salt
Instructions
Preheat oven to 350 degrees F. Lightly grease a 8x8 baking pan with butter and line with parchment paper on all sides. Make sure to leave some overhang on all 4 sides.

In a bowl set on top of a pot with simmering water (bowl should not touch water), melt the butter and chopped chocolate bar. Using a rubber spatula, stir until the mixture is melted and smooth. Turn off the heat. Set bowl aside and gradually whisk in the sugar until nicely melted.

Transfer mixture to another bowl since the one you're using is a bit hot and we don't want that when mixing the remaining ingredients. Whisk in eggs, one at a time, making sure it is nicely combined before adding the next one. Whisk in the vanilla extract. Mix in the cocoa and salt until the batter is smooth.


Fold in the flour, scraping the sides, until fully combined. Then, fold in chocolate chips.

Pour the batter into the prepared pan and gently smooth out the surface.

Bake for about 40-42 minutes, until set and a cake tester or toothpick inserted into the center comes out clean (a few moist crumbs in the tester is fine). Lift brownies from pan. Remove the parchment paper and let cool on a wire rack.

Cut into squares and enjoy!
Notes
You can also use a 9x13 inch baking pan, and reduce the baking time to about 35 minutes, or until a toothpick inserted in the middle comes out mostly clean (moist crumbs are fine).
Disclaimer: Nutritional values (per serving) are approximates only.
Nutrition
Serving:
1
bar
|
Calories:
454
kcal
|
Carbohydrates:
53
g
|
Protein:
5
g
|
Fat:
25
g
|
Saturated Fat:
15
g
|
Polyunsaturated Fat:
1
g
|
Monounsaturated Fat:
7
g
|
Trans Fat:
1
g
|
Cholesterol:
83
mg
|
Sodium:
91
mg
|
Potassium:
268
mg
|
Fiber:
4
g
|
Sugar:
41
g
|
Vitamin A:
408
IU
|
Calcium:
37
mg
|
Iron:
3
mg