This Fingerling Potato Bruschetta is a fun twist on the traditional version! The combination of roasted fingerling potatoes and a flavorful bruschetta tomato topping is to die for. A great and fun way to serve appetizers!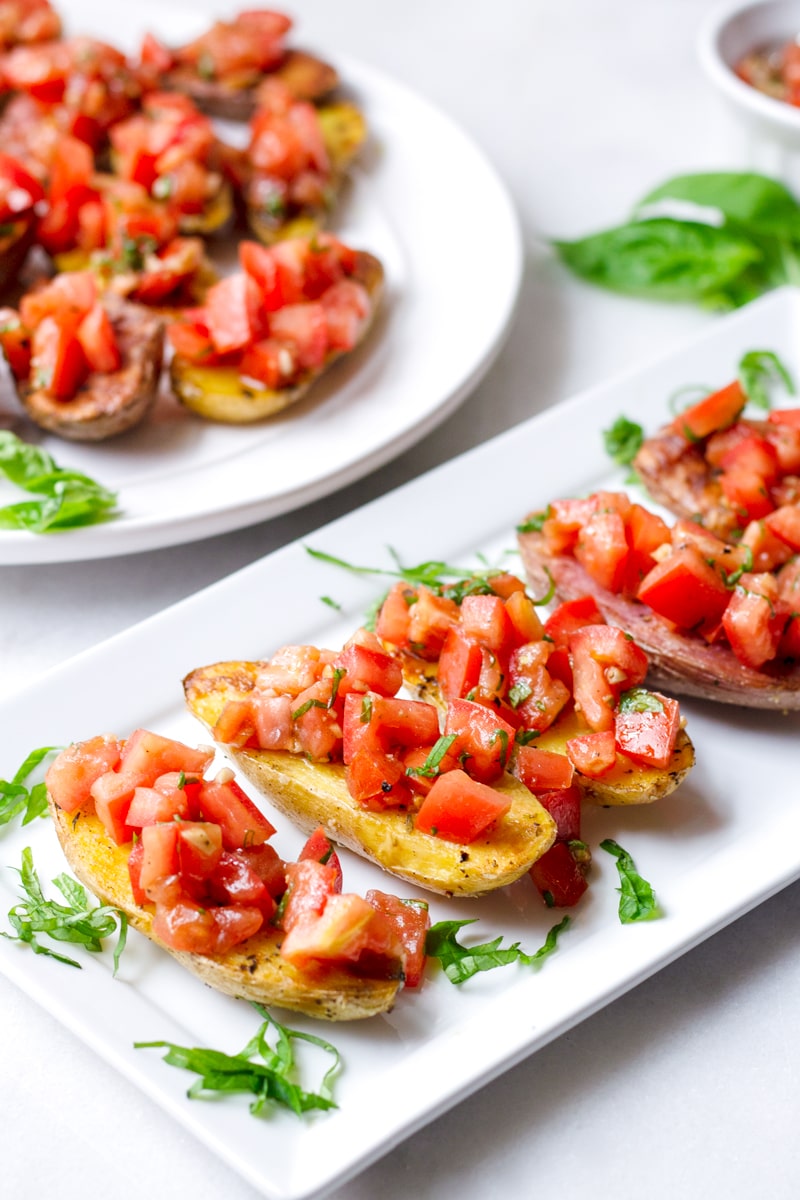 These easy fingerling potato bruschettas were a huge hit! They were gone within minutes at my house. Instead of bread, I use roasted fingerling potato halves, which add another layer of flavor with every bite. The potatoes are beautifully roasted with Italian seasoning, salt, pepper, and olive oil. And the tomatoes…ohhh yum the tomatoes…tossed with garlic, basil, seasonings, and drizzled with olive oil and balsamic vinegar.
Now imagine those two things in one bite. Yup, amazing right?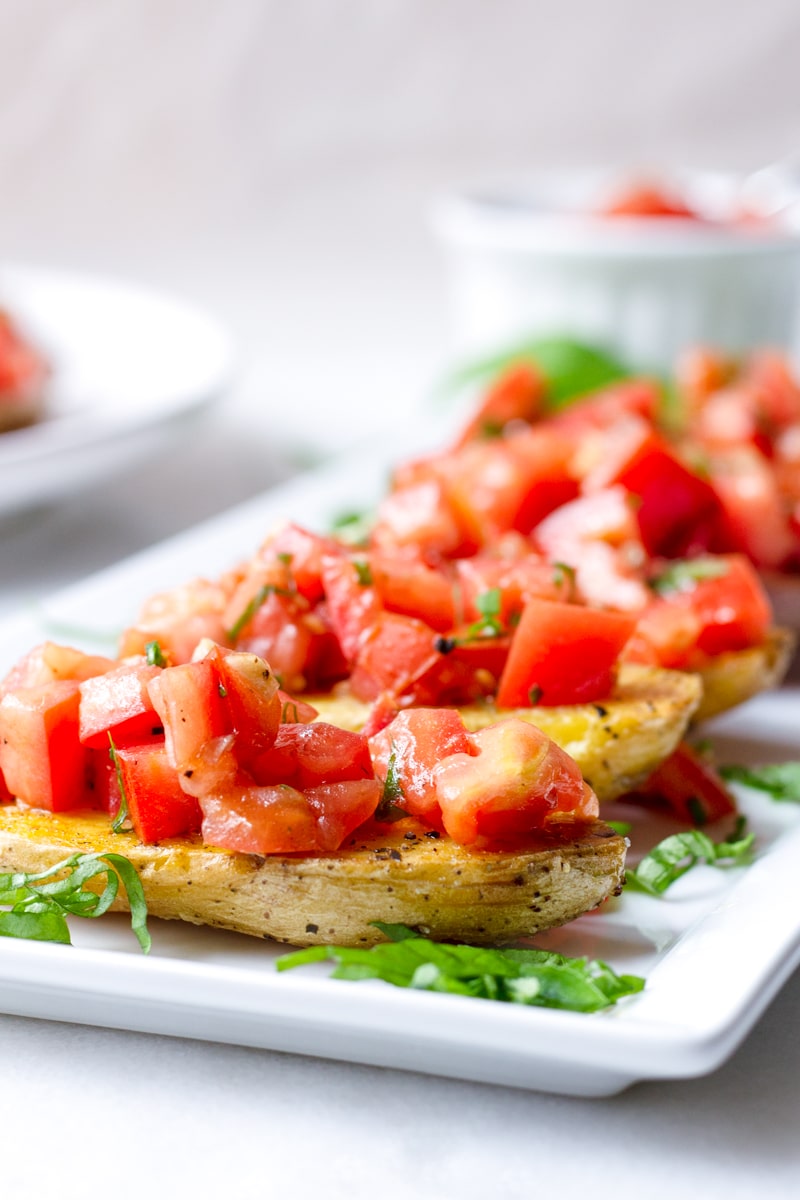 I love bruschetta. It's one of my favorite appetizers ever, and lately I've had an obsession with roasted potatoes. So, obviously, I had to make a fingerling potato bruschetta. And, guys, it was SO GOOD! I was licking my fingers. I was in heaven.
Plus, it's really easy to make! All you have to do is roast some potatoes, halved, until golden brown and tender, and then top them with the prepared diced tomatoes.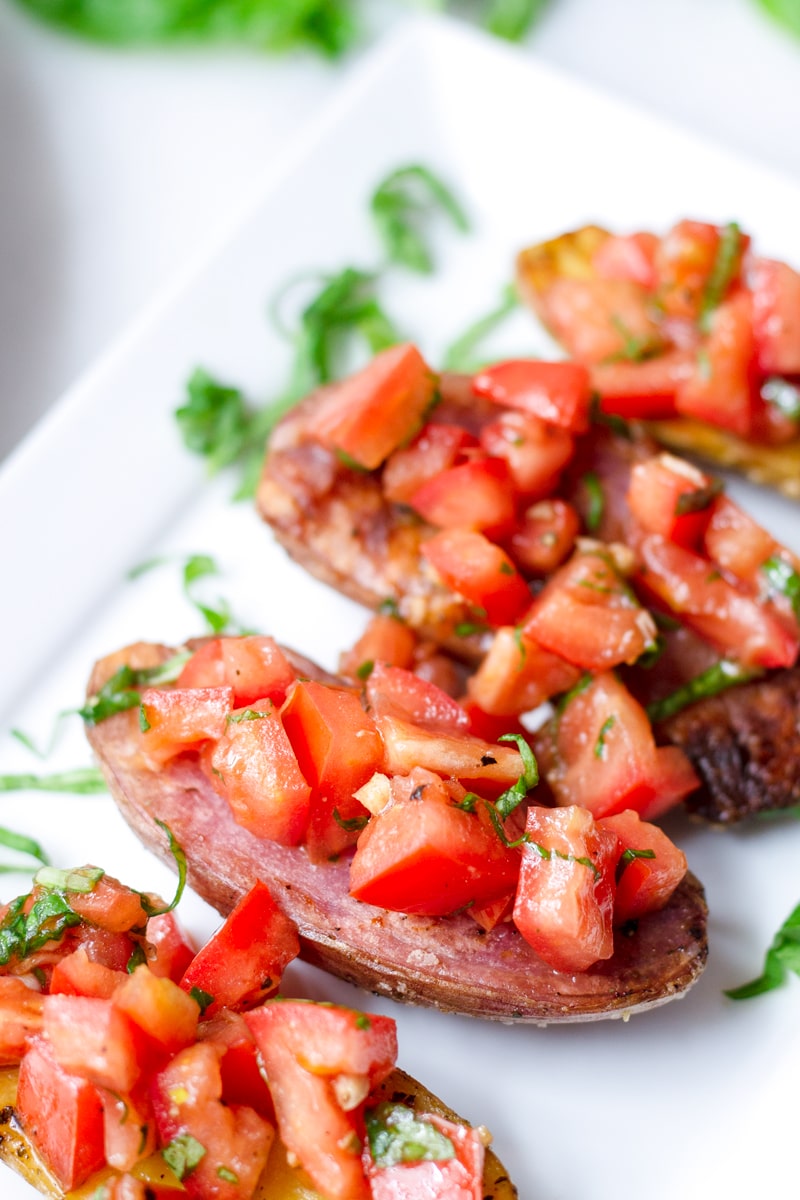 How to Roast Fingerling Potatoes
For this recipe, half the potatoes lengthwise and toss with olive oil, salt, pepper, and Italian seasoning. That's my favorite seasoning combo for potatoes btw! Then line them, cut side down, on a preheated greased sheet pan. It's important that you don't overcrowd the pan, otherwise they will steam and not roast.
Then roast at 425 degrees F for 25-30 minutes, flipping once the cut side down has browned beautifully, after about 15-20 minutes into the cooking time. Tip: to flatten the bottom of each roasted potato, cut off a little bit and create a flat surface.
It's that easy!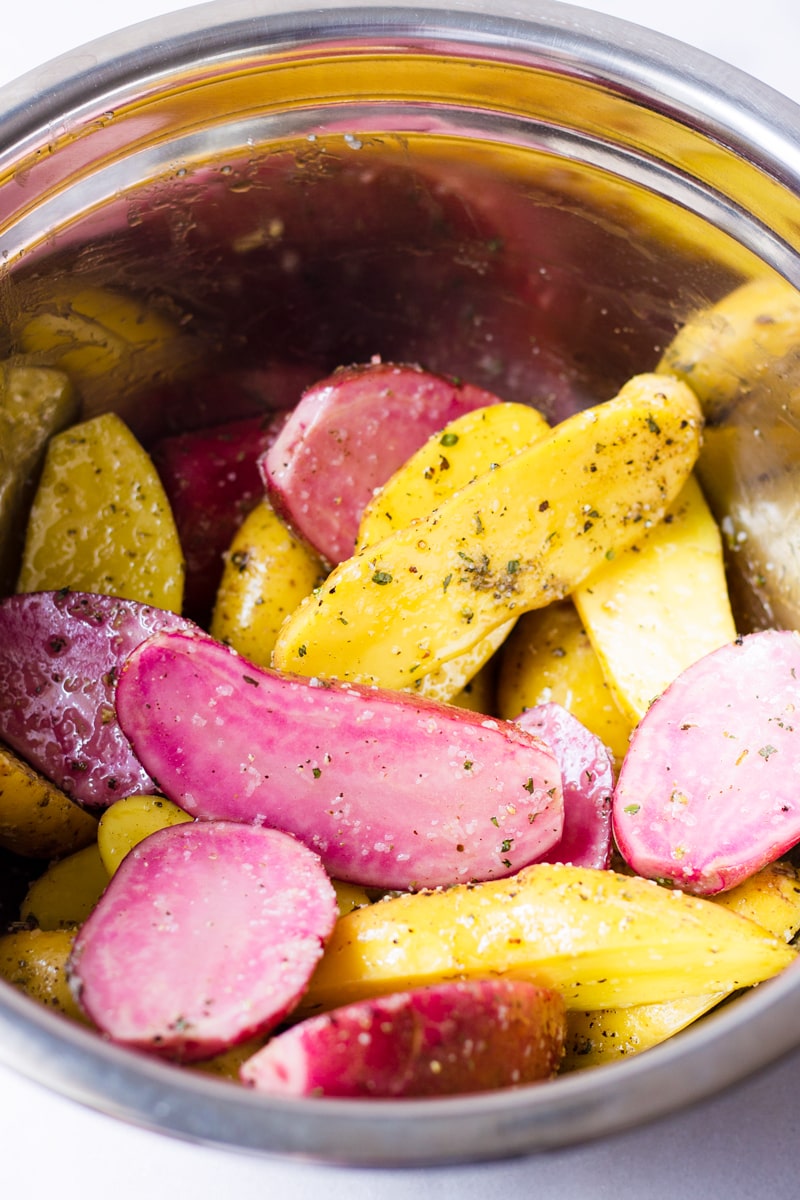 The Bruschetta Tomato Topping
Just the classic! Diced tomatoes, olive oil, minced garlic, basil, and balsamic vinegar. Simple and delicious!
If I could give one tip, it would be to add less salt than usual to the tomato topping. The roasted fingerling potatoes will be salty enough and you want the tomatoes to balance out the flavors and add freshness to every bite.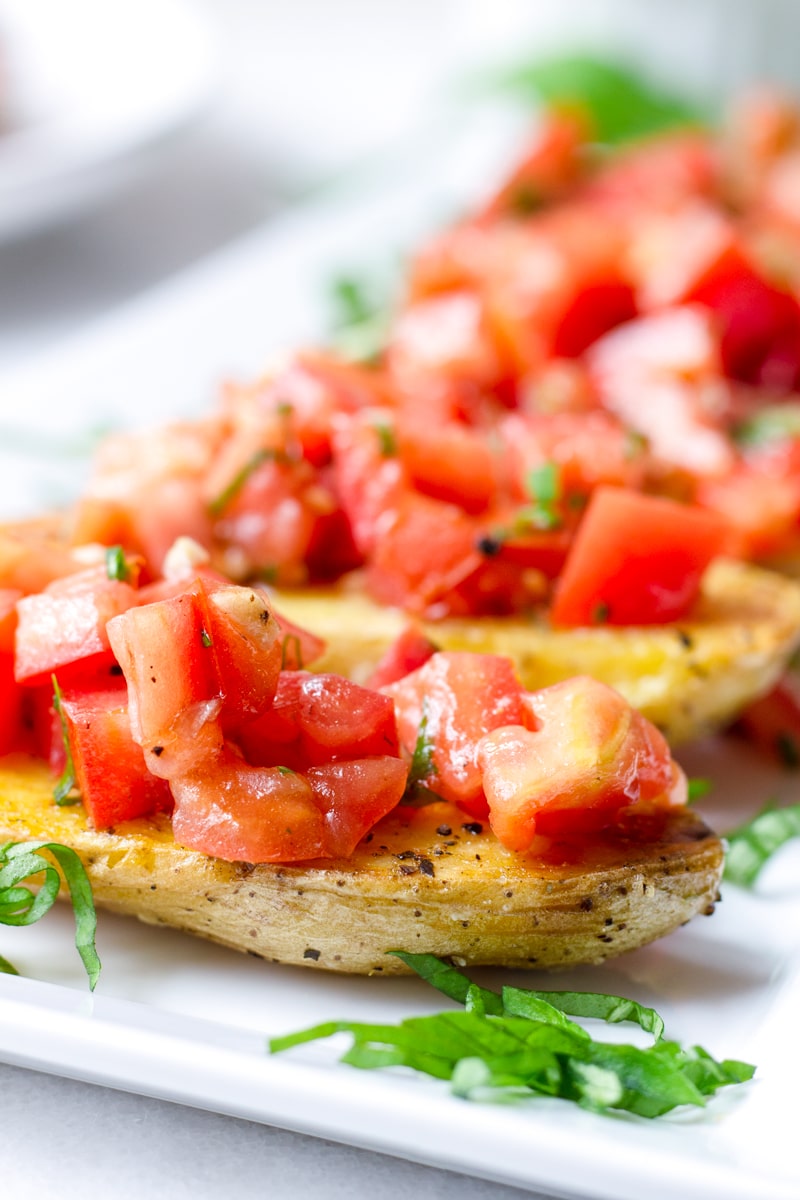 I am so excited to make a large tray of fingerling potato bruschetta for my guests next time! I think this is a really fun idea! And they are so pretty too!
Thank y'all for reading! I really enjoy sharing my recipes and kitchen tips with all of you 🙂
And please pin this recipe for later!

Kitchen Tips
To attain the golden brown and crispy texture on the potatoes, preheat the baking sheet in the oven at 425 degrees F. This will give them a head start.
Place the potatoes cut side down, and do not overcrowd, otherwise the potatoes will steam. Roast, undisturbed for 15 minutes, and then start checking on them by lifting of them. If they are beautifully browned and golden, flip them and continue roasting.
If you try my recipe, use #cookingformysoul on Instagram! Follow me on Pinterest, Instagram, Facebook for the latest fun updates and recipes!
Fingerling Potato Bruschetta
This Fingerling Potato Bruschetta is so delicious and the perfect appetizer to wow your guests.
Ingredients
1

pound

fingerling potatoes, cut in half lengthwise

1/2

teaspoon

Kosher salt

1/4

teaspoon

ground black pepper

1/2

teaspoon

Italian seasoning

Olive oil
Tomato Bruschetta Topping
6 to 8

roma tomatoes

2

cloves

garlic, minced

1

tablespoon

olive oil

1

teaspoon

balsamic vinegar

8

basil leaves, thinly sliced

Salt and pepper to taste
Instructions
Preheat oven to 425 degrees F. Preheat 2 large baking sheets for 15 minutes as you prepare the potatoes.

Toss halved potatoes with salt, pepper, Italian herbs, and some olive oil. Remove baking sheets from oven and grease with some olive oil. Lay each potato half on the hot baking sheets, cut side down. Do not overcrowd pan.

Roast for about 25-30 minutes total. About halfway through, take a peek to see if the flat side of the potatoes are golden brown. Flip when golden brown. When ready, take them out of the oven and let cool slightly.

Prepare the tomatoes: toss all the Tomato Bruschetta Topping ingredients to combine.

Cut off a little bit of the potatoes on the round side to make a flat edge so the potatoes don't tip over. Top each potato with the tomato bruschetta topping. Garnish with more basil if desired. Enjoy!