I love roasting chicken, and this spatchcock BBQ chicken has become one of my favorite chicken dinners. The entire chicken roasts in about 50 minutes right in the oven, and it's then brushed with a delicious homemade BBQ sauce!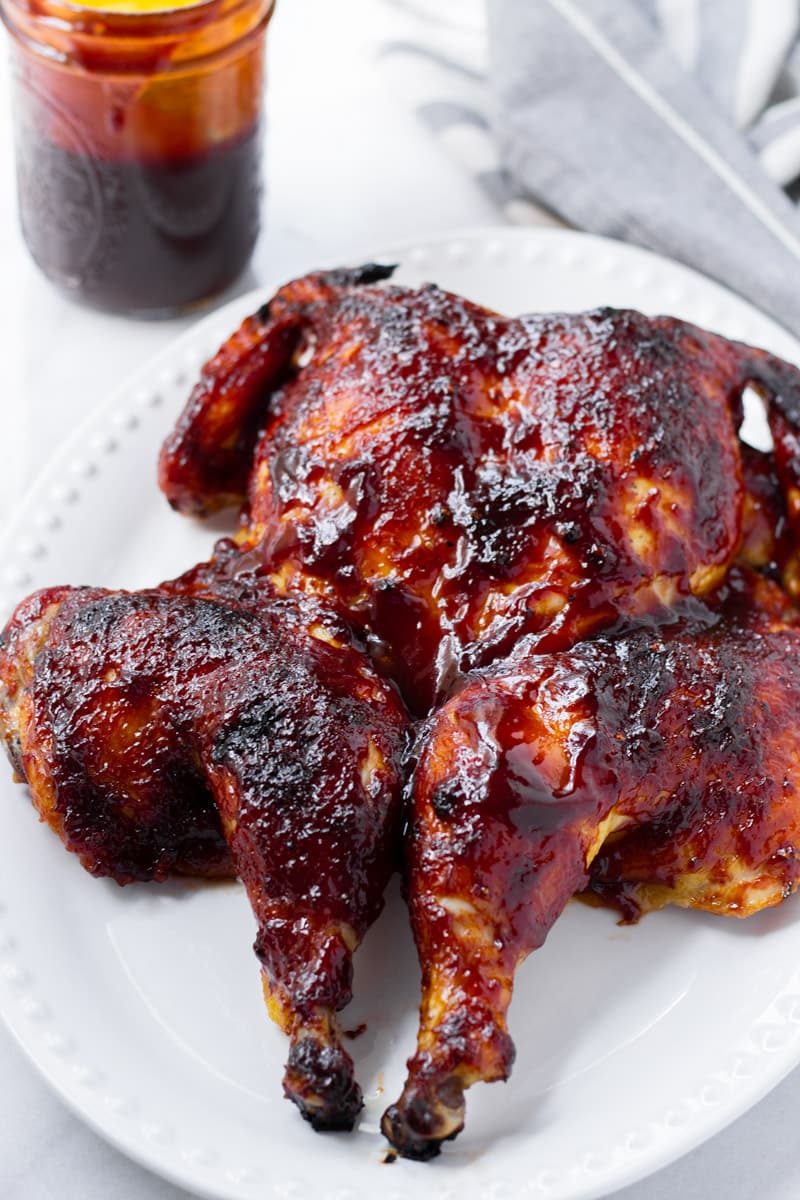 I love roasting chicken because you get amazing flavor and crispy skin, but the traditional roasting process can take some time. For example, a 4-5 lb whole chicken usually takes about 1.5 hours or longer to roast in the oven. That's when spatchcocking comes to the rescue! Spatchcocking a chicken, which consists in splitting and flattening the chicken so that it lays flat, cuts the roasting time by half or by one third approximately.
This Spatchcock BBQ Chicken is a true family favorite! I started by roasting a spatchcocked chicken for about 35 minutes and brushed it with a delicious homemade BBQ sauce during the last 20 minutes of the cooking process.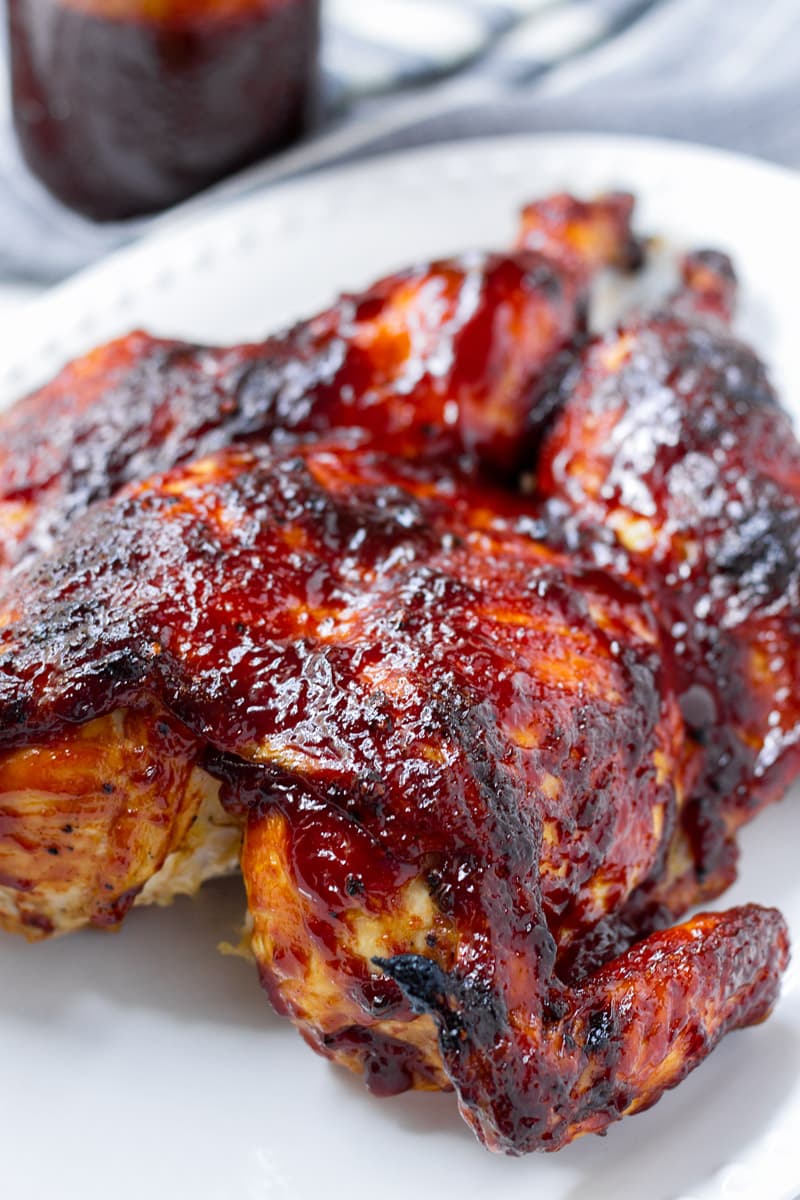 The Benefits of Spatchcocking a Chicken
Spatchcocking is one of my favorite methods for roasting chicken, mainly because it takes less time than roasting a whole chicken. I have a step-by-step guide on how to spatchcock a chicken, so be sure to check it out!
Anyways, so why do I love this method?
It cooks the chicken faster! A 4-lb spatchcock chicken takes about 50 minutes, compared to 1.5 hours if roasting the traditional way.
The chicken cooks more evenly as it lays flat on a sheet pan.
You get crispier skin because more skin is exposed to heat.
Of course, there are tons of other reasons, but those are my top 3!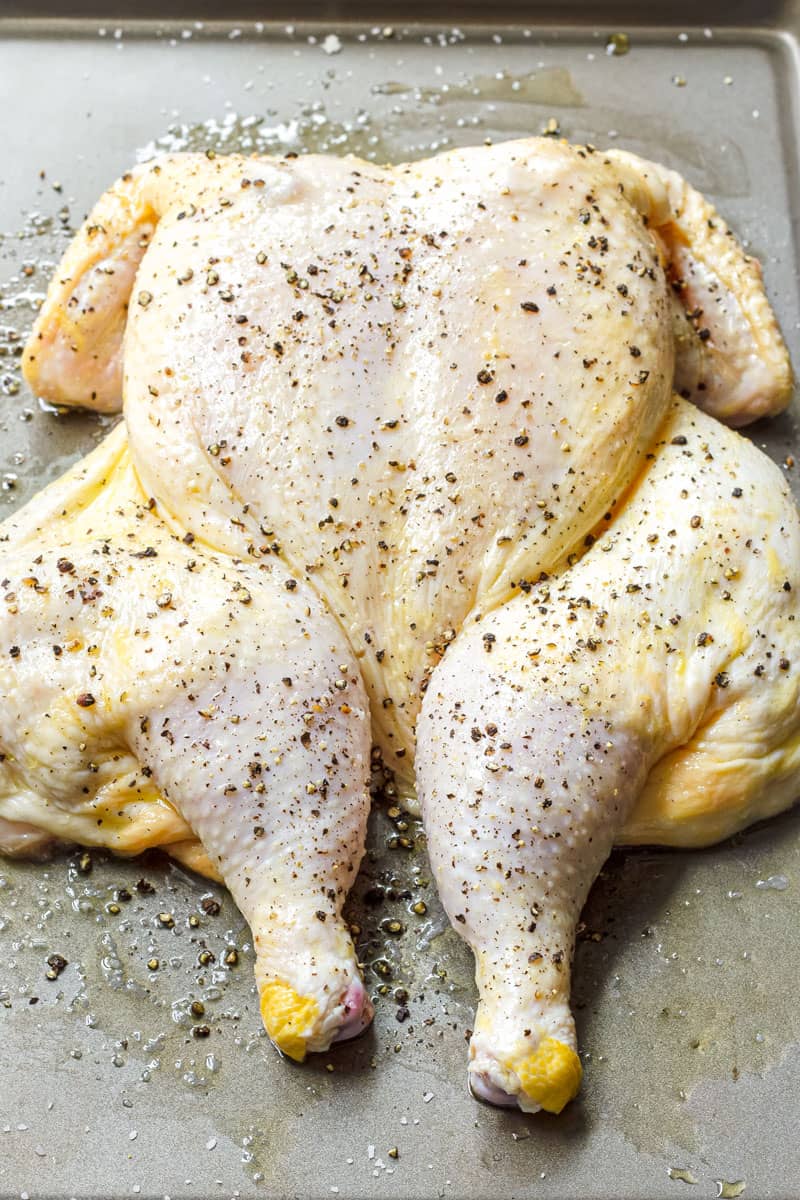 Ingredients
Alrighty, so here's what you'll need for the spatchcock BBQ chicken recipe:
A 4-pound whole chicken
Kosher salt and ground black pepper: For seasoning
Garlic powder: For seasoning
Olive oil: Rubbing the chicken with olive oil will help brown the skin better
Homemade barbecue sauce or store-bought
As for equipment, make sure you have the following:
Strong kitchen shears to spatchcock the chicken safely
A large and sturdy sheet pan that can fit a flattened chicken. Obviously, the entire chicken needs to fit inside the sheet pan. If for some reason you can't find a sheet pan that is large enough, cut up the chicken (breasts, drumsticks and thighs, wings).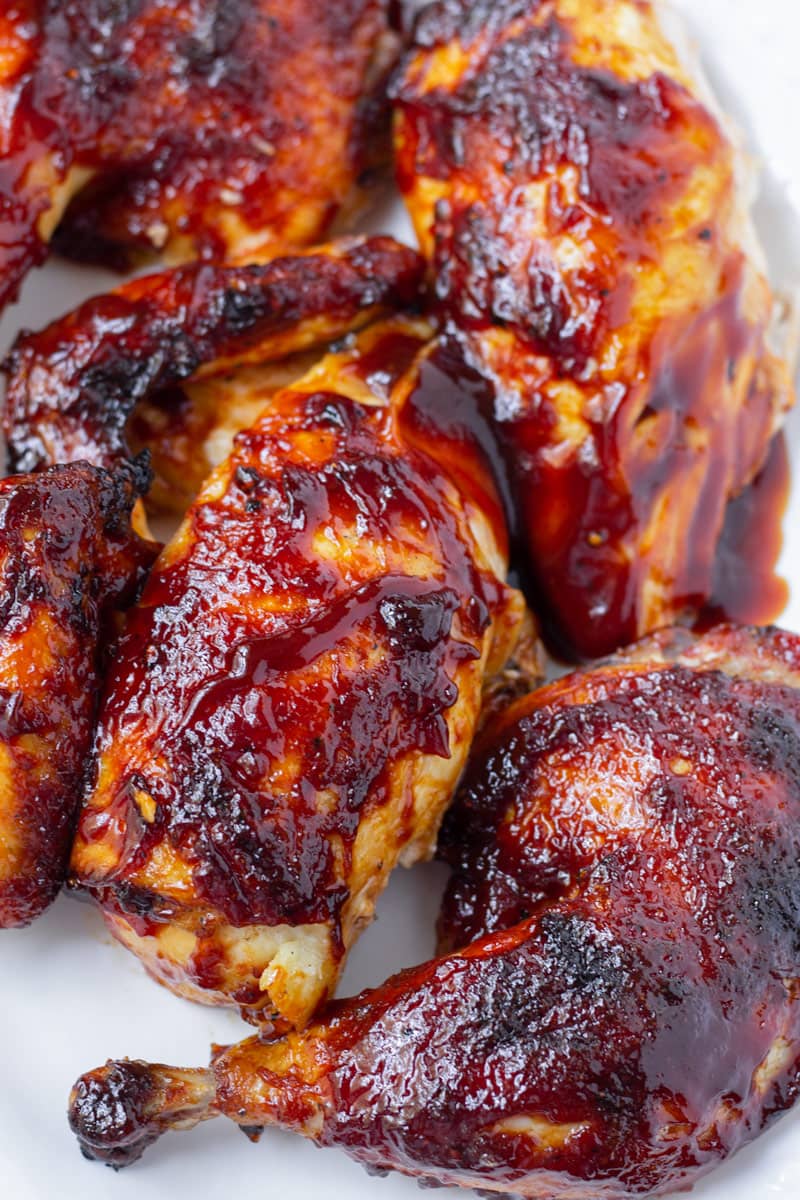 How to Make It
Per usual, you can find the specific ingredient quantities and detailed instructions in the recipe card below. To give you an idea of how this chicken is made, these are the steps:
Spatchcock the chicken: This method will help cook the chicken faster and more evenly.
Season the chicken: Rub the chicken with olive oil, salt, pepper and garlic powder
Roast: Transfer to a large sheet pan and roast at 425 degrees F for 35 minutes.
Brush and finish roasting: Brush with BBQ sauce, and return to oven for 10 minutes. Repeat one more time. Total cooking time should be about 50-55 minutes (35 minutes of initial roasting and 20 minutes after brushing with the sauce).
Let it rest: When internal temperature reaches 165 degrees F, remove from oven let it rest for 10-15 minute before serving.
Bonus tip: To easily cut the chicken into pieces, try to find the joint, which is the connection between the bones. It's soft and easy to cut with a knife. To remove the breasts, cut along the long chest bone.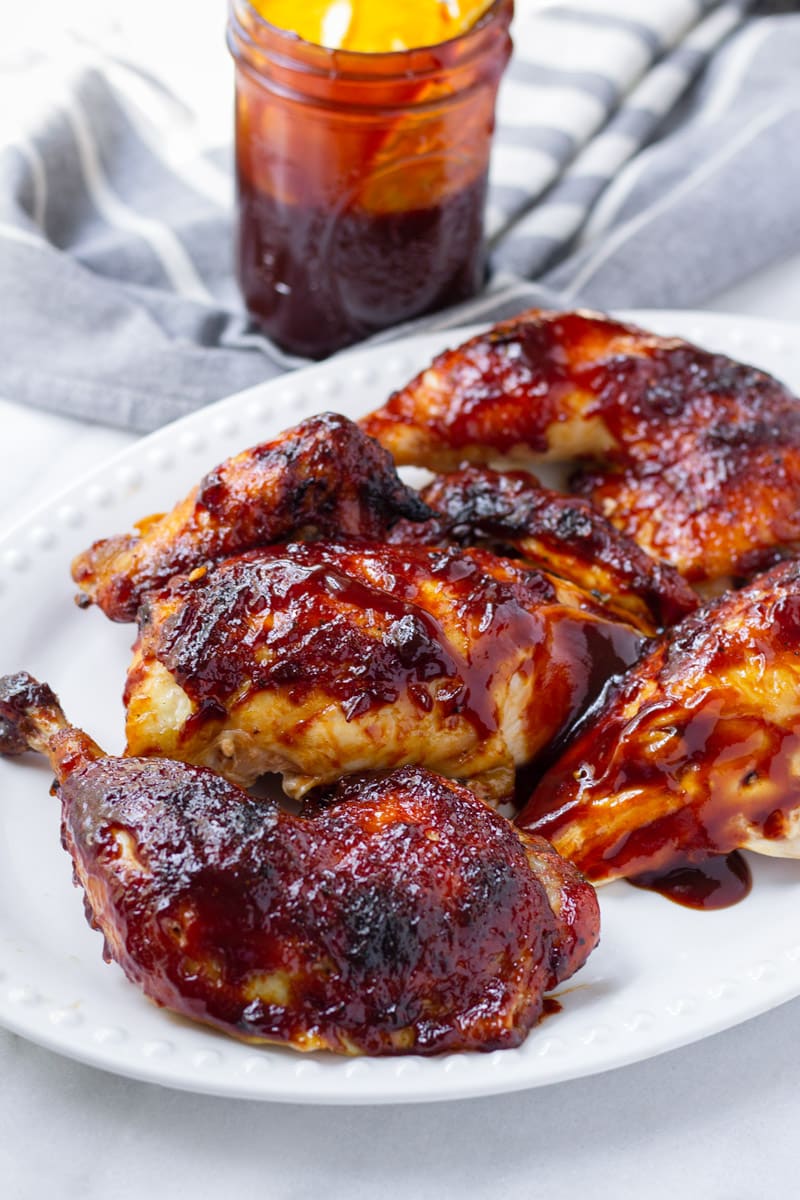 Awesome Pairings and Sides
My go-to side dish is none other than mac and cheese! Here are my faves:
That's all! An easy, delicious, and amazing chicken dinner that everyone will love.
If you have any questions, feel free to comment below. Happy cooking!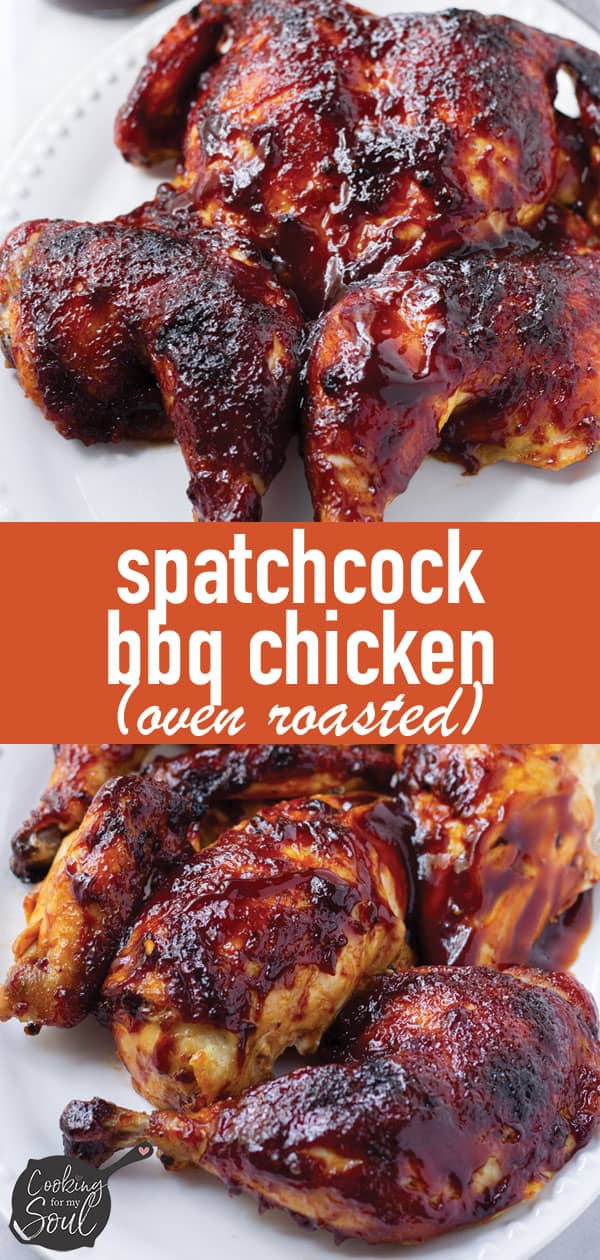 Tips for Success
For safety, use sturdy kitchen shears to spatchcock the chicken.
Roast the chicken at 425 degrees F and use a sturdy sheet pan that does not warp in high heat.
Thoroughly pat the chicken dry. It will help the skin brown better.
Be generous with the seasonings! You're cooking a 4-5 lb chicken after all.
You can make my homemade sweet bbq sauce or use your favorite store-bought bbq sauce.
If you try my recipe, use #cookingformysoul on Instagram! Follow me on Pinterest, Instagram, Facebook for the latest fun updates and recipes!
Spatchcock BBQ Chicken
This easy spatchcock BBQ chicken is easy and delicious. The chicken roasts in less than 1 hour and is brushed with a homemade sweet BBQ sauce. It's the perfect chicken dinner.
Ingredients
1

(4-pound)

whole chicken

-

(neck and giblets removed)

2

teaspoons

Kosher salt

1/2

teaspoons

ground black pepper

2

teaspoons

garlic powder

Olive oil

-

(for drizzling)

2

cups

homemade sweet BBQ sauce -

(or store-bought)
Instructions
If making homemade BBQ sauce: follow the my sweet BBQ sauce recipe. It makes about 2 cups. If you're not making your own BBQ sauce, skip to the next step.

Preheat oven to 425 F. Get the oven rack adjusted to the middle position.

Spatchcock the chicken: Using strong kitchen shears, cut through the backbone of the chicken and remove it, along with any little bones that may be sticking out. With the lower side of the palm of your hands, press down the chicken breast until flattened. Thoroughly pat dry the chicken. Note: for more step-by-step instructions and pictures, check out my how to spatchcock a chicken post.

Season chicken with salt, black pepper, and garlic powder. Rub some olive oil (about 2-3 tablespoons) along with the seasoning, all over the chicken on both sides. Clip off the wing tips or hide them under the skin so that they don't burn. Transfer prepared chicken to a large and sturdy sheet pan.

Set aside 1/2 cup of the BBQ sauce for brushing the chicken. Reserve the rest of the BBQ sauce for serving.

Roast the chicken for about 35 mins. Remove from oven and brush with some BBQ sauce, and return to oven for 10 minutes. One more time, remove from oven and brush with more BBQ sauce, and return to oven for another 10 minutes. It should be about 55 minutes total in the oven, or until internal temperature reaches 165 degrees F. Remove from oven and let the chicken rest for 10 minutes before serving.

Cut up the chicken and serve with the reserved BBQ sauce. Enjoy!
Notes
Special equipment: strong kitchen shears, large and sturdy sheet pan, silicone or pastry brush.
To safely spatchcock the chicken, make sure you have strong kitchen shears. You might not want to use flimsy kitchen shears.
I'd highly recommend making your own BBQ sauce (link in the ingredients list!) unless you have a favorite brand you use.
To cut the cooked chicken for serving, first remove the legs and the wings by finding the joint and cutting it; the joints are soft and can be cut easily. Then, remove each breast by cutting along the chest bone.