I love making spinach stuffed chicken breasts for dinner. Juicy chicken breasts stuffed with a delicious spinach and ricotta mixture…pan-seared and finished in the oven. It's a favorite!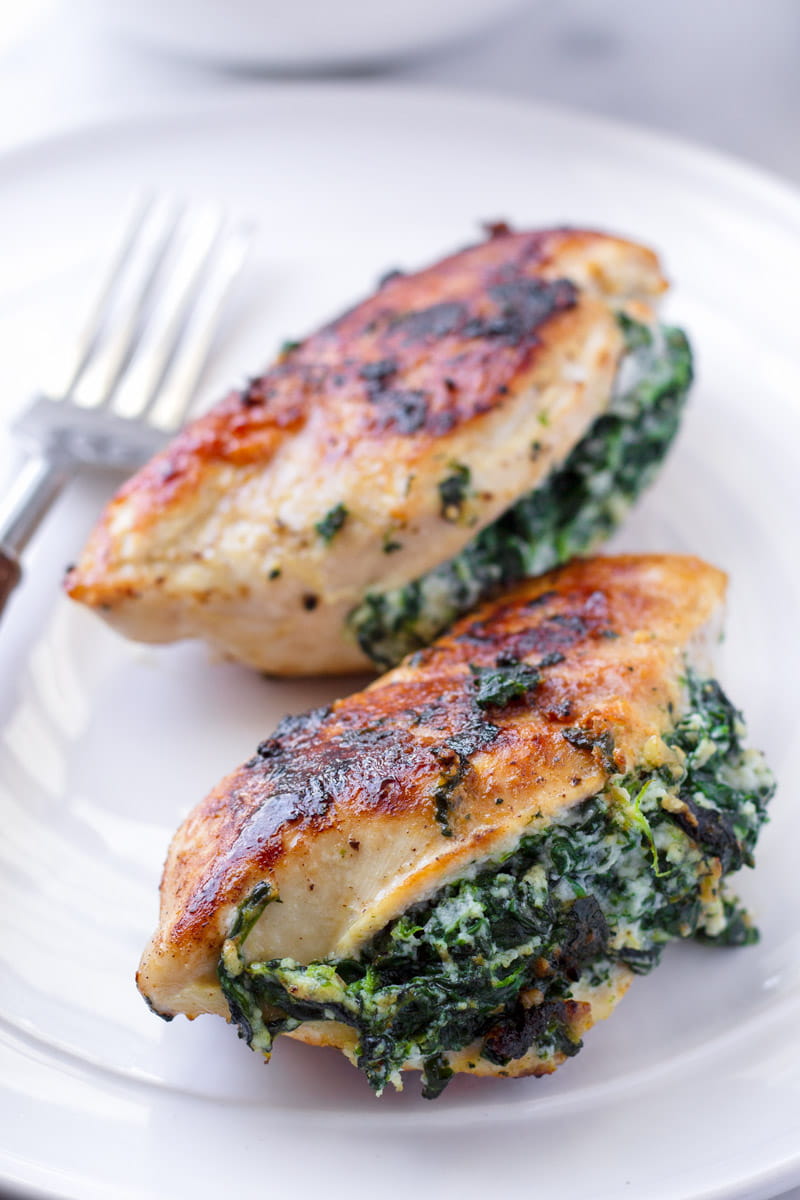 I'm always testing easy chicken dinners at home, and I think this spinach stuffed chicken breast dish has become a winner in my family! Aside from the amazing flavors, it's really fun to make.
The chicken breast is filled with a creamy mixture of sautéed spinach, ricotta, and shredded parmesan cheese. The secret to great flavor is adding minced garlic when sautéing the spinach. I swear…this spinach stuffed chicken breast dish is to die for!
It can also be paired with almost any side dish: potatoes, rice, pasta, salads…you name it! It's so good, and a great weeknight chicken dinner. So let's make it!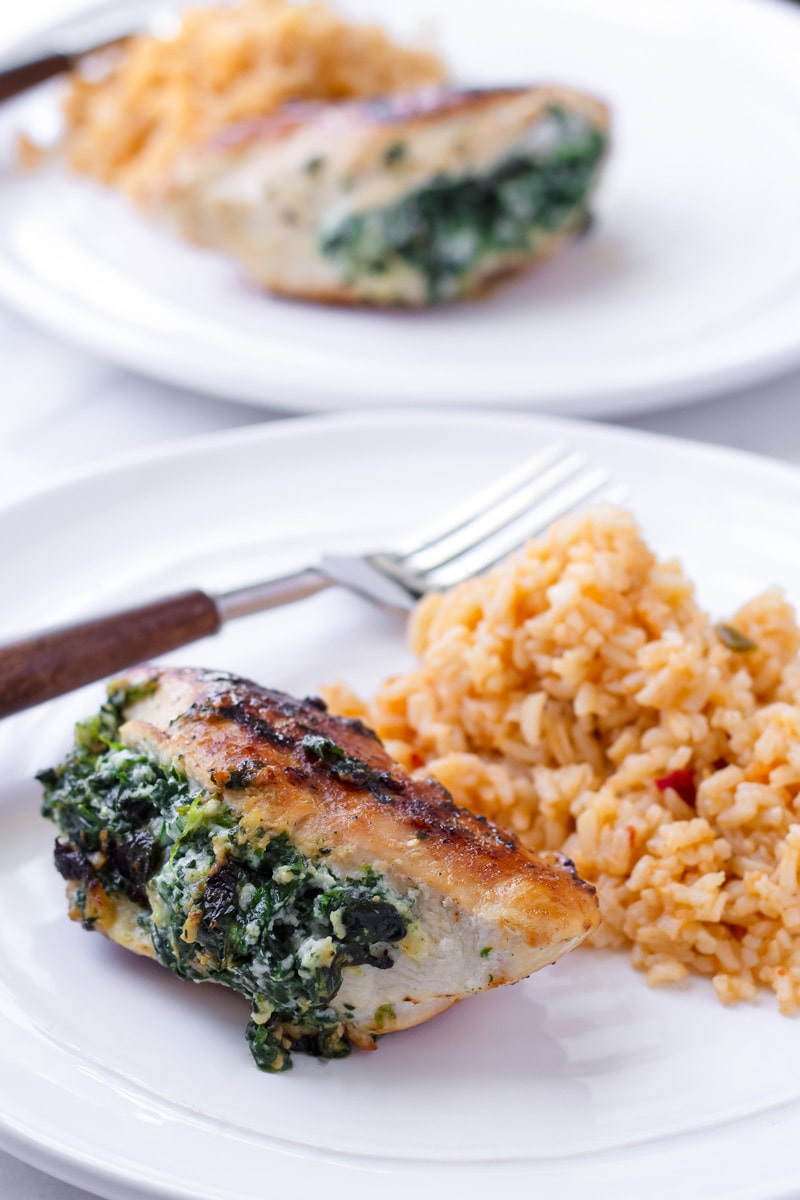 Ingredients
Aside from condiments and oil for the pan, you only need 5 ingredients to make this easy spinach stuffed chicken breast recipe:
Chicken breasts: I'd recommend using large chicken breasts since you'll be stuffing them.
Frozen spinach: Thawed and excess moisture removed.
Garlic: To sauté with the spinach.
Ricotta cheese: For creaminess and texture.
Parmesan cheese: For extra savory cheese flavors.
The rest is just salt, pepper, and oil for the pan, which are ingredients that you may likely have at home already.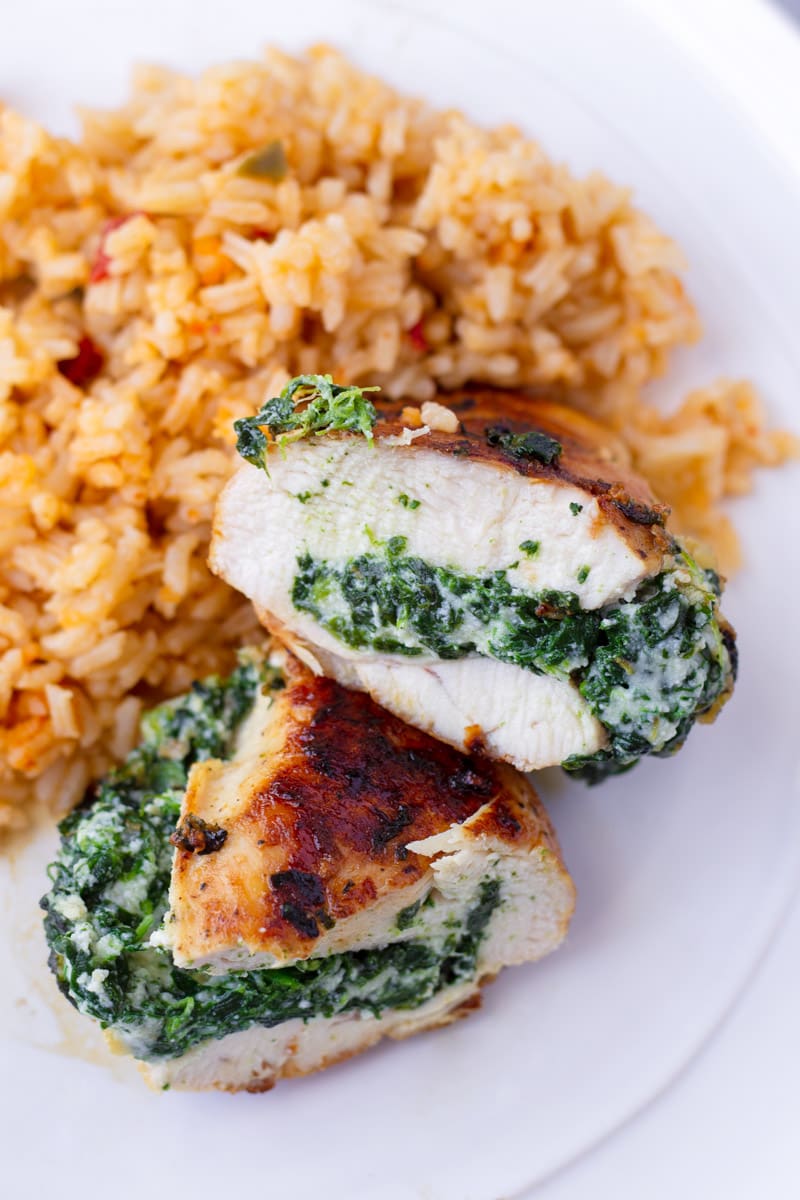 One of the keys to successful and easy weeknight dinners is using only a few ingredients, and this spinach stuffed chicken recipe is definitely a winner. Plus, it's made in one pan for easy clean-up.
Let's Make It!
Making the spinach and ricotta stuffed chicken breasts is really easy:
Preheat oven: 400 degrees F.
Cook the spinach: The spinach should be thawed and excess moisture must be squeezed out. Cook with minced garlic.
Make the filling: Combine cooked spinach, ricotta, parmesan, salt and pepper.
Stuff the chicken breasts and secure: Cut pockets into the chicken breasts, lengthwise. The pocket should be large enough to hold enough filling. Fill them and secure the filling with pre-soaked toothpicks.
Pan-sear and finish in the oven.
Per usual, you can find the detailed ingredient quantities and instructions in the recipe card below.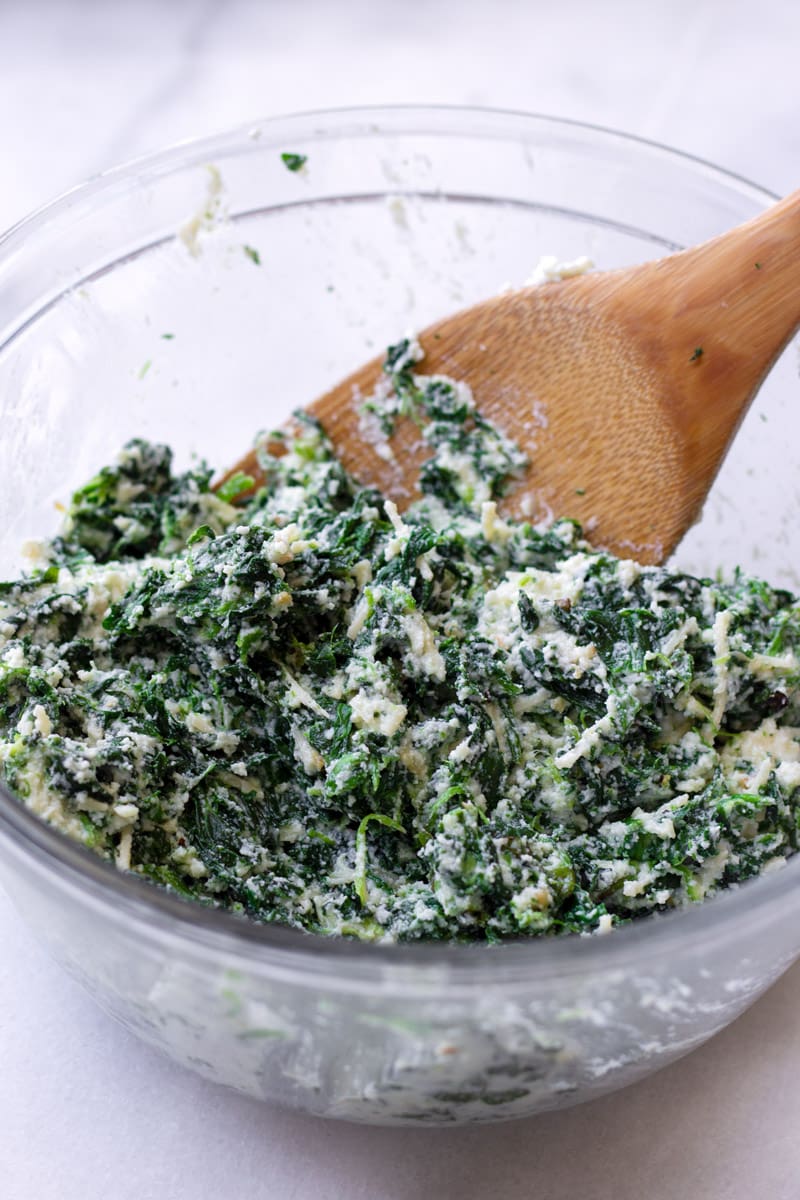 Can I Make It Ahead?
Yes, you can make this recipe ahead, but I'd recommend preparing it the morning of, if you're making it for dinner. The reason for this shorter than usual make-ahead time frame is, if left for too long in the fridge, the filling and chicken may start releasing extra moisture, making it soggy.
If you would like to make it ahead, here are some guidelines:
Basically, once you stuff the chicken breasts and secure them with toothpicks, store them in the fridge the same day (in the morning or so).
When ready to cook, let the chicken sit on the counter for 15 minutes so it's not too cold. Then, cook as directed in this recipe.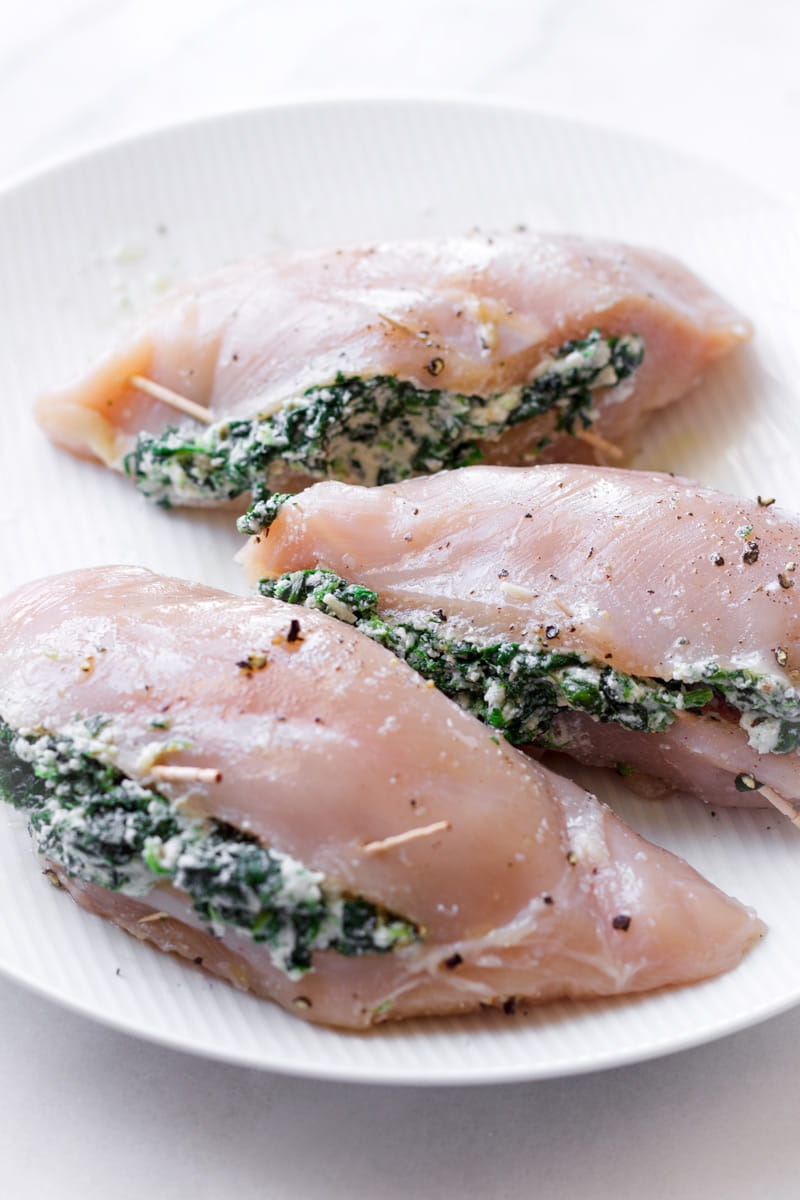 Pan-seared and Finished in the Oven
You'll notice that the cooking method in this spinach stuffed chicken recipes involves pan-searing and then finishing it in the oven. Here's why:
Pan-searing: This will get you a beautiful golden brown color and amazing flavor. It will also give it a big head start in the cooking process so it doesn't have to cook too long in the oven (and dry out). You'll get moist and juicy chicken breasts this way!
Finishing it in the oven: Cooking it in the oven will give ensure that it's cooked throughout. These are thick stuffed chicken breasts after all!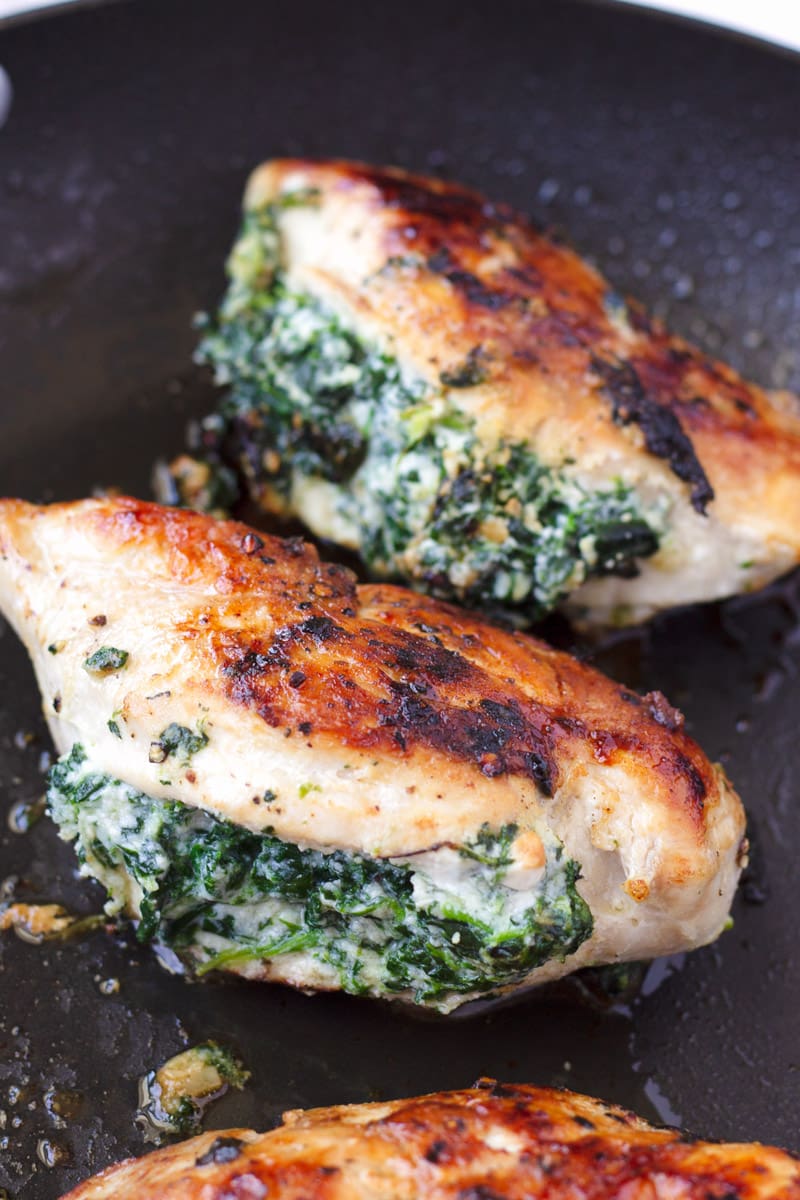 Customizations and Pairings
Wanna add your own twist to it? Yes, absolutely! Here are some ideas:
Add-ins for the mixture. Try cooked bacon, prosciutto, artichoke hearts, or sundried tomatoes.
Extra seasoning on the chicken: I seasoned the chicken breasts with salt and pepper only, but you can also season with garlic powder, paprika, or anything you'd like.
Additionally, what I love about this recipe is that you can pair it with almost anything! These are my favorite pairings: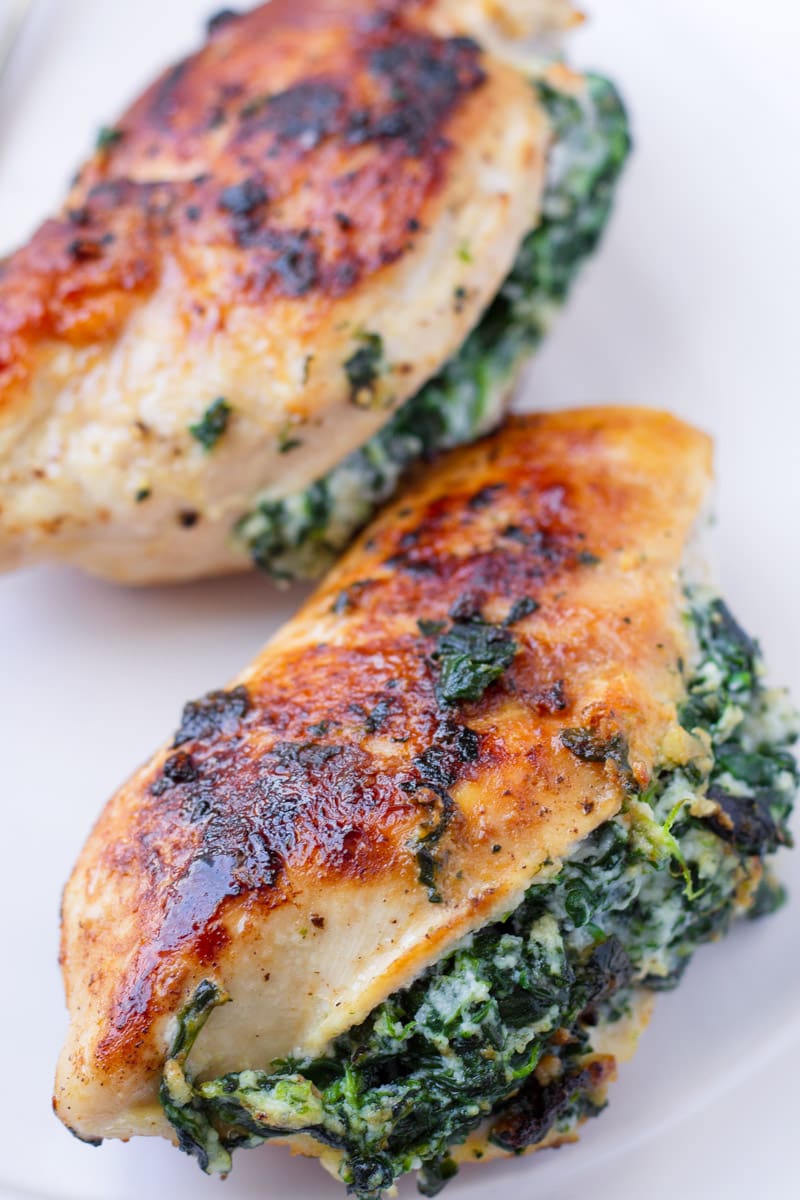 That's it! Easy, delicious, and a fun dish to make. I like to make extra servings of this spinach ricotta stuffed chicken breast because it reheats really well, and I can have it for lunch the next day.
Thank you so much for reading. I hope you like this recipe as much as I do!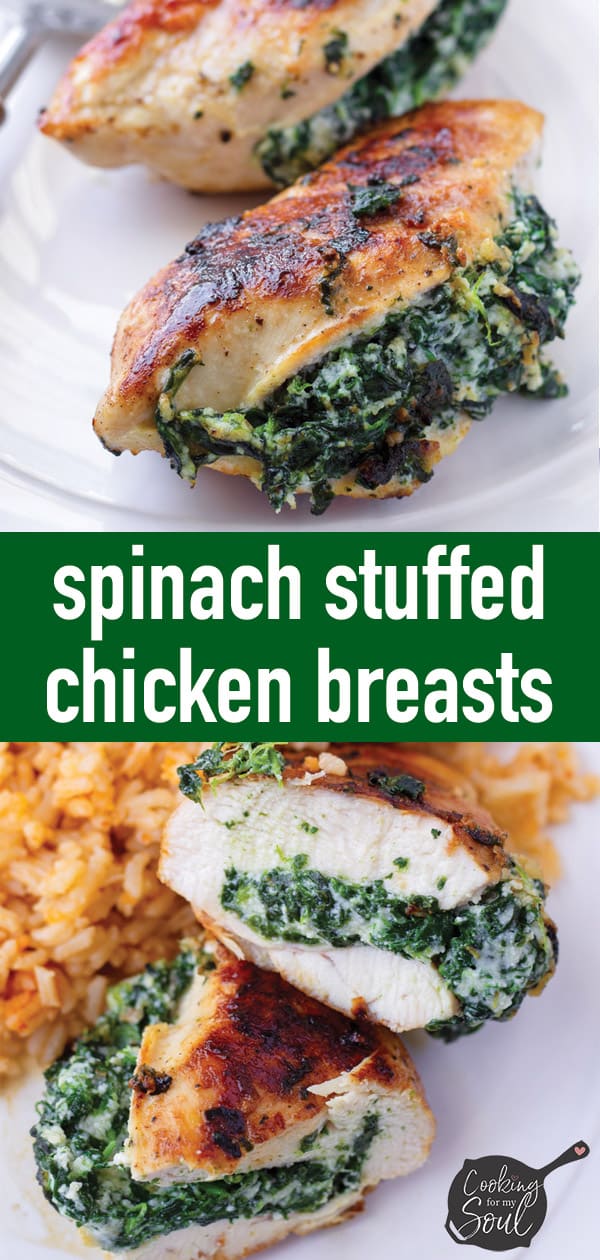 Tips for Success
When cutting pockets into the chicken breast, try to make them deep enough to hold the filling. Also, don't cut through the shorter ends of the chicken in order to allow the pockets to hold the filling better.
Try not overstuff the chicken with the spinach ricotta filling.
Secure the pockets with pre-soaked toothpicks to prevent the filling from coming out when cooking
If you try my recipe, use #cookingformysoul on Instagram! Follow me on Pinterest, Instagram, Facebook for the latest fun updates and recipes!
Spinach Stuffed Chicken Breast
The perfect weeknight chicken dinner…spinach stuffed chicken breasts with ricotta! Easy and comforting, and made in one pan. You'll love it!
Ingredients
4

large chicken breasts

(skinless, boneless)

12

oz

frozen chopped spinach

(thawed and excess liquid squeezed out)

3

cloves

garlic, minced

1

cup

ricotta cheese

1/4

cup

shredded parmesan cheese

Olive oil for pan

Salt and pepper to taste
Instructions
Before you start, pre-soak about 8 toothpicks in water. You'll use toothpicks to secure the filling.

Preheat oven to 400 degrees F.

In a large skillet, heat about 1 tablespoon olive oil over medium high heat. Add the garlic and cook until fragrant, about 1 minute. Add the spinach and cook until the extra moisture is gone. Transfer to a plate and set aside. Allow it to cool slightly.

In a medium bowl, combine the ricotta, parmesan, and the prepared spinach. Season with salt and pepper to taste.

Cut pockets, lengthwise, into the chicken breasts. The pockets should be deep enough to hold enough mixture. Stuff them with the prepared mixture. Note: It's up to you how much mixture to add to each chicken breast. Try not to overstuff it though.

Secure the opening of the pockets with pre-soaked toothpicks. Try to insert the toothpicks horizontally so that they don't stick out too much.

In an ovenproof skillet, heat about 1-2 tablespoons of olive oil over medium heat. Brown the chicken on both sides, about 5 minutes per side. Finish cooking in the pre-heated oven for about 12-14 minutes, on until cooked through, depending on how thick the breasts are. Let the chicken rest for 10 minutes before serving. Enjoy!
Notes
Special equipment: toothpicks, large oven-proof skillet.
Why pre-soak the toothpicks? It makes it safer when cooking on the skillet or in the oven. About 10-15 of pre-soaking should suffice.
Cutting pockets into the chicken: Cut pockets lengthwise, and make sure not to cut through the sides (the shorter ends) to secure the filling better.
Stuffing the chicken breast: You can stuff it with the desired amount of filling. Try not to overstuff it.