Nothing better than a hearty beef stew for this cold weather! This Dutch oven beef stew is seriously comforting. The beef stew is cooked in the oven for about 2 hours to ensure it is tender and ultra flavorful.

Here in Michigan temperatures are dropping like crazy and…honestly, I'm totally okay with that! Call me crazy, but I love cold weather. Fall and winter are my favorite seasons of the year, and that's because 1) I get to bundle up in a cozy blanket with a cup of warm apple cider, and 2) I get to eat all the comfort food I can. Can you relate?! Anyone?!
This hearty Dutch oven beef stew is my favorite winter comfort food. It is in our regular dinner rotation because it is that good! My easy oven baked beef stew is hearty, tender, and ultra flavorful. The gravy is perfectly thick, and the vegetables are tender and filling.
And today I'm spilling all the secrets so you can make the most satisfying classic beef stew ever. So let's get started!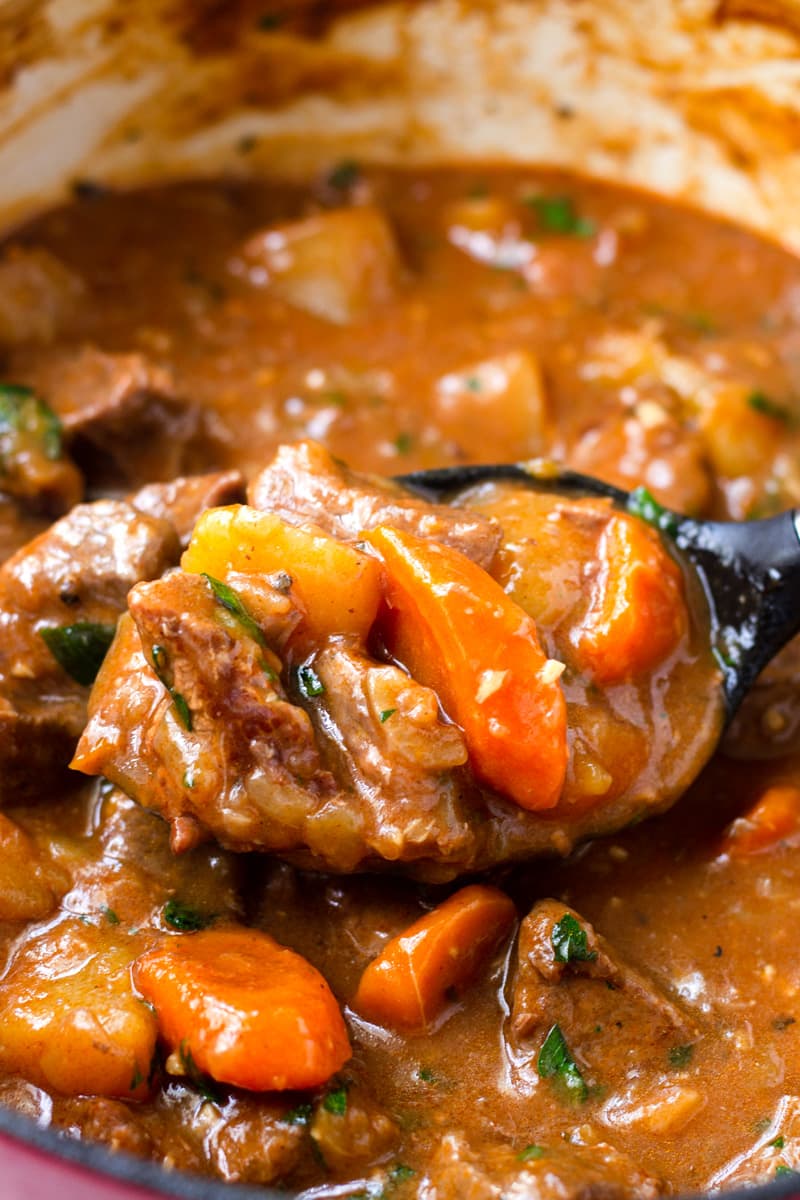 Ultra Flavorful
The flavor profile in this easy Dutch oven beef stew is fantastic! The flavors are deep yet so simple. It all starts with the cooking method (hint: browning the meat) and the choice of ingredients for the flavor base.
Here are the secrets:
Brown the meat: This is a must! Browning the meat adds depth and complexity. Plus, the brown bits left behind are packed with flavor. When deglazed, the brown bits get released, enhancing the dish.
Flavor boosters: Aside from the caramelized brown bits, the flavor base for this hearty beef stew includes W

orcestershire sauce, tomato paste, red wine, and minced garlic.

Add herbs: I used fresh thyme and dried bay leaves.
Cook in the oven: This easy beef stew finished in the oven at 325 degrees F for 1 hour and 45 minutes. This allows all the flavors to come together and gives enough time for the meat to become tender and delicious!
I mean, look at that beautiful caramelization from browning the meat!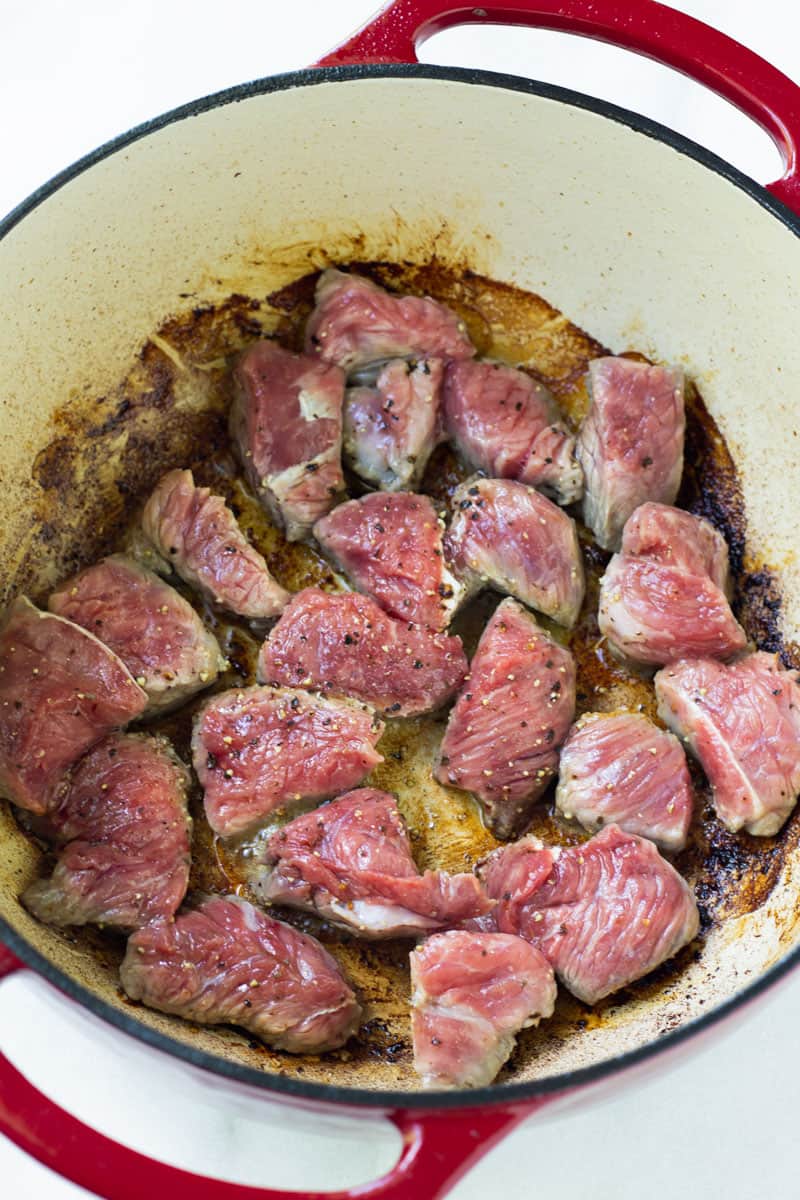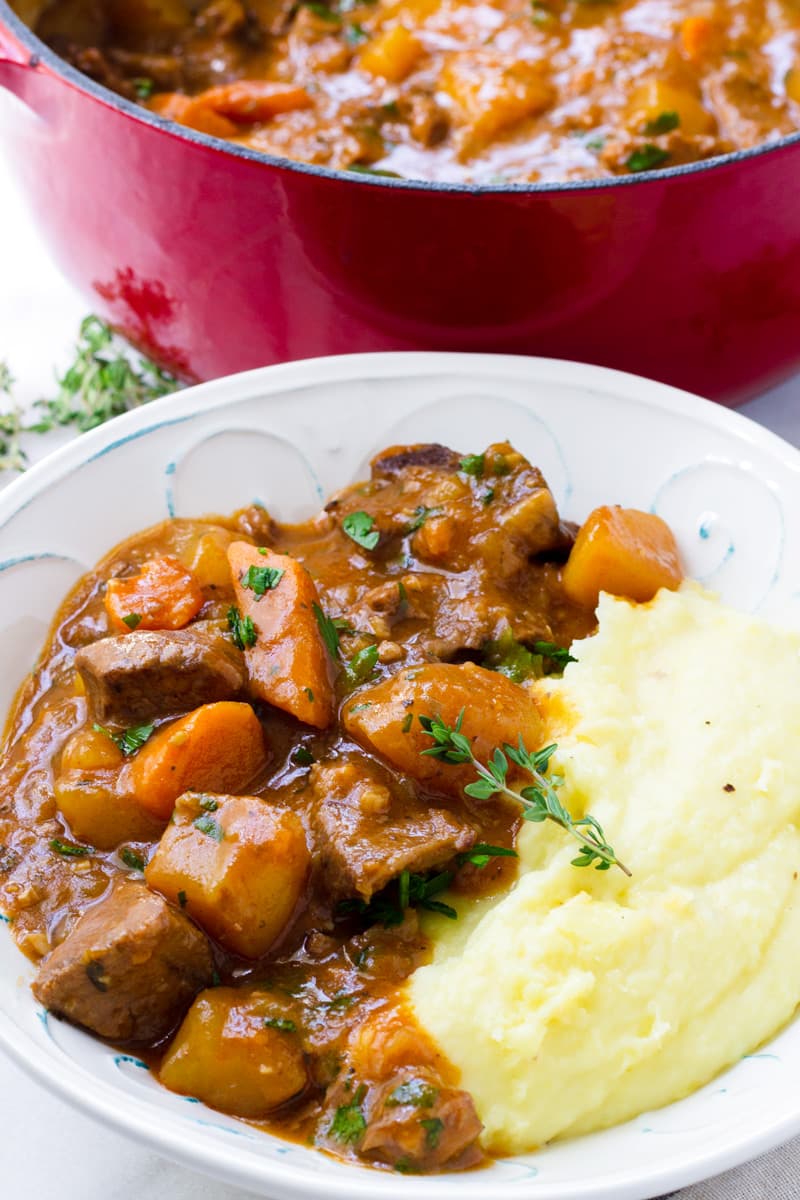 I swear, guys, the flavors in this hearty Dutch oven beef stew are amazing! You'll love it.
Cooking Beef Stew in the Oven
These are so many methods for making beef stew: slow cooker, stovetop, pressure cooker, etc. I've tried them all and my absolute favorite method is by making it on the stovetop first (in my Dutch oven) and then cooking it in the oven for about 2 hours.
Dutch ovens retain heat really well, so it's a great vessel for cooking large batch dishes, such as beef stew.
First, using a Dutch oven creates flavor development. From browning the meat to cooking all the flavor boosters in one pot, making beef stew in the Dutch oven is perfect. You just can't get the same type of flavor depth and complexity by, say, throwing everything into a slow cooker.
Second, baking the stew in the oven for about 2 hours really helps the flavors come together and make the beef ultra tender.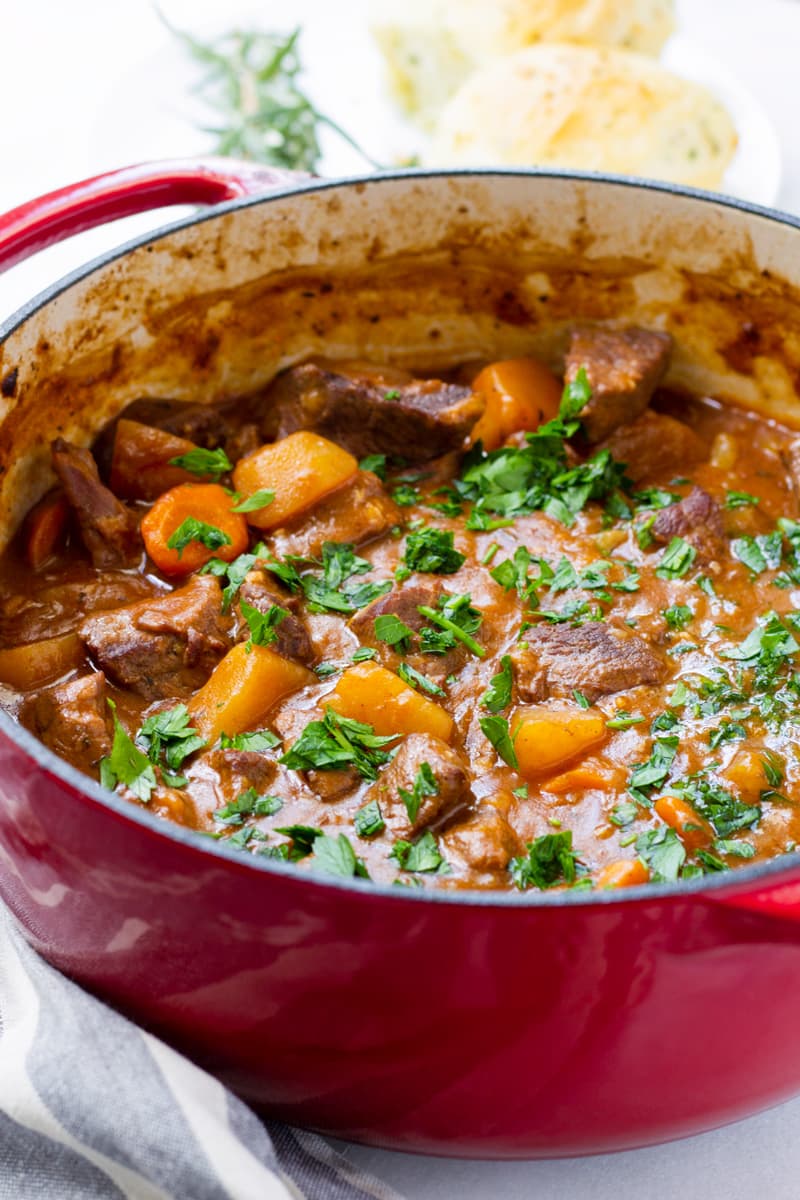 Hearty Dutch Oven Beef Stew Ingredients
Now, the most exciting part: the ingredients!
Boneless beef chuck roast: Don't even bother getting expensive cut of meat for stews! For stews, you want tough cuts of meat because these contain more connective tissue, which result in that melt-in-your-mouth bite when slowly cooked for hours. My favorite beef stew cut comes from the shoulder, also known as the chuck.
Yellow onion: Adds flavor for the base.
Minced garlic: Adds aromatic flavors.
Carrots: A classic vegetable for stews!
Yukon gold potatoes: Use firm potatoes, such as Yukon gold or red potatoes. Avoid Russets since these break down easily.
Worcestershire sauce: A great flavor booster!
Tomato paste: Another great flavor booster! Adds depth.
Red wine: The acidity from red wine adds complex flavors. You'll add the wine to release the brown bits from the meat, so it's like a double flavor enhancer!
All-purpose flour: To thicken the stew. Watery and thin stews are a no-no!
Beef broth: Just the regular kind is fine.
Bay leaves: These will add a subtle aromatic flavor profile.
Fresh thyme leaves: Adds flavor and a distinguishable aromatic flavor profile.
Parsley: I add chopped Italian parsley for color and vibrance. You can add peas too.
Salt and pepper
Olive oil
The great thing about these ingredients is that they are very easy to find, and I already keep a lot of these stocked up in my pantry.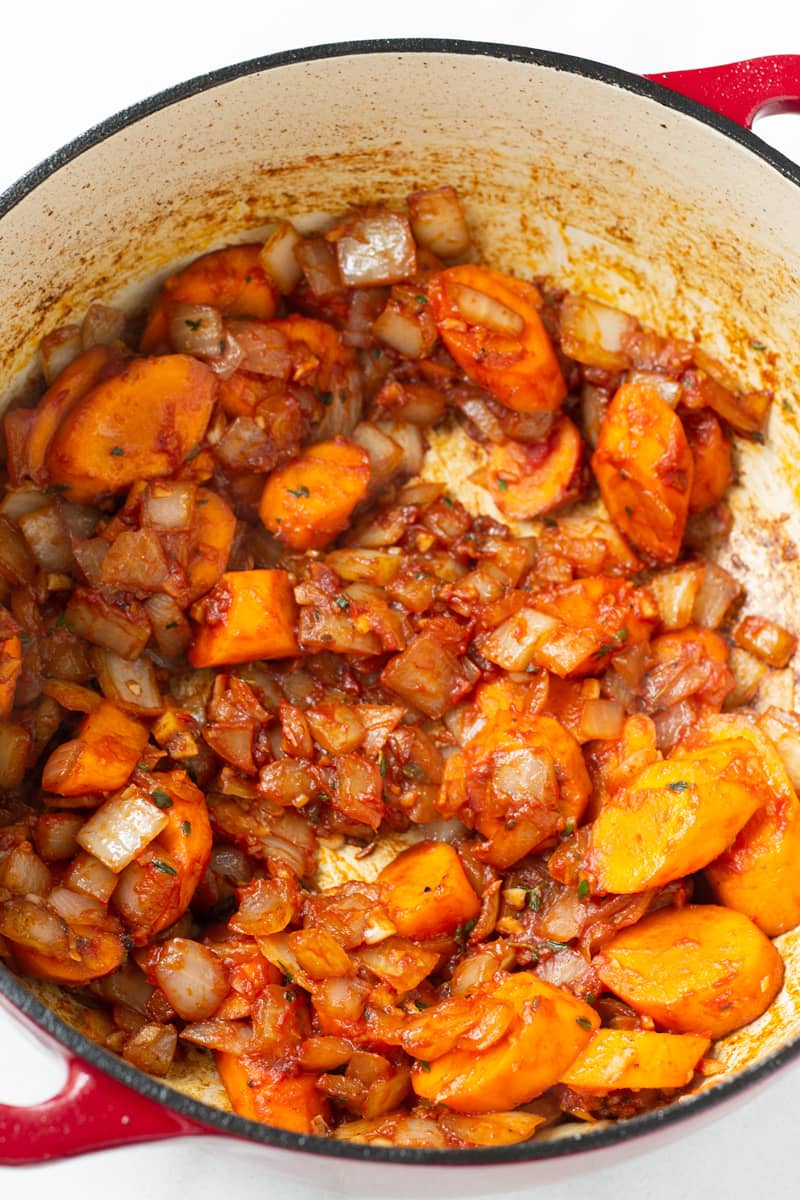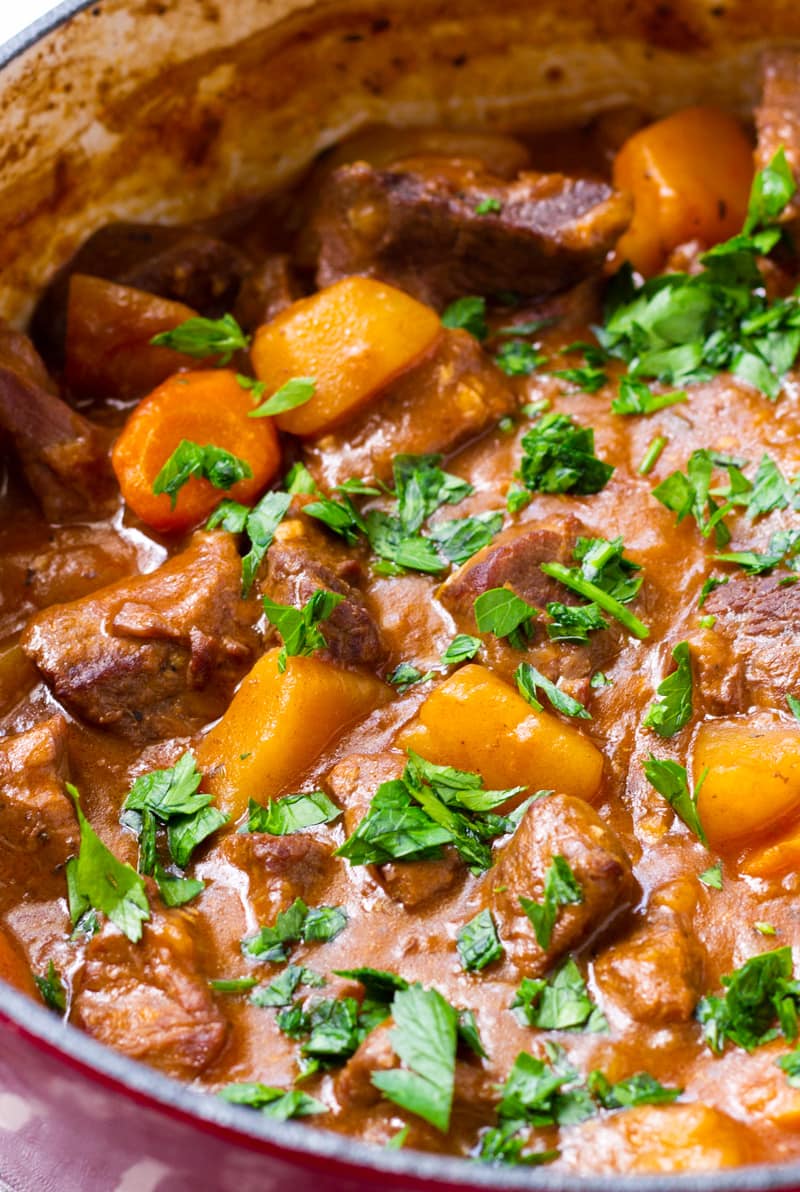 How to Make It
Making beef stew is very simple! Active cook time is about 30 minutes, and the rest is oven time.
Preheat oven to 325 degrees F.
Brown the meat: Season the beef first, and brown over high heat in 2-3 batches to ensure that each chunk of meat has space to sear and brown properly.
Make the flavor base: This is when you build the flavors with onions, carrots, garlic, tomato paste, and Worcestershire sauce.
Incorporate the red wine: This will add depth, slight acidity, and tons of flavor. And don't worry, the alcohol will evaporate.
Add the beef broth and flour: The flour will help thicken the beef broth. For 4 cups of beef broth, I incorporated 1/4 cup of flour and it was perfect!
Add the rest of the ingredients: Cubed potatoes, the seared beef, and bay leaves. Season with extra salt and pepper if needed.
Bake for 1 hour and 45 minutes: Cover the Dutch oven with the lid and bake for 1 hour and 45 minutes to allow the flavors to come together. This will also make the meat tender.
Add parsley: I love incorporating parsley in my beef stew at the very end. If you want to add peas, do so 10 minutes before the bake time is over.
I really love this easy Dutch oven beef stew recipe! It's pretty straightforward and makes a big batch, enough for about 6 people.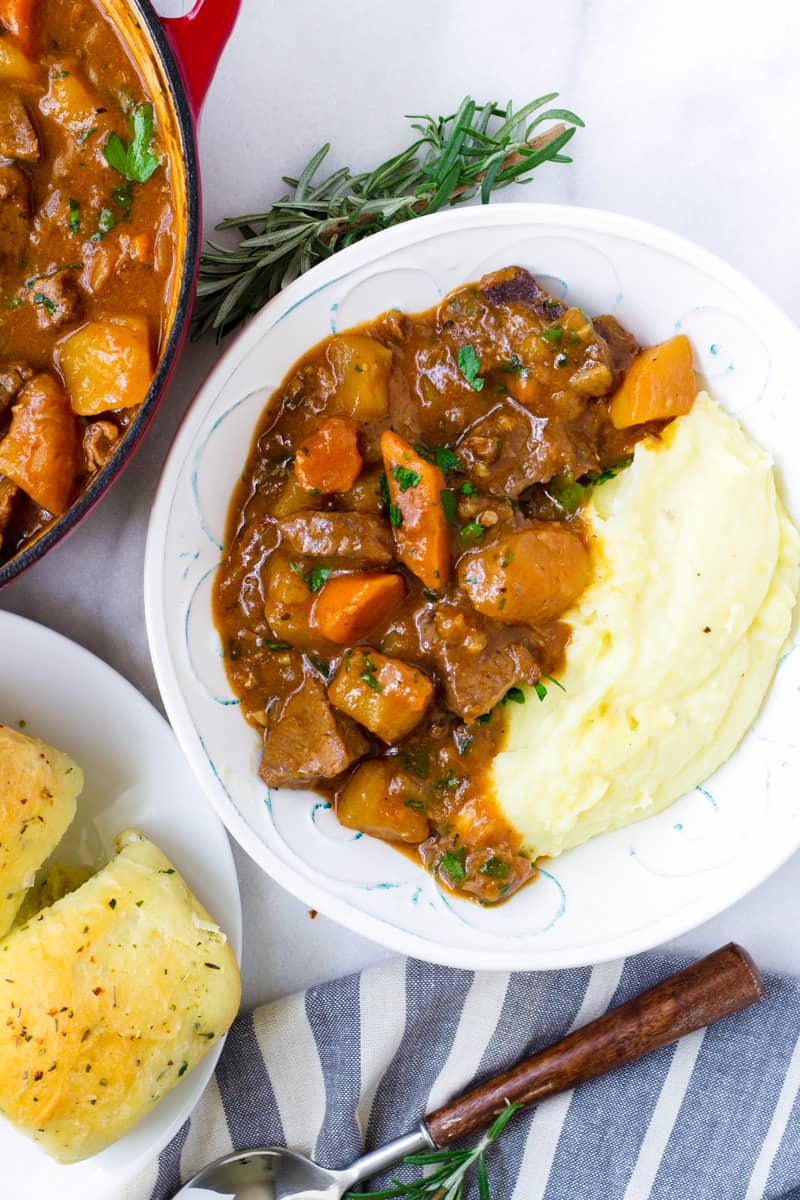 I hope you really like this easy and hearty beef stew. It's my go-to comfort food recipe during winter!
Here are awesome side dishes for your stew:
And for dessert, check out my classic apple pie (with pre-cooked apple filling!), apple bundt cake, or sea salt chocolate chip cookies!
Thank you stopping by and please don't forget to pin this recipe!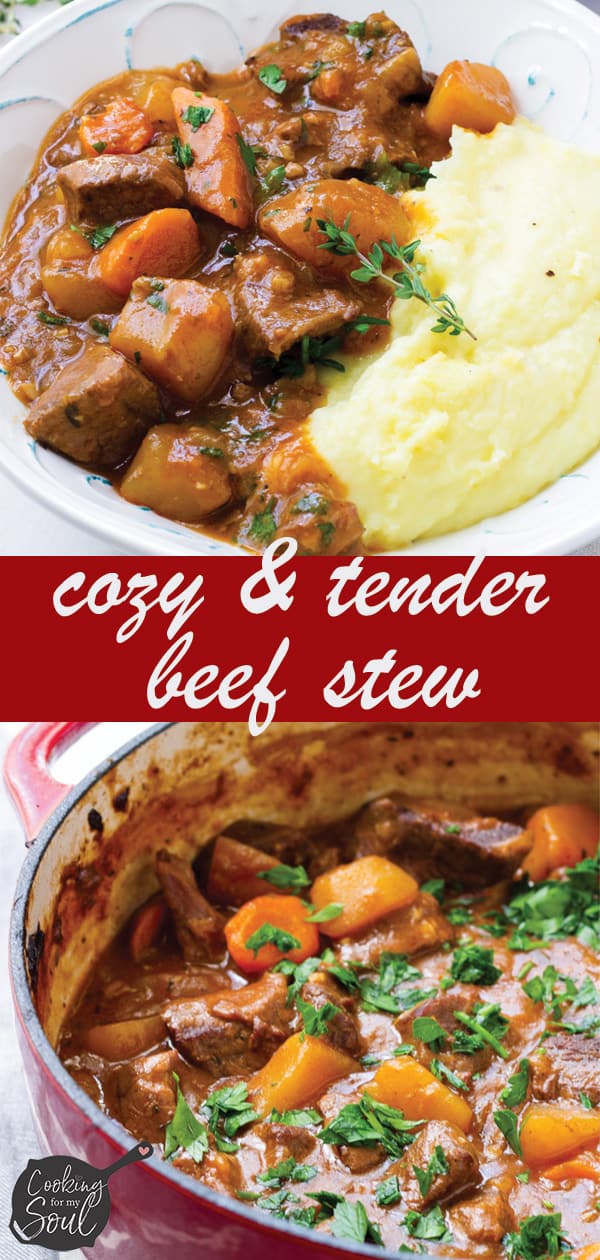 Tips for Tender and Flavorful Beef Stew
Brown the meat in batches and over high heat. They key to a beautiful sear is to leave it alone until beautifully browned – try not to flip the meat too soon.
Allow the "flavor base" ingredients to develop by not rushing the stovetop cooking steps. The main flavor booster ingredients are W

orcestershire sauce, tomato paste, wine, and minced garlic. Herbs (fresh thyme and bay leaves) also add tons of flavor.

Use fresh thyme. Dried thyme is just not the same.
Use firm potatoes, such as Yukon gold or red potatoes. Stay away from Russets since they break down and disintegrate easily.
If you try my recipe, use #cookingformysoul on Instagram! Follow me on Pinterest, Instagram, Facebook for the latest fun updates and recipes!
Hearty Dutch Oven Beef Stew
Nothing beats a warm and comforting bowl of beef stew during cold days. This hearty Dutch oven beef stew is flavor-packed and melt-in-your-mouth tender. The beef gravy is smooth and perfectly thick, and the potatoes and carrots are tender and filling.
Ingredients
For the meat:
3

pounds

whole boneless beef chuck roast, cut into 1.5 inch chunks

1 ½

teaspoons

Kosher salt

1

teaspoon

ground black pepper

Olive oil
Stew
1

medium yellow onion, diced

5

cloves

garlic, minced

3

large carrots, peeled and chopped

1

teaspoon

fresh thyme, roughly chopped

2

tablespoons

tomato paste

2

teaspoons

Worcestershire sauce

½

cup

red wine

-

or beef broth

¼

cup

all-purpose flour, plus more as needed

4

cups

beef broth, plus more as needed

3

medium Yukon gold potatoes, peeled and diced

-

see note below

2

dried bay leaves

Chopped parsley

Olive oil

Salt and pepper to taste

Frozen or fresh green peas

-

optional
Instructions
Preheat oven to 325 degrees F.

Season beef chunks with 1 1/2 teaspoons Kosher salt and 1 teaspoon ground black pepper. Heat some olive oil over high heat in a large Dutch oven or a heavy oven-proof pot, and sear beef on all sides until nicely browned. Do this in batches to not overcrowd the pan and to prevent steaming. If you notice that it begins to steam up, remove the excess liquid and continue browning.

Transfer the browned meat to a plate and set aside. It will not be fully cooked at this point. Leave the brown bits, don't wipe the pot clean.

Over medium heat, add some olive oil, onion, garlic, and carrots to the same Dutch oven and cook for about 5 minutes, stirring occasionally. Add fresh thyme, tomato paste, and Worcestershire sauce, and cook until slightly softened, about 2-3 minutes.

Add red wine, scraping the browned bits, and cook until reduced, about 3 minutes. If you don't want to use wine, you can use beef broth. Quick tip: use a wooden spoon to avoid scratching the Dutch oven or pot.

Add flour and stir to coat. Add 4 cups of beef broth, and stir until the flour is incorporated and starts to thicken. Add the seared beef, cubed potatoes, and bay leaves. If too thick, add more broth as needed. Bring to a boil and then reduce to a simmer for 5-7 minutes. Adjust seasoning with salt and pepper at this point if needed.

Cover with an oven-safe lid. Finish cooking in the oven at 325 degrees F for about 1 hour and 45 minutes until the meat is tender. If desired, stir in peas 10 minutes before the cooking time is up.

Remove bay leaves before serving. Serve with some chopped parsley. Enjoy!
Notes
Special equipment: A large Dutch oven with a lid. I use a 6 qt Dutch oven.
Quick tip: Wooden spoons work like a charm for scraping the brown bits from the pot. It will not scratch the Dutch oven's coating.
Potatoes: Avoid Russets since these break down easily. Use Yukon gold or red potatoes.
Storing leftovers: Store in the refrigerator using airtight containers for up to 3 days.
Freezing leftovers: Freeze in freezer-friendly containers for up to 3 months. To reheat, thaw in the refrigerator overnight. Once thawed, reheat in the microwave or on the stovetop.
Disclaimer: Nutritional values (per serving) are approximates only.
Nutrition
Calories:
651
kcal
|
Carbohydrates:
30
g
|
Protein:
49
g
|
Fat:
36
g
|
Saturated Fat:
13
g
|
Polyunsaturated Fat:
3
g
|
Monounsaturated Fat:
20
g
|
Trans Fat:
2
g
|
Cholesterol:
156
mg
|
Sodium:
1452
mg
|
Potassium:
1530
mg
|
Fiber:
4
g
|
Sugar:
4
g
|
Vitamin A:
5231
IU
|
Vitamin C:
27
mg
|
Calcium:
90
mg
|
Iron:
7
mg