Is there anything better than homemade garlic herb dinner rolls? These savory herb dinner rolls are easy to make, delicious, and ultra soft. Made with herbs, garlic, and lots of butter!
My husband said that if garlic bread and dinner rolls had a baby, it would be these garlic herb dinner rolls. He's totally right! That's exactly what these dinner rolls taste like, and it's pretty amazing. I love the garlicky, buttery, and herby flavors!
If you haven't tried these garlic herb dinner rolls, then you're missing out! They are so soft and fluffy, made with fresh and dried herbs, garlic powder, fresh garlic, and butter. These use the same base dough as my super soft dinner rolls, which are a reader favorite.
You'll love these herb dinner rolls, I promise!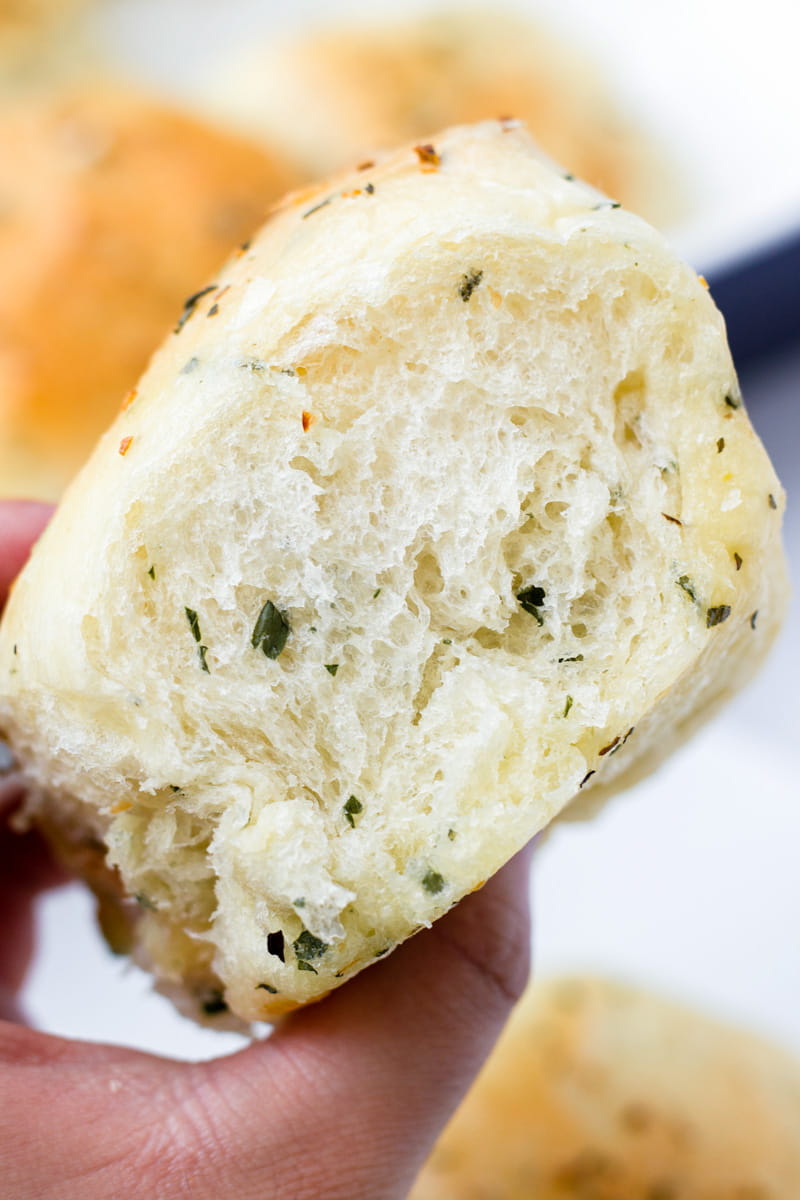 Why I Love These Dinner Rolls
Here's why these herb dinner rolls are one of my favorites:
They are pillowy soft and fluffy
For the herbs in the dough, I use a combination of fresh rosemary, fresh Italian parsley, and dried oregano
They are brushed with garlic herb butter (melted butter, Italian seasoning, fresh minced garlic) before they go into the oven
I swear, I daydream about these rolls sometimes. They are that good, especially when fresh out of the oven!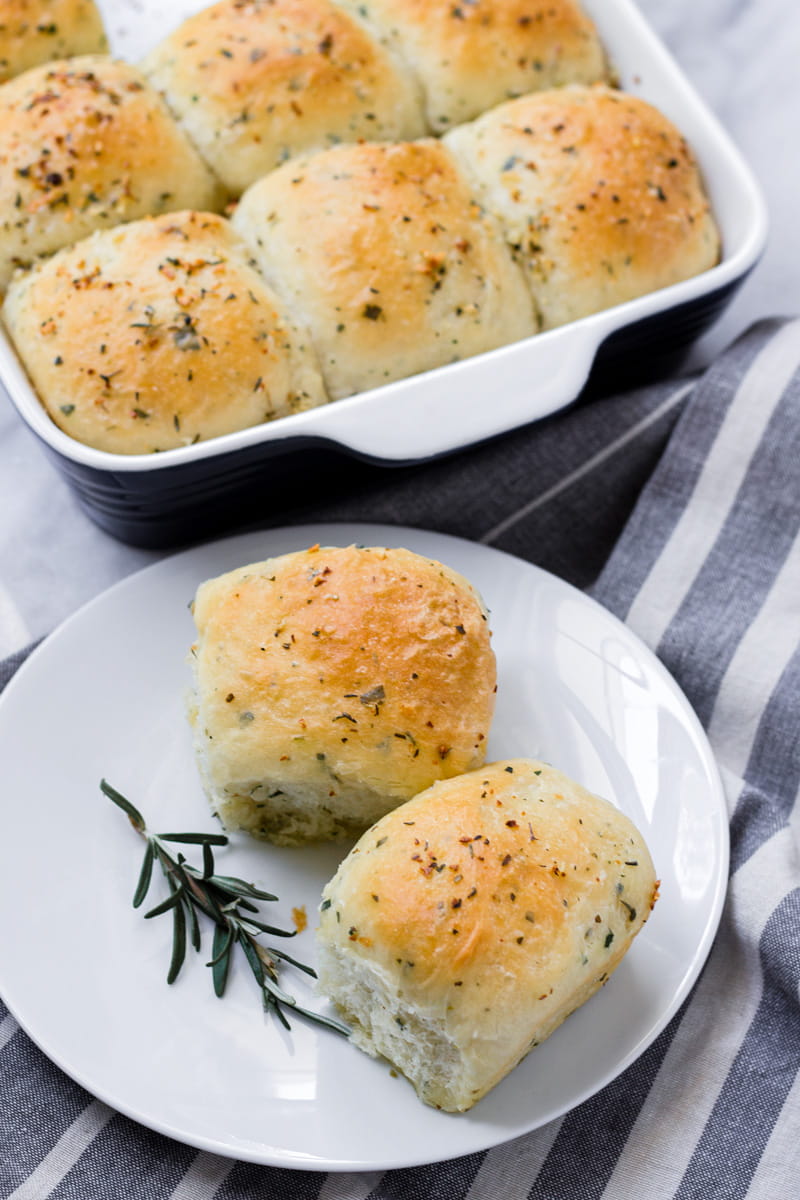 How to Make Them Super Soft
You're probably wondering what makes these herb dinner rolls so soft and tender. Here are the secrets:
Use bread flour: bread flour, as opposed to all-purpose flour, has more protein content, which in turn produces more gluten. In breads, more gluten results in light, soft, and fluffy texture. Bread flour also provides better structure, so these buns will rise beautifully!
Use milk instead of water: Gives breads a richer and softer texture.
Don't knead too much: The trick here is to knead the dough until just about right. Both under-kneading and over-kneading result in tough bread. The dough should be a bit sticky and moist, but fully manageable. Here's a trick: after kneading, poke the dough – it should spring back slowly.
Whenever I make dinner rolls or any kind of soft bread, I follow these guidelines and it always works out! They turn out soft and tender.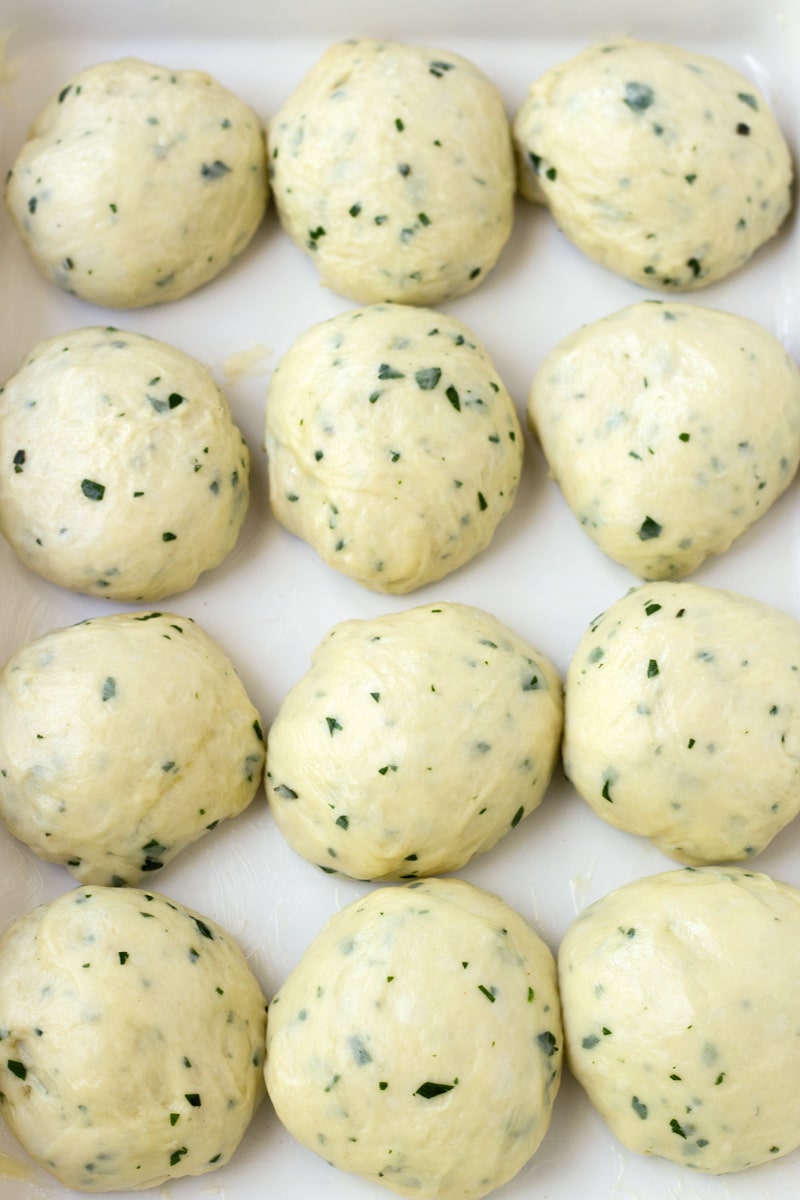 Garlic Herb Dinner Rolls Ingredients
Here's what you'll need:
Whole milk: The fat in the milk adds richness to the bread.
Active dry yeast: Make sure it's not expired or old.
Granulated sugar: This will be used to activate the yeast and to give the bread a little bit of sweetness.
Eggs: Eggs help bread rise, provide structure, and add richness and moisture.
Unsalted butter: Butter is one of the main fats in these dinner rolls.
Salt: These are savory dinner rolls after all 🙂
Garlic powder: Raw garlic in dough just doesn't work well in breads, so garlic powder does the trick.
Bread flour: Bread flour has high protein content, which helps gluten develop better, thus resulting in soft bread.
Fresh rosemary and parsley: I love the addition of fresh herbs!
Dried oregano: For some reason, I'm not a big fan of fresh oregano. So dried oregano it is!
Garlic herb butter: Unsalted butter, Italian herb seasoning, fresh minced garlic. You'll brush the bread with the garlic herb butter before baking.
These ingredients are very easy to find. In fact, I usually keep most of these ingredients in my pantry. So, if I'm craving dinner rolls (and if I have time and patience), I will make a batch. I love it!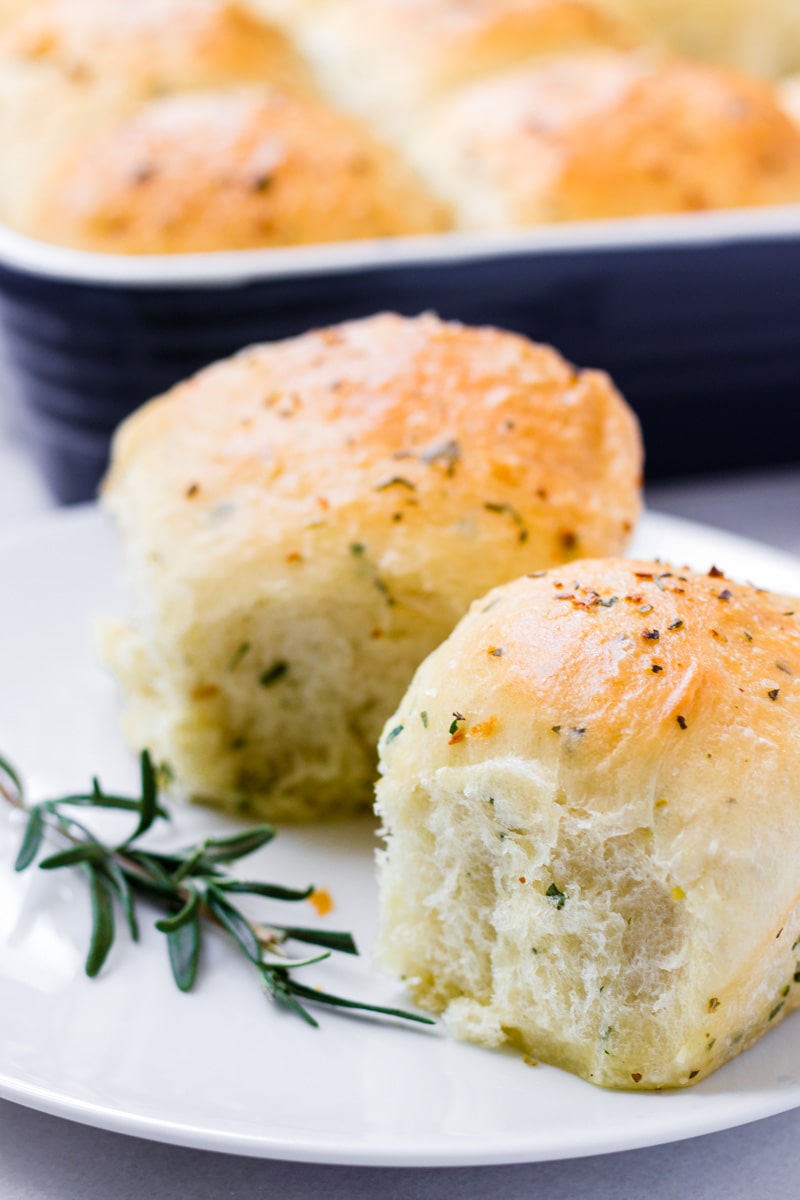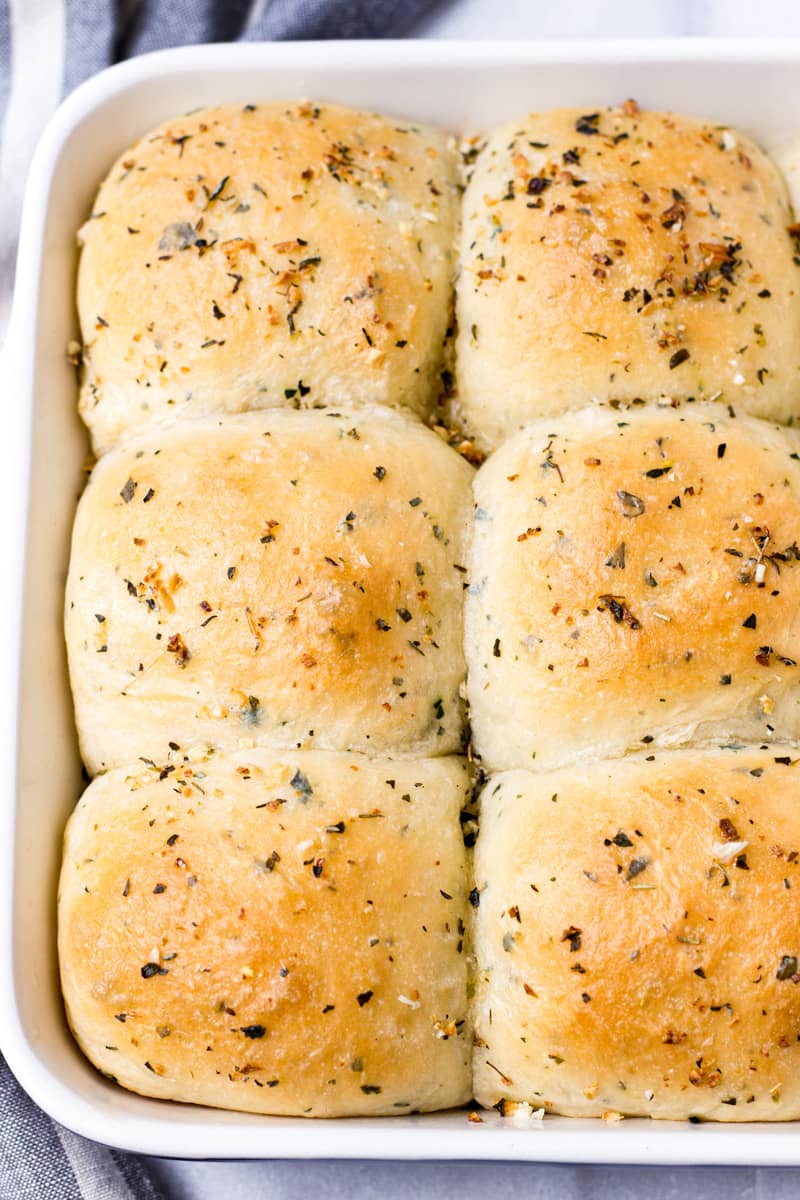 How to Make Garlic Herb Dinner Rolls
The most critical part about making bread is patience! The dough needs to rise for 1 hour in a large bowl, and again for another hour in the baking pan after you shape them into balls. In total, it should take you about 2 hours and 50 minutes from start to finish.
Proof the yeast: Heat the milk to 110-115 degrees F, and dissolve the yeast with 1 teaspoon sugar. Let it sit for 10 minutes until frothy. If it doesn't get frothy, then the yeast is no good…you'll have to start over with fresh yeast.
Make the dough base: I use a stand mixer, but you can do it by hand in a large bowl. This is where you incorporate all the dough ingredients. The dough should be slightly sticky, moist, and fully manageable.
Let it rise for 1 hour in a greased bowl and a warm environment.
Shape dough into balls and arrange them in a 9×13 baking pan.
Let it rise again for another hour.
Preheat oven to 350 degrees F.
Brush with garlic herb butter.
Bake for about 15-20 minutes.
Per usual, for all the ingredient details and instructions, see the recipe card below!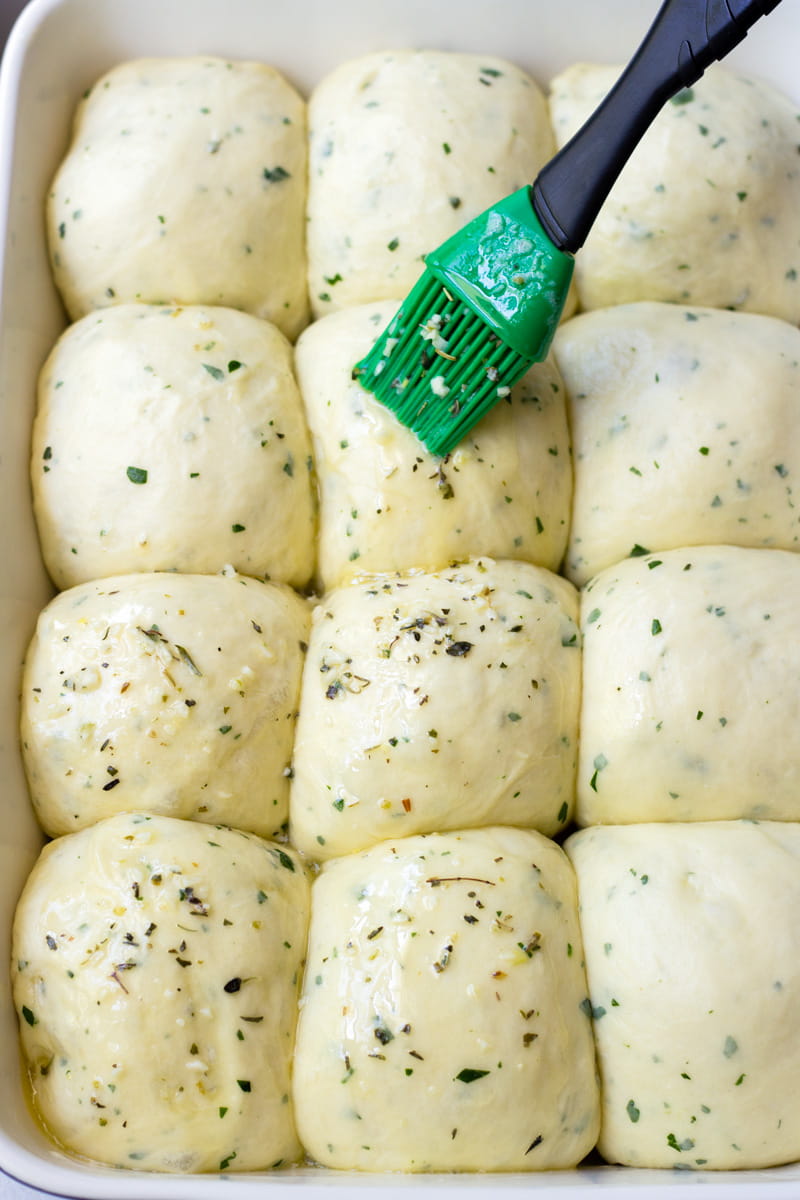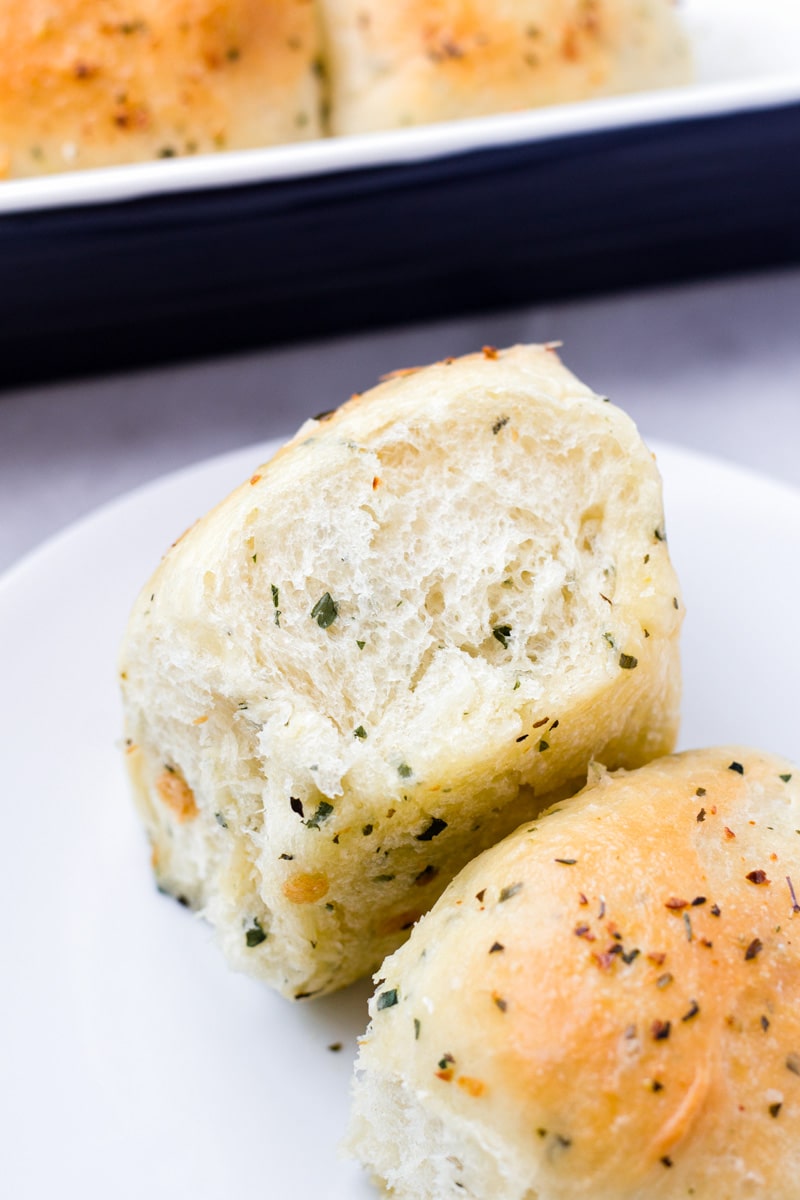 Working with Yeast
If it's your first time making bread or if you're looking for more info, check out my guide on how to work with yeast! All about how to proof yeast and how to let dough rise.
You'll find tips on how to make sure the yeast is alive and good, and also tricks to create a warm and draft-free environment for the dough to rise tall and beautifully.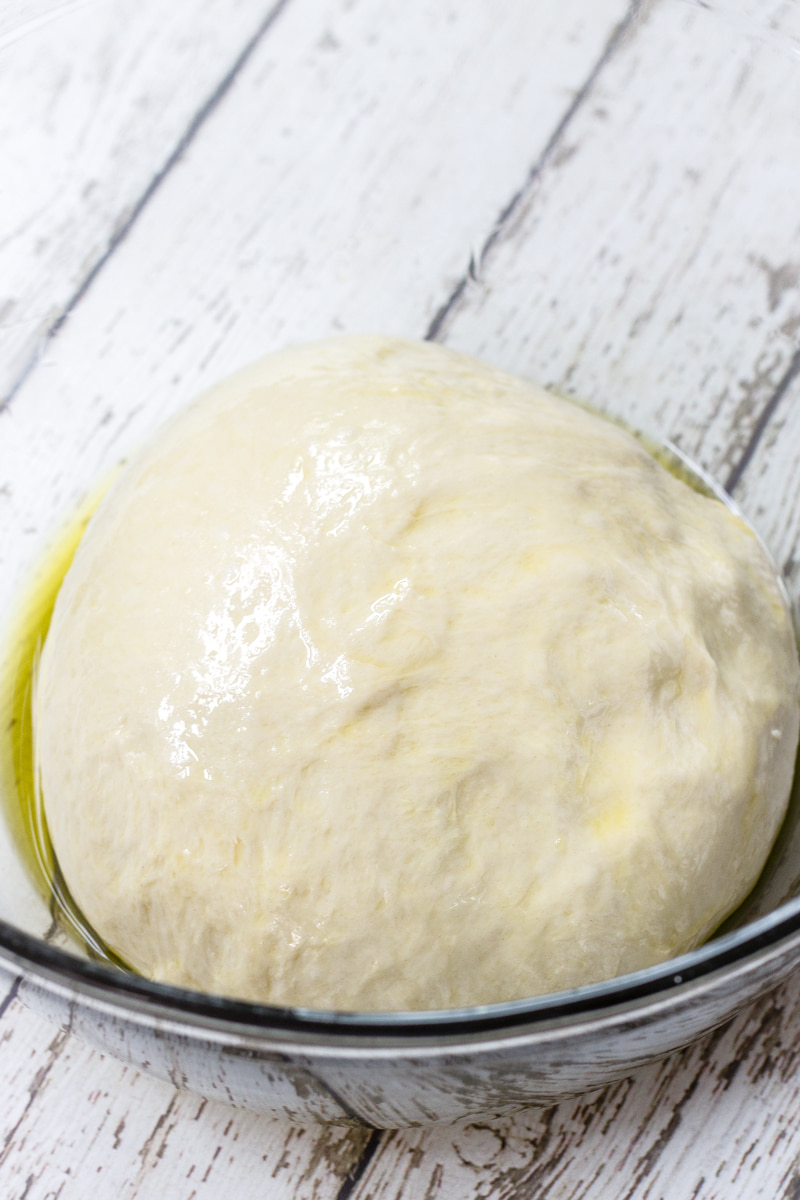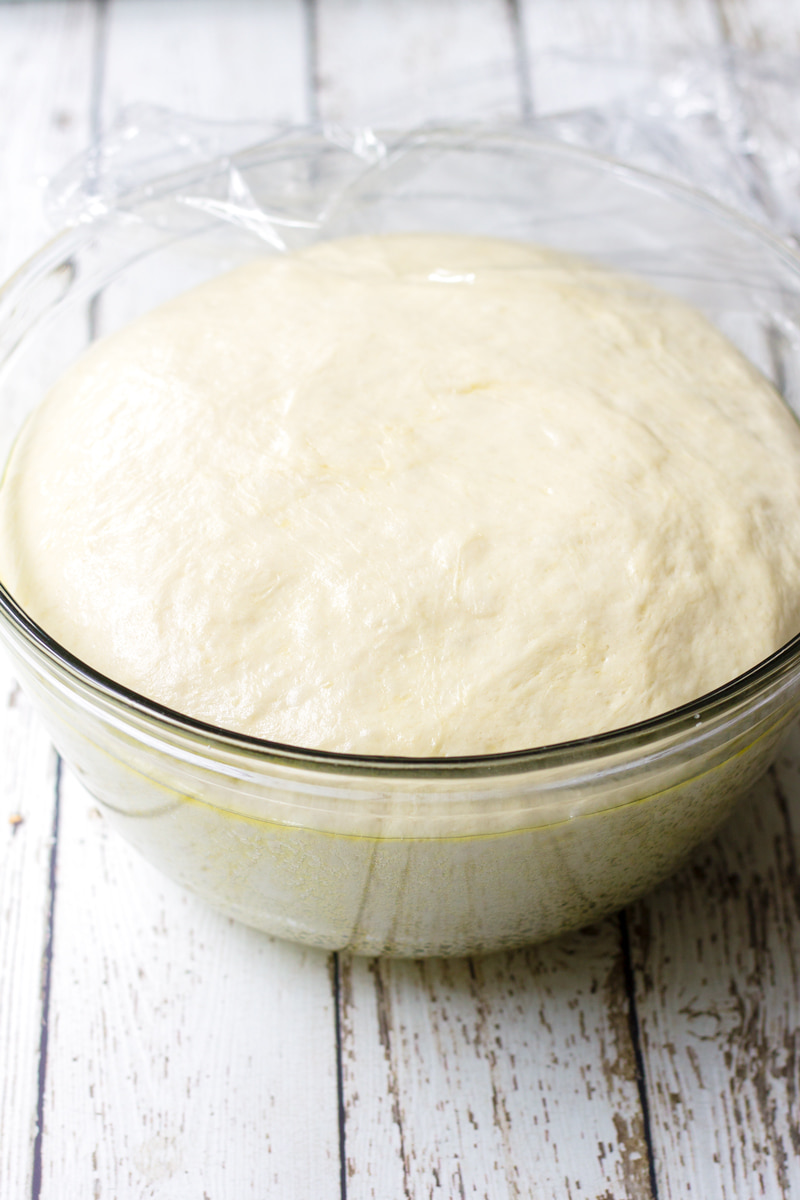 Thank you for reading! I hope these garlic herb dinner rolls turn out delicious. A few days ago, I served these garlic herb dinner rolls with my easy dutch oven beef stew, and let me tell you…it was amazing! Truly the perfect pairing.
I know making bread at home can be intimidating, so if you have any questions, feel free to comment below!
And if you're looking for more delicious bread recipes, check these out:
Anyways, recipe below! And please don't forget to pin this recipe. Much appreciated.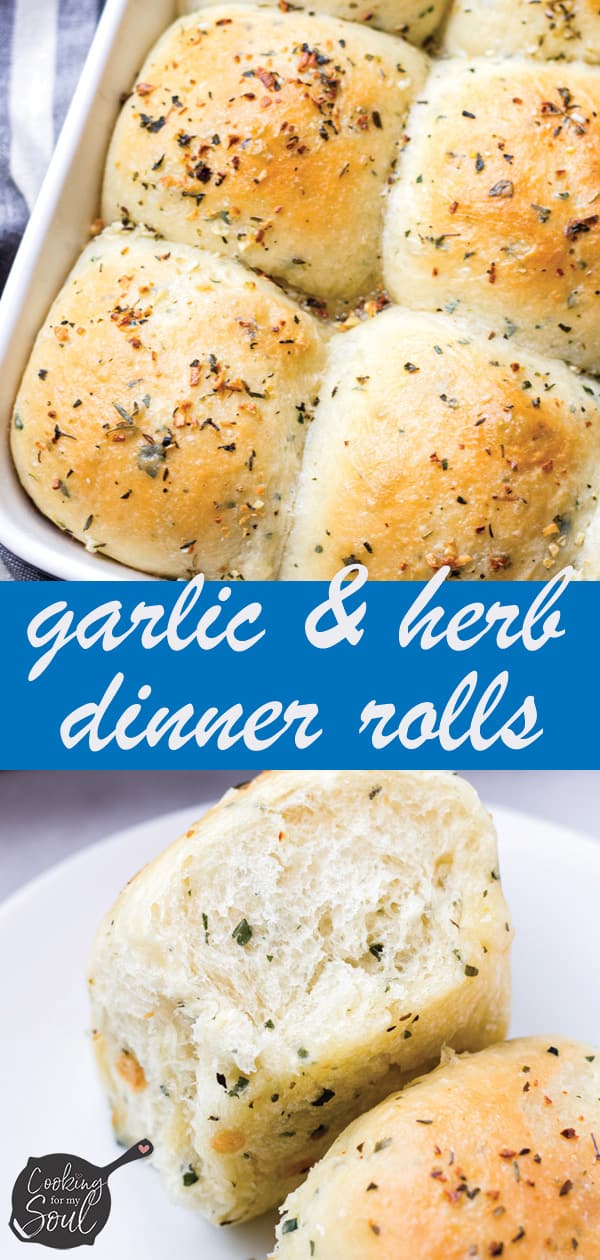 If you try my recipe, use #cookingformysoul on Instagram! Follow me on Pinterest, Instagram, Facebook for the latest fun updates and recipes!
Garlic Herb Dinner Rolls
Homemade, freshly baked bread is always the best! These savory garlic herb dinner rolls are soft and tender, perfect for the dinner table
Ingredients
1

cup

whole milk, warmed to 110-115 degrees F

2 ¼

teaspoons

active dry yeast

-

(equivalent to a 0.25 oz package)

2

tablespoons

granulated sugar, plus 1 teaspoon

2

large eggs

¼

cup

unsalted butter, melted and cooled

1

teaspoon

garlic powder

1 ½

teaspoons

salt

¾

tablespoon

fresh chopped rosemary

2

tablespoons

fresh parsley, finely chopped and patted dry

1

teaspoon

dried oregano

3 ½ to 4

cups

bread flour, plus more as needed
Garlic Herb Butter
6

tablespoons

unsalted butter, melted

½

tablespoon

Italian seasoning

3

cloves

garlic, minced
Instructions
Pour warm milk (110 to 115 degrees F) into the bowl of stand mixer. See Notes below. Stir in 1 teaspoon granulated sugar and yeast, and let it sit for 10 minutes until frothy. This means that the yeast is good. If it does not get frothy, start over with fresh yeast.

Set up the dough hook attachment in the stand mixer. With the mixer on medium speed, beat in the remaining 2 tablespoons of sugar, eggs, melted butter, garlic powder, and salt until evenly combined. You may need to break up the eggs with a whisk. Note: If you don't have a stand mixer, you can also follow steps 2 and 3 by hand - I'd recommend using a wooden spoon to mix everything.

With the mixer on medium-low speed, mix in 3 cups flour, 1 cup at a time, scraping the sides of the bowl with a rubber spatula. Add the remaining flour in 1/4 cup increments as needed. I ended up using about 3 1/2 cups flour. Increase to high speed and mix until a dough forms and pulls away from the sides of the bowl. The dough should be slightly sticky, moist, and manageable. Then, on low speed, add the rosemary, parsley, and oregano until evenly incorporated.

Transfer dough to a floured surface and knead by hand for about 3-4 minutes, sprinkling more flour as necessary. The dough should be moist, slightly sticky, and should spring back slowly when poked. Do not over-knead.

Form dough into a ball and place on a lightly oiled bowl (I used olive oil), making sure to coat the dough with oil as well. Cover tightly with plastic wrap and let it rise in a warm environment for about 1 hour, until doubled in size. See note below ("how to create a warm environment for dough to rise").

After the dough has risen, punch it down and transfer to a clean non-floured surface. Cut the dough in half, and then cut each half into 6 equal pieces. Shape into balls, pinching the bottom with your fingers. Arrange in a greased 9x13 baking pan.

Cover pan with plastic wrap and let it rise for another hour in a warm environment or until doubled in size.

Meanwhile, preheat oven to 350 degrees.

In a small bowl, combine the garlic herb butter ingredients, and brush all over the risen buns. Bake 18-20 minutes until golden brown. Let cool slightly and serve. Enjoy!
Notes
Make-ahead: Shape the rolls up until Step 6 in the baking pan. Cover with plastic wrap and refrigerate overnight. The next day, remove the rolls from the refrigerator and let it sit on the counter at room temperature for about 2 hours, or until doubled in size. Then, proceed to bake as directed.
Special equipment: stand mixer, 9x13 baking pan, thermometer (for milk).
Proofing yeast: Make sure the milk is warmed up to 110-115 degrees F. If the milk is too cold, the yeast will not activate. If the milk is too hot, it will kill the yeast. Use a thermometer to be sure.
Adding sugar to proof yeast: Sugar is like food to yeast. It will help with the proofing process.
How to create a warm environment for dough to rise: Here's my favorite microwave trick - microwave some water in a mug for 2 minutes to get the compartment warm. Then place the bowl with the dough in the microwave oven (push the mug to a corner), and close the door. Avoid opening it too many times.
Disclaimer: Nutritional values (per serving) are approximates only.
Nutrition
Serving:
1
roll
|
Calories:
256
kcal
|
Carbohydrates:
31
g
|
Protein:
7
g
|
Fat:
12
g
|
Saturated Fat:
7
g
|
Polyunsaturated Fat:
1
g
|
Monounsaturated Fat:
3
g
|
Trans Fat:
0.4
g
|
Cholesterol:
55
mg
|
Sodium:
342
mg
|
Potassium:
112
mg
|
Fiber:
2
g
|
Sugar:
3
g
|
Vitamin A:
373
IU
|
Vitamin C:
0.3
mg
|
Calcium:
46
mg
|
Iron:
1
mg