These roasted garlic mashed potatoes are everything! So creamy, fluffy, and garlicky, these garlic mashed potatoes are the perfect side to share. Use Yukon Gold potatoes for vibrant colors and texture!
Who doesn't love mashed potatoes?! If you said "me," then we need to talk. Mashed potatoes are life, especially if they are garlicky, creamy, and fluffy.
The holidays are coming up, so let me tell you everything you need to know about making the best garlicky mashed potatoes to impress your guests!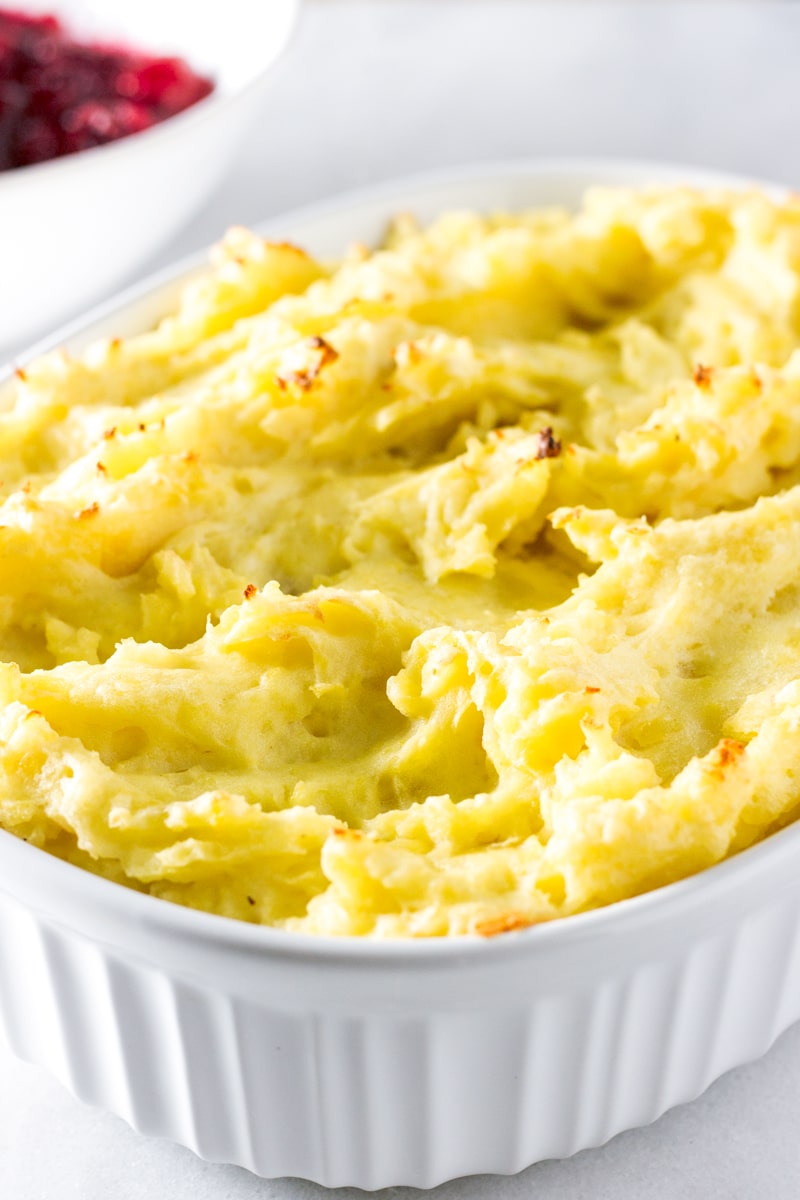 How To Make Creamy Mashed Potatoes
So, let's start with the obvious: the more fat you add to the mashed potatoes, the creamier they will be. Butter, half and half, milk, heavy cream are the most common fat components. Then, everything else is about technique and the ingredients. Here are some tips to make creamy mashed potatoes:
Choose the right type of potatoes, aka high starch potatoes. Yukon gold and Russet are really good choices. This will yield fluffy mashed potatoes with great texture.
If you prefer to have bits of potato skin on the mashed potatoes, I'd recommend red potatoes.
Boil the potatoes in salted water (cut into cubes for faster cook time) until fork tender. Do no undercook.
Add enough butter (about 6 tablespoons for 3 lbs of potatoes) and gradually add milk or cream, mashing, until desired consistency.
Use a potato masher for best results!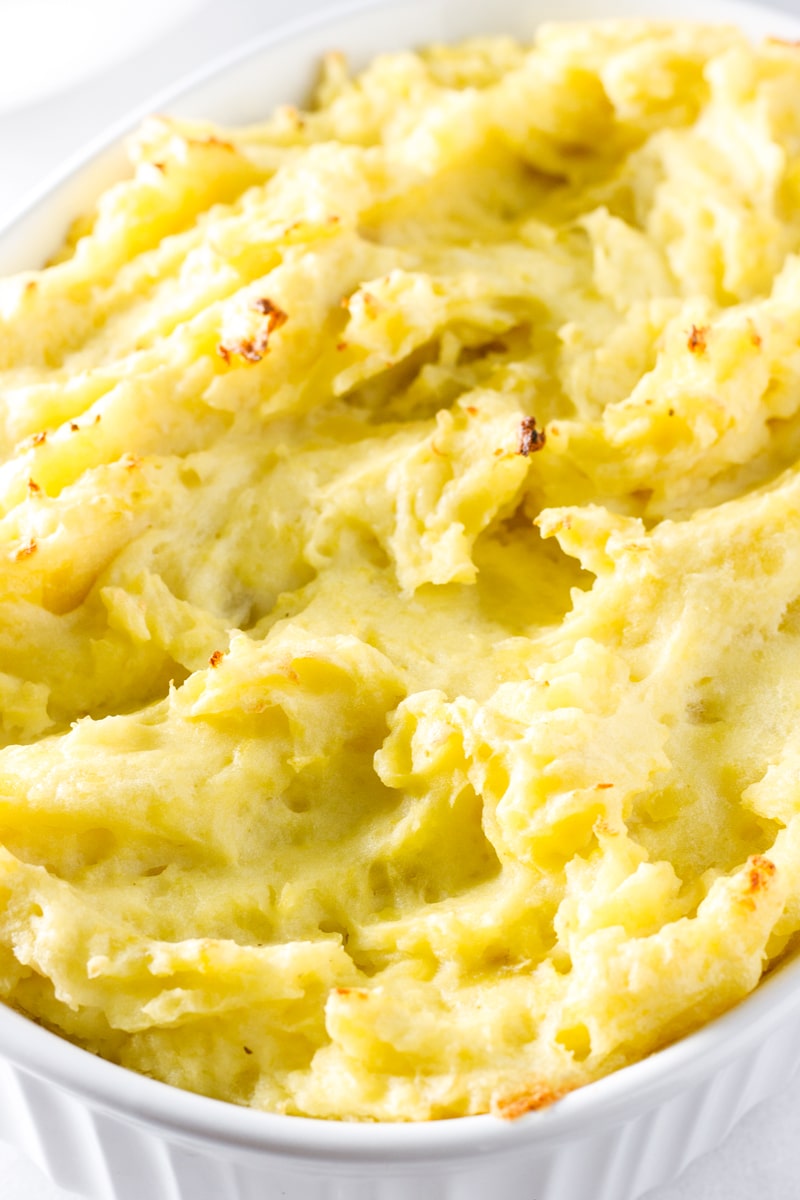 Mashed potatoes are definitely one of my favorite sides! They are so creamy and comforting, which is all I need!
The best thing about mashed potatoes is that they can be enjoyed all year long and pairs well with virtually anything. I am always looking for ways to cook mashed potatoes! I think next time I am going to do mascarpone mashed potatoes…just saying…stay tuned!
Thank you for reading, and hope you're having a great time planning delicious dinners!
And don't forget to pin this recipe! 🙂

Kitchen Tips
Use Yukon gold or Russet potatoes for best results. If you want skin on, try red potatoes.
Here is a complete guide on how to roast garlic
The level of creaminess is totally up to you, which is why I call for 1-2 cups half-and-half, or even heavy cream. If you want it richer, just add more.
You can also use whole milk instead of cream or half-and-half. Don't use skim milk, it is not rich enough, and will only make your mashed potatoes soggy and watery.
If you try my recipe, use #cookingformysoul on Instagram! Follow me on Pinterest, Instagram, Facebook for the latest fun updates and recipes!
Roasted Garlic Mashed Potatoes
These Roasted Garlic Mashed Potatoes are perfect for sharing. Garlicky, creamy, and fluffy mashed potatoes are the best!
Ingredients
For the roasted garlic
2

heads

garlic

Salt and pepper

Olive oil
Mashed potatoes
3

lbs

Yukon gold potatoes

-

(peeled and cut into 1 inch cubes)

1 to 2

cups

half-and-half, heavy cream, or whole milk

-

(avoid skim milk)

6

tablespoons

unsalted butter, divided

Salt and pepper to taste
Instructions
Preheat oven to 425 degrees F.

Roast the garlic: c

ut off 1/4 inch of the garlic heads from the top. Do not peel. All garlic cloves must be exposed from the top.

Grab some aluminum foil, enough to completely wrap a head of garlic, and place garlic on top (one per sheet of foil), cut side up. Drizzle with some olive oil, and season with salt and pepper, about 1/2 teaspoon salt and 1/4 teaspoon pepper per head. Roast at 425 F for about 30 minutes.

Meanwhile, bring a water to a boil in a large pot. Boil potatoes in salted water, until fork tender, about 15 to 20 minutes. Drain, and return potatoes to the pot.

Turn heat back on medium-low. Add butter and stir until melted. Then add half-and-half or heavy cream or whole milk gradually, and continue mashing until desired desired consistency. Season with salt and pepper as needed.

Squeeze out the roasted garlic cloves in a separate bowl. Add roasted garlic cloves to mashed potatoes, and stir to incorporate garlic into the mash. I like to leave a few chunks of garlic for extra pockets of flavor.

Transfer the garlicky mashed potatoes to a baking dish. Broil for 5 minutes, or until top is slightly golden brown. Serve warm.