Nutella Sandwich Cookies are perfect for the holidays or any occasion. Made with hazelnut shortbread cookies and filled with delicious Nutella, these will be become your next obsession!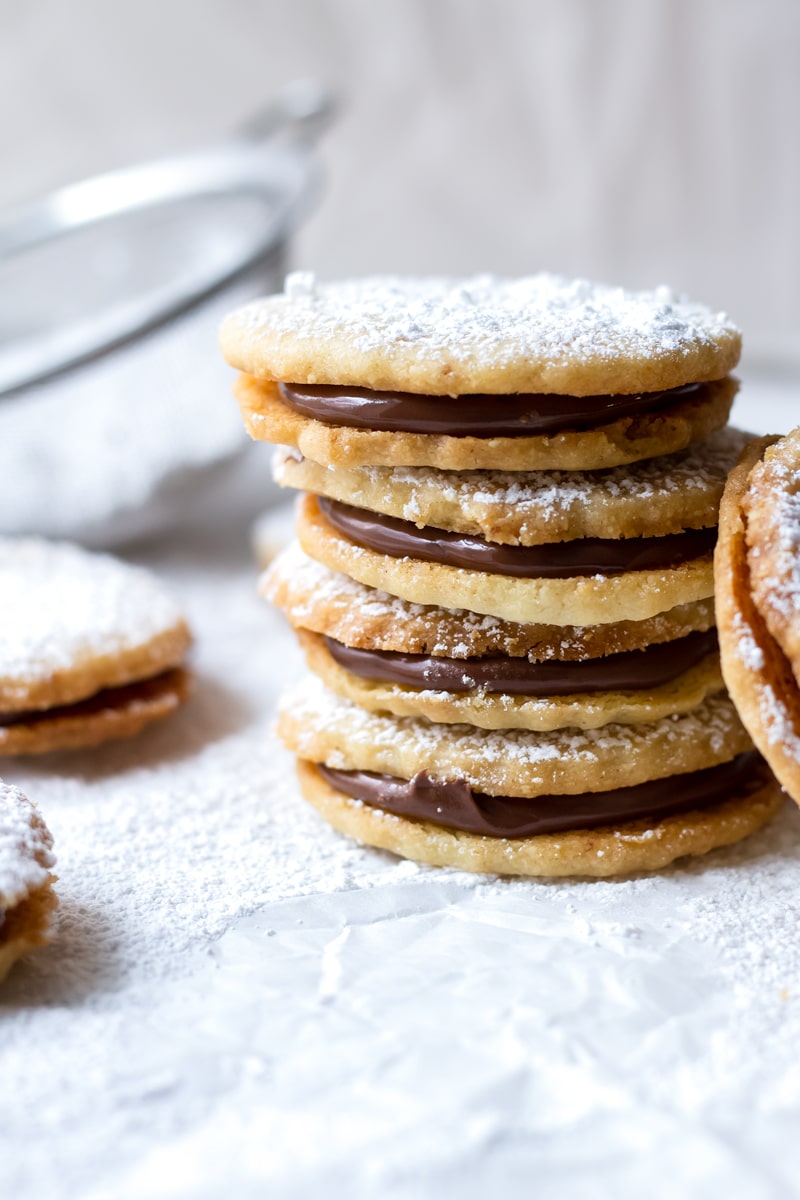 It's December, which means it's cookie baking season! I get so excited every December because it's the perfect excuse to bake lots of cookies and festive desserts. These Nutella Sandwich Cookies…oh my…they are so good! Smooth chocolate hazelnut spread filling in between perfectly baked hazelnut shortbread cookies.
The. Best. Cookies. Ever.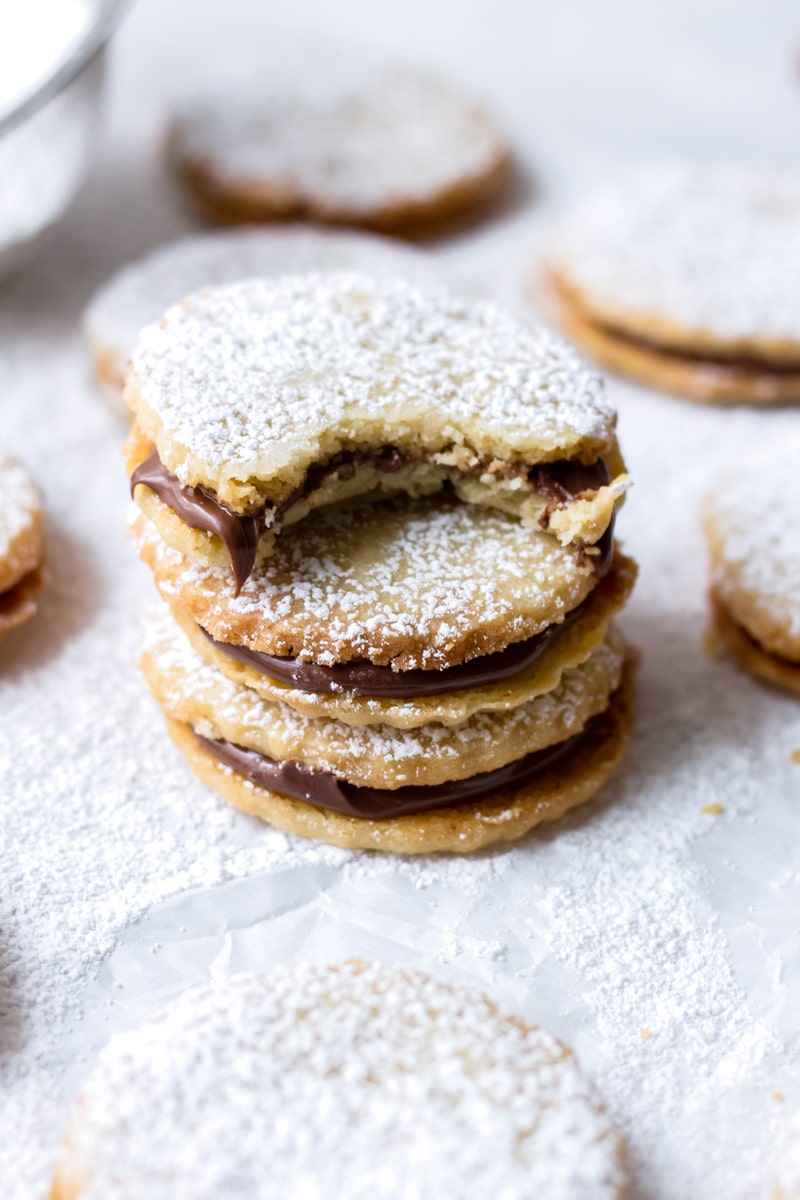 If you're doing a cookie exchange or a Christmas cookie contest, then I bet ya, these will be a winner! I absolutely love Nutella. Like, seriously love it. The hazelnut shortbread cookies have that distinct hint of salt, which pairs so well with the chocolate hazelnut flavor. Plus, powdered sugar sprinkled on top?! Yes please! I'm in!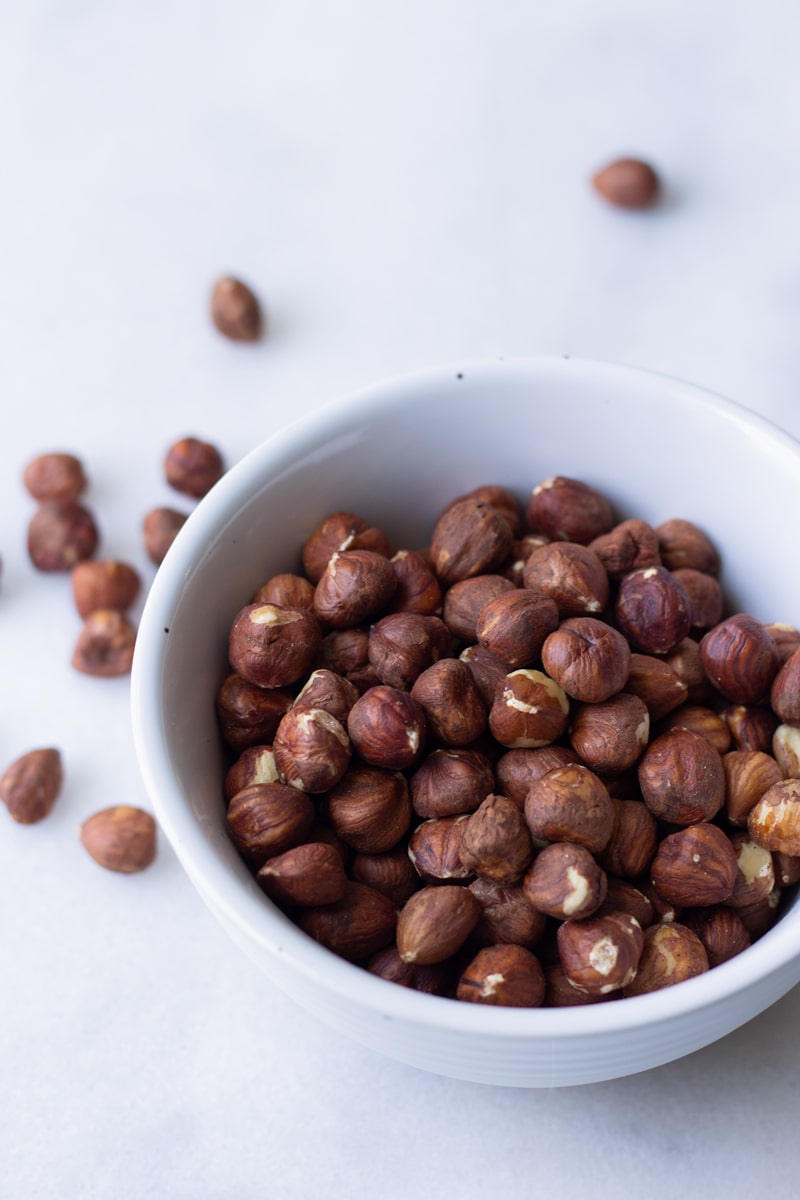 How to Make Hazelnut Shortbread Cookies
There are some tricks to making the perfect shortbread cookies. But first, you need to toast those beautiful hazelnuts!
Toast the shelled hazelnuts in a baking sheet at 350 degrees F for 10 minutes. The skin will crack a bit, which is an indication that they are toasted. Peel the skin by rubbing the toasted hazelnuts on a clean kitchen towel.
Place peeled hazelnuts in a food processor and pulse until ground.
Mix the dry ingredients: flour, ground hazelnuts, and salt.
Cream the butter and sugar. Then, add the dry ingredients. Mix to combine, without over-mixing. The dough will be soft.
Roll out dough to a 1/2 inch disk, with plastic wrap in between. Chill for at least 1 hour.
After chilled, roll out dough to 1/4 inch and cut out cookies (I used a 2 1/2 inch cookie cutter), placing them on a sheet pan lined with parchment paper. Cover with parchment paper, and chill again for 30 minutes. Why? So that they maintain their shape while baking.
Bake at 350 degrees F for 8-10 minutes. Let cool completely.
Pipe in some Nutella on the back side of a cookie, then cover with another cookie.
Dust with sugar.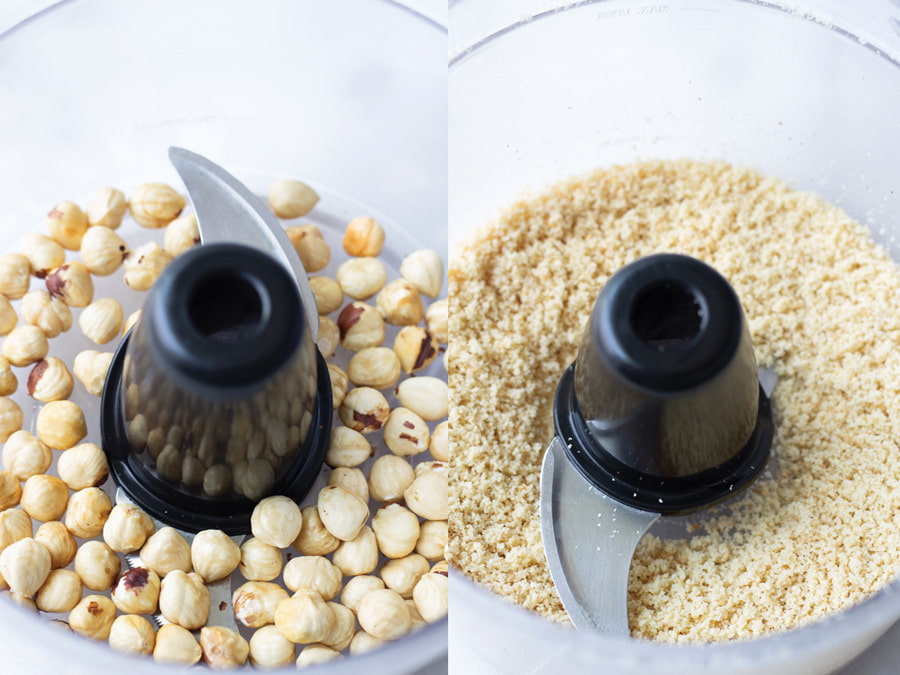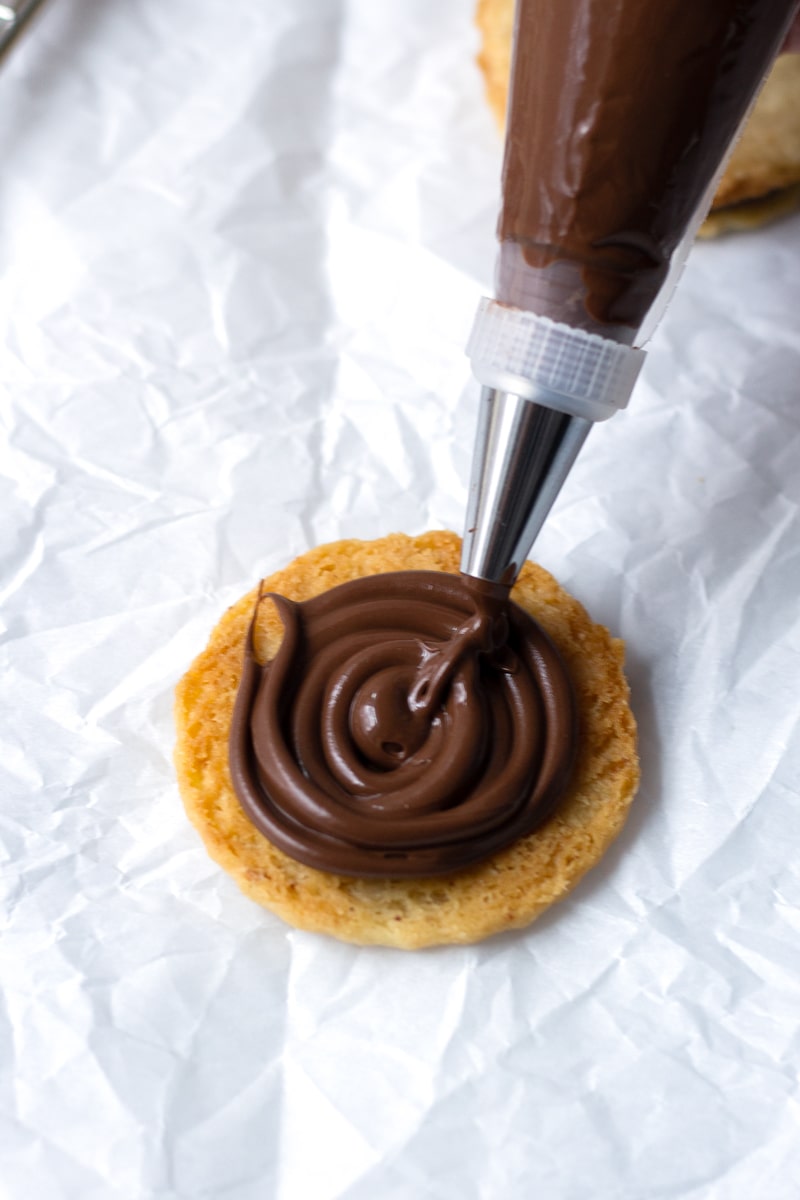 Tips for Baking Shortbread Cookies
Baking shortbread cookies is all about making sure the cookies have enough butter. And by "enough," I mean lots of it. After all, shortbread cookies are all about butter, right? 🙂
Apart from using enough butter, they need to be really cold when baking so they don't lose their shape. CHILL your dough before cutting them out. And chill them again after they are cut out.
When rolling out the chilled dough, flour your workspace before cutting out the cookies so they don't stick to the surface. Brush out any excess flour.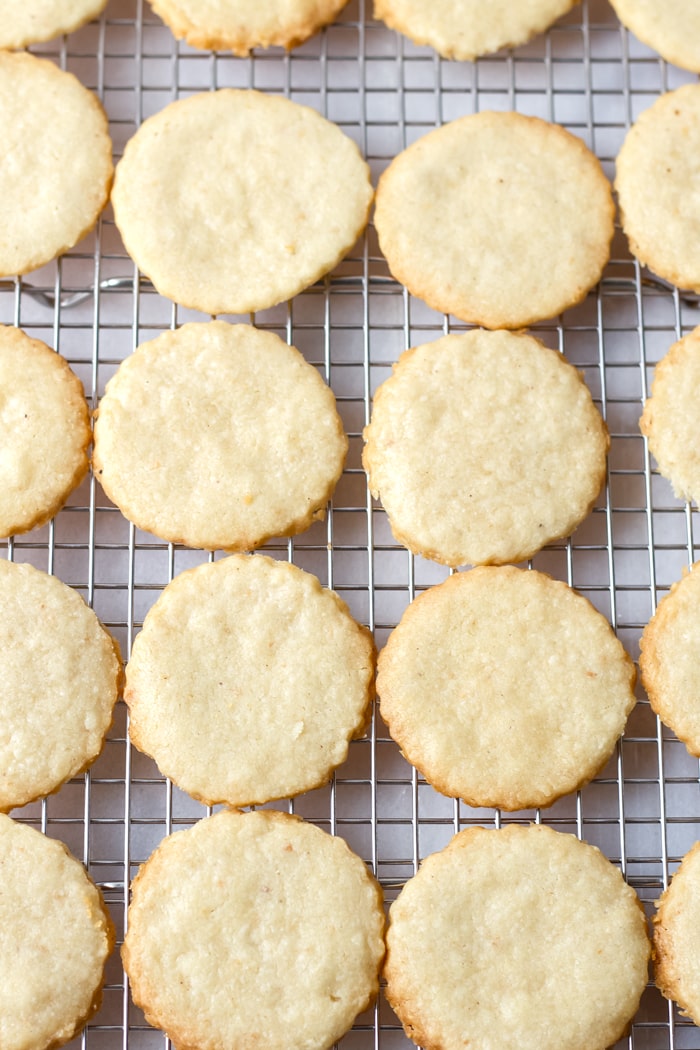 I know…it takes a lot of patience! Waiting for the dough to chill is no joke, but I promise, it is worth it! These are so freaking delicious, and the holidays are the perfect excuse to indulge in Nutella Sandwich Cookies. Plus, they are so pretty! I'm sure everyone will love them.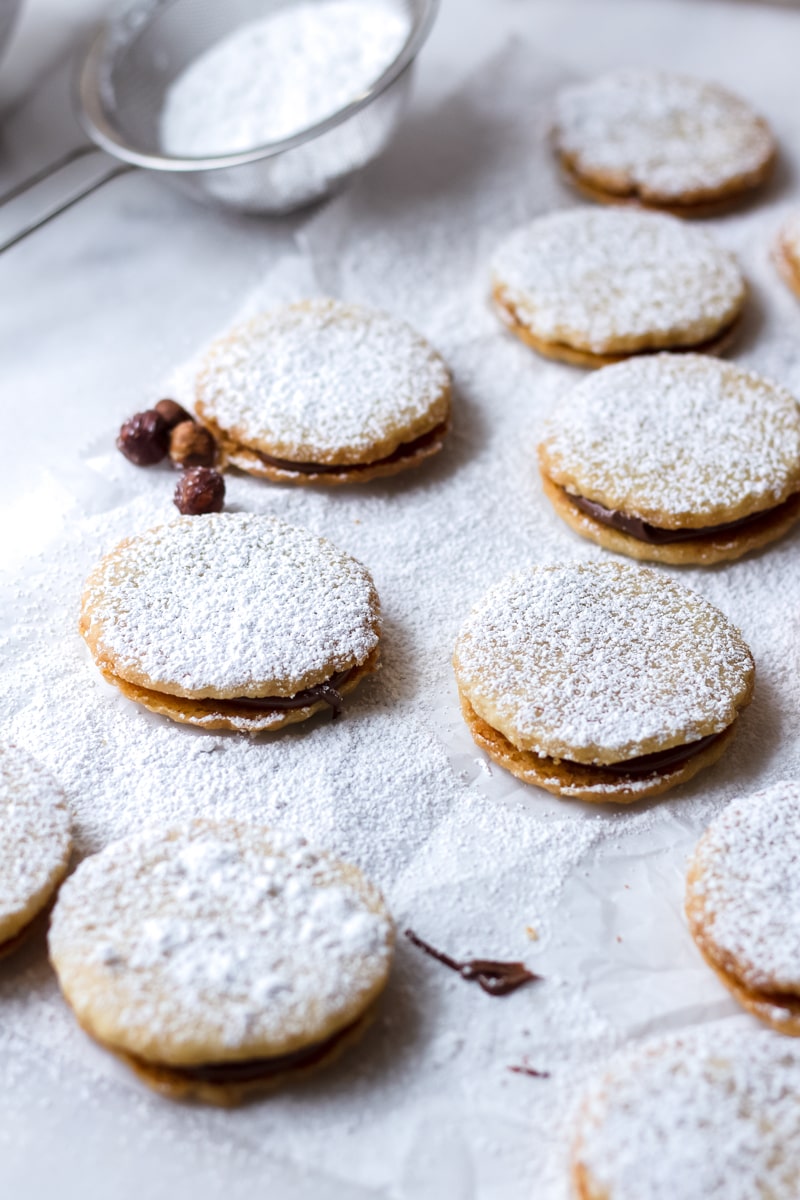 If you're bringing these cookies to a party or something, I'd recommend dusting them with sugar right before you serve them. You don't want the sugar to smear or melt all over.
If you don't feel like baking cookies…Actually let me rephrase that. If you feel like baking cookies AND cake, try my decadent Strawberry Chocolate Cake Roll.
Happy baking, ya'll!

If you try my recipe, use #cookingformysoul on Instagram! Follow me on Pinterest, Instagram, Facebook for the latest fun updates and recipes!
Nutella Sandwich Cookies
These Nutella Sandwich Cookies are made with hazelnut shortbread cookies. Perfect for baking on any occasion.
Servings
16
cookies (approx)
Ingredients
1/2

cup

raw skin-on hazelnuts

(shelled)

2

cups

all-purpose flour

1/2

teaspoon

Kosher salt

2

sticks

unsalted butter, room temperature

(1 cup)

1/2

cup

granulated sugar

1/2

teaspoon

vanilla extract

13

oz

chocolate hazelnut spread

(1 regular jar)

Confectioners sugar for dusting
Instructions
Preheat oven to 350 degrees F. Line 2 baking sheets with parchment paper.

Prepare the hazelnuts: toast hazelnuts in a baking sheet for about 10 minutes, until the skin starts to crack and smells toasty. Let them cool slightly and peel off the skin by rubbing the hazelnuts with a clean kitchen towel. Once peeled off, pulse the hazelnuts in a food processor until finely ground.

In a medium bowl, mix the flour with the ground hazelnuts and salt. Set aside.

In a bowl of a stand mixer, mix butter and sugar on medium-low until smooth, about 2-3 minutes. Add flour mixture and mix to combine, until just incorporated. Do not overmix. Note: you can use a hand mixer too, or do it by hand.

Dump the dough on top of some plastic wrap. Roll dough to 1/2 inch disk, with plastic wrap on top so it's easy to roll. Wrap and chill at least 1 hour.

Roll out chilled dough to 1/4 inch thick.

Cut out cookies with your favorite cookie cutter. I used a 2 1/2 inch fluted round cookie cutter. Place them on the prepared baking sheets.

Cover with parchment paper and chill in the refrigerator for 30 minutes.

Bake at 350 degrees F for 8-10 minutes. Let cool completely.

Pipe in chocolate hazelnut spread, and sandwich the cookies.

Dust with confectioners sugar using a sifter or strainer.