This roasted garlic and cauliflower soup with cumin seeds will warm up your heart. Cozy, comforting, and flavorful, this soup will become your new favorite!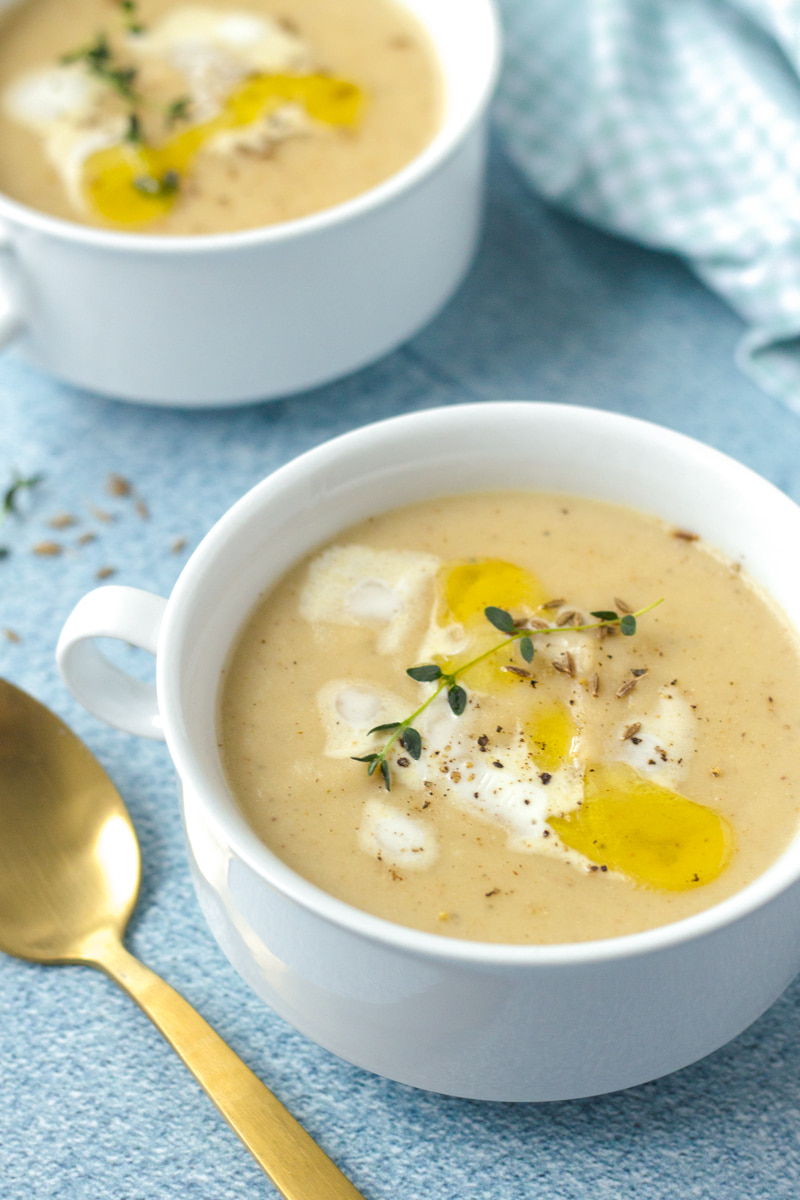 I don't make soup often, maybe once every few months or so. I usually lean towards main dishes or salads, but oh my, this roasted garlic and cauliflower soup has forever changed my mind! The heavenly combination between roasted garlic, cauliflower, and cumin is the key here.
Roasting Garlic
Roasted garlic adds lots of flavor and depth to any dish. And it's really easy to make!
First, cut off ¼ inch of the head of garlic from the top, and place on aluminum foil. Drizzle the exposed cloves with olive oil, salt, and ground black pepper. Then, fold up the foil, close tightly, and roast in the oven for about 35-40 mins. This method removes the strong taste of raw garlic and transforms it into soft, flavor-packed cloves. It's really the perfect base for soups, mains, and sauces. Oh, it will also make your house smell like heaven!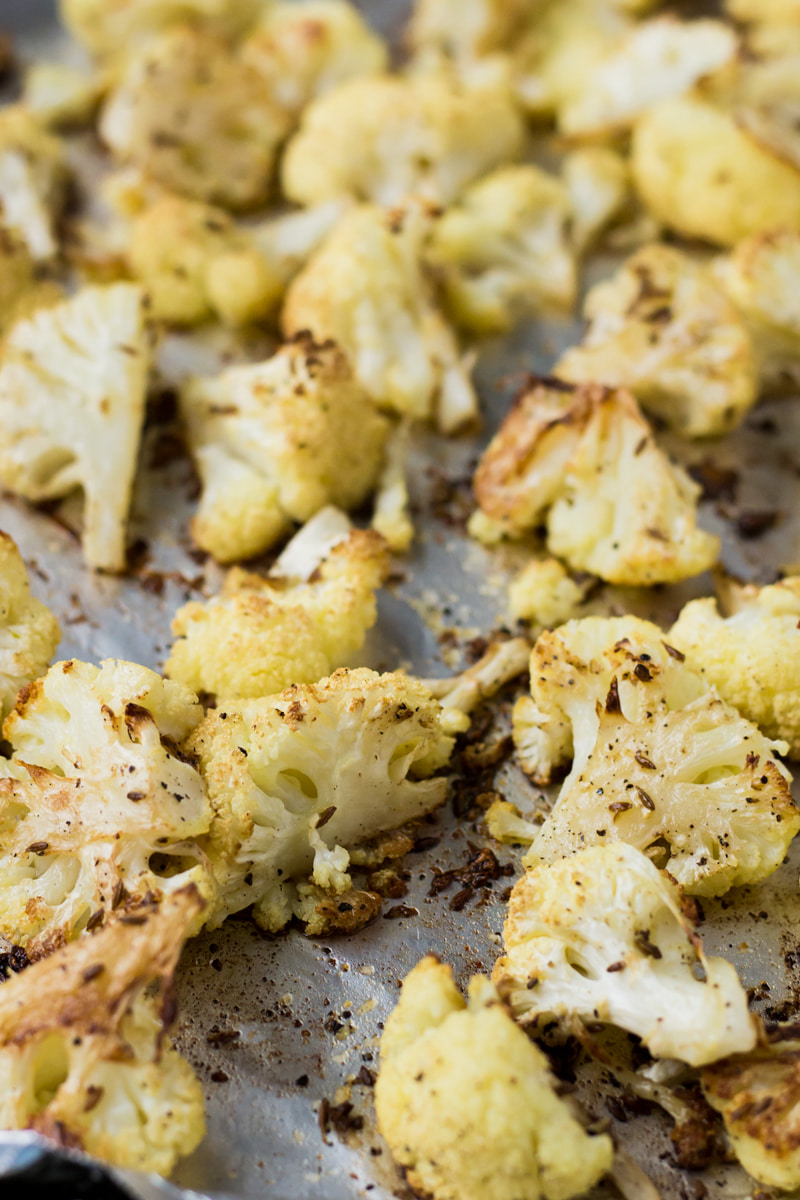 Cumin
Cumin is an aromatic spice, most commonly used in Middle Eastern and Indian cuisine. I like to use it in marinades, soups, and stir-fries. For this recipe, I used both ground cumin and cumin seeds. Cumin seeds are tossed together with the cauliflower, and it is the heat from the oven that releases the natural fragrance and oils of the seeds. Ground cumin (only 1/4 tsp) is cooked with diced onions to give the base broth a boost in flavor.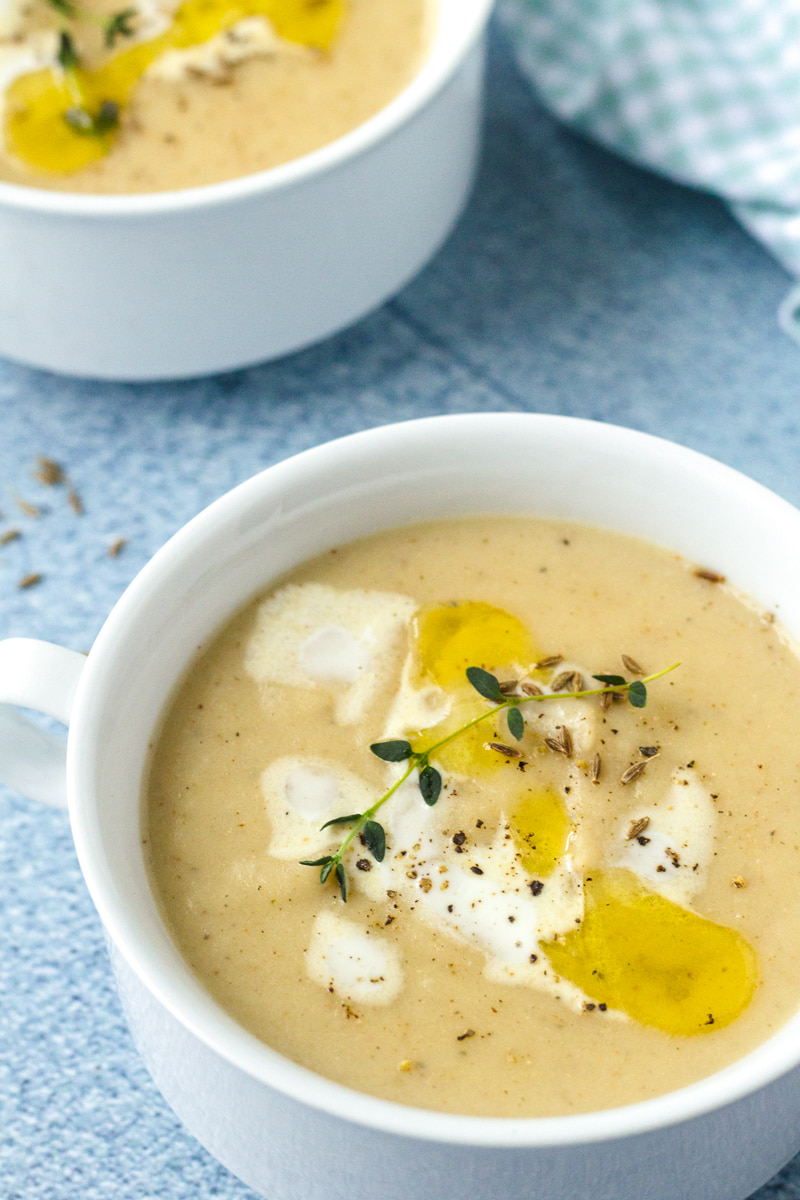 And don't forget to pin this recipe! 🙂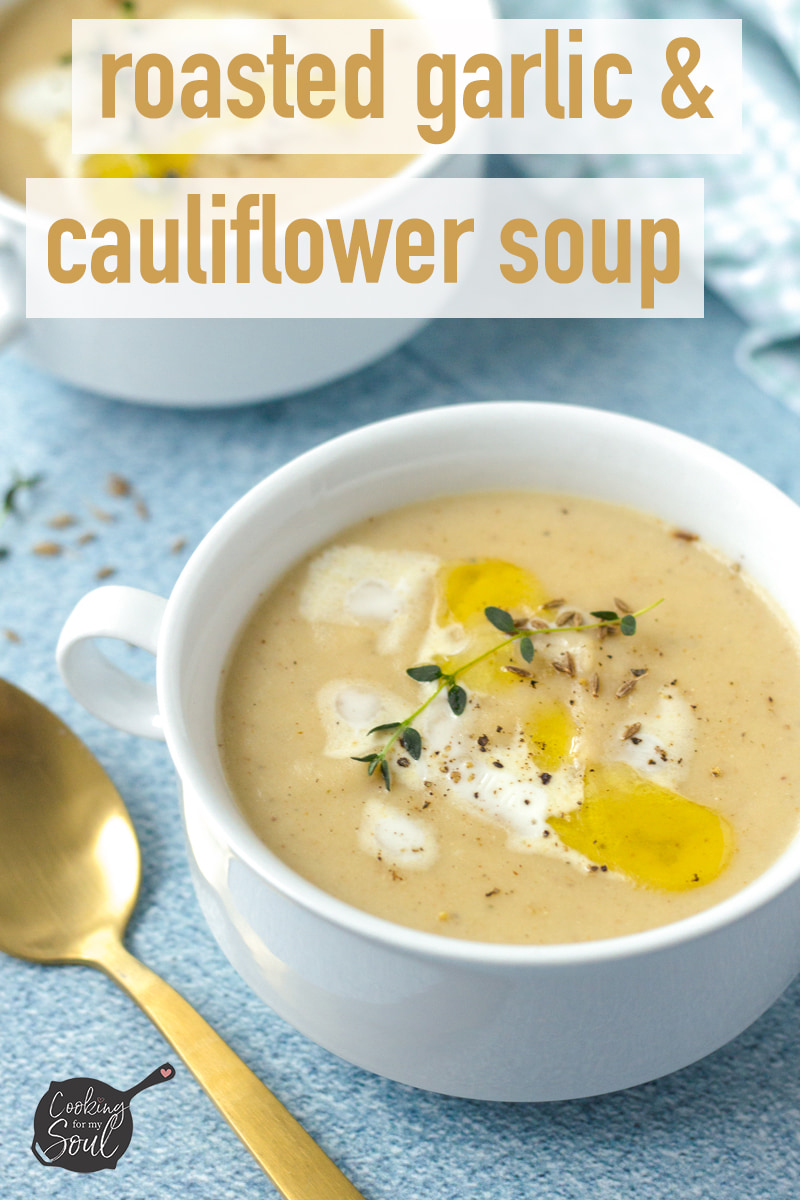 Kitchen Tips
To save time, roast garlic and cauliflower together on the same sheet pan.
To save even more time, boil the potatoes while the stuff is roasting.
In order to blend the soup, I used an immersion blender. If using a regular countertop blender, be careful because it will be VERY hot. Work in batches, as the steam can blow up the lid and spill. I'd recommend purchasing an immersion blender. They are inexpensive and come in handy.
If you like your soup thin and more liquid-y, just add more broth!
If you try my recipe, use #cookingformysoul on Instagram! Follow me on Pinterest, Instagram, Facebook for the latest fun updates and recipes!
Roasted Garlic and Cauliflower Soup
This soup is fragrant, cozy, and comforting. Packed with flavor from roasted garlic and cumin.
Ingredients
1

head

garlic

1

head

cauliflower, cut into florets

½

teaspoon

cumin seeds

¼

cup

olive oil plus 3 tablespoons, divided

2

medium white potatoes, peeled and cubed

5 to 6

cups

vegetable broth

as needed

½

medium yellow onion, finely chopped

(about 1 cup)

3

sprigs of thyme

(only leaves)

½

teaspoon

dried oregano

¼

teaspoon

ground cumin

½

cup

heavy cream

or to taste

Salt and pepper to taste
Instructions
Preheat oven to 425 degrees F.

Cut ¼ inch of the head of garlic from the top. Place garlic on a sheet of aluminum foil. Drizzle with 1 tablespoon of olive, and season with about ½ teaspoon salt and ¼ teaspoon ground black pepper. Fold up the aluminum foil and close tightly.

On a lightly greased baking tray, place cauliflower florets, and toss with 1 teaspoon salt, ¼ teaspoon ground black pepper, cumin seeds, and 1/4 cup of olive oil. Place the prepared garlic on tray. Roast for about 35 minutes until golden brown. Remove from oven and let cool slightly. Squeeze garlic cloves from skin.

While the garlic and cauliflower are roasting, boil the potatoes until tender on medium high heat, about 15 to 20 minutes. Drain well.

Heat remaining 2 tablespoons of olive oil in a large Dutch oven over medium heat. Add the chopped onions and cook until fragrant and translucent. Add 1/2 teaspoon salt, ground pepper to taste, thyme, oregano, cumin. Cook until fragrant, about 3 more minutes.

Add 5 cups of vegetable stock, scraping off the brown bits with a wooden spoon. Bring to a boil and simmer for 5 minutes, covered.

Add the cauliflower, roasted garlic cloves, cooked potatoes. Cook for another 15 minutes until the vegetables are tender on medium-low heat.

Using an immersion blender, puree until a thick consistency is reached. If too thick, add ¼ cup vegetable stock at a time.

Stir in heavy cream. Season with salt and pepper to taste. Serve and garnish with a drizzle of olive oil and heavy cream, cumin seeds, ground black pepper, and thyme.
Notes
Disclaimer: Nutritional values (per serving) are approximates only.
Nutrition
Serving:
1
serving
|
Calories:
248
kcal
|
Carbohydrates:
23
g
|
Protein:
4
g
|
Fat:
17
g
|
Saturated Fat:
6
g
|
Polyunsaturated Fat:
1
g
|
Monounsaturated Fat:
9
g
|
Cholesterol:
27
mg
|
Sodium:
826
mg
|
Potassium:
639
mg
|
Fiber:
4
g
|
Sugar:
5
g
|
Vitamin A:
717
IU
|
Vitamin C:
62
mg
|
Calcium:
58
mg
|
Iron:
1
mg