If you're a chocolate chip cookie lover, you will absolutely love this Skillet Chocolate Chip Cookie! This is essentially a giant chocolate cookie baked on a cast iron skillet simply because, well, it's fun! The great thing about baking it in a skillet is that you get a golden brown and crispier crust around the edges, while the inside stays soft and tender. Serve it with some vanilla ice cream and chocolate sauce! So good!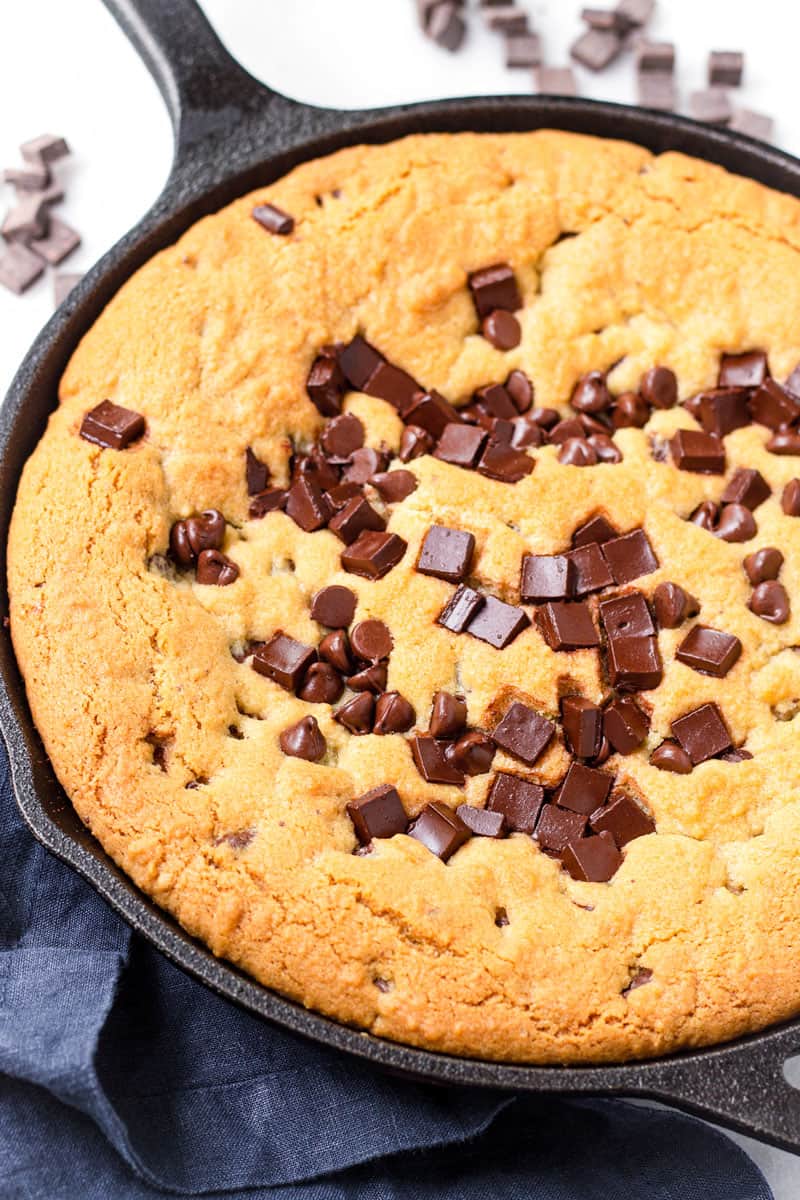 Before everyone goes crazy about healthy eating in January, I'm going to bake a giant skillet chocolate chip cookie.
I'm a huge fan of chocolate chip cookies (I mean, who isn't?!), and I love doing the cast iron skillet chocolate chip cookie version for one simple reason: it's so much crispier around the edges!
Because you're essentially baking more dough, it needs to bake for about 30-35 minutes, which is about 3 times the time it takes to bake traditional cookies. This creates a crispier crust around the edges, which I love. Plus, a cast iron skillet gets really hot, and this helps make those edges even crispier while keeping the inside soft.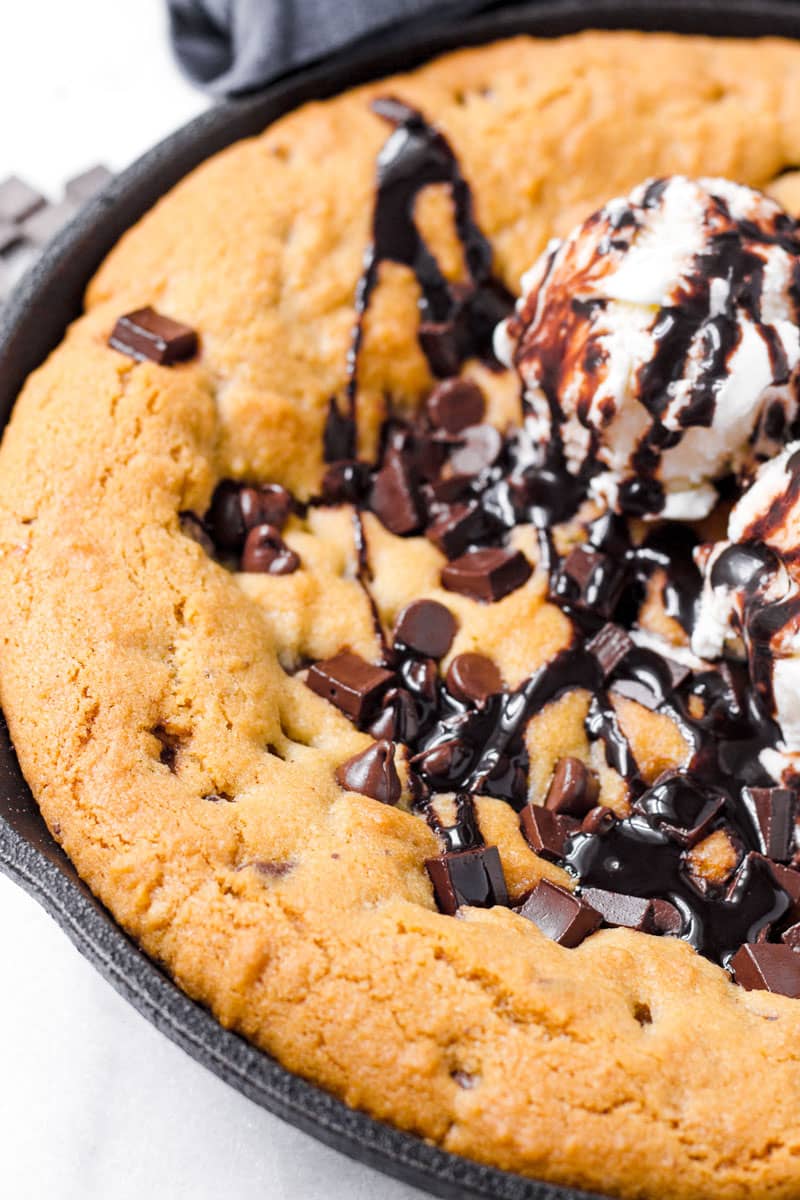 Ingredients You'll Need
This skillet chocolate chip cookie recipe is very similar to my sea salt chocolate chip cookie recipe, except the ingredient ratios have been modified to work well with a 10 inch skillet. Plus, this one is extra chocolate-y, with dark chocolate chunks on top!
The ingredient quantities can be found in the recipe card below, but here is an overview just to give you an idea:
Flour: I used all-purpose flour.
Baking soda: This will help it rise a bit and also give it a beautiful golden brown color.
Salt: Salt always brings out flavors in baked goods.
Unsalted butter: For flavor and fat.
Brown sugar: It will give it a soft texture in the center and add sweetness.
Granulated sugar: For sweetness. The granulated sugar will add nice caramelization.
Egg: For structure.
Vanilla extract: For flavor.
Semisweet chocolate chips: Use your favorite brand!
Dark chocolate chunks: For topping! Can't say no to extra chocolate.
Vanilla ice cream and chocolate fudge for serving
As you can see, we're using very basic baking ingredients here! Nothing too out of the ordinary…just your typical chocolate chip cookie, except it's giant and baked in a skillet. Yummy!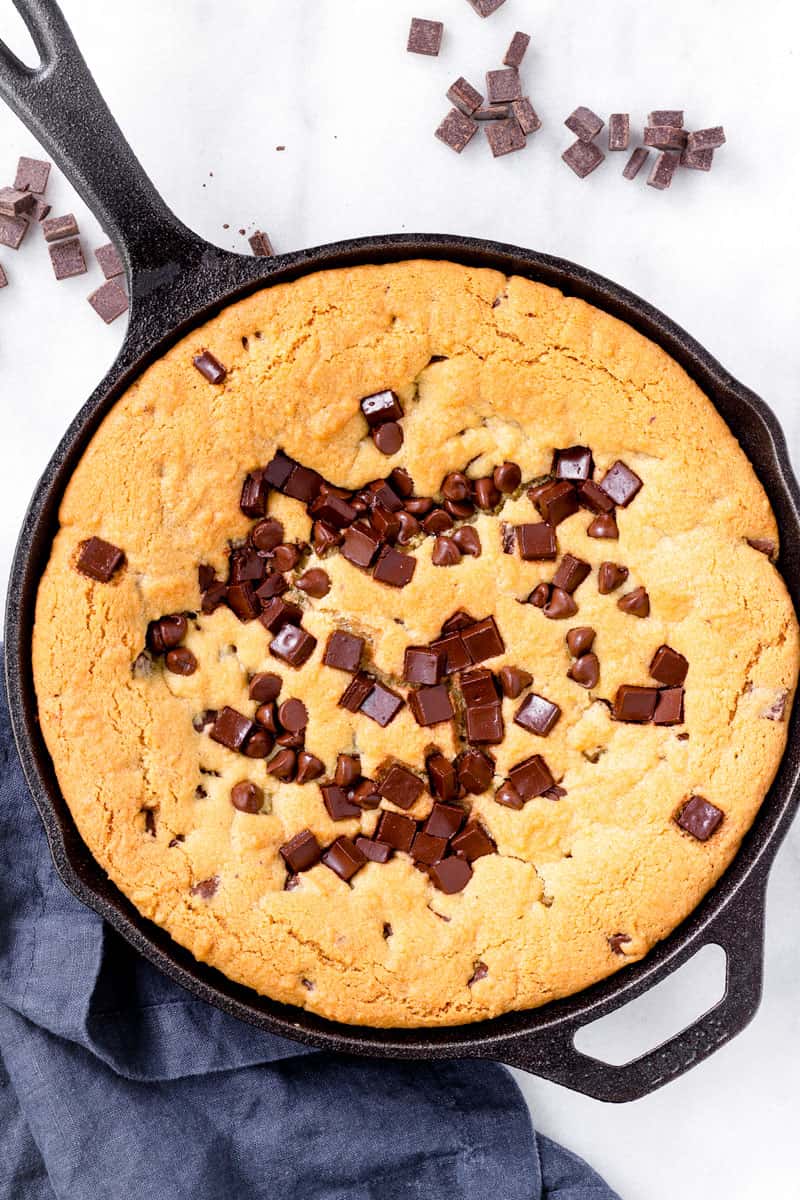 So Easy to Make
What I love about making this skillet chocolate chip recipe is that I don't have to wait for the dough to chill in the fridge.
Unlike regular cookies, this skillet cookie version can be baked with soft dough. The whole point of refrigerating cookie dough prior to baking is that they don't spread too much in the oven. But here, the skillet helps to hold the dough together.
Making this skillet cookie is super easy! Here is top-level overview (specific instructions in the recipe card below):
Whisk dry ingredients: Flour, baking soda, and salt.
Combine the wet ingredients: Cream the softened butter with both sugars. Mix in the egg and vanilla extract.
Combine dry and wet ingredients until a dough forms, and stir in the chocolate chips.
Spread dough over the skillet and top with dark chocolate chunks.
Bake! at 350 degrees F for 30-35 minutes.
It's that simple!
The dough can be made 1 day in advance and refrigerated. When ready to bake, let the dough sit on the counter for 20-30 minutes so it's easily spreadable.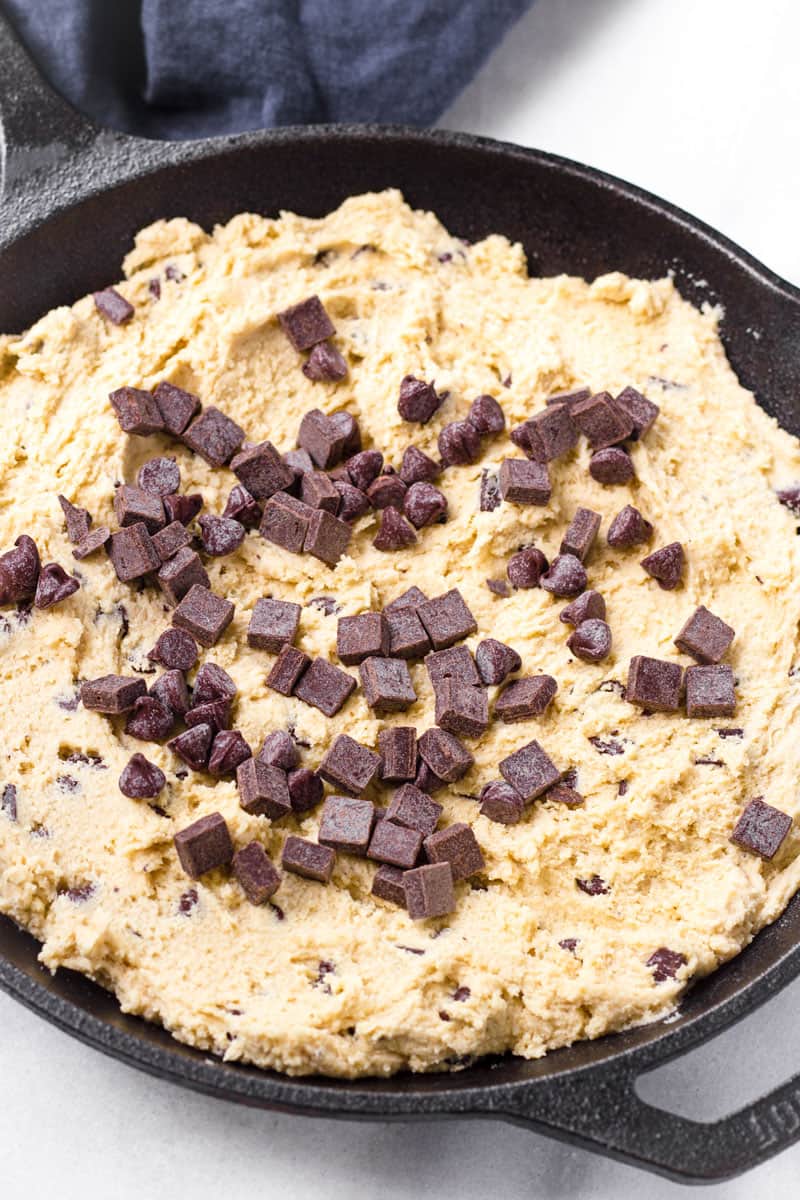 Use the Right Skillet
I tested this skillet cookie recipe several times until perfected. Lessons learned, and it's all about the skillet here!
Lesson 1: Don't overfill the skillet. If you have a very thick layer of cookie dough, the outside will brown but the center will be raw. I aim for about 0.75 to 1 inch thickness when spreading the dough.
Lesson 2: Use the right skillet size. Similar to the above, to avoid a raw center, make sure that the skillet is big enough. This recipe is written for a 10 inch cast iron skillet.
Lesson 3: Use a cast iron skillet. Cast iron skillets get very hot, so they help create crispier edges.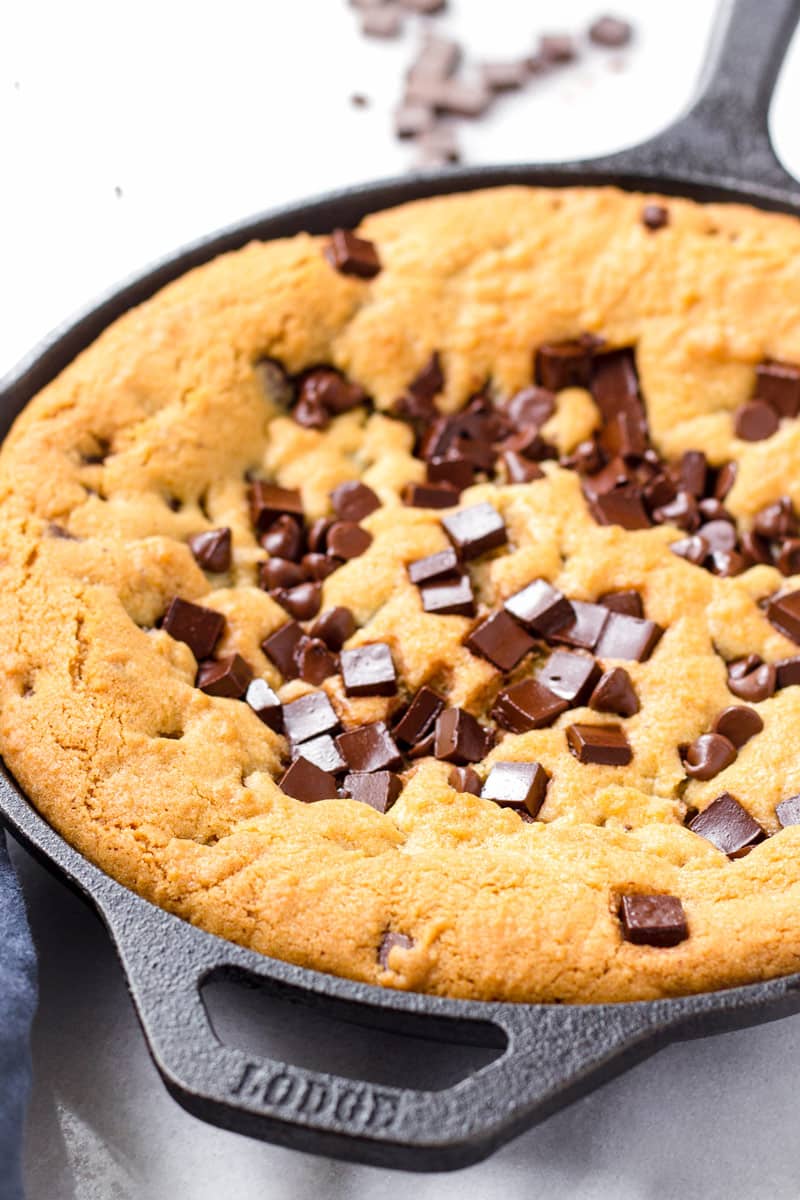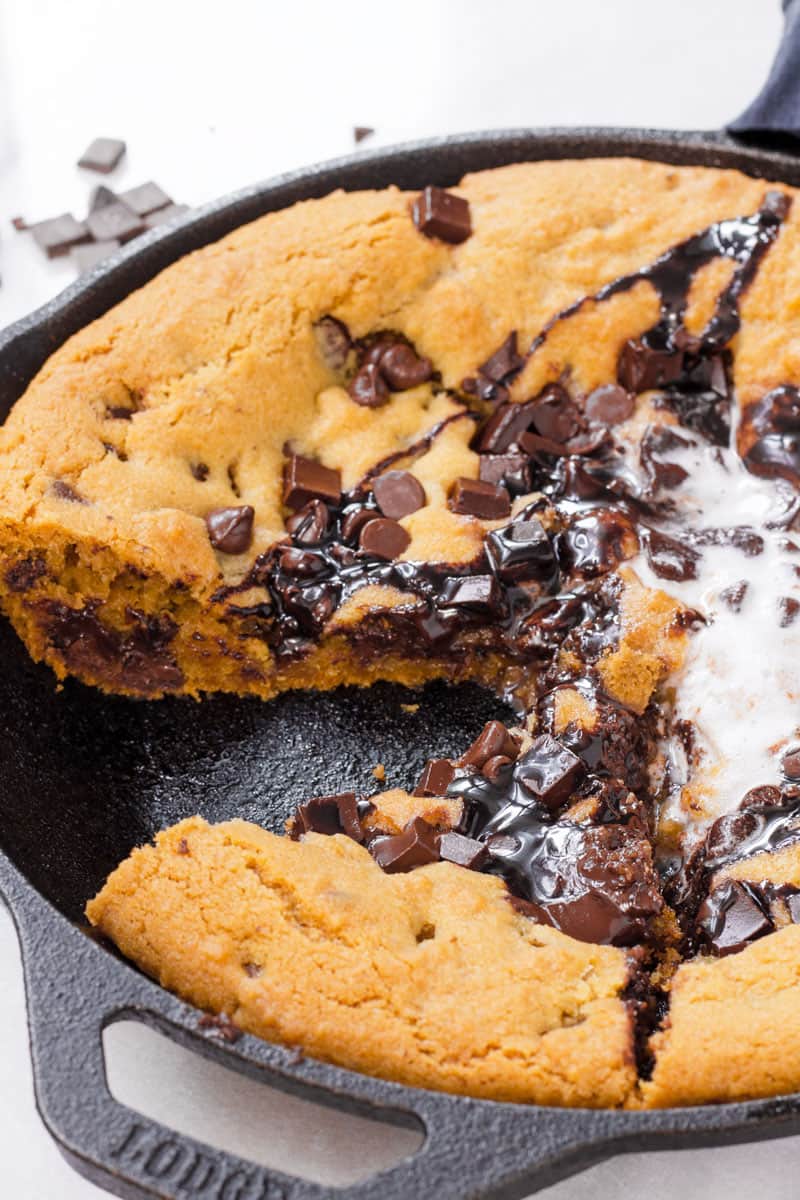 How to Serve this Giant Chocolate Chip Cookie
Here are some topping ideas:
Ice cream
Drizzle with some chocolate sauce
Drizzle with caramel sauce
Fruit slices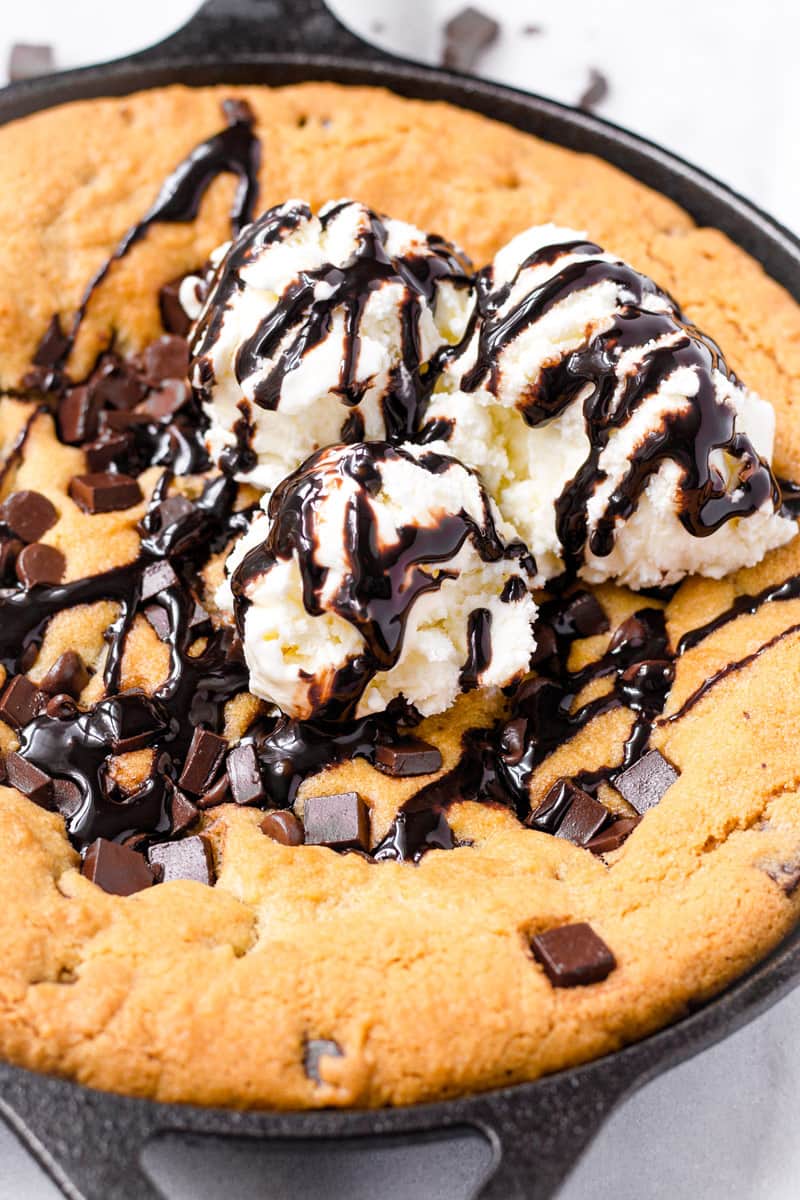 I love the crispy edges and the soft interior of this skillet chocolate chip cookie. This cookie is filled with delicious semisweet chocolate chips and topped with dark chocolate chunks. So good!
As much as I love this, it's big. So, be sure to share it with friends and family. It's the kind of recipe that is meant to be shared.
Here are some other desserts that are perfect for sharing. Happy baking!
Tips for Success
Don't overfill the skillet. Too much dough can lead the exterior browning too much while the center is still raw. The ingredient proportions in this recipe is good for a 10 inch cast iron skillet. Aim for a

¾ or 1 inch thickness for the dough.

Use a cast iron skillet for crispier edges.
No need to grease the skillet before spreading the dough.
Skillet Chocolate Chip Cookie
This skillet chocolate chip cookie is crispy around the edges and soft inside. It's filled with chocolate chips and topped with dark chocolate chunks. This skillet cookie is so easy to make and perfect for sharing!
Ingredients
1 ¾

cups

all-purpose flour

¾

teaspoons

baking soda

½

teaspoon

Kosher salt

11

tablespoons

unsalted butter, softened at room temperature

(equiv to 1 stick plus 3 tablespoons)

½

cup

granulated sugar

⅔

cup

light brown sugar

1

large egg

1

teaspoon

vanilla extract

1 ¼

cups

semisweet chocolate chips

¼

cup

dark chocolate chunks

Vanilla ice cream for serving

Chocolate or caramel sauce for serving
Instructions
Preheat oven to 350 degrees F.

Make sure you have a 10 inch cast iron skillet. Do not grease it.

Dry ingredients: In a bowl, whisk the flour, baking soda, and salt until evenly combined. Set aside.

Wet ingredients: Using a stand mixer or a handheld mixer, cream the butter with the granulated sugar and the brown sugar on high speed until light and fluffy, about 2 to 3 minutes. Beat in the egg. Add vanilla extract and mix for a few seconds until evenly combined.

On low speed, mix in the dry ingredients with the wet ingredients until evenly combined and a thick dough dough forms. Do not overmix. Using a rubber spatula, fold in the 1 ¼ cups of semisweet chocolate chips.

Spread dough evenly over the ungreased 10 inch cast iron skillet. Top with the ¼ cup of the dark chocolate chunks. Note: the dough should be about ¾ to 1 inch thick.

Bake for 30-35 minutes in the middle rack, or until the edges and top are golden brown, and the center is set (it may be a little bit jiggly in the center, that's fine as long as it's not too jiggly). It will puff up and then deflate a little. Note: if you use a 12 inch skillet, you may need to reduce the baking time by 3-5 minutes.

Let it cool for at least 20 minutes to allow the cookie to set. Serve with ice cream and drizzle with chocolate or caramel sauce. Enjoy!
Notes
Special equipment: 10 inch cast iron skillet, handheld or stand mixer.
Make ahead: The cookie dough can be made 1 day in advance and stored in the fridge. Let the dough sit on the counter at room temperature for 20-30 minutes before using so you can easily spread it over the skillet.
Let it cool: Let the cookie cool for 20 minutes or longer to allow the interior to set.