I absolutely love salad for dinner, especially if it's filling and well-balanced. This BBQ Chicken Salad is so easy and delicious. It's also a great make-ahead chicken salad recipe!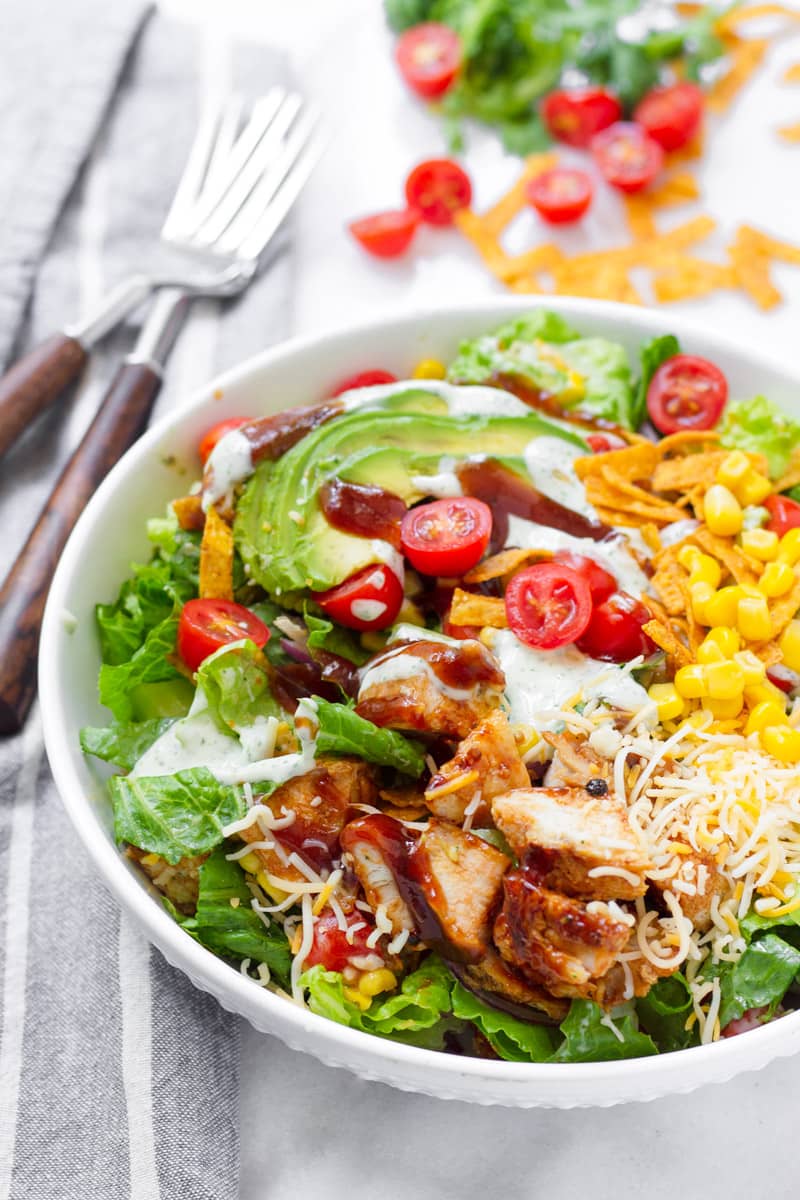 Full dinner salads are my kinda thing! This grilled BBQ Chicken Salad is one of my family's favorites, and that's because it's so, SO delicious!
Picture this, all in one bowl: juicy chicken breast brushed with sweet BBQ sauce, sweet corn, tomatoes, tortilla strips, avocado, lettuce, and cheese….drizzled with a homemade avocado ranch dressing and sweet BBQ sauce. Seriously, friends, this BBQ chicken salad is amazing!
And I'm serious when I say that full dinner salads are my kinda thing! I have recipes for Mediterranean Chicken Salad, Thai Chicken Salad, Beef Taco Salad, Salmon Cobb Salad…and more. Check them out!
Anyways, let me show you how to make this BBQ chicken salad. It's very easy!
The BBQ Chicken (Grilled or Pan-Seared)
The BBQ chicken is the star of this salad. You can grill it or pan-sear it. Up to you!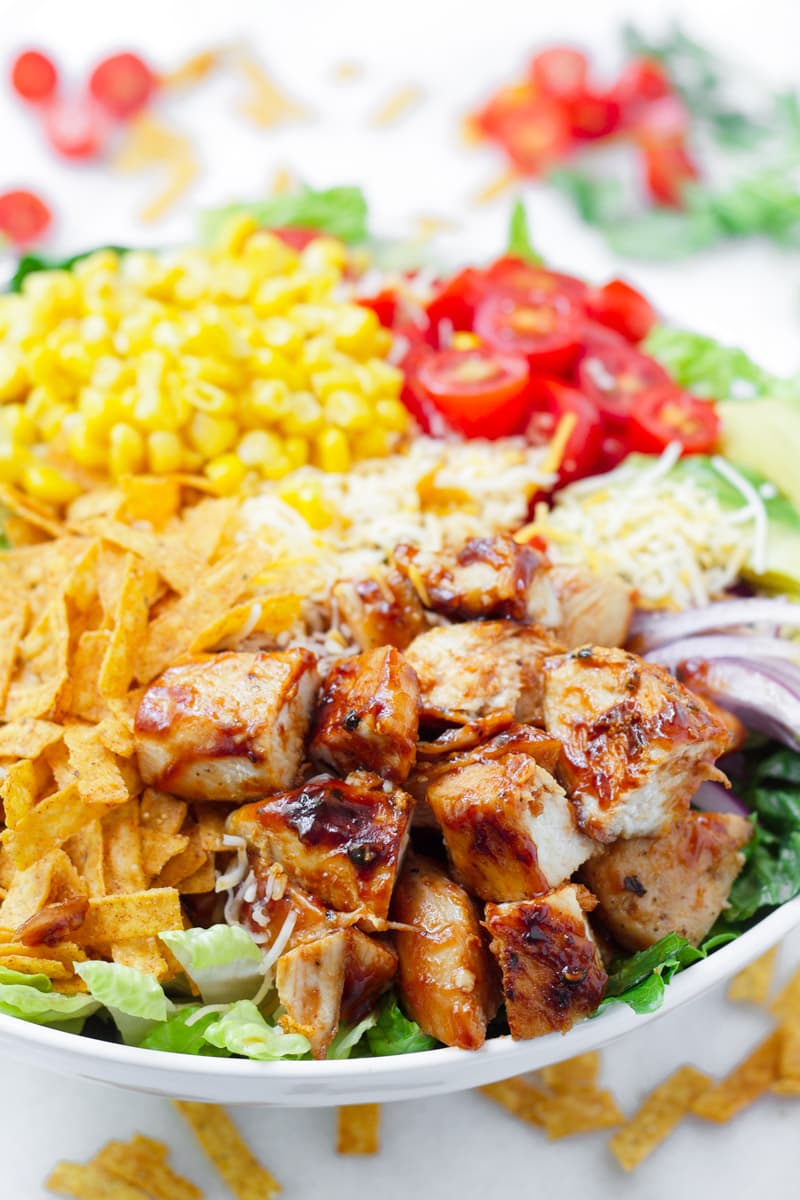 If grilling it, prep your grill (medium to medium-high heat) and cook on both sides for about 6-8 minutes or until cooked through. During the last minute or so, brush it with BBQ sauce on both sides. And then, brush it some more after it's done because…why not?
If pan-searing it, here are some tips to get moist chicken breasts! Same process as grilling, but remember to pound the chicken to 1/2 inch thick throughout. That's the key for moist and juicy pan-seared chicken as you're less likely to overcook it.
The Dressings
I actually use two dressings for this BBQ chicken salad: sweet BBQ sauce and an avocado ranch sauce.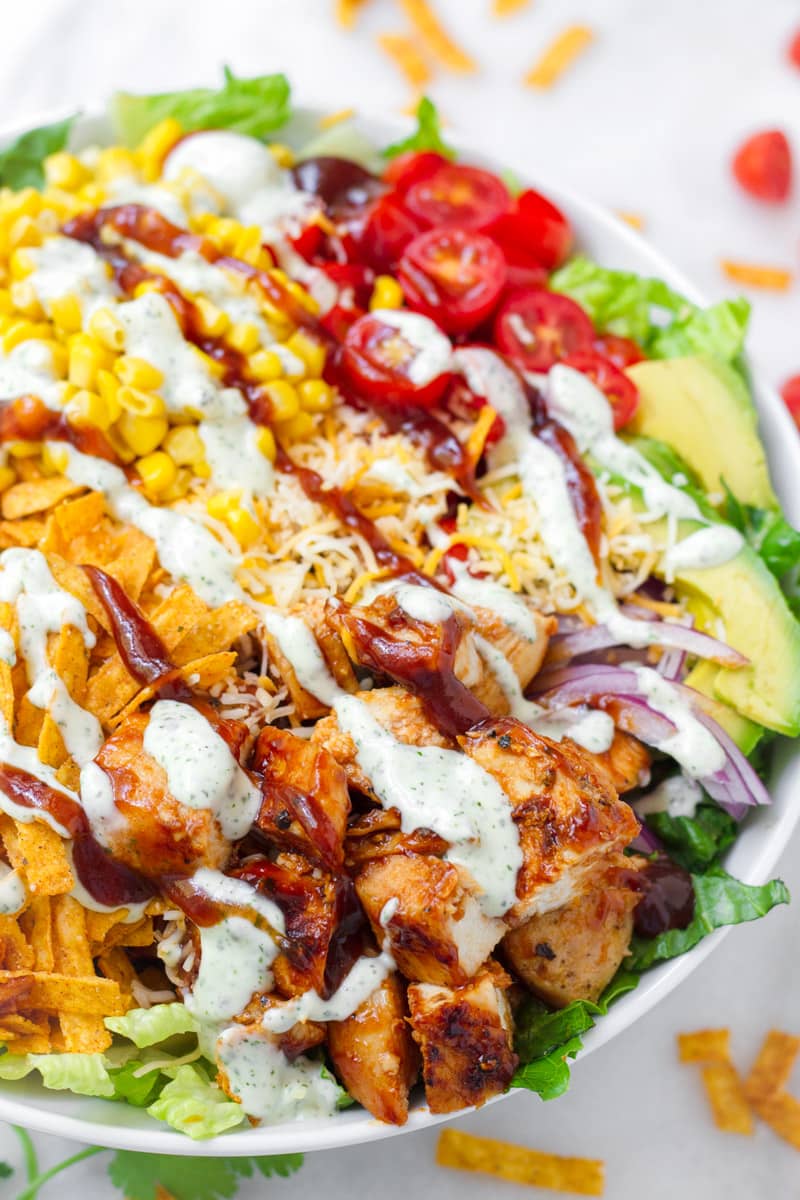 For the BBQ sauce, I use my homemade sweet BBQ sauce recipe, but feel free to use your favorite store-bought version. The sauce is used for brushing the chicken AND also as a dressing. Double BBQ sauce for the win!
As for the avocado ranch sauce, it's very simple: ranch sauce, ripe avocado, cilantro, fresh lime juice, salt, and pepper.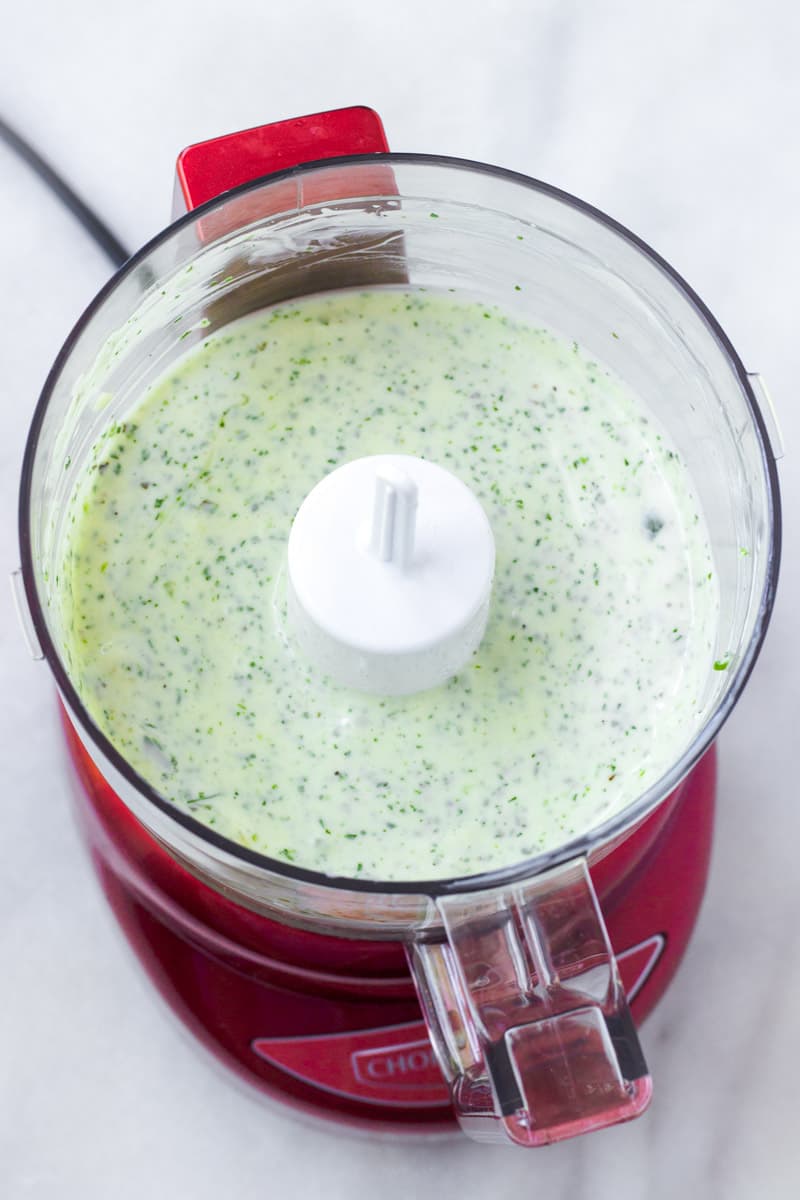 Let's Make It!
Here's what you'll need for the BBQ Chicken Salad:
Grilled or pan-seared chicken breast, brushed with BBQ sauce.
Romaine lettuce: For crunchiness.
Cherry tomatoes: I use red cherry tomatoes, but any kind of tomatoes will work.
Corn: I use canned corn.
Red onions: Sliced. You can used pickled red onions too.
Tortilla strips or chips: Will add so much crunchiness and flavor.
Shredded Monterey Jack cheese: Cheese is always good!
Sliced avocados: Avocados are the best.
Dressings: BBQ sauce and avocado ranch sauce (instructions in recipe card below!)
Here's how to make it (detailed instructions in recipe card below):
Cook the BBQ chicken: Make sure not to overcook it. You can prevent overcooking by pounding the chicken to 1/2 inch thick throughout. Brush with BBQ sauce. Cut into cubes.
Make the avocado ranch dressing: Use a food processor or a blender.
Prep the remaining ingredients: This step can be done ahead if desired.
Assemble: Arrange all the ingredients and drizzle with BBQ sauce and the avocado ranch dressing.
That's all. So simple, easy, and delicious. I love the colors too! Isn't it pretty?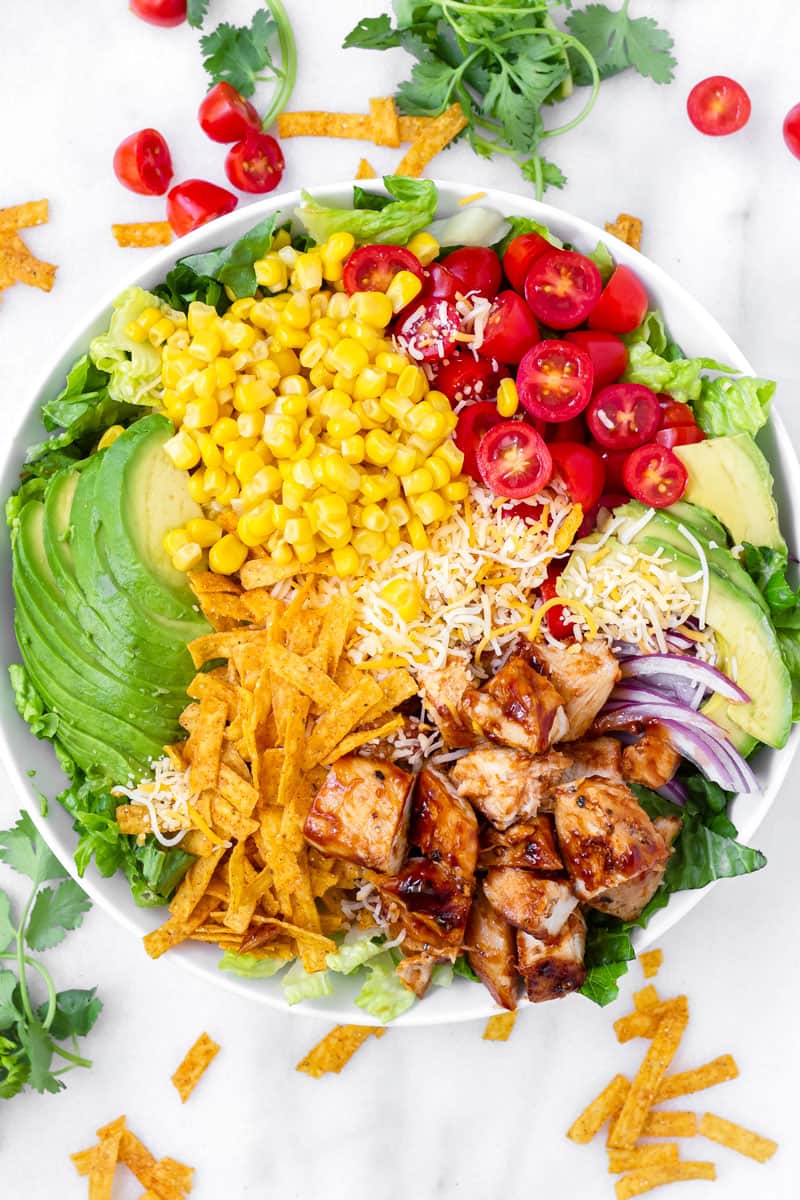 Prep Ahead Tips
This BBQ chicken salad is one of my favorite make-ahead dinners. All I have to do is prep everything, including the chicken, the night before and assemble the next day. So easy and convenient!
Here are some make-ahead tips:
Cook the chicken and brush with BBQ sauce. Let it cool down completely, and store in the fridge. The next day, brush with some more BBQ sauce and reheat it in the microwave oven.
Chop all the remaining ingredients, except for the avocado, and store in airtight containers.
Slice the avocado right before serving.
The sweet BBQ sauce (if making at home) can be prepared up to 4 days in advance.
The avocado ranch sauce can be prepared the day before, and stored in the fridge in an airtight container.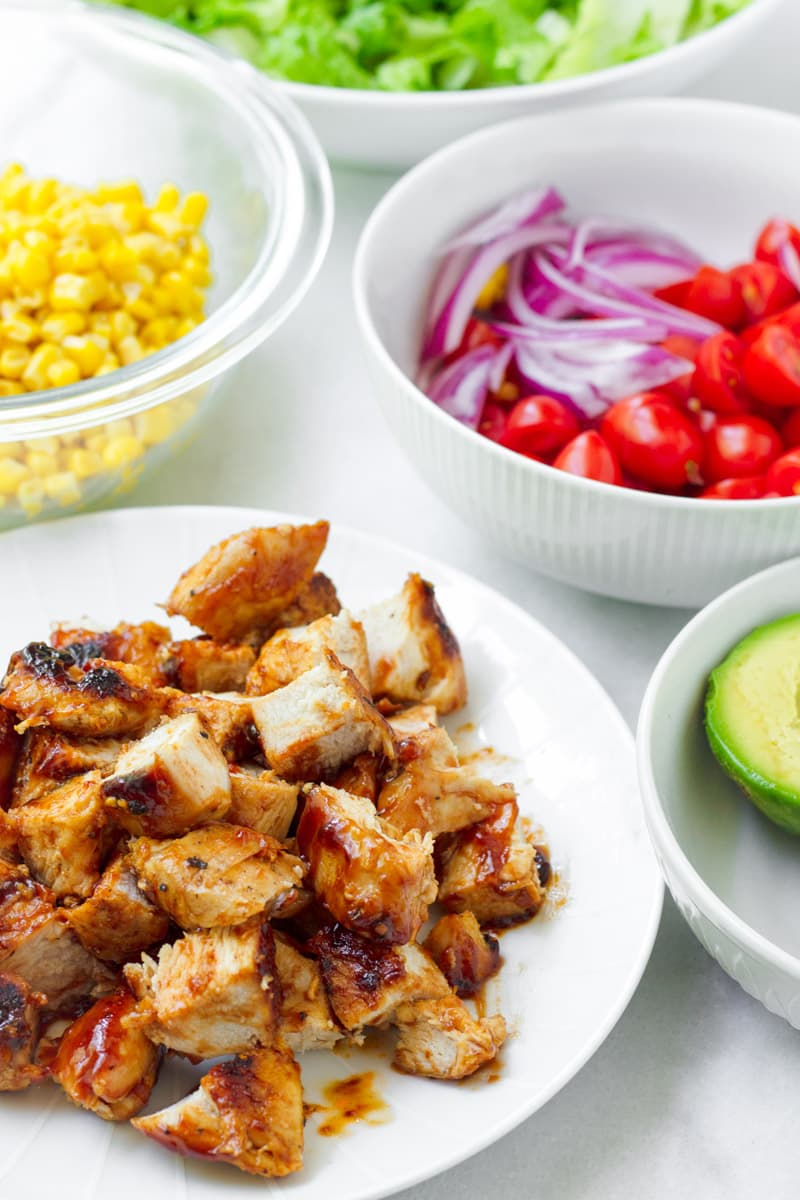 I absolutely love this BBQ chicken salad! It's perfect for dinner. It's balanced, filling, and bursting with flavor.
I love the fresh ingredients, the homemade BBQ sauce, and the avocado ranch dressing. They really add flavor and brightness to this salad. It's definitely part of our dinner rotation now.
Thanks for reading, and don't forget to pin this recipe and subscribe to my newsletter!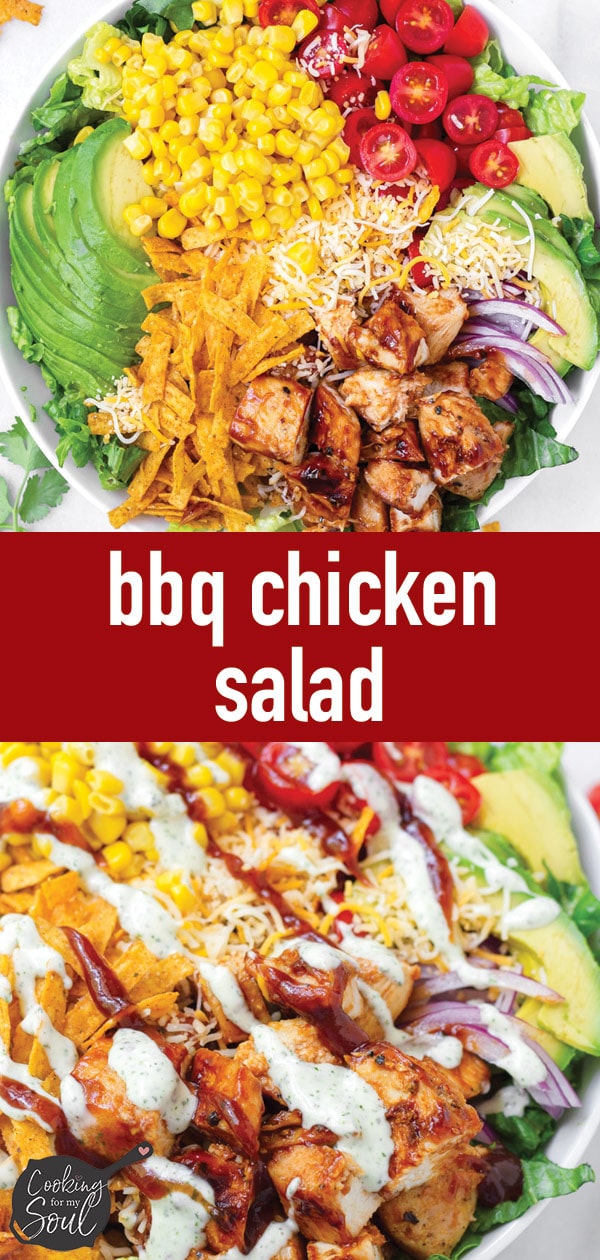 Tips for Success
Make sure the chicken breasts are pounded to 1/2 inch evenly. This will reduce the amount of time needed to cook the chicken, and therefore keep it moist and juicy.
I use my homemade sweet BBQ sauce recipe, but your favorite store-bought sauce will work just as fine. This can be made up to 4 days in advance.
BBQ Chicken Salad
This easy and delicious BBQ Chicken Salad is a full meal in itself. It's made with fresh ingredients and moist BBQ chicken breasts, and drizzled with more BBQ sauce and avocado ranch dressing.
Ingredients
4

small skinless chicken breasts

½

teaspoon

Kosher salt

¼

teaspoon

ground black pepper

Olive oil for pan

¾

cup

sweet BBQ sauce, divided -

or store-bought

8

cups

chopped romaine lettuce

2

cups

cherry tomatoes, halved

1

(14-ounce) can

sweet corn, drained

¼

cup

thinly sliced red onions

½

cup

shredded Monterey Jack cheese

2

avocados, sliced

½

cup

tortilla strips
Avocado Ranch Dressing
1

cup

ranch sauce

1

clove

garlic, roughly chopped

2 to 3

tablespoons

fresh lime juice, or to taste

¼

cup

cilantro, roughly chopped

Water as needed to thin out the dressing
Instructions
Make the BBQ Chicken:
Pound chicken to ½ inch thick throughout (this will prevent overcooking and will result in moist chicken). Season chicken with salt and pepper on both sides – about ½ teaspoon salt and ¼ teaspoon black pepper should be enough for all 4 chicken breasts.

If pan-searing, heat some olive oil on a large skillet. If grilling, heat up your grill and brush the grates with some oil. Cook chicken for 6 minutes per side. Brush both sides with some BBQ sauce (I used about ⅓ cup of BBQ sauce to brush all 4 chicken breasts). Cook 1-2 more minutes per side so that the BBQ sauce caramelizes, and until cooked through.

Let the chicken rest for 10 minutes. Then, slice or chop the chicken, and brush with some more BBQ sauce, to taste. Set aside.
Make the avocado ranch dressing:
In a food processor, combine all the avocado ranch dressing ingredients. Process until evenly combined. Thin it out with water if needed.
Assemble the salad:
Arrange the lettuce, tomatoes, corn, tortilla strips, onions, avocado, prepared BBQ chicken, and cheese. Drizzle with the remaining BBQ sauce and the avocado ranch dressing. Enjoy!
Notes
Special equipment: Food processor, grill or skillet, meat mallet.
Chicken: Pound the chicken to 1/2 inch thick evenly with a meat mallet. This will ensure that you don't need to overcook the chicken, 6-8 minutes per side will be enough.
Make-ahead: All ingredients can be prepped ahead and assembled the next days. The one exception is the sliced avocado – the avocado has the be sliced right before serving. 
Disclaimer: Nutritional values (per serving) are approximates only.
Nutrition
Serving:
1
serving
|
Calories:
1009
kcal
|
Carbohydrates:
57
g
|
Protein:
59
g
|
Fat:
62
g
|
Saturated Fat:
12
g
|
Polyunsaturated Fat:
21
g
|
Monounsaturated Fat:
23
g
|
Trans Fat:
1
g
|
Cholesterol:
177
mg
|
Sodium:
2034
mg
|
Potassium:
2034
mg
|
Fiber:
10
g
|
Sugar:
23
g
|
Vitamin A:
9088
IU
|
Vitamin C:
40
mg
|
Calcium:
212
mg
|
Iron:
4
mg