This refreshing and crunchy Thai Chicken Salad is packed with fresh ingredients, shredded chicken, peanuts, and a delicious Thai sweet chili dressing. Easy to make and a great make-ahead salad. It's so good!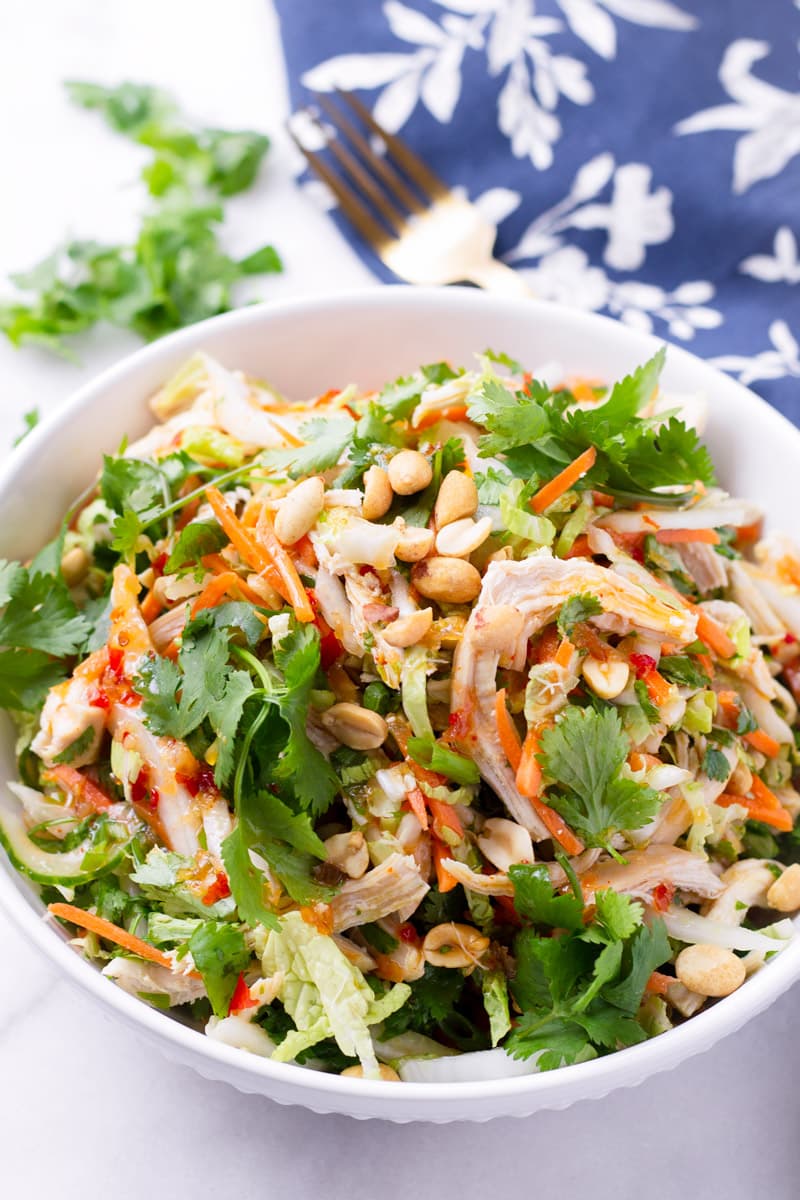 We're back with more January healthy recipes! Today, I'm sharing this delicious and crunchy Thai chicken salad recipe. Every ingredient in this healthy asian-inspired salad is refreshing, healthy, and delicious.
My favorite part about this Thai chicken salad is how crunchy it is. The carrots, Napa cabbage, peanuts, and cucumbers add so much yummy crunch…you'll absolutely love it! Oh, and the dressing is heavenly! It's a Thai-inspired sweet chili dressing that adds a delightful sweetness and tanginess to every single bite.
One of the first recipes that I ever posted on the blog is this colorful Asian chicken slaw salad, which is made with red and green cabbage, carrots, and peanuts too. Sooo, clearly, I have a thing for crunchy salads. I mean…texture is everything!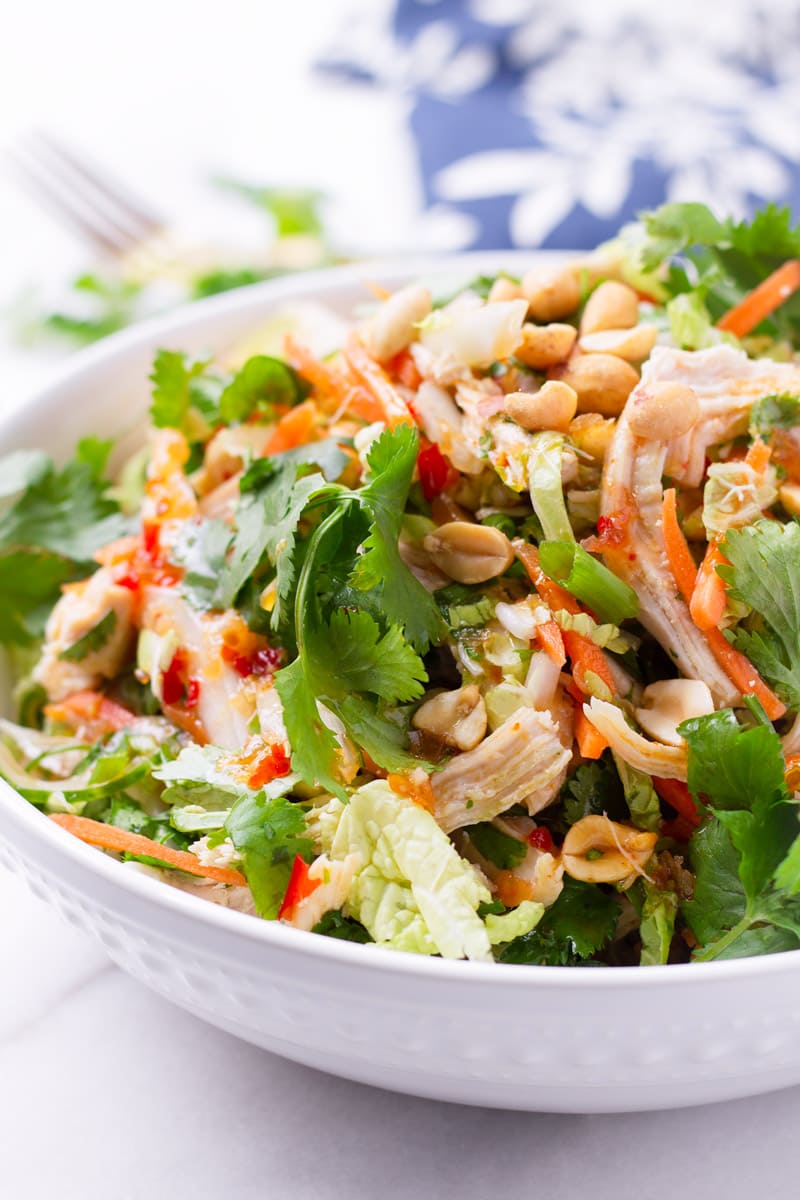 Why I Love this Thai Chicken Salad
The reasons why I love this salad are simple:
It's so crunchy! The carrots, Napa cabbage, peanuts, and cucumbers add lots of texture.
The sweet chili dressing adds tons of flavor, sweetness, and a tiny bit of heat.
It's so easy to make! You can even prep the ingredients ahead.
I usually prepare a large batch and divide it up into individual lunch containers. When I'm ready to serve, I just toss it with the sweet chili dressing…and just like that, I have dinner ready!
Fresh Ingredients
Here's what you'll need:
Cooked chicken: I include instructions for an easy and basic poached chicken, but you can certainly use rotisserie chicken if you want! If you decide to cook the chicken, you'll need chicken, chicken broth, and salt.
Napa cabbage: Gimme all the crunch!
Fresh cilantro: Cilantro is a big ingredient in Thai cuisine and adds lots of freshness.
Shredded or matchstick carrots: For more crunch!
English cucumber: For freshness and crunch.
Green onions: Green onions are mild and add great flavor.
Roasted peanuts: For extra crunch and texture! Use salted or unsalted peanuts.
Homemade Thai sweet chili dressing (recipe below!): Thai sweet chili sauce, rice vinegar, fish sauce or soy sauce, garlic, ginger, sesame oil, and honey.
Other awesome ingredients you can add to customize this salad are wonton strips, papaya, Thai basil, bell peppers, or edamame.
Got more custom ingredient ideas for this salad? Comment below, I'd love to hear from you!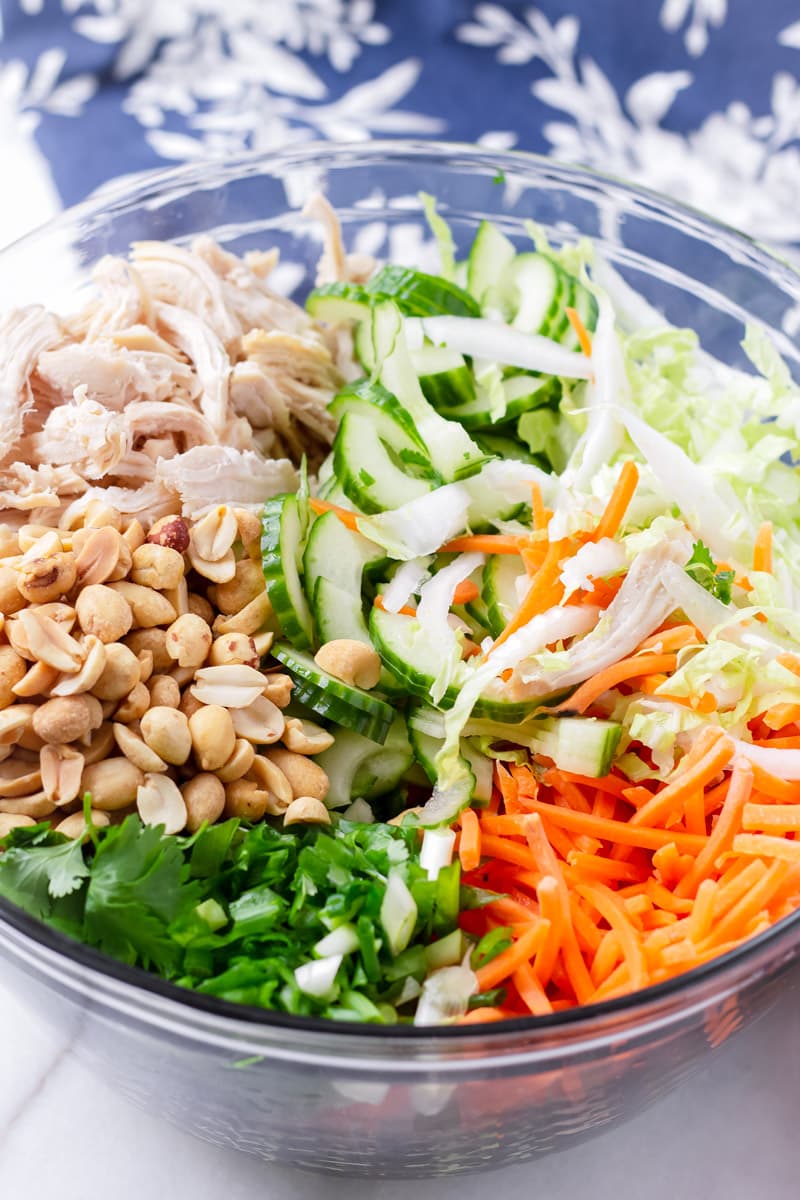 It's So Easy to Make!
One of the reasons why I love this Thai chicken salad so much is that it is very easy to make. You can even prep all the ingredients ahead of time, and toss everything when ready to eat.
Per usual, you can find the specific ingredient quantities and instructions in the recipe card below. Here are the steps from a top-level view:
Cook the chicken: Simmer chicken breasts with chicken broth and salt. Id' recommend slicing the chicken lengthwise to make them thinner and reduce the cooking time. Less cooking time means fewer chances of overcooking the chicken. Or use shredded rotisserie chicken.
Make the Thai sweet chili dressing: Add all the ingredients in a mason jar and shake to combine. Adjust to taste.
Prep all the ingredients: Chop the veggies and all that!
Toss to combine, and eat!!
As you can see, it's super easy to make, and even easier if you're using rotisserie chicken.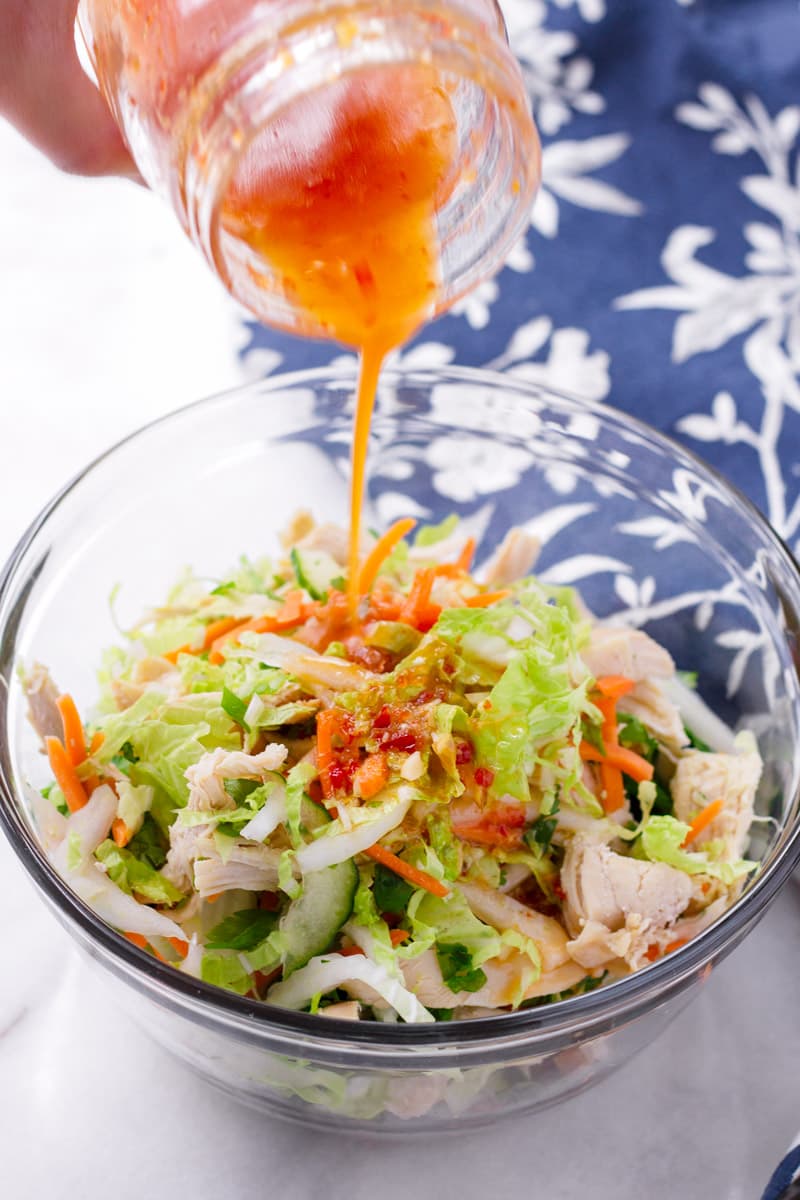 Can I Use Rotisserie Chicken?
Yes, absolutely! In fact, this is what I use when I don't have time to cook the chicken. You could also use leftover chicken as another option.
The Thai Sweet Chili Dressing
Let's talk about the Thai sweet chili dressing! I love it so much. It's sweet from the sweet chili sauce, and tangy from the rice vinegar.
Here's what you'll need for the sweet chili dressing:
Thai sweet chili sauce: I like to use Mae Ploy's brand of Thai sweet chili sauce. It's authentic and so good.
Rice vinegar: adds tanginess and flavor.
Fish sauce: fish sauce is a staple in Asian cuisine. It's known for its umami flavor. You can find it in bottles in the Asian section of the grocery store or online. If you can't find it, a good substitute soy sauce.
Minced garlic and grated ginger: These are the aromatics.
Sesame oil: It will add that unique and delicious Asian flavor to this salad.
Honey: I love adding 1-2 teaspoons of honey for extra sweetness. Totally optional.
This dressing will keep in the fridge for 2-3 days. Be sure to store it in a mason jar or airtight container.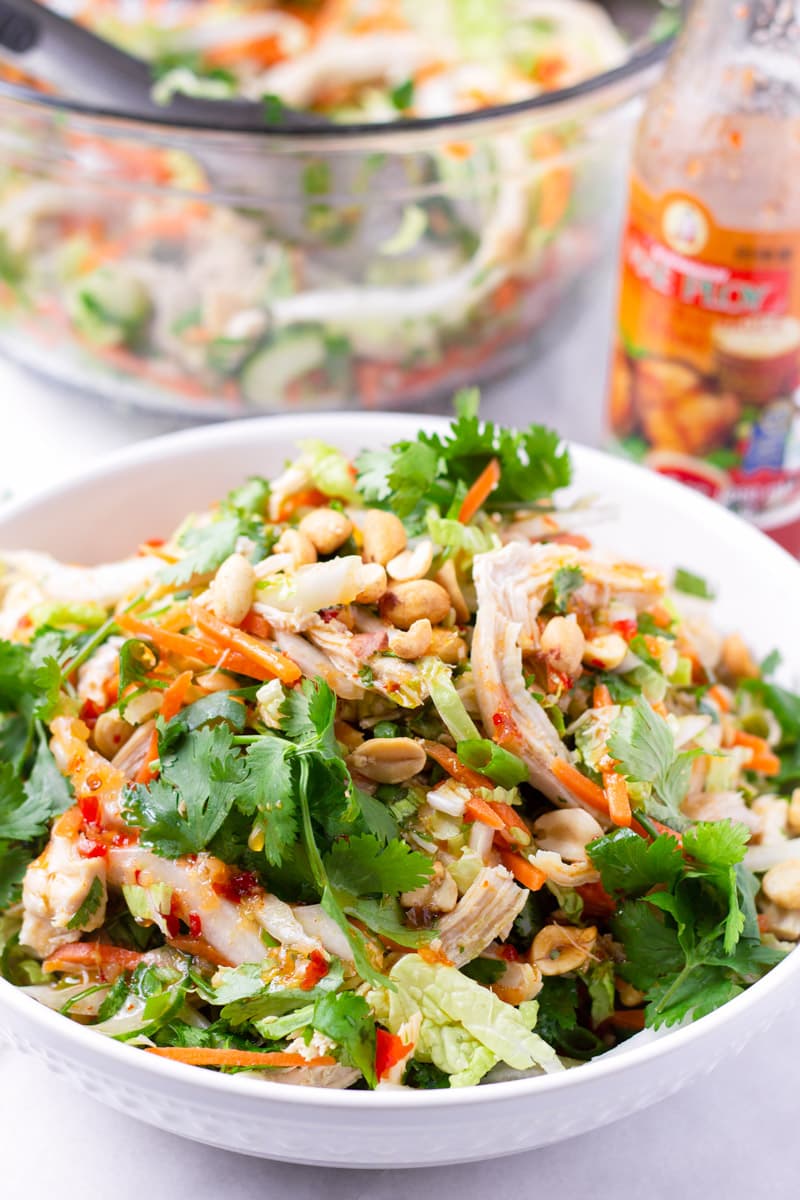 That's all! Super easy. This Thai chicken salad is so healthy, well-balanced, and delicious. I really love the amazing crunch in every bite.
If you're into Asian-inspired salads, check Joyous Apron's Asian salmon salad! I have made it several times, and it's amazing.
Other healthy and refreshing salads you should try:
I hope you like this Thai chicken salad as much as I do. Happy cooking!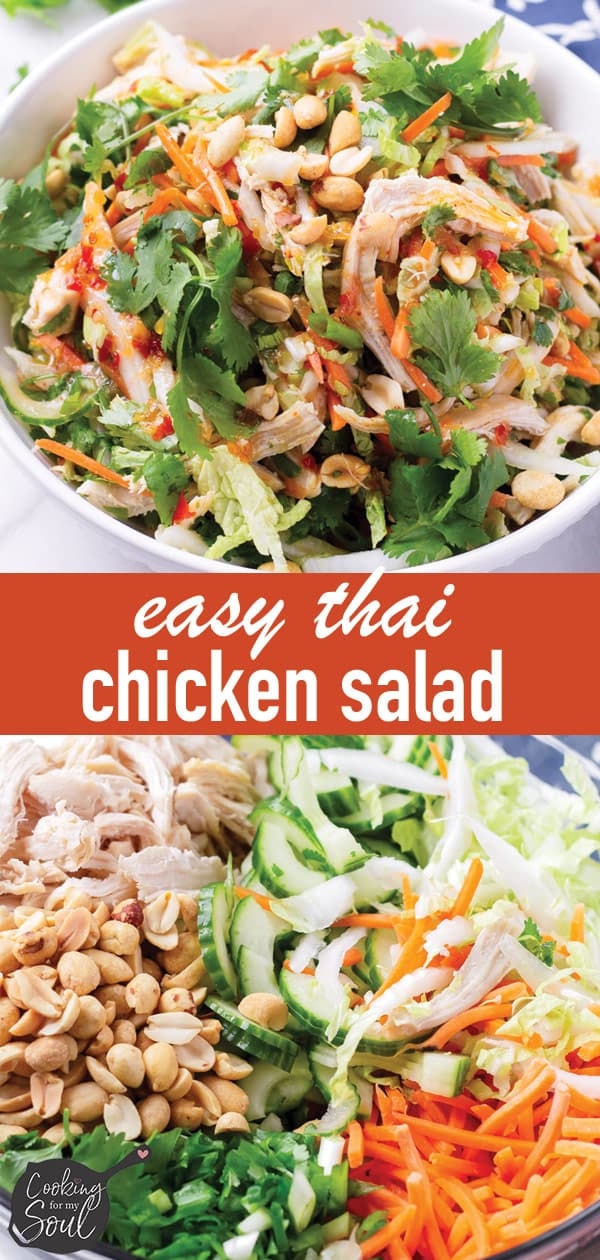 Tips for Success
To make it extra easy, use shredded rotisserie chicken.
For extra crunch, add the one or more of the following ingredients: fried wonton strips, edamame, cashews.
All ingredients can be prepared 1-2 days in advance.
If you try my recipe, use #cookingformysoul on Instagram! Follow me on Pinterest, Instagram, Facebook for the latest fun updates and recipes!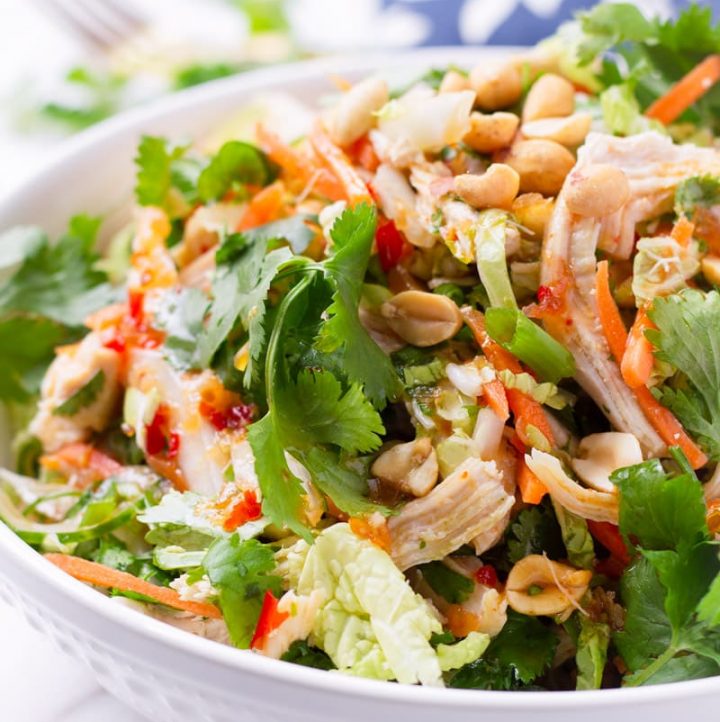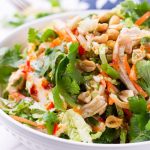 Crunchy Thai Chicken Salad
This delicious and crunchy Thai chicken salad is super easy to make. It's healthy, refreshing, and delicious. This Thai salad is a also a great make ahead or meal prep salad.
Ingredients
Chicken (or you can also use rotisserie chicken instead)
2

large chicken breasts

4

cups

chicken broth

1

teaspoon

Kosher salt
Salad
5 to 6

cups

sliced Napa cabbage

2

cups

chopped cilantro

2

cups

shredded or matchstick carrots

1

English cucumber, thinly sliced

3

green onions, tops removed and sliced

3/4

cup

roasted peanuts
Thai Sweet Chili Dressing
1/2

cup

Thai sweet chili sauce

(I like using Mae Ploy's brand)

3 to 4

tablespoons

rice vinegar, plus more as desired

2

cloves

garlic, minced

1 1/2

teaspoons

grated ginger

1

tablespoon

sesame oil

2

teaspoons

fish sauce

(optional)

2

teaspoons

honey

(optional)
Instructions
Cook the chicken: If the chicken breasts are thick, slice them in half lengthwise. Then, add the chicken breasts and the chicken broth to a medium saucepan, and bring to a boil. Cover with the lid, reduce to a simmer, and cook until internal temperature reaches 165 degrees F, about 15-18 minutes, depending on how thick the chicken breasts are. Transfer the chicken to a plate (leave the broth behind) and let it rest for 10 minutes. Then, shred the chicken. Set aside.

Make the sweet chili dressing: Combine all the dressing ingredients in a mason jar or a container with a lid. Cover and shake until well-combined. Taste and adjust ingredient proportions if needed. I like my dressing on the less tangy so I go easy on the vinegar, so definitely adjust to taste. Set aside.

Assemble the salad: Add all the salad ingredients and shredded cooked chicken to a large bowl. Gradually add the prepared dressing (the amount you want) and toss to combine. Enjoy!
Recipe Notes
Special Equipment: microplane zester, salad spinner (to wash and dry the Napa cabbage).
Chicken: Feel free to use a rotisserie chicken breast instead of cooking the chicken on the stove. Be sure to remove the skin from the rotisserie chicken first.
Make ahead: All ingredients can be prepped ahead of time and stored in airtight containers. When ready to serve, add the dressing and toss to combine.