I love serving Caprese Skewers as appetizers! They are so fun and easy to assemble, making it a great option for entertaining. I like to drizzle them with balsamic glaze. So good!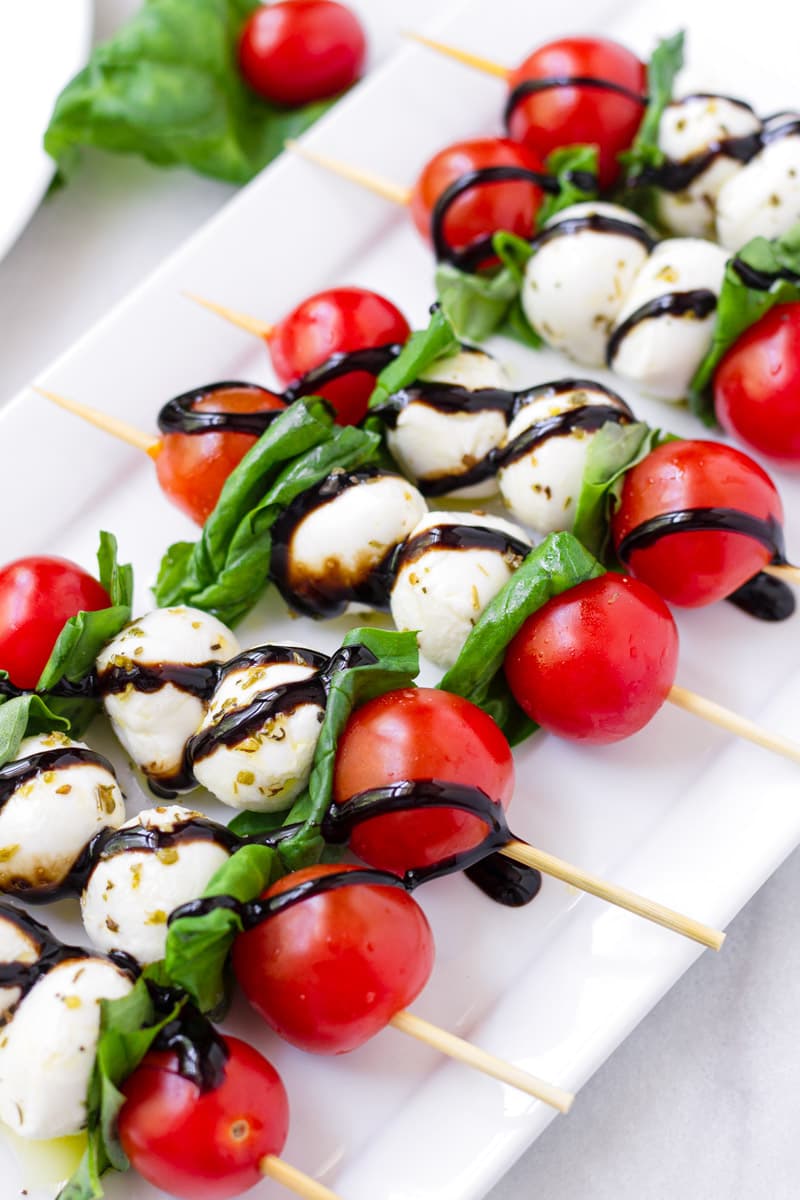 I'm all in for easy, no-cook appetizers! These caprese skewers are always a big hit, and they take very little time to make. A win-win, for sure!
Caprese skewers are pretty much all your favorite caprese salad ingredients assembled in skewers. So fun and cute, right?! Every time I serve these, they are gone within seconds. That's how good they are!
I like making these caprese salad skewers because it takes less than 20 minutes and requires no cook time at all.
Speaking of appetizers…check out my latest recipe: Mac and Cheese Bites! So good!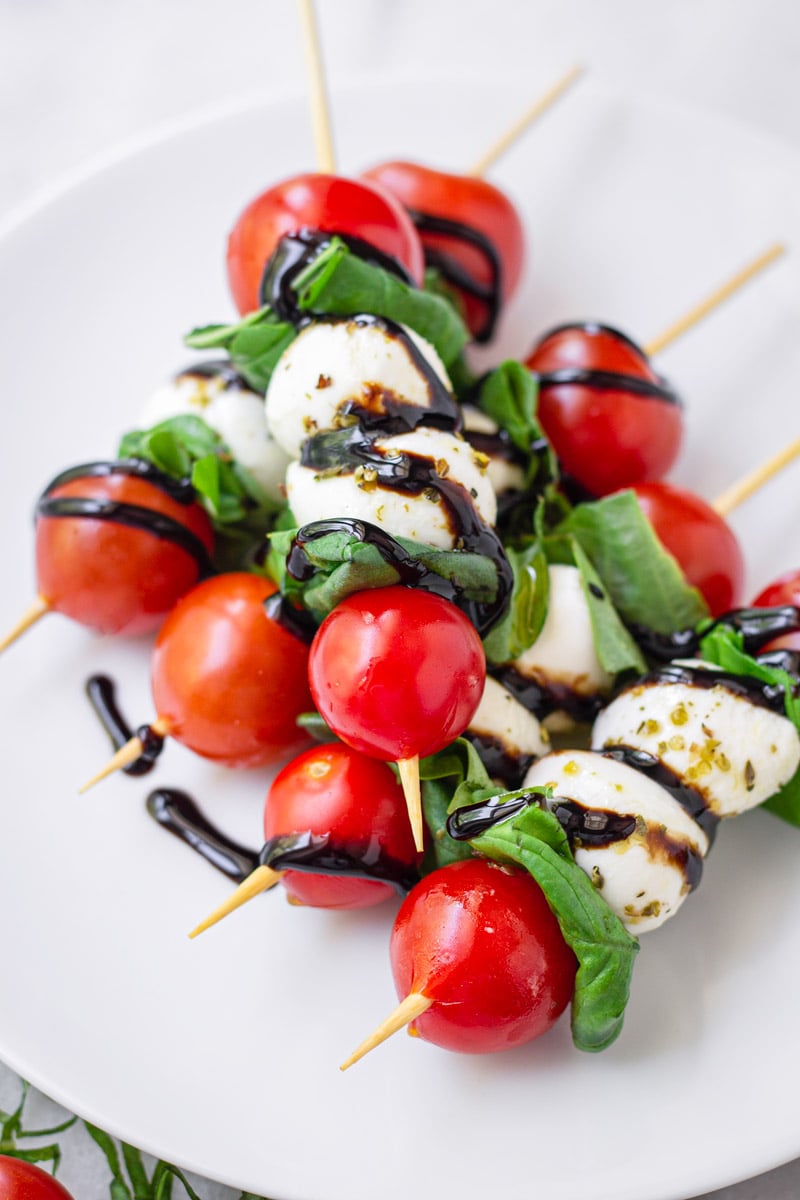 What to Serve with Caprese Skewers
Before I go into all the ingredients and how I make these skewers, let me share how I like to serve them. I have so many great pairing ideas that I hope you'll love!
More appetizer and salad pairings:
Main dish pairings: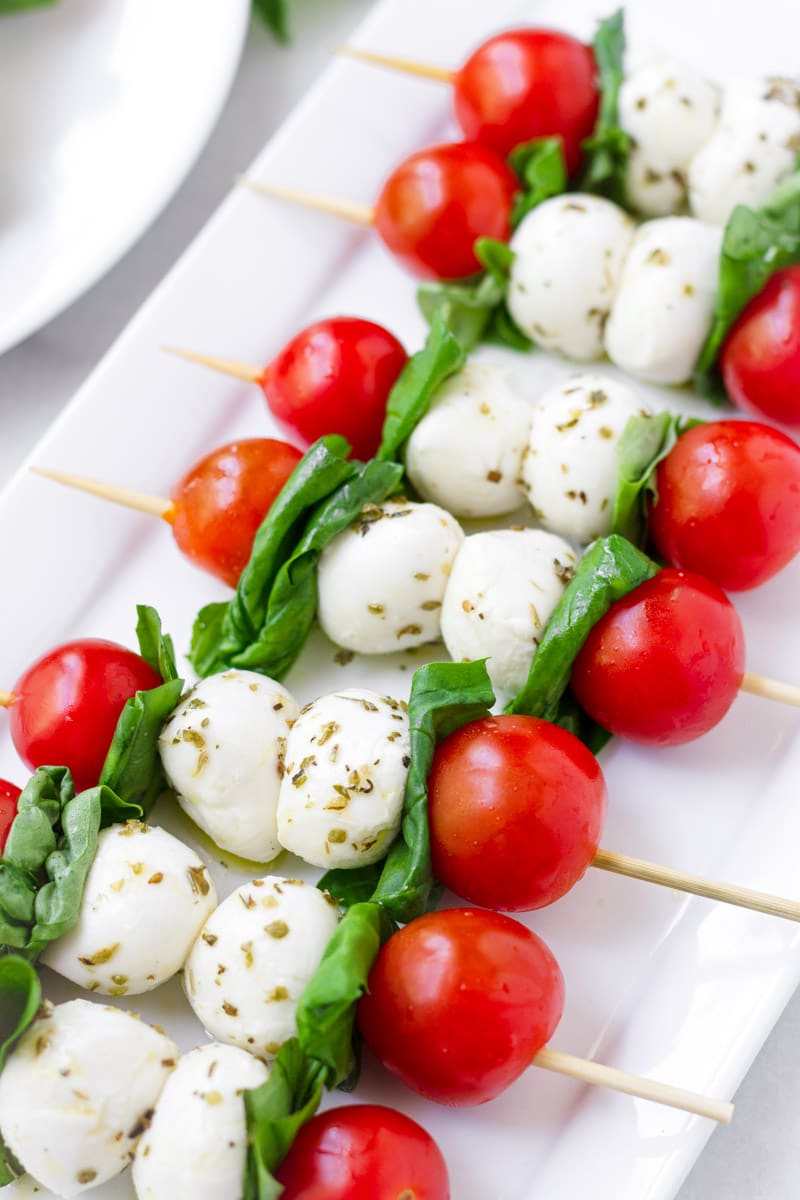 Fresh and Simple Ingredients
I love the fresh ingredients in this recipe:
Cherry tomatoes: Red or heirloom would work.
Small fresh mozzarella cheese balls: These are also called ciliegine.
Fresh basil leaves: As fresh as possible!
Extra virgin olive oil: I like the robust kind for extra flavor. The oil is used to add flavor to the mozzarella cheese.
Italian seasoning and dried oregano: To add flavor to the mozzarella.
Salt and pepper: To taste.
Balsamic glaze: I use store-bought balsamic glaze to keep it simple. Use the glaze (sweet and thick), not balsamic vinegar.
A quick tip: If possible, use the rounder cherry tomatoes instead of the oval-shaped cherry tomatoes. The round cherry tomatoes are usually about the same size and shape as the ciliegine mozzarella balls. This way, your caprese salad skewers will look uniform and pretty!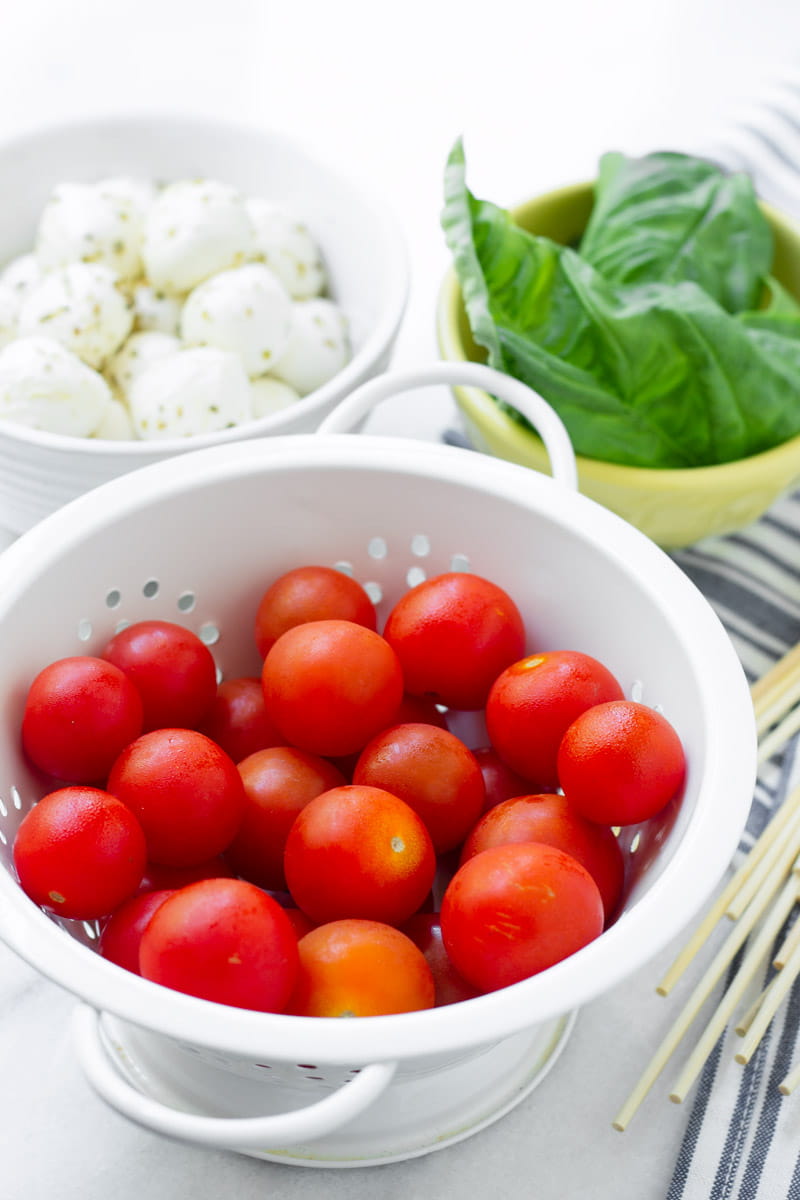 Add Flavor to the Mozzarella!
I love to toss the mozzarella balls with good olive oil, Italian seasoning, and dried oregano. This is almost like a mandatory step for me!
Unlike caprese salad, because you're not tossing these caprese skewers with dressing, you want to add as much flavor as possible to the ingredients themselves before assembling the skewers. Tossing the mozzarella with olive oil, herbs (I used Italian seasoning and oregano), salt, and pepper makes a huge, huge difference. It's amazing!
Even better if you use marinated mozzarella balls! I love the pre-marinated ones. You can also marinate them yourself – I love this marinated mozzarella recipe!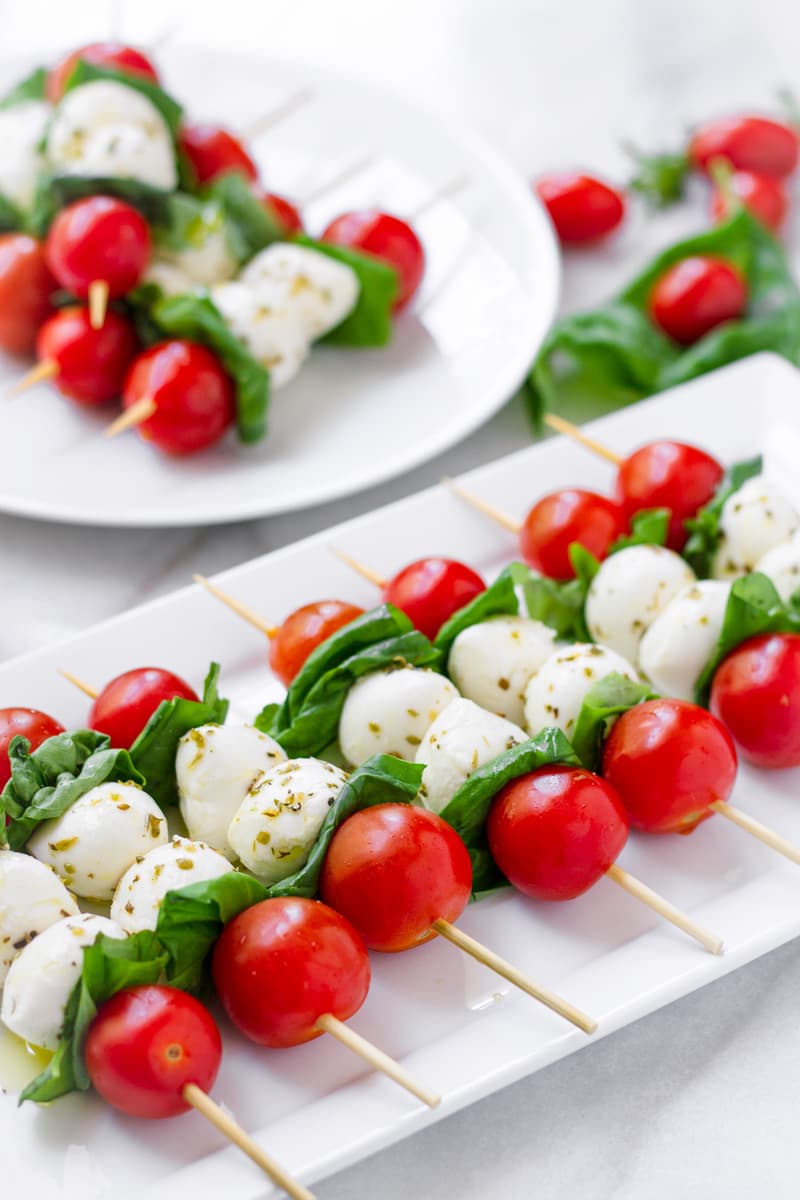 Easy to Assemble
First things first! Make sure you have wooden skewers. I use 6-inch bamboo skewers. These are shorter than your typical skewers, and are perfect for appetizers.
As for the order of each ingredient, here's how I like to do it: Tomato first, then basil, then 2 mozzarella balls, then basil, and finally tomato.
Makes 12 skewers.
After you're done, just drizzle with balsamic glaze! Make sure you use balsamic glaze (the thick and sweet one), and not balsamic vinegar.
Make-Ahead Options
You can totally make caprese skewers ahead of time! Assemble the skewers the same day or up to 1 day ahead. Store in the fridge in an airtight container.
Don't add the balsamic glaze in advance – wait until ready to serve to drizzle the glaze over.
Because this recipe uses fresh basil leaves, I would recommend assembling no longer than 1 day in advance. Basil leaves will last in the fridge but they start wilting pretty quickly.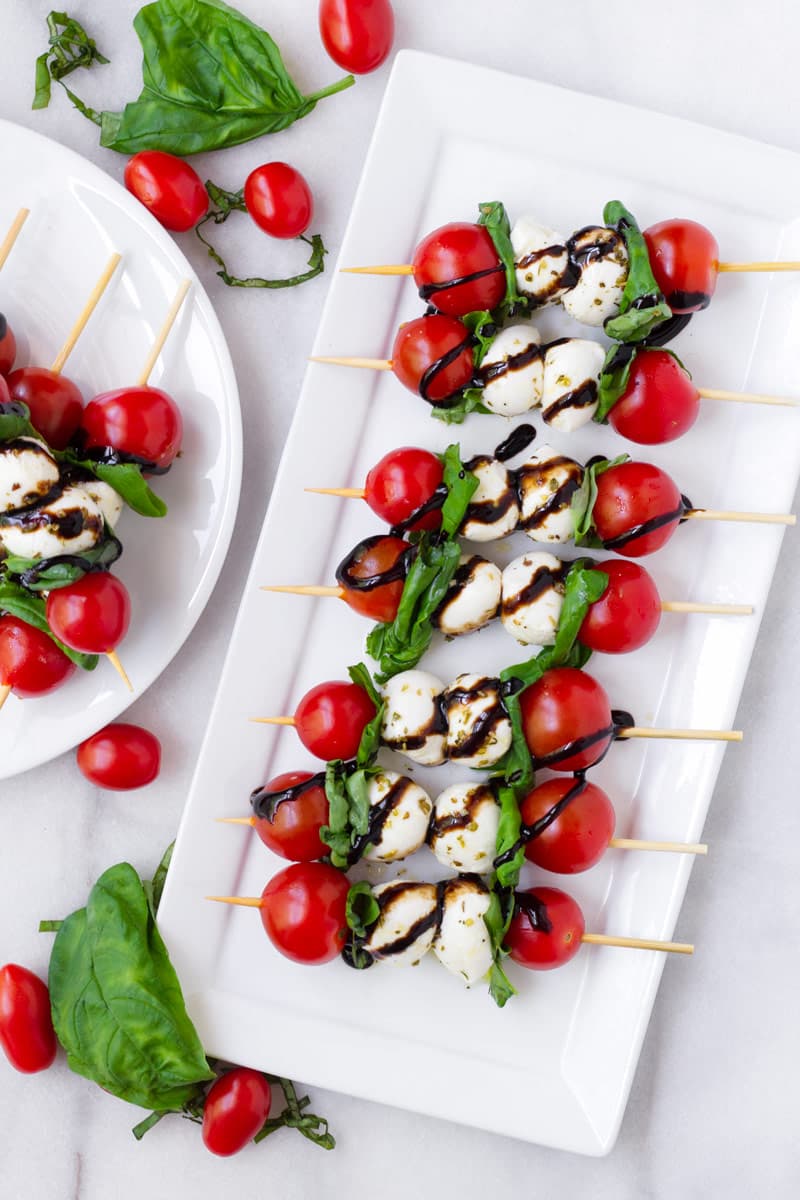 I absolutely love caprese salad skewers! They are easy to make and super fun to eat. I love the fact that there is no cooking involved and clean-up is super easy.
The key here is to use fresh ingredients. It also helps a lot to flavor the mozzarella balls with good olive oil and herbs. So good!
I hope you like these cute appetizers. Thank you so much for reading!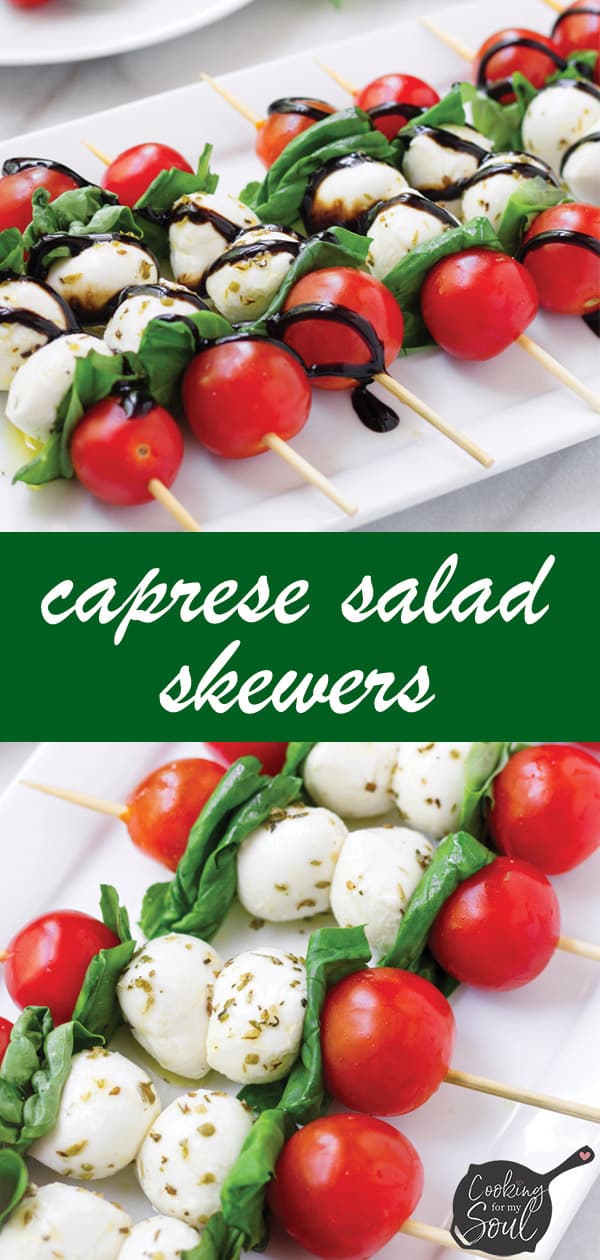 Tips for Success
Add flavor! Toss the mozzarella balls with good olive oil, Italian seasoning, and oregano before assembling.
Cherry tomatoes: Get the bigger round cherry tomatoes to match the shape of the mozzarella balls. Try not to use the oval-shaped tomatoes.
Caprese Skewers
These easy, no-cook Caprese Skewers are the perfect appetizer that everyone will love! Made with cherry tomatoes, fresh mozzarella cheese, basil, and a sweet balsamic glaze.
Ingredients
8

oz

small fresh mozzarella balls or ciliegine mozzarella cheese

-

(or 24 balls)

1 to 2

tablespoons

extra virgin olive oil

1

teaspoon

dried Italian seasoning, plus more to taste

1/2

teaspoon

dried oregano, plus more to taste

24

round cherry tomatoes

-

(about 12 oz, not the oval-shaped tomatoes)

24

fresh basil leaves

-

(about 1 1/2 cups)

Salt and pepper to taste

Balsamic glaze for drizzling

-

(not balsamic vinegar, see note)
Instructions
Make sure you have 12 6-inch bamboo skewers ready.

Drain the water from the mozzarella cheese balls packaging, if needed. In a medium bowl, combine the mozzarella cheese balls with 1-2 tablespoons olive oil (or to taste), Italian seasoning, and dried oregano. Season with salt and pepper. Set aside.

Assemble each skewer in this order: tomato, basil leaf, 2 prepared mozzarella cheese balls, basil leaf, and tomato. You should have 12 skewers.

Arrange the prepared skewers on a platter. Drizzle with balsamic glaze. Enjoy!
Notes
Special equipment: 12 6-inch bamboo skewers.
Balsamic glaze: You can find balsamic glaze at grocery stores, by the vinegar section. Make sure it's balsamic glaze, and not balsamic vinegar. Balsamic glaze is reduced, thick, and sweet.
Cherry tomatoes: To match the size and shape of the mozzarella, use the round (not the oval-shaped) cherry tomatoes.
Small mozzarella cheese balls: These are also called ciliegine mozzarella, and are the perfect size for these skewers.
Make-ahead instructions: Basil leaves tend to wilt easily, so assemble these skewers ahead on the same day or up to 1 day ahead. Make sure everything stays refrigerated, in airtight containers. Do not add the balsamic glaze drizzle in advance; you can do so when ready to serve.