Chicken pasta dinners are always a big hit at my house. This creamy chicken artichoke pasta is easy and delicious, perfect for a casual weeknight dinner!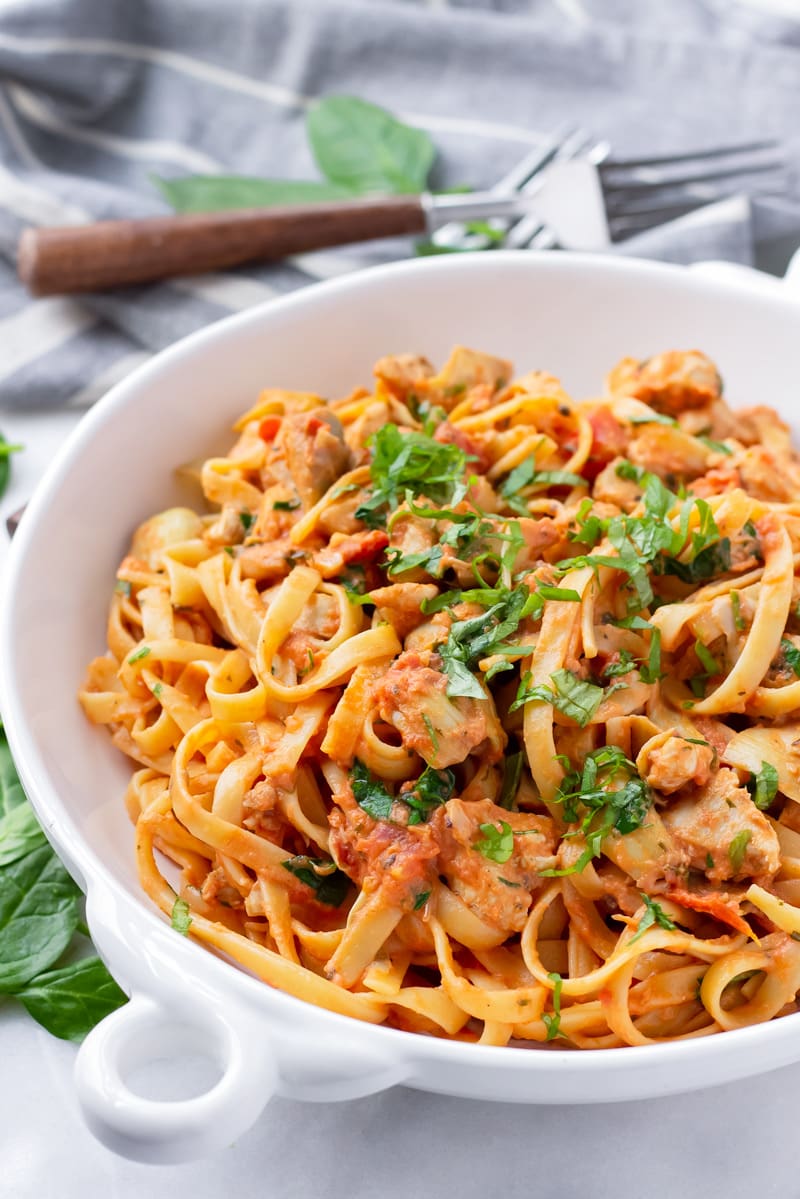 If you know me, you'll know that artichokes are one of my favorite things ever! I made this chicken artichoke pasta the other night, and I'm seriously obsessed! It's a great weeknight pasta dinner that everyone will love. Plus, it makes great leftovers if you want to save some for lunch the next day (ehem, literally me).
Imagine this: tender sautéed chicken, artichokes, fettuccine al dente, and spinach…tossed with a delicious tomato cream sauce. So so good!
So let's get started! Let me show you how to make it.
The Tomato Cream Sauce
First things first: the sauce!
In pasta dishes, the sauce is a crucial component that brings all the ingredients together. For this chicken artichoke pasta, I made a delicious tomato cream sauce. It's creamy, just a tiny bit tangy and sweet. Plus, it comes together in under 5 minutes.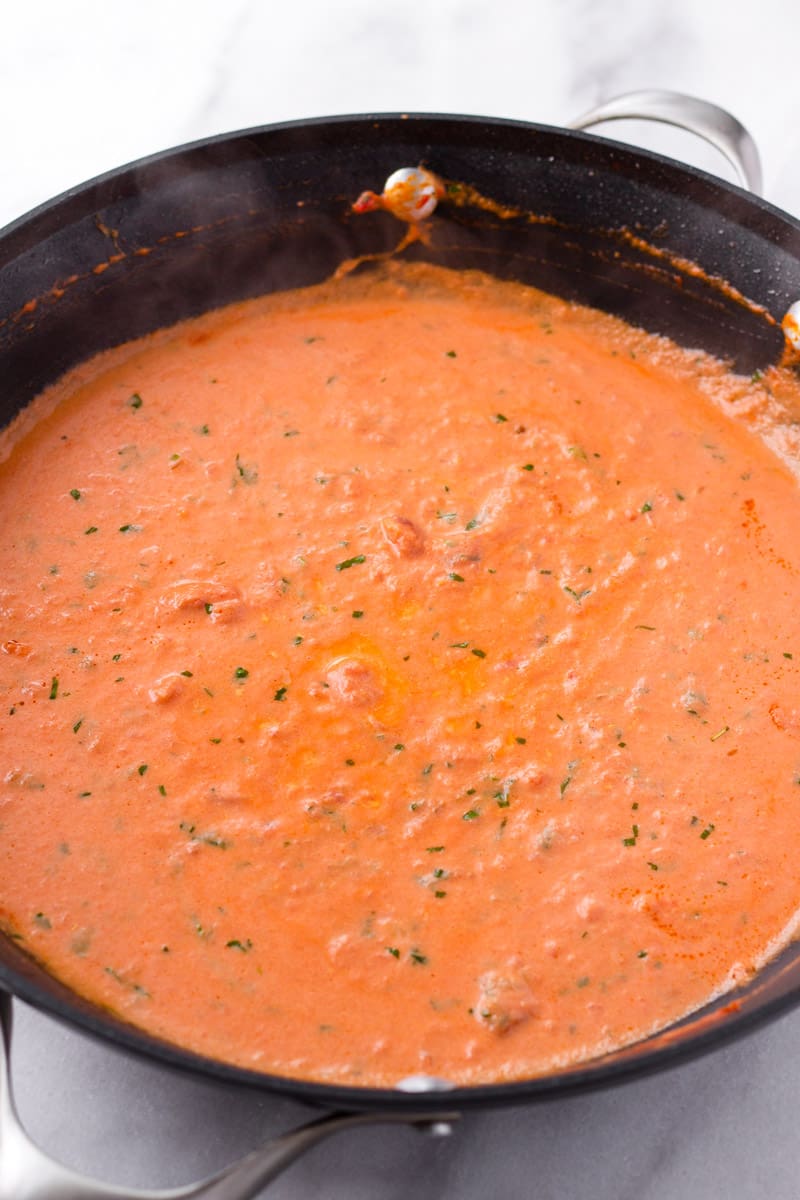 Here's what in the tomato cream sauce:
Heavy cream: For amazing creaminess!
Canned crushed tomatoes: This will be the base of the sauce.
Minced garlic: For flavor.
Fresh basil: For freshness and flavor.
A pinch of sugar: The sugar will eliminate any extra acidity from the tomatoes. A pinch or two should be enough.
Salt and pepper: To taste.
That's it! Only a few ingredients, and only needs to simmer for 3 minutes or so. It's a quick and delicious tomato cream sauce that complements really well with the chicken pasta dish.
Simple Ingredients
The ingredients in this dish are very simple and easy to find. You may already have many of the ingredients in your pantry!
Here's what you'll need (per usual, you can find the specific ingredient quantities in the recipe card below):
Fettuccine: You can also try spaghetti, rigatoni or penne.
Chicken: Cubed chicken breast or thighs will work.
Italian herbs seasoning: For flavor.
Artichoke hearts: I like to use artichoke hearts in water for milder flavor (comes in jars or cans).
Fresh spinach leaves: Adds freshness and color.
Tomato cream sauce ingredients: It's so good! You can find the ingredients in the section above and in the recipe card below.
Salt and pepper: To taste.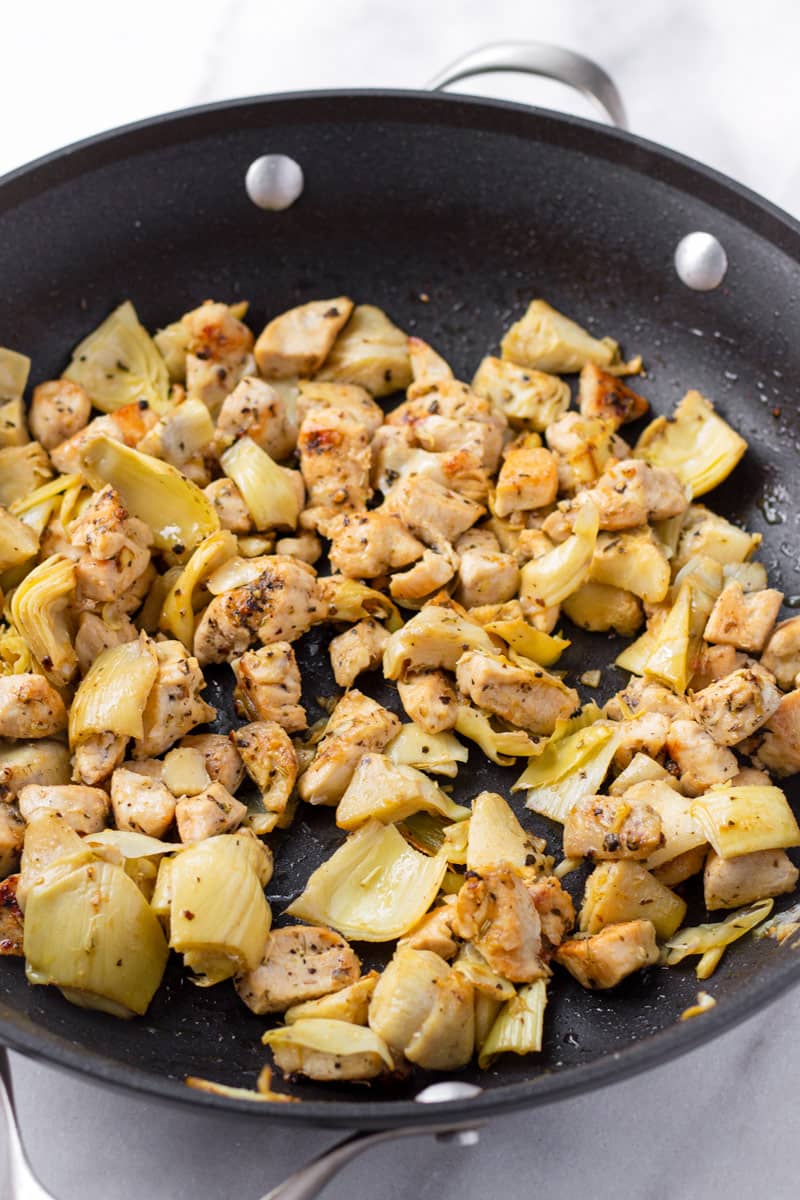 Let's Make It
This chicken artichoke pasta is seriously easy to make. It's so easy that it's one of my go-to weeknight dinners!
There are 4 basic steps in this recipe. You can find detailed instructions in the recipe card below, but to give you an idea…
Cook the pasta according to package directions. Drain and set aside.
Cook the chicken and artichokes: Sautée seasoned chicken, along with minced garlic and artichokes, until the chicken is fully cooked. Transfer to a plate and set aside.
Make the tomato cream sauce: On the same skillet, make the sauce. You'll need garlic, canned crushed tomatoes, heavy cream, basil, salt and pepper. Takes less than 5 minutes!
Toss everything together: Pasta, chicken and artichokes, the sauce, and spinach.
If you want to, you can also garnish with parmesan cheese and basil.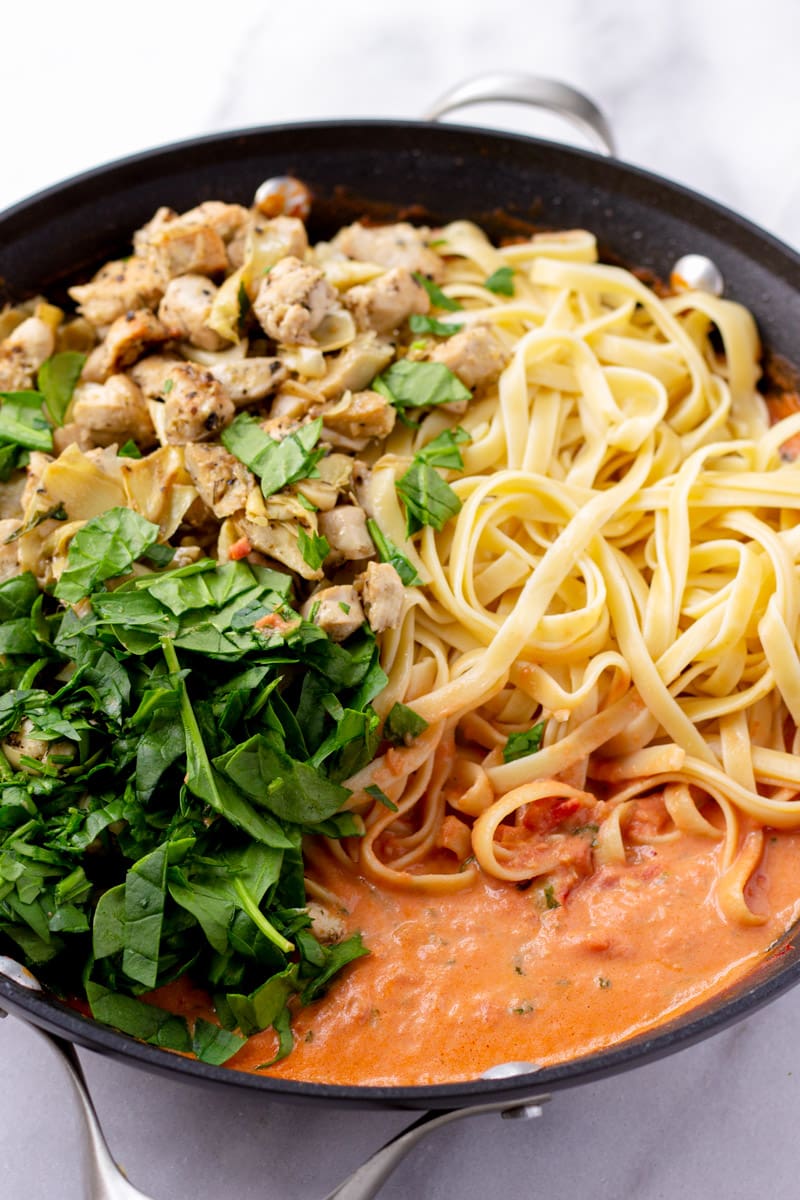 Add-Ins and Pairings
I am a big proponent of being creative. When I cook from cookbooks, I always put my own spin to it, and I love it!
Here are some ideas for add-ins for this chicken artichoke pasta recipe:
Mushrooms
Sundried tomatoes
Fresh tomatoes
Red bell peppers
As for pairings, I love to serve this pasta dish with fresh salad. Try my Shaved Brussels Sprouts with Kale Salad! You could also pair with it bread. Try focaccia, garlic bread, or bread sticks.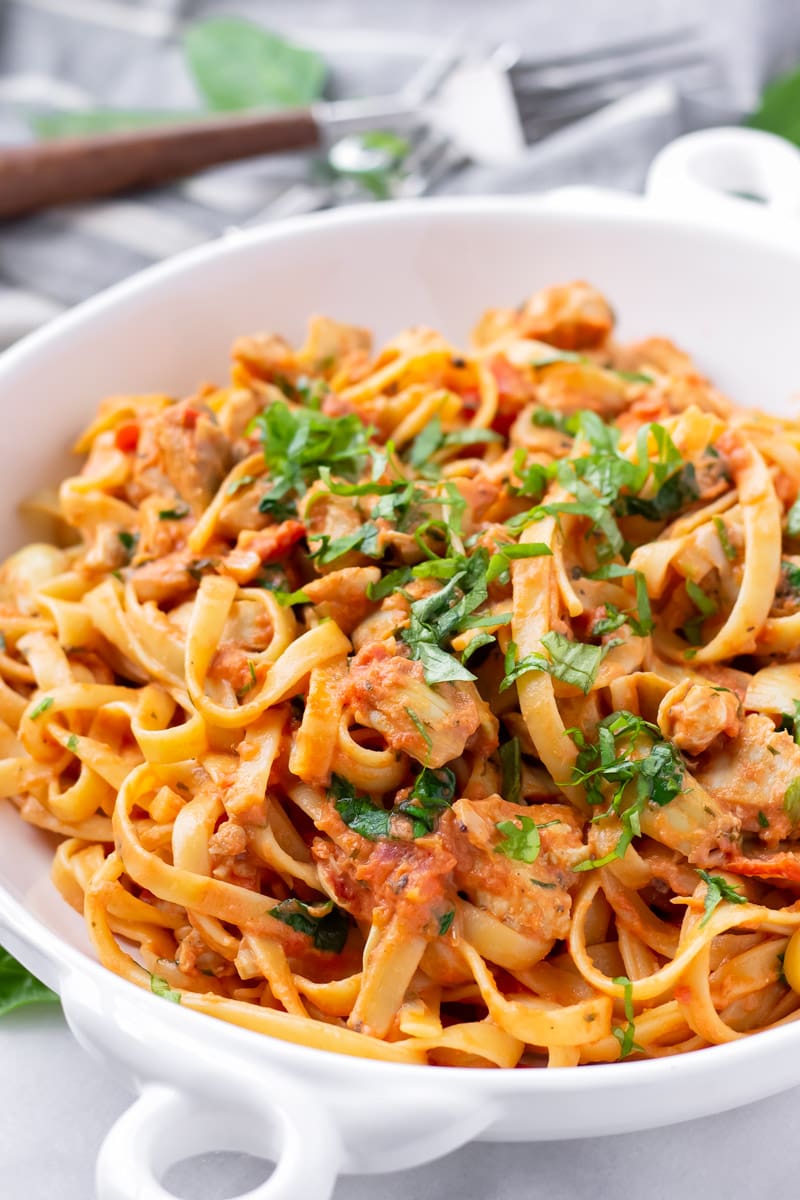 I hope you like this chicken artichoke pasta dish as much as I do! This is on my regular weeknight rotation. Because I love it so much, I sometimes make extra just so I can have it for dinner. It reheats really well!
Feel free to add your own spin to it! Let me know of any creative ideas by commenting below. Happy cooking!
For more pasta dinner ideas:
Thank you for stopping by. Don't forget to pin this recipe!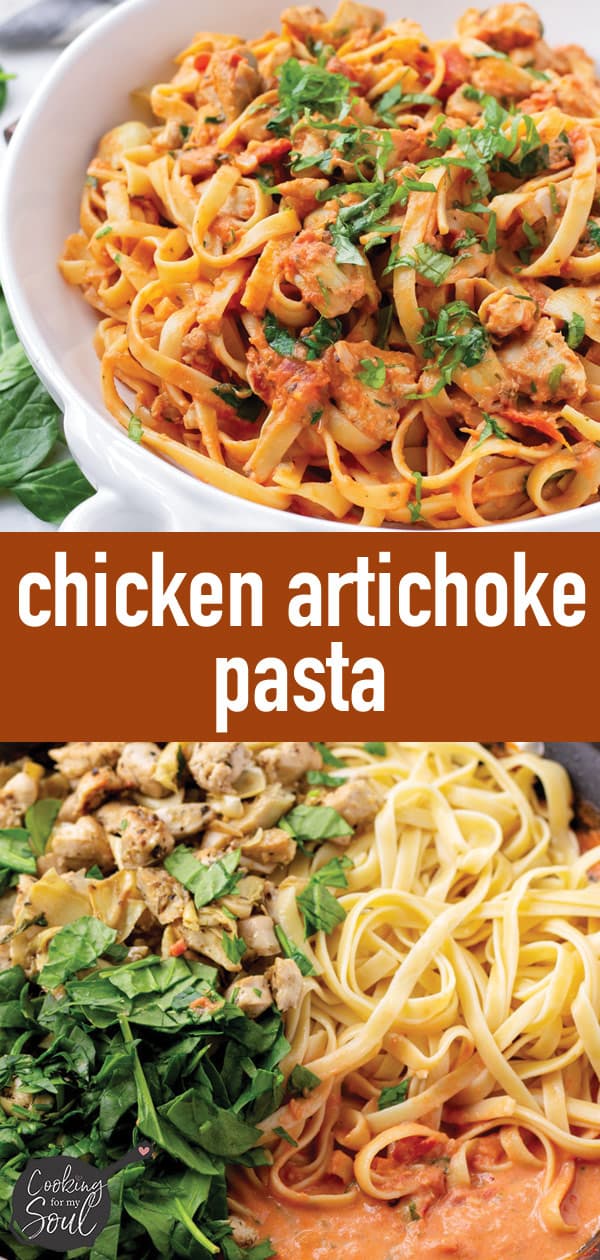 Tips for Success
Use fresh spinach, preferably baby spinach.
Make sure the tomato cream sauce is adjusted to taste. I like to add a few pinches of granulated sugar to balance off the acidity from the tomatoes.
Chicken: I love using chicken breast in this recipe, but cubed chicken thighs or even cubed chicken tenders will work too.
If you try my recipe, use #cookingformysoul on Instagram! Follow me on Pinterest, Instagram, Facebook for the latest fun updates and recipes!
Chicken Artichoke Pasta
Easy and delicious Chicken Artichoke Pasta! This comforting creamy chicken pasta is very easy to make, making it a great weeknight dinner.
Ingredients
1/2

pound

fettuccine pasta

Olive oil for pan

2

large chicken breasts, cut into cubes

(skinless, boneless)

1

teaspoon

Italian herbs seasoning

Salt and pepper

1

(14 oz) jar

artichoke hearts in water, quartered

3

cloves

minced garlic, divided

1

(14 oz) can

crushed tomatoes

1/2

cup

heavy cream

Granulated sugar, a few pinches

2

tablespoons

fresh basil, chopped

(plus more for garnish)

1

cup

fresh spinach leaves, packed

Parmesan cheese for garnish
Instructions
Cook pasta according to package directions. Drain and set aside.

Season the chicken with the Italian seasoning, 1 teaspoon salt, and 1/4 teaspoon ground black pepper.

In a large skillet, heat about 2 tablespoons of olive oil over medium-high heat. Add the chicken and cook until golden brown on the outside and fully cooked inside. Add minced garlic (from 1 clove) along with artichoke hearts, and cook for another 2-3 minutes, stirring. Transfer to a plate and set aside.

Wipe skillet clean. On the same skillet, heat 1 tablespoon olive oil over medium heat. Add the remaining minced garlic and cook about 2-3 minutes until fragrant. Add the crushed tomatoes and bring to a simmer. Then add the basil and the heavy cream. Stir to combine and bring back to a simmer for 1 minute. If it tastes a bit too acidic (tomatoes can taste acidic), add a few pinches of granulated sugar – it works like a charm! Adjust seasoning with salt and pepper if needed.

To the sauce in the pan, add the chicken and artichokes back, along with the cooked fettuccine, and the fresh spinach. Toss everything until combined. Garnish with parmesan cheese and basil. Enjoy!
Notes
Equipment: tongs, large skillet, pot to boil pasta, can openers.
Chicken: I used chicken breast, but feel free to use chicken thighs or tenders.
Artichokes: I highly recommend getting artichokes packed in water rather than oil. The taste is milder.
Storing: Store in an airtight container in the fridge for up to 3 days. Reheat in the microwave oven.