Everyone needs a go-to homemade Cheesy Garlic Bread recipe! This delicious garlic bread is made with soft Italian bread, butter, fresh garlic, herbs, and topped mozzarella and parmesan cheeses…then baked until melty and golden brown. Cheesy garlic bread is always on my dinner table whenever I make Italian food. It's a tried-and-true recipe that everyone in my family loves! You'll love it.
Serve it with dinner tonight. It is easy, comforting and so, so delicious!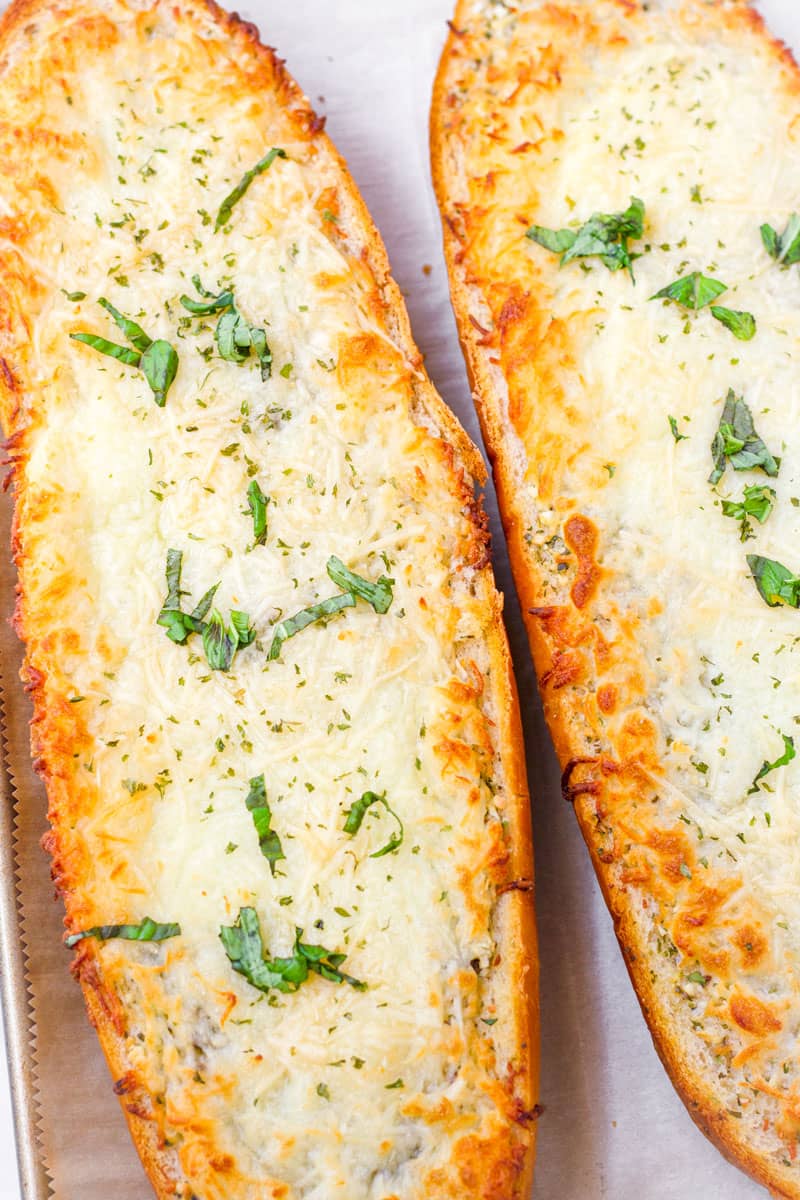 I could eat an entire loaf of this yummy cheesy garlic bread! Every time I make Italian food at home, I make sure to make a batch of freshly baked garlic bread. It's so incredibly delicious and comforting.
I like to use Italian bread because it's soft and firm at the same time. Another important ingredient is fresh garlic. Make sure you use freshly minced cloves of garlic. I promise, fresh garlic will make your cheese garlic bread taste so much better. And for cheeses, I use a blend of shredded mozzarella and parmesan.
I love to serve it with my Tomato Basil Pasta or with my Creamy Tortellini Tomato Soup.
You will love this recipe. It's delicious, comforting, cheesy, and garlicky…all in one. Let me show you how to make it!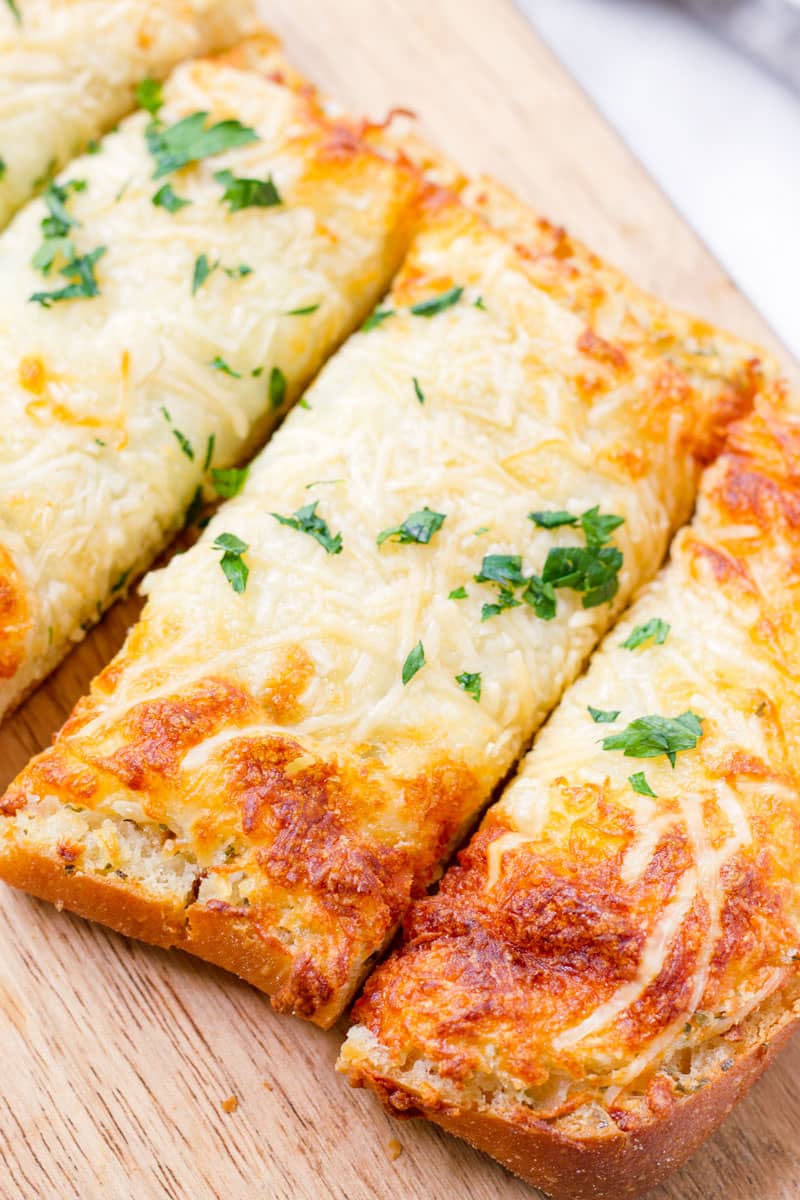 Ingredients You'll Need
You only need a few ingredients to make this delicious cheesy garlic bread. Below is an overview of each ingredient just to give you an idea. Ingredient quantities are included in the recipe card below, as always.
The key here is to use freshly minced garlic. Fresh is always better, and in this cheesy garlic bread recipe, using fresh garlic will make it extra delicious.
Italian bread: Use an entire loaf, and make sure it's not pre-sliced.
Unsalted butter: Make sure it's softened so you can spread it easily.
Minced garlic: For flavor. It's garlic bread, after all!
Dried herbs: I used dried oregano and dried parsley.
Salt: I like to add salt to unsalted butter so it's adjusted to taste, but if you use salted butter, you can skip the salt.
Ground black pepper: To season the butter.
Shredded cheese: I use a blend of mozzarella and some parmesan cheese.
Parsley or basil For garnish.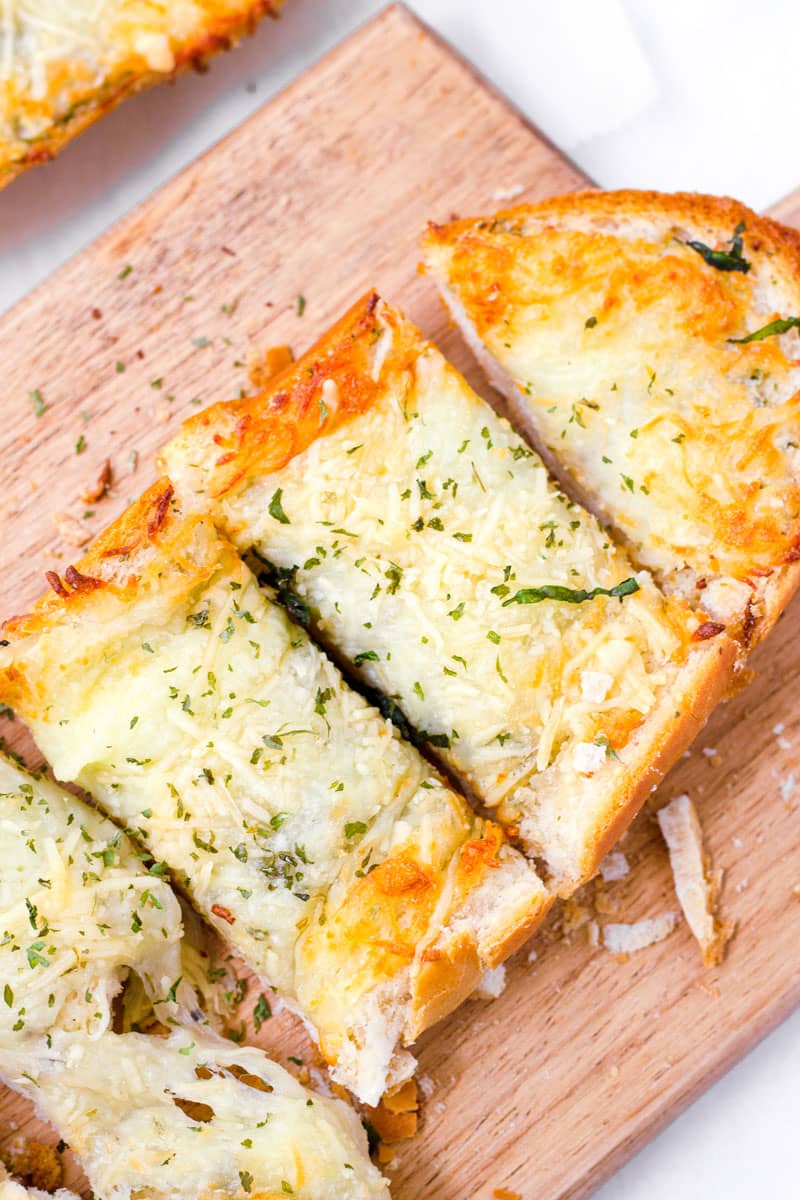 Let's Make It
Making this cheesy garlic bread is so easy! It takes about 30 minutes to make, and 20 of that is oven time. So easy!
I like to use store-bought Italian bread, but feel free to use homemade bread.
Here is an overview of the process:
Preheat oven to 400 degrees F: This temperature will melt the cheese beautifully.
Slice the bread: Slice an entire loaf of bread lengthwise.
Make the butter spread: Softened butter, minced fresh garlic, dried oregano and parsley, salt, and pepper. You can even make the butter spread ahead of time and refrigerate.
Spread the prepared butter over the bread and top with cheese: Make sure it's a uniform layer so that the cheese melts evenly.
Bake! At 400 degrees F for about 15-20 minutes. If desired, broil on top for an additional 1-2 minutes.
So easy to make! It will come out bubbly, cheesy, and golden brown. So, so good!
Per usual, specific ingredient quantities and instructions can be found in the recipe card below.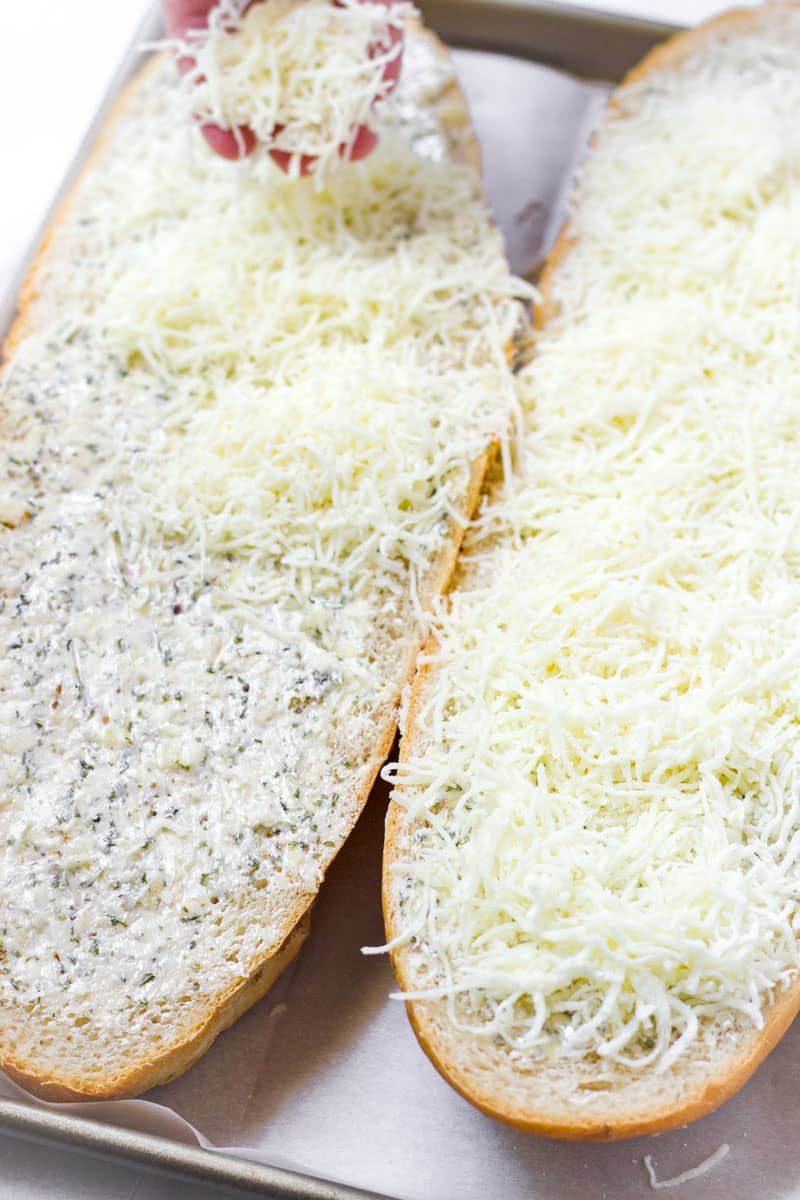 What Type of Cheese to Use
I use a blend of 2 cups of mozzarella and ¼ cup of parmesan cheese for a regular Italian bread loaf. Mozzarella cheese melts really well, so it's great for creating that amazing layer of cheesiness. The parmesan cheese adds nice savory flavors.
I'd also recommend these cheeses (shredded):
Fontina
Gruyere
Provolone
Colby Jack
You can even use a blend of your favorite cheeses!
What Type of Bread to Use
I love using a large loaf of Italian bread because it is soft, but also firm enough to be baked along with cheese.
Stay away from hard crust breads, such as sourdough bread, because the crust is already a bit hard, and after baking the cheesy garlic bread for 15-20 minutes, it comes out way too hard around the edges.
Other types of bread that I'd recommend:
French bread
Ciabatta
Soft crust baguette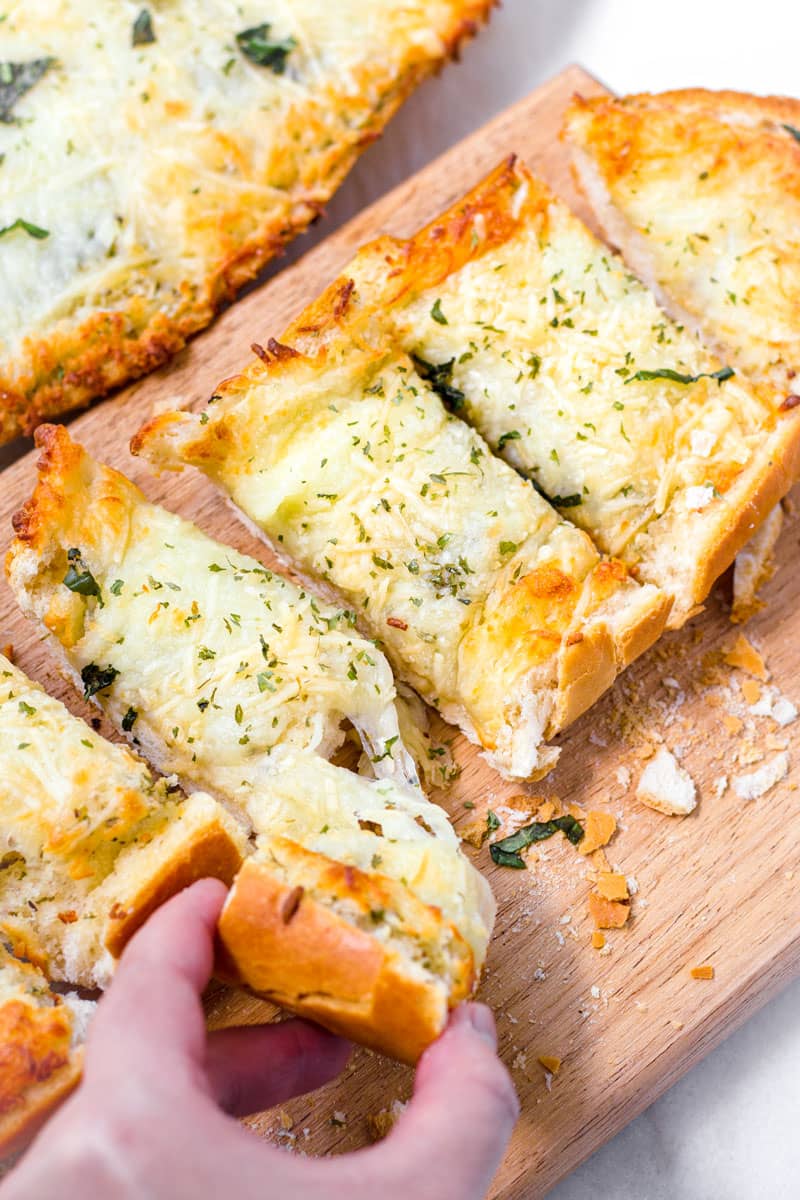 We absolutely love this amazing garlic bread! It's loaded with cheese and herbs. I love the toasted fresh garlic with the aromatic butter, and all that cheesy goodness. So good!
Here are a few recipes that I love to serve this bread with:
I hope you love this recipe as much as I do! It's my go-to cheesy garlic bread recipe! Happy cooking!
Tips for Success
Use soft but also firm bread, such as an Italian bread or French bread loaf.
Use cheeses that melt well, such as shredded mozzarella.
If you want the top to be more golden brown, simply broil it for about 1-2 minutes.
Cheesy Garlic Bread
This easy cheesy garlic bread is so easy to make and is a perfect side dish for a comforting meal. It takes less than 30 minutes to make!
Ingredients
1

loaf

Italian bread

6

tablespoons

unsalted butter, softened

4 to 5

cloves

fresh garlic, minced

1

teaspoon

dried parsley

1

teaspoon

dried oregano

½

teaspoon

Kosher salt, plus more to taste

Ground black pepper, to taste

2

cups

shredded mozzarella, plus more if desired

¼

cup

shredded parmesan, plus more if desired

Fresh or dried parsley for garnish

(or basil)
Instructions
Preheat oven to 400 degrees F. Line a large sheet pan (big enough to fit the bread) with parchment paper or aluminum foil. Set aside.

Make the garlic butter spread: In a bowl, mix the softened butter, minced garlic, dried parsley, dried oregano, salt, and black ground pepper. Adjust to taste as needed.

Split the loaf of bread in half, lengthwise. Spread the prepared garlic butter over the bread halves and transfer to the sheet pan. Top with the mozzarella and parmesan cheeses evenly.

Bake for 15-20 minutes until the cheese is melted and bubbly. If you want a more golden brown top, broil for about 1-2 minutes.

Garnish with fresh or dried parsley. Basil will work too. Serve immediately. Enjoy!
Notes
Special equipment: sheet pans, parchment paper or aluminum foil.
The garlic butter spread can be made 1-2 days in advance and refrigerated. Soften it before using.
Use soft crust, firm breads such as Italian or French bread.
If you want to use other types of cheese, try fontina, gruyere, colby jack, or provolone. They melt really well!