Are you ready for the most stunning summer salad ever? This Burrata Salad is pure summer on a plate!
You'll love all the fresh flavors and textures in this salad. With its vibrant colors, fresh flavors, and variety of textures, this burrata salad is a true winner.
This burrata salad is an easy, no-cook salad that is perfect as a side or even an appetizer. Seriously, one of my faves!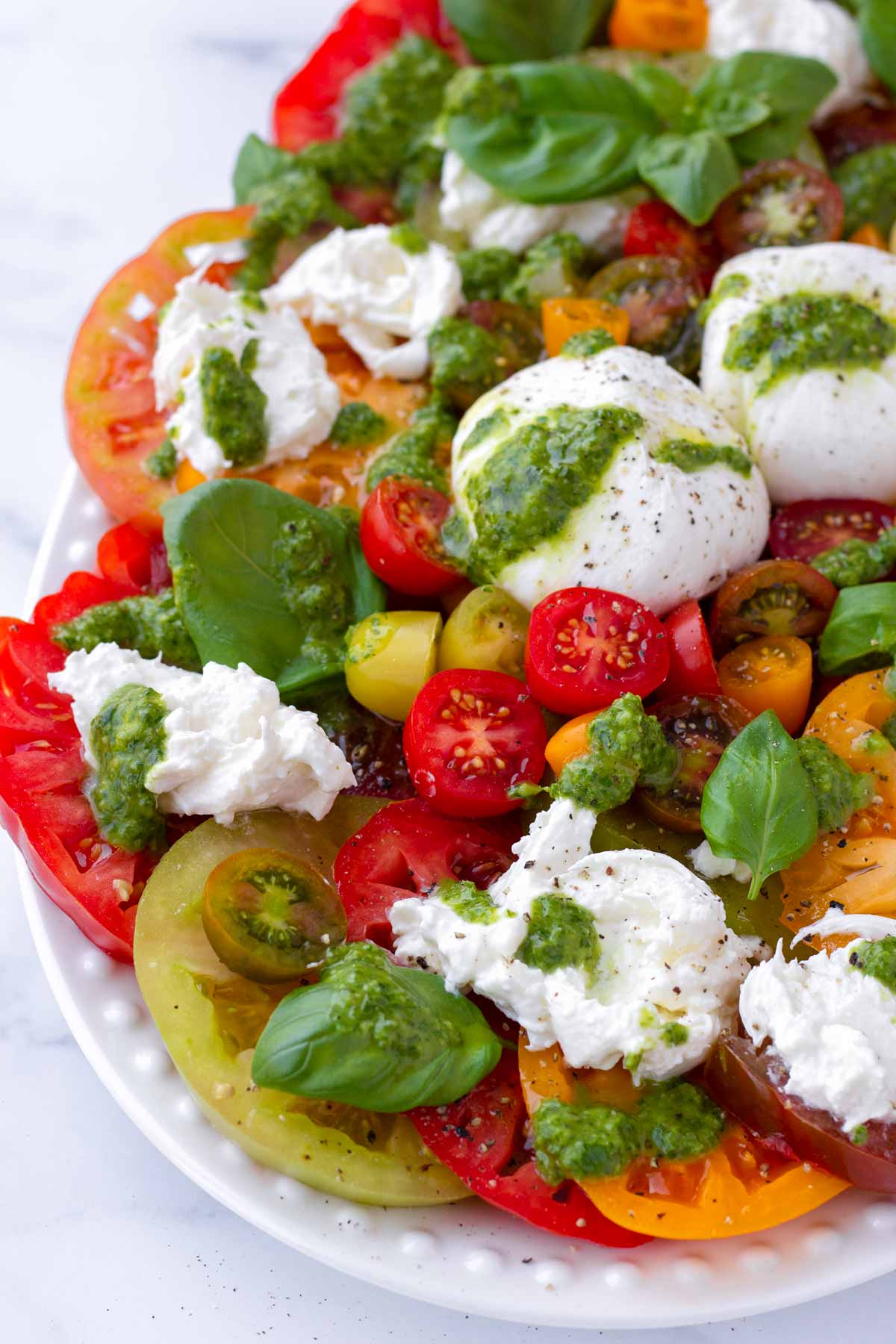 Summer is in its prime, and there is no better way to celebrate than with this Italian-inspired Burrata Salad, served with beautiful heirloom tomatoes!
Needless to say, it's a showstopper. If you've got someone to impress, this burrata salad is it!
This salad has so much great texture. You'll love the juicy and sweet heirloom tomatoes (you can also use peaches!) and fresh aromatic basil, paired with the star of this fish: buttery and creamy burrata!
Oh, and to bring everything together, we drizzle this tomato burrata salad with a bright and fresh lemon basil vinaigrette.
It is also a very versatile dish, perfect for any meal or occasion. You can serve it as a side salad, along with Grilled Marinated Shrimp, Grilled Pork Chops, Chicken Pomodoro, Chicken Kabobs, Steak Kabobs, Baked Salmon, or a simple grilled steak.
Why we love this burrata salad:
Incredibly delicious: I mean, burrata cheese is delicious by itself, but when served with juicy tomatoes and the best basil vinaigrette? Delicious beyond words.
Easy, no-cook salad: This salad is straightforward, quick, and perfect for all levels of cooking expertise.
Customizable: I use heirloom tomatoes to complement the burrata salad, but you may use your favorite fresh veggies. Try a variation of my Grilled Peach Salad!
Fresh and beautiful: There's no denying that this salad is stunning.
Great as a side salad or appetizer: This is a great side salad that goes well with any Italian-inspired main course. You can also turn it into an appetizer by serving it with toasted sliced baguette.
Jump to:
What is Burrata Cheese?
My favorite cheese in this world is burrata. No other cheese will ever claim its place. It's a beloved Italian cheese, and certainly mine too.
Originating from the region of Puglia, Italy, burrata is a creamy, soft cheese made with cow's milk. It features a solid-ish outer shell made from mozzarella, which encases a soft, buttery interior filled with stracciatella (shreds of mozzarella soaked in cream). It kind of looks like a big pouch filled with creamy and milky cheese, and it's seriously amazing!
"Burrata" is derived from the word "burro," which means "butter" in Italian. As you may have guessed, it refers to the creamy and buttery texture of burrata cheese.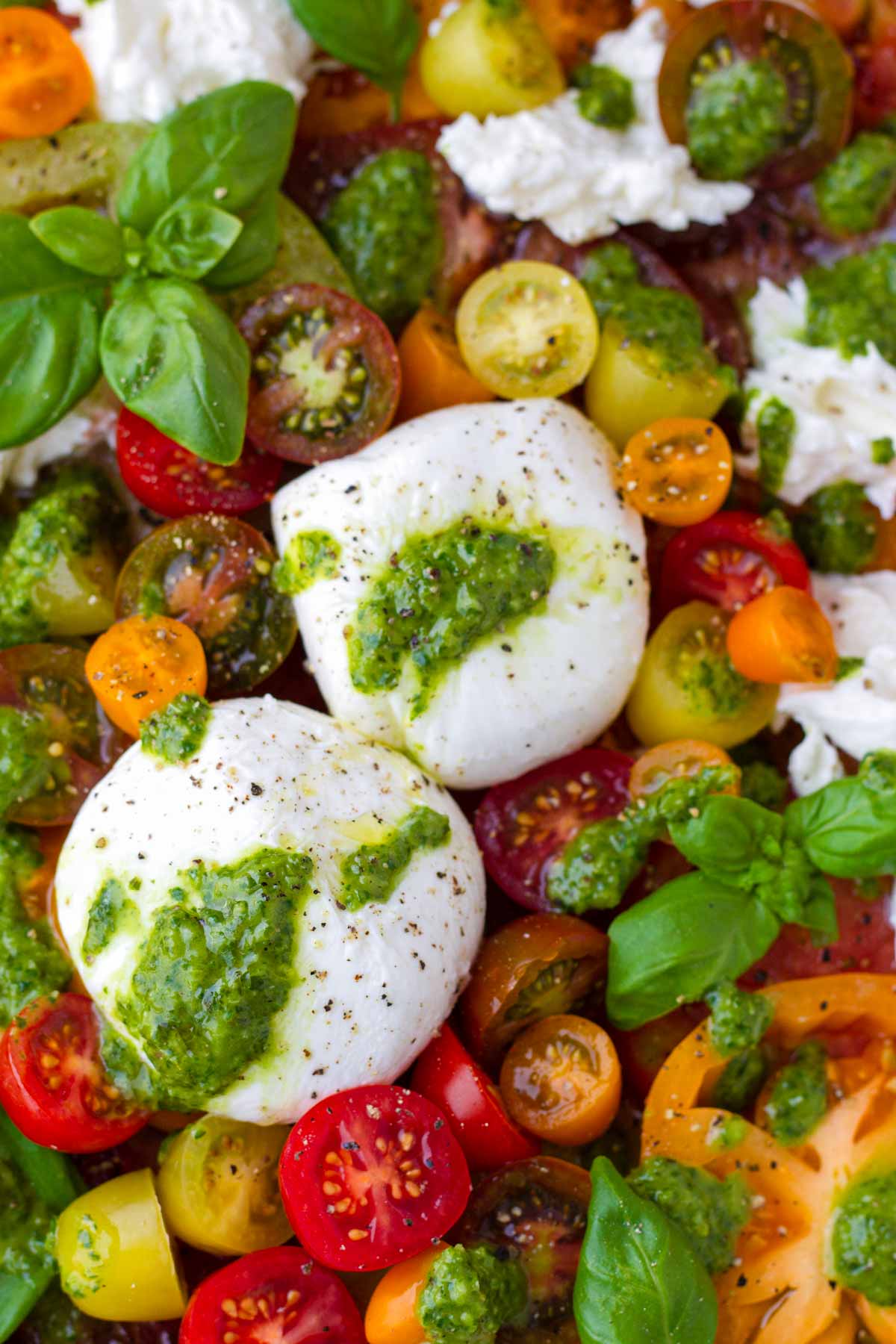 What's the difference between burrata and mozzarella cheese? Mozzarella is a solid, stringy cheese with a mild flavor. Burrata, however, is a blend of mozzarella and cream – its outer shell is mozzarella, but the inside is filled with a creamy mixture of mozzarella and cream.
Made with Heirloom Tomatoes
Burrata cheese is a perfect match for fresh summer produce. My favorite vegetable for this burrata salad is a variety of colorful heirloom tomatoes.
Unlike the more common commercially grown tomatoes, heirloom tomatoes come in a wide range of shapes, sizes, colors, and flavors. They are generally juicer, sweeter, and richer in flavor than your typical tomatoes. I often find heirloom tomatoes at my local farmer's market or grocery store.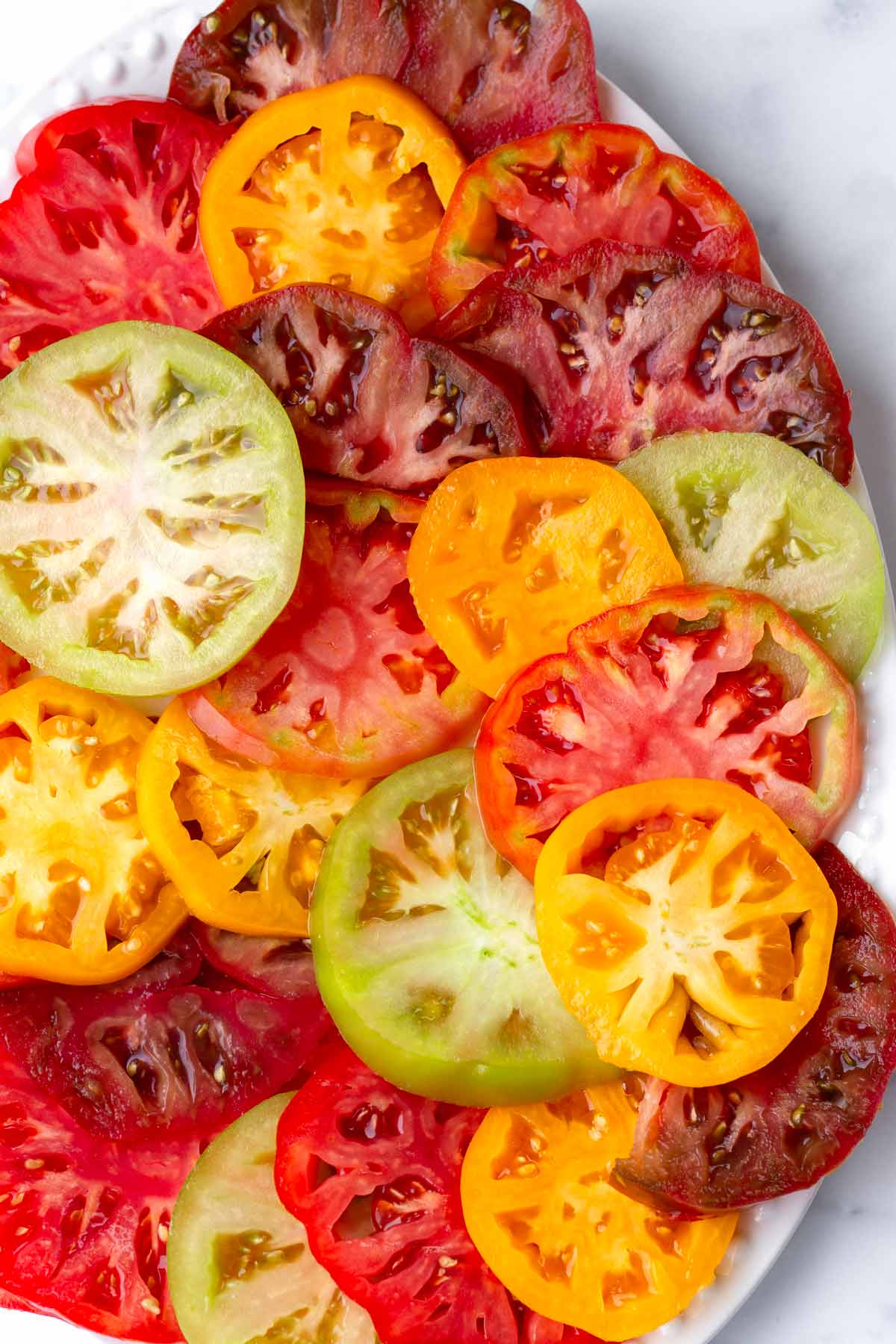 The Basil Vinaigrette
Now, let's talk real quick about the dressing in this burrata salad because it's AMAZING! Most burrata salad recipes I've seen call for balsamic vinegar, but I really think this basil vinaigrette is the PERFECT dressing for it.
Our homemade basil vinaigrette really makes this salad stand out. It is made with fresh basil, extra virgin olive oil, fresh lemon juice, and aromatics. The fresh basil adds an aromatic kick, while the olive oil provides a smooth, mellow note that balances the acidity of the tomatoes.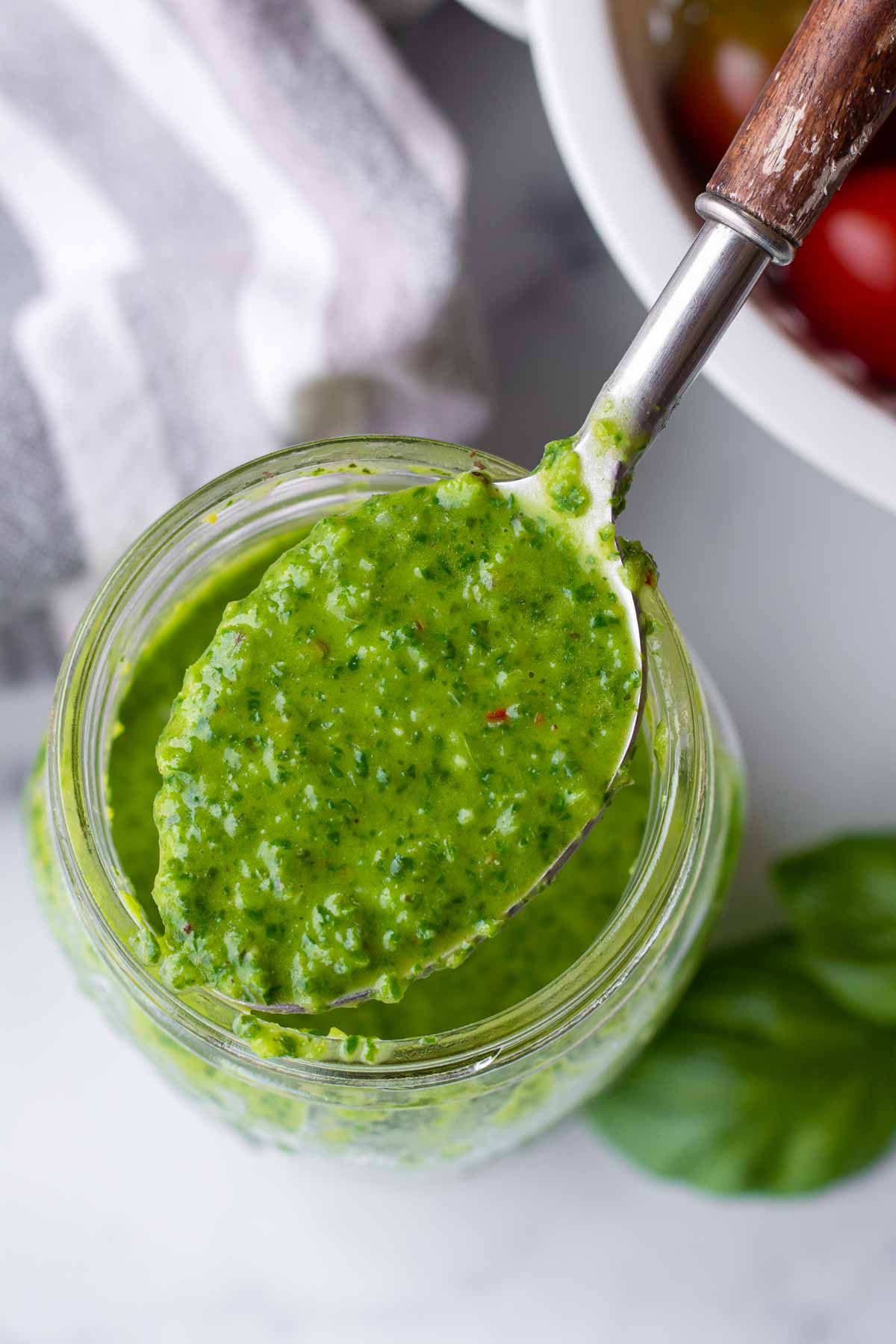 Ingredient Notes
For this simple burrata salad, you need simple, fresh ingredients. Below are a few notes on what I used – per usual, the quantities can be found in the recipe card down below.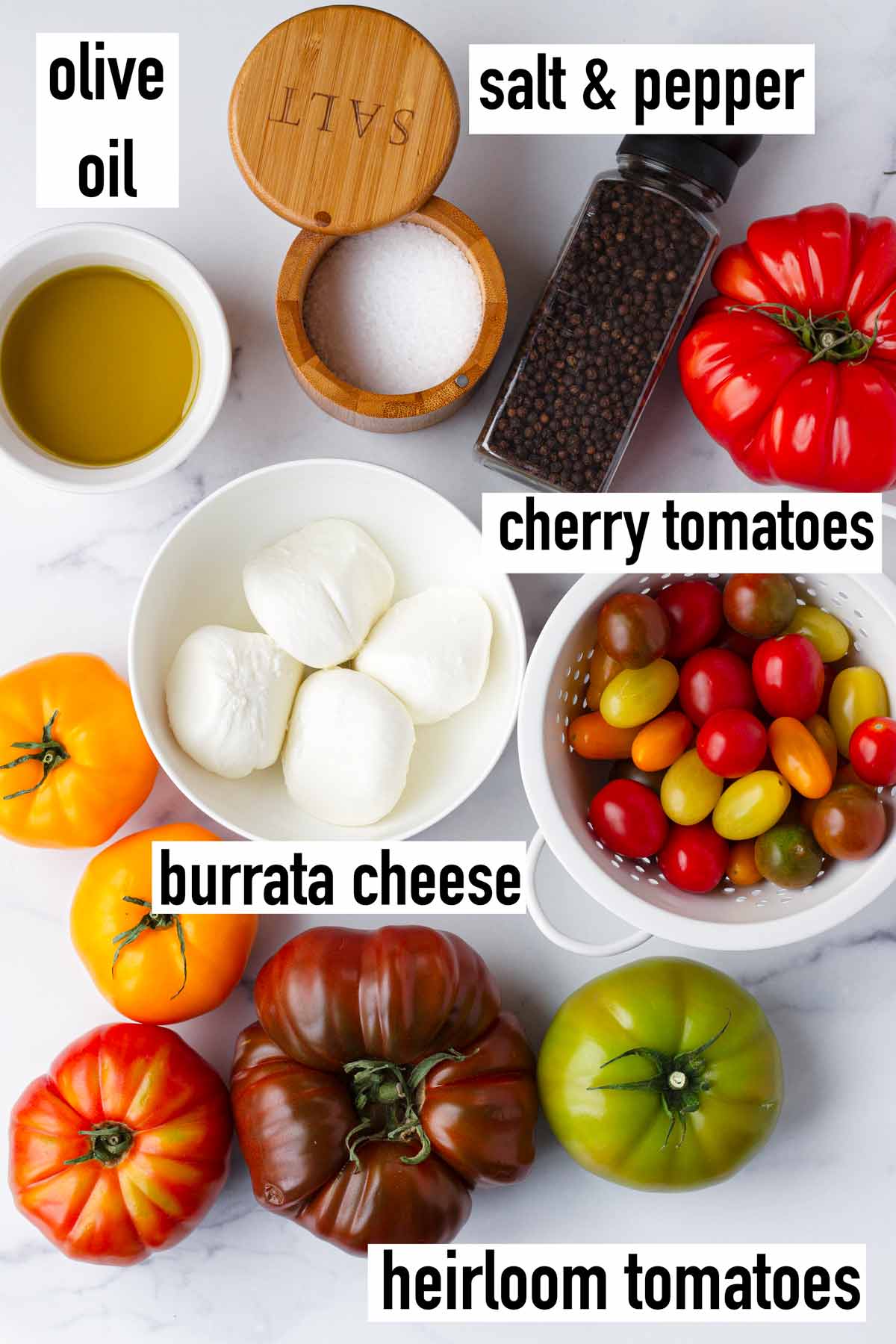 Heirloom tomatoes: Choose ripe but firm tomatoes for the best taste and texture. Find a variety of colors. The best place to find heirloom tomatoes is at the farmer's market.
Heirloom cherry tomatoes: These add a sweet pop of flavor and make for a nice visual contrast.
Extra virgin olive oil: Used to drizzle over the tomatoes. The quality of olive oil matters for best flavor.
Fresh basil: Adds aromatic flavors and color contrast.
Burrata cheese: A soft, creamy cheese that pairs perfectly with the acidity of tomatoes.
Basil vinaigrette: This gorgeous homemade dressing that ties all the flavors together. This recipe takes less than 5 minutes to make.
Salt and pepper to taste
Step-by-Step Tutorial
Making this burrata salad takes about 15 minutes from start to finish. It's a super simple, no-cook salad. Here's a quick tutorial.
Step 1 | Make the basil vinaigrette
Start by making the basil vinaigrette. It is straightforward and only requires a few ingredients: fresh basil, olive oil, and sea salt. Use a food processor or blender.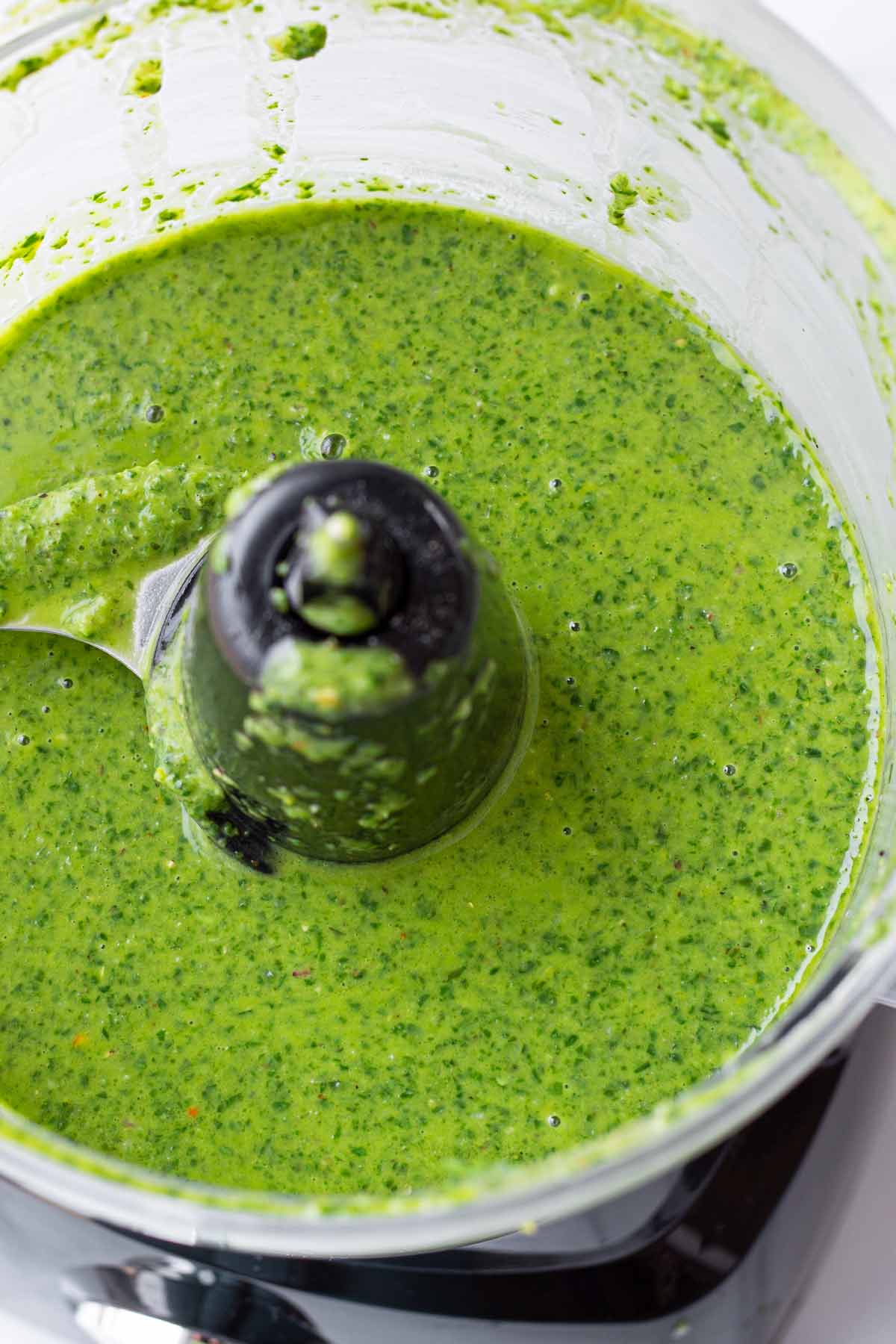 Step 2 | Arrange and season tomatoes
Slice the tomatoes. On a large salad platter, arrange them on a serving platter, along with the heirloom cherry tomatoes. Drizzle with olive oil, then rub with salt and pepper to taste. Salt tends to bring out flavors in tomatoes.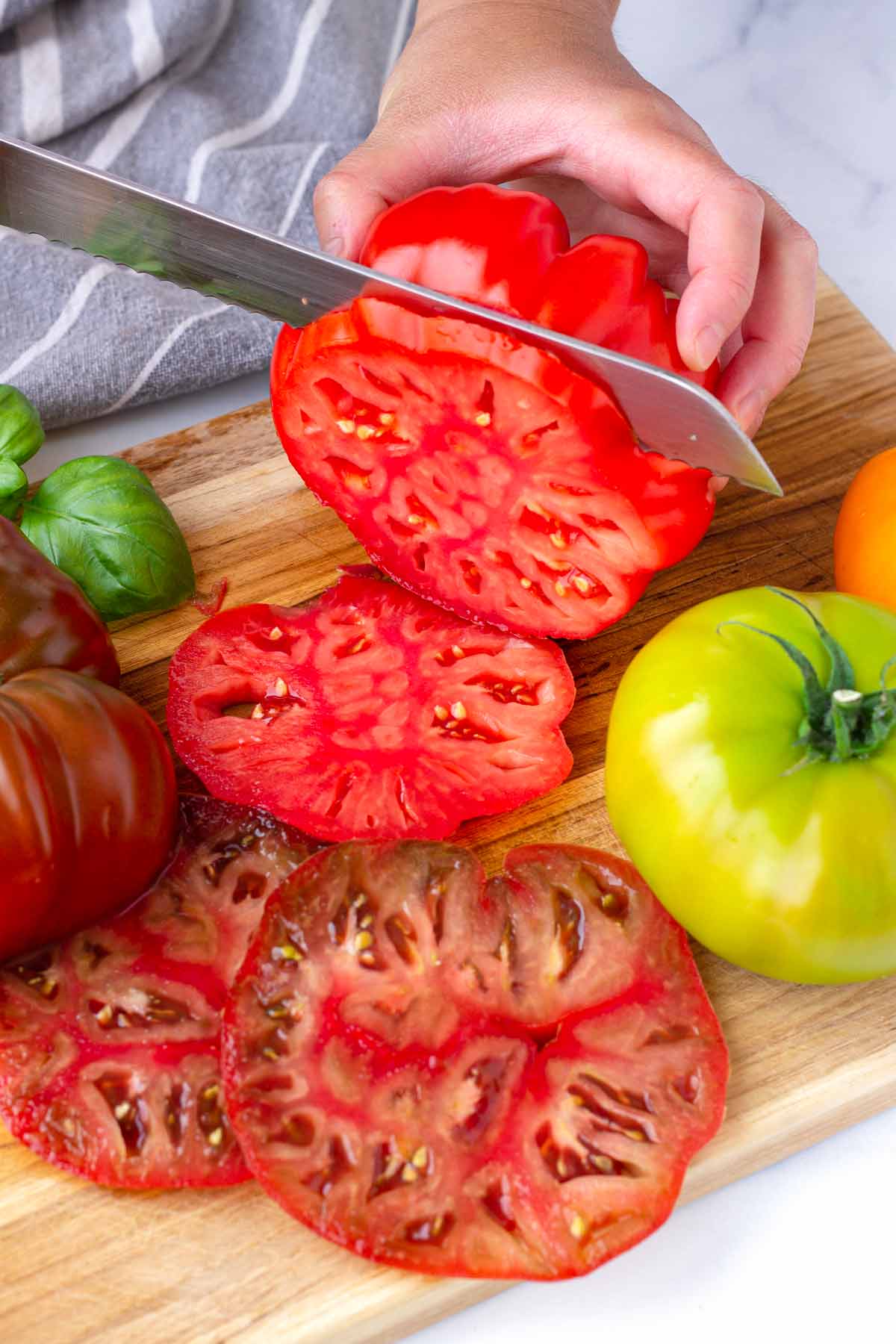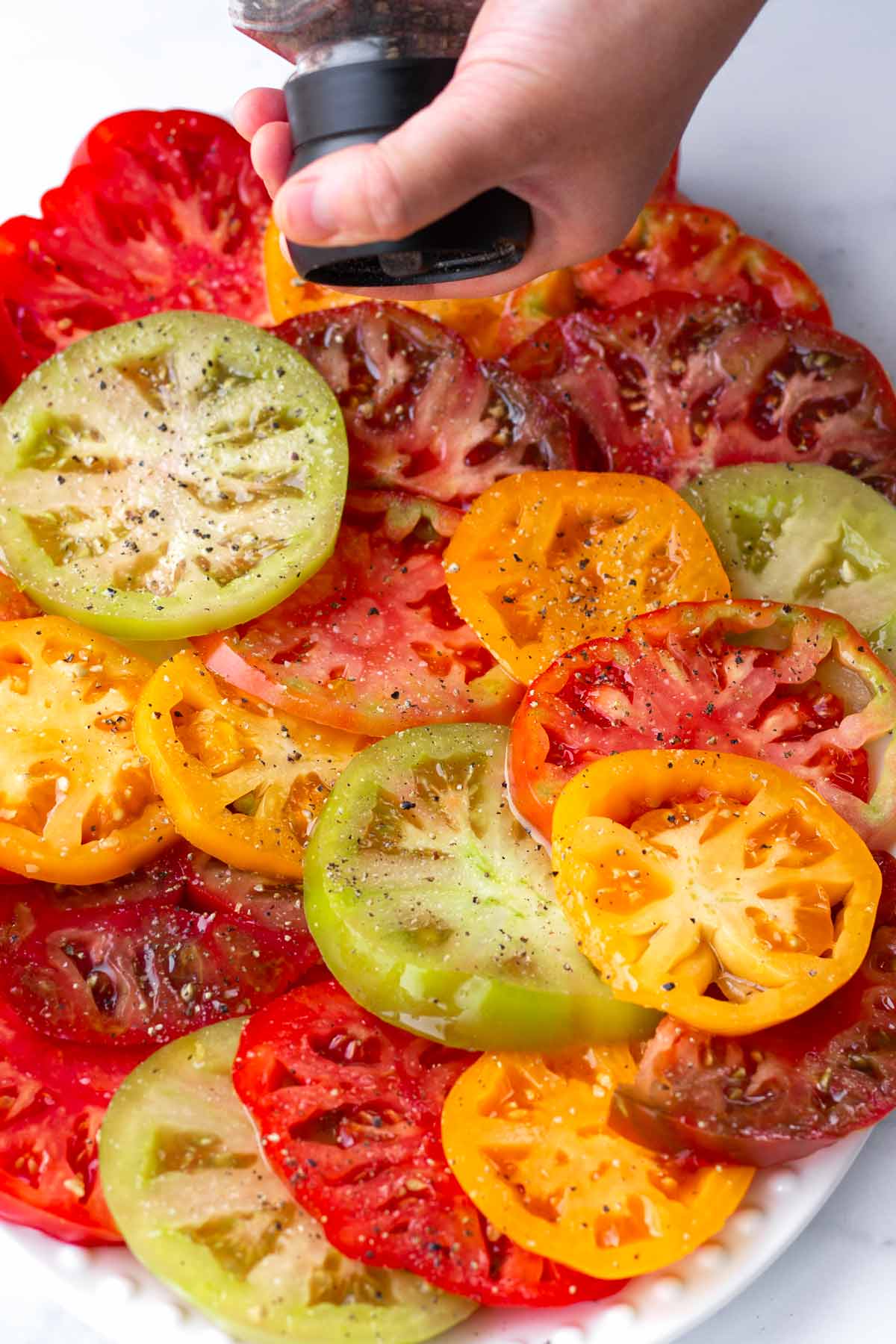 Step 3 | Top with fresh burrata and basil
Place the balls of burrata cheese (you can also tear the burrata) on top of the tomatoes and scatter fresh basil leaves over the top.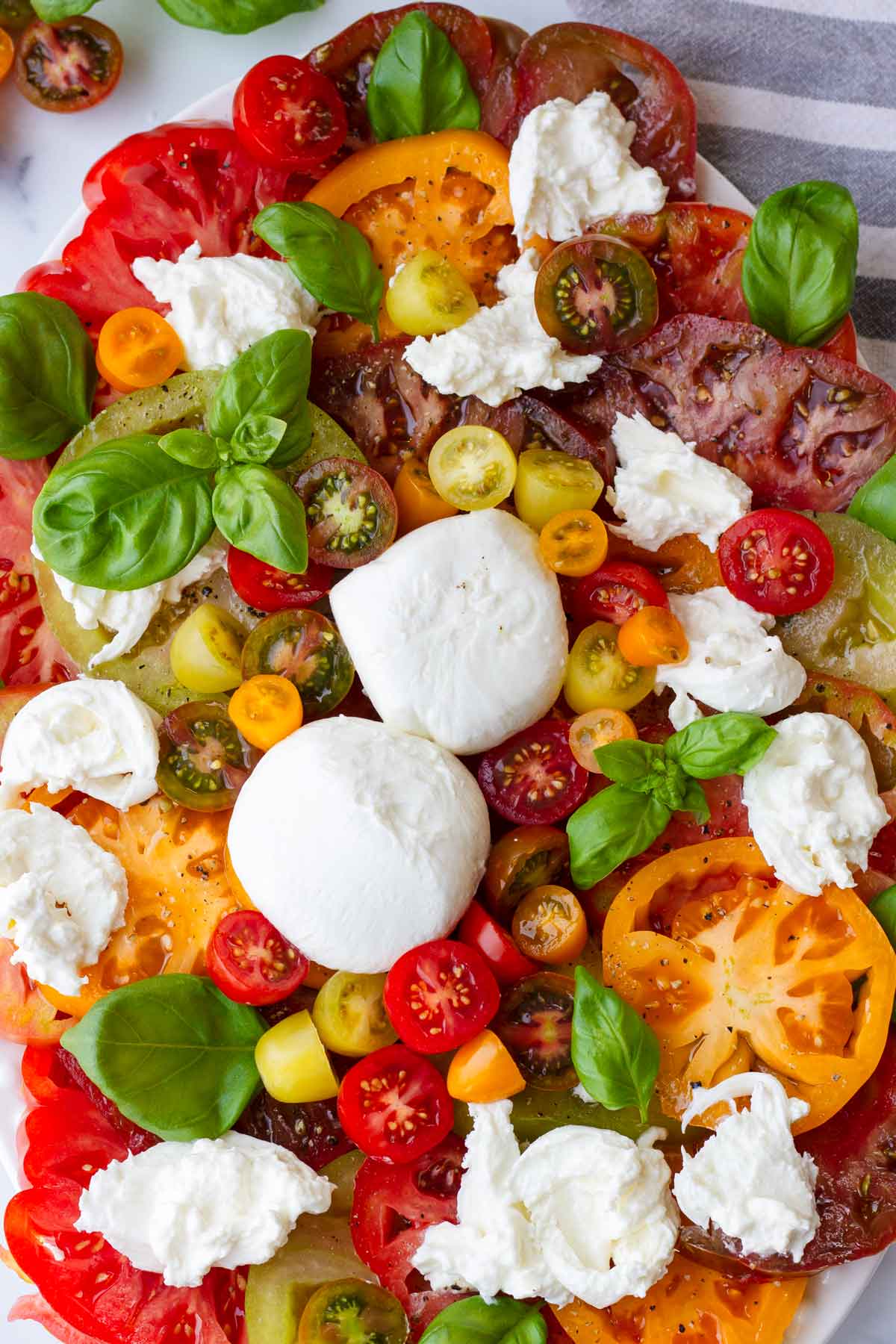 Step 4 | Drizzle with basil vinaigrette
To finish, drizzle your homemade lemon basil vinaigrette over the salad. Serve immediately to enjoy the fresh, vibrant flavors. I also like to serve with toasted bread.
How to toast bread: Slice a baguette and brush it with olive oil on both sides. Toast on a hot skillet on both sides until golden brown.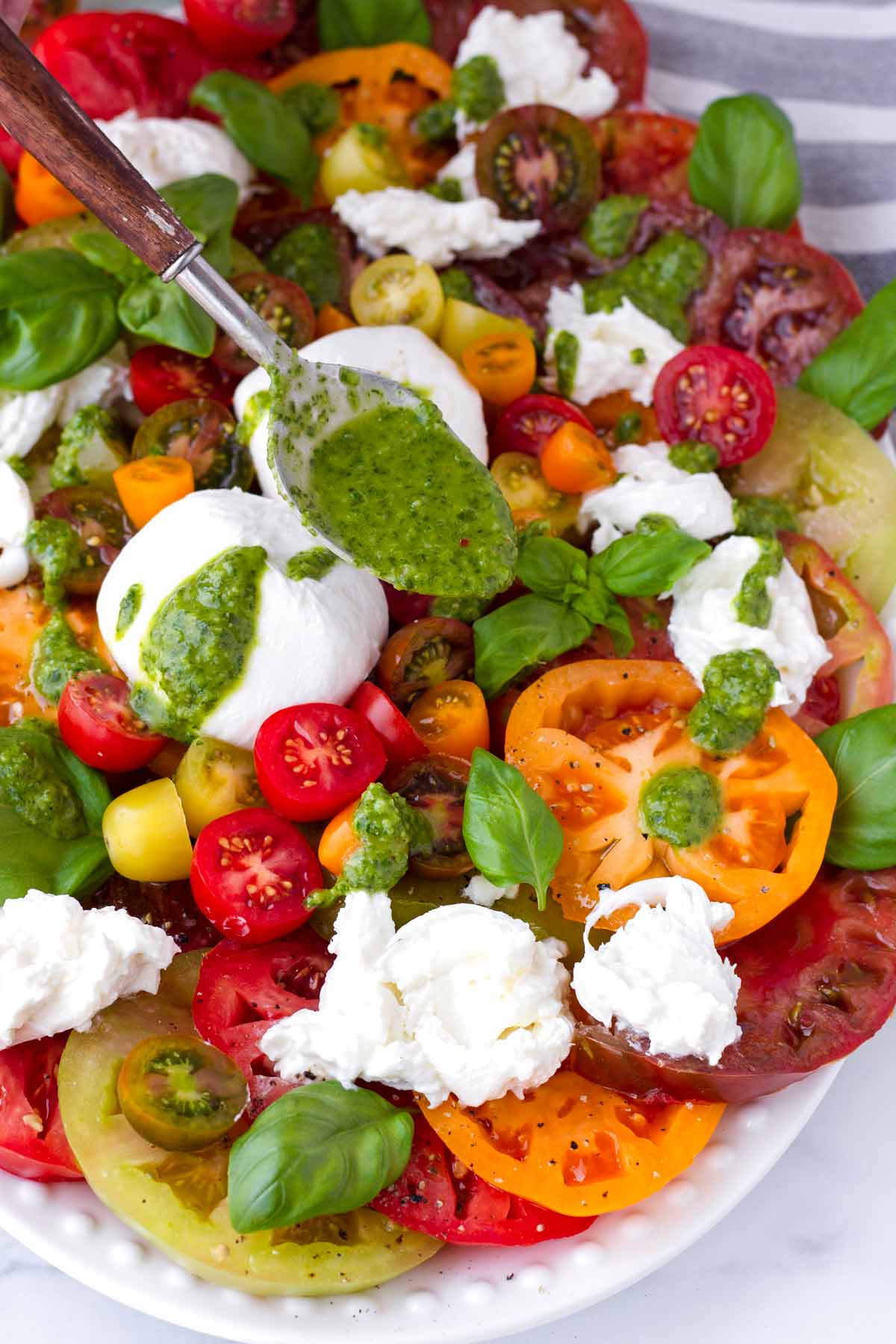 Burrata Salad Variations
While I like to keep it simple with just tomatoes and basil, feel free to add some of your favorite ingredients. You can also try to add burrata to this amazing Grilled Peach Salad.
Here are a few ideas:
Arugula
Avocado
Raw or pickled red onions
Regular tomatoes: If you can't find heirloom tomatoes, regular roma or beefsteak tomatoes will work too.
Stone fruit: Peaches, nectarines, plums.
Fresh grilled corn
Roasted beets
Prosciutto and sliced pear – a classic combination!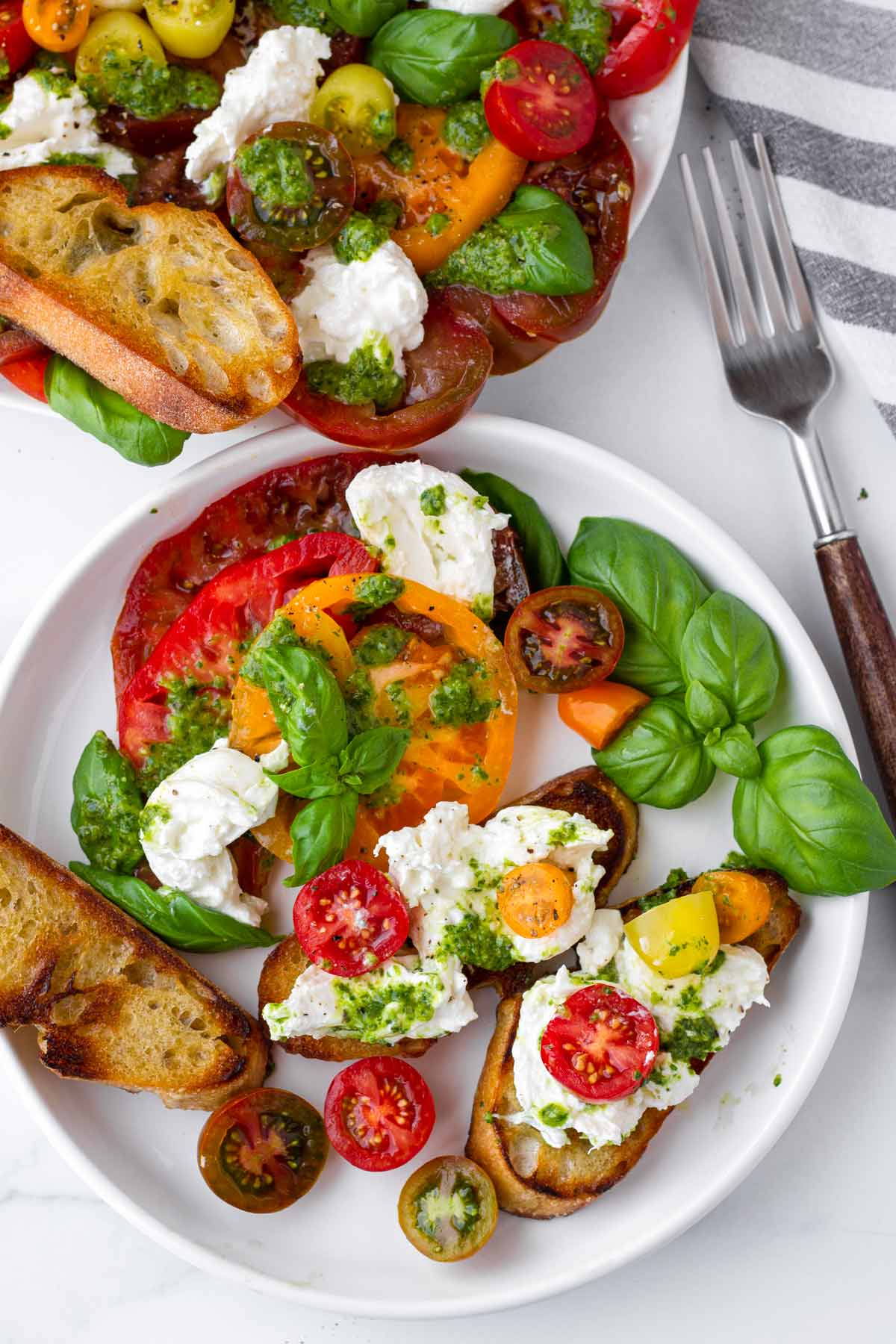 Pairing and Serving Ideas
I like to serve burrata salad with toasted baguette slices. I use the bread to scoop up the creamy cheese, tomatoes, and dressing.
To make it a full meal, serve this salad with your favorite protein. It can be as simple as grilled chicken or steak, Chicken Pomodoro, or Spinach Stuffed Chicken Breast. If you're in the mood for seafood, try my favorite Baked Salmon Florentine. Or make this Tomato Basil Pasta!
If you can't get enough of tomatoes this summer, try my Roasted Tomato Basil Bisque.
More summer salads you'll love:
Recipe FAQs
How long does burrata last?
After opening, it only lasts for 1 to 2 days. To be safe, check the packaging expiration date.
Do you eat the skin of the burrata?
Yes.
Can I use regular tomatoes instead of heirloom tomatoes?
Yes, you can. However, heirloom tomatoes have a unique flavor and color that adds depth to the salad.
Can I make the basil vinaigrette ahead of time?
Basil vinaigrette tends to lose some of its bright green color when stored, so it's best to make it right before serving. However, you can pre-blanch the basil before making the dressing to preserve that bright green color – directions and tips in my basil dressing post!
What other dressings can I use?
Try the classic balsamic vinegar with extra virgin olive oil. You can also use a simple balsamic glaze.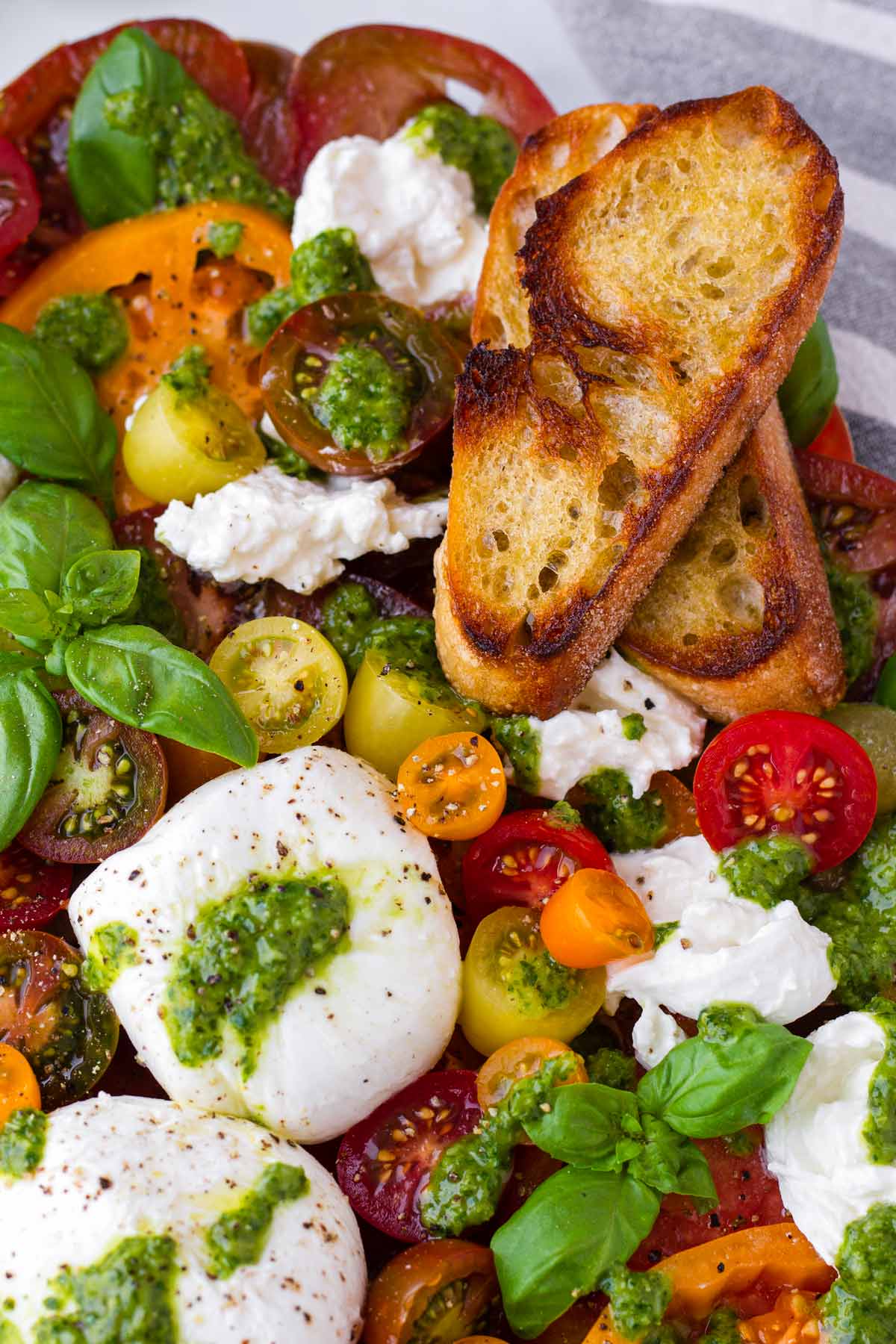 Tips for Success
Find a variety of colorful heirloom tomatoes, if possible, to make your salad pop with color!
Use the freshest ingredients: Find fresh, ripe and juicy tomatoes, as well as vibrant basil. Avoid basil that has brown spots or that looks wilted.
Don't dress the salad too early: Wait until you're ready to serve before adding the vinaigrette to avoid sogginess.
Making ahead is NOT recommended. This salad is best when served fresh.
I'd love to hear from you! If you loved my recipe, please consider leaving a 5-star rating and a comment down below. Sign up for my newsletter and follow along on Instagram, Facebook, or Pinterest
Burrata Salad
This beautiful burrata salad is the most epic summer-inspired salad! Made with creamy burrata cheese, ripe and juicy heirloom tomatoes, fresh basil, and an amazing basil vinaigrette.
Ingredients
3 to 4

heirloom tomatoes

-

sliced

10

ounces

heirloom cherry tomatoes

¼

cup

extra virgin olive oil

-

plus more for drizzling

Fresh basil leaves

-

to taste

4

balls

burrata cheese

Salt and pepper

-

to taste

Baguette slices for serving
Instructions
Make the basil vinaigrette according to recipe directions (linked). Set aside.

Arrange the sliced tomatoes on a large salad platter. Drizzle with olive oil, and season with a few sprinkles of salt and pepper to taste.

Arrange the burrata cheese (whole or torn) on top, along with fresh basil leaves.

Drizzle the prepared basil vinaigrette on top. Serve with toasted baguette slices, if desired. Serve immediately. Enjoy!
Notes
For presentation, I like to serve with whole burrata balls, as well as torn burrata.
Find tomatoes that are ripe, juicy, and vibrant in color.
Making ahead is NOT recommended. This salad is best when served fresh.
How to toast baguette slices: Brush the bread slices with olive oil and toast on a hot skillet on each side until golden brown.
Substitutions and variations:
Heirloom tomatoes: Regular tomatoes.
Basil vinaigrette: Balsamic vinaigrette or store-bought balsamic glaze.
Disclaimer: Nutritional values (per serving) are approximates only.
Nutrition
Calories:
288
kcal
|
Carbohydrates:
4
g
|
Protein:
14
g
|
Fat:
28
g
|
Saturated Fat:
12
g
|
Polyunsaturated Fat:
1
g
|
Monounsaturated Fat:
7
g
|
Cholesterol:
54
mg
|
Sodium:
8
mg
|
Potassium:
249
mg
|
Fiber:
1
g
|
Sugar:
3
g
|
Vitamin A:
1273
IU
|
Vitamin C:
19
mg
|
Calcium:
412
mg
|
Iron:
1
mg