'Tis the season to…bake this delicious cranberry orange pound cake! You're going to love this easy orange pound cake recipe. You can truly taste the orange and cranberry flavors.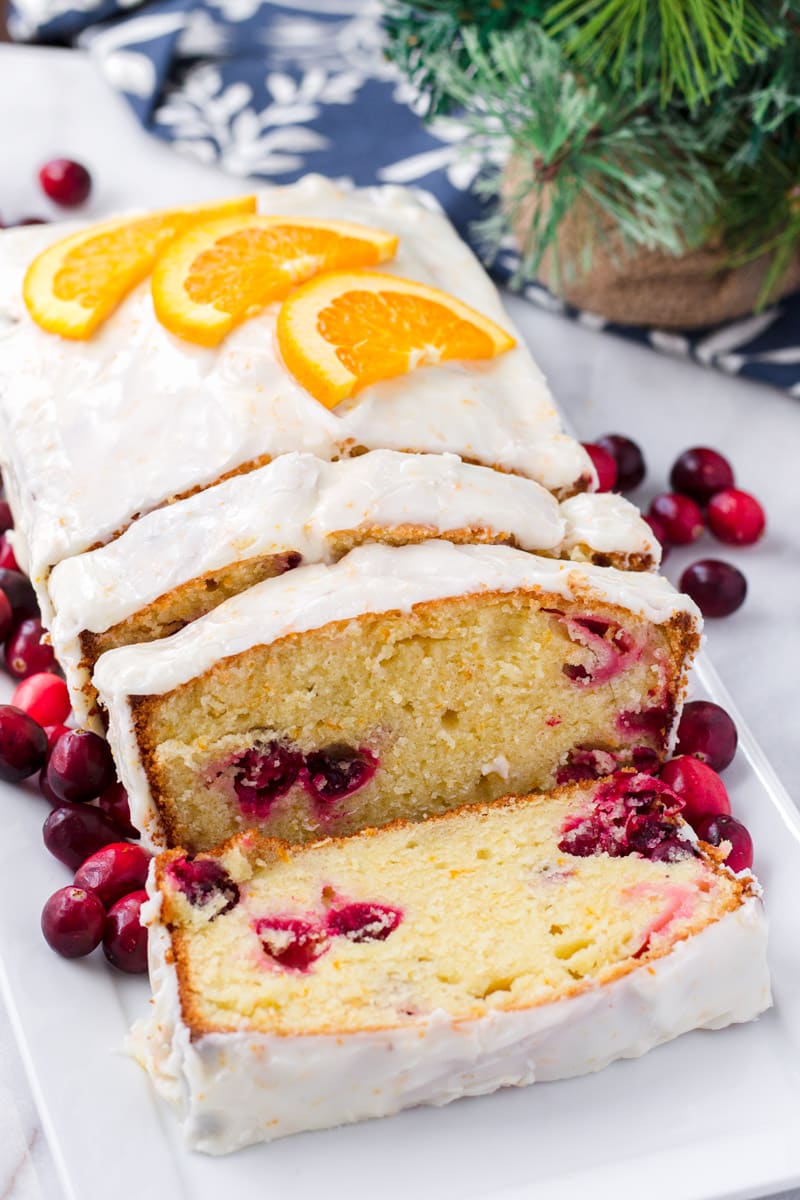 December is the perfect excuse to bake festive pound cakes. You'll love this amazing cranberry orange pound cake!
It's tender, buttery, and filled with orange and cranberry flavors. It all comes together really nicely and you can really taste the orange flavors. It's also covered with an amazing thick glaze that I absolutely love!
I promise, this cranberry orange pound cake is super easy to make, and it will make your entire house smell like a bakery. It's divine.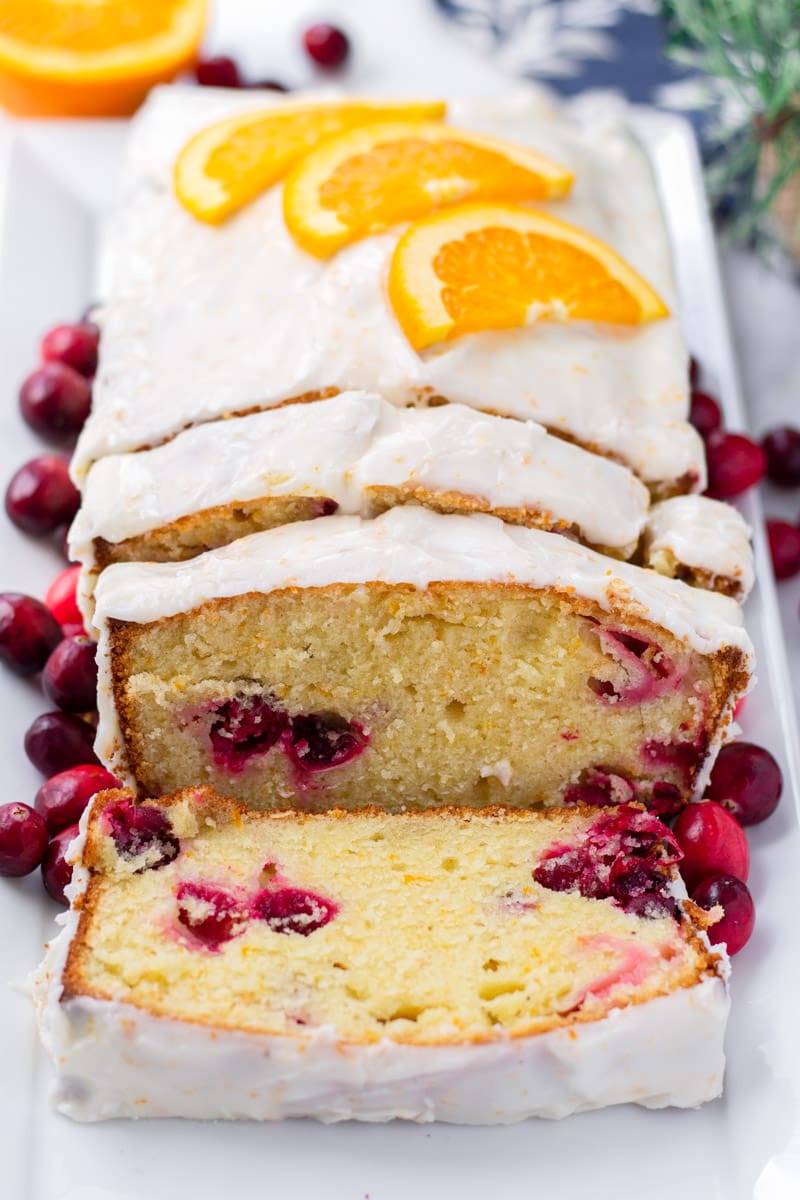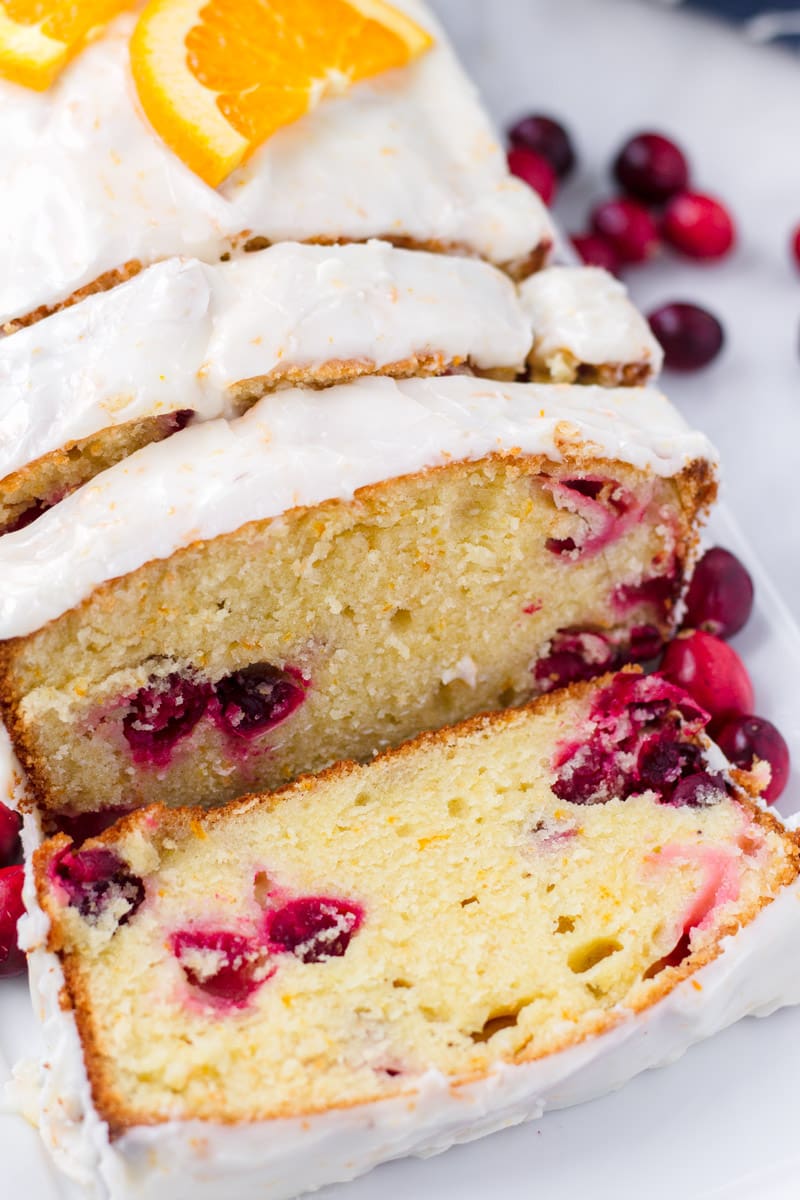 Here are a few reasons why I love this pound cake:
The orange flavors really shine here! The pound cake is infused with fresh orange juice and orange zest.
The tartness of the cranberries balance out the sweetness of the glaze.
The glaze is thick and citrusy! I don't know about you, but I'm a big fan of thick icing.
It's super tender and moist!
I mean…look at this beauty right here! It's baked until tender and moist inside, and golden brown outside. I think I'm in love!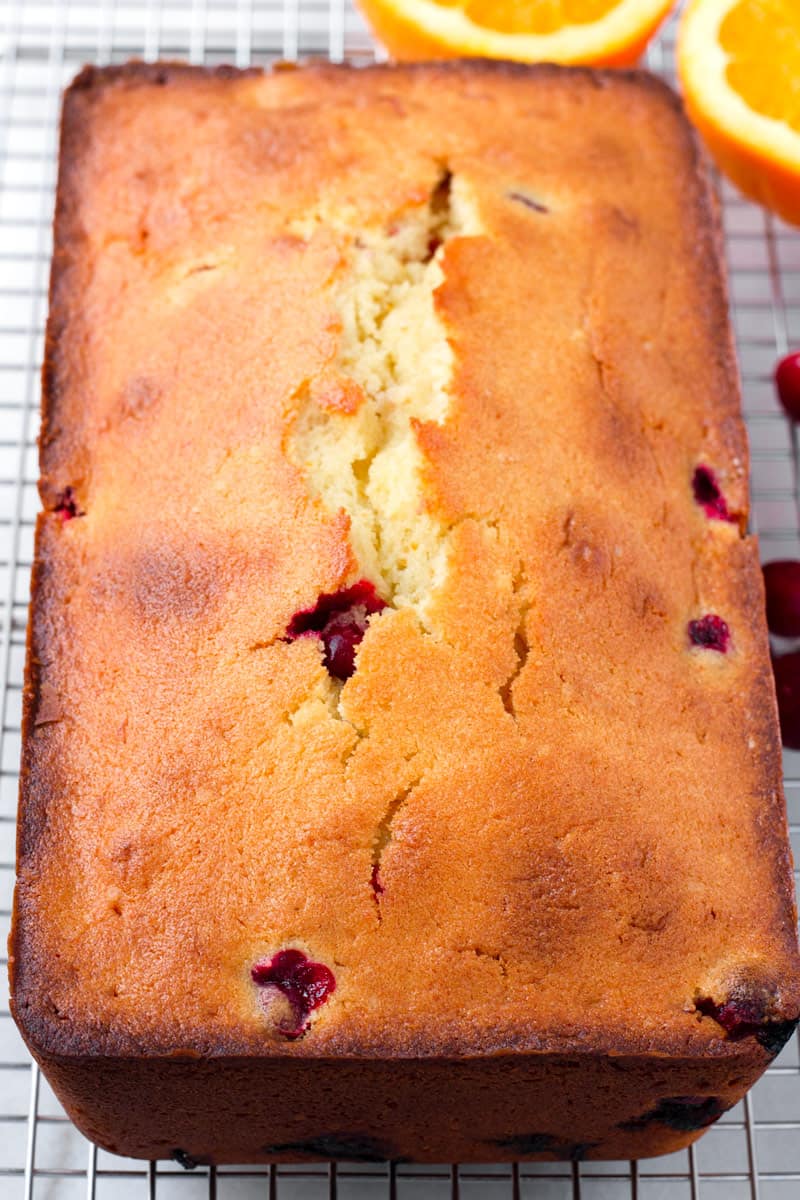 Cranberry Orange Pound Cake Ingredients
Here's what you'll need for the cranberry orange pound cake batter:
Flour: All-purpose flour works here.
Baking powder: The main leavening agent.
Salt: Salt brings out all the flavors!
Unsalted butter, softened: It's important that this is at room temp.
Granulated sugar: For sweetness and texture.
Eggs: Eggs will help with texture.
Vanilla extract: Vanilla should be in all pound cakes! Adds flavor.
Greek yogurt: For moisture.
Orange juice: Freshly squeezed please!
Orange zest: You'll need about 3 teaspoons, from 3-4 oranges.
Cranberries: Fresh or frozen.
For the glaze or icing, you'll need:
Powdered sugar
Orange zest
Fresh orange juice
Milk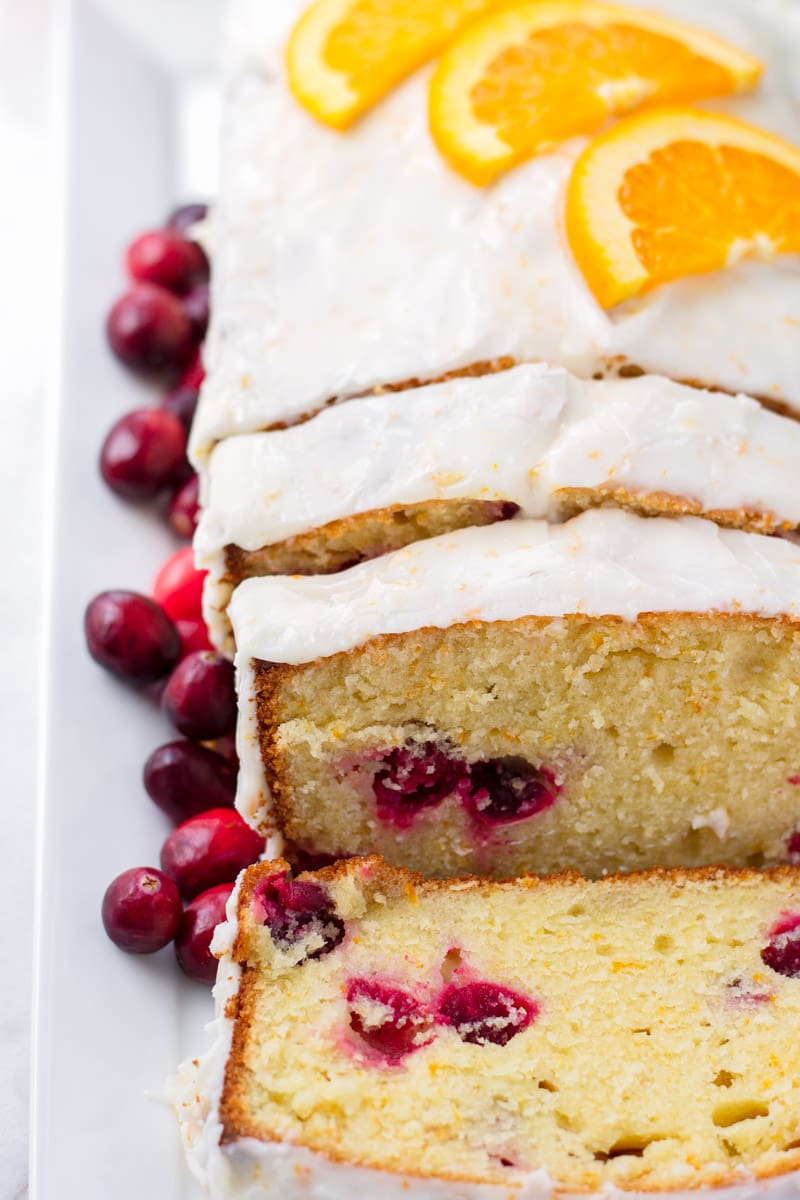 The Glaze
The glaze or icing is probably my favorite part about this recipe. It takes this pound cake to the next level!
It's perfectly sweet and infused with citrusy flavors. I added some fresh orange juice as well as orange zest, and it's pretty amazing!
I love thick and hard glazes on my pound cakes….there's just something about a thick glaze! However, if you like a smoother and thinner glaze, simply add more milk to the powdered sugar. It's all a matter of preference really.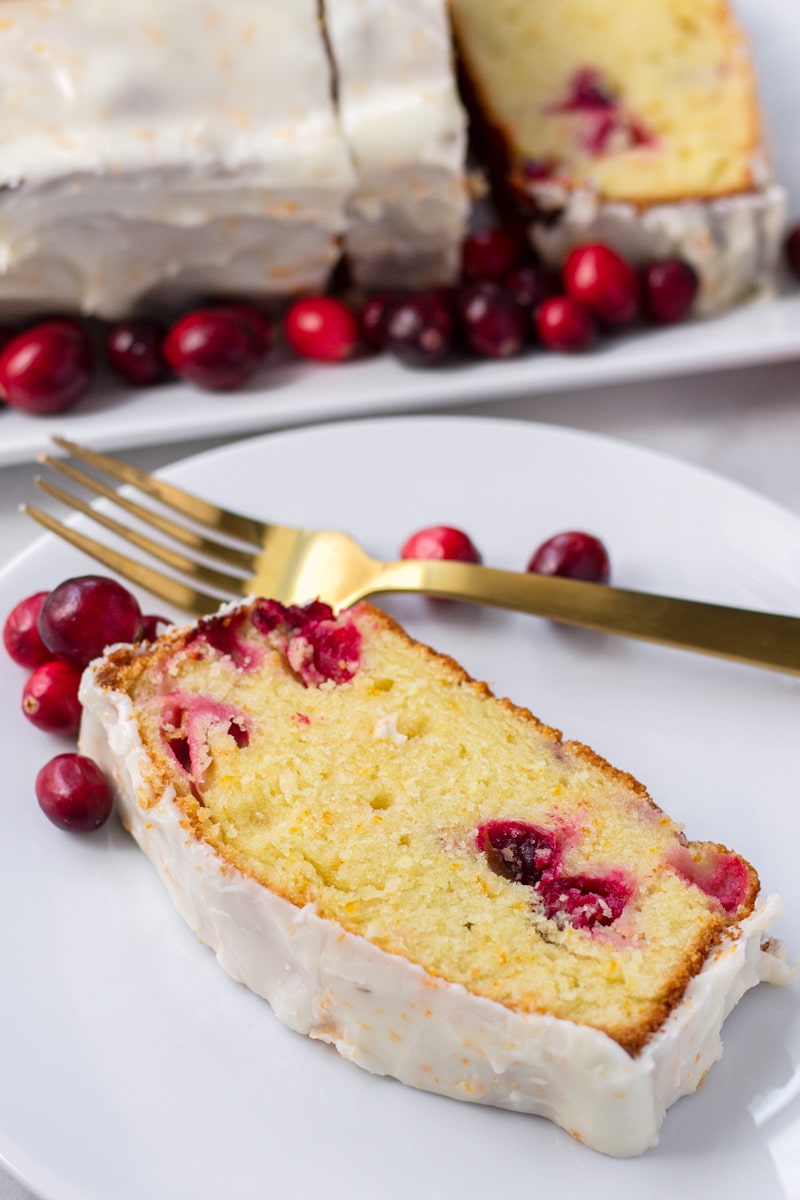 One word of advice: be patient!! Wait until the pound cake has cooled down completely before adding the glaze, or it will melt into the cake and make a mess. Yes, I did that and had to start over…patience is a virtue, friends.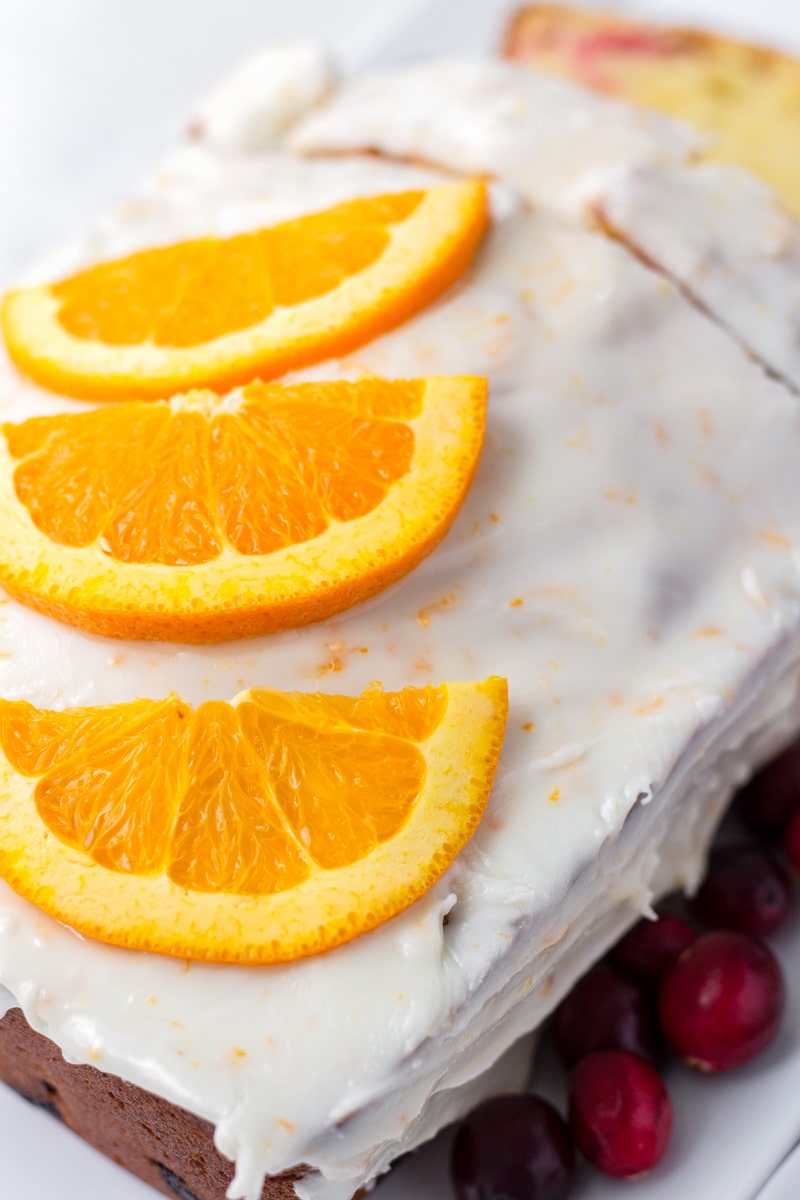 How to Make this Cranberry Orange Pound Cake
Making this pound cake is super easy!
There are 2 parts to it: the batter and the icing. One thing to call out is that the butter, yogurt, eggs, and orange juice need to be at room temperature.
Prepare the batter:
Make sure the ingredients are at room temperature! Ingredients at room temperature combine better, and this in turn creates a smoother batter.
Mix the dry ingredients: Simply whisk the flour, salt, baking soda in a bowl.
Cream the butter with the sugar: Mix on high speed until light, fluffy, and kind of pale in color. This step incorporates air into the batter, which provides structure and height to cakes.
Mix in the remaining wet ingredients and zest: Eggs, yogurt, vanilla, orange zest.
Add the dry ingredients to the wet ingredients and mix. Add the orange juice and mix until evenly combined, and fold in cranberries.
Bake in a greased 9×5 loaf pan for 50-60 minutes. Let it cool completely.
Make the icing:
Make the icing: combine powdered sugar, milk, orange juice, and zest. Add the liquid components gradually, whisking as you go, until desired consistency.
Spread over the cooled pound cake. If your glaze is thick, spread with a spatula. If it's thinner, you can just pour it over the top.
That's all! Super easy.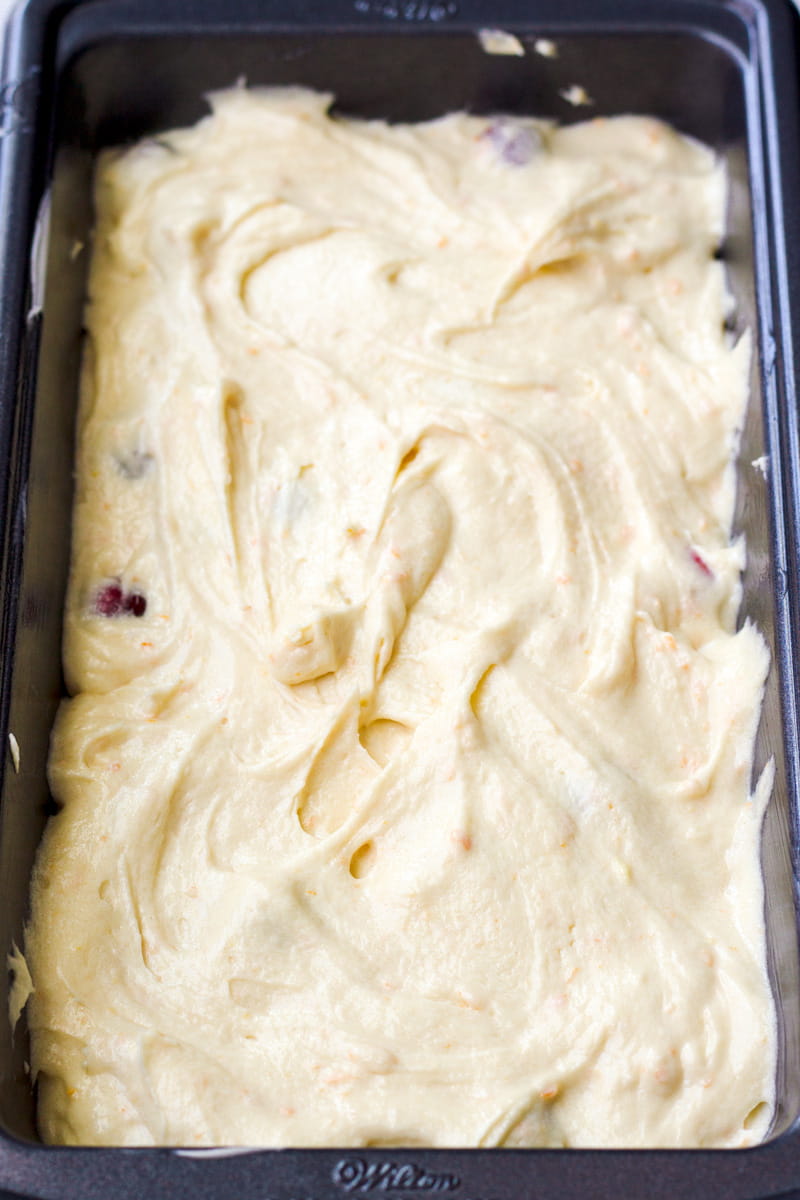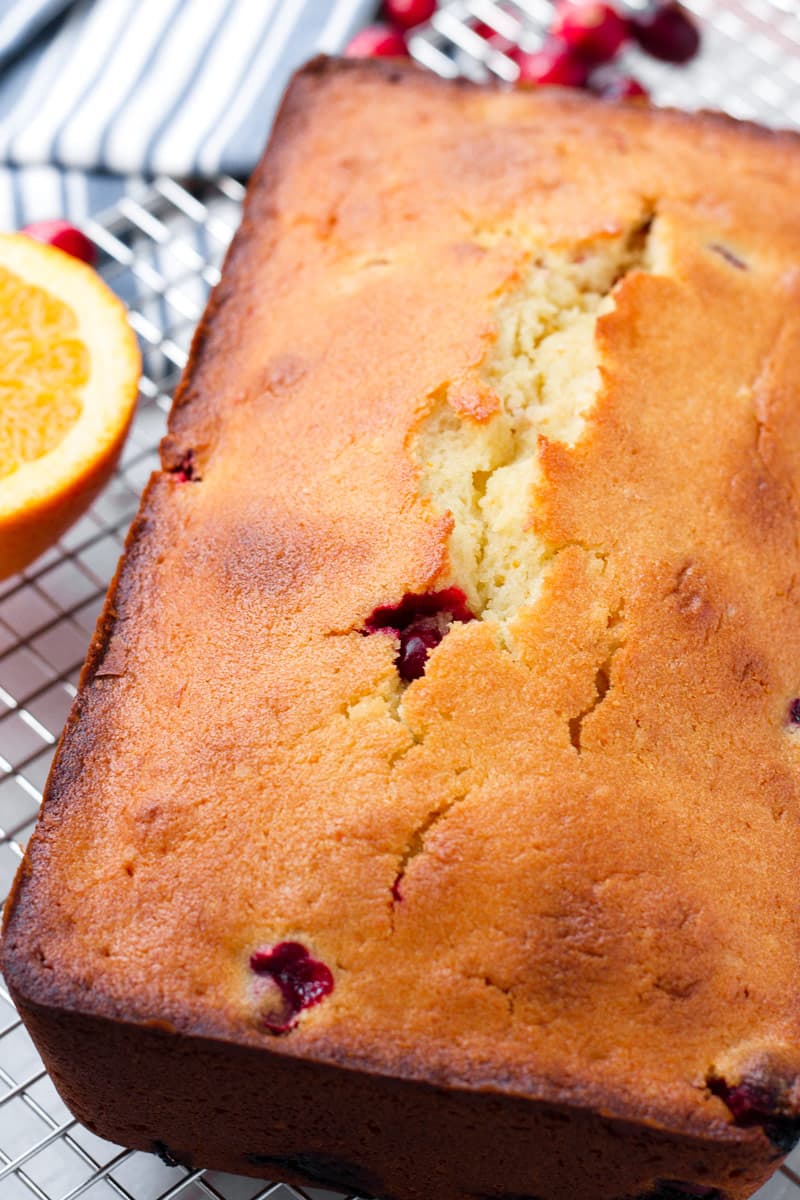 I promise – your house will smell like heaven! I love this cranberry orange pound cake so much. It's buttery, tender, moist, and packed with orange and cranberry flavors. The thick orange-infused icing is perfectly sweet and complements the pound cake so well.
You're gonna love it! I'm very excited to bake this pound cake for upcoming holiday parties. It's beautiful and perfect for the occasion.
For more holiday baking inspiration:
Thank you for reading and for supporting my work. I am so thankful for you all!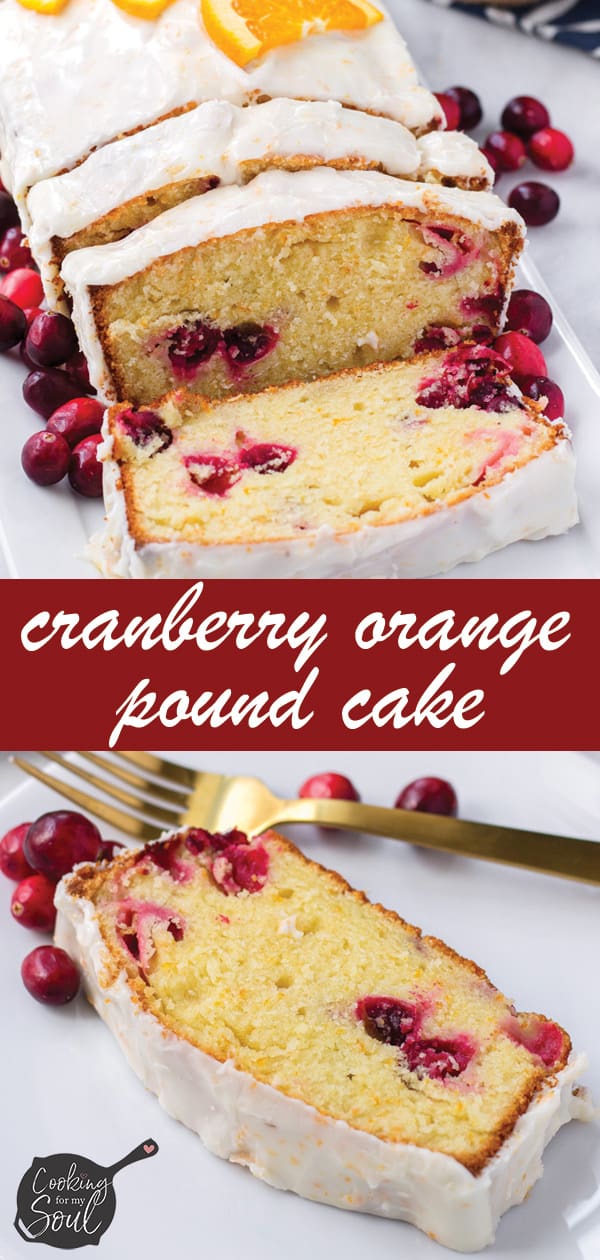 Tips for Success
Start with room temperature ingredients! Baking cakes with ingredients at room temperature is important because it allows everything to mix better, creating a smooth batter.
When adding the wet ingredients, if it looks like the butter is breaking up, don't worry! It happens sometimes, and it will come together when you incorporate the dry ingredients.
The glaze: It's all about eyeballing it. Add the liquid components little by little, whisking, until you get the desired consistency.
If you try my recipe, use #cookingformysoul on Instagram! Follow me on Pinterest, Instagram, Facebook for the latest fun updates and recipes!
Cranberry Orange Pound Cake
Make this delicious cranberry orange pound cake this holiday season! It's a festive holiday baking pound cake that is easy to make.
Ingredients
2

cups

all-purpose flour

1 1/2

teaspoons

baking powder

1/2

teaspoon

salt

1

cup

(2 sticks) unsalted butter, softened and at room temperature

1

cup

granulated sugar

4

large eggs, at room temperature

1

teaspoon

vanilla extract

1/2

cup

Greek yogurt, at room temperature

3

teaspoons

orange zest

(from 3-4 oranges)

2

tablespoons

freshly squeezed orange juice, at room temperature

2

cups

cranberries

(fresh or frozen)
Icing
2

cups

powdered sugar, sifted

(plus more as needed)

1/2

tablespoon

orange zest

(plus more if desired)

1/2

tablespoons

fresh orange juice

(plus more as needed)

1 to 2

tablespoons

milk

(plus more as needed)
Instructions
Preheat oven to 350 degrees F. Grease a 9x5 loaf pan with butter.

Prepare the dry ingredients: In a large bowl, whisk the flour, baking powder, and salt until evenly combined. Set aside.

With a handheld mixer or a stand mixer with the paddle attachment, beat the softened butter on high speed until light and fluffy, about 1-2 minutes. Add the granulated sugar, and mix on high speed until fluffy for 1-2 minutes, scraping the sides of the bowl as needed.

Lower to medium speed and add in the eggs, one at a time, and mix until combined. Add the Greek yogurt, vanilla extract, and the 3 teaspoons of orange zest. Mix on medium speed until combined, scraping the sides of the bowl. Don't worry if it seems like the butter is separating from the liquids, it will come together when you add the dry ingredients.

On low speed, gradually add the prepared dry ingredients and mix until evenly combined. Do no over-mix. Add the 2 tablespoons of orange juice and mix a few more times. At this point, the batter should be a bit thick and silky. With a rubber spatula, fold in cranberries until just combined.

Pour batter over the prepared loaf pan, and even out the top with a rubber spatula. Bake for 50-60 minutes, or until a toothpick inserted in the middle comes out mostly clean (a few crumbs are okay). If the top is browning too quickly, cover loosely with foil. When ready, remove from oven and let it cool for 10 minutes. Then, when it's easier to handle, remove pound cake from pan and let it cool completely on a wire rack.

Once cooled, make the glaze/icing: Whisk the icing ingredients in a bowl, adding the liquid little by little. Glazes can be finicky when you add the liquid components, so whisk the orange juice and milk gradually until you get the desired thickness.

Pour or spread the glaze over the cooled pound cake. Enjoy!
Notes
Special equipment: 9x5 loaf pan, mixer, zester.
Make ahead: You can bake the pound cake the day before, and make the glaze/icing the day of. In fact, pound cakes develop more flavor the longer they sit, within reason.
Storing: Store the pound cake in an airtight container for up to 3 days at room temperature. You can also store it in the fridge - wrap it tightly with aluminum foil.
Freezing: You can also freeze the pound cake (without icing) for up to 2 months. Let the pound cake cool completely, wrap tightly in aluminum foil, and freeze. When ready to eat, thaw in the refrigerator overnight. Once thawed, add the glaze.