Make these easy Cranberry Crumb Bars this holiday season! They are perfectly sweet and tart, tender, and so festive. It's a great holiday sweet to serve for breakfast, dessert, or even as a snack!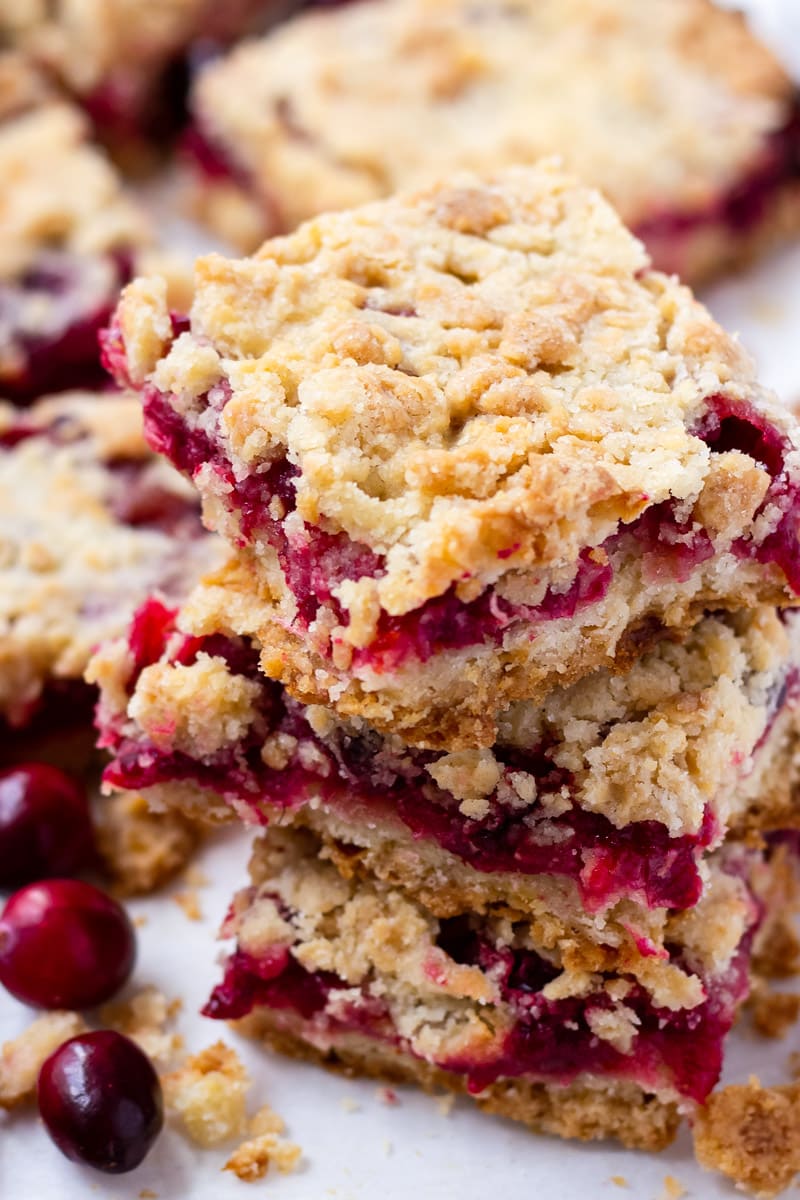 We're supposed to get our first snowfall tonight, which makes it all the more real: the holiday season is here!
To kick things off, let me tell you all about these easy and delicious cranberry crumb bars. They are tender, sweet, tart, buttery, and comforting all in one bite. I love baking with seasonal fruits, so I just knew I had to make cranberry crumb bars!
I'm even thinking about skipping the pumpkin and apple pie this year (yup, I said it!), and making these cranberry crumble bars instead. It's so much easier!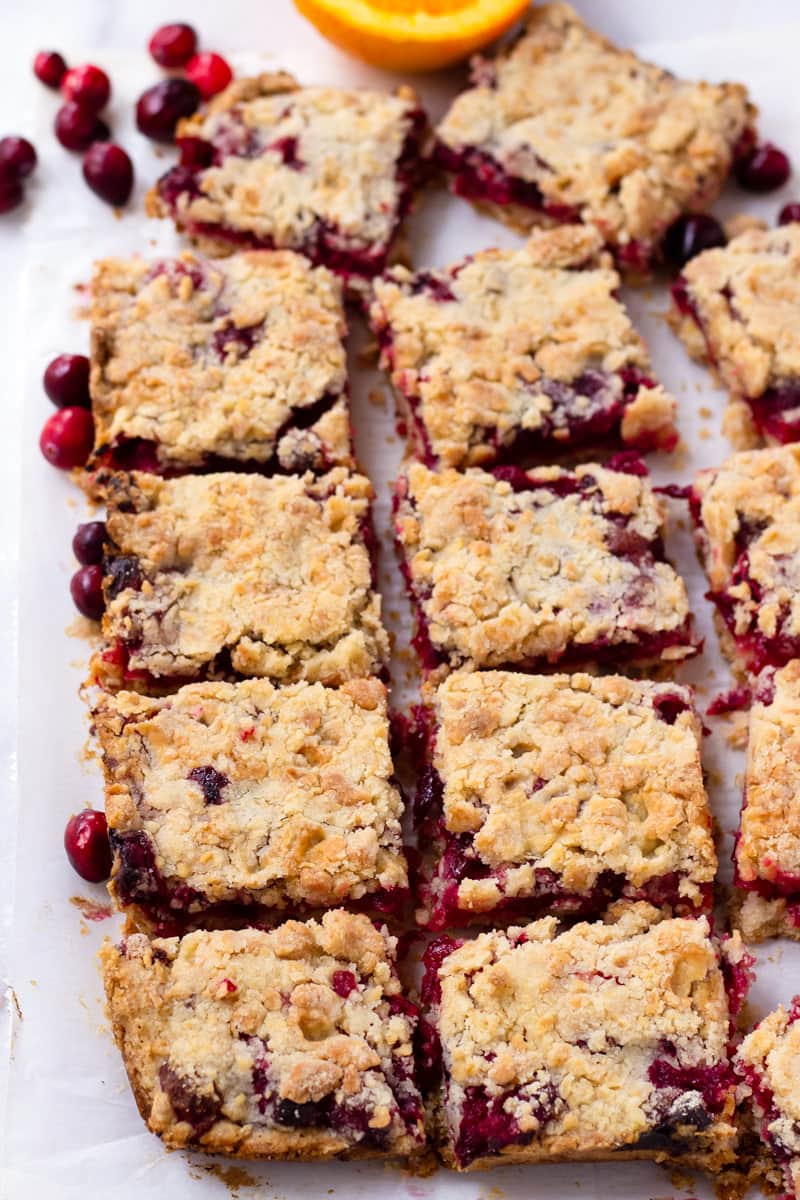 Why I Love These Cranberry Crumb Bars
There are so many things I love about these crumb bars:
They are not overly sweet thanks to the tartness of the cranberries
The bottom crust is firm and buttery, and the top crust is crumbly and tender
The cranberry filling is pre-cooked so you can control the sweetness level
The color is absolutely BEAUTIFUL!
I love how festive these cranberry crumb bars are! If you want to take these to the next level, you can serve them with a scoop of vanilla ice cream. Yum!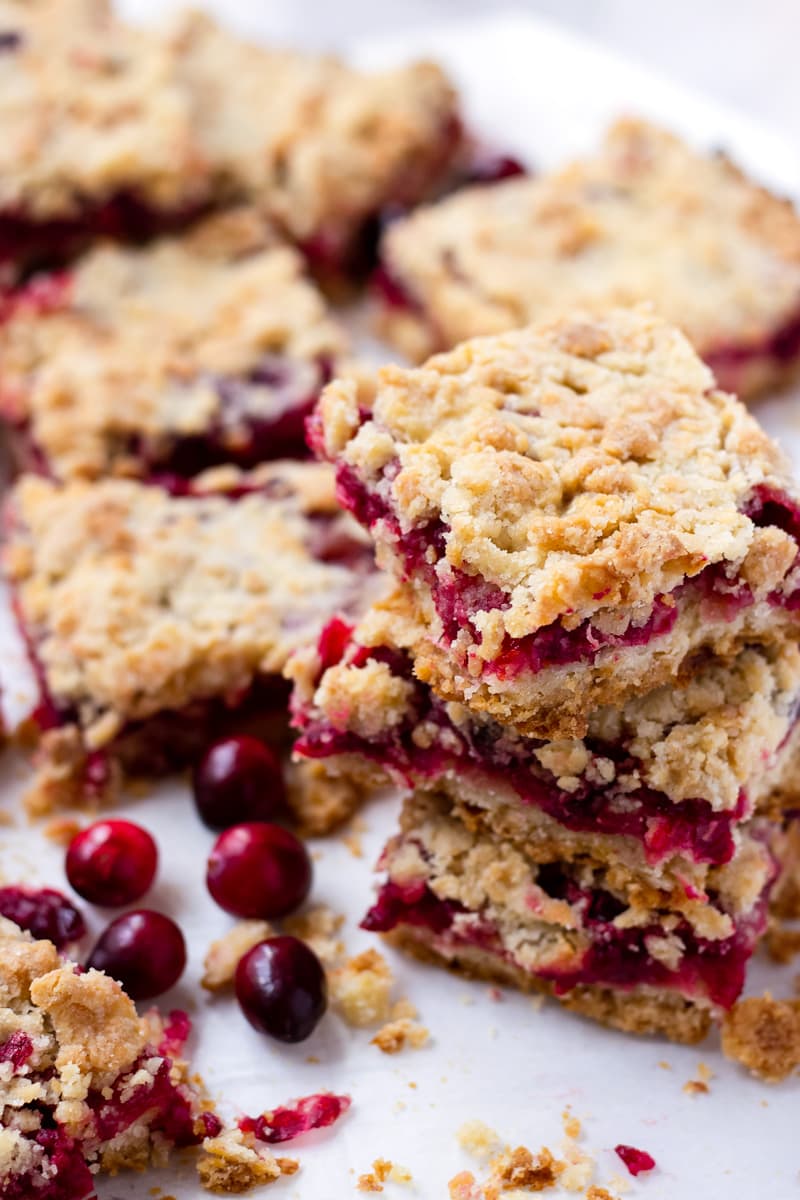 Cranberry Crumb Bar Ingredients
This makes about 15 squares from a 9×13 pan. The ingredient list is pretty simple:
All-purpose flour: For the dough
Granulated sugar: Sugar will be added to the dough and to the filling
Baking powder: This will make the crust a bit light and airy, which is great! It will also help with browning.
Ground cinnamon: For flavor and spice
Salt: Always brings out the flavors in baked goods!
Cold unsalted butter: For extra crumbly crust and topping, you'll need super cold butter. I usually freeze mine ahead of time.
Egg: To add some moisture and structure
Cranberries: You can use fresh or frozen, it doesn't matter
Orange: You'll need orange zest and freshly squeezed juice
Cornstarch: This will thicken the cranberries as they cook down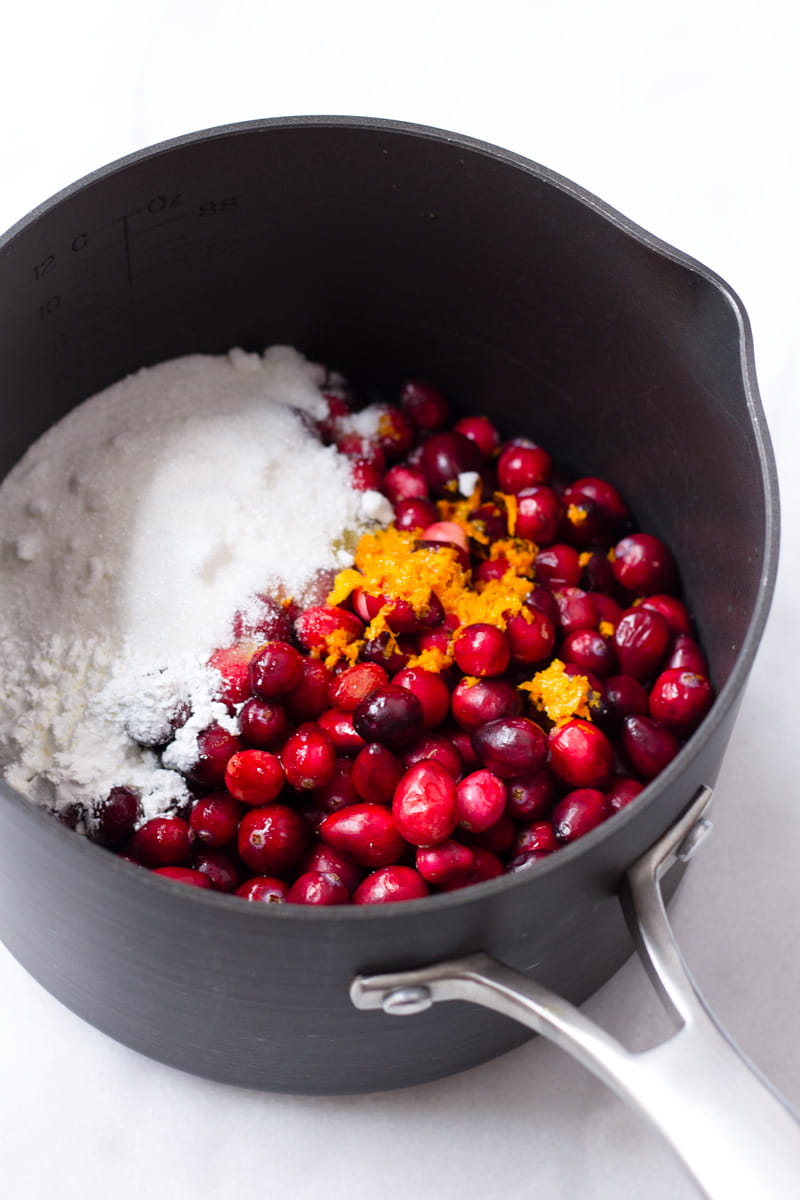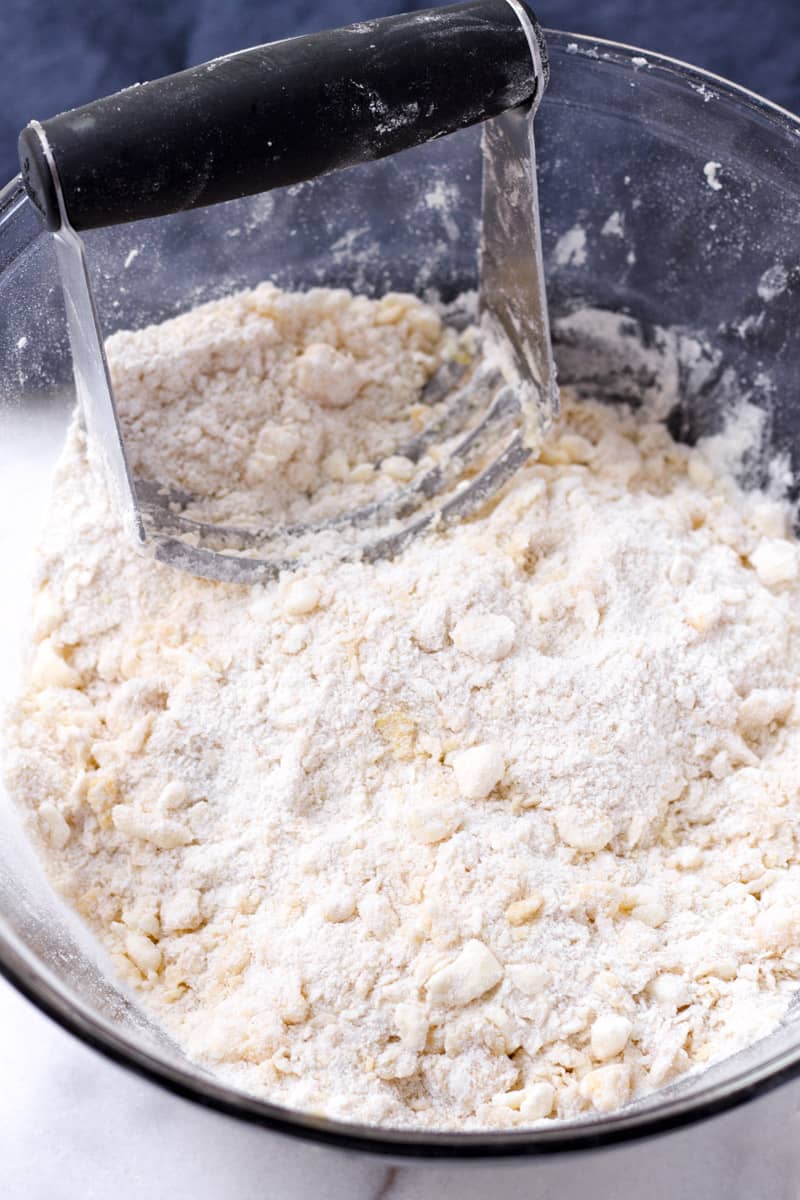 How to Make Cranberry Crumb Bars
As you can see in the pictures, the dough for these bars is very crumbly. It may look dry, but once they bake in the oven with all that moisture from the cold butter, it will become extra buttery, tender, and perfectly crumbly.
Here's how to make them:
Preheat oven to 375 degrees F and prepare a 9×13 baking pan with parchment paper.
Make the cranberry filling: Cook until the cranberries start to pop. Feel free to adjust the sweetness level with the granulated sugar. Let it cool down for a bit.
Make the dough: Make sure to use VERY cold butter and work as fast as possible, so that the butter stays cold.
Press half of the dough tightly onto the prepared pan: Pack it real tight using your the palm of your hands and fingers.
Spread the cranberry filling: A thin even layer will do.
Top with the remaining dough: It may seem very dry and crumbly before baking, but I promise that they will turn out moist and tender! The cold butter and baking powder will help with browning, tenderness, and crumbliness.
Bake for 45-50 minutes until golden brown and slightly bubbly!
That's all!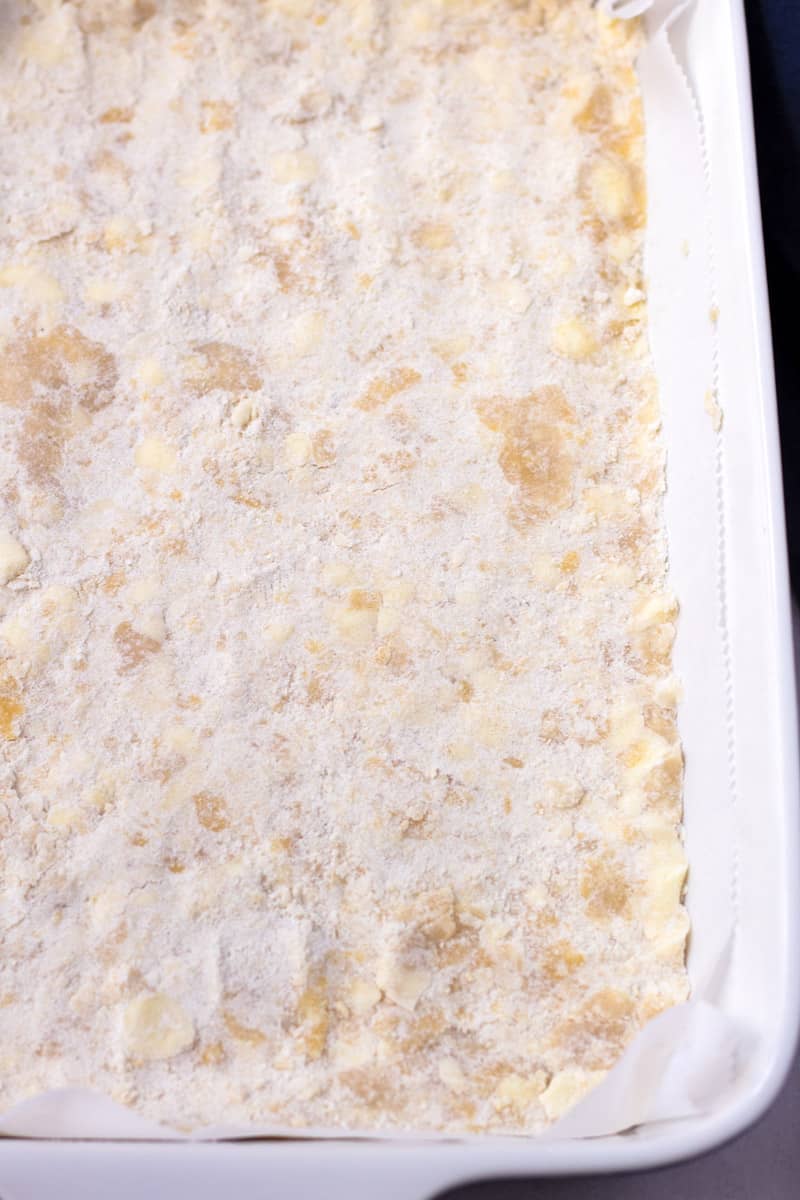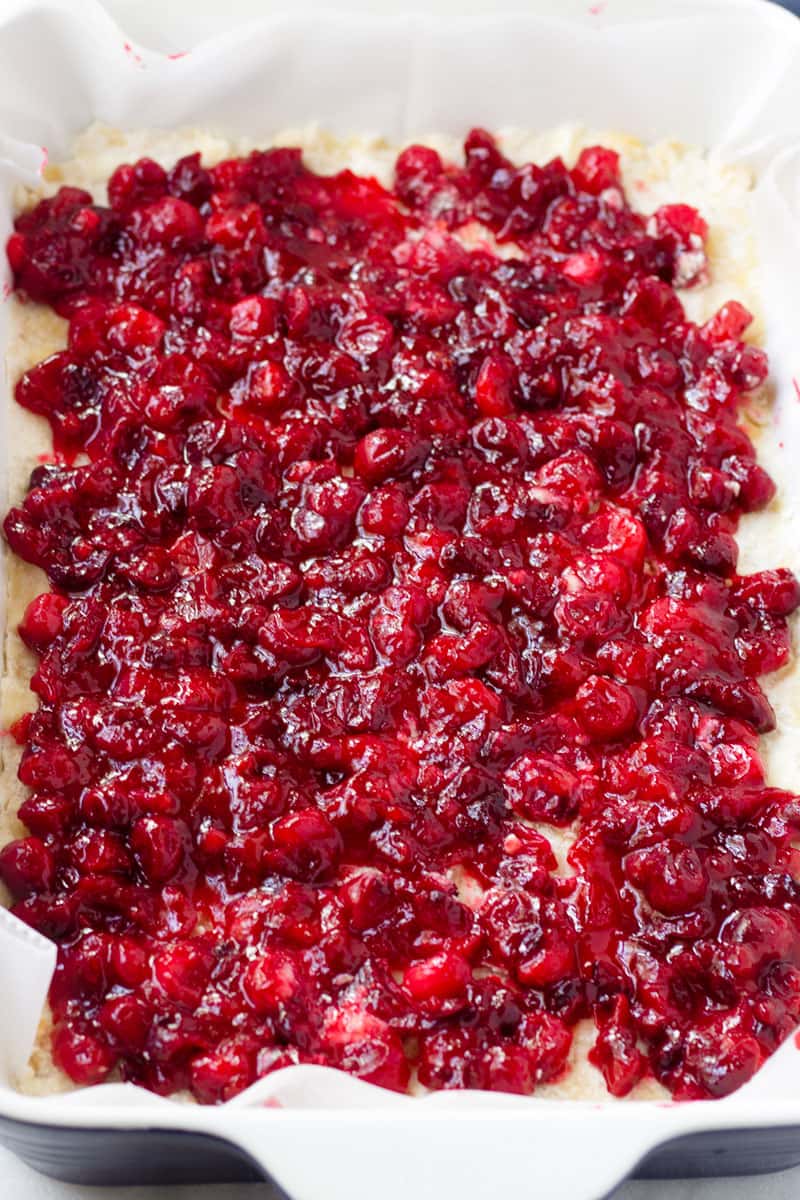 The Filling
My favorite part about this recipe is that the cranberry filling is pre-cooked. The purpose of that step is to control two things: 1) the sweetness level, and 2) the consistency of the filling.
To control the sweetness, you can simply adjust the amount of sugar. I like mine on the sweeter side, and found that about 3/4 cup of sugar for 4 cups of cranberries is perfect.
To control the consistency, adjust the amount of cornstarch. For 4 cups of cranberries and the juice of 1/2 an orange, 1 tablespoon of cornstarch is enough.
I am seriously obsessed with these cranberry crumb bars! They are tender, sweet, crumbly. Every single bit is delightful and it's got all the holiday feels!
If you're looking for more Holiday sweets, check these out:
I hope you love these as much as I do, and please don't forget to pin this recipe!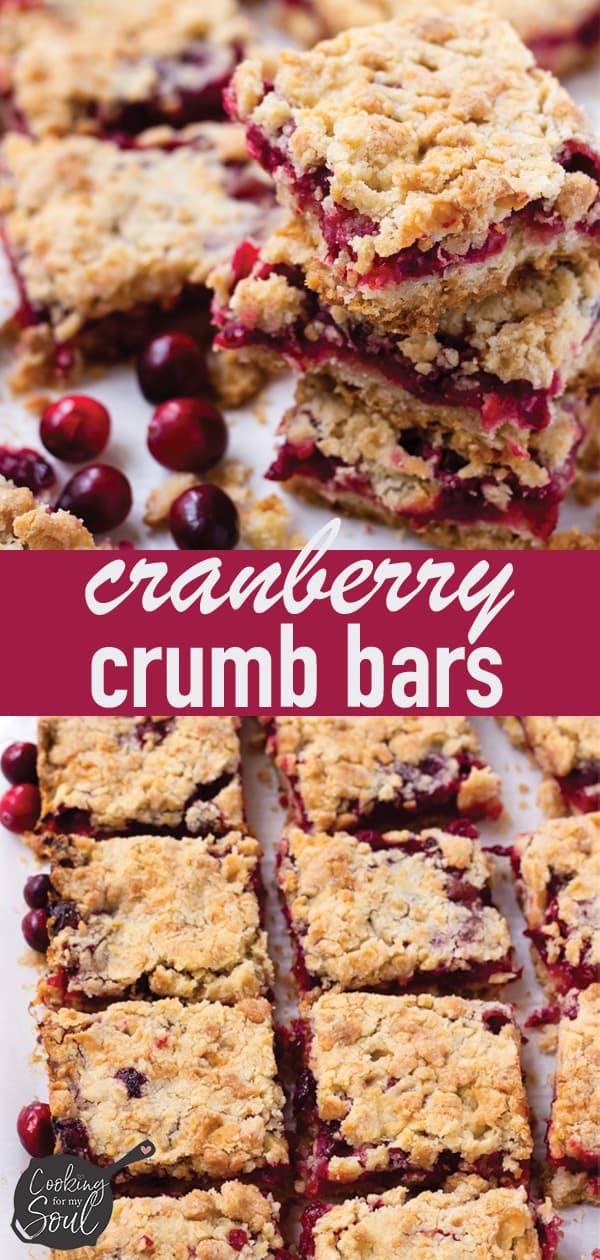 Kitchen Tips
Adjust the level of sweetness while you make the filling. I like mine on the sweeter side, and used about 3/4 cups granulated sugar.
Use VERY cold butter. I usually freeze the butter for at least 30 minutes before using.
You can either work the dough by hand with a pastry blender tool, or use your food processor. Either way will work.
Be sure to let the cranberry filling cool down a bit before spreading onto the dough,
If you try my recipe, use #cookingformysoul on Instagram! Follow me on Pinterest, Instagram, Facebook for the latest fun updates and recipes!
Cranberry Crumb Bars
These easy Cranberry Crumb Bars are perfect for the holidays! They are tender, crumbly, perfectly sweet and tart. Makes about 15 squares.
Servings
15
medium squares
Ingredients
Crumbly Dough
3

cups

all-purpose flour

1

cup

granulated sugar

1

teaspoon

baking powder

1/4

teaspoon

ground cinnamon

1/4

teaspoon

salt

1

cup

VERY cold unsalted butter, cut into cubes

-

(2 sticks butter, see note below)

1

large egg, lightly beaten
Cranberry Filling
4

cups

fresh or frozen cranberries

Zest of 1 orange

Juice of 1/2 an orange

3/4

cups

granulated sugar, plus more if desired

1

tablespoon

cornstarch
Instructions
Preheat oven to 375 degrees F. Line a 9x13 inch baking pan with parchment paper, leaving some overhang on the sides in order to make it easier to lift the cranberry bars.

In a saucepan, add the cranberry filling ingredients and bring to a simmer. Simmer for about 3-5 minutes or until the cranberries start breaking down. Remove from heat and transfer to a shallow bowl. Let it cool while you make the dough.

Meanwhile, in another large bowl, whisk flour, sugar, baking powder, cinnamon, and salt. Cut in the butter into the dry ingredients using a pastry blender until you get pea-sized crumbles. You can also rub in the flour and butter with your fingers, but do it quickly so that the butter doesn't soften too much. Add the egg and mix until a very crumbly dough forms. It will seem dry. Note: you can also use your food processor for this step - simply pulse all the dough ingredients until you get pea-sized crumbles and incorporated.

Place half of the dough on the prepared 9x13 inch pan. Press down to form a firm and even layer. Spread the cranberry filling evenly over the dough. Top with the remaining crumbly dough.

Bake for 45-50 minutes until golden brown. Let cool and cut into squares. Enjoy!
Notes
Special Equipment: Pastry blender, parchment paper, 9x13 baking pan. Optional: food processor.
Cold butter: Freeze the butter for at least 30 minutes to ensure it is very cold.
Make ahead: You can make the cranberry filling the day before. Store in an airtight container in the refrigerator.
Storing: These will store well in an airtight container at room temperature for about 3 days.