These delicious dark chocolate cranberry scones should be on your holiday baking list! I mean, cranberries and dark chocolate are a match made in heaven. Try these easy holiday scones recipe and serve them for breakfast or for an afternoon snack!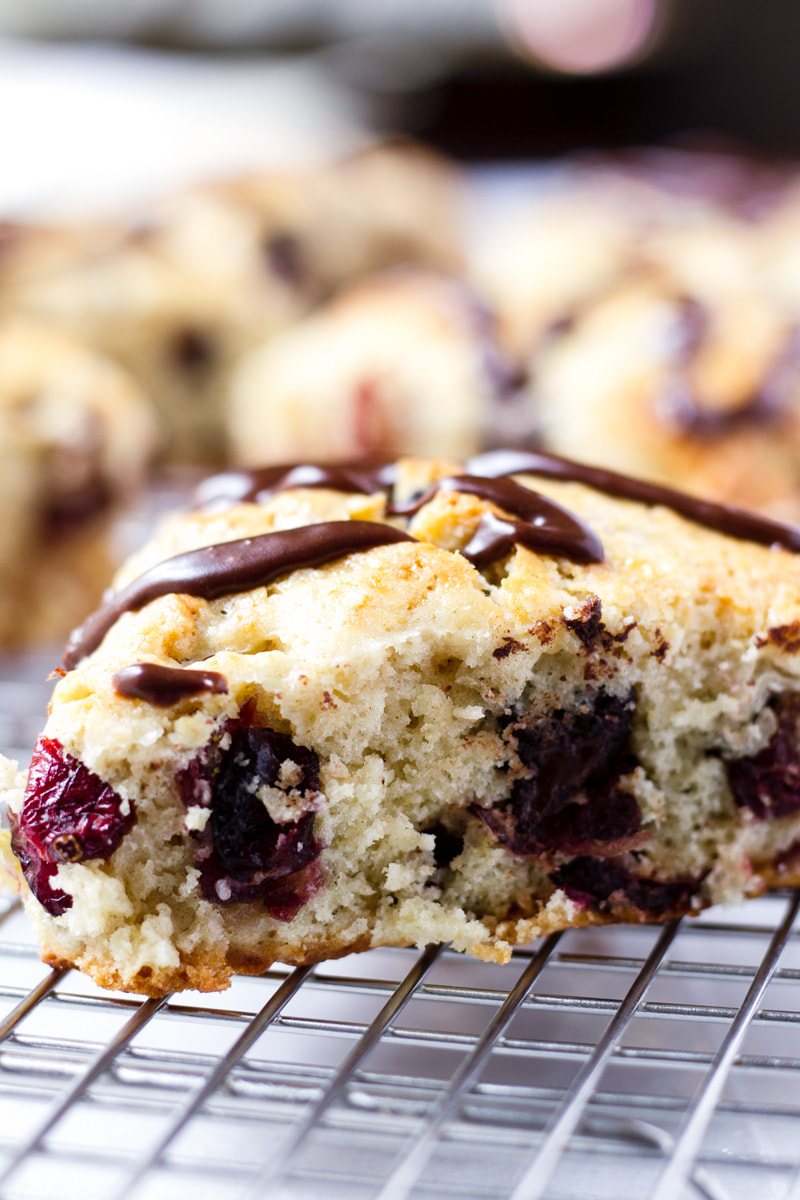 Holiday baking is almost here! I've got the perfect recipe for you using cranberries! My blogger friends and I dedicated this week to bringing you cranberry recipes for inspiration and lots of fun. This week I made these ultra delicious and easy dark chocolate cranberry scones that you'll love.
These dark chocolate cranberry scones are made with dried cranberries, dark chocolate chunks, and are then drizzled with more chocolate. Yes you heard me. The chocolate glaze hardens, so it won't smear all over you mouth. I don't know about you, but I think the chocolate glaze that hardens is super awesome. And it will save you embarrassment…unless you want chocolate smeared all over your mouth.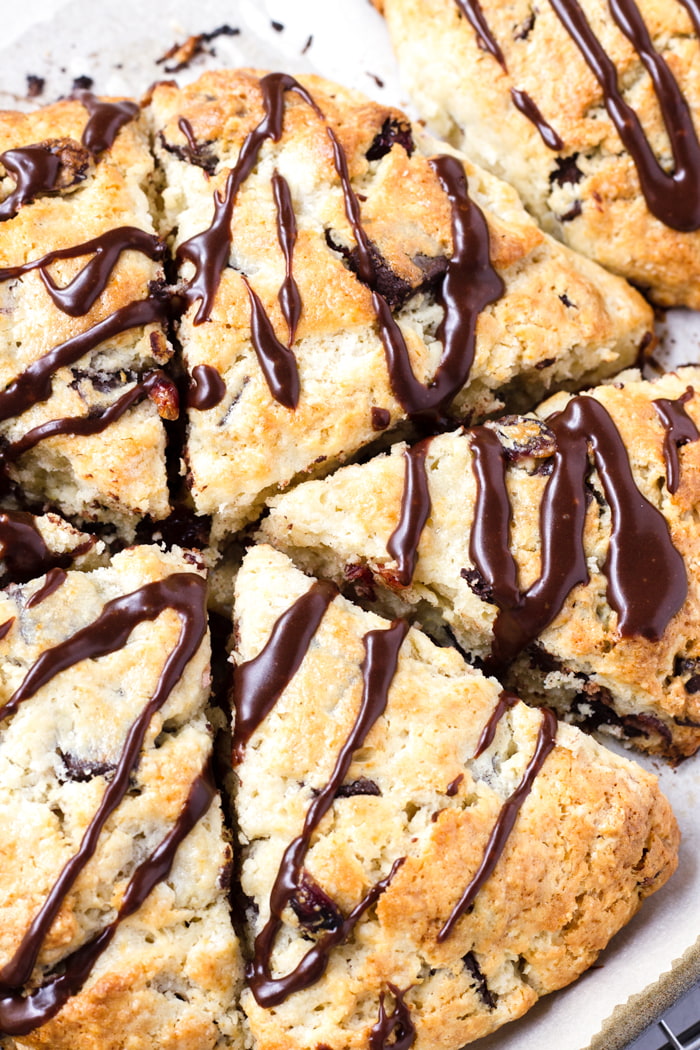 Scones and I
Scones and I have a dark past.
So let me explain…the first time I made scones was a MAJOR MAJOR disaster. I used a food processor and processed the heck out of the dough. Needless to say, I ended up with a very wet and sticky dough. In the midst of confusion, I tried to "save" it by adding more and more flour and kneading it…I know…haha. It kind of "worked," and so I tried to shape them into 6 wedges and baked them.
The result? Well, my 6 scones became ONE flat, shapeless, wet "scone." Now, if you've ever had a scone, you'll know that they are never wet…or flat. What I made was more like a sheet pan "scone" cake.
After that day, I've watched hours and hours of videos on how to make scones, and have made lots of scones.
So today, my friends, not only will I show you how to make scones, but also what NOT to do when making scones! And it all comes from experience, trust me.
How To Make Scones
Making a good dough for scones is ALL about the method and flour to fat ratios. Scones tend to be a little bit drier, so definitely a higher flour ratio. But even if you have a higher flour ratio, it can be easy to mess up the dough by working it too much. The key is combining the dry ingredients with the wet ingredients until just combined, and then press into a dough.
Here's my preferred method to make scones:
Preheat oven to 400 degrees F.
Combine the dry ingredients in a large bowl evenly (AP flour, granulated sugar, baking powder, salt)
Work in VERY VERY cold cubes of butter into the dry ingredients until pea size crumbs form. It is mandatory that the butter is super cold or it won't work. I usually freeze it 1 hour before using it.
To incorporate the cold butter into the flour mixture, use a pastry blender, a fork, or your fingers. If using your fingers, be quick or it will soften.
Slowly add the wet ingredients (eggs and heavy cream) into the flour and butter mixture, and lightly incorporate with a fork until moist. Do not knead or mix. The dough will be very crumbly.
On a clean surface, bring the crumbly dough together with your hands and slightly press until it comes together and shape into a 3/4 inch disk. If there is leftover flour that didn't incorporate, leave it behind.
Divide into wedges. Place on a sheet pan lined with parchment paper. Freeze it for 15 minutes to it stays cold. This helps to maintain their shape while baking.
Brush tops with heavy cream and bake about 25-30 minutes until golden brown.
If you want to, you can make these in a food processor (steps 3 through 5). But, be sure to only give it a few pulses.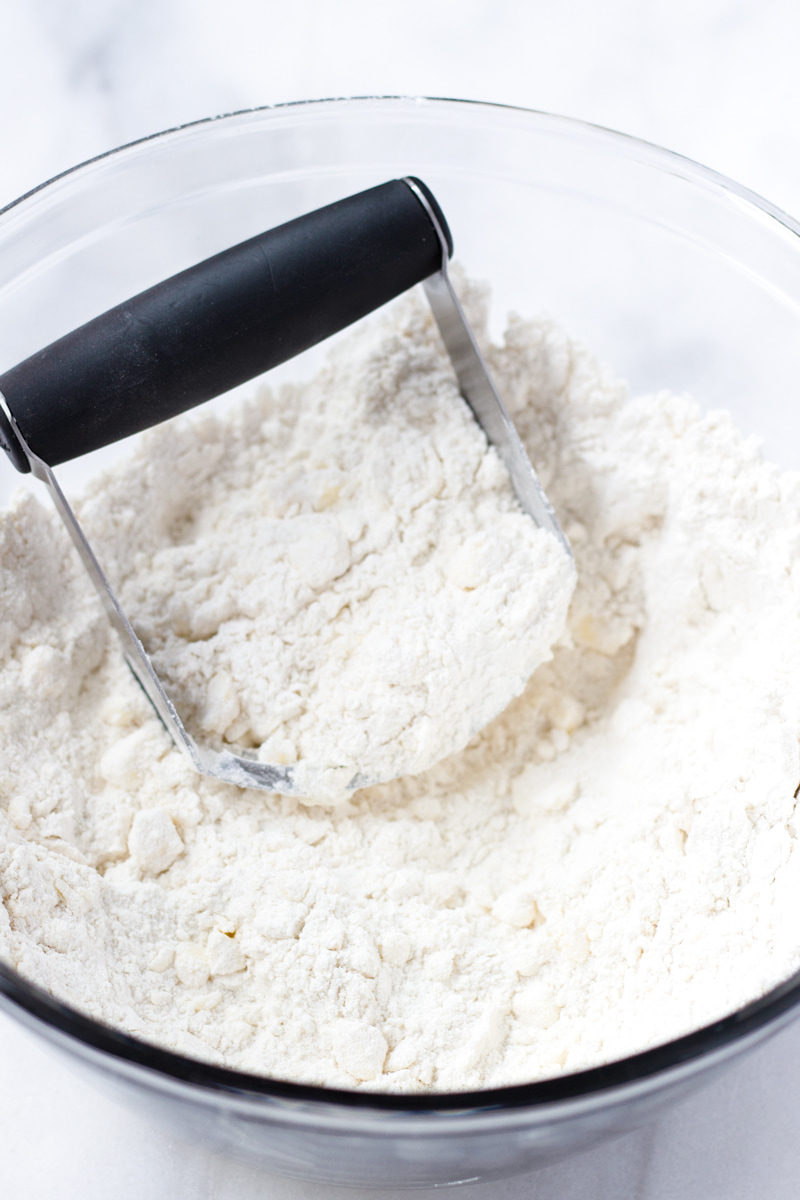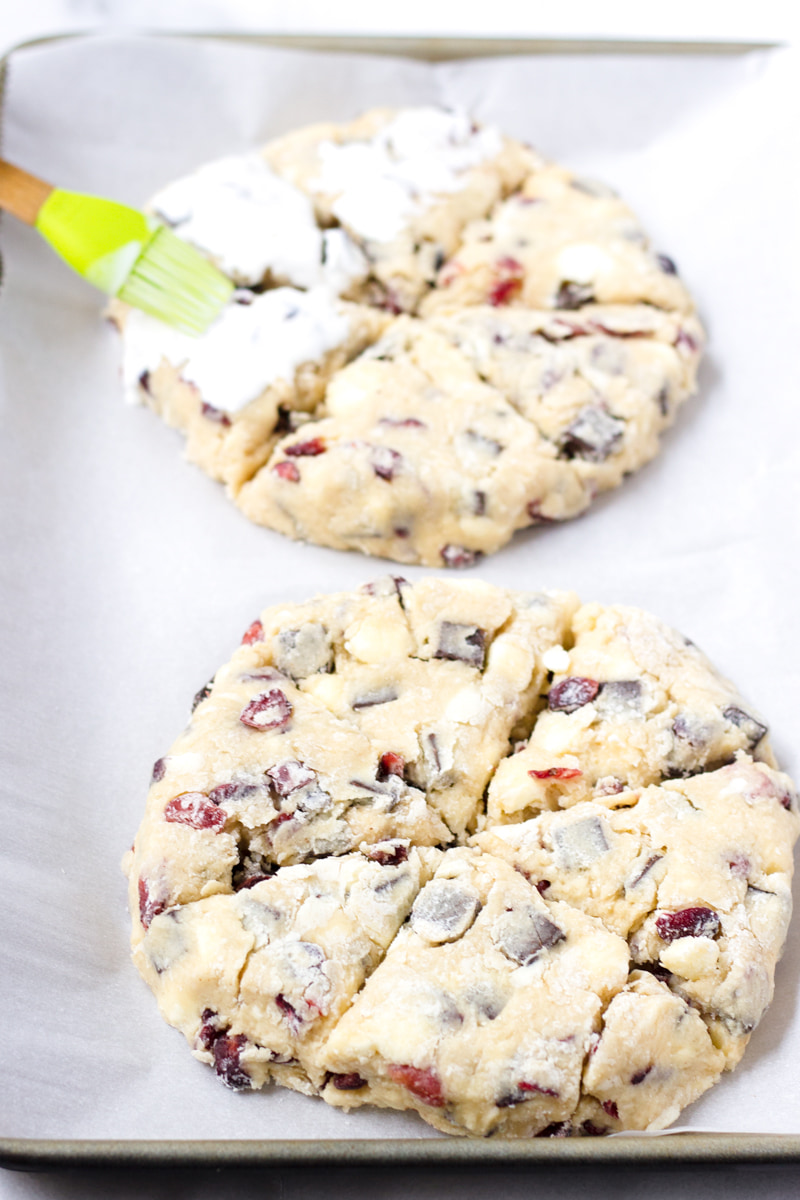 Easy Dark Chocolate Cranberry Scones
Alright, so now that we've covered the basics on how to make scones, let's talk about what's in these delicious and easy scones!
dried cranberries
dark chocolate chunks
AP flour
baking powder
salt
sugar
VERY cold unsalted butter
eggs
heavy cream
vanilla extract
chocolate glaze
Just imagine all the goodness from each cranberry scone. SO GOOD. Full recipe below!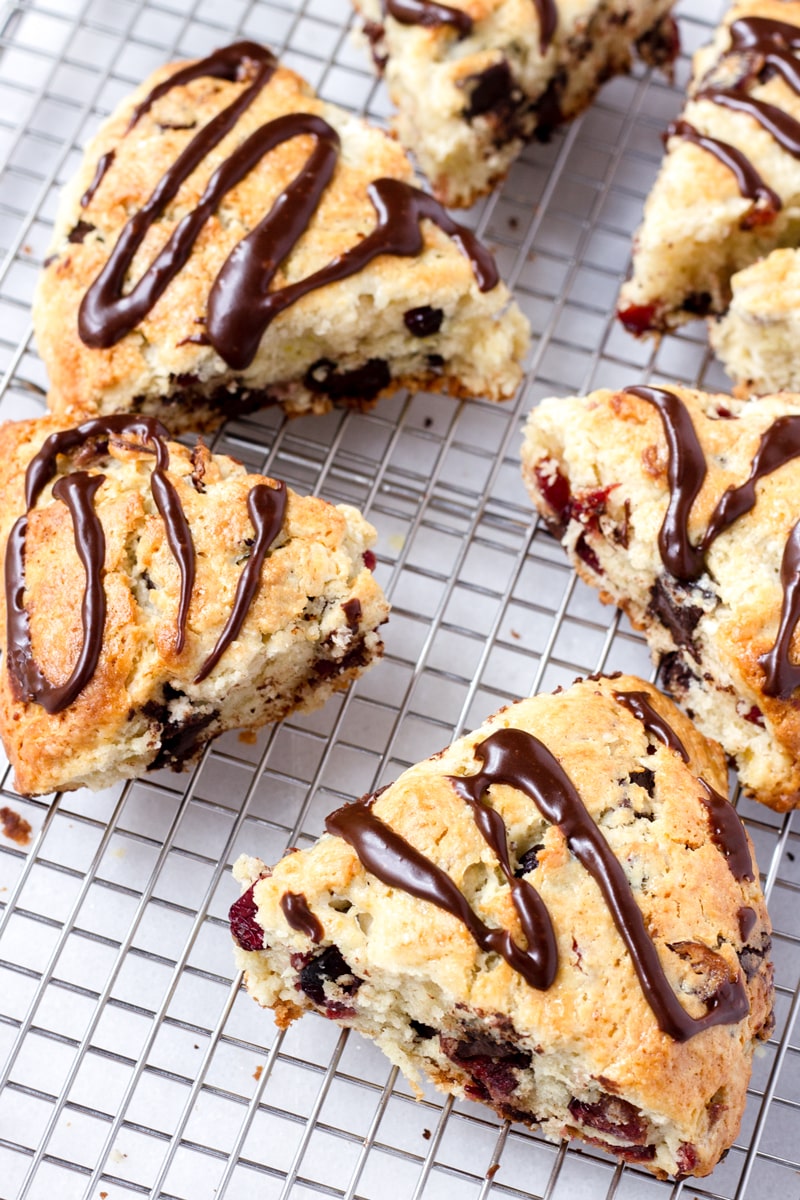 You can serve these scones for breakfast, as a snack, or anytime! Scones are supposed to be enjoyed whenever you want to! These will keep well for 3-5 days in an airtight container. And don't worry about smearing the chocolate glaze all over because it won't smear! This chocolate glaze hardens, making life easier 😉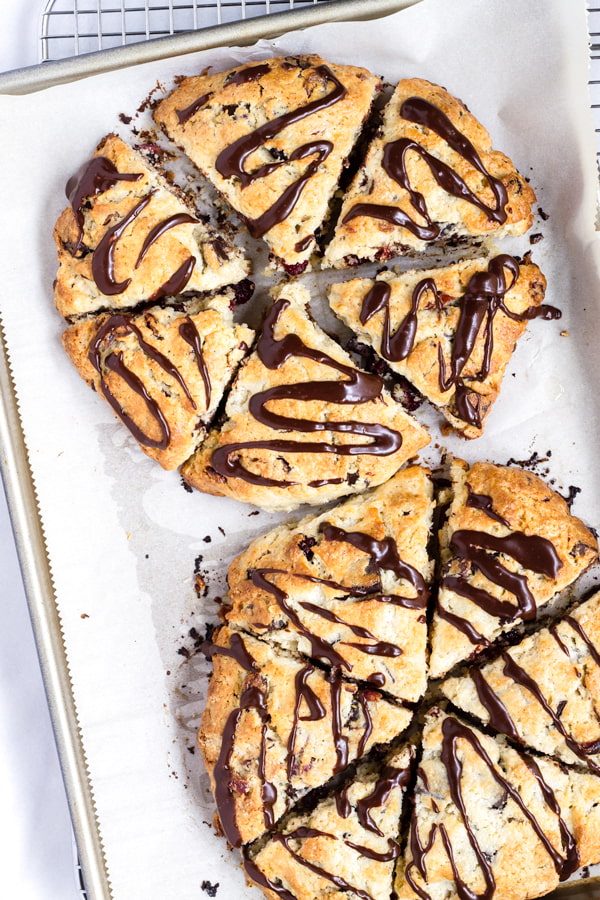 Happy holiday baking, my friends.
Pin this recipe! 🙂

Kitchen Tips
Cut the butter into small cubes and put it in the freezer for about 30 minutes before using.
Use a pastry blender to cut the butter into the dry ingredients. You can also use a fork, but it will take you a bit more time to achieve the right texture. If you prefer, use your hands but be quick so the butter doesn't soften.
Absolutely do not overmix or over-knead the dough. You're looking for a crumbly dough. The dough will come together later when you press it together to form a dough.
For the chocolate glaze: make this last and drizzle immediately. It will harden pretty quickly.
If you try my recipe, use #cookingformysoul on Instagram! Follow me on Pinterest, Instagram, Facebook for the latest fun updates and recipes!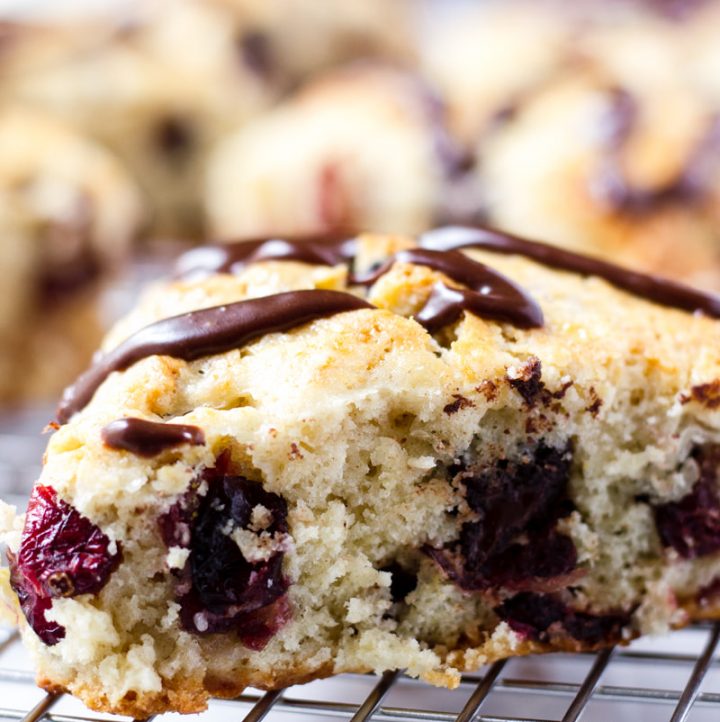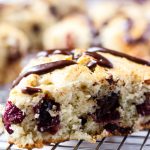 Dark Chocolate Cranberry Scones
These dark chocolate cranberry scones should be on your holiday baking list. So buttery, delicious, and pretty.
Ingredients
2 3/4

cups

all-purpose flour

1/2

cup

granulated sugar

1

tablespoon

baking powder

1/2

teaspoon

salt

1/2

cup (1 stick)

unsalted butter, cubed and very cold

2

large eggs

1/2

cup

heavy cream, plus more for brushing

1

teaspoon

vanilla extract

1

cup

dried cranberries

3/4

cup

dark chocolate chunks
Chocolate glaze:
2

tablespoons

unsalted butter, melted

2

tablespoons

unsweetened cocoa powder

2

tablespoons

hot water

1

cup

confectioners sugar

A pinch of salt
Instructions
Preheat oven to 400 degrees F.

In a large bowl, evenly combine flour, sugar, baking powder, and salt. Using a pastry blender (you can also use your fingers or a fork), work in the very cold butter into the dry ingredients, until small pea-size crumbs form.

Stir in dried cranberries and cold dark chocolate chunks and combine.

In a separate bowl, whisk eggs, ½ cup heavy cream, vanilla extract.

Slowly add the wet ingredients to the dry ingredients, and stir with a fork until moist. Do not knead or overwork the dough. You're looking for a dough that's crumbly and loose at this point.

In a lightly floured surface, bring crumbly dough together with your hand and lightly press and work the dough until it comes together.

Using a knife or a bench scraper, divide the dough in half. Form 2 circles, about 3/4 inch thick. Place each circle on 1 large baking sheet (or 2 smaller ones), lined with parchment paper. Using a knife or bench scraper, divide each circle 6 wedges. Optional: if you have time and space, place these in the freezer for 15 minutes.

Brush the top with heavy cream. Bake for for 20-25 minutes, until golden brown. Remove from oven and let them cool down.

Once the scones have cooled down, prepare the chocolate glaze: In a bowl, evenly mix cocoa powder with confectioners sugar and salt. in separate medium bowl, combine hot water and melted butter. Pour water and butter mixture into dry ingredients, whisking as you go until smooth.

Drizzle scones with the chocolate glaze. The chocolate glaze will harden when it cools down.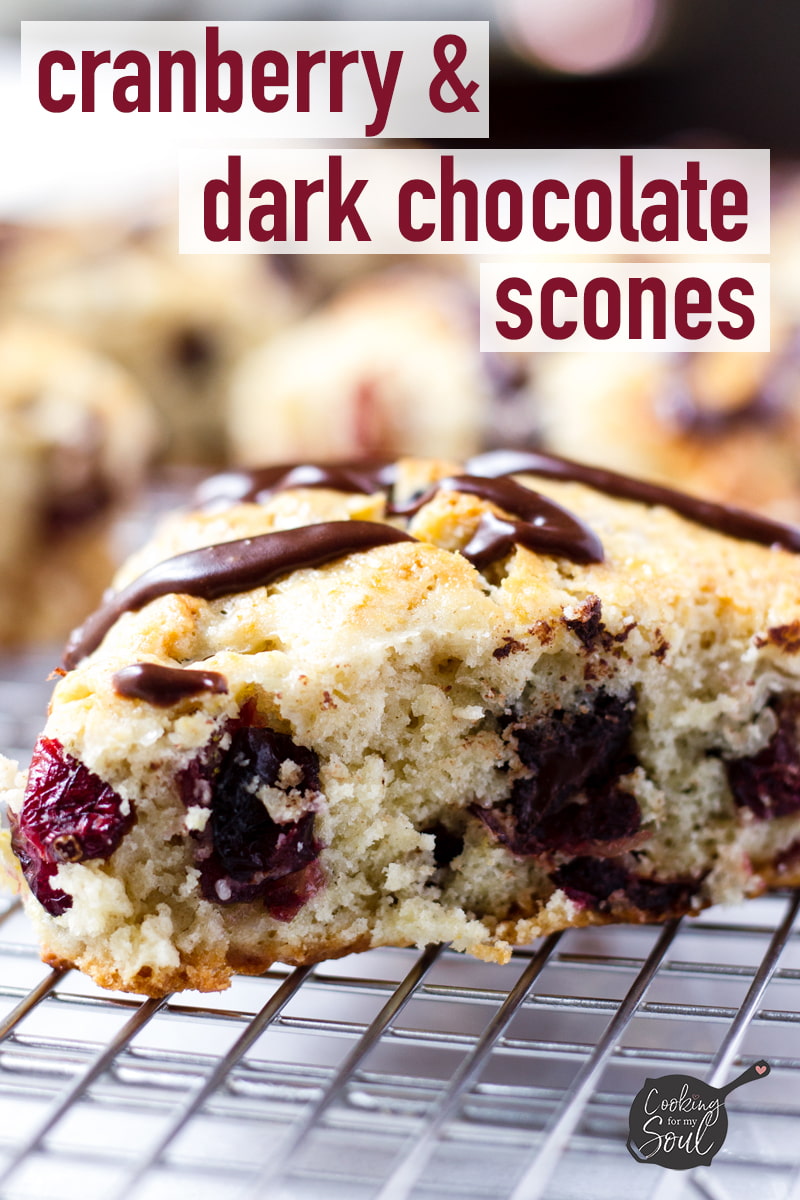 I'm excited to be sharing this recipe as part of Cranberry Week – now in it's third year! See all the tasty cranberry recipes being shared today below and follow #cranberryweek on social media for more ideas all week long.