I always go crazy about roasted brussels salads! They are one of my favorite things to eat, and I think it is the perfect Thanksgiving side dish or Christmas side dish. This easy roasted brussels sprouts salad is tossed with dried cranberries, fresh grapes, and feta. You'll love it!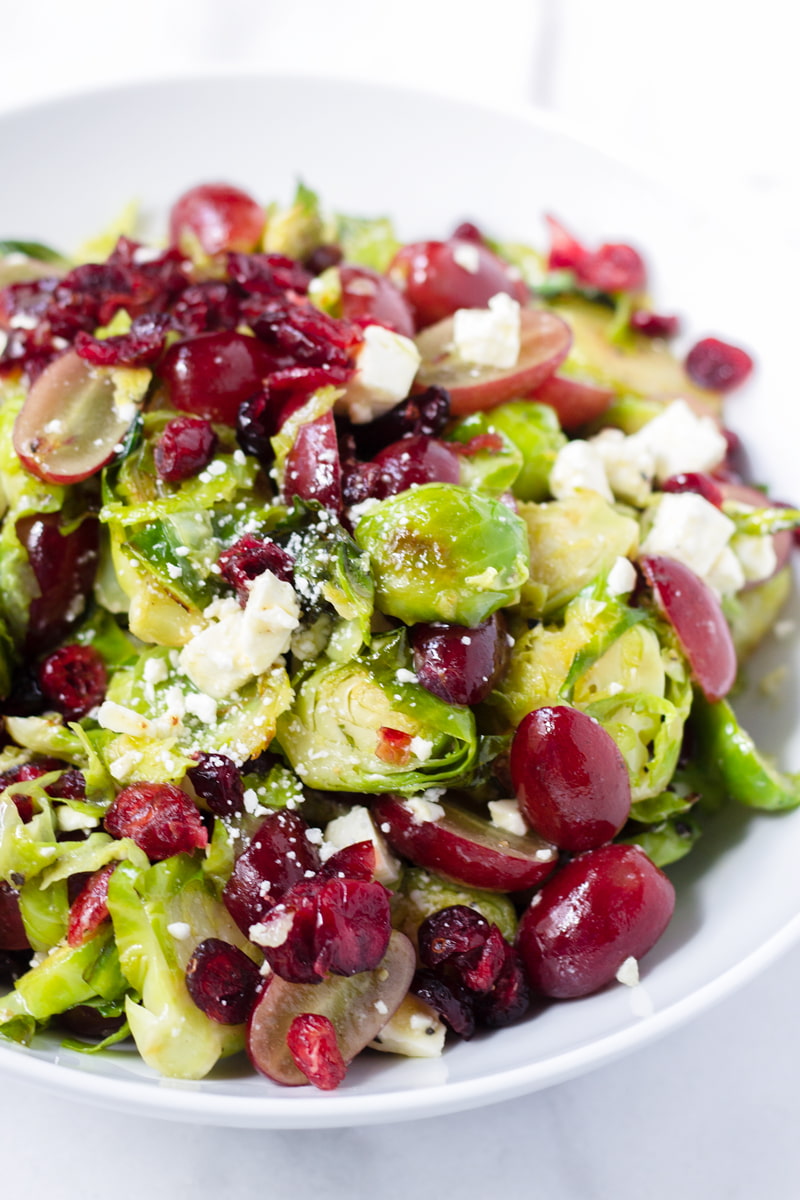 Continuing with #cranberryweek here! It's almost Thanksgiving and I'm partnering with my blogger friends to bring you amazing cranberry recipes to inspire you to cook this season. And also check out my Thanksgiving Recipes collection on the blog!
Sooo, I made this super delicious and pretty roasted brussels sprouts salad with cranberries, grapes and feta. Yup, all of my favorite ingredients in one bowl. Roasted brussels sprouts are just amazing, full of flavor.
Here I share all you need to know about how to prep brussels sprouts. So let's begin!
How To Cut Brussels Sprouts
Wash and dry your brussels sprouts first!
Trim the end of the stem or the core.
Remove the yellow or damaged outer leaves
Cut in half lengthwise, or slice lenghtwise
It's that easy! Use a sharp knife to make it easier, faster, and safer!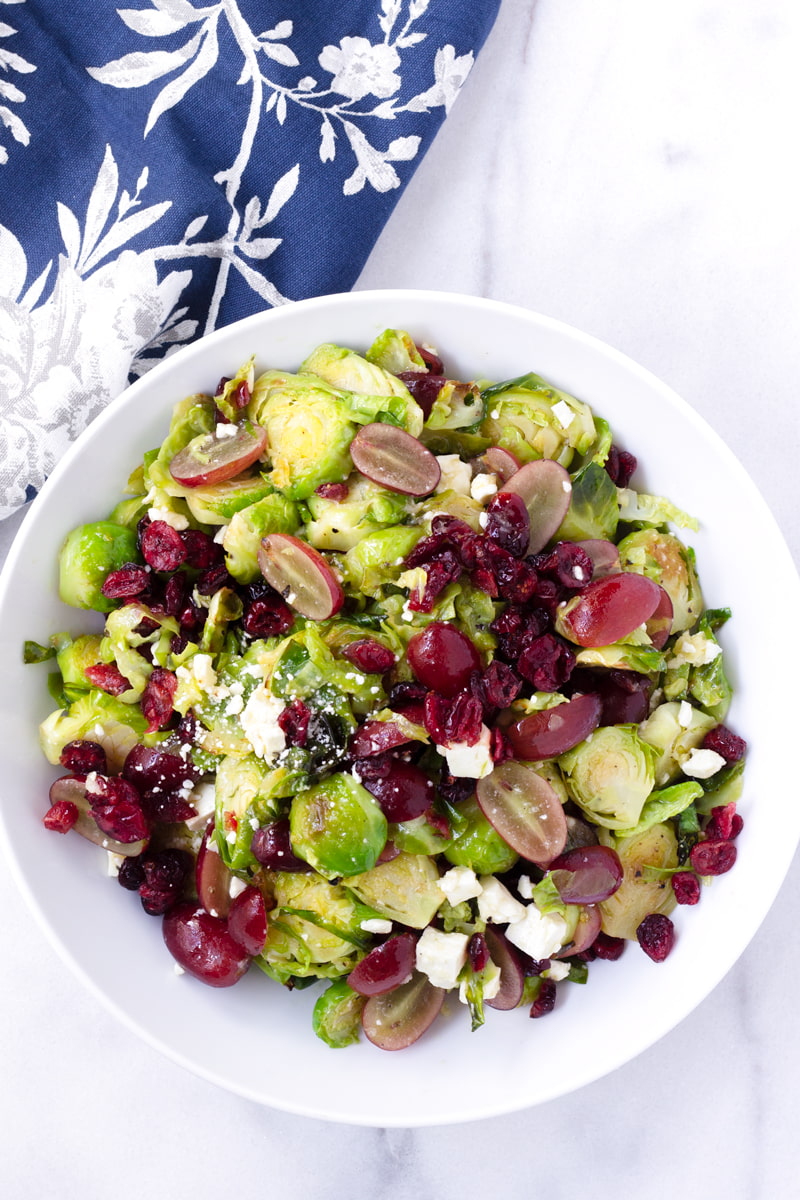 How To Roast Brussels Sprouts
There are two methods I like to use:
Roast Brussels Sprouts on a Sheet Pan
Place prepared brussels sprouts (See "How To Cut Brussels Sprouts" above) on a sheet pan without overcrowding. If too overcrowded, use two sheet pans. Toss with olive oil, salt and pepper. Roast at 400 to 450 degrees F for 15 to 25 minutes.
Roast Brussels Sprouts on a Skillet and Finish in Oven
I use this method when I really want a very beautiful golden brown color on my brussels sprouts. Preheat oven to 400 to 450 degrees F. Cut the brussels sprouts per the instructions above, and toss with olive oil, salt, and pepper. Oil a large ovenproof skillet or a cast iron skillet. Then, place brussels sprouts flat side down and cook on medium high heat until almost golden brown. Toss with a spatula so they are not flat side down anymore, and finish in the oven until golden brown and tender, about 10-15 minutes.
So now that you know how to prep and roast brussels sprouts, let's talk about what's in this delicious and easy brussels sprouts salad!
roasted brussels sprouts (yum!)
dried cranberries
red or green grapes
crumbled feta
a lemon maple vinaigrette
Yes, a lemon maple vinaigrette!! This vinaigrette is super delicious and has true depth in flavor. It brings all the ingredients to a balance, and I'm sure you'll absolutely love it!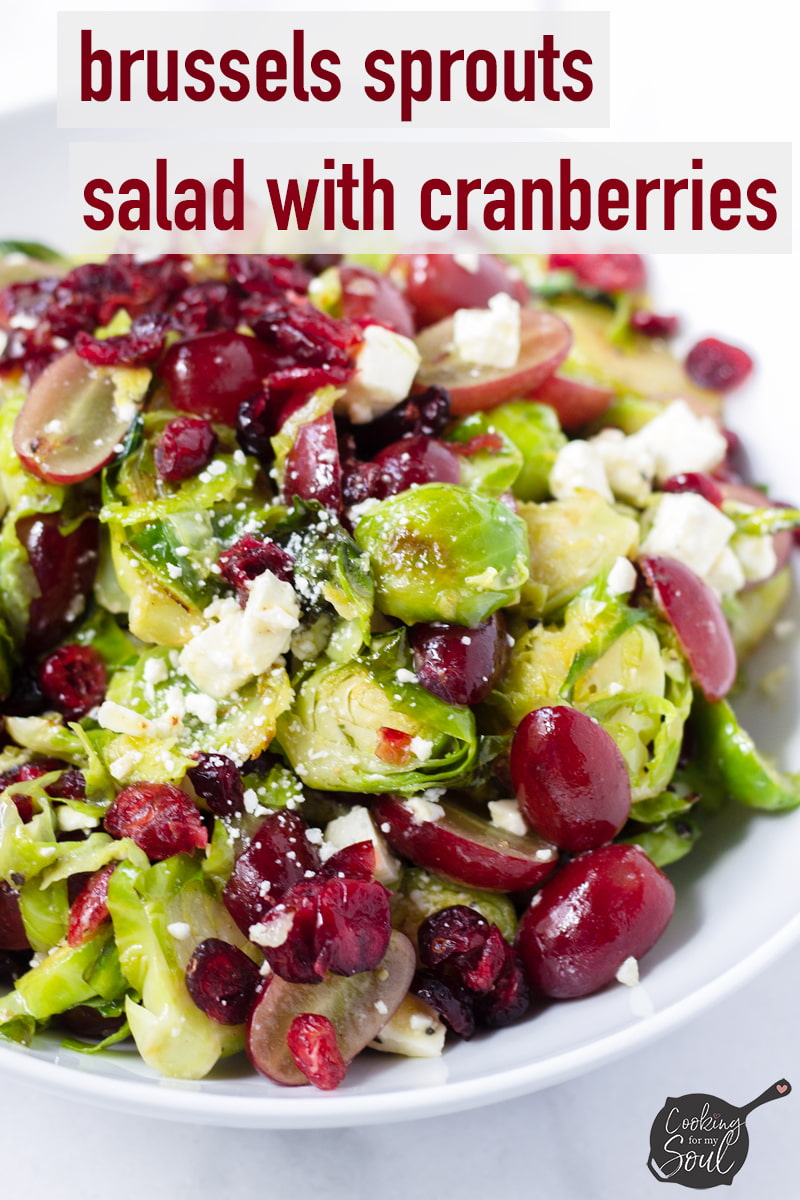 Impress your guests during the holidays with delicious festive food! Check out my other top Thanksgiving recipes:
And don't forget to pin this recipe! 🙂

Kitchen Tips
Use a mix of red and green grapes if you prefer.
Toss or flip the brussels sprouts halfway through for even color on all sides.
If you try my recipe, use #cookingformysoul on Instagram! Follow me on Pinterest, Instagram, Facebook for the latest fun updates and recipes!
Roasted Brussels Sprouts Salad with Cranberries and Feta
This easy roasted brussels sprouts salad is definitely a holiday side dish favorite in my house. Full of flavor, sweetness, and tanginess from a delightful lemon maple vinaigrette.
Ingredients
1.5

lbs

brussels sprouts, ends trimmed and sliced lengthwise

2

cups

red or green seedless grapes, halved

2/3

cup

dried cranberries

1

cup

feta cheese
Lemon Maple Vinaigrette:
1/4

cup

fresh lemon juice

2/3

cup

extra virgin olive oil

1

clove

garlic, minced

2

tablespoons

maple syrup

1

teaspoon

dijon mustard

Salt and pepper to taste
Instructions
Preheat oven to 400 degrees F.

Place prepared brussels sprouts, flat side down, on a sheet pan and toss with 2-3 tablespoons olive oil, and salt and pepper to taste (about 2 teaspoons salt, 1/2 teaspoon black pepper). Roast for about 20 to 25 minutes, flipping with a spatula halfway through. Let cool.

Meanwhile, make the vinaigrette: combine all vinaigrette ingredients and shake well.

In a large bowl, toss brussles sprouts with grapes, cranberries, feta, and the dressing to taste. Serve and enjoy!