What is fall without donuts?! These pillowy soft Maple Glazed Donuts are my latest fall obsession. These are deep-fried and glazed with super simple maple-flavored icing. Makes about 12 donuts and 12 donut holes.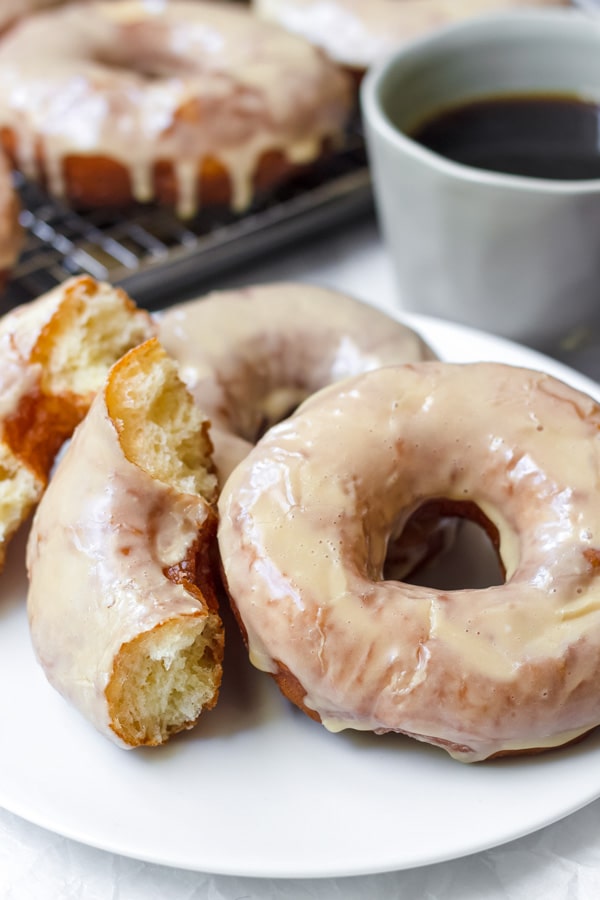 It took me a long time to decide if I should test a homemade donut recipe because, c'mon, it's much easier to pick up store-bought donuts. That's a fact. But because I live by the motto "homemade is always better," I went with it anyway, and let me tell you…these homemade maple glazed donuts are the best thing ever!
The donut dough is spiced with fall flavors – cinnamon and nutmeg – and the maple glaze for these donuts is amazing. Seriously, these maple glazed donuts are ultra delicious. I think I am living my best life here!
Making fried donuts from scratch, especially from yeasted dough, can be intimidating, but I am here to tell you that it's not! It's easy and it only takes a little bit of patience while the dough rises.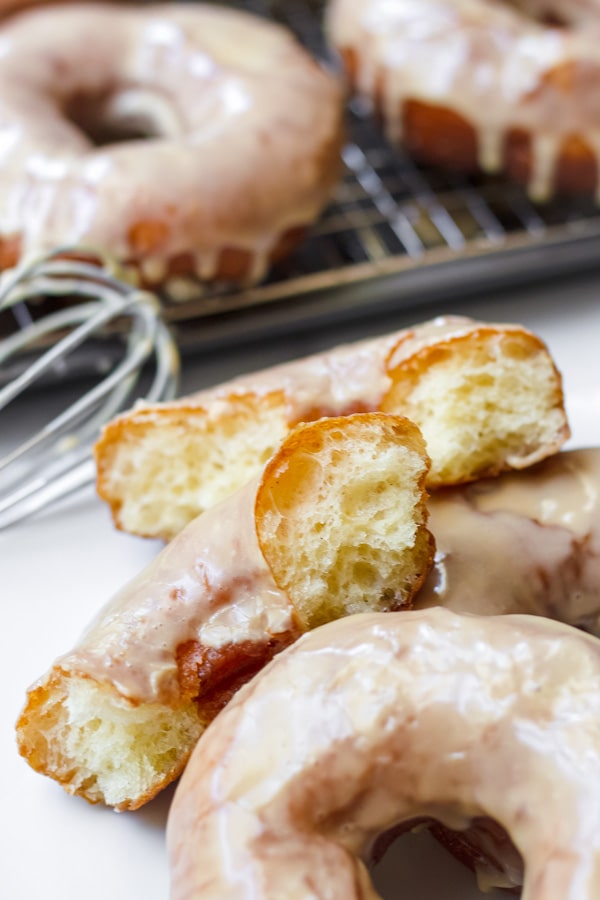 Deep-fried Maple Glazed Donuts
Fried donuts vs. baked donuts? Well, that's a never-ending debate between me and a friend of mine.
So I'm just going to say it: fried donuts is the answer!
Don't get me wrong, I love baked donuts, but nothing compares to airy and pillowy-soft fried donuts. Compared to fried donuts, baked donuts tend to be dense and cakey.
Here's why I love this maple glazed donut recipe:
Pillowy soft and airy
The dough is spiced with fall flavors: cinnamon and nutmeg
The maple icing is really easy to make!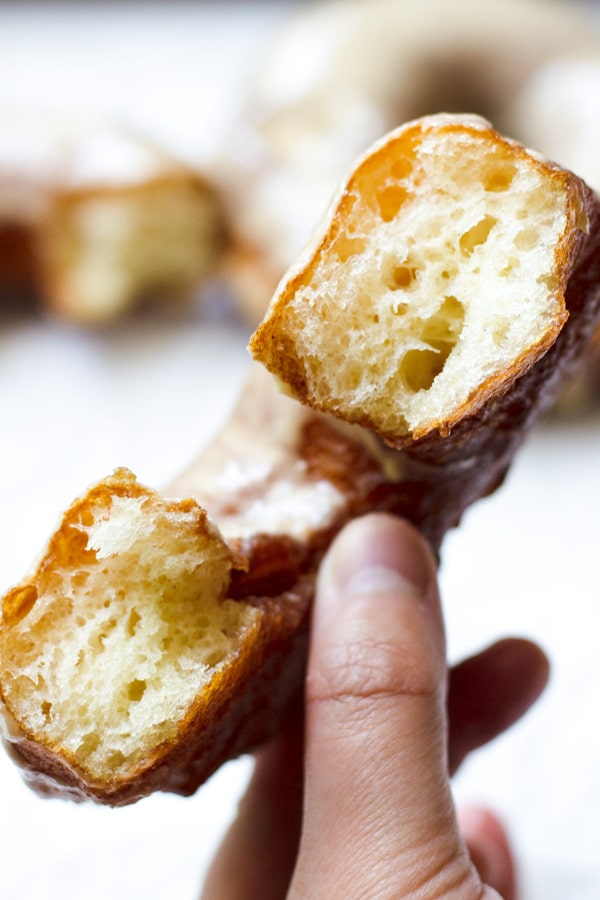 Maple Glazed Donuts Ingredients
Here's what you'll need:
Milk: The liquid component, and used to activate the yeast. Use whole or 2% milk.
Active dry yeast: Make sure it's not expired!
Granulated sugar: Granulated sugar will keep these donuts airy. Don't substitute for brown sugar.
Eggs: Provides moisture and structure.
Unsalted butter: Melted and cooled.
Vanilla extract: For flavor.
Salt: Salt aways brings out the flavors!
Spices: Ground cinnamon and freshly grated nutmeg.
Bread flour: I tested this recipe with AP flour vs. bread flour, and had better results with bread flour. Softer and more airy.
Vegetable oil: For frying.
Maple glaze: Made of confectioner's or powdered sugar, milk, maple syrup, maple extract, vanilla extract, and salt.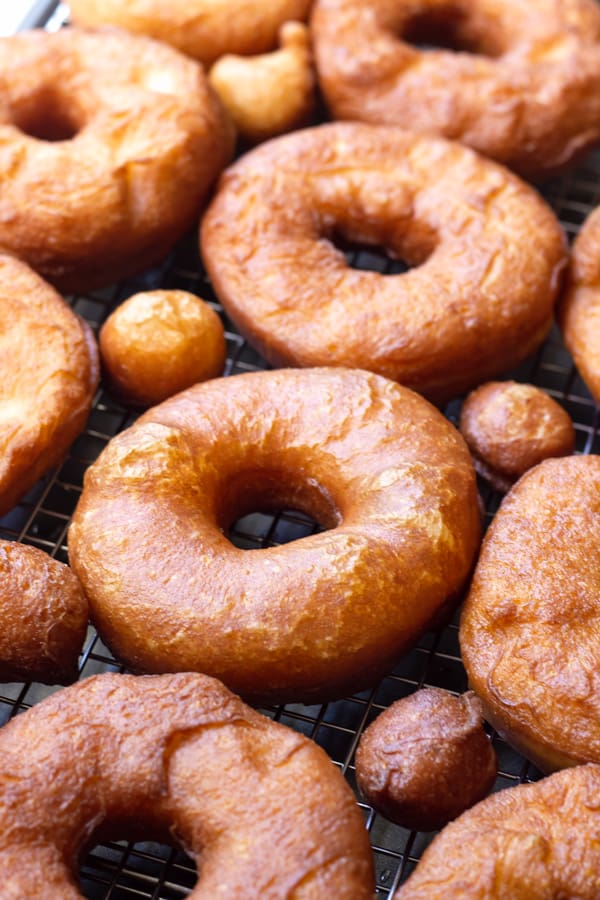 Tools You'll Need
Aside from the basics (bowls, measuring cups, etc), there are a few tools that I recommend for this maple glazed donut recipe, including alternatives:
Stand mixer: Makes mixing/kneading so much easier and less messy. If you don't have one or prefer not to use one, you can mix and knead by hand too!
Rolling pin: You'll need it for rolling the dough to 1/2 inch thick. Alternatives: an empty glass bottle or tall drinking glass.
Large Dutch oven: You need a heavy bottomed pot that retains heat well. A large Dutch oven is perfect. Or use a dedicated deep-fryer; I have a T-fal deep-fryer and I love it.
Candy thermometer: Deep frying needs to happen at a certain temperature (375 degrees F). A candy thermometer is helpful because you can leave it clipped to the pot and know if you need to decrease or increase the heat. Alternatives: a basic kitchen thermometer that goes all the way to 400 F (but you can't clip it obviously). If you have a dedicated deep-fryer, those usually have a setting that heats the oil to the right temperature.
Donut cutter: Definitely makes it much easier to cut the dough. Alternatives: round biscuit or cookie cutters.
If you have any questions, feel free to comment below!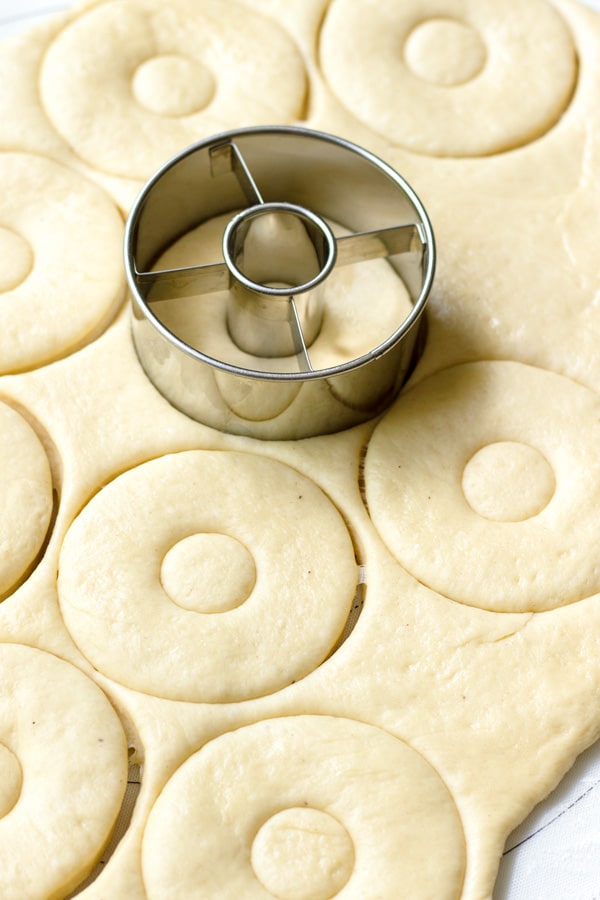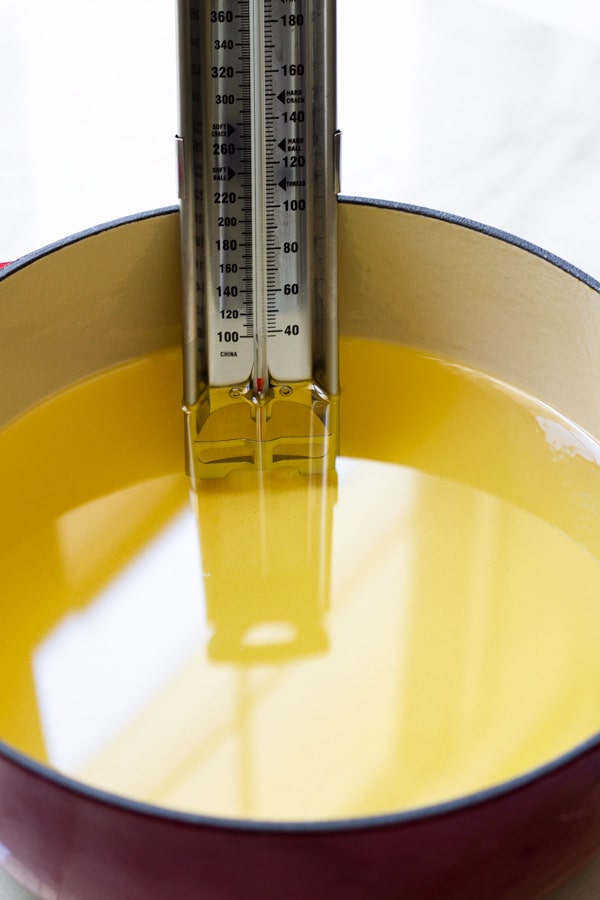 The Yeast Dough
First of all and most importantly, proof the yeast! Proofing yeast means to check if the yeast is good to use by "waking it up." If the yeast is no good (doesn't foam up), discard and start over with fresh yeast.
Now, the actual dough: You're looking for a thick dough that is manageable, soft, and slightly sticky. After kneading for about 4 minutes, poke the dough, and if it springs back, it's ready. This means that it's elastic as the gluten has developed. If it doesn't spring back, keep kneading for a few more minutes.
But don't over-knead it! You can tell if you're over-kneading if it feels tough and dense, which will result in heavy and dense donuts. If you think you have over-kneaded the dough, you can fix that by letting it rise 1 hour longer than recommended. Or you can start over!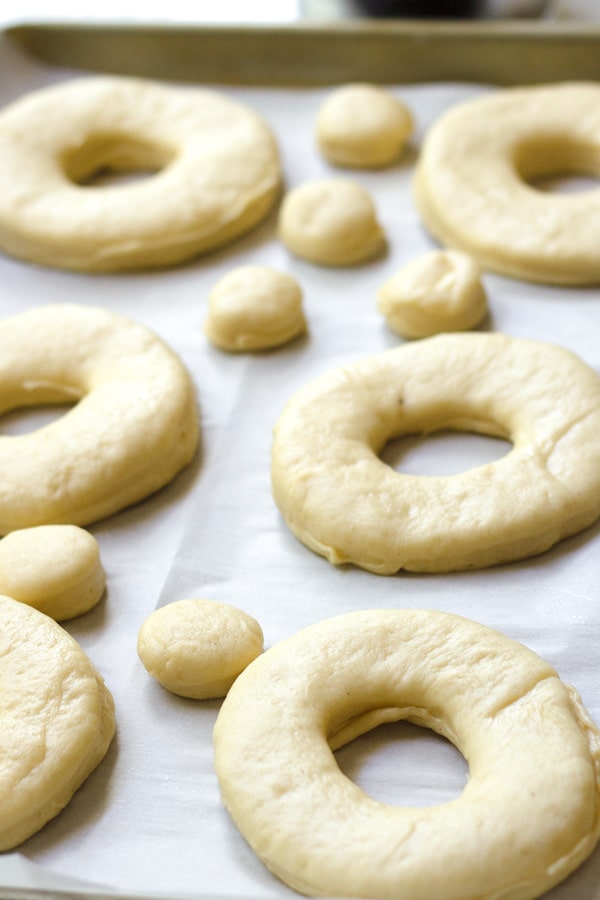 Maple Glaze for Donuts
The maple glaze or icing is super simple. Simply whisk the following ingredients:
4 cups powdered sugar, plus more if thicker consistency is desired (yes, 4 cups!)
1/4 cup milk, approximately
1/4 cup maple syrup
1/2 teaspoon salt
1/2 teaspoon vanilla extract
1/4 teaspoon maple extract, plus more to taste
Quick tip: Glazes are all about eye-balling it! Always add the liquid component little by little. I don't know why, but sometimes it just doesn't need that much liquid.
Consistency: The glaze should be thick enough so that it doesn't get totally absorbed into the donuts.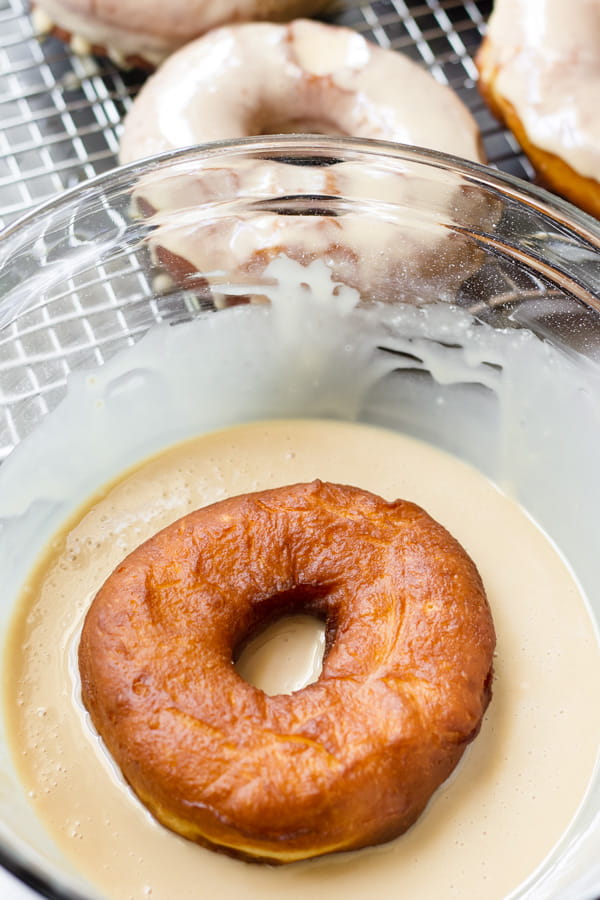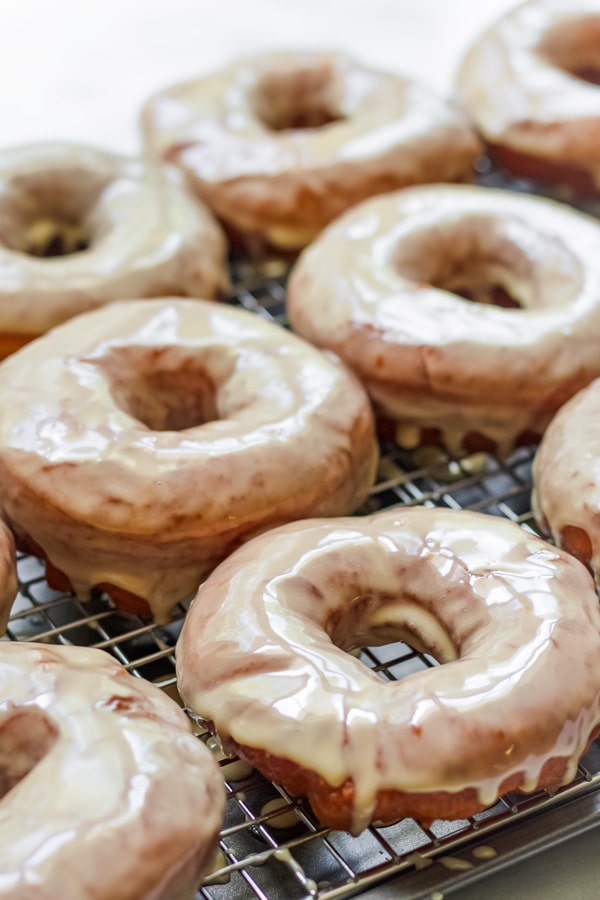 Look at those beauties! This recipe makes about 12 donuts and 12 donut holes.
Normally, I would say that I want to eat them all myself, but I'm pretty sure my body can't take 12 donuts…and 12 donut holes. These maple glazed donuts are definitely meant for sharing!
If you're looking for more fall-inspired sweets:
Thanks for reading, and please don't forget to pin this recipe!
If you try my recipe, use #cookingformysoul on Instagram! Follow me on Pinterest, Instagram, Facebook for the latest fun updates and recipes!
Maple Glazed Donuts
These fried maple glazed donuts are a fall season favorite. The dough is spiced with cinnamon and nutmeg. The maple icing or glaze for the donuts is perfectly sweet and flavored with maple syrup, maple extract, and vanilla.
Ingredients
Donuts
1

cup

whole milk, warmed to 115 degrees F

1

tablespoon

active dry yeast

1/4

cup

granulated sugar, plus 1 teaspoon

-

(divided)

2

large eggs

1

stick

unsalted butter, melted and cooled

-

(8 tablespoons)

1

teaspoon

vanilla extract

1/4

teaspoon

salt

1/4

teaspoon

freshly grated nutmeg

1/4

teaspoon

ground cinnamon

3 to 3 1/2

cups

bread flour, plus more as needed

Vegetable oil for deep frying

-

(about 2 quarts)
Maple Glaze
4

cups

powdered sugar, plus more as needed

1/4

cup

milk

1/4

cup

maple syrup

1/2

teaspoon

salt

1/2

teaspoon

vanilla extract

1/4

teaspoon

maple extract, plus more if desired

-

(optional)
Instructions
Attach the dough hook attachment to the stand mixer, if using. In the bowl of a stand mixer, add warm milk (115 degrees F), active dry yeast, and 1 teaspoon sugar. Combine and let it sit for 10 minutes until frothy.

To the same bowl, add the eggs, melted butter, vanilla extract, salt, grated nutmeg, cinnamon, and 2 cups of the bread flour. Mix on medium speed for about 1-2 minutes. Mix in remaining bread flour, 1/2 cup at a time until a dough forms. Increase speed to medium-high, and mix until dough pulls away from the bowl and a manageable dough forms. The dough should manageable, soft, and slightly sticky. If needed, add more flour little by little.

Transfer dough to a floured surface and knead by hand for about 4-5 minutes, sprinkling more flour as necessary. At this point, the dough should be elastic, very manageable, soft, and slightly sticky. It should also spring back when poked. Do not over-knead; you can tell if you over-kneaded the dough if it feels tough and dense.

Form dough into a ball and place on a lightly oiled bowl, making sure the dough is coated with oil on all sides. Vegetable oil is fine. Cover the bowl with plastic wrap and let it rise in a warm and draft-free environment for about 1.5 hours, until doubled in size. I usually let dough rise in a warm-ish oven. You can also use the microwave method (instructions below under Notes).

After the dough has risen, punch it down and transfer to a clean surface. Using a rolling pin, roll to 1/2 inch thick.

Using a donut cutter or round cookie/biscuit cutters, cut into 12 donuts. Should make 12 donuts and 12 donut holes. Transfer them to 2 large baking sheets. Cover with plastic wrap and let them rise in a warm environment for another 20-30 minutes.

In a large Dutch oven or heavy pot, heat vegetable oil to 375 degrees F. To monitor the oil's temperature, clip a candy thermometer to the pot (like the photo above). Cook the donuts one minute per side, about 3 donuts at a time. Transfer to a rack placed on top of a large baking sheet or something to catch any dripping oil.

Fry the donut holes after you're done with the donuts, about 6 at a time. Transfer to a rack.

While the donuts cool a bit, make the maple glaze: simply whisk all the maple glaze ingredients. Tip: Add the milk and syrup little by little to get the right consistency. The glaze should be thick enough to stay on the donuts. If too watery, add more sugar.

Dip warm doughnuts in the glaze on one side. Let them cool for the glaze to harden, about 15 minutes. Enjoy!
Notes
Special Equipment: candy thermometer, rolling pin, donut cutter.
How to find a "warm" environment for yeasted dough to rise: Two options, 1) Oven: warm up the oven to 200 degrees for a few minutes, then let some of the heat escape until you get semi-warm oven. If the oven is too hot, it will kill the yeast. 2) Microwave oven: microwave a cup of water in high for 2 minutes so the compartment gets warm. Place dough inside and close the door (leave the cup of water inside to retain heat).
How to store: store in an air-tight container for up to 2 days.