One of my favorite sides are roasted carrots, and these Maple Glazed Rainbow Carrots have become my latest obsession! Perfectly tender with a slight crunch in the center, buttery and sweet, and roasted to perfection.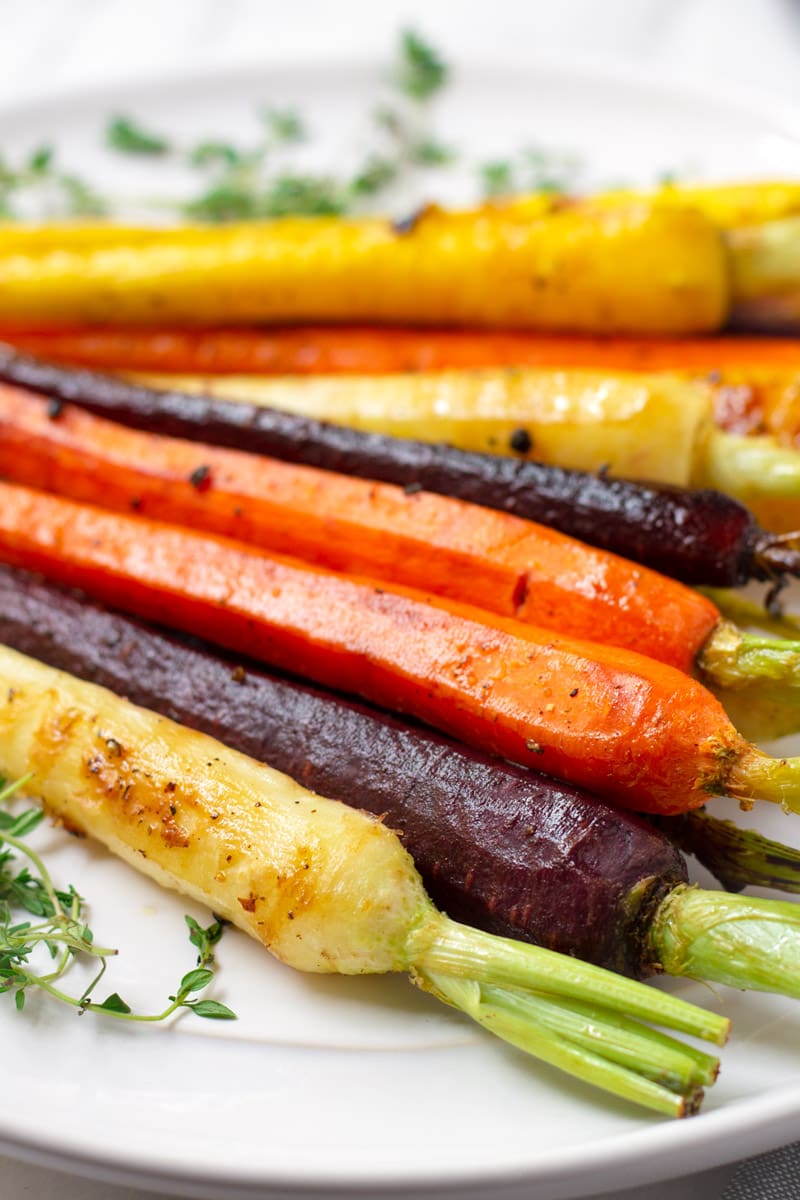 Look at how pretty these maple glazed carrots are! They are roasted in the oven until tender and slightly crunchy in the middle, and then glazed with melted butter and maple syrup. These roasted rainbow carrots are sweet, savory, and super delicious.
The holidays are coming, and I'm sure you're thinking about what to make for Thanksgiving. Here's what I'm thinking for our Thanksgiving menu this year:
So back to these maple roasted carrots. Seriously the prettiest and most delicious side dish ever! They are very easy to make, and come together in under 30 minutes.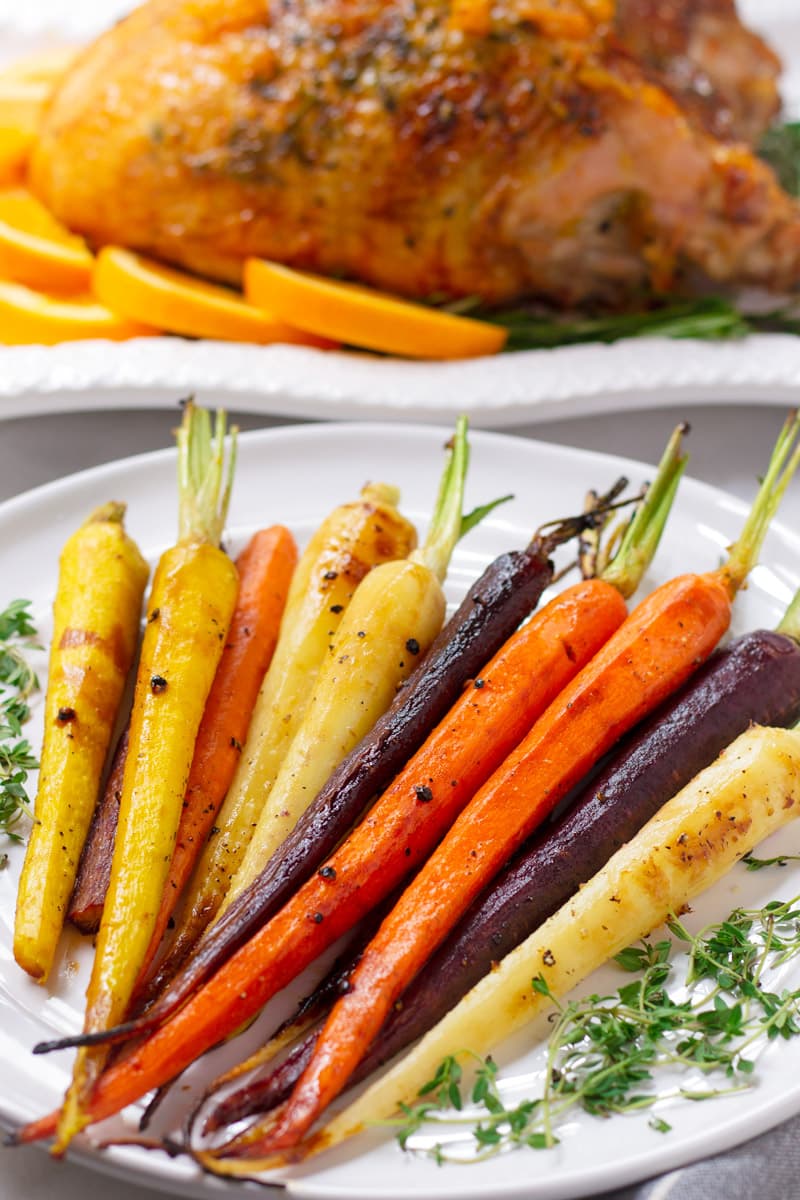 Ingredients for Maple Glazed Rainbow Carrots
Only a few, easy to find, ingredients needed for this amazing dish:
Rainbow carrots: If you can't find rainbow carrots, you can use thin orange carrots. Try not to get the big, thick carrots for this recipe.
Salt and pepper to taste: A few sprinkles should be enough to bring out the natural flavors of carrots.
Olive oil
Melted unsalted butter: The butter will be drizzled over the carrots and add so much flavor!
Maple syrup: Use real maple syrup, not pancake or imitation syrup. It will make a huge difference!
I love these roasted colored carrots so much because they are so simple, easy, and beautiful. They are definitely a great side dish to impress your guests!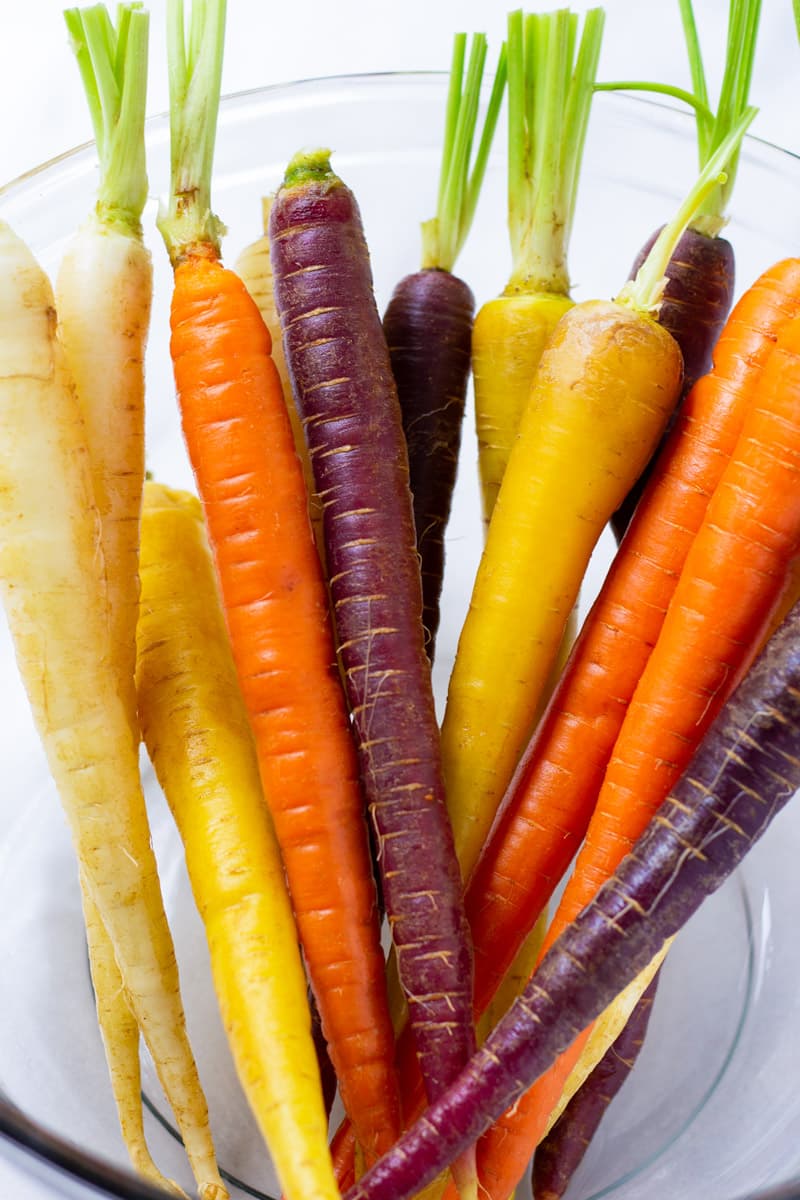 How to Make these Maple Glazed Rainbow Carrots
Making these maple glazed is super easy!
Preheat oven to 425 degrees F: Always roast at 400 to 450 degrees F.
Prepare the carrots: Wash them thoroughly, especially under the stems if you're keeping the stems.
Toss with olive oil, salt, and pepper: Don't overdo it with the salt and pepper. Arrange in a large sheet pan, making sure the carrots have enough room to roast, otherwise they will steam.
Roast for about 15 minutes.
Remove from oven, toss with maple syrup and melted butter, and roast for 5-8 more minutes: If you add the maple syrup at the very beginning, it will burn as it roasts. Maple syrup only needs about 5-8 minutes in the hot oven.
I make these maple glazed rainbow carrots all the time, and they are always a huge hit! Plus, they only take about 30 minutes to make from start to finish.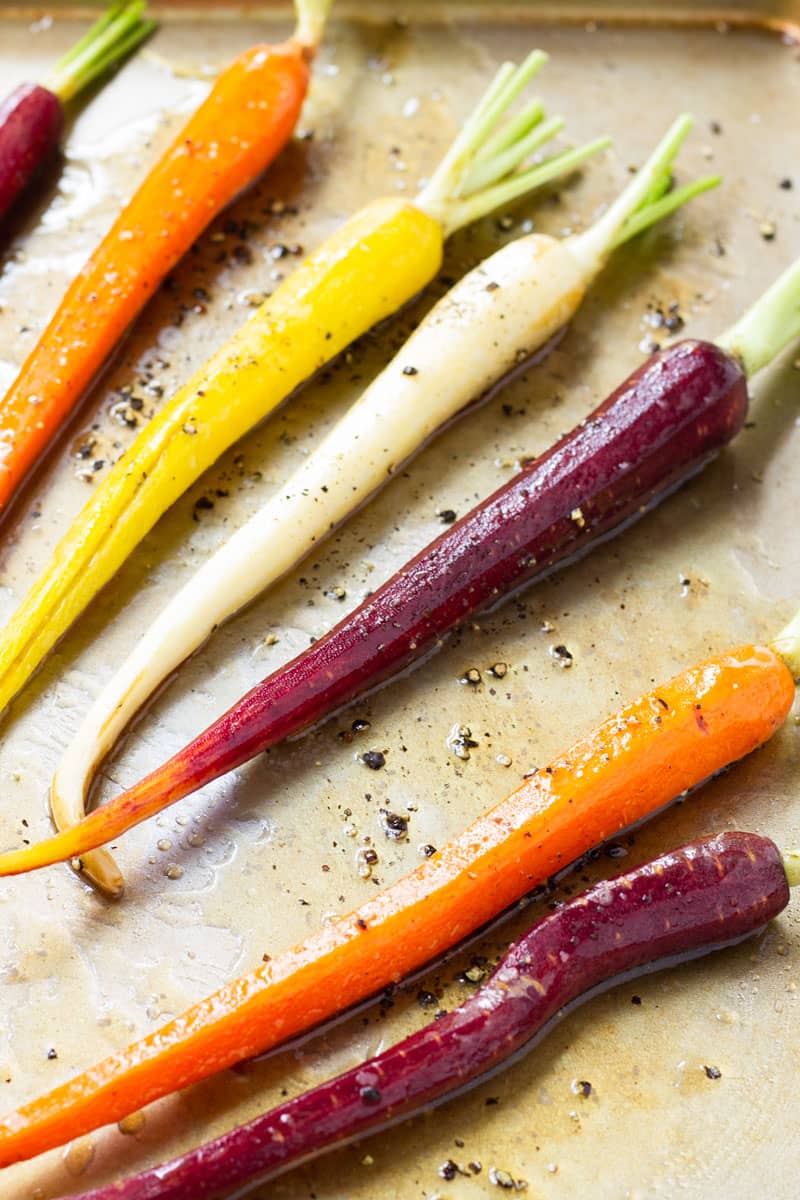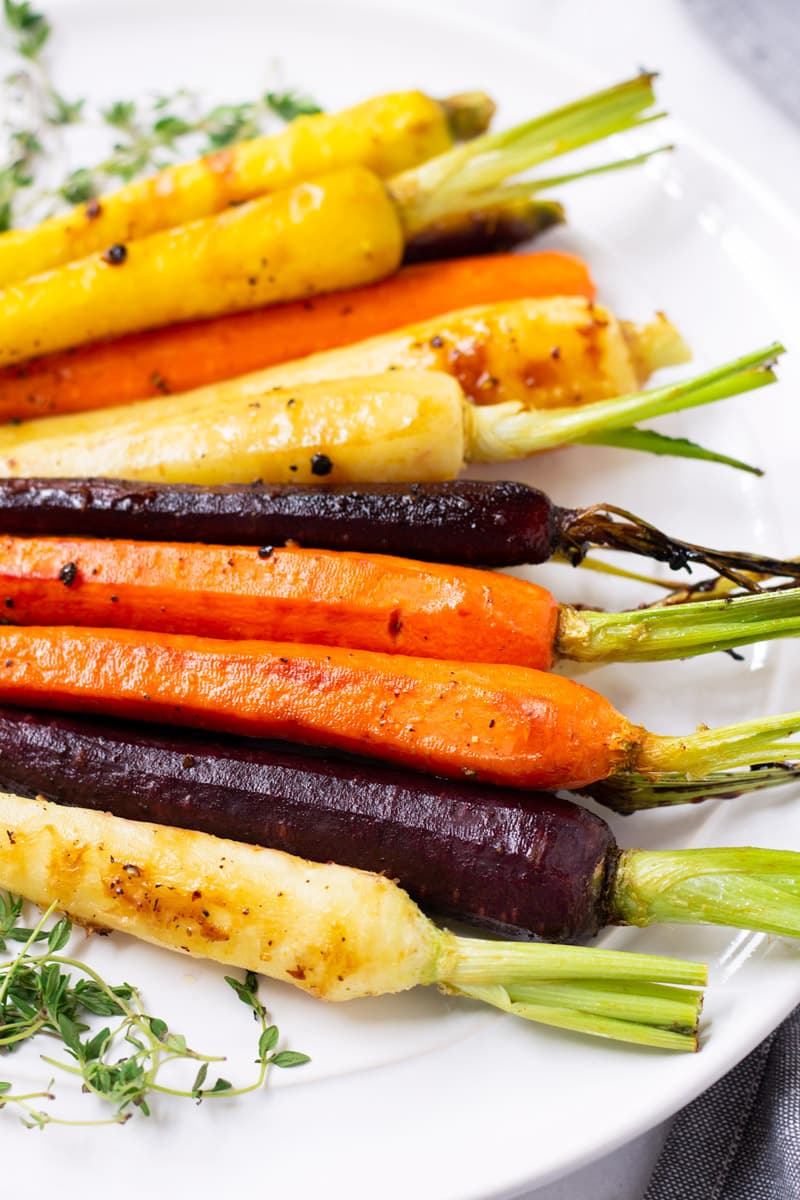 Thank you for reading! I love it when I get the share my favorite recipes with you, and these maple glazed rainbow carrots are no exception.
This recipe can be easily multiplied to serve a big crowd. Just make sure to give the carrots plenty of room in the sheet pan to roast properly!
Side dishes are my favorite part of a Thanksgiving meal. Here are my favorite Thanksgiving sides:
Thanks again for stopping by, and please don't forget to pin this recipe!
Tips for Roasting Whole Carrots
Roast at high temperature for caramelization and flavor. I'd recommend 400 or 425 degrees F.
Give them room to roast! If the pan is overcrowded, the carrots will steam instead.
If desired, add garlic powder for extra goodness.
Why add the butter and maple syrup during the last 5 minutes: This is to prevent the maple syrup from burning. Likewise, burnt butter doesn't taste good.
If you try my recipe, use #cookingformysoul on Instagram! Follow me on Pinterest, Instagram, Facebook for the latest fun updates and recipes!
Maple Glazed Rainbow Carrots
Making these Maple Glazed Rainbow Carrots is very simple and easy. Plus, they are beautiful, vibrant, and ultra delicious.
Ingredients
2

pounds

rainbow carrots, whole

Salt and pepper to taste

2

tablespoons

olive oil

2

tablespoons

unsalted butter, melted

4

tablespoons

real maple syrup, plus more for drizzling at the end
Instructions
Preheat oven to 425 degrees F.

Wash carrots thoroughly, especially between the top and the stem. Peel carrots, leaving part of the stem if desired.

Arrange carrots on a large sheet pan. Toss carrots with salt, pepper, and olive oil. Roast for 15 minutes, turning halfway through, until tender.

Remove from oven. Toss carrots with maple syrup and melted butter. Return to oven and roast for an additional 5-8 minutes, watching it so that the maple glaze doesn't burn. Arrange on a serving plate and drizzle some more maple syrup if decided. Enjoy!
Notes
Special equipment: large sheet pans.