Romesco sauce is so delicious, bold, and vibrant. It is the perfect sauce to take your home-cooked dishes to the next level, and it is so easy to make!
It's packed with a variety of super flavorful ingredients, including roasted garlic and roasted red bell peppers. It's also got great texture and body.
My favorite ways of serving romesco sauce is with chicken, fish, vegetables, or pasta, but the possibilities are endless. It's a very versatile sauce that is packed with amazing, bold flavors. You will love it, it is so good!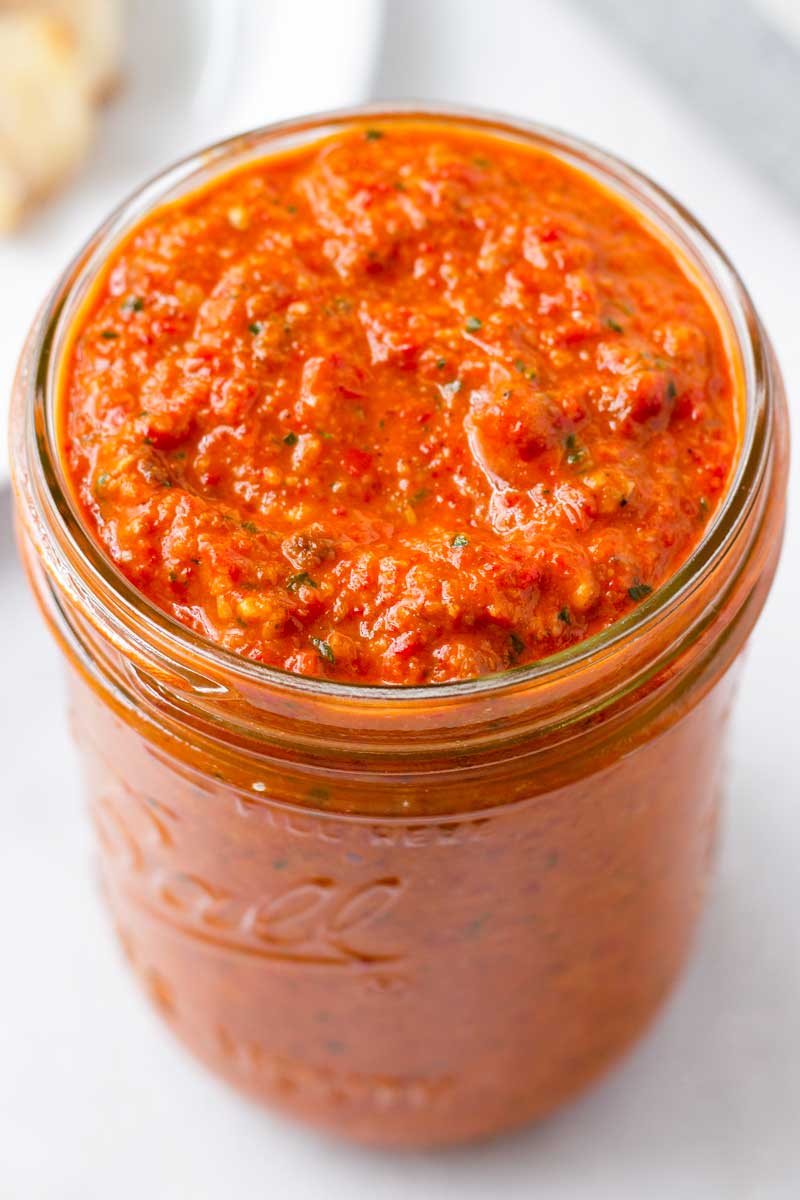 Oh how I love a good romesco sauce! I'm a huge fan of anything with bold flavors, and this romesco sauce is no exception.
The origins of romesco sauce start in the northeastern Spanish region of Terragona. The most common way of serving it is with fish and other types of seafood. Over the years, it has become increasingly popular in other parts of the world, and it has now reached my kitchen!
Every ingredient in this sauce is used to add flavor and texture. That's how you know it's going to be a great sauce. The secret ingredient in my homemade romesco sauce is roasted garlic. I roast a small head of garlic for 30 minutes and blend it with the rest of the ingredients. It's dreamy!
You will love how easy and incredibly delicious it is.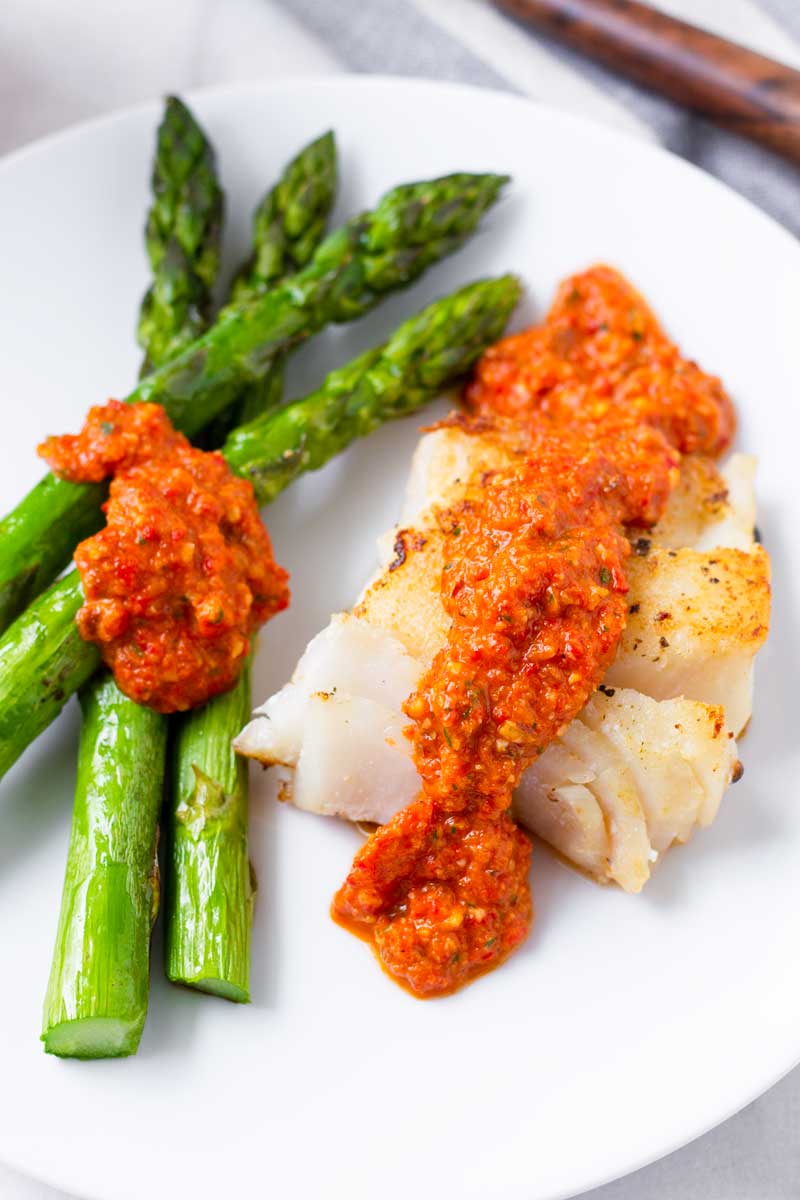 A Balance of Flavor and Texture
I love it when a sauce has a good balance of both flavor and texture. This romesco sauce is both. It's thicker than other common sauces because it contains raw almonds and bread.
Texture: The raw almonds add a nice rustic-style texture. If you're not a huge fan of almonds, you can also use pine nuts, hazelnuts, or cashews. As for the bread, I use rustic farmhouse style bread. Any rustic-style rustic bread that can add body and texture to the sauce will work. Don't use soft bread.
Flavor: the combination of the roasted red bell peppers, roasted garlic, tomatoes, spices, and fresh herbs all come together to make the best sauce ever. The secret ingredient here is the roasted garlic. Definitely a flavor booster!
Great texture and flavor. That's what makes a great sauce.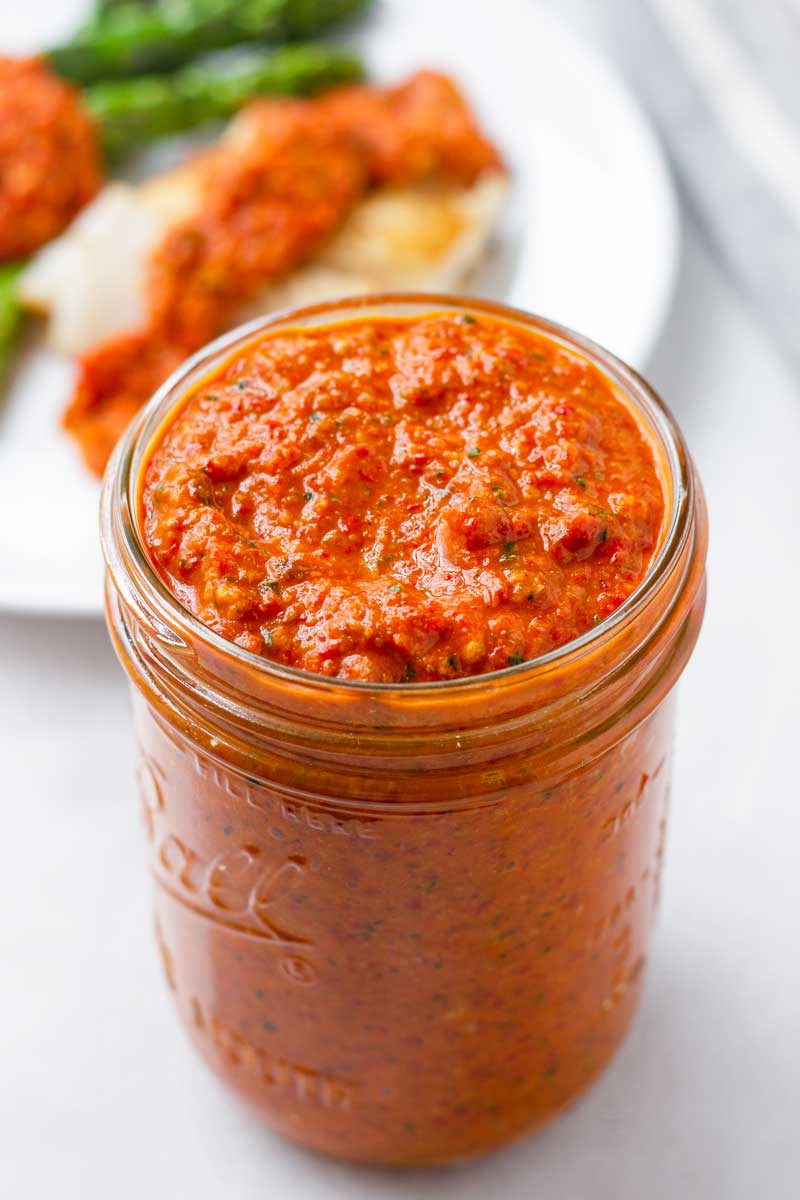 Flavor-packed Ingredients
This recipe makes about 2 cups. These are the ingredients you will need:
Roma tomatoes: For color and to add freshness. The tomatoes help balance out the bolder flavors of the remaining ingredients.
1 small head garlic: You'll need to roast this in the oven to get rid of the raw garlic taste, and bring out the amazing aromatic garlicky flavors. The roasted garlic cloves go into the sauce and act as the flavor boosters.
Roasted red peppers: A 16 oz jar is enough for about 2 cups of sauce. Use your favorite brand!
Fresh Italian parsley leaves: Fresh herbs add amazing flavor to sauces.
Extra virgin olive oil: Helps with texture and flavor. Use good quality, extra virgin olive oil.
Red wine vinegar: Some acidity will help balance out the sauce. Not too much, just 1-2 tablespoons, to taste.
Smoked paprika: For color and smoky flavors!
Cayenne or red chili flakes: To give it a slight kick! Just a pinch, not much.
Raw almonds: For texture and body.
Crusty bread: For texture and body.
Salt and pepper to taste
Quantities and specifics can be found in the recipe card, as always.
Lots and lots of amazing, flavor-packed ingredients make this romesco sauce one of my favorite sauces ever. It's CRAZY GOOD!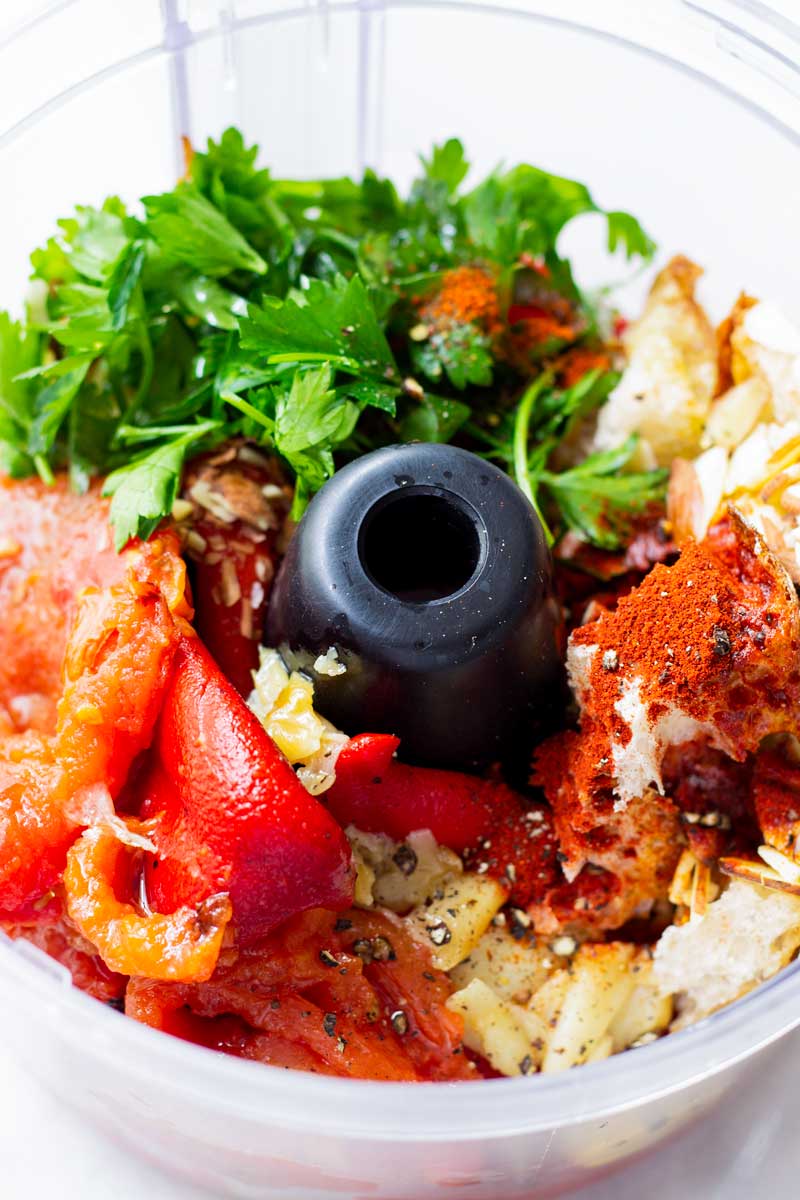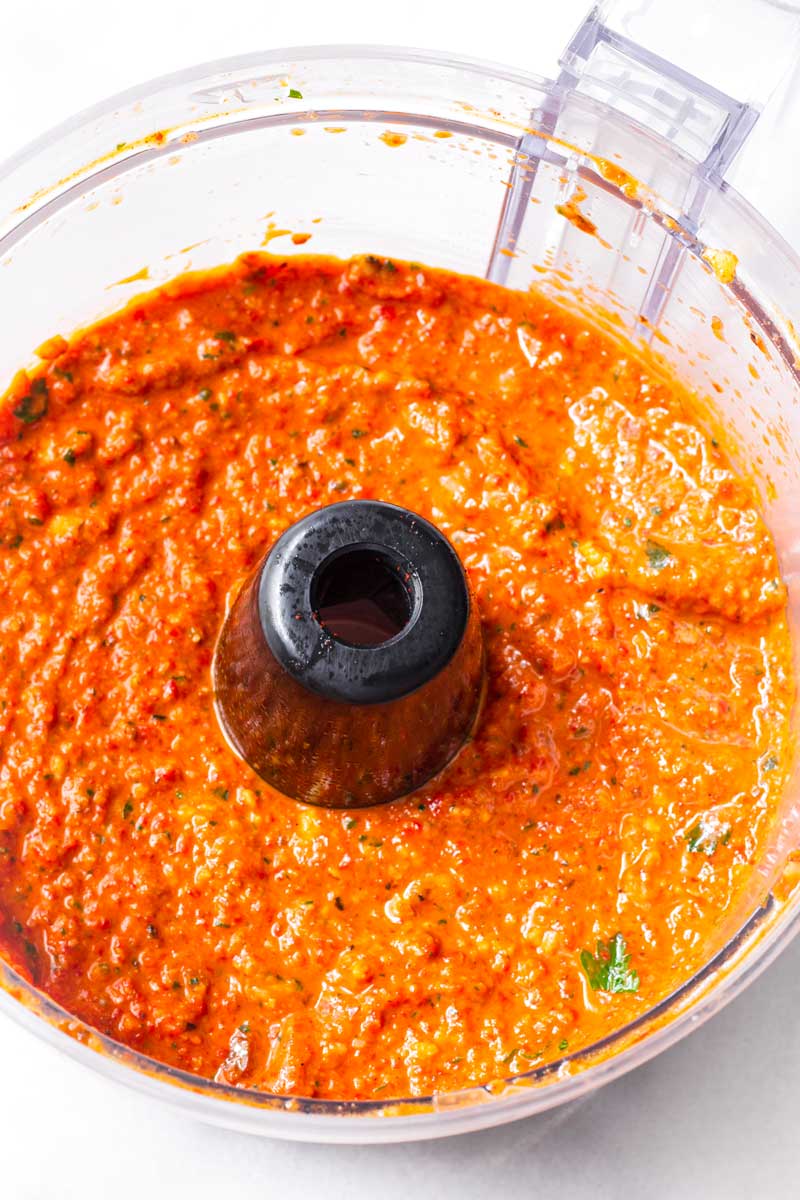 How to Make It
Making this romesco sauce is super easy, and it can be made ahead too.
Here are the main steps, to give you an idea of how easy it is!
Roast the garlic: This process takes 30-35 minutes, and it's very hands-off. While the garlic roasts, you can start prepping the rest of the ingredients.
Process all the ingredients in a food processor: Pulse in a food processor for a few seconds to a minute until evenly combined.
Give it a quick stir and that's it! Use a rubber spatula to scrape the sides of the bowl to make sure it's all incorporated, and you're done!
You can also totally make it ahead! The sauce will keep really well in the fridge for 1-2 weeks, as long as it's sealed in an airtight container. Or you can also pre-roast the garlic 1-2 days in advance, and use it to make the sauce later.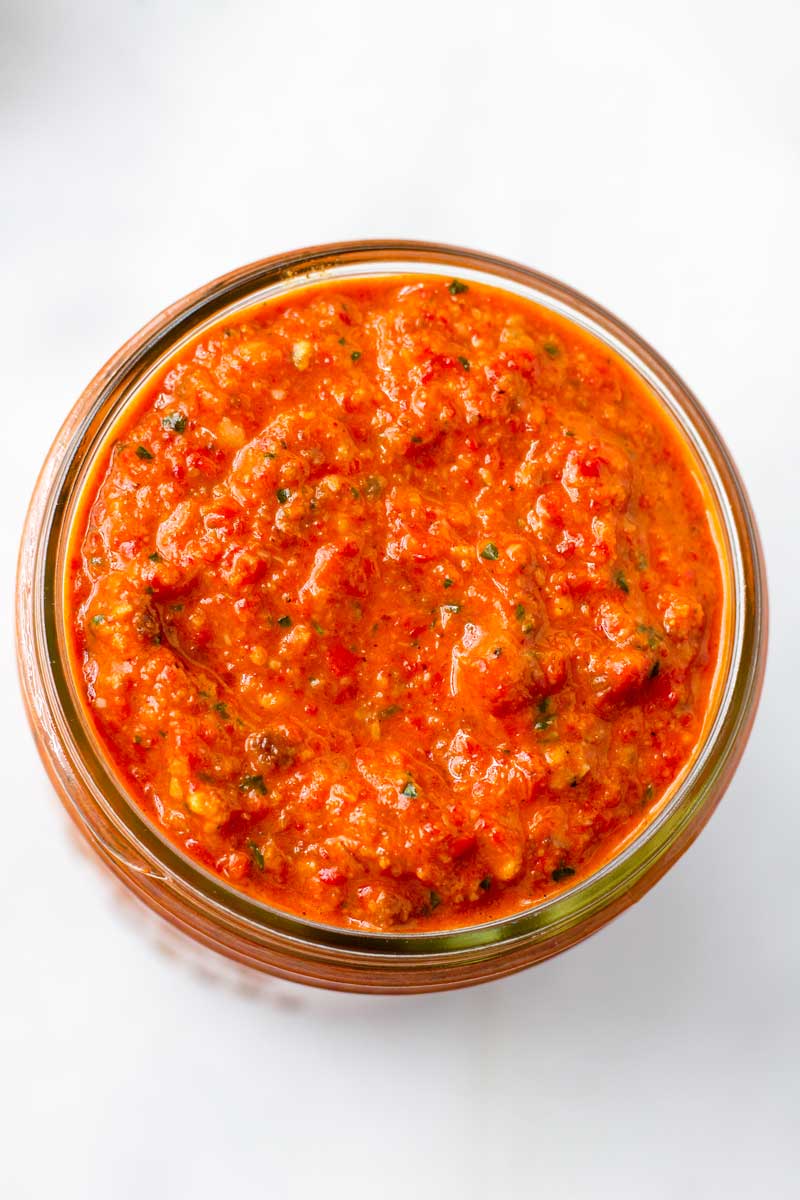 Why Roast the Garlic
You only need a small garlic head for this recipe, and you'll use all of it. Yes. All.
I know that sounds crazy, but when you roast garlic in the oven, the raw taste goes away, and amazing aromatic flavors are released. So, you end up with these little AMAZING flavor boosters.
Here's what you need to do to roast the garlic: cut off the top of the garlic head so that the cloves are visible. Then drizzle with oil and season with a generous pinch of salt and pepper. Wrap it tightly with foil and roast for 30-40 minutes in the oven, undisturbed. Then you squeeze out the garlic cloves and use it in the sauce.
If you're not familiar with it, check out my guide on how to roast garlic!
How to Serve Romesco Sauce
Fish is the traditional and most common way to serve romesco sauce. But it's such a versatile sauce that it pairs really well with other proteins, pasta, and even vegetables.
My favorite way of serving it is with pan-fried cod and roasted asparagus. It's so delicious and lovely!
Other ways to serve it are with a simple grilled chicken, pan-seared chicken breasts, roasted baby potatoes, grilled vegetable sandwich, tomato mozzarella focaccia sandwich, spatchcocked chicken.
If you're looking for more amazing sauces, check these out: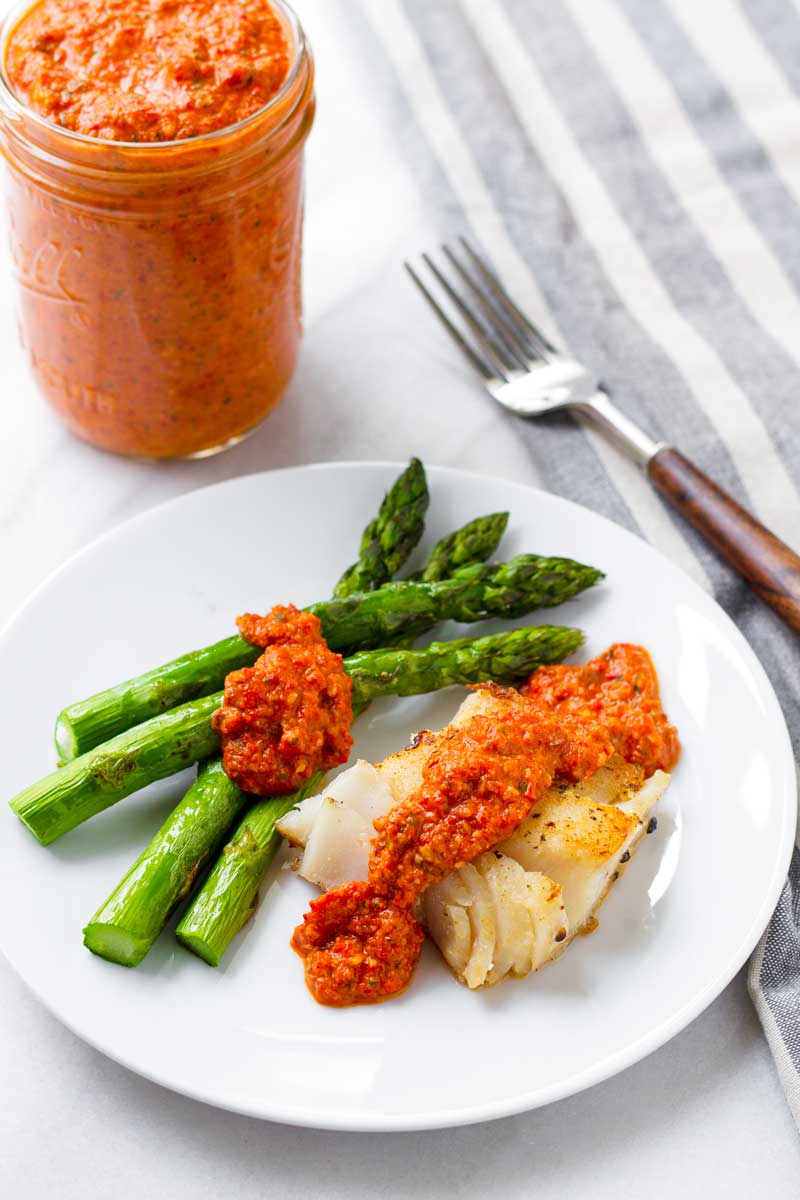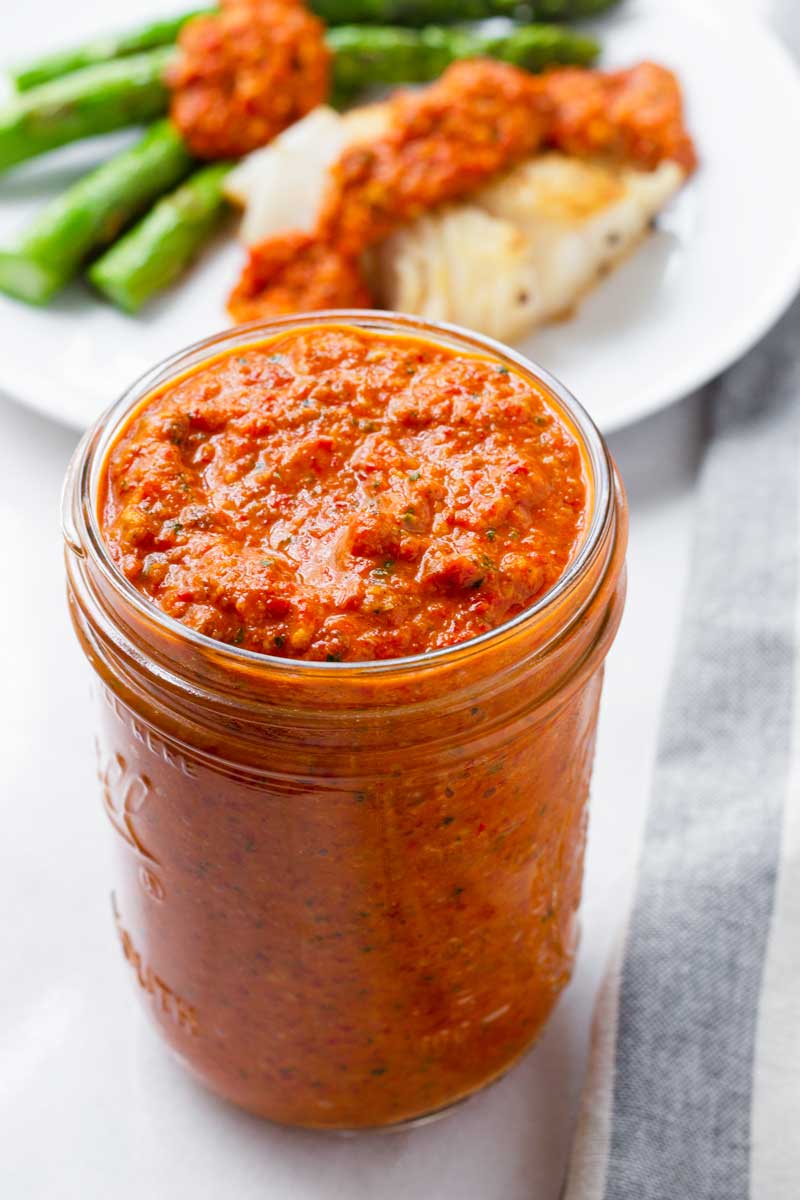 A good sauce can really elevate any dish, and this romesco sauce is one of my top-rated ones.
Everyone in my family loves it, especially with grilled chicken. I have also served it with pasta (penne and pappardelle are my favorite!), and on toasted baguette. It's amazing.
It's so easy to make and keep really well in the fridge. So go ahead and make a big batch! You'll love it!
I hope you like this recipe as much as we do!
Tips for Success
Make-ahead: The sauce can be made in advance and refrigerated in an airtight container for 1-2 weeks.
Prep-ahead: if you prefer, you can also roast the garlic 1-2 days in advance. I'd recommend using a small head of garlic, or half of a large head of garlic.
Instead of almonds, you can also use pine nuts, hazelnuts, or cashews. All work really well. Up to you!
Use crusty bread, such as baguette or any artisan crusty bread. Make sure it's not flavored, just standard artisan bread. Avoid soft breads (so, no sandwich bread).
Romesco Sauce
This homemade romesco sauce is very easy to make, and it's packed with so much amazing flavor. The secret ingredient here is roasted garlic! This romesco sauce has the perfect balance of flavor and texture. Great with fish, chicken, vegetables, and so much more!
Ingredients
1

small whole head of garlic

½

cup

raw almonds

1

cup

baguette or other hard crust bread, cut into cubes

2

large roma tomatoes

-

(or 3 small ones)

1

(16 oz) jar

roasted red peppers

2 to 3

tablespoons

chopped fresh Italian parsley leaves

¼

cup

extra virgin olive oil

-

(plus more as needed)

1 to 2

tablespoons

red wine vinegar

-

(or to taste)

1

teaspoon

smoked paprika

A pinch of cayenne or red chili flakes

-

(to taste)

Salt and pepper to taste
Instructions
Preheat oven to 425 degrees F.

Roast the garlic: Cut ¼ inch of the whole garlic head from the top to expose some of the cloves. Do not peel it. Place it on aluminum foil, and generously drizzle with about 1 tablespoon of olive oil, ½ teaspoon salt and a few grinds of freshly ground black pepper. Fold up the foil and close tightly by twisting it from the top. Place it on a small sheet pan or baking dish and roast for 30 minutes, undisturbed. Once ready, remove from oven and let it cool slightly.

Into the bowl of a food processor, carefully squeeze out the garlic cloves (and discard the rest), and add all the remaining ingredients. Pulse to process for a few seconds to a minute, until the sauce comes together.

Adjust any ingredients as needed or to taste. Give it a quick stir to make sure it's all combined, and pulse a few more times if needed. Serve and enjoy!
Notes
Special equipment: Food processor.
Make-ahead: This sauce can be made 1-2 weeks in advance and stored in the fridge in a sealed container.
Prep-ahead: The garlic can be roasted 1-2 days in advance.
Use crusty artisan bread to give texture and body to the sauce. Avoid soft breads.
Instead of almonds, you can also use cashews, hazelnuts, or pine nuts.
Nutrition
Serving:
2
cups
|
Calories:
243
kcal
|
Carbohydrates:
1
g
|
Protein:
1
g
|
Fat:
27
g
|
Saturated Fat:
4
g
|
Sodium:
9
mg
|
Potassium:
27
mg
|
Fiber:
1
g
|
Sugar:
1
g
|
Vitamin A:
495
IU
|
Vitamin C:
1
mg
|
Calcium:
3
mg
|
Iron:
1
mg