April means lots of brunch goodness, and these mini spinach quiches have got my heart. They are made with pre-made pie crust and bacon, so it's super easy and quick. Each bite is full of deliciousness!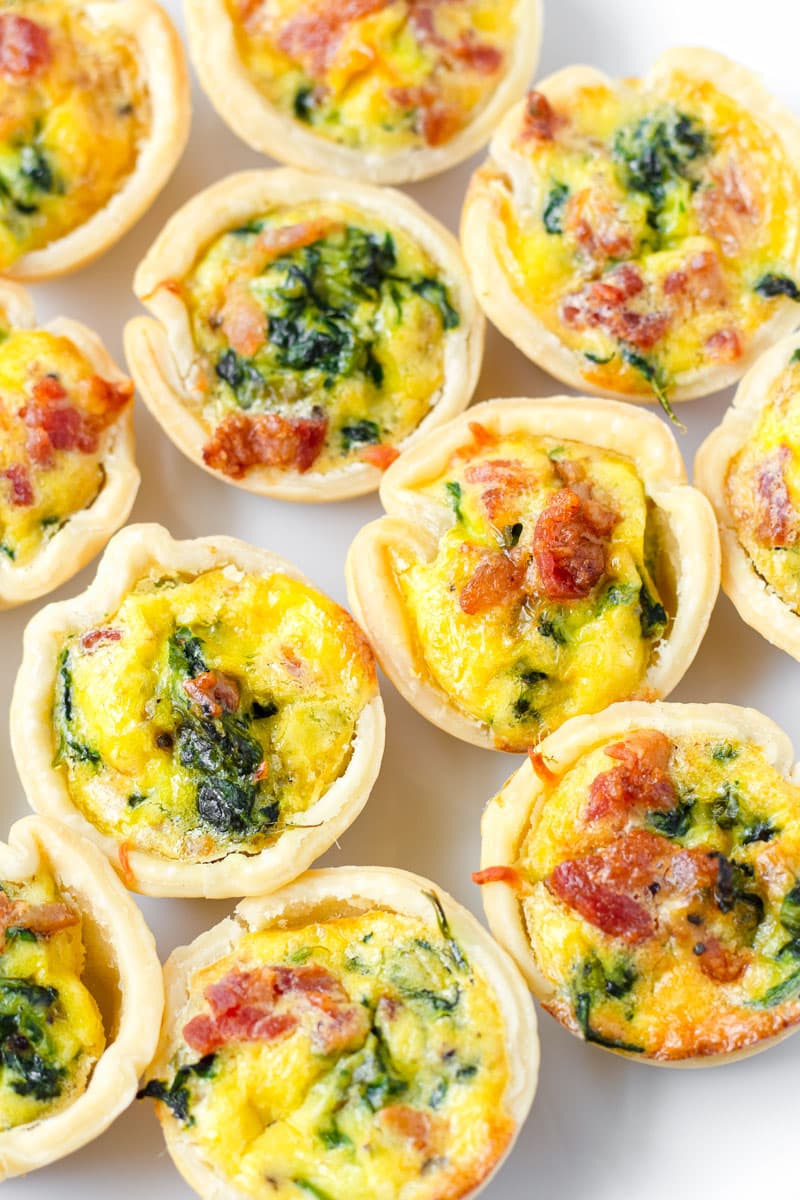 Brunch is my favorite meal. Period. That's why I always look forward to the weekends…when you can pretty much find me brunching all day! Lately, I've been obsessed with this amazing mini spinach quiche recipe. So sooo good!
It's super easy to make because it uses store-bought pie crust. Of course, you can use homemade pie crust if you feel like getting extra fancy, but I decided to keep it simple.
Oh, and I added bacon for extra flavor, and it was so yummy! Anyways…you will love these mini spinach quiche bites. Whether it's for spring brunch or mother's day, or just because, I promise you will love these!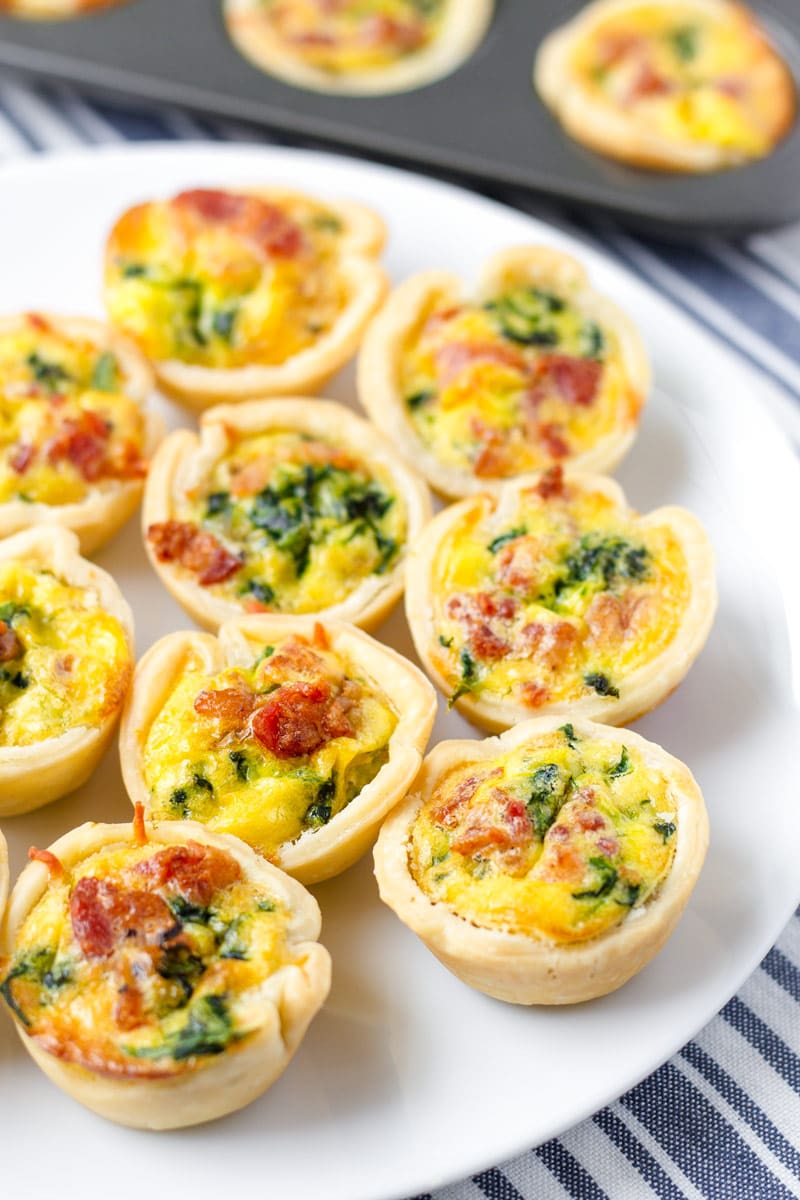 Ingredients
The ingredients in this mini spinach quiche recipe are super easy to find. You may already have most of these in your fridge! Per usual, you can find the quantities in the recipe card below.
This is what you'll need:
Pie crust: store-bought pie crust works great here!
Spinach: I used thawed frozen chopped spinach and squeezed out the extra moisture. Fresh spinach works too.
Garlic: You'll cook the spinach with minced garlic for extra flavor.
Bacon: Cooked until crispy and crumbled.
Eggs: You'll need about 3 large eggs for 24 mini quiches.
Half-and-half or heavy cream: This will make the egg mixture rich and extra yummy.
Shredded cheese: Use your favorite cheese! I went with Swiss cheese.
Salt and pepper
Olive oil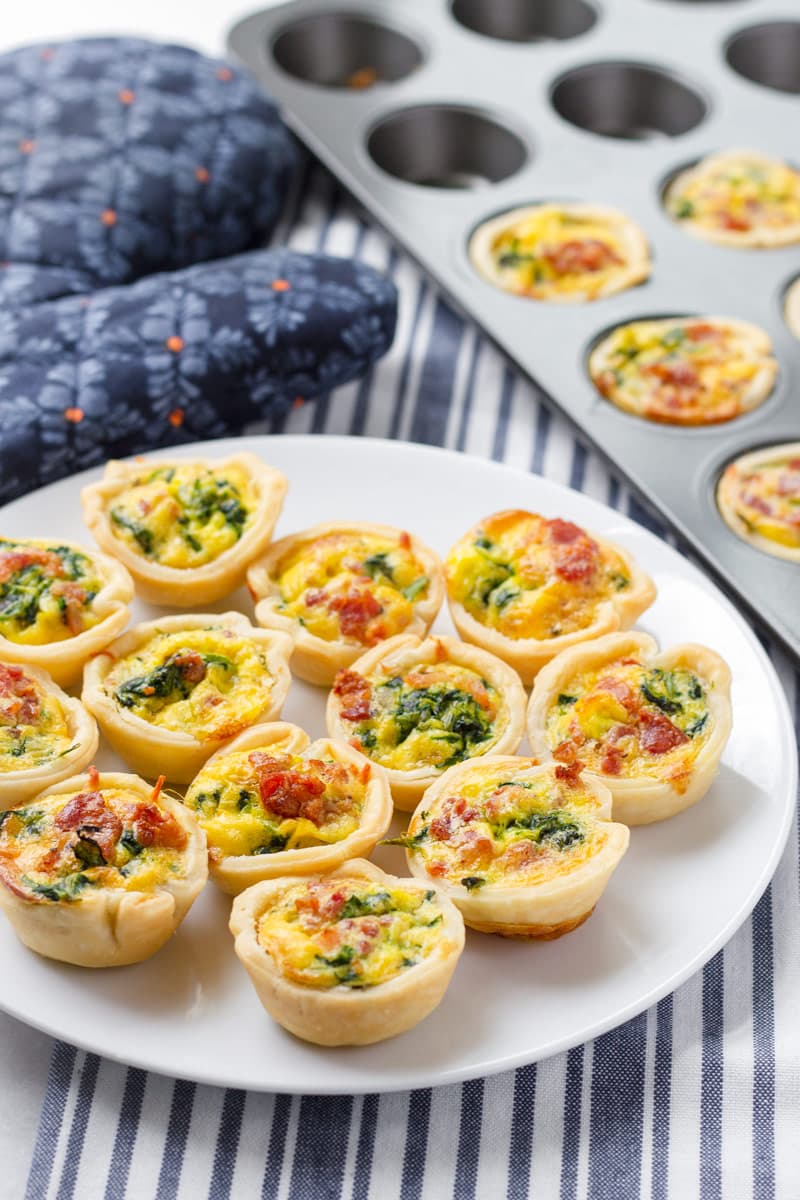 Assembling the Mini Quiches
The fun part about making these mini spinach quiche and bacon bites is assembling them! I've included a few pictures below so you can see how easy it is.
Basically, this is how you make these mini quiches:
Preheat the oven to 375 degrees F.
Cook the bacon until crispy and crumble it.
Cook the spinach with the minced garlic until all moisture is gone.
Make the egg mixture: Whisk eggs, heavy cream or half-and-half, salt, and pepper.
Cut the pie crust into smaller circles, small enough to fit your mini muffin tin. I cut mine to 2.5 inches using a round biscuit cutter, and they fit perfectly!
Assemble the mini quiches in this order: pie crust round, cheese, spinach, bacon, egg mixture.
Bake! They should be ready in about 22 to 25 minutes.
Let them cool for a few minutes before serving…and then DEVOUR THEM!
Here are step-by-step quiche assembly pictures: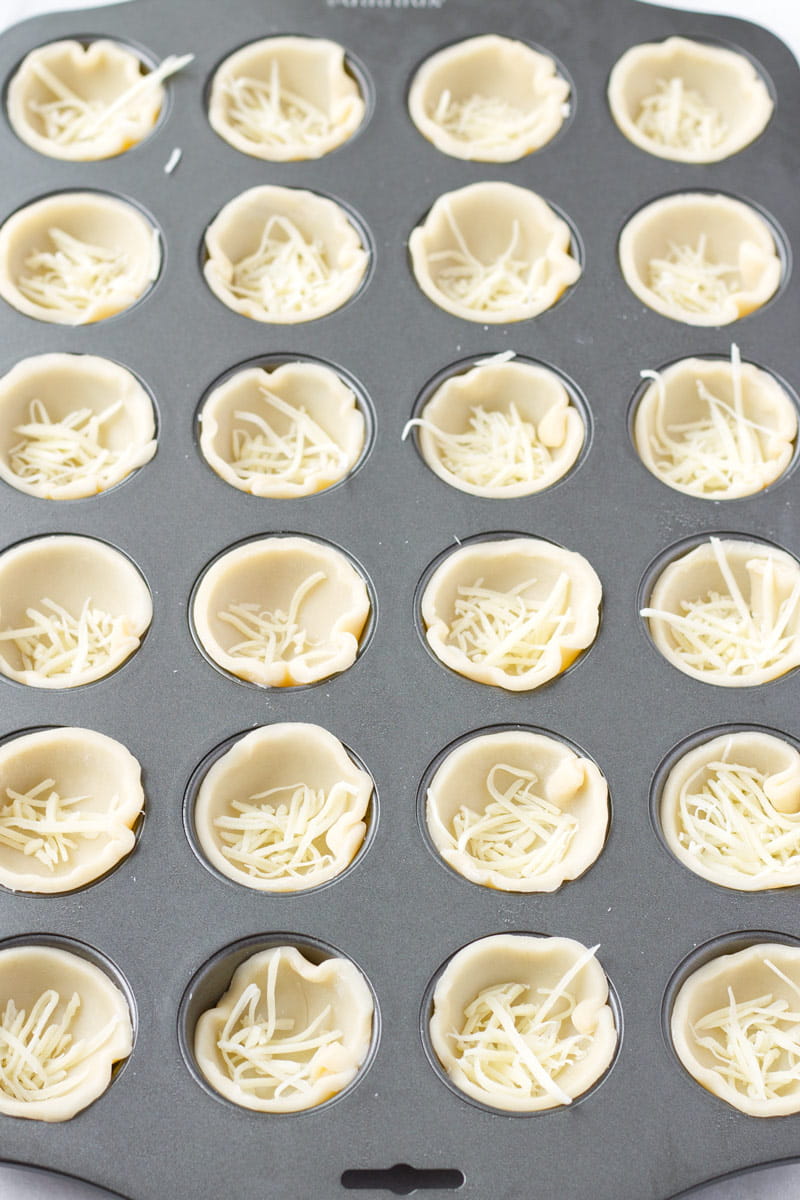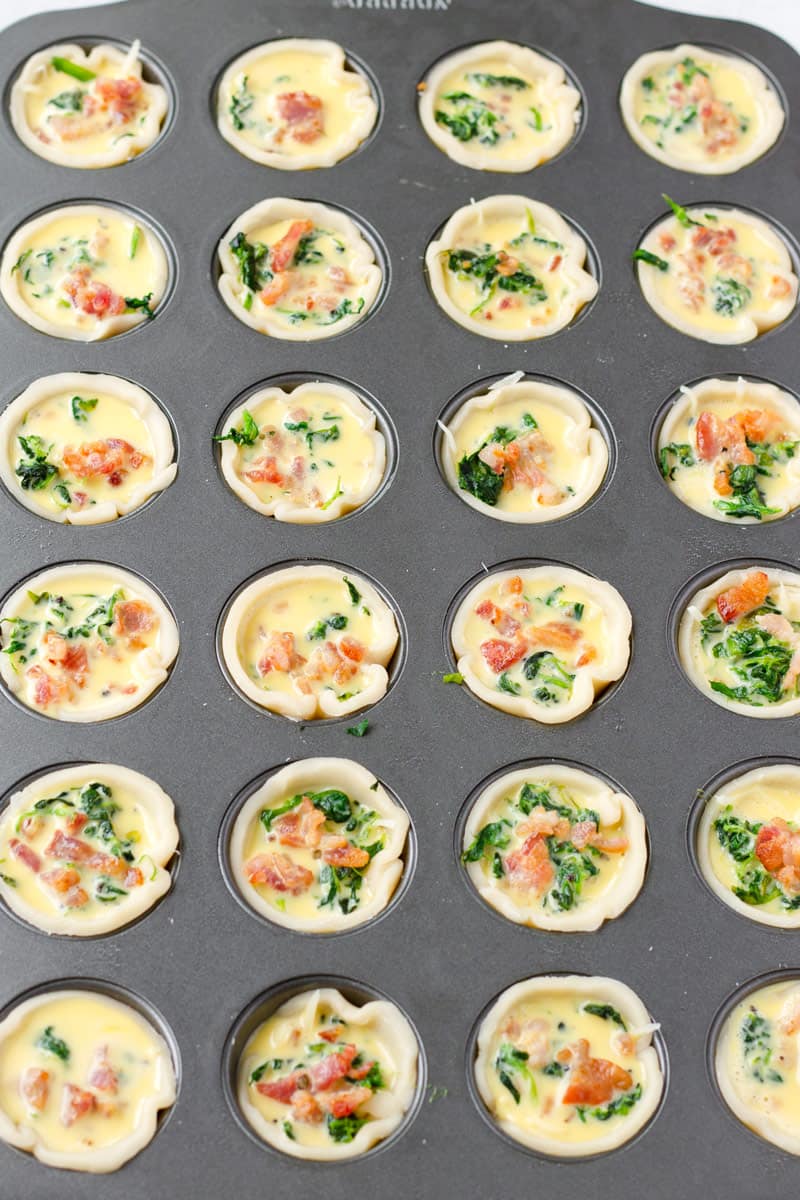 After baking in the oven for about 22 to 25 minutes, they will turn out amazing! They may puff up a little bit in the oven, but will deflate slightly while cooling. Just remember to not overfill them and you should be good. Super easy!
I mean…look at these beauties. Aren't they cute?!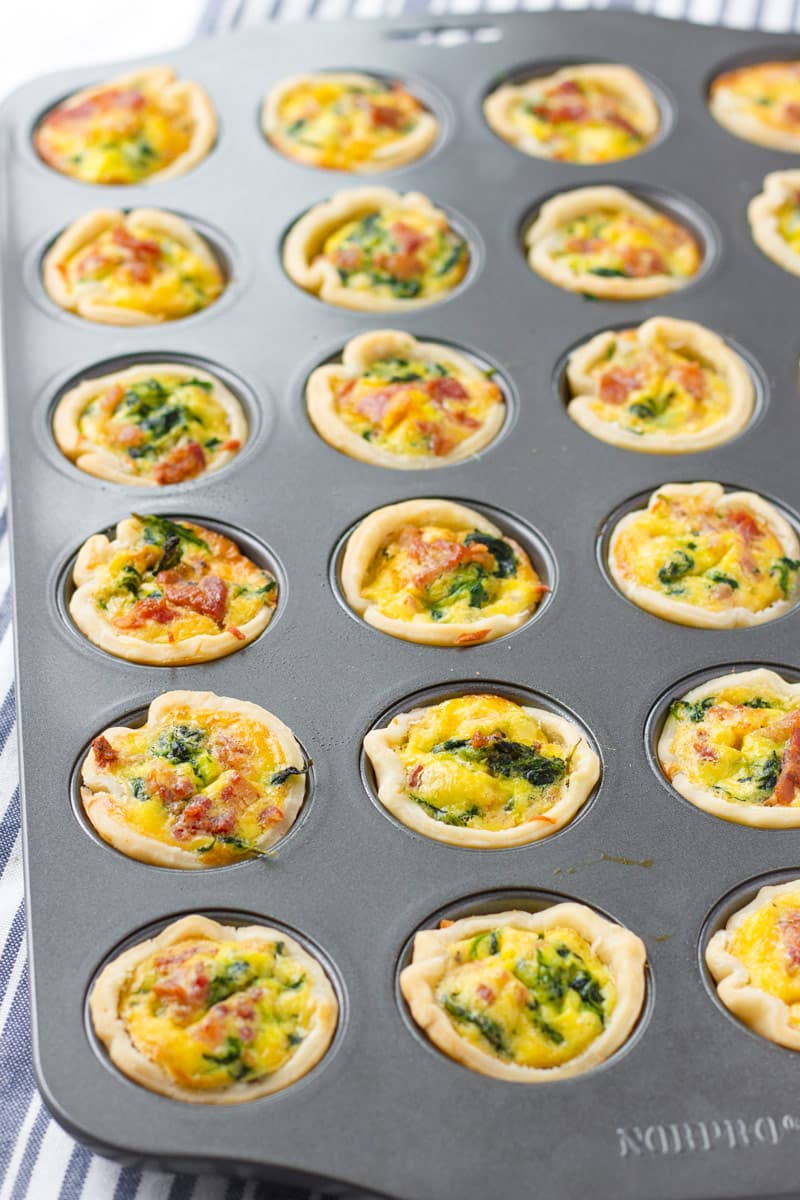 Variations and Customizations
I think the combination of spinach and bacon is perfect, but you anything you want to add in will be great too. I'd recommend using only 2 add-ins because these are quite small. You want to make sure there is room for the egg too.
Here are some custom combination ideas:
Feta cheese and spinach (skip the shredded cheese)
Bell peppers and bacon
Ham and cheese
Smoked salmon and dill
Sun-dried tomatoes and spinach
The combinations are pretty much endless!
Also, I used store-bought pie crust to make it easy and quick. However, nothing beats homemade pie crust. If you're up for making your own pie crust, try my flaky buttermilk pie dough recipe!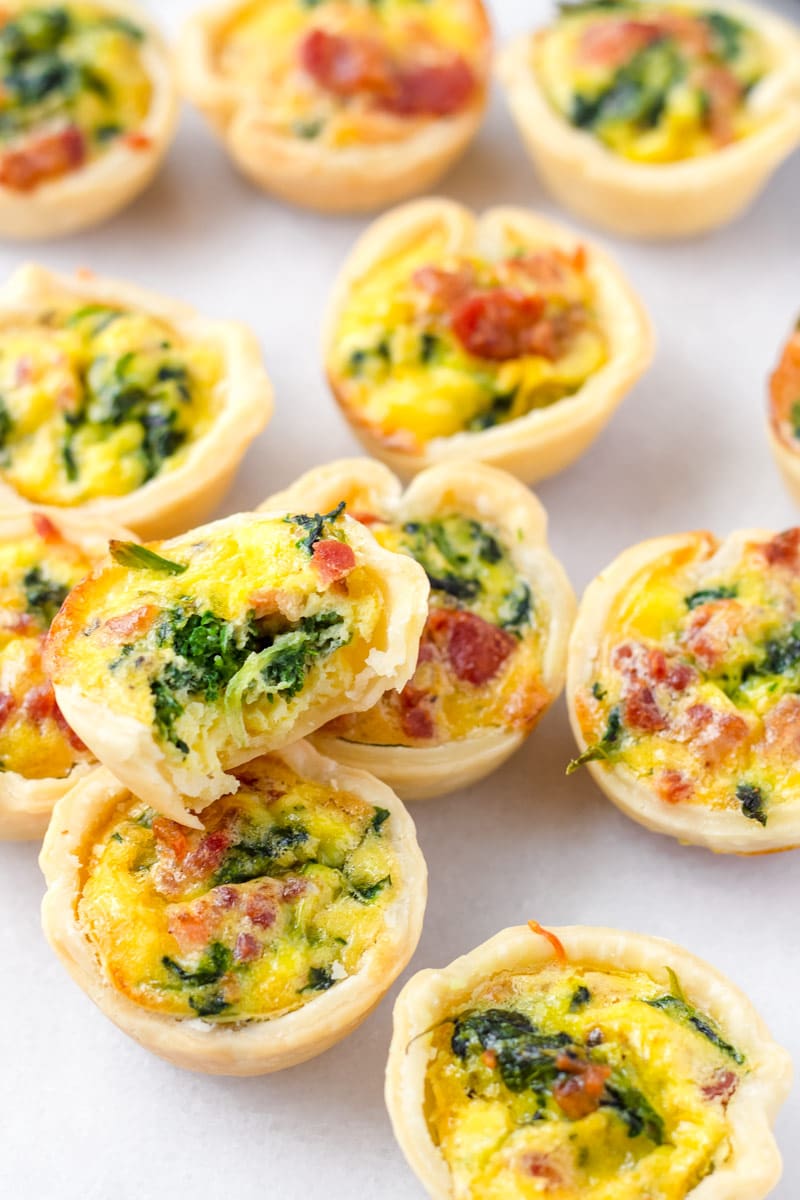 It's hard to exercise self-control when you have these in front of you. They are so yummy and cute!
I love serving these quiche bites when hosting brunch parties or for Mother's day. These would also be great for bridal showers, baby showers, birthdays…pretty much any occasion! I promise, everyone will love them.
And if you need me, you can pretty much find me brunching at home! I hope you like these as much as I do.
Here are my top brunch recipe picks:
Thank you for reading, and please don't forget to subscribe to my newsletter!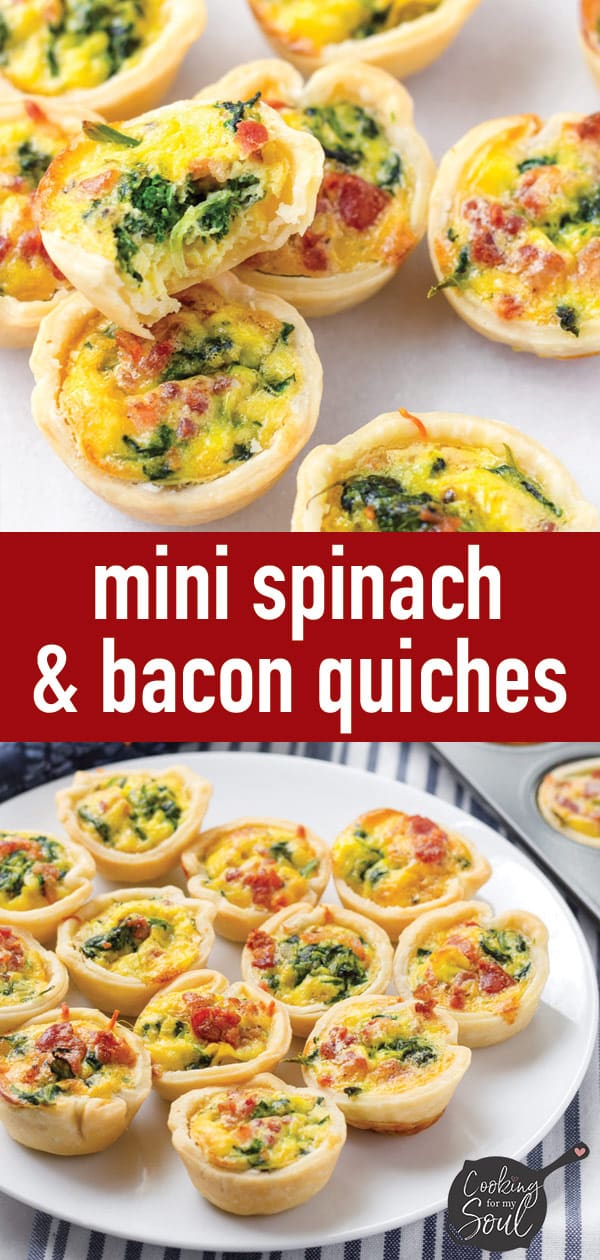 Tips for Success
Don't overfill the muffin tin with the egg mixture. Leave a little bit of room from the brim since the eggs will expand when baking.
Try not to overstuff with spinach, bacon, or cheese. You want a good balance, leaving enough room for the egg mixture.
To save time, use your favorite store-bought pie crust.However, if you want extra flaky pie crust, try my homemade buttermilk pie crust.
If you try my recipe, use #cookingformysoul on Instagram! Follow me on Pinterest, Instagram, Facebook for the latest fun updates and recipes!
Mini Spinach Quiches
Mini spinach quiches with bacon! These are made with store-bought pie crust, so it's quick and easy to make. Baked in a mini muffin tin.
Ingredients
3

slices

bacon

8

oz

frozen chopped spinach

-

(thawed and excess water squeezed)

2

cloves

garlic, minced

2

store-bought pie crusts

-

(usually from 1 standard pie crust package, see note)

1/2

cup

shredded cheese

-

(your favorite, I used Swiss)

3

large eggs

1/4

cup

half-and-half or heavy cream

Salt and pepper to taste

Olive oil for pan
Instructions
Preheat oven to 375 degrees F.

Cook the bacon on a skillet over medium heat. Drain on a paper towel and then crumble it.

Heat some olive oil on a skillet over medium high heat. Cook the spinach with the garlic until very little moisture remains, stirring, about 2-3 minutes. Set aside.

In a bowl, whisk the eggs, heavy cream or half-and-half, 1/4 teaspoon salt and a few grinds of black pepper. Set aside.

Unroll the pie dough. Cut smaller rounds from the pie dough to fit each hole in the mini muffin tin. I cut mine to 2.5 inches in diameter (I used a cookie cutter), and they fit my mini muffin tin perfectly. Line the muffin tin with the cut out dough rounds.

In each muffin tin cup, add a little bit of cheese, spinach, bacon crumbles, and egg mixture. Don't overfill.

Bake for about 22-25 minutes until golden brown and cooked through. Let cool for 5 minutes. It will start deflating a bit. Enjoy!
Notes
Special equipment: 24-mini muffin tin, small cookie or biscuit cutters.
Ingredient balance: Don't overstuff with too much cheese, spinach, or bacon. Keep a balanced ratio among the ingredients so that each bite has a good proportion of each ingredient.
Storing: Store in the fridge in an airtight container for up to 2 days.
Freezing: Let them cool completely. Store in freezer-friendly bags for up to 1 month. To reheat, thaw in the fridge and microwave or bake until warmed.
Make ahead instructions (1 day ahead): 1) Dough: cut the dough into smaller rounds, stack them up, wrap with plastic and store in the fridge. 2) Spinach and bacon: cook the spinach and store in a container in the fridge. The day of: Make the egg mixture, assemble the mini quiche bites, and bake.