These Maryland Crab Cakes are served with a homemade tartar sauce. Try this delicious crab cake recipe and serve either as an appetizer or a light dinner!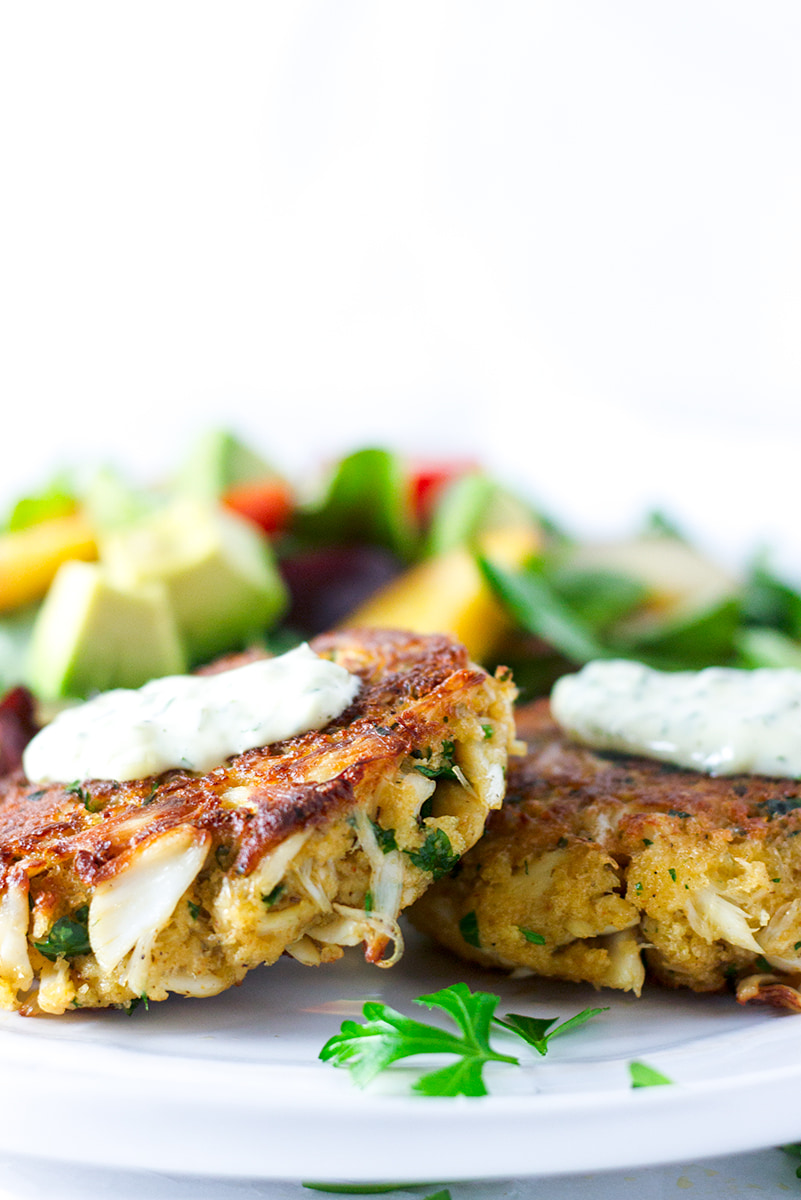 I love seafood, and I'm always looking for fun ways to cook seafood. Crab cakes are just so good in general. You get that chunks of that delicious crab meat with a blend of herbs, breadcrumbs, and delish seasoning, particularly from the Old Bay seasoning. Every bite of this Maryland crab cake is like heaven. This is the best crab cake recipe!
How to Make Crab Cakes
Making crab cakes is actually really easy. All you need to do is combine all the ingredients in a large bowl and form patties or cakes. Here are the ingredients:
lump crab meat
egg
mayo
dijon mustard
Old Bay seasoning
parsley
panko bread crumbs
tartar sauce (ingredients below)
The egg, mayo, and mustard serve as a binder to all the other ingredients, so be sure to not skip these ingredients or step. It will help to hold together the crab meat, breadcrumbs, and herbs. Also, the breadcrumbs are an important component because it creates space between the meat and the binder, helping to achieve a lighter, less dense crab cake.
After you shape them into cakes or small patties, just like the picture below, fry them for about 5 minutes on each side. You'll love it! See the recipe card below for more specific instructions.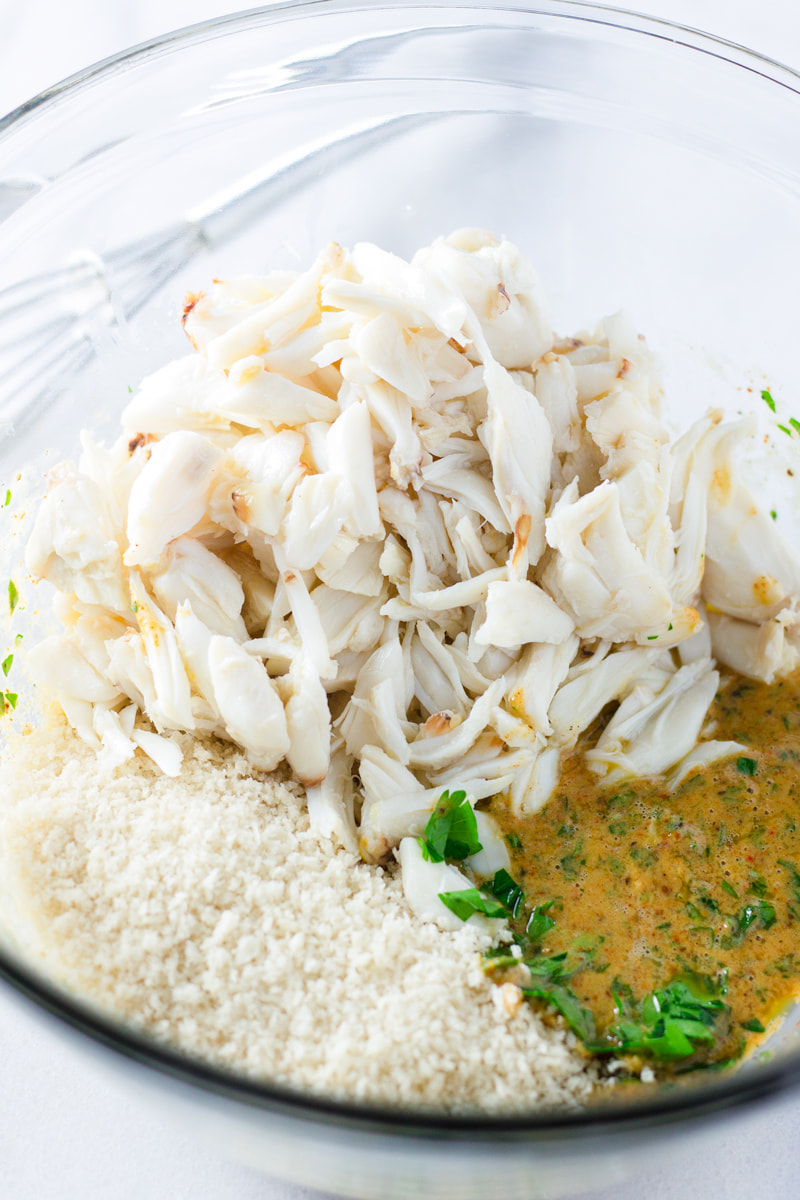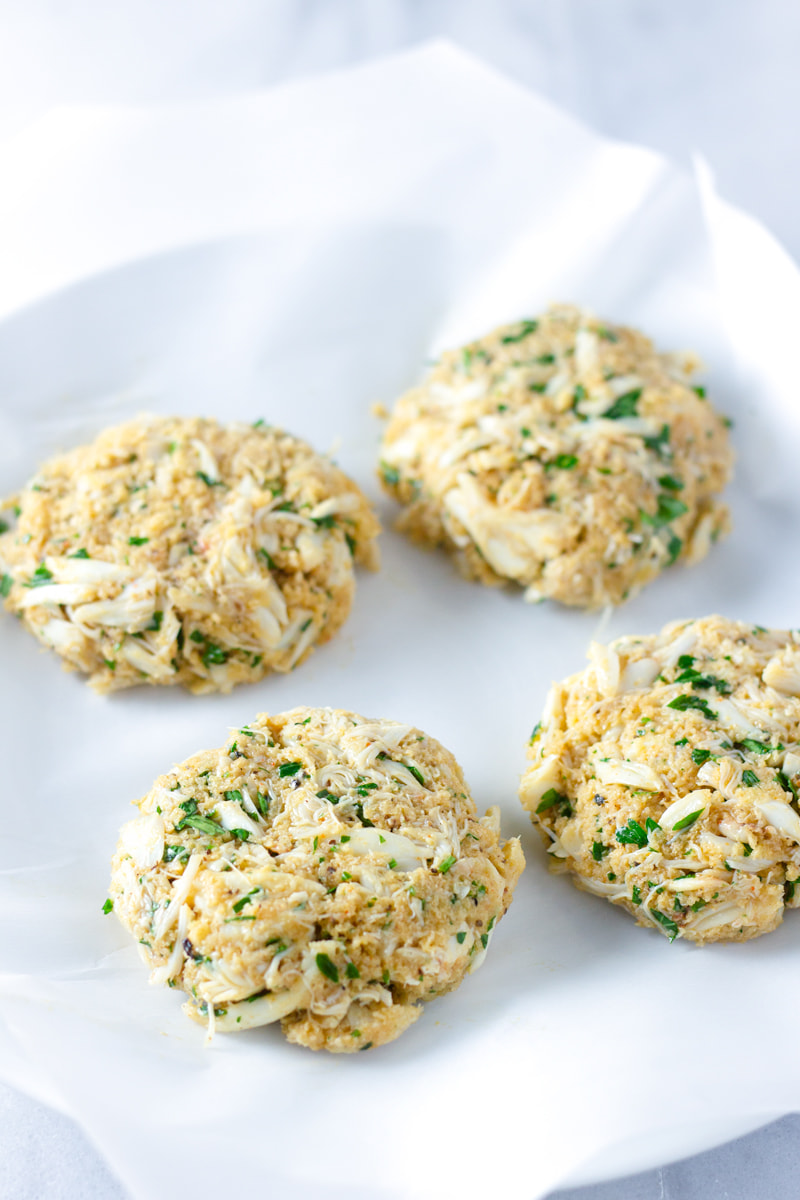 Maryland Crab Cakes
Crab cakes are very popular in the Maryland and Virginia area. In fact, in my next visit there, crab cakes will be one of the first things I'll eat! Crab cakes are usually prepared with lump crab meat, which can be very expensive. I know…and that's why I serve them as appetizers. However, if you'd like, you can also serve them on a toasted bun as an open-faced sandwich, a popular choice in the Maryland area.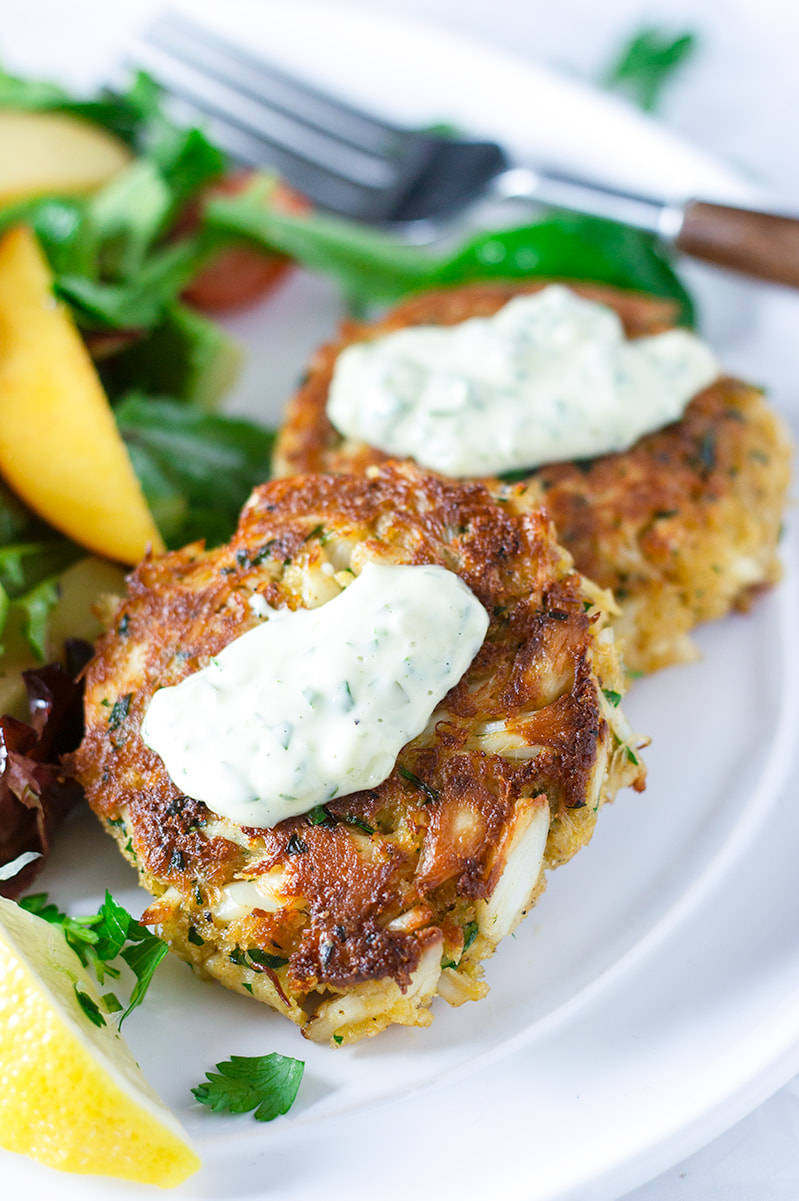 The Crab Cake Sauce: Tartar Sauce
This sauce is everything. Some people like to eat crab cakes with a remoulade sauce, which is a bit stronger in taste as it contains horseradish. I really like tartar sauce, and thought it went really well with these crab cakes. You'll only need a few ingredients for this quick and easy tartar sauce: mayo, sweet pickle relish, dijon mustard, lemon juice, parsley, and seasonings.
It's that good!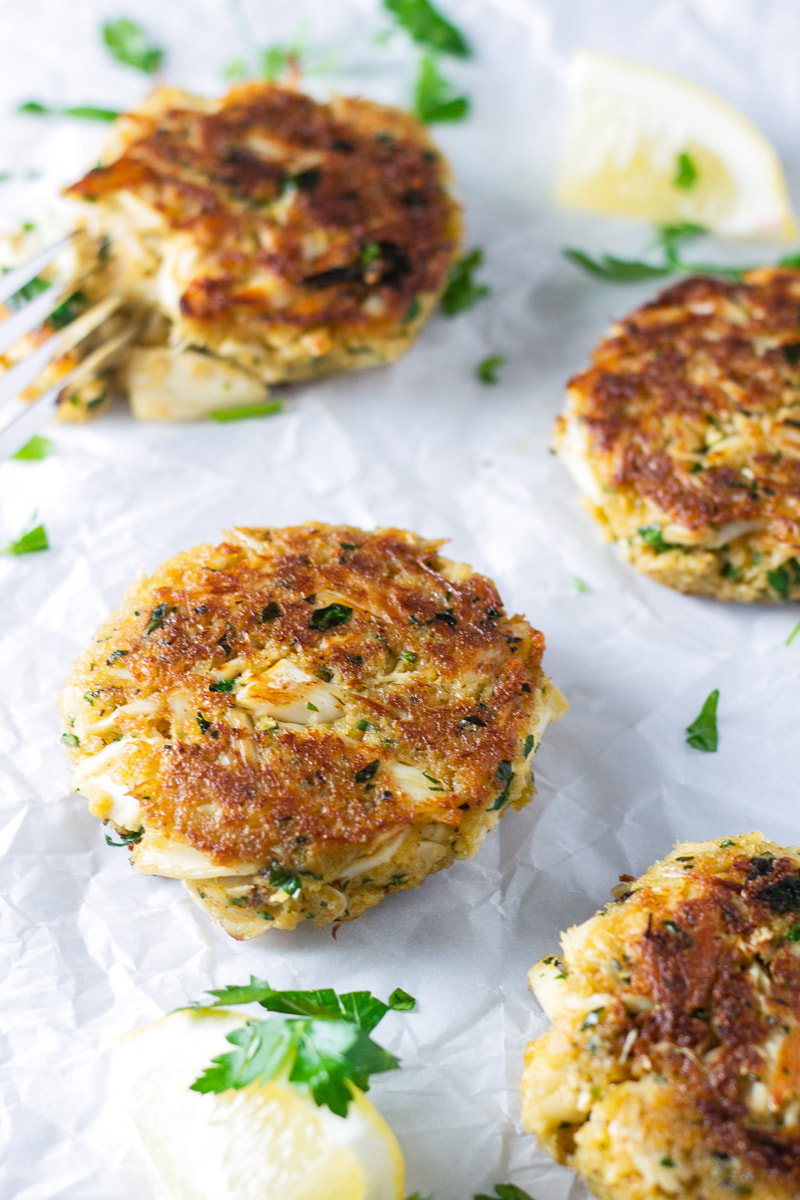 Crab cakes are definitely one of my favorite things to eat. They never disappoint and are always packed with tons of flavor. I hope you make these soon!
Also, give my other appetizers a try, such as my garlic parm chicken wings!
And please pin this recipe for later! 🙂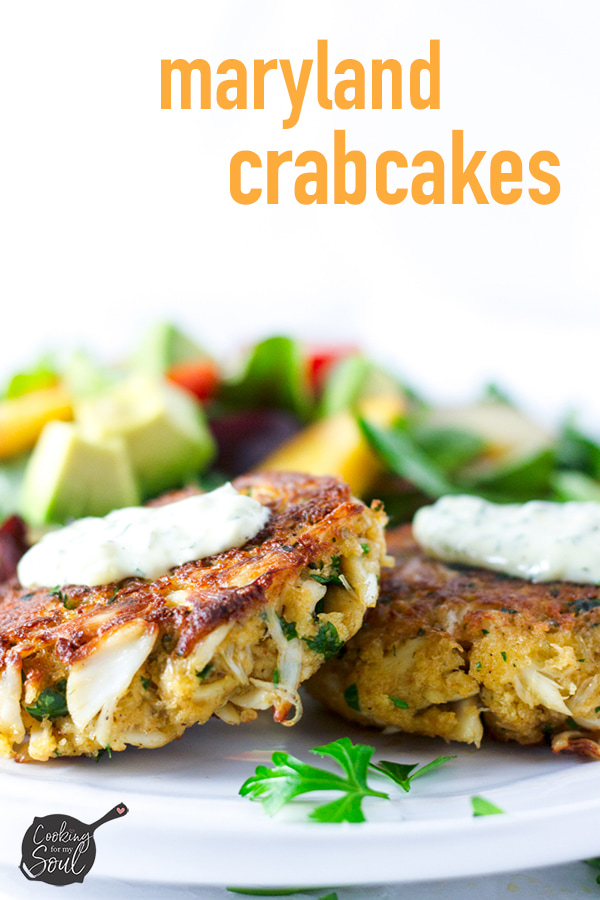 Kitchen Tips
Don't overmix, but also make sure to incorporate all the ingredients evenly. The mayo, mustard, and eggs serve as binders so nothing falls apart when cooking.
I like to use panko bread crumbs because of its texture. It has more surface area and a firmer texture, which helps with keeping the crab cake shape when cooking.
After forming the patties, place them in the fridge for about 1 hour to help them set.
If you try my recipe, use #cookingformysoul on Instagram! Follow me on Pinterest, Instagram, Facebook for the latest fun updates and recipes!
Maryland Crab Cakes
These maryland crab cakes are packed with flavor and delicious lump crab meat.
Ingredients
1

large egg

2

tablespoons

mayonnaise

1

teaspoon

Dijon mustard

1/2

teaspoon

Worcestershire sauce

1/2

teaspoon

Old Bay seasoning

1/4

teaspoon

Kosher salt

A pinch of ground black pepper

2

tablespoons

finely chopped fresh parsley

8

oz

lump crab meat

1/2

cup

panko bread crumbs

Olive oil for cooking
Crab Cake Tartar Sauce
1/4

cup

mayonnaise

1

tablespoon

sweet pickle relish

1/2

tespoons

½ teaspoons Dijon mustard

1/2

tablespoon

fresh lemon juice

1

tablespoon

chopped parsley

Kosher salt and freshly ground black pepper
Instructions
Combine egg, mayonnaise, dijon mustard, Worcestershire sauce, Old Bay Seasoning, salt, pepper, and parsley in bowl. Mix well.

Add the crab meat and the panko bread crumbs. Fold in gently with a rubber spatula.

Divide the mixture in 4, and form 4 patties about 1 inch thick. Place on a large plate, cover with plastic, and refrigerate for at least 1 hour to help them set.

Once the crab cakes have refrigerated, heat 2 tablespoons oil on a large non-stick skillet to medium heat. Cook each crab cake for about 3-5 minutes per side, until golden brown. Serve with tartar sauce and lemon wedges. If you want to make it a meal, just add a side salad!

Tartar sauce: combine all sauce ingredients in a bowl and mix well until smooth and even.