If you like banana bread and chocolate hazelnut spread, you will absolutely love this easy Nutella Banana Bread! It is perfectly moist and tender.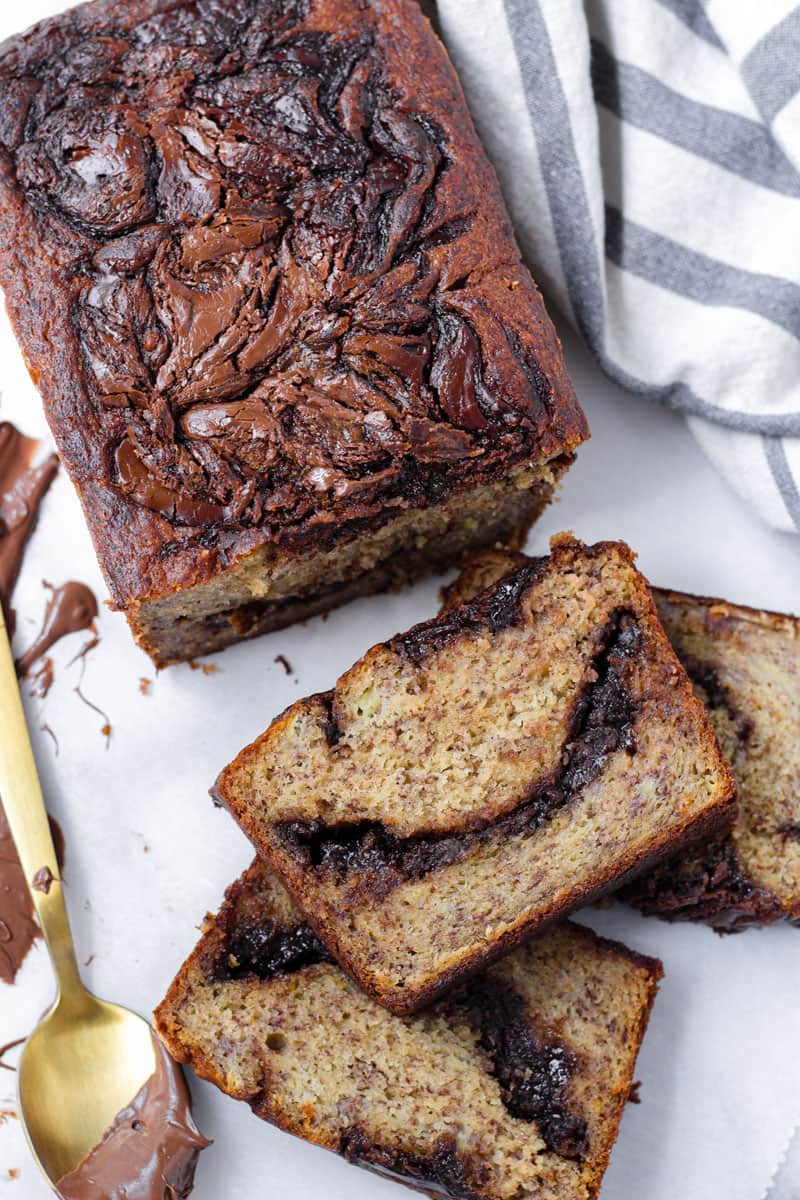 Fall baking season is here, and I'm baking so many delicious things already. I have an entire recipe collection planned out. All comfort food and baked goods!
Today, I'm sharing this delicious Nutella banana bread! Bananas are actually available year-round, so what makes this Nutella banana bread so autumn-like is that it feels so cozy! I just had a slice of this banana bread with a warm cup of earl grey tea…and it truly felt like the beginning of fall!
Sweater weather is right around the corner (yess!), and when that time comes, I'll make another batch of this bread and be happy.
Anyways, keep on reading to learn all about making the perfect Nutella banana bread at home! It comes out so moist and tender. You'll love it.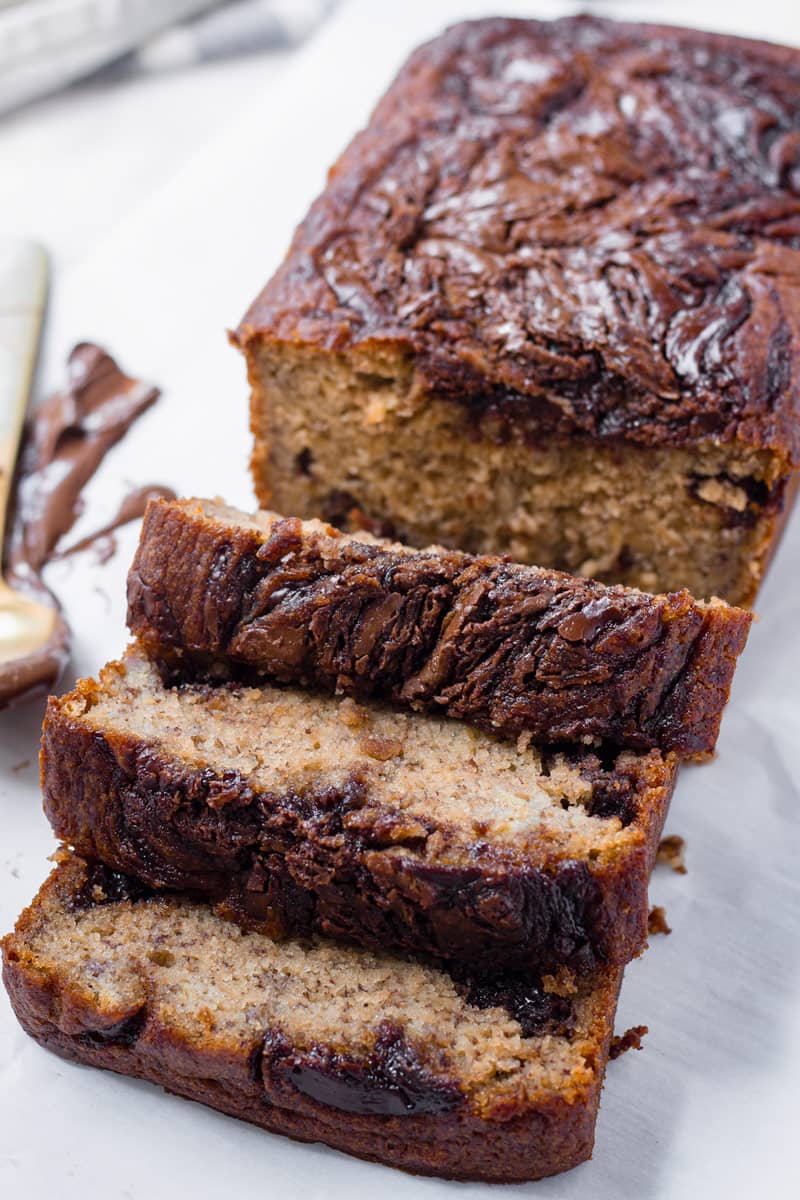 Ingredients You'll Need
You may already have most of the ingredients needed to make a delicious Nutella banana bread.
The one thing to plan ahead for is the overripe bananas. I usually let the bananas sit on my countertop for several days until they are very ripe. Most of the time, though, I just happen to have very ripe bananas available because I am that kinda person….the kind that forgets about the bananas. Life is busy!
Ingredient quantities are in the recipe card below, but to give you an idea, you'll need the following:
Very ripe bananas: For a 9×5 inch loaf, use about 4 overripe bananas, which are very soft and sweet.
Flour: All-purpose.
Baking soda: Helps the bread rise and brown.
Salt: Salt always brings out the flavors in baking.
Ground cinnamon: For flavor.
Unsalted butter: It needs to be softened at room temperature.
Sugars: I use a combination of brown and granulated sugars.
Eggs: For structure.
Greek yogurt: Adds moisture. Don't add too much, though, since the bananas already provide moisture.
Vanilla extract: Flavor.
Chocolate hazelnut spread, such as Nutella.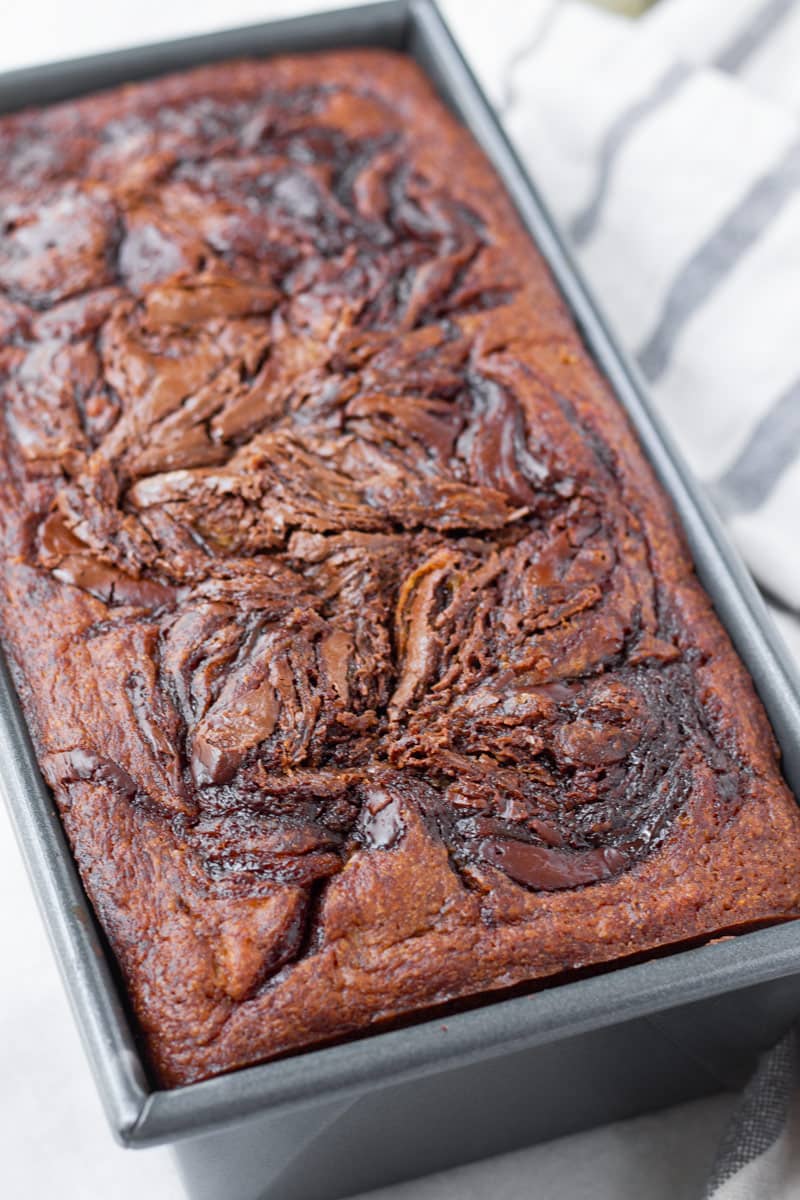 How to Make Nutella Banana Bread
Standard quick bread baking techniques needed here! The only difference is that you'll need to drizzle the Nutella in the middle, and then again on top of the batter. More below!
Per usual, scroll down to the recipe card below for detailed step-by-step instructions. To give you an idea, here is an overview on how to make this banana bread with Nutella recipe:
Preheat oven and prep the loaf pan: 350 degrees F. Grease the pan with butter.
Combine dry ingredients: Flour, salt, baking soda, cinnamon.
Cream the butter and sugars (use a mixer on high speed) and mix in the wet ingredients.
Combine dry ingredients with mixture, without overmixing.
Pour half of the batter onto the pan, and swirl in half of the Nutella. Repeat with the remaining halves.
Bake! 350 degrees F. Loosely cover with foil to prevent it from browning too fast.
The hardest part: wait for it to cool down. Serve it a bit warm if you want.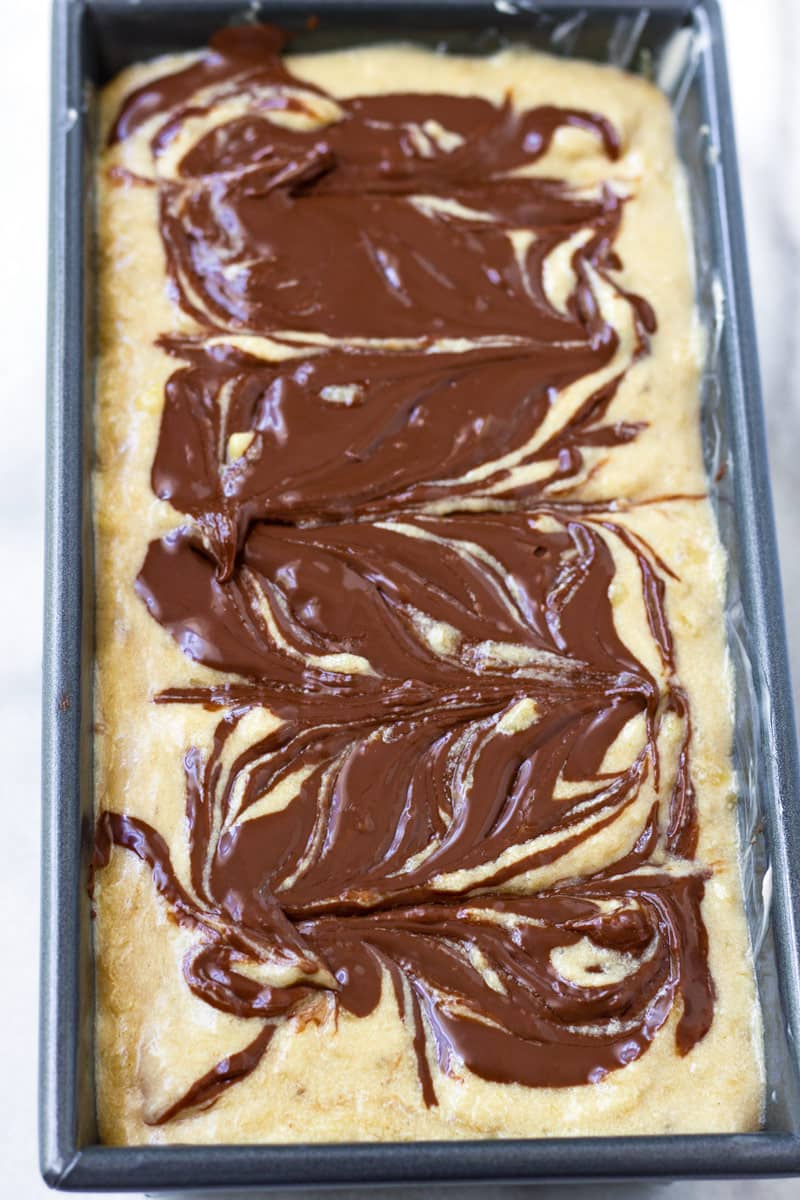 Banana Bread Baking Wisdom
Don't add too much Nutella: The biggest thing to keep in mind when making this Nutella banana bread is to not be tempted to add too much Nutella. Too much of it can add too much weight, which will make the bread sink. When swirling the chocolate spread over the top, try to not pile it up in the center.
Don't open the oven too much: Throughout the baking time, only open the oven after about 30 minutes to cover with aluminum to prevent it from browning too quickly. Other than that, just let it bake since opening the oven too much can alter temperatures and lead to sunken bread.
Use overripe bananas: Not only do extra ripe bananas add moisture and texture, but they are also sweeter.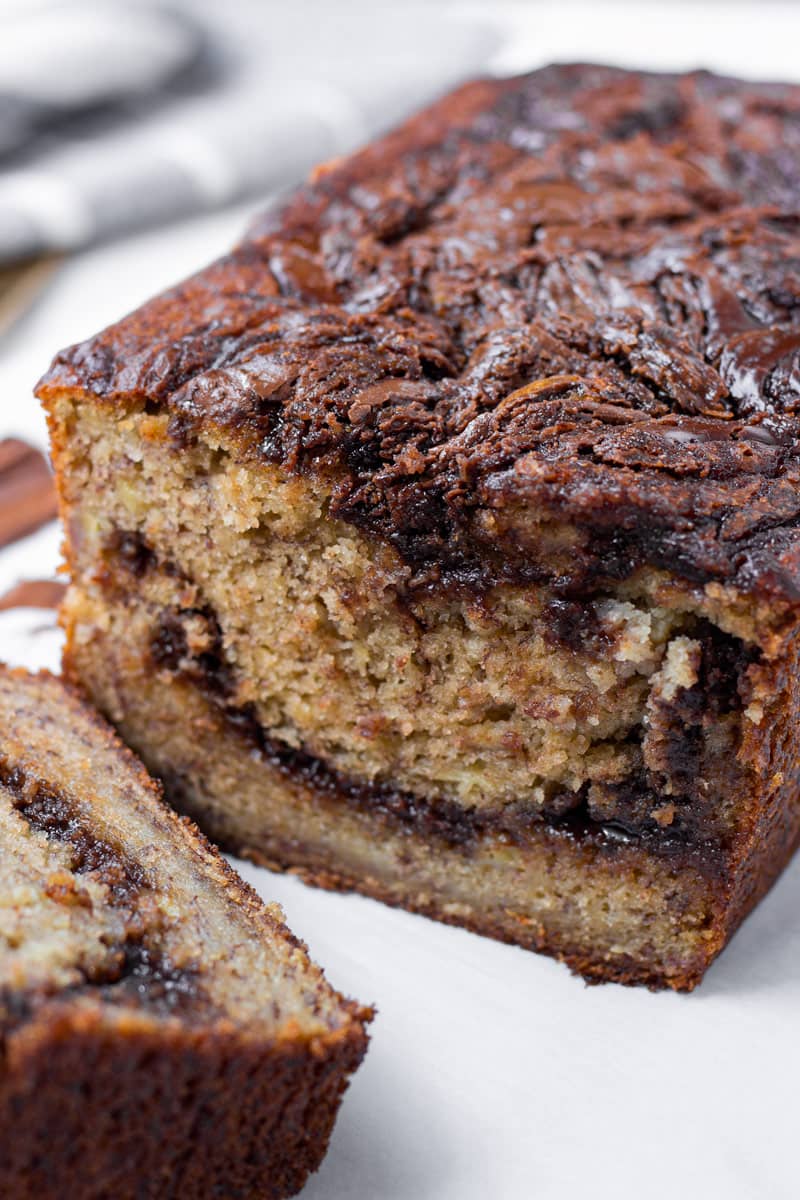 Variations
Here are some ideas that come to mind, if you want to mix things up a bit.
Make muffins! Reduce bake time to 20-25 minutes if making standard size muffins, until a toothpick inserted in the middle comes out clean.
Add more aromatic spices! Add more spices to your liking, such nutmeg, allspice, or ground cloves.
Get creative with patterns: When you swirl the Nutella on top of the batter, try different designs.
I absolutely love this Nutella banana bread. It's moist, tender, and so easy to make. Plus, the chocolate hazelnut flavors are amazing, and complement the banana flavors so well.
I really think Nutella and bananas were meant to be together. Just ask my friend Minshien – she has this amazing Nutella banana crepe recipe that I love to make for brunch.
I hope you enjoy this Fall baking recipe. It's one that I will be making over and over again in the coming months. Happy fall, friends!
Here is some more Fall baking inspiration: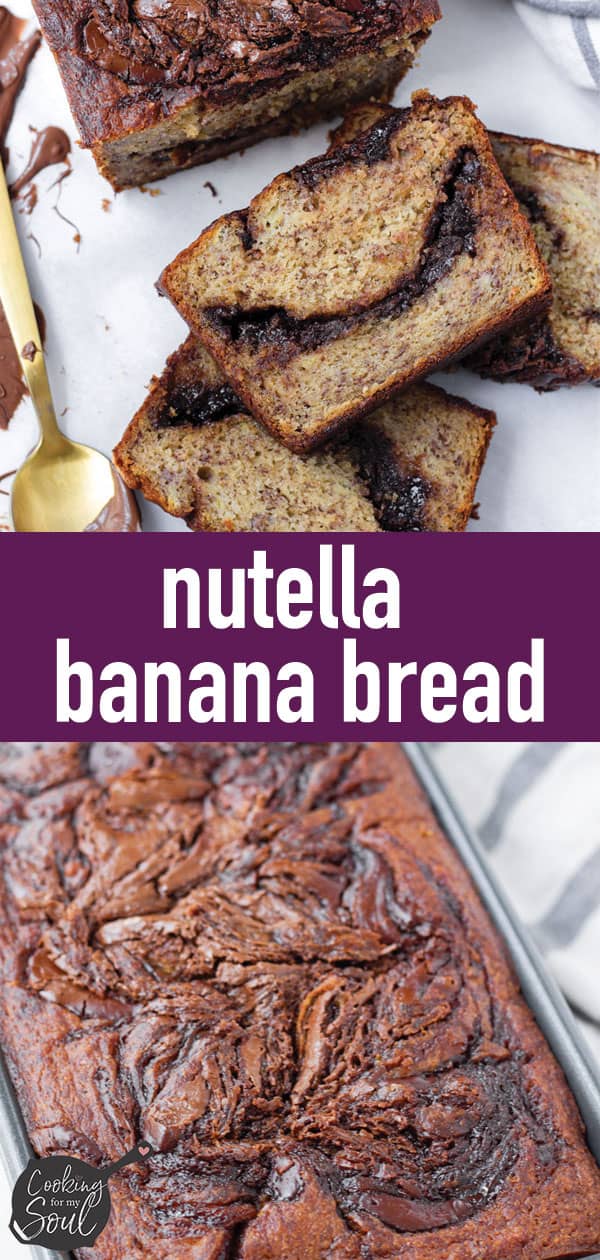 Nutella Banana Bread
This cozy and delicious Nutella banana bread is perfect for the season. It's moist and has the perfect balance between banana and chocolate hazelnut flavors. It's also very easy to make!
Ingredients
2

cups

all-purpose flour

1

teaspoon

baking soda

1/2

teaspoon

salt

1/2

teaspoon

ground cinnamon

1/2

cup

unsalted butter, softened at room temp

-

(plus more for greasing the pan)

1/2

cup

light brown sugar

1/4

cup

granulated sugar

2

large eggs, at room temperature

2

cups

mashed overripe bananas

-

(about 4 large bananas)

1/3

cup

Greek yogurt

1 1/2

teaspoons

vanilla extract

2/3

cup

chocolate hazelnut spread

-

(I use Nutella)
Instructions
Preheat oven to 350 degrees F. Grease a 9×5 loaf pan with butter. Set aside.

Dry ingredients: In a bowl, whisk the flour, baking soda, salt, and ground cinnamon until evenly combined. Set aside.

With a mixer on high speed, cream the softened butter with the brown sugar and granulated sugar until light and creamy, about 2 minutes. Add the eggs, one at a time, mixing on medium speed. Add the mashed bananas, Greek yogurt and vanilla extract, and mix on medium speed until evenly combined.

Gradually add in the dry ingredients to the mixture, combining by hand using a rubber spatula (or using a mixer on low speed). Do not overmix. Set aside.

Prepare the Nutella: Pour the chocolate hazelnut spread (Nutella) into a microwave safe bowl. Microwave for about 15 to seconds, or until it becomes drizzle-able. Stir with a spoon after 10 secs if needed to loosen it up. Note: Do not microwave for more than 25-30 seconds, or it will burn.

Pour half of the banana bread batter into the prepared loaf pan. Smooth it over, and drizzle half of the Nutella over the batter. Swirl it using a knife. Then, pour the remaining banana bread batter on top, smooth it over, and drizzle the remaining Nutella on top. Swirl with a knife, forming designs if desired. Tip: try not to accumulate the Nutella in the center so it's not too heavy, and so it can rise properly.

Bake in the middle rack for 55-60 minutes, or until a toothpick inserted in the middle comes out clean. After about 30 minutes into the baking time, loosely cover with aluminum foil to prevent it from browning too fast.

Remove from oven and let it cool for 20 minutes before removing from pan. Then, carefully remove from the pan and let it cool a little bit more before serving. Enjoy!
Notes
Special equipment: mixer, 9×5 loaf pan, aluminum foil.
Nutella: Don't add more Nutella than the recipe calls for. It can make the bread too heavy, preventing it from rising properly.
How to prevent your bread from sinking in the middle: 1) Don't open the oven door too much, as changes in temperature will interfere with the rising process, and 2) don't overload the bread with Nutella, which is heavy.
Storing: Wrap tightly with aluminum foil or plastic wrap for up to 4 days. Or store in an airtight container. You can leave it on the counter.
Freezing: Wrap the bread in aluminum foil and put them in a Ziploc bag. Remove as much air as possible from the bag. Freeze for up to 4 months. Thaw it on the countertop for a few hours. Tip: Wrap banana bread slices separately for ease.