Imagine the amazing smell of these caramel pecan sticky buns on a Saturday morning…these sticky buns are seriously the best thing ever! These soft cinnamon buns are topped with gooey caramel and chopped pecans.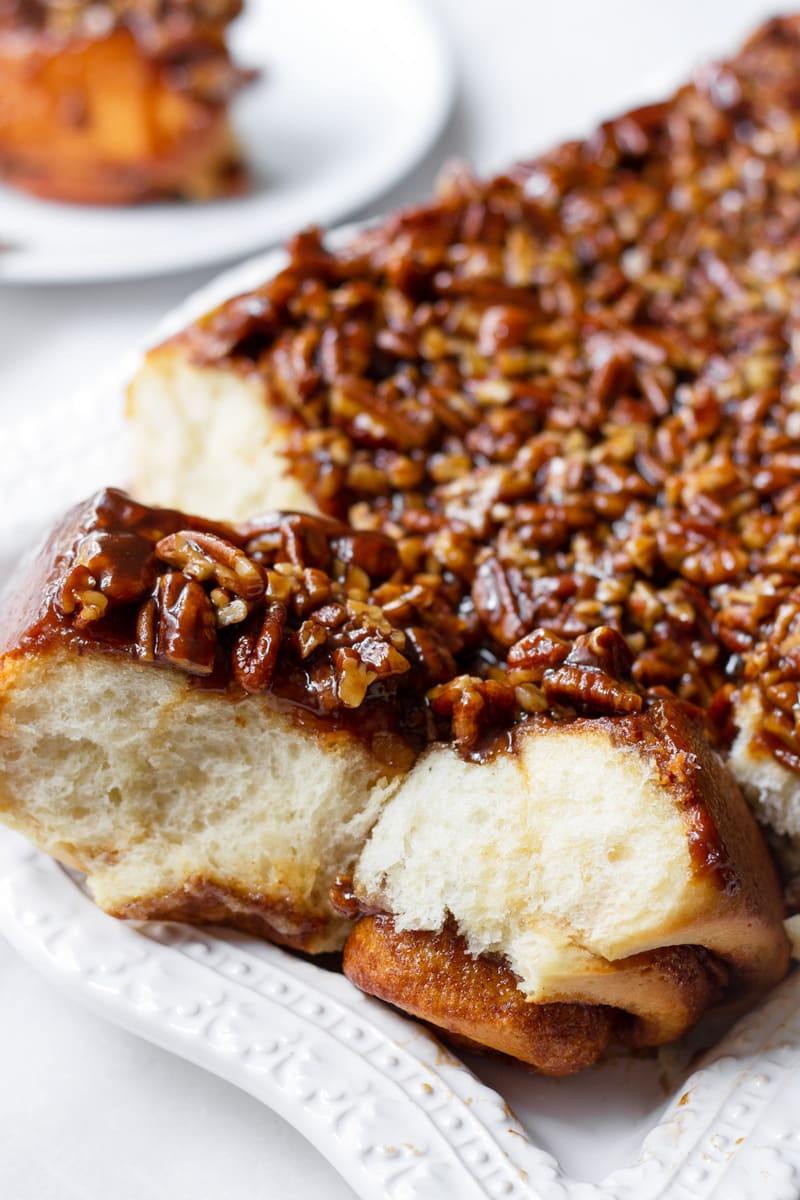 It's the holidays, so making these soft caramel pecan sticky buns is pretty much a given. Everyone asks for it, and that's because there's just something about these that makes us feel at right at home. Perhaps the amazing smell of freshly baked buns, or all that nutty topping…I love it all!
Making these caramel pecan sticky buns is so much fun! Working with yeast dough may seem intimidating at first, but it's actually very easy and fulfilling. I have a comprehensive guide on how to work with yeast dough, so be sure to check that out!
There are three parts to this caramel sticky buns recipe:
The dough: A simple yeast dough that turns our super soft and tender!
The filling: Brown sugar, cinnamon, and butter.
The topping: Homemade caramel plus chopped pecans.
Every time I make these pecan sticky buns, they are gone within minutes. They are that delicious. So let's get baking!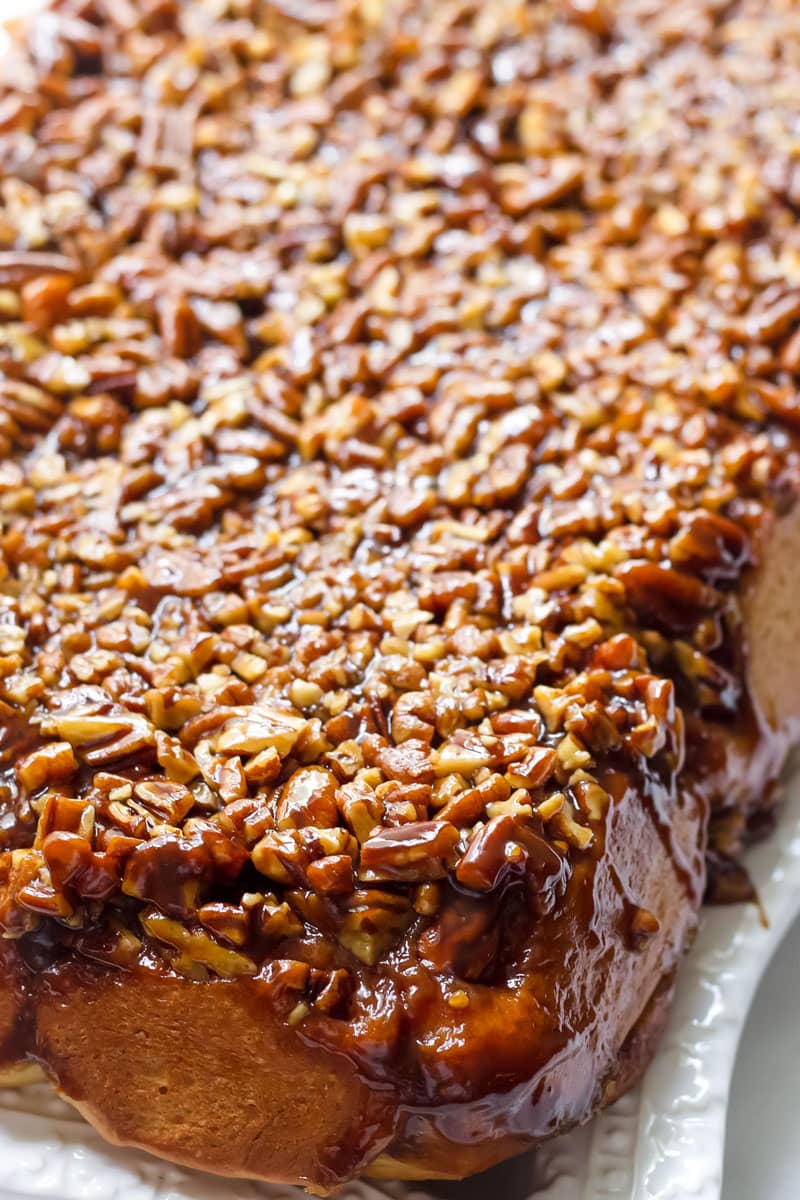 Caramel Pecan Sticky Buns Ingredients
As mentioned above, these are 3 parts to this recipe. This is what you'll need for each part:
The dough
Milk: For soft breads, use whole milk or 2%.
Active dry yeast: You'll need about 1 1/2 tablespoons (2 standard 0.25 oz packets).
Granulated sugar: For sweetness and structure.
Unsalted butter: Softened – you'll use it to cream it with the sugar.
Eggs: You'll need 2 large eggs.
Salt: To bring out the flavors.
Vanilla extract: For flavor.
Flour: All-purpose.

The filling
Unsalted butter: For brushing the dough all over.
Brown sugar: I prefer to use dark brown sugar for that deep molasses-y flavor!
Cinnamon: Ground cinnamon.
The topping
Unsalted butter: For the caramel.
Brown sugar: For the caramel.
Heavy cream: For the caramel.
Salt: For the caramel.
Pecans: Roughly chopped is fine.
These are definitely items that you probably already have in your pantry. And if not, all of these are super easy to get at the grocery store.
What I love about the pecan sticky buns recipe is that it uses rich caramel. Most sticky buns I've tried before are made with maple syrup or some basic sugar syrup….but caramel takes them to another level!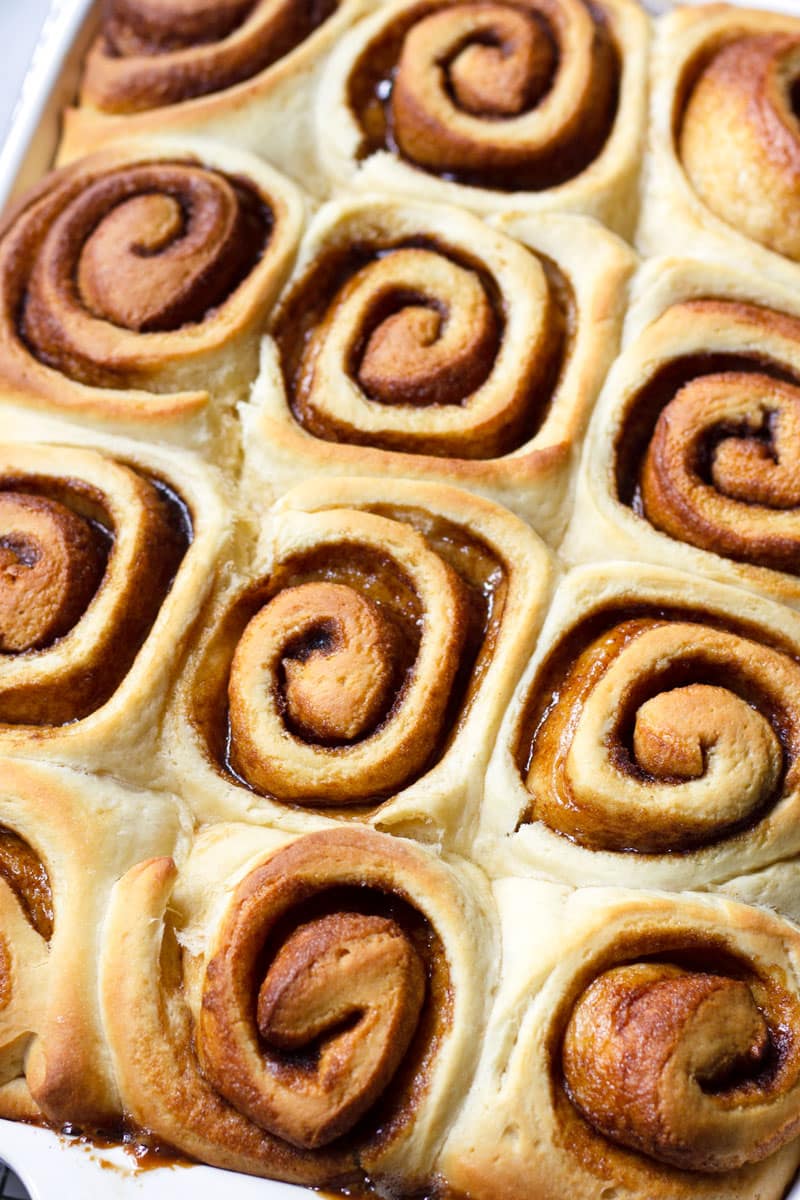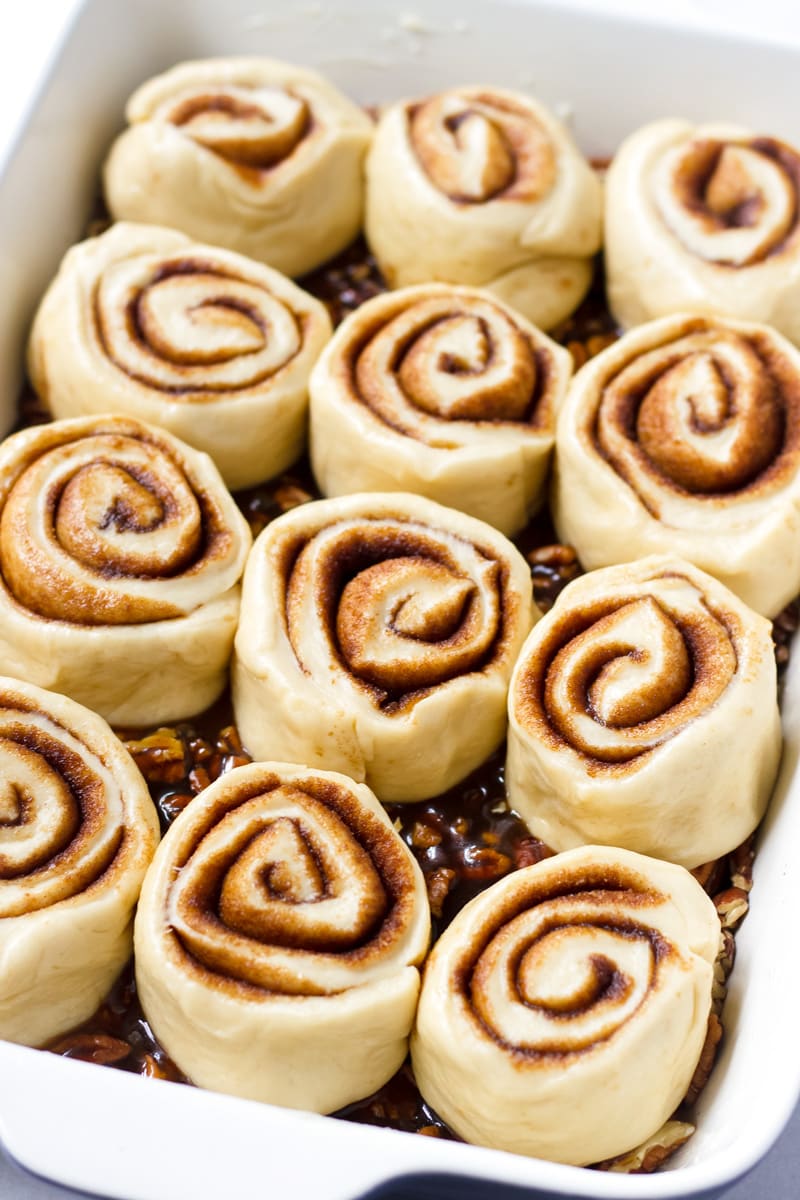 How to Make Caramel Sticky Buns
I'd recommend making these over the weekend since it takes about 3 hours from start to finish…about 30-40 minutes of active prep time, 1.5 hours for the dough to rise, and 25-30 minutes of bake time.
Per usual, you can find detailed instructions and ingredient quantities in the recipe card. To give you an idea of the process, these are the steps from a top level:
Proof and activate the yeast: In the bowl of a stand mixer or in a separate bowl, add warm milk, the yeast, and a tablespoon sugar. Stir and let it sit for about 10 minutes until foamy. This means the yeast is alive and good. If it doesn't foam up, toss it and start over.
Cream the butter and sugar: This will aerate the batter and make the buns super fluffy and soft!
Make the dough: Add the eggs, vanilla, salt, and flour (gradually), and mix until a dough forms.
Knead: Knead in the stand mixer with the dough hook attachment, or by hand. The dough should be elastic, slightly sticky, and should spring back slowly when poked.
Let the dough rise in a warm and draft-free place: In a greased bowl for about 1 hour.
Make the caramel and pecan topping: Pour the topping over a greased 9×13 pan.
Roll out the dough, add the filling, make the rolls
Arrange on top of the prepared pan with the caramel and pecans
Let them rise again: About 30-45 minutes or until doubled in size.
Bake: For about 25-30 minutes at 375 degrees F.
For serving: Let it cool a bit, and invert onto a large rectangular plate.
The majority of the time is spent waiting for the dough to to rise. So grab a cup of coffee or hot cocoa, sit back, and relax while it's doing its magic!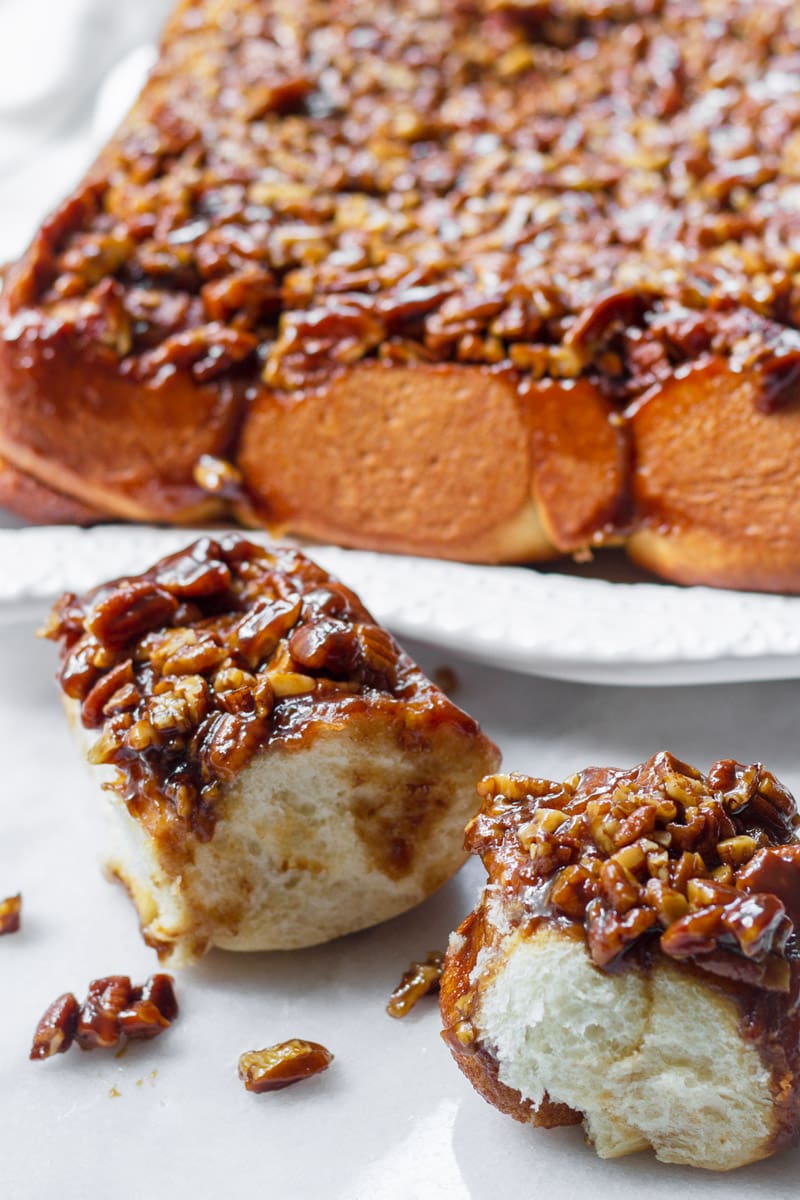 Working with Yeast
If you've never baked with yeast to make bread before or have any questions, check out my how to work with yeast dough guide! Sometimes, bread making may seem intimidating, but it's definitely very easy and fun! With experience and practice, you'll see that making bread at home is very therapeutic and fulfilling. Plus, it always makes your house smell like a heavenly bakery.
If you have any questions, drop them below in the comments section!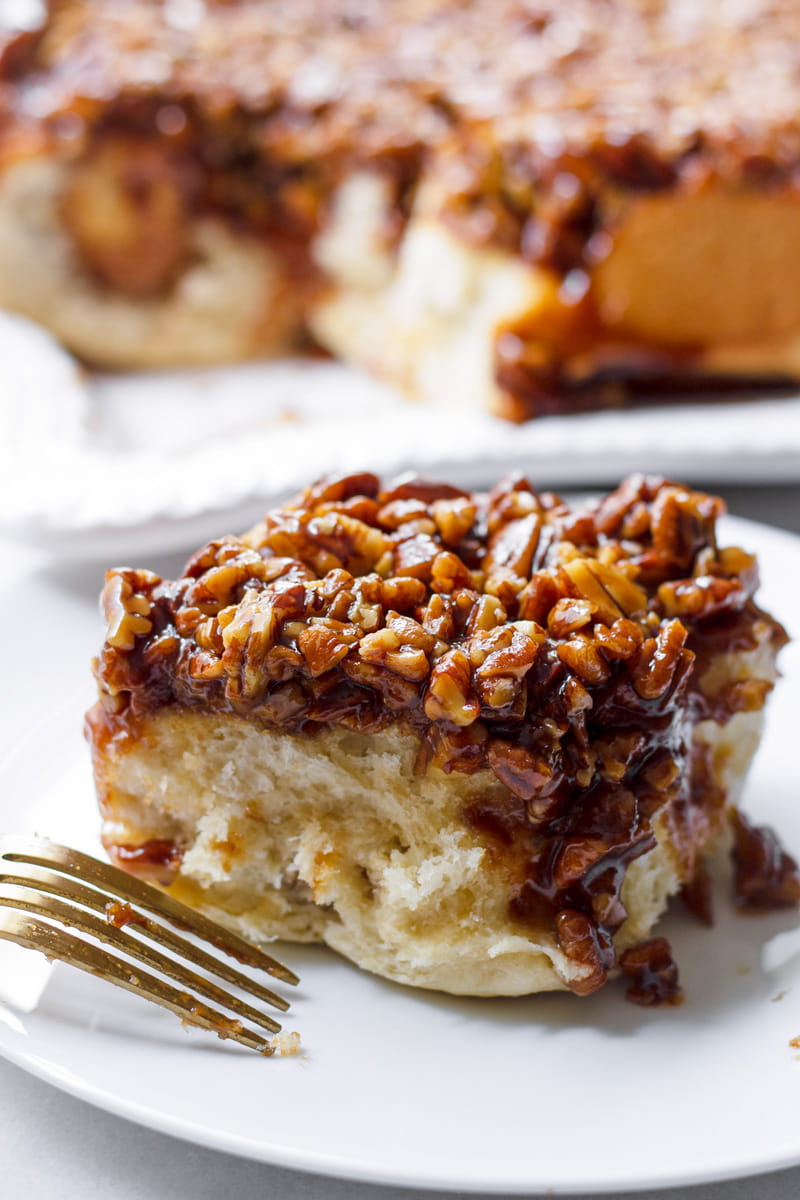 Seriously, these caramel pecan sticky buns are so soft, tender, and delicious! It's a great recipe year-round, and with a warm cup of coffee or tea, you'll feel right at home. It's so cozy and heartwarming!
Freshly baked is always best, but these will keep well for about 2 days. Worry not though, these will be gone in no time!
More cozy baking recipes:
Thank you for reading, and don't forget to pin this recipe for later! Happy baking, friends.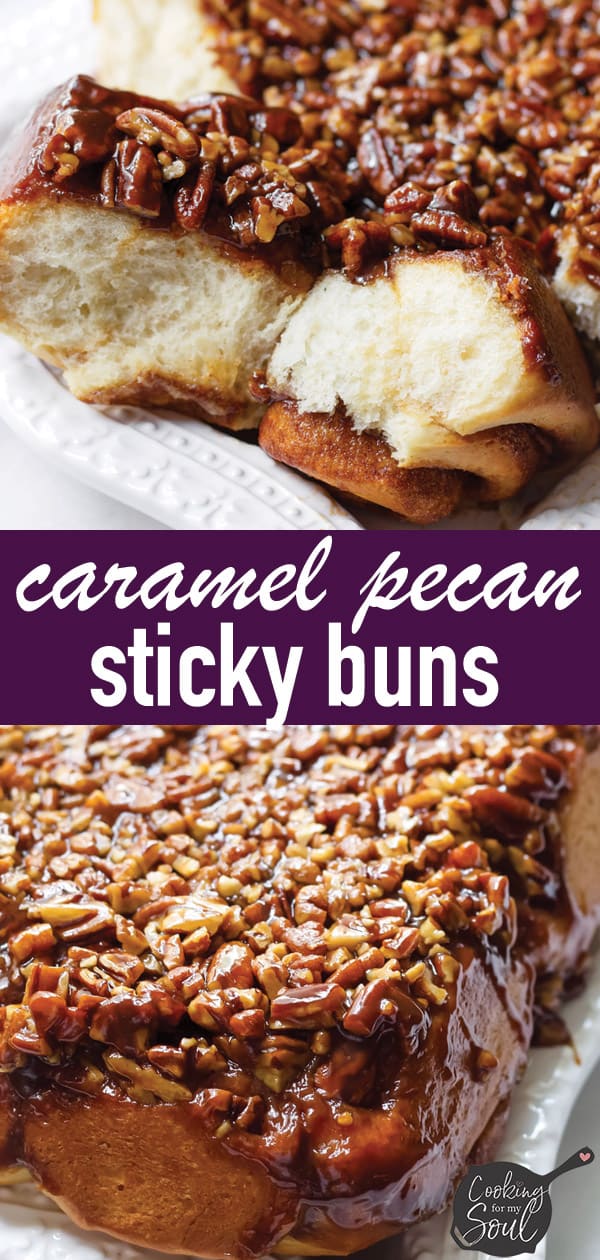 If you try my recipe, use #cookingformysoul on Instagram! Follow me on Pinterest, Instagram, Facebook for the latest fun updates and recipes!
Caramel Pecan Sticky Buns
These Caramel Pecan Sticky Buns are soft, tender, and delicious! Filled with brown sugar and cinnamon, and topped with a rich caramel sauce and chopped pecans.
Ingredients
For the dough
1

cup

whole milk

1 ½

tablespoons

active dry yeast

-

2 packets of 0.25 ounce each

⅔

cup

granulated sugar, plus 1 teaspoon

½

cup

unsalted butter, softened and cut into pieces

2

large eggs

½

teaspoon

salt

1

teaspoon

vanilla extract

4 to 4 ½

cups

all-purpose flour, plus more as needed

-

spooned and leveled

Vegetable oil for greasing the bowl
Caramel and Pecan Topping
6

tablespoons

unsalted butter, plus more for greasing the pan

1

cup

dark or light brown sugar

½

teaspoon

salt

3 to 4

tablespoons

heavy cream

2

cups

chopped pecans
Filling
¼

cup

unsalted butter, melted

1

cup

dark brown sugar, plus more if desired

2

teaspoon

ground cinnamon
Instructions
Pour warm milk (110 to 115 degrees F) into the bowl of stand mixer. Stir in yeast and the 1 teaspoon of granulated sugar, and combine. Let it stand for 10 minutes until frothy.

Set up the dough hook attachment in the stand mixer. With the mixer on low speed, mix the ⅔ cup granulated sugar and softened butter until combined. Add eggs, salt, vanilla extract and mix. Note: you can do this with a handheld mixer.

With the mixer on medium speed, add 3 cups flour, 1 cup at a time. Add the remaining flour in ¼ cup increments as needed or until the dough pulls away from the bowl. I ended up using about 4 cups. Increase speed to medium high and mix/knead about 5 minutes. Note: you can also knead by hand.

Transfer dough to a floured surface and knead by hand a few more times, about 2 minutes. The dough should be moist, slightly sticky, and should spring back slowly when poked. Do not over-knead. Form dough into a ball and place on a lightly oiled bowl, making sure to coat the dough with oil as well. Cover tightly with plastic wrap and let it rise in a warm and draft-free environment for 1 hour or until doubled in size.

Once the dough has risen, grease a 9x13 inch baking pan with butter and spread the chopped pecans in a uniform layer. Set aside. Make the caramel: in a saucepan, add the butter, dark brown sugar, salt, and heavy cream. Bring to a boil then reduce to a simmer for 3 minutes until thickened, stirring. Pour caramel over the pecans in a uniform layer. Set aside.

Make the filling: In a medium bowl, combine the 1 cup brown sugar and 2 teaspoons cinnamon. Set aside.

Punch the risen dough and roll out to a 12x18 rectangle on a clean surface. Brush the top with melted butter and sprinkle the brown sugar and cinnamon mixture evenly. Roll the dough tightly starting from the longest side so that you have an 18-in roll, and pinch to seal the seams. Cut into 12 pieces, same size. Arranged them on top of pecans and caramel.

Cover and let rise for 30-45 minutes in a warm environment.

Meanwhile preheat oven to 375 degrees F. Once they have risen, bake for 25-30 minutes until golden brown. Let cool for a few minutes, and invert onto a large rectangular plate. Enjoy warm!
Notes
Special equipment: Kitchen thermometer, mixer, 9x13 baking dish, rolling pin, brush.
Yeast: Make sure the yeast foams up in warm milk (110-115 F). This indicates that it's good. If it does not, start over with fresh yeast.
Creating a warm environment for dough to rise: Microwave some water in a mug for 2 minutes to get the microwave warmed up. Then, place the bowl with the dough in the microwave oven, pushing the mug to a corner, and close the door.
Storing: Store at room temperature in an airtight container for up to 3 days.
Disclaimer: Nutritional values (per serving) are approximates only.
Nutrition
Serving:
1
bun
|
Calories:
670
kcal
|
Carbohydrates:
87
g
|
Protein:
9
g
|
Fat:
34
g
|
Saturated Fat:
14
g
|
Polyunsaturated Fat:
5
g
|
Monounsaturated Fat:
13
g
|
Trans Fat:
1
g
|
Cholesterol:
80
mg
|
Sodium:
228
mg
|
Potassium:
225
mg
|
Fiber:
3
g
|
Sugar:
49
g
|
Vitamin A:
668
IU
|
Vitamin C:
1
mg
|
Calcium:
89
mg
|
Iron:
3
mg