Nothing beats the delightful and comforting smell of pancakes on a Saturday morning. These delicious fluffy buttermilk pancakes will be your new breakfast favorite. They are so light, so fluffy, so well-balanced…you'll love them!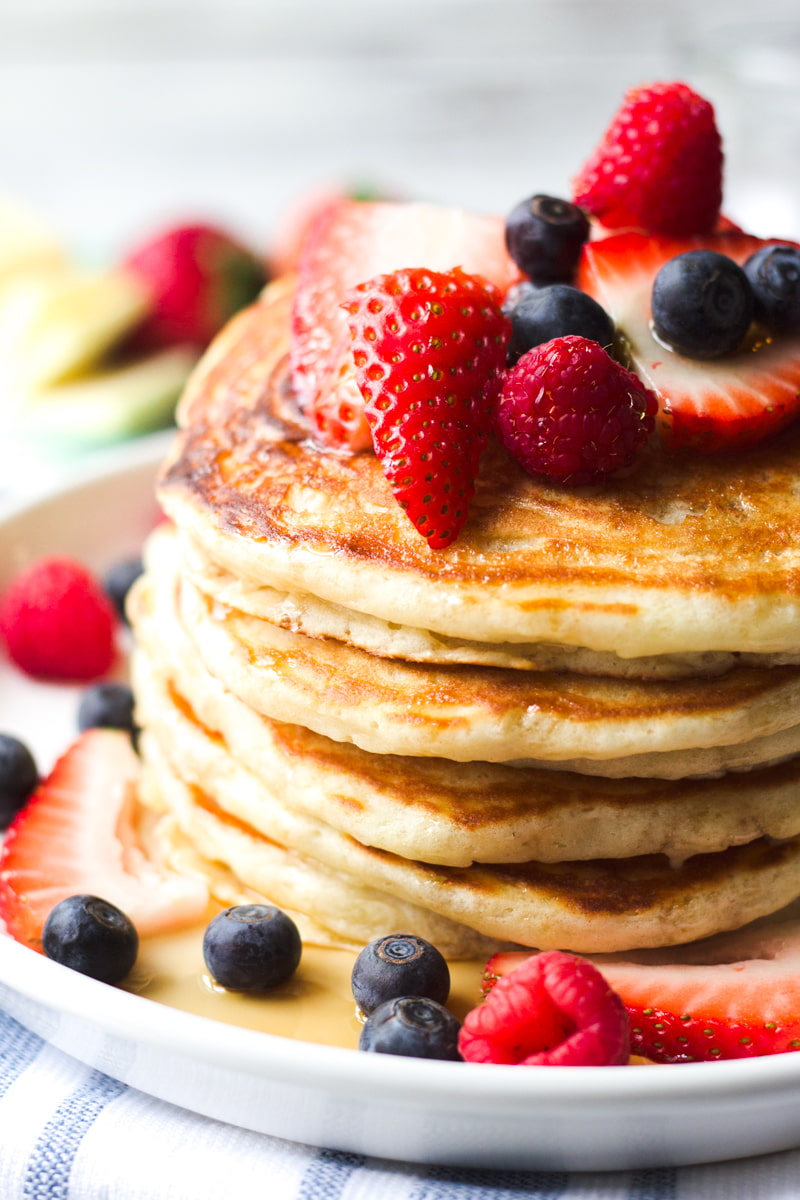 Pancakes have got to be America's favorite breakfast. They are everywhere and are soooo delicious. Somehow, having pancakes for breakfast makes me feel at home, no matter where I'm at.
These days, there are way too many ways to make pancakes. So many different batters, fillings, toppings, and flavors. But there's nothing better than classic buttermilk pancakes with lots of fresh berries and a warm drizzle of sweet maple syrup. This is definitely my absolute favorite way to eat pancakes! I mean just look at that perfect warm maple syrup drizzle…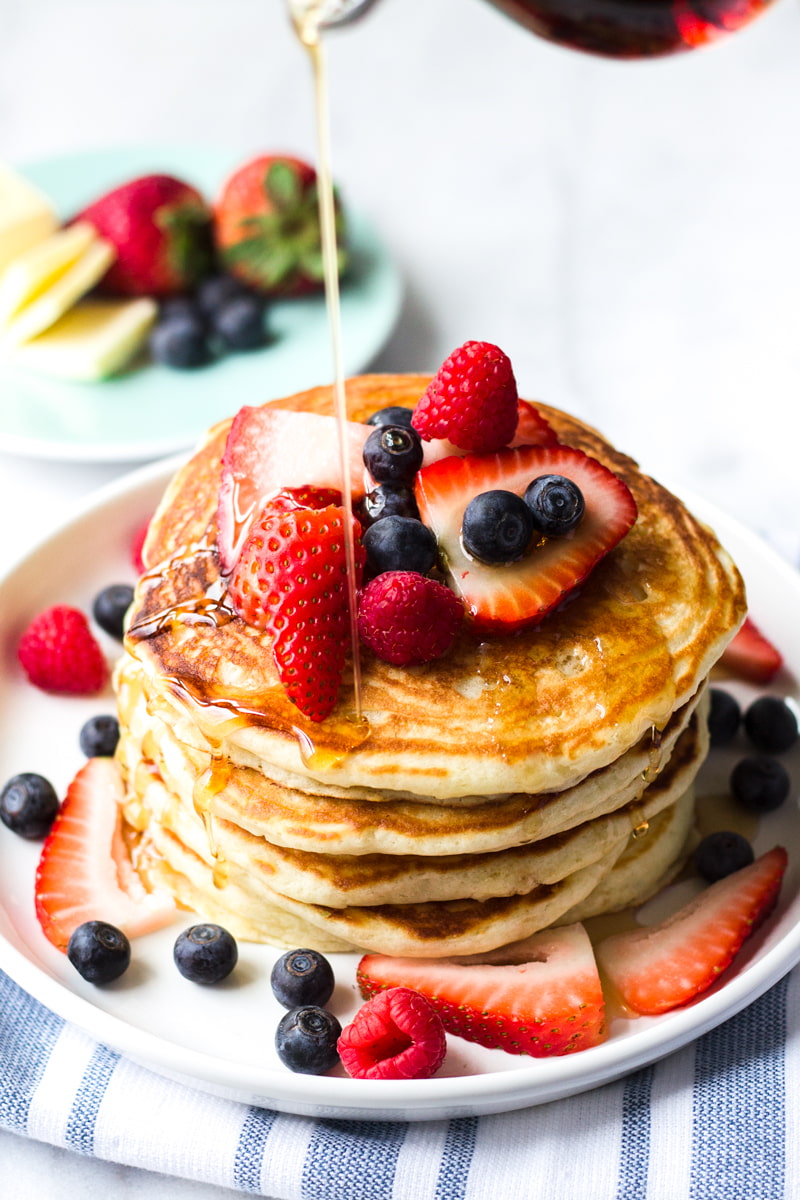 Pancakes may seem like an easy thing to make, but believe it or not, I've tried making them more than 10 times just to end up with flat, soggy, dense, bland pancakes…until one day I tested a recipe that resulted in the lightest, fluffiest, golden brown pancakes I've ever had. Seriously, you have no idea how excited I was. Throughout the entire recipe testing process, I learned so much about the science of pancakes (yes, science!) and gathered several tricks and tips to help you perfect it.
The secret to fluffy and light pancakes? Folding in whipped egg whites into the batter. The air bubbles in whipped egg whites provide that extra airiness and fluffiness to pancakes when cooking the pancakes on a hot griddle. When they come in contact with heat, the air bubbles expand, giving pancakes that beautiful rise.
But wait! There is so much more that goes into making the perfect pancake. Read on!

The Science of Pancakes
I wrote a guide about the science of pancakes. Check it out here!
Essentially baking soda (a base) needs an acid to react. For pancakes, buttermilk is the most common acidic component used. This chemical reaction between the two produce air pockets of carbon dioxide, which allow the pancakes to rise when cooking. On the other hand, baking powder is a combination of both baking soda and some type of acid in powder form, which is helpful when you don't know what acid to add or how much of it to add.
In the recipe below, I use baking powder and buttermilk. In some cases, it's totally fine to add buttermilk (an acid) even when you're using baking powder. In this case, buttermilk makes the pancake moist, tender, and thick. It also gives it that subtle tang that makes pancakes so darn good.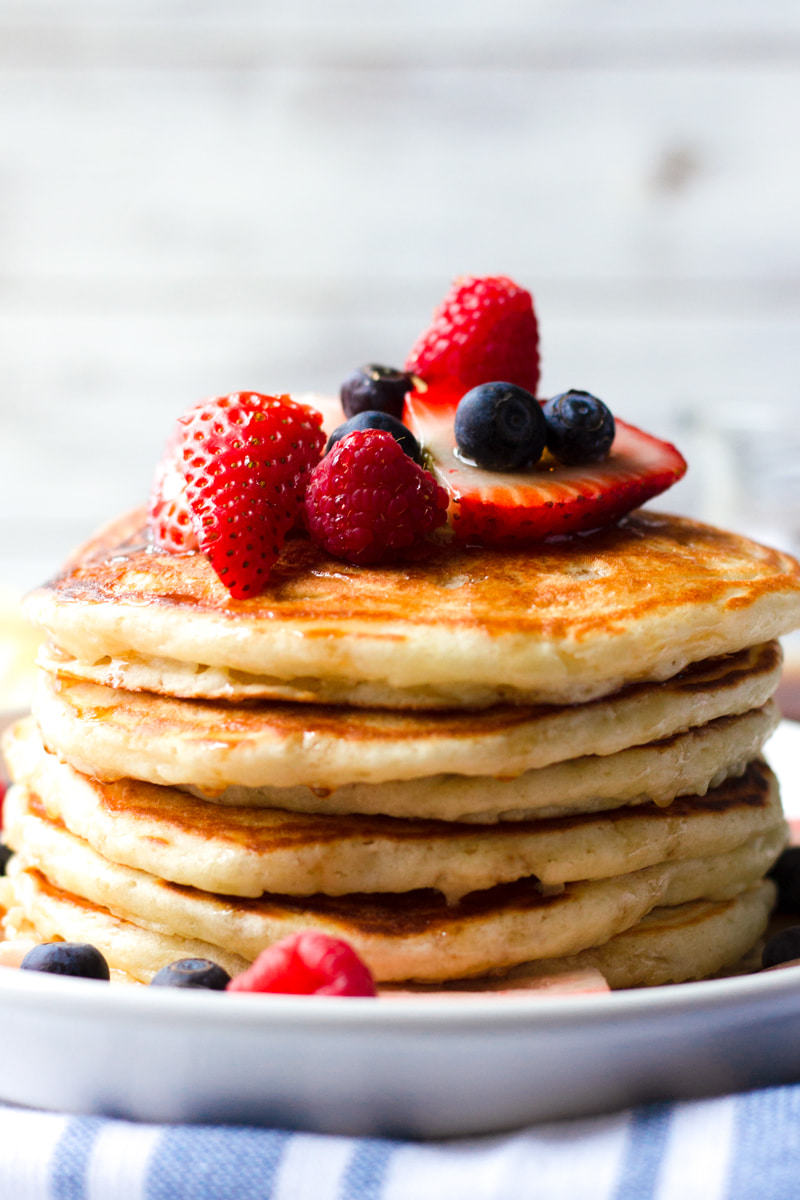 Using Whipped Egg Whites to Make Light and Fluffy Pancakes
For additional lightness and fluffiness, whip egg whites until stiff peaks form. Then, using a rubber spatula, carefully fold in the whipped egg whites into the batter. Definitely be gentle – you're not whisking the egg whites into the batter, you're incorporating it using folding motions.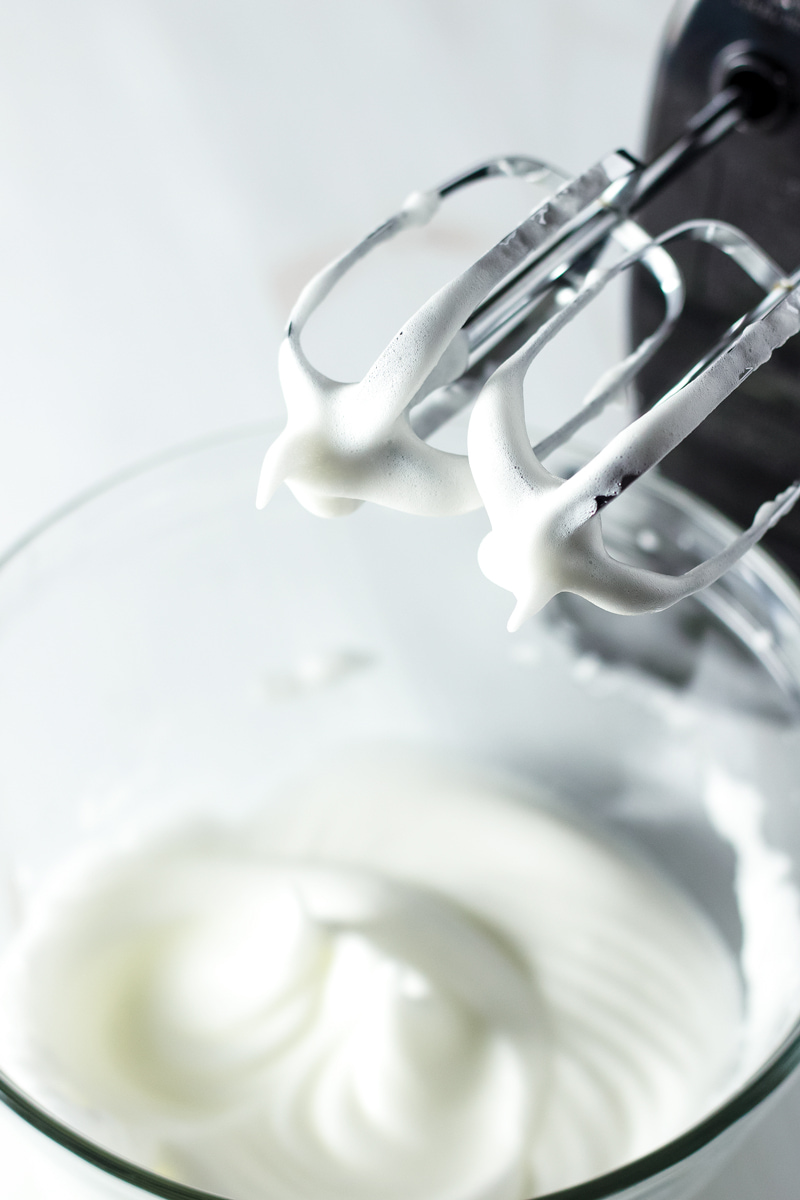 How to Get a Golden Brown Color on Pancakes
You'll see that this buttermilk pancake recipe calls for baking soda in addition to baking powder. Basically, baking soda helps achieve that golden brown color on pancakes due to something called the Maillard reaction. The Maillard reaction is also responsible for giving browned foods that unique delicious flavor.

Alright, now that you know everything about pancakes, make these delicious fluffy buttermilk pancakes this weekend! You'll love it! Enjoy 🙂
Kitchen Tips
Don't overmix the batter. It's fine to have lumps in pancakes. Overmixing the batter will result in tough, flat, and gummy pancakes. Don't let the batter sit for too long.
Make sure the griddle is hot before dropping the pancake batter.
If using butter to grease the griddle or pan, wipe the excess butter with a paper towel once melted. You only want a thin film of fat, otherwise it will make the golden brown color on pancakes uneven.
Pancakes are ready to flip when bubbles start to form on top and the sides start to turn golden brown, about 2-3 minutes.
Fluffy Buttermilk Pancakes
Light, airy, and fluffy. These buttermilk pancakes will become your new breakfast favorite!
Ingredients
2

cups

all-purpose flour

-

spooned and leveled

1 ½

teaspoons

baking powder

½

teaspoon

baking soda

½

teaspoon

kosher salt

3

tablespoons

granulated sugar

2

large eggs, yolks and whites separated

2 ¼

cups

buttermilk

4

tablespoons

unsalted butter, melted and cooled

Mixed berries for serving

Maple syrup for serving

Butter for serving
Instructions
In a medium bowl, mix flour, baking powder, baking soda, salt, and sugar, until well combined.

In small bowl, whisk the egg whites with an electric mixer at medium high speed, until stiff peaks form.

In a separate large bowl, whisk the egg yolks and buttermilk. Then whisk in the melted butter. Using a rubber spatula, fold in the egg whites until just combined.


Add the dry ingredients to the wet mixture. Fold in until just combined. Do not overmix. The batter should be very lumpy and thick.

Heat an electric griddle to 375 degrees F for 3-4 minutes. It's important that the griddle is hot enough. Coat with butter or oil spray. Using paper towels, gently wipe any excess butter or oil from the griddle. There should only be a thin film of butter or oil.

Pour 1/3 cup of batter for each pancake onto the griddle. Pancakes are ready to flip when you start seeing bubbles forming on top and when the sides start to look golden brown, about 2-3 minutes. Carefully flip the pancakes when ready and cook for 2-3 more minutes. Repeat with the rest of the batter.

Serve pancakes, stacked, and top with sliced strawberries, blueberries, and raspberries. Drizzle maple syrup and serve with some softened butter. Enjoy!
Notes
Disclaimer: Nutritional values (per serving) are approximates only.
Nutrition
Serving:
1
pancake
|
Calories:
137
kcal
|
Carbohydrates:
18
g
|
Protein:
4
g
|
Fat:
5
g
|
Saturated Fat:
3
g
|
Polyunsaturated Fat:
1
g
|
Monounsaturated Fat:
1
g
|
Trans Fat:
1
g
|
Cholesterol:
36
mg
|
Sodium:
246
mg
|
Potassium:
81
mg
|
Fiber:
1
g
|
Sugar:
5
g
|
Vitamin A:
198
IU
|
Calcium:
77
mg
|
Iron:
1
mg