This easy dinner roll recipe is what you need to make next. These pull-apart sundried tomato pesto dinner rolls are so tender, soft, and full of flavor!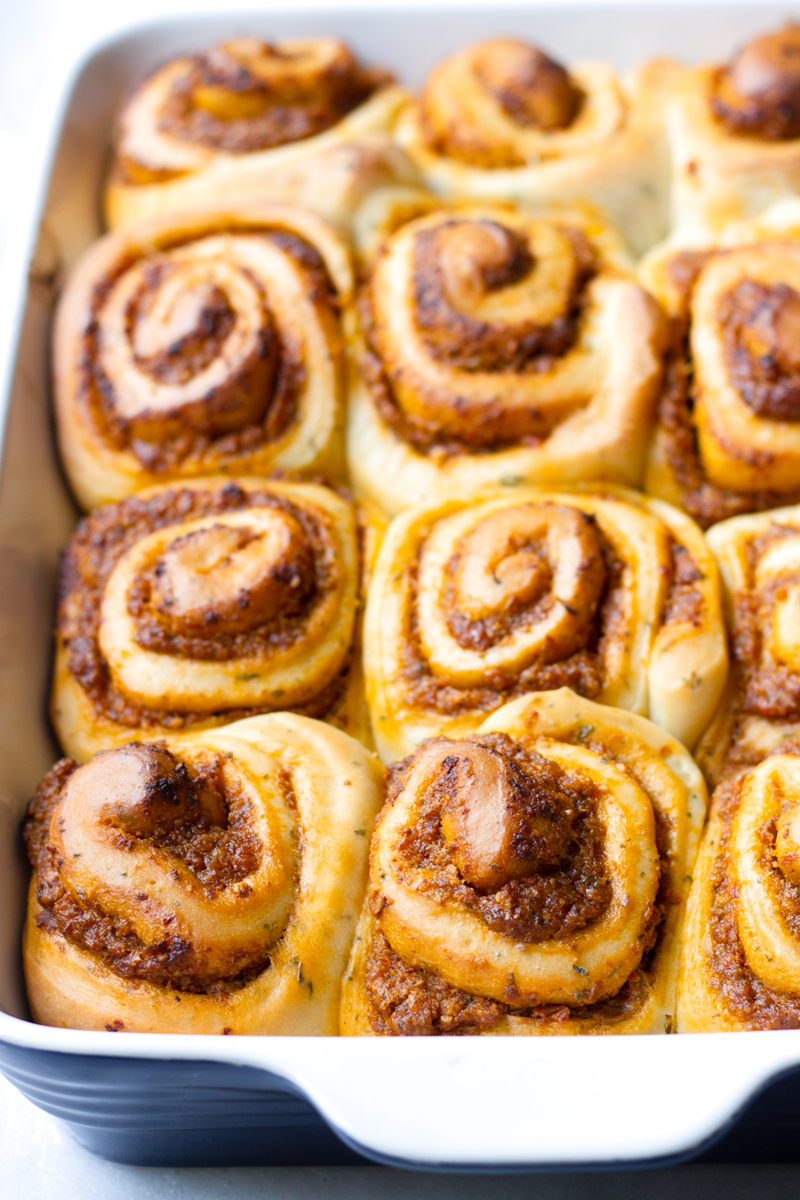 Okay…let me start by saying this. O.M.G. So. Damn. Good. These dinner rolls are so delicious. And today is World Bread Day, so I am really excited to share this recipe with you today!
I'll skip all the babbling and tell you exactly what this is because I just can't wait: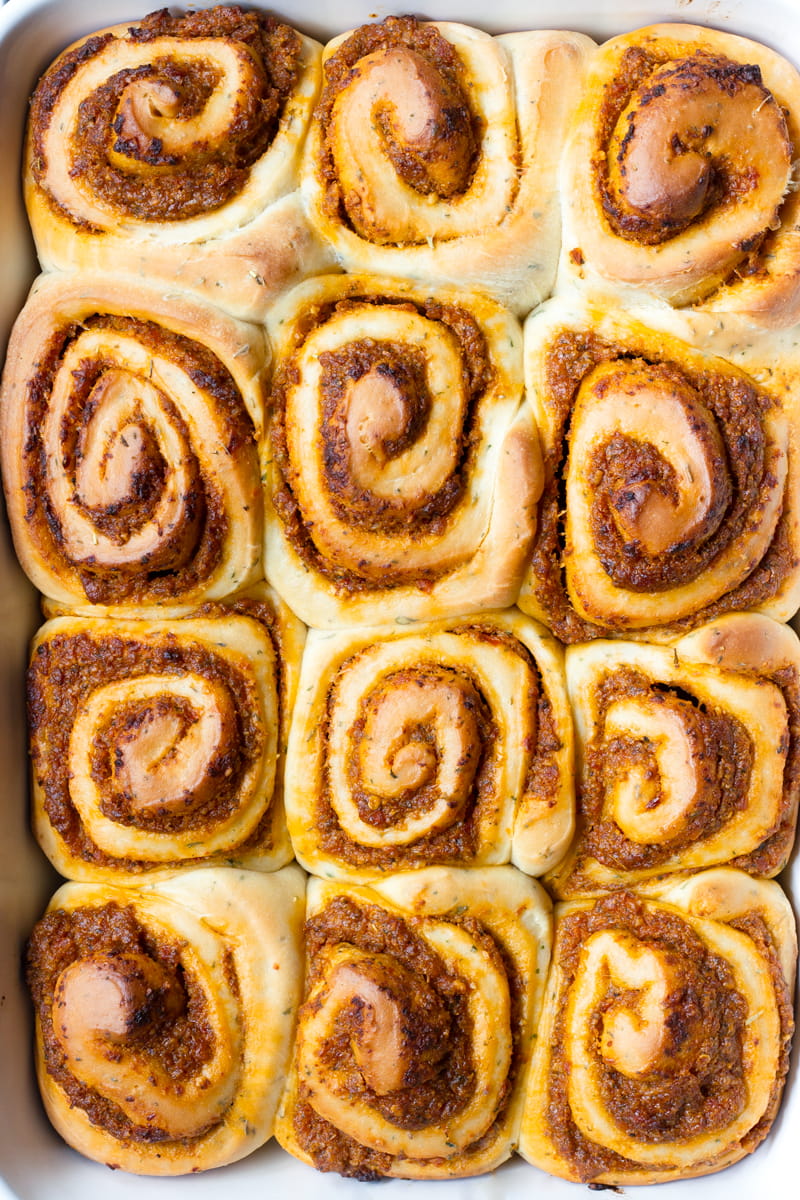 While these bake in the oven, your house will smell like heaven. I promise! 🙂
How to Make Sundried Tomato Pesto
It is truly super easy! Just put all the pesto ingredients in a food processor, pulse until a pesto paste forms and voila! Here is my homemade easy sundried tomato recipe!
If you prefer, you can use store-bought sundried tomato pesto instead. You will need about 1 1/2 cups.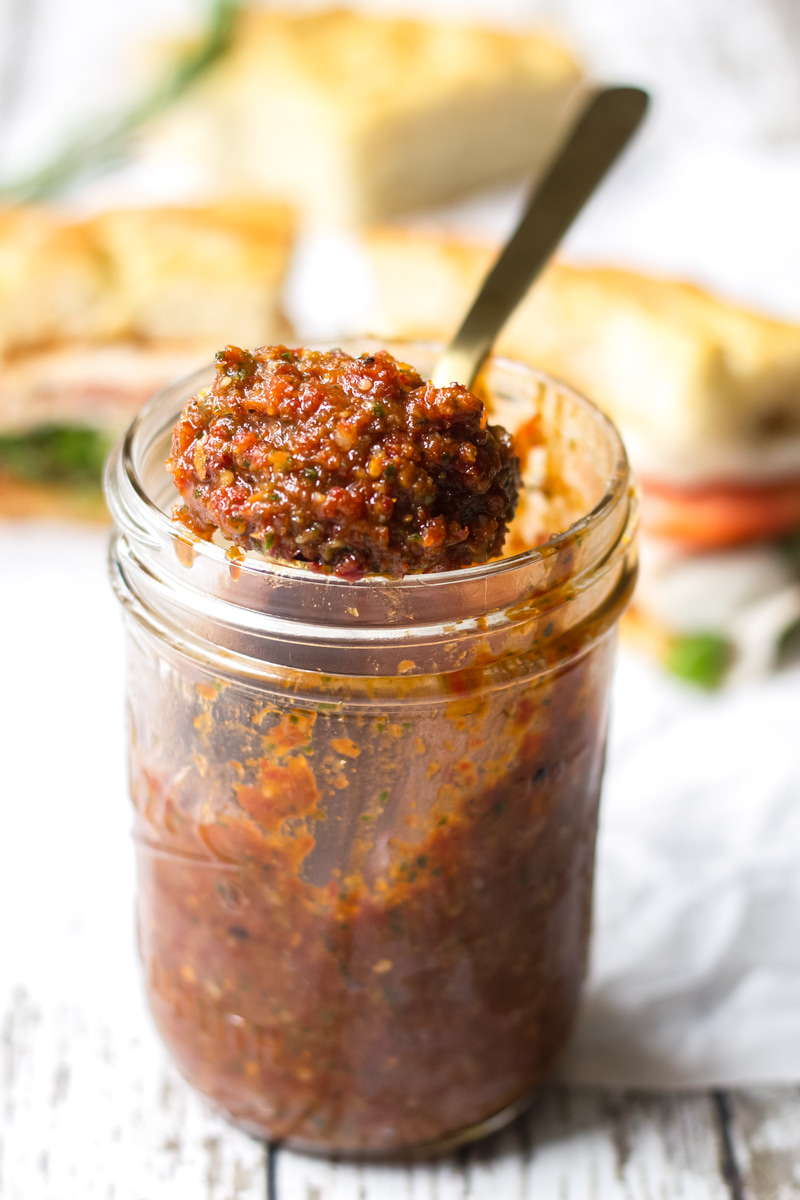 How to Make Yeast Rolls
Don't be intimidated by yeast dough! It's actually really easy to make. It just takes some patience while you wait for the dough to rise. I explain everything about yeast dough in this article, so check it out and feel free to comment with any questions!
This dough has herbs inside. I used parsley, thyme, and rosemary. It's also got garlic powder because garlicky dinner rolls are simply the best.
Once your dough has rested and risen, roll it out to a rectangle about 18×25 inches, a little bit than less 1/2 inch thick. Then spread some sundried tomato pesto, and roll it, starting from the long side. Pinch the end the dough after you're done rolling it. Evenly cut into 12 pieces and place on a baking pan. Cover and let it rest for another 30-40 minutes, until doubled in size. Then bake at 350 degrees F. They will continue to rise in the oven and become nice and fluffy!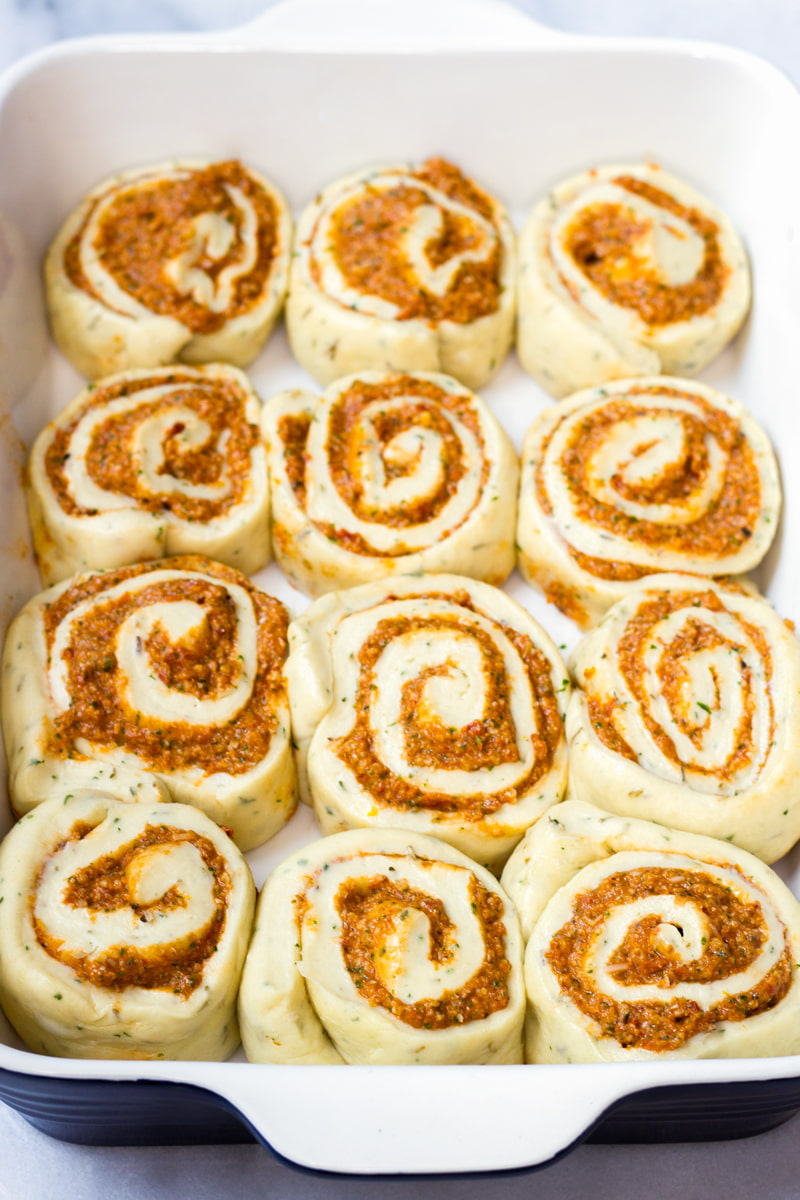 Once they come out of the oven, I bet you'll be impatiently waiting for it to cool down so you can eat it all! These pull-apart dinner rolls are just perfect.
These easy homemade yeast rolls were a hit at my house, and I'm sure they will be at yours too!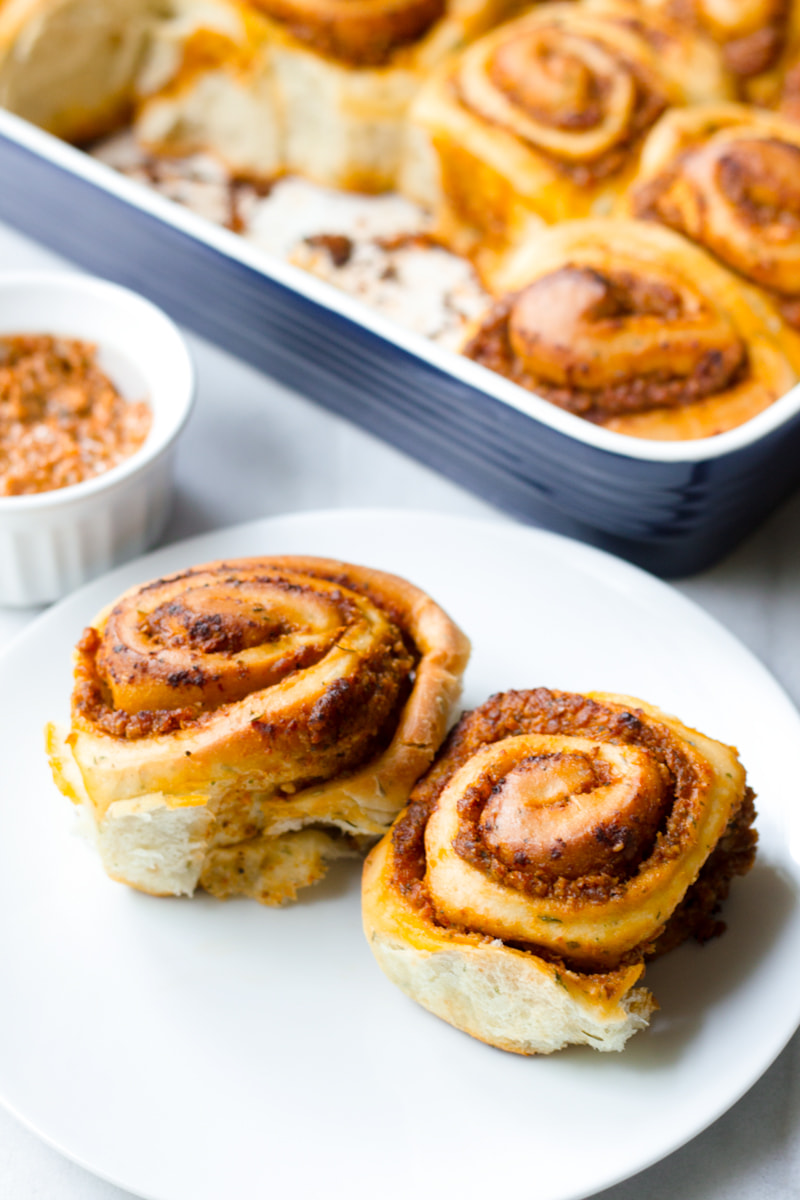 How to Serve These Dinner Rolls
Because these are so complete in flavor, you can just eat it as is for breakfast or as a snack too.
If you're serving it with dinner, here are some dishes it would pair well with: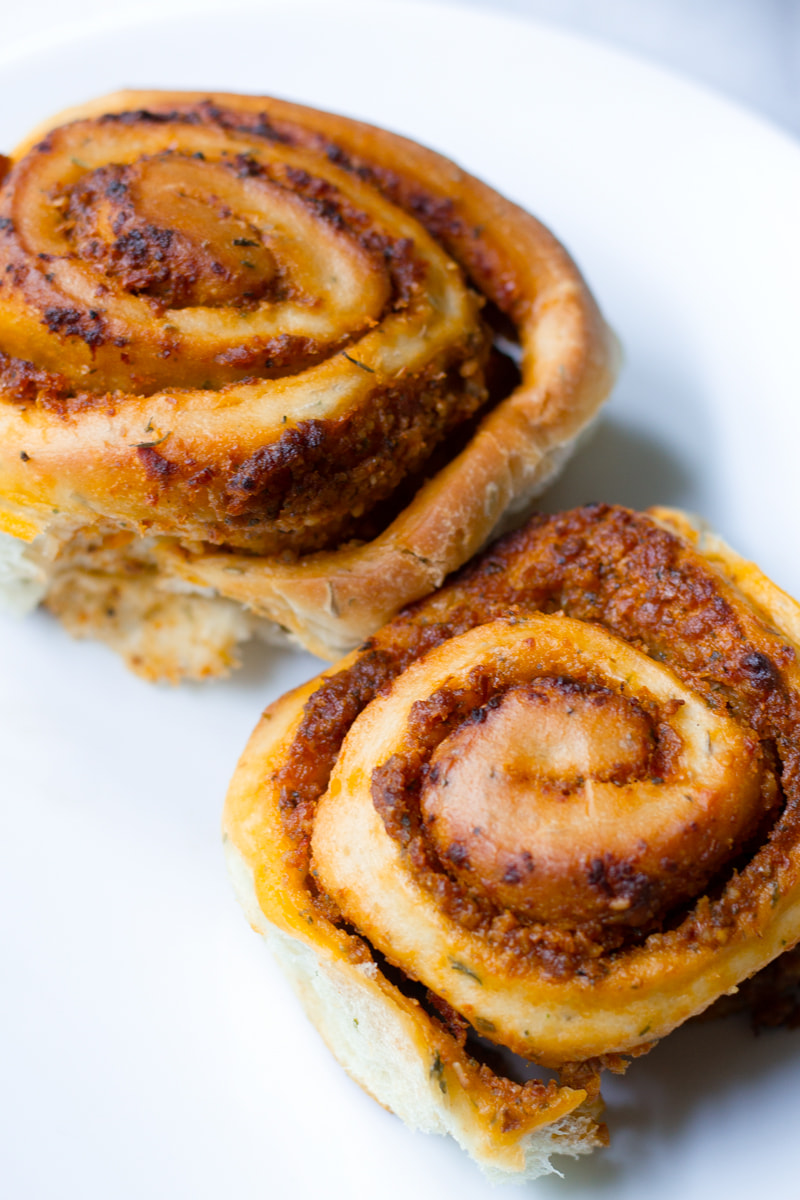 And don't forget to pin this recipe! 🙂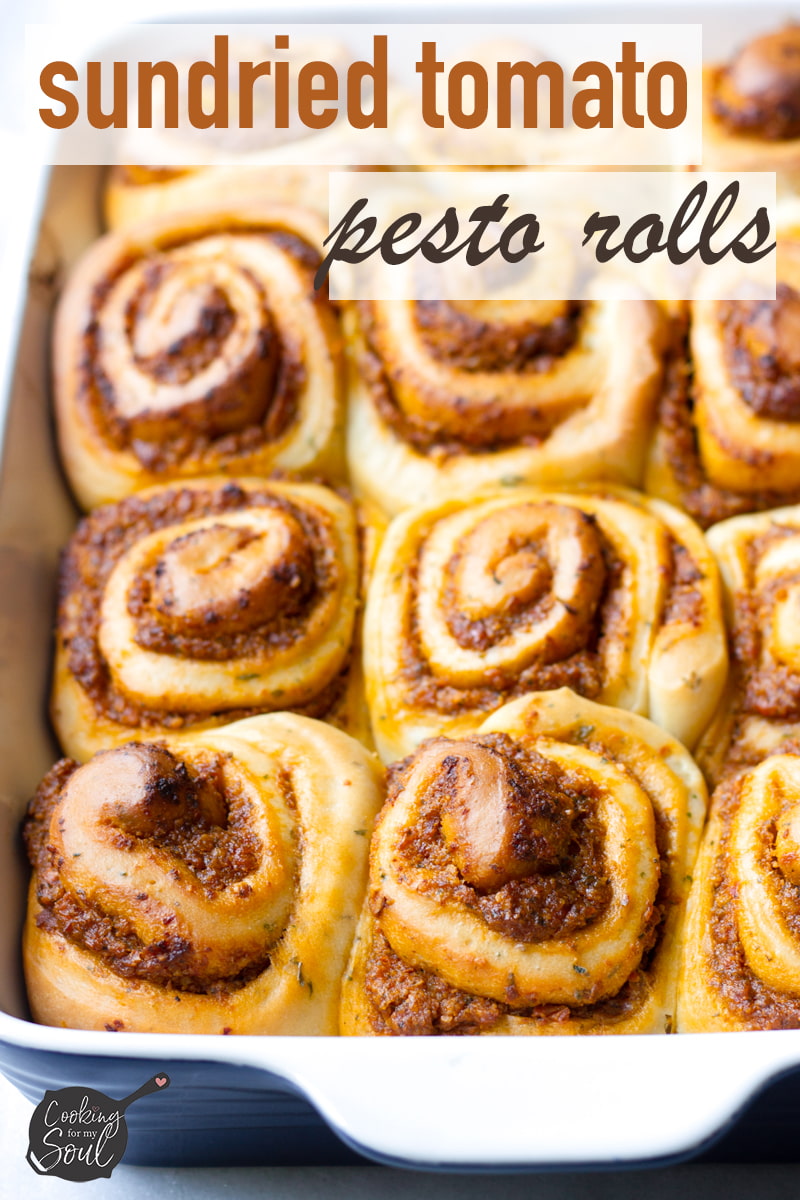 Kitchen Tips
If you try my recipe, use #cookingformysoul on Instagram! Follow me on Pinterest, Instagram, Facebook for the latest fun updates and recipes!
Sundried Tomato Pesto Dinner Rolls
These Sundried Tomato Pesto Dinner Rolls are the perfect side to serve with dinner. You can even have them for breakfast because they are that good!
Ingredients
1

cup

whole milk

-

(heated to 110 to 115 degrees F)

1

0.25 oz packet

active dry yeast

3 ½ to 4

cups

all-purpose flour, plus more as needed

1

tablespoon

plus 1 teaspoon granulated sugar, divided

2

large eggs

1/4

cup

unsalted butter, melted

2

teaspoons

Kosher salt

1

teaspoon

garlic powder

1

teaspoon

dried parsley

1

teaspoon

dried thyme

1

teaspoon

dried rosemary
Instructions
In a large stand mixer bowl, add warm milk (110 - 115 degrees F), yeast, and 1 teaspoon sugar. Stir and let sit for 10 minutes, until frothy and foamy. This means the yeast is ready to be used.

Set up the dough hook in the stand mixer. With the mixer on low, add the remaining 1 tablespoon sugar, eggs, melted butter, dried herbs, garlic powder, and salt. Then gradually, one cup at a time, add the flour. Change the speed to high and mix/knead until a dough forms, about 8 minutes. The dough should be kind of sticky and pull away from the bowl easily as it is being kneaded. If too sticky, add more flour, ¼ cup at a time. If kneading by hand, prepare you dough in a large bowl and knead on a floured surface for about 20 minutes.

Turn dough onto a floured surface, and knead a few more times by hand, about 2 to 3 minutes. Grease a large bowl with some olive oil. Shape dough into a ball and place of greased ball, making sure to coat the dough with oil. Cover with plastic wrap and let rise in a warm environment until doubled in size, about 1 hour.

Punch dough and transfer to a clean working surface. Using a rolling pin, roll into 18x25 inch rectangle. Spread with the prepared sundried tomato pesto, leaving about ½ inch space in the borders. Starting from the long end, roll up the dough semi-tightly and press edges to seal.

Cut into 12 rolls and place them on a baking pan, leaving about ½ inch space between each roll. Cover with a towel and let them rise for about 30 minutes.

While rolls are rising, preheat oven to 350 degrees F.

Bake for 30-35 minutes until golden brown. Let cool slightly and serve. Enjoy!
Also check out these recipes in honor of World Bread Day from some awesome bloggers: