Make this easy and elegant baked salmon florentine for dinner tonight! Thick salmon fillets stuffed with spinach, ricotta, and parmesan cheese…then baked to perfection and topped with fresh tomatoes. So good!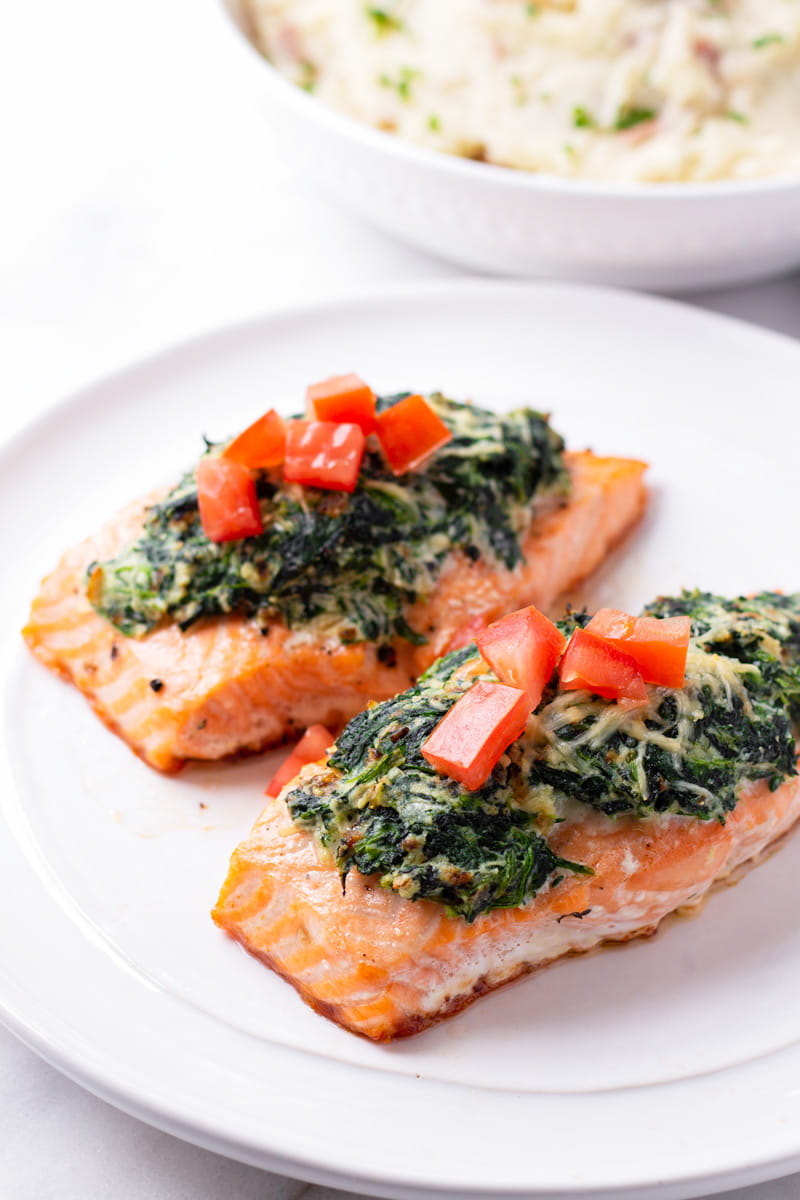 Salmon is our favorite fish regardless of how it's prepared. We love it pan-seared, baked, raw, grilled, air-fried, etc. Today, I'm sharing this amazing baked salmon florentine recipe that I absolutely love.
Florentine-style recipes typically feature spinach and tomatoes. This salmon florentine recipe calls for thick salmon fillets overstuffed with spinach, ricotta, and parmesan cheese. It is then baked to perfection and topped with diced tomatoes, and served with my red skin mashed potatoes.
This easy baked salmon recipe makes an elegant dinner that everyone will love. Promise!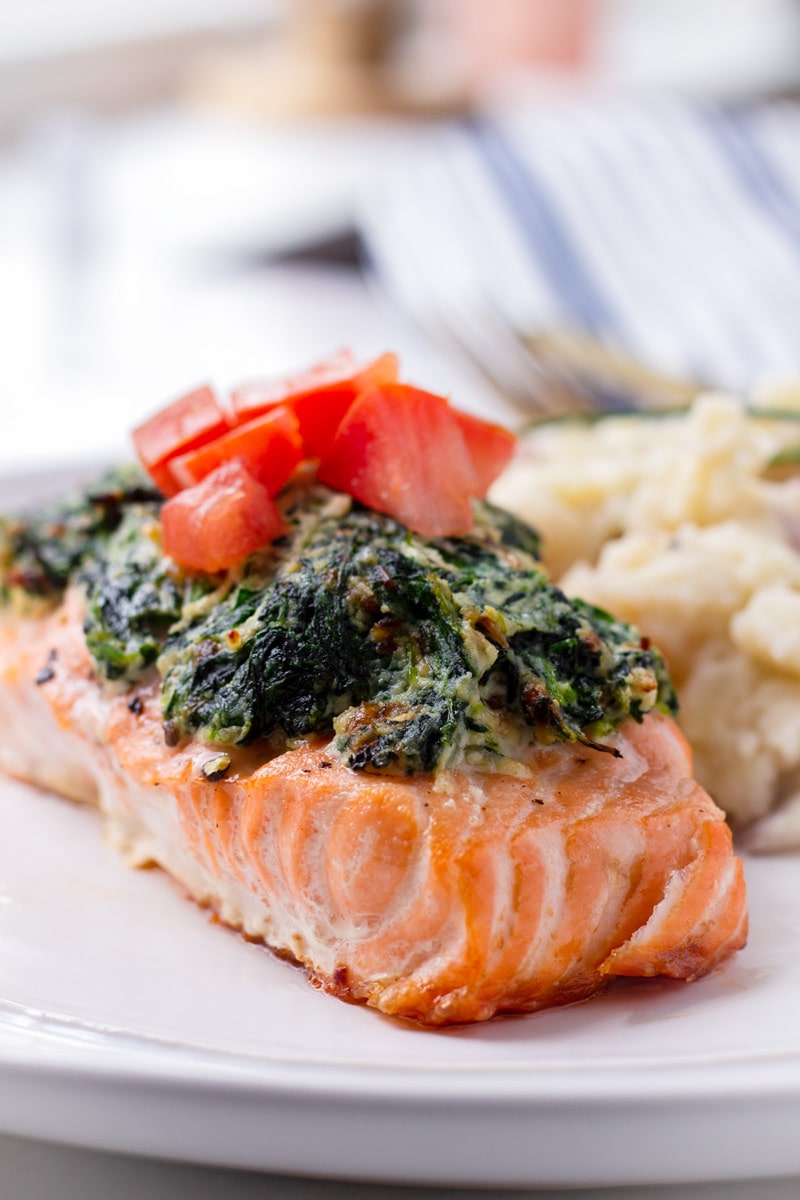 What Kind of Salmon Fillets Should I Use?
Wild-caught salmon vs farm-raised salmon? Wild-caught salmon means that it comes from the ocean or its natural habitat, as opposed to farm-raised salmon, which means that the salmon were raised in farms.
Wild-caught and farm-raised salmon look and taste very different. Wild-caught salmon is more orange-red in color and has a stronger and richer taste, which is awesome. On the other hand, farm-raised salmon is more pink-ish in color and has a milder taste compared to farm-raised salmon.
Personally, I'd recommend getting thick fillets of wild-caught salmon. I love the taste and the beautiful color!
Simple Ingredients
The ingredients in this salmon dish are very simple and easy to find. This dish is also very easy to multiply – just double or triple it. No special adjustments needed.
Here's what you'll need:
Salmon fillets: If you can, use wild-caught salmon.
Frozen spinach: For the filling!
Minced garlic and shallots: For flavor!
White wine: For flavor! It's optional though.
Ricotta and parmesan cheeses: The ricotta will add creaminess to the filling.
Diced roma tomatoes: For freshness and color.
Salt and pepper to taste
Olive oil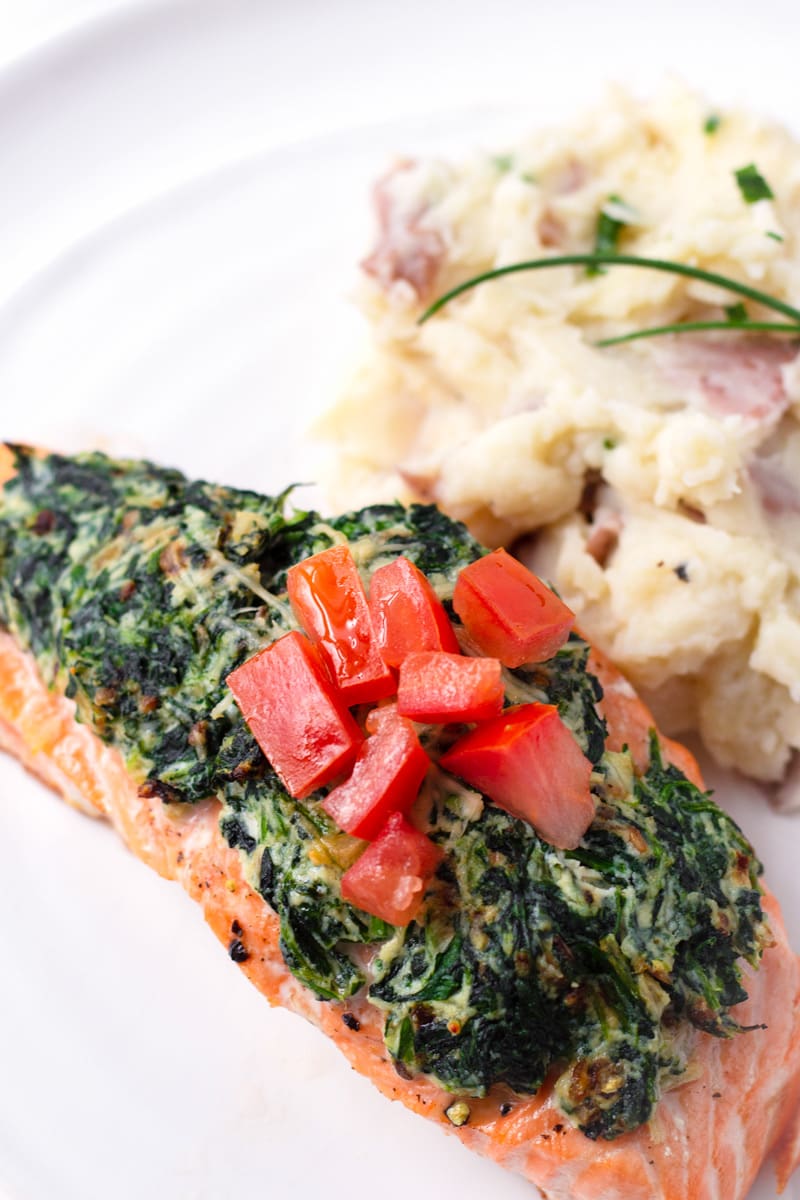 How to Make Salmon Florentine
Basically, there are 3 parts to this recipe:
Prepare the filling: It's a combination of sautéed spinach with shallots, garlic, and a drizzle of white wine…all combined with creamy ricotta and parmesan cheese.
Stuff the filling in the salmon fillets: Cut slits parallel to the longest side of each salmon fillet. Then stuff and top it with the filling.
Bake! 400 degrees for 15-20 minutes. Serve with diced tomatoes.
That's all. It will probably take 30-35 minutes to make. It's easy, quick, and delicious!
Per usual, you can find the ingredients and specific instructions in the recipe card below.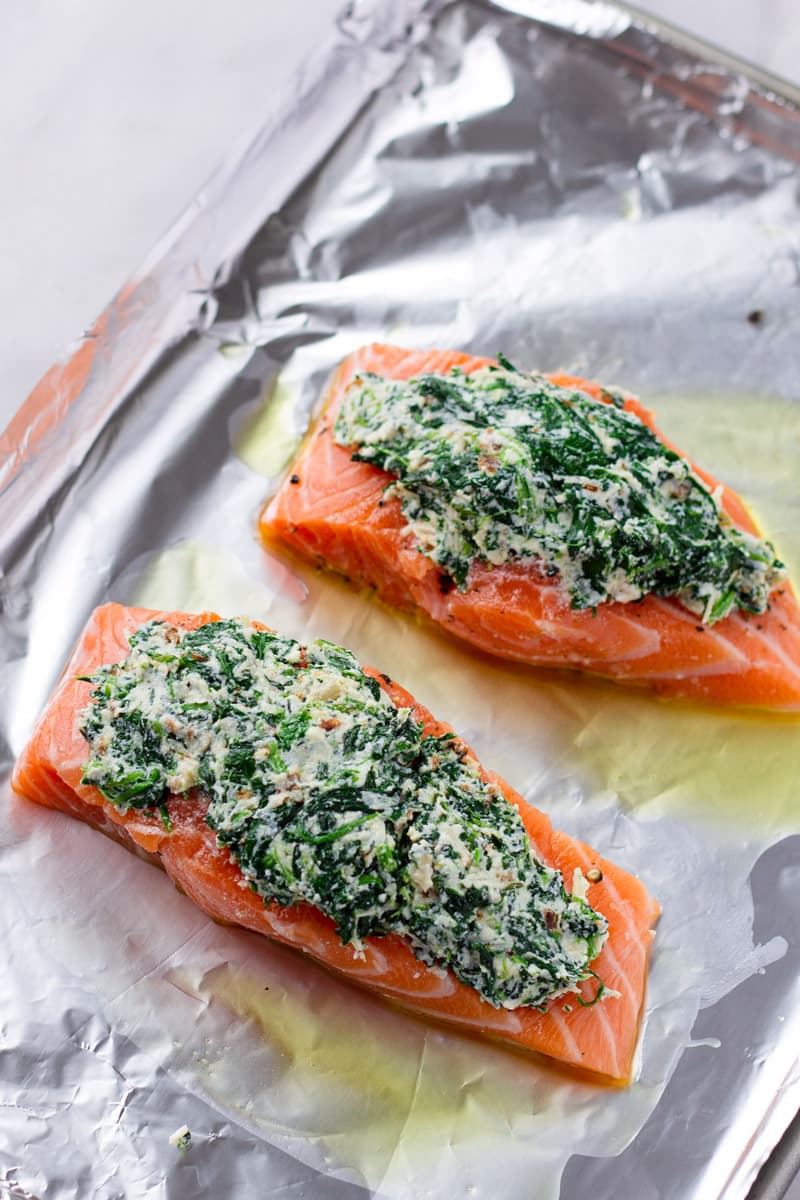 Sides and Pairings
This salmon florentine dish is delicate and is perfect for date night or a fancy dinner. This recipe goes so well with so many amazing sides.
Here are some of my favorites: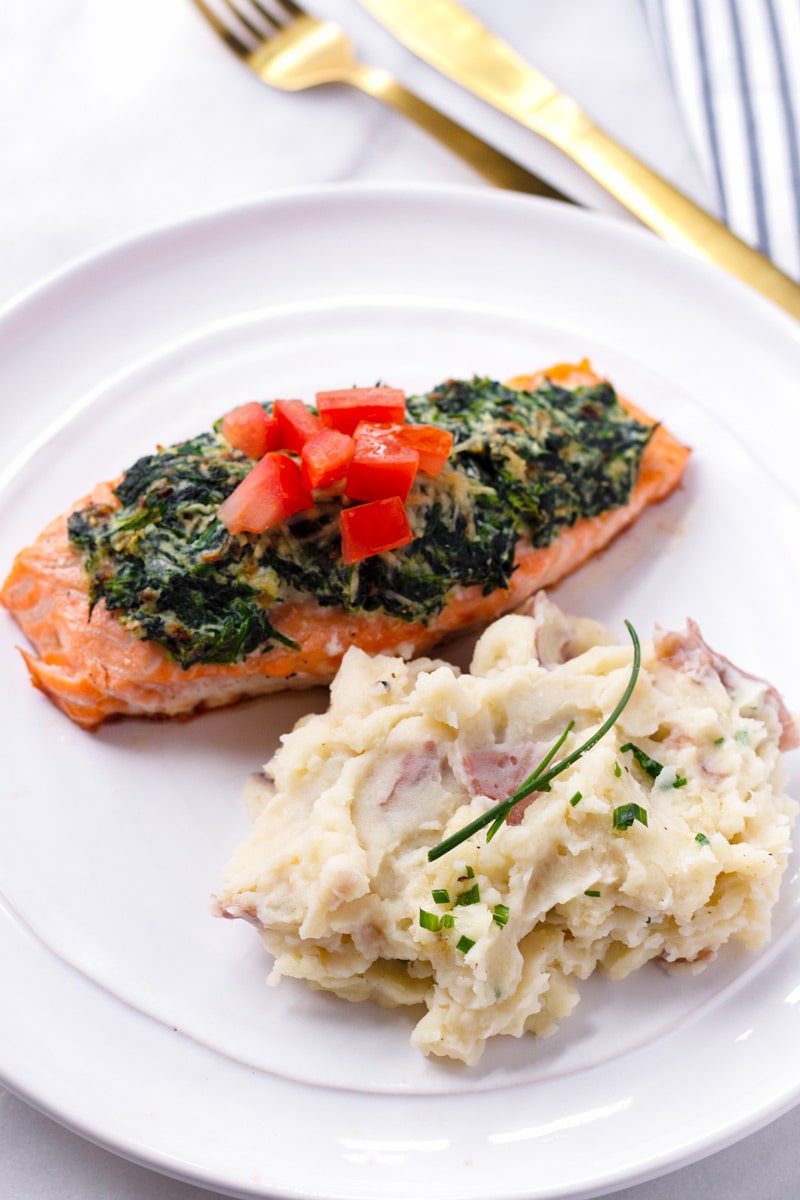 You're going to love this baked salmon florentine recipe. It's an elegant dish made with simple ingredients, and it's guaranteed to impress everyone. I'm going to make it this Friday for Valentine's Day and I'm so excited!
Thank you for reading, and please don't forget to pin this recipe! Happy cooking!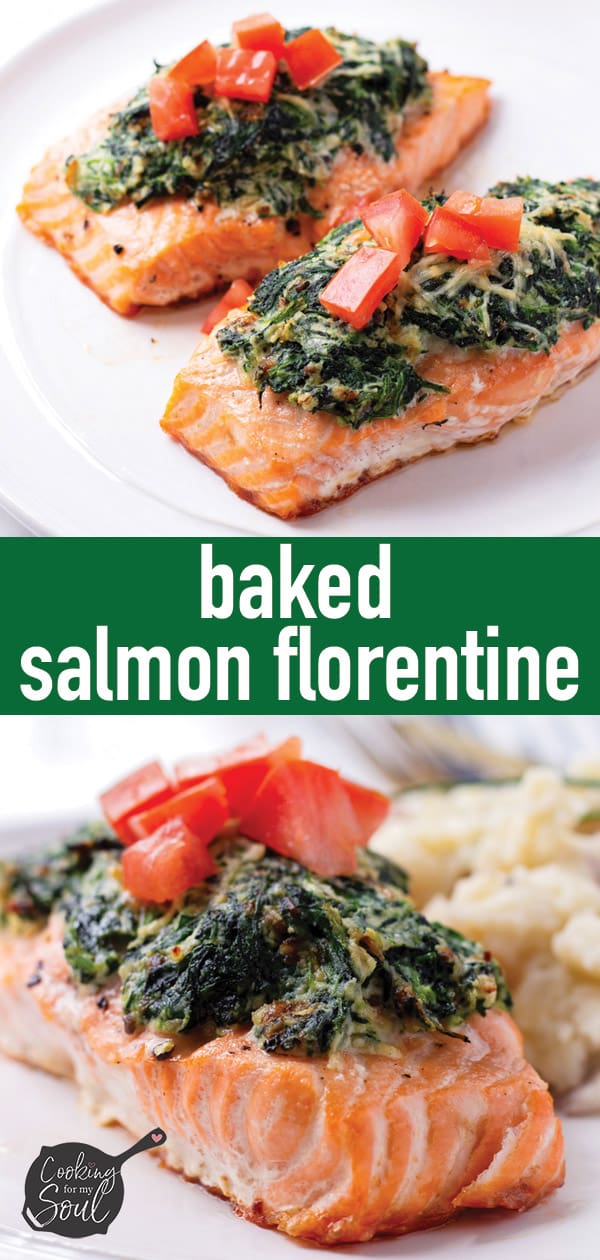 Tips for Success
Get thick cuts of salmon fillets to make it easier to stuff with the spinach and cheese filling.
Use a sharp knife to cut slits on the salmon. Make sure the cuts are deep enough to hold some filling, but don't cut all the way through either.
Remember to season the salmon fillets before adding the filling.
If you try my recipe, use #cookingformysoul on Instagram! Follow me on Pinterest, Instagram, Facebook for the latest fun updates and recipes!
Baked Salmon Florentine
This easy and elegant baked salmon florentine is perfect for a casual weeknight dinner or for a special occasion. Thick salmon fillets stuffed with a spinach and cheese mixture, and topped with fresh tomatoes.
Ingredients
4

thick salmon fillets, no-skin

1

(10 oz) package

frozen chopped spinach

(thawed and excess liquid removed)

3

cloves

garlic, minced

1/4

cup

finely diced shallots

1/4

cup

white wine

(optional)

3/4

cup

ricotta cheese

1/4

cup

shredded parmesan cheese

(plus more for sprinkling)

Salt and pepper to taste

Olive oil for pan

1

cup

diced roma tomatoes
Instructions
Preheat oven to 400 degrees F. Line a sheet pan with aluminum foil and spray and coat with some olive oil.

Heat some olive oil on a skillet over medium heat. Cook the shallots and the garlic until fragrant, about 1-2 minutes. If using, add the wine and cook until reduced. Add the spinach and cook for another 1-2 minutes until warmed. Season with salt and pepper to taste. Transfer to a plate and set it aside to let it cool for a few minutes.

Once cooled, in a medium bowl, mix the ricotta cheese and the parmesan cheese with the prepared spinach, and season with more salt and pepper if needed.

Cut a slit lengthwise in the middle of the salmon. Season salmon with salt and pepper. Stuff and then top the salmon with the spinach and cheese filling. Sprinkle shredded Parmesan over the prepared salmon.

Place the salmon on the prepared sheet pans and bake for 15-20 minutes. Remove from oven and top with diced tomatoes. Let the salmon rest for 10 minutes before serving. Enjoy!
Notes
Salmon: If you can, get wild-caught salmon. It tastes a lot better than farm-raised salmon, in my opinion.
Make ahead: prep the sautéed spinach the day before (don't add the cheese yet) When ready to cook, drain any excess liquid left behind from the spinach, and finish making the filling by adding the cheeses. Stuff the salmon and bake.