I'm all about comforting weeknight dinners! This creamy salmon pasta is on my regular dinner rotation. Everyone loves it! It's easy, creamy, cozy, and so delicious!
It's made with baked salmon, roasted cherry tomatoes, fresh spinach, fettuccine, and a homemade creamy sauce. I like to top it with freshly grated parmesan cheese and a few grinds of black pepper for extra flavor.
This salmon pasta recipe is also very customizable. Below I share some of my favorite ways to tweak it. I promise you will love it!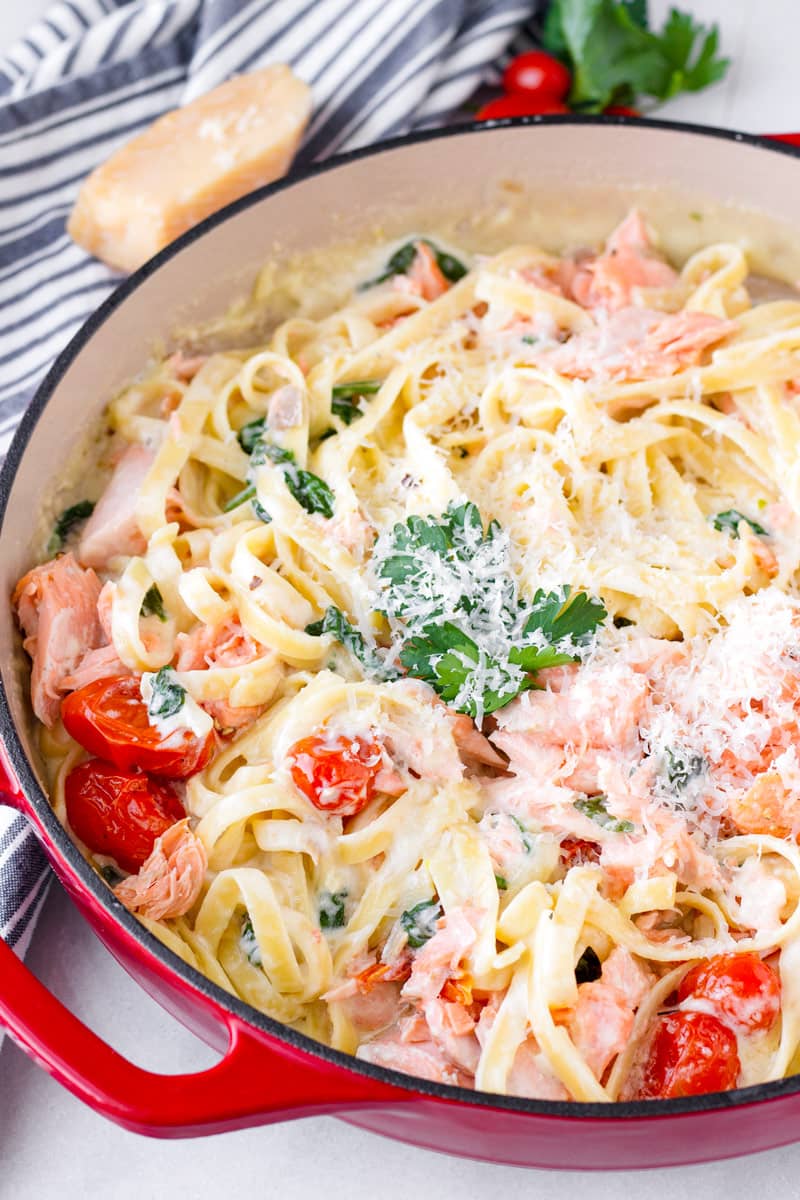 I've been into comforting meals lately (check out my potato corn chowder and beef barley soup). Today I'm sharing another cozy dinner recipe: creamy salmon pasta. It's a true favorite in my house. Absolutely delicious!
Tender salmon…tossed with pasta, tomatoes, spinach, and a homemade creamy sauce. I swear, every bite of this salmon pasta is absolutely divine.
Fresh Ingredients
I love how fresh every ingredient in this salmon pasta recipe is. Fresh salmon, fresh tomatoes, fresh spinach…fresh everything. SO good!
These ingredients are also very easy to find. Nothing complicated here. What you'll need:
Pasta: I love fettuccine, but feel free to use any pasta you like!
Fresh salmon: In this recipe, I bake the salmon for about 12-14 minutes at 400 degrees F. It's much easier than pan-frying it.
Cherry tomatoes: The cherry tomatoes are oven-roasted at 400 degrees F for about 10-12 minutes. This process brings out so much flavor!
Spinach: Adds color, flavor, and texture. Plus, spinach is delicious!
Salt, pepper, olive oil: Just the basics.
Grated parmesan cheese and fresh parsley: For garnish.
For the sauce: Butter, fresh garlic, heavy cream, and freshly grated parmesan cheese. More below!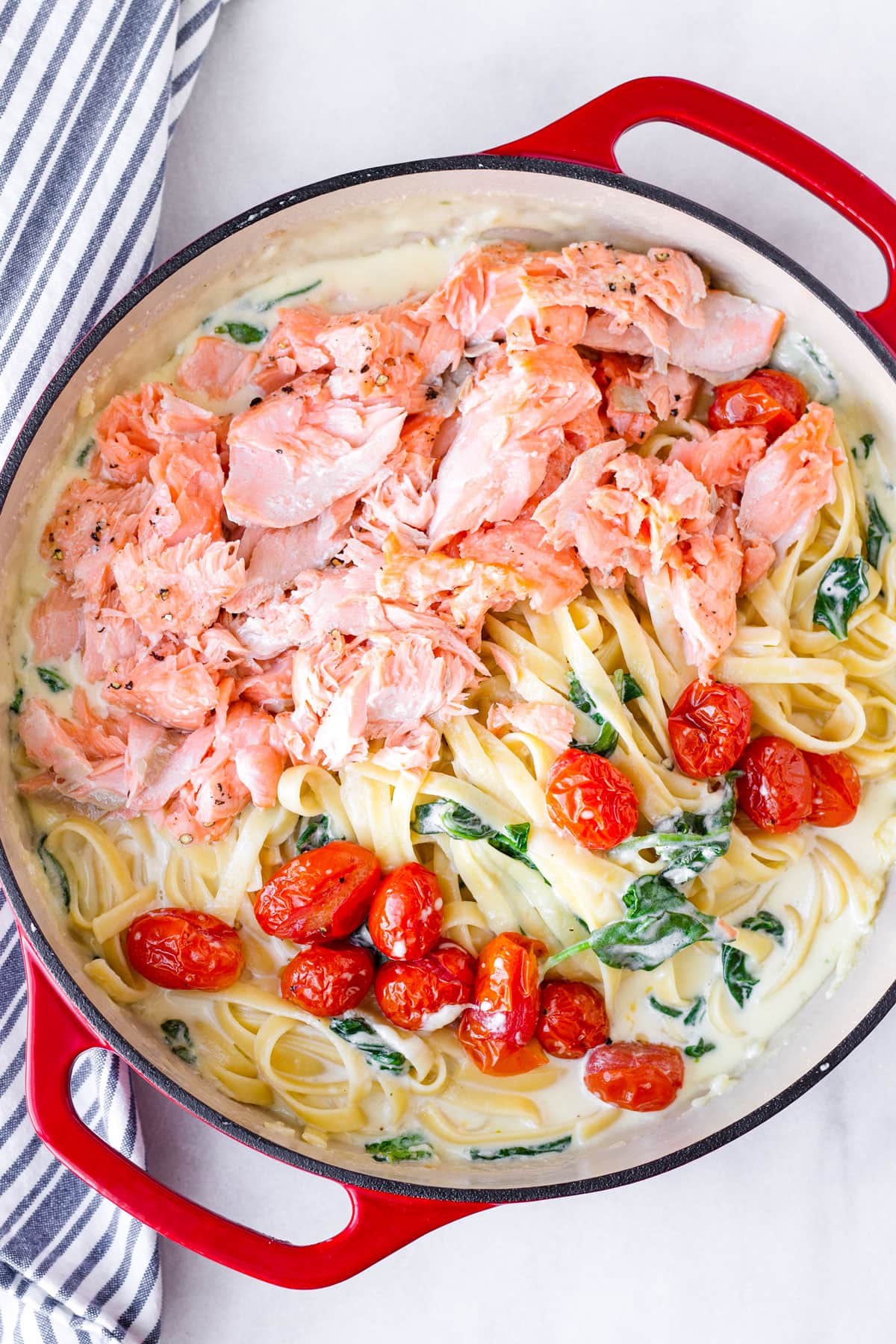 The Creamy Sauce
The creamy sauce for the salmon pasta is made with only a few ingredients:
Unsalted butter: For the base and for flavor.
Freshly minced garlic: For flavor.
Heavy cream: For texture and richness.
Freshly grated parmesan: For texture and lots of savory flavors.
Freshly ground black pepper
I'd highly recommend using freshly grated parmesan instead of the pre-bagged shredded parmesan. Pre-shredded cheese often comes with extra preservatives that make it a bit harder to melt. Plus, freshly grated cheese always tastes better!
You could say it is like an alfredo sauce, except it's got heavy cream to make it extra creamy and rich. The cheese adds so much flavor and consistency to the sauce. I absolutely love it!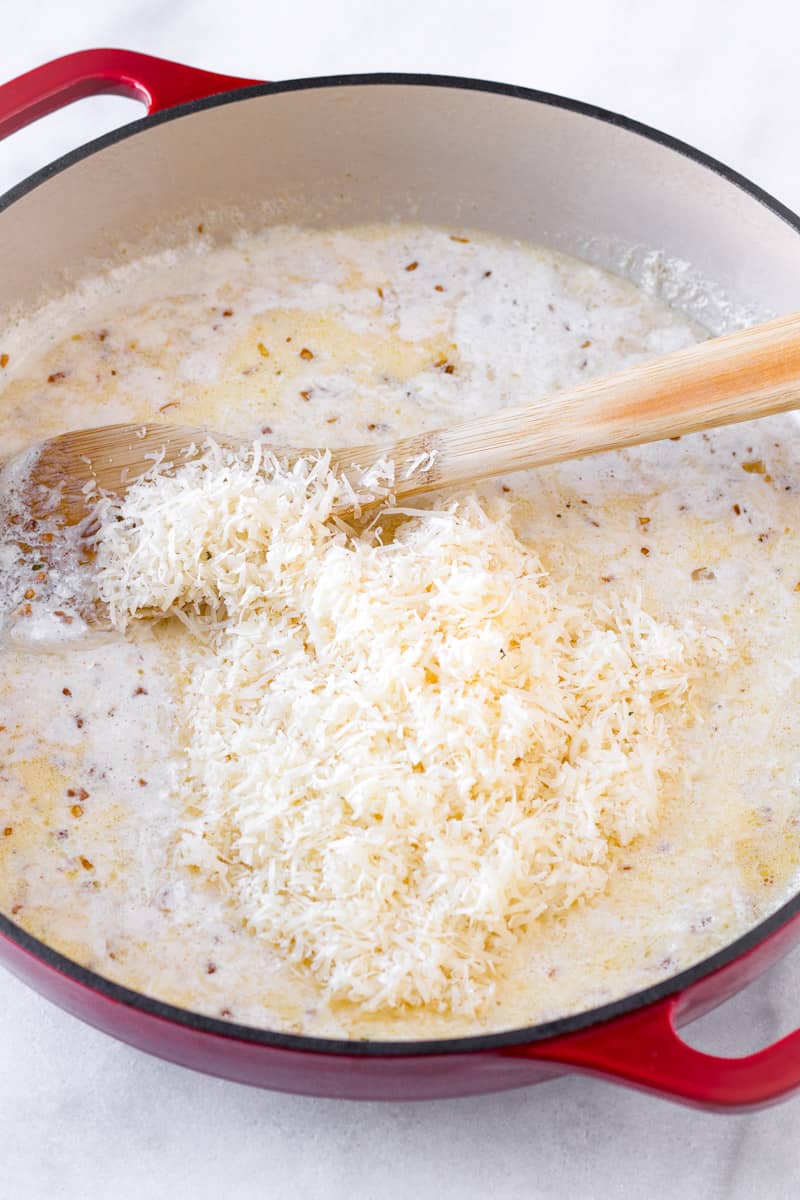 Cooking the Salmon
For this salmon pasta recipe, I bake the salmon. I've tried several cooking methods (pan-searing, poaching, steaming, etc), and baking is my favorite method because of 2 main reasons:
It's less work: Simply line a sheet pan with foil and bake the salmon. Plus, this recipe also calls for oven-roasting the tomatoes, so you can just do it all in one sheet pan.
Easier clean-up: Rather than washing another skillet (if pan-searing), you can just line a sheet pan with foil, and minimize clean-up that way.
I'd definitely recommend baking the salmon fillets to keep everything streamlined and easy. In fact, I sometimes bake it the day before to make it even easier. Or, if you have leftover salmon, you can use that too. The simpler, the better!
Now, if you want to make this salmon pasta recipe EXTRA easy, try using smoked salmon or even canned salmon. Personally, I'm not a big fan of canned salmon, but it's definitely an option if you like it.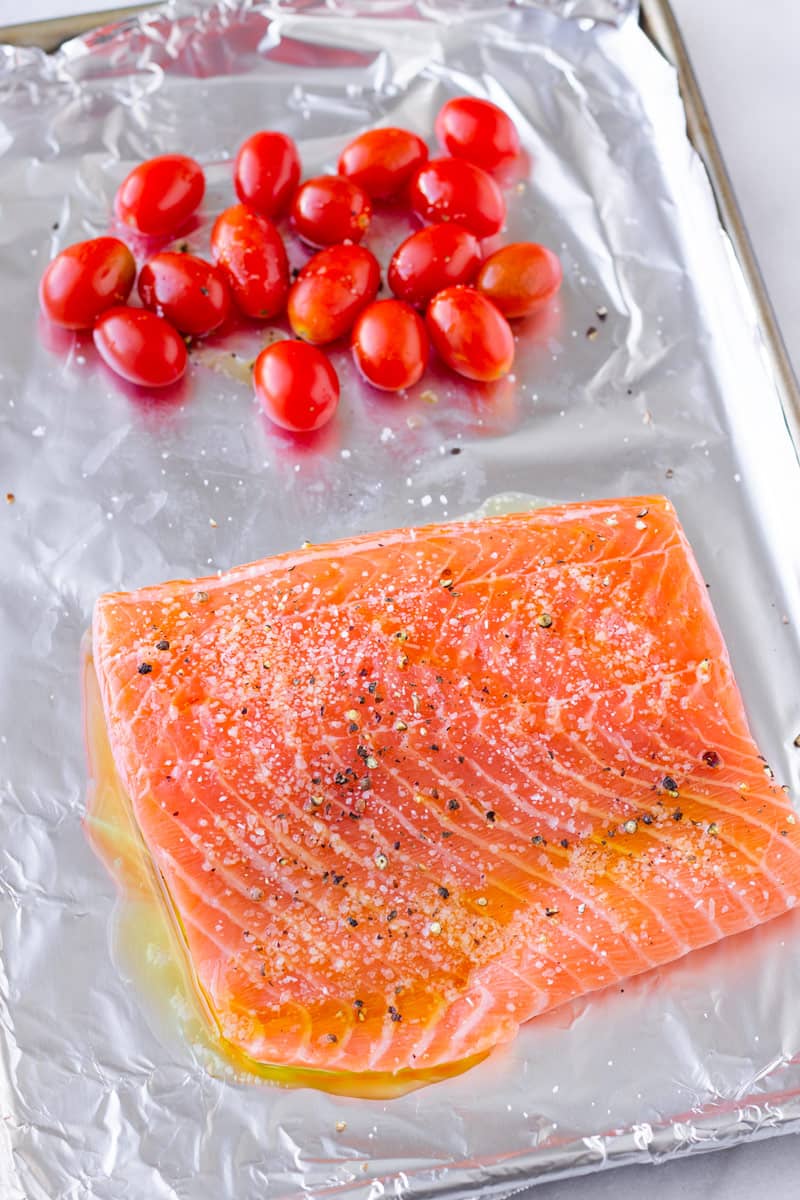 Let's Make It
You only need to follow a few steps in this creamy salmon pasta recipe! Below is an overview to give you an idea. As always, detailed directions are included in the recipe card all the way below.
Here's how it goes:
Cook the pasta: Cook the pasta according to package directions. Remember to salt the water generously. This will season the pasta and enhance overall flavors.
Bake the salmon and the cherry tomatoes: In a 400 degree F oven for about 12 minutes! You can do it all on the same sheet pan. Tip: line the pan with aluminum foil to minimize clean-up. After it's done, let the salmon rest for about 10 minutes and then flake it with a fork.
Make the creamy sauce: While the salmon and tomatoes are baking, make the sauce by melting the butter, cooking the garlic for a few secs, and adding the cream and grated parmesan cheese. Season with ground black pepper.
Toss everything together! Cooked pasta, salmon, roasted tomatoes, and sauce. Season with salt and pepper.
I love garnishing my salmon pasta dish with grated parmesan cheese and some freshly chopped Italian parsley. It's lovely!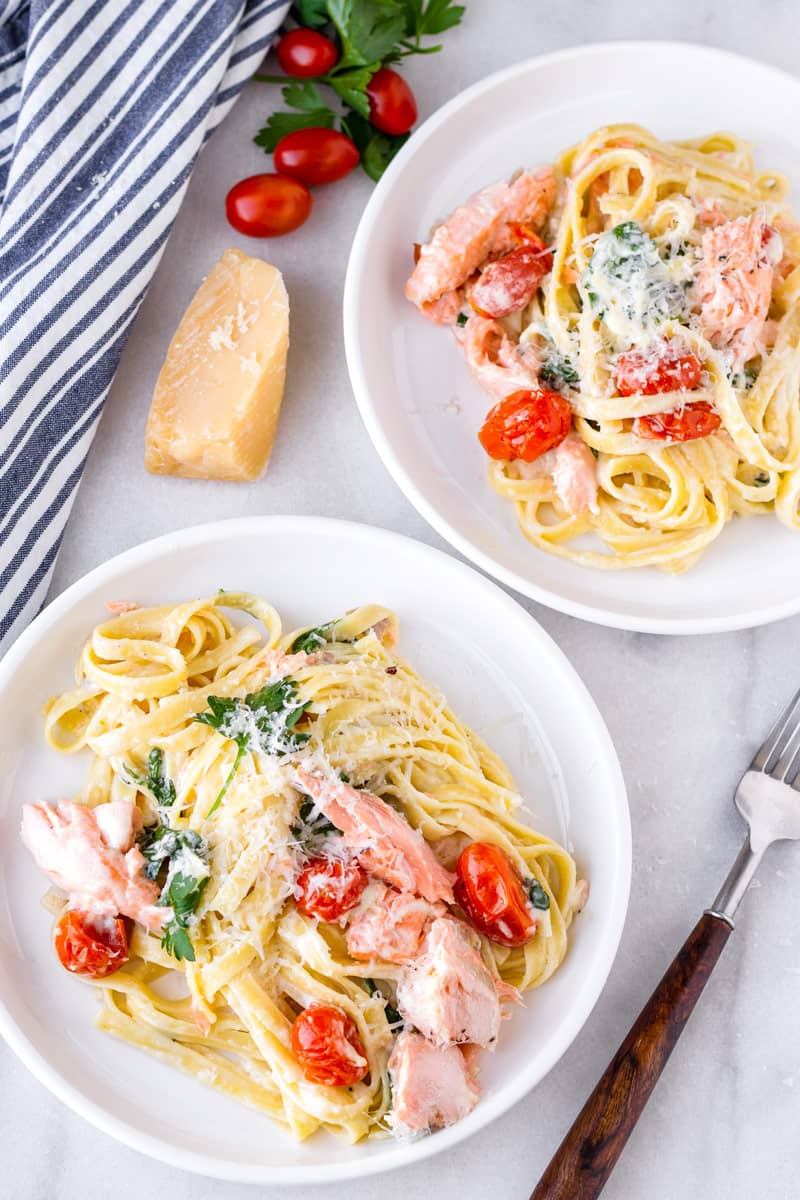 Shortcuts for Busy Weeknights
Sometimes, I crave this creamy salmon pasta during weeknights, which means I need to use a few shortcuts. Life is busy, but it doesn't mean you can't make yummy food at home!
Here are ideas to cut the time in almost half:
Use smoked salmon instead. Roughly slice it and throw it right into the pan! The only downside is that smoked salmon tends to be a bit pricey.
If you want, you can also use canned salmon…although it's not my favorite. It's an option though!
Use pre-grated parmesan cheese for the sauce. I know, I know…I said earlier that it's best to use freshly grated cheese. But hey, if you're trying to save time, pre-grated will do. Life is busy!
Instead of roasting the cherry tomatoes, use them fresh.
Make ahead: The salmon and pasta can be cooked 1 day in advance. As for the sauce, it's best to make it fresh.
If you can think of any other shortcuts, feel free to comment below. I'd love to hear from you!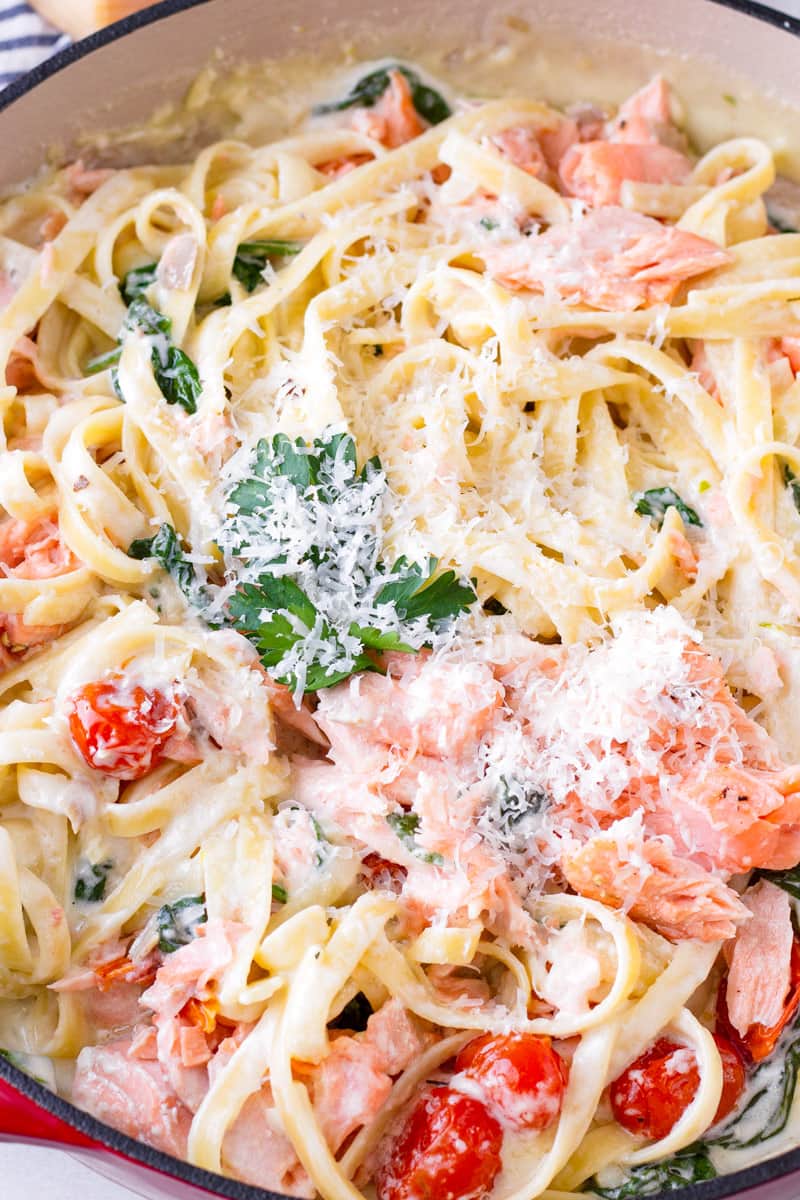 Customizations and Variations
I customize this creamy salmon pasta all the time. It's one of those recipes that you can make your own just by tweaking a few simple things.
Here are my favorite ways to customize it:
Use smoked salmon
Add freshly diced tomatoes instead of roasted cherry tomatoes
Throw in fresh herbs, such has dill or parsley
Use other shapes of pasta! My faves are spaghetti, pappardelle, penne, rigatoni, and farfalle.
Other additions: asparagus, capers, asparagus, kale, mushrooms, or sun-dried tomatoes.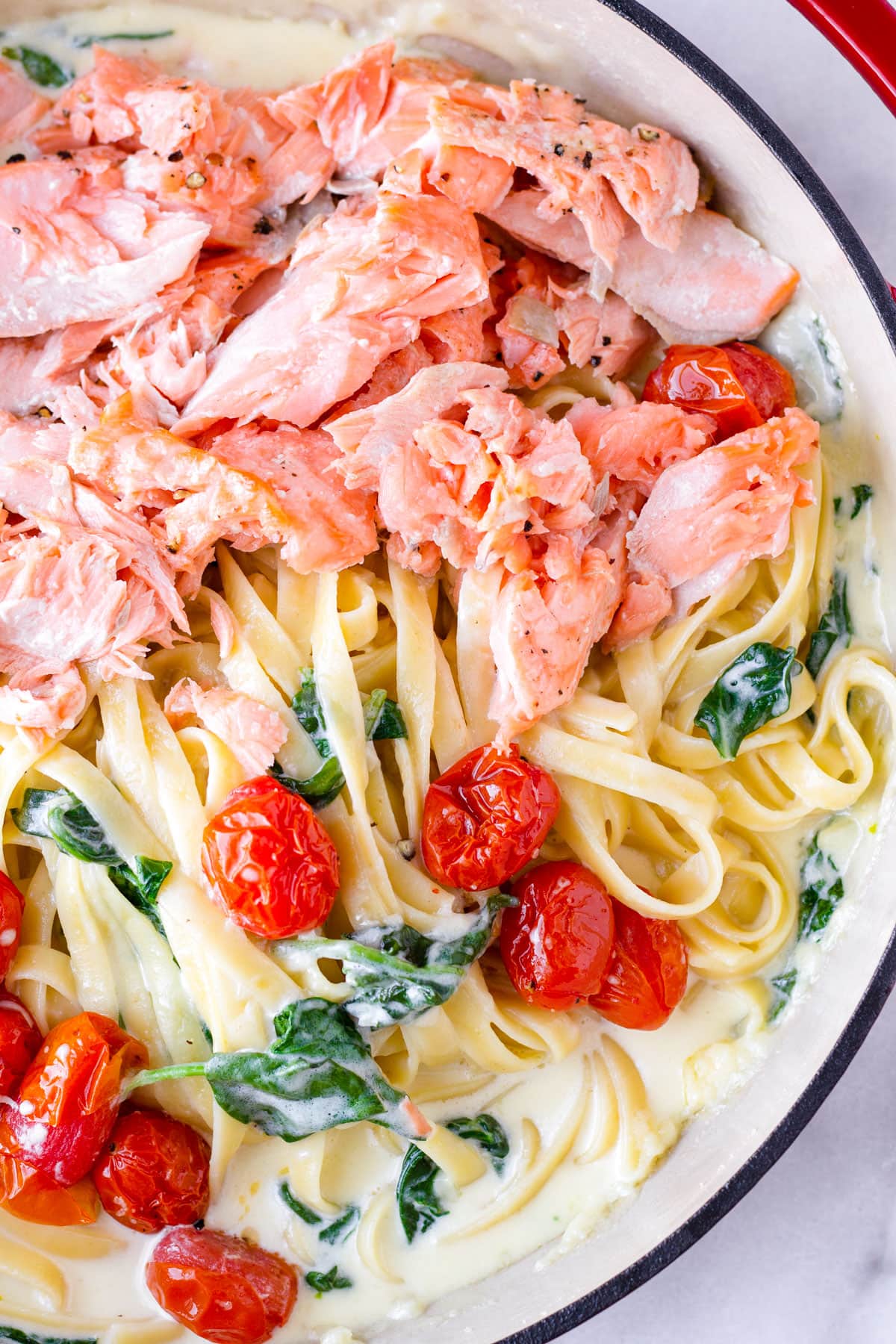 I absolutely love this easy dinner recipe. I'm always looking for ways to make salmon because it's my favorite fish. This creamy salmon pasta is definitely highly rated in my house!
It's easy and delicious, and comes together in under 1 hour. It's also make-ahead friendly, which is great for those busy weeknights! If you're looking to make an extra quick version, try using smoked salmon or even any leftover salmon you may have.
Thank you for reading. I hope you like this recipe as much as I do!
Here are a few other easy weeknight dinner ideas:
Tips for Success
For easy clean-up, be sure to line the sheet pan with aluminum foil.
Preferably for the sauce, use freshly grated parmesan for best results.
Make ahead: The salmon can be cooked the day before and refrigerated until ready to use. You can also cook the pasta the day before. For the sauce, it's best to make it fresh.
Creamy Salmon Pasta
This creamy salmon pasta is one of my favorite weeknight dinners! Oven baked salmon, roasted cherry tomatoes, fresh spinach, and pasta tossed with a creamy homemade sauce. It's so easy and delicious!
Ingredients
0.75

pounds

fettuccine pasta

1

pound

fresh salmon fillet

1 ½

cups

cherry tomatoes

1

cup

baby spinach leaves, packed

-

(plus more if desired)

Kosher salt

Ground black pepper

Olive oil

Chopped Italian fresh parsley for garnish

Freshly grated parmesan cheese for garnish
Creamy Sauce
4

tablespoons

unsalted butter

3

cloves

fresh garlic, minced

1

cups

heavy cream, plus more to taste

2

cups

freshly grated parmesan cheese

Ground black pepper to taste
Instructions
Preheat oven to 400 degrees F. Line a sheet pan with aluminum foil. Set aside.

Cook the fettuccine according to package directions in a pot of generously salted water. Drain and set aside.

Place the salmon fillet (skin-on is fine) on the prepared sheet pan. Drizzle the salmon with about 1 tablespoon of olive oil. Season it with about ½ teaspoon Kosher salt and ¼ teaspoon ground black pepper. On the same sheet pan, arrange the cherry tomatoes and drizzle with a little bit of olive oil and a pinch of salt. Bake at 400 degrees F for 12-14 minutes, or until the salmon is fully cooked (baking time depends on how thick it is). The tomatoes should look a bit blistered. Remove from oven and let it rest for at least 10 minutes. Then, flake the salmon with a fork (you can remove the skin). Set aside.

Make the creamy sauce: While the salmon and tomatoes are baking, melt the butter on a large deep skillet and add the minced garlic over medium heat. Cook for 1-2 minutes or until fragrant. Then, add the heavy cream and bring to a light simmer. Add the freshly grated parmesan cheese and a few grinds of black pepper. Stir until melted and incorporated. If too thick, add more heavy cream to taste.

Add the spinach to the creamy sauce and cook for 1 minute until reduced. Add the fettuccine and roasted tomatoes and toss with the sauce. Add the flaked salmon and gently toss a few more times.

Serve freshly chopped Italian parsley and grated parmesan cheese. Enjoy!
Notes
Special equipment: sheet pan, aluminum foil, box grater.
Use any pasta you want! Try linguini, spaghetti, rigatoni, farfalle, etc.
Shortcut ideas: Rather than roasting the tomatoes, use them fresh. You can also use smoked salmon.
Make ahead: The salmon can be cooked the day before. The pasta can also be cooked the day before. The creamy sauce cannot be made ahead.
Disclaimer: Nutritional values (per serving) are approximates only.
Nutrition
Serving:
1
serving
|
Calories:
1030
kcal
|
Carbohydrates:
68
g
|
Protein:
57
g
|
Fat:
59
g
|
Saturated Fat:
32
g
|
Polyunsaturated Fat:
6
g
|
Monounsaturated Fat:
17
g
|
Trans Fat:
1
g
|
Cholesterol:
291
mg
|
Sodium:
889
mg
|
Potassium:
1053
mg
|
Fiber:
3
g
|
Sugar:
4
g
|
Vitamin A:
2827
IU
|
Vitamin C:
17
mg
|
Calcium:
673
mg
|
Iron:
4
mg