A true fall comfort dish! This Butternut Squash Risotto is so delicious and perfect for the season. It's made with roasted butternut squash, arborio rice, and parmesan as the main ingredients. The flavors are out of this world!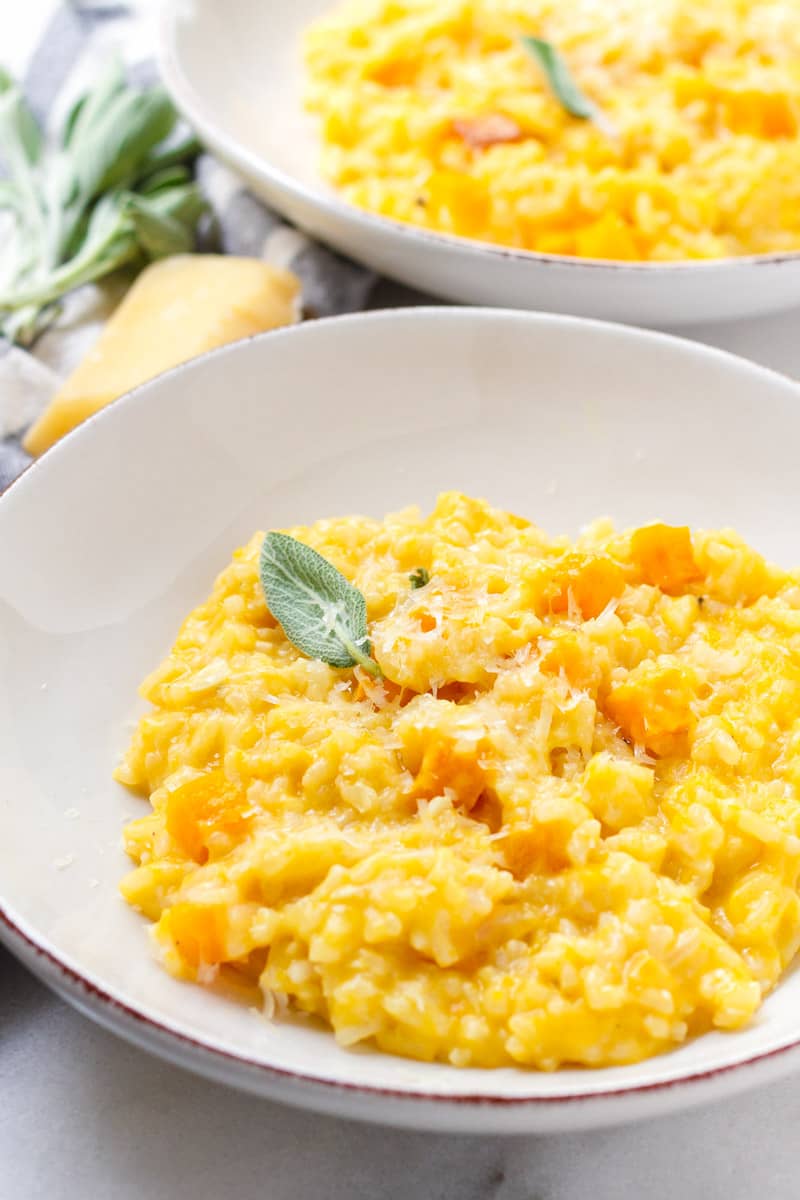 Risotto is one of my favorite Italian dishes. I love the rich texture from the arborio rice and the amazing flavors from the cheese. To put a fall-inspired twist on risotto, I made this delicious and comforting Butternut Squash Risotto. It's AMAZING!
This butternut squash risotto is made with fresh ingredients, which is always the key to amazing tasting dishes.
I roast the butternut squash until tender, and then puree it so it can be mixed in with the risotto in the final step. That's right, no canned pureed butternut squash here at all!
You'll also taste delicious cheesy flavors from the grated parmesan cheese. The parmesan cheese adds so much depth. So, be sure to use really good parmesan cheese, preferably hand-grated.
Let's get started!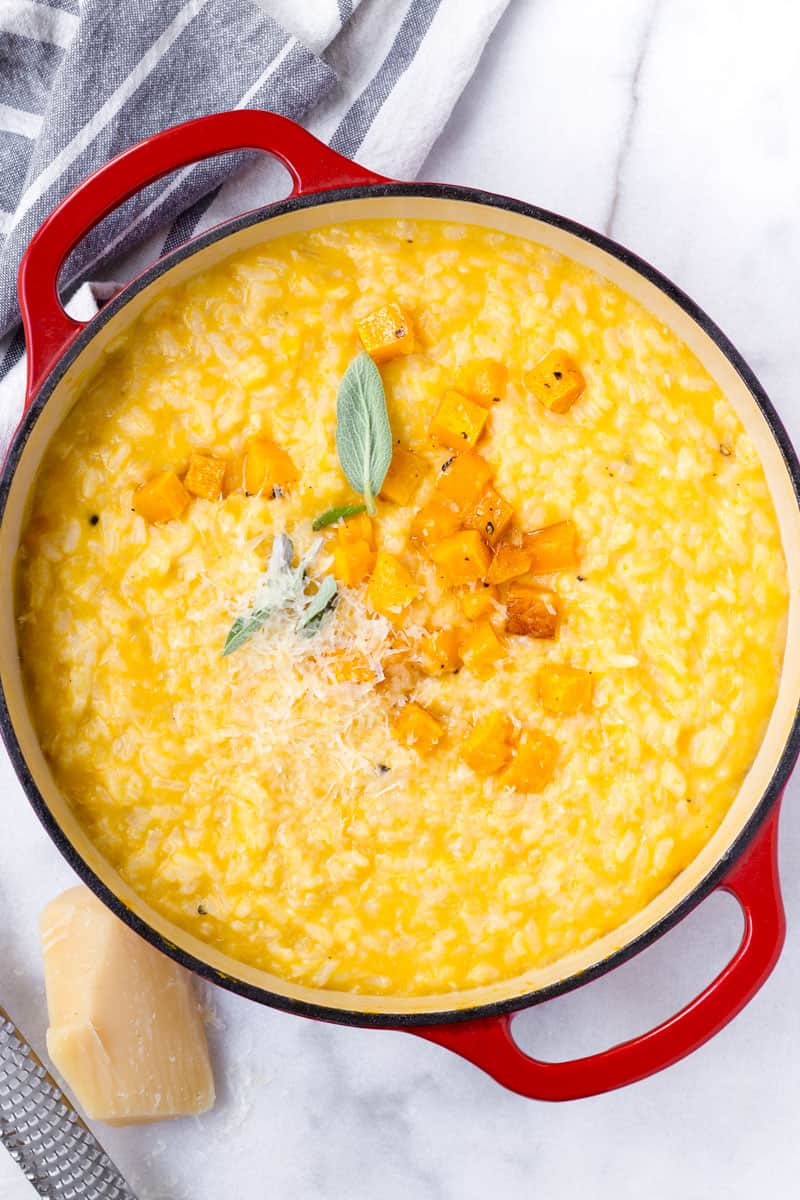 The Secrets to Making Amazing Risotto
Risotto is a very hands-on dish. I say this because the key to getting that creamy consistency is stirring.
Basically, you have to add broth to the rice, stirring constantly but not excessively, until each cup of liquid is absorbed. Here's how it goes: you add broth to the rice, 1 cup at a time, stirring until each cup of liquid is absorbed…repeating about 6 times (for 2 cups of rice) until the rice is cooked through, tender, and creamy.
No need to add any milk at all! It doesn't need any milk or cream for creaminess. Just stirring will do it…really!
Here are some tips for making amazing risotto:
Don't rinse the rice: To keep the rice sticky and creamy, you need starch. Washing the rice washes away the starch.
Use the right type of rice: I use arborio rice.
Stir often: Stirring often creates that creamy texture and encourages the release of starch.
But don't over-stir! Stirring too vigorously or too frequently will actually turn it a bit too gluey. You need to stir often to help the starch release and to prevent the bottom from sticking, but don't overdo it.
Don't overcook it: Cook until al dente or until desired consistency. Don't let it turn mushy.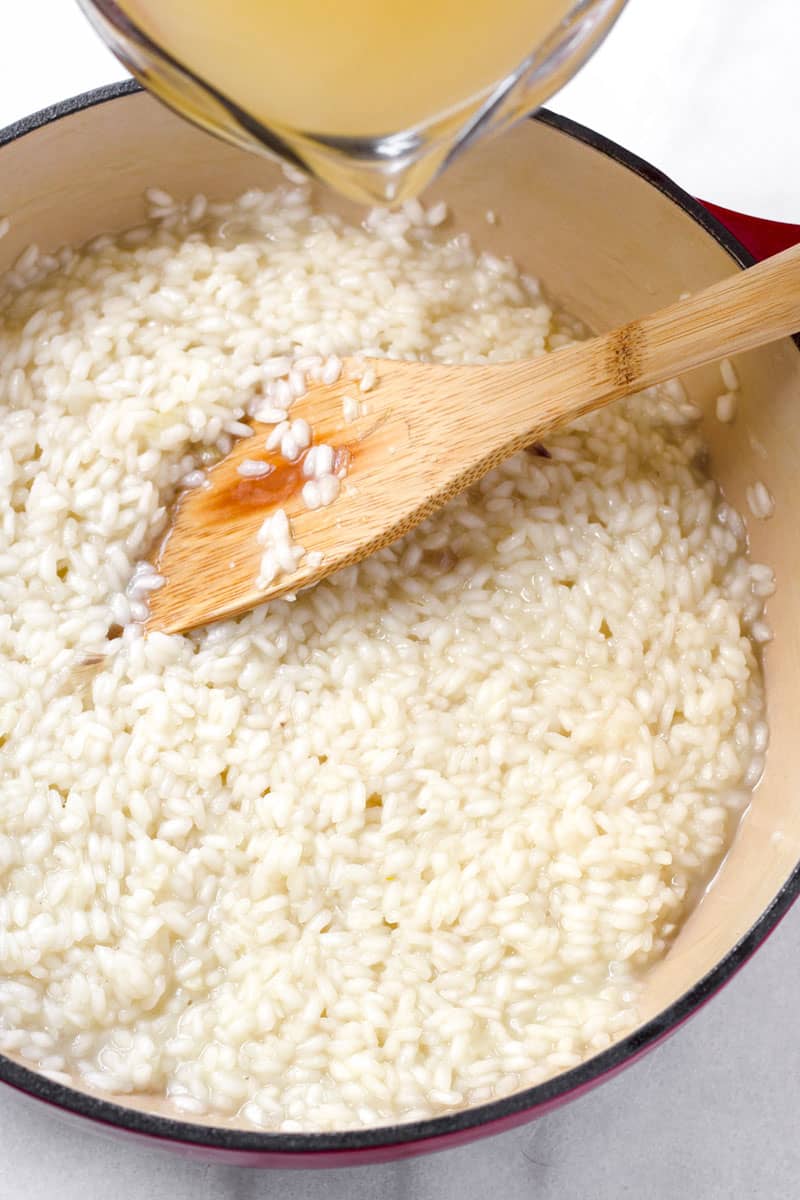 Ingredients for Butternut Squash Risotto
All the specific ingredient quantities are detailed below in the recipe card, but I wanted to give you an overview of the ingredients you'll need:
Butternut squash: I used about 2 ½ of cubed butternut squash, and then roasted it and pureed it.
Arborio rice: It's important that you use Arborio rice. It is starchy and turns out creamy.
Broth: Chicken broth or vegetable broth work great.
Minced shallot and garlic: For flavor. Dice it finely so it melts into the risotto as it cooks.
Dry white wine: Wine is important for flavor and to add some acidity to balance out the richness of the risotto.
Grated parmesan cheese: What's risotto without parmesan cheese? I'd recommend using hand grated cheese.
Salt and pepper to taste
Olive oil and unsalted butter
Garnish: Sage, thyme, or rosemary are good options. I also set aside a few chunks of the roasted squash to use as garnish.
The keys in this butternut squash risotto recipe are 1) roasting fresh butternut squash at home (no canned puree here!), and 2) using the right type of rice (Arborio rice works great!).
Good ingredients are essential for a great final product, in my opinion, especially when it comes to risotto.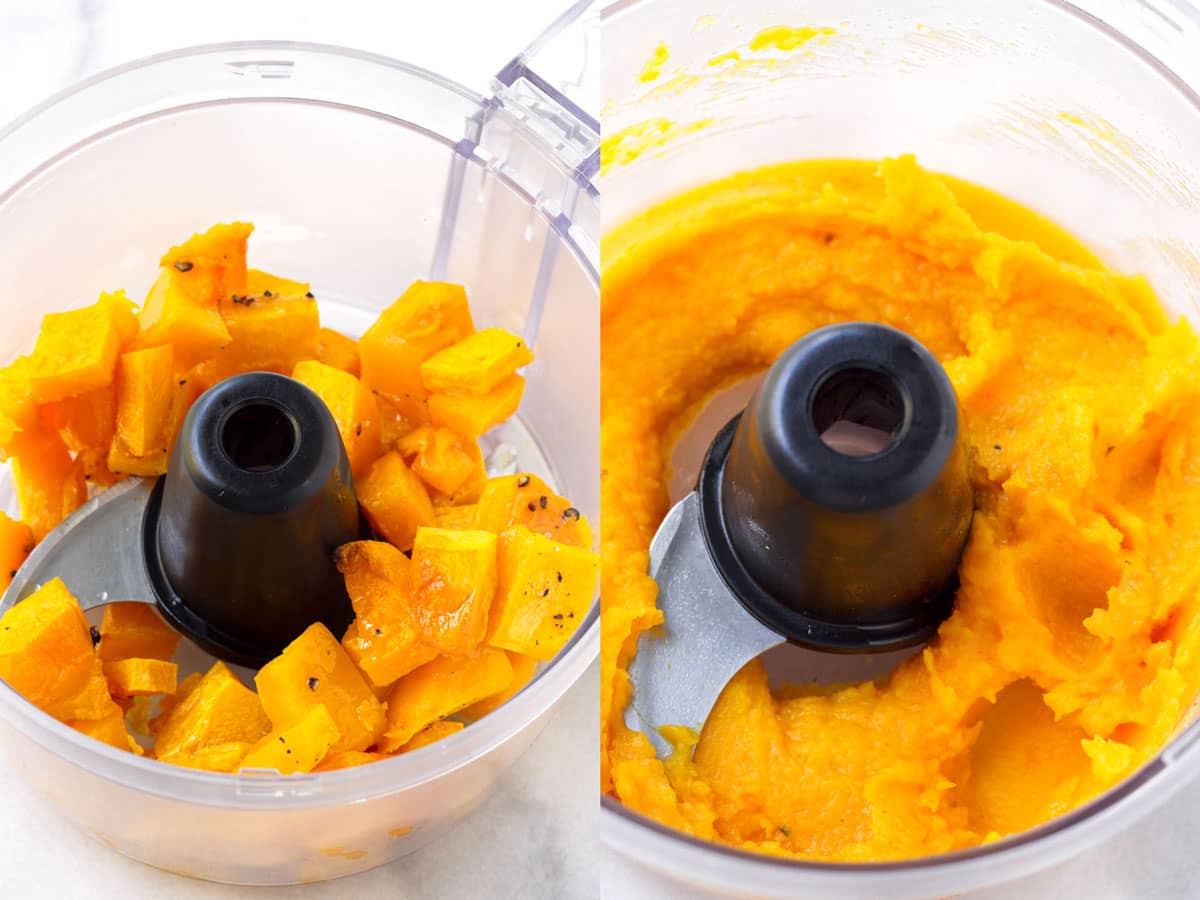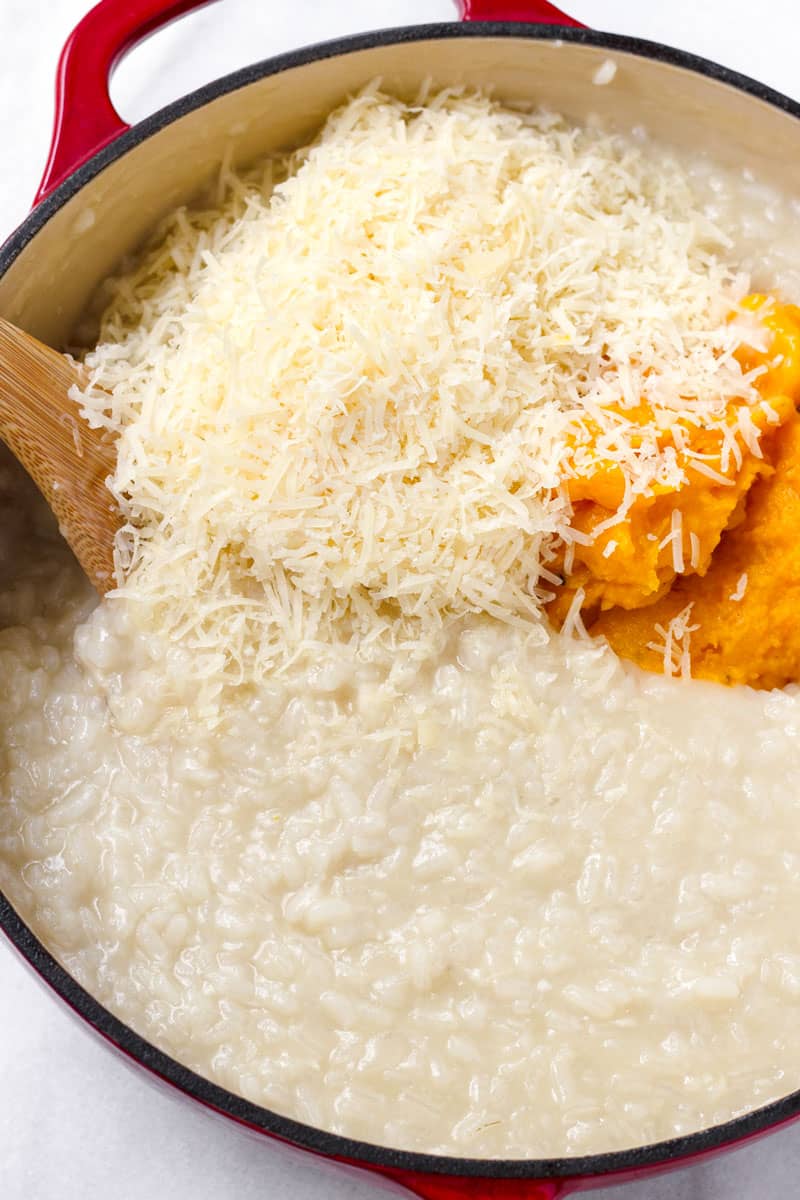 Let's Make It
Making risotto requires attention, as you need to stir it constantly, but it's quite easy and simple!
Here's an overview of the steps to make butternut squash risotto (specifics all the way down in the recipe card below!):
Prepare the butternut squash: Roast cubed butternut squash at 400 degrees Fahrenheit for 30-35 minutes. Then puree it with a food processor and set aside.
Sauté the shallots and garlic: In a pot (5 or 6 quart) with olive oil, sauté these ingredients until fragrant and soft.
Toast the rice: Melt butter and add the arborio rice to the pot. Stir until toasted, or until it starts to smell fragrant and nutty.
Add the white wine and cook until absorbed.
Cook the rice: Add 1 cup of broth at a time after each cup is absorbed, stirring quite often, but not over-stirring. Repeat with 5-6 cups of broth (for 2 cups of rice), or until al dente.
Stir in the butternut squash puree and the parmesan cheese: …and done!
This is seriously the best butternut squash risotto I've ever tasted. So delicate, creamy, delicious, and comforting!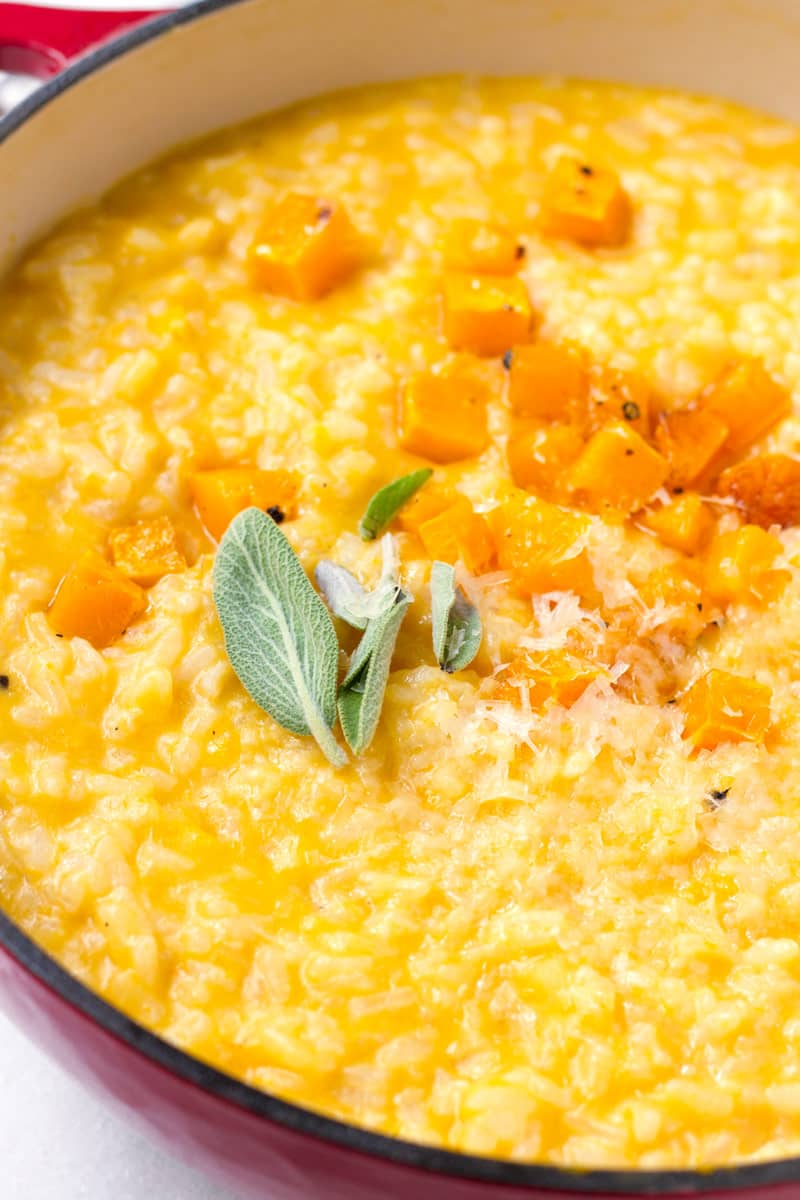 Pairing Ideas
I like to serve risotto on its own. Risotto is more like a main dish that shines just by itself.
However, that doesn't mean you can't accompany it with other sides! The key is not to use something else that will overshadow the risotto.
These are my favorite butternut squash risotto accompaniments:
Scallops, shrimp or lobster
A simple side salad
Roasted asparagus
Toasted garlic bread
My own opinion: The only time I approve of demoting risotto is when a good steak (hello filet mignon!) is served over a bed of creamy risotto. It's amazing!
And of course, can't forget about a good white wine! Sauvignon Blanc is my favorite wine to pair with risotto.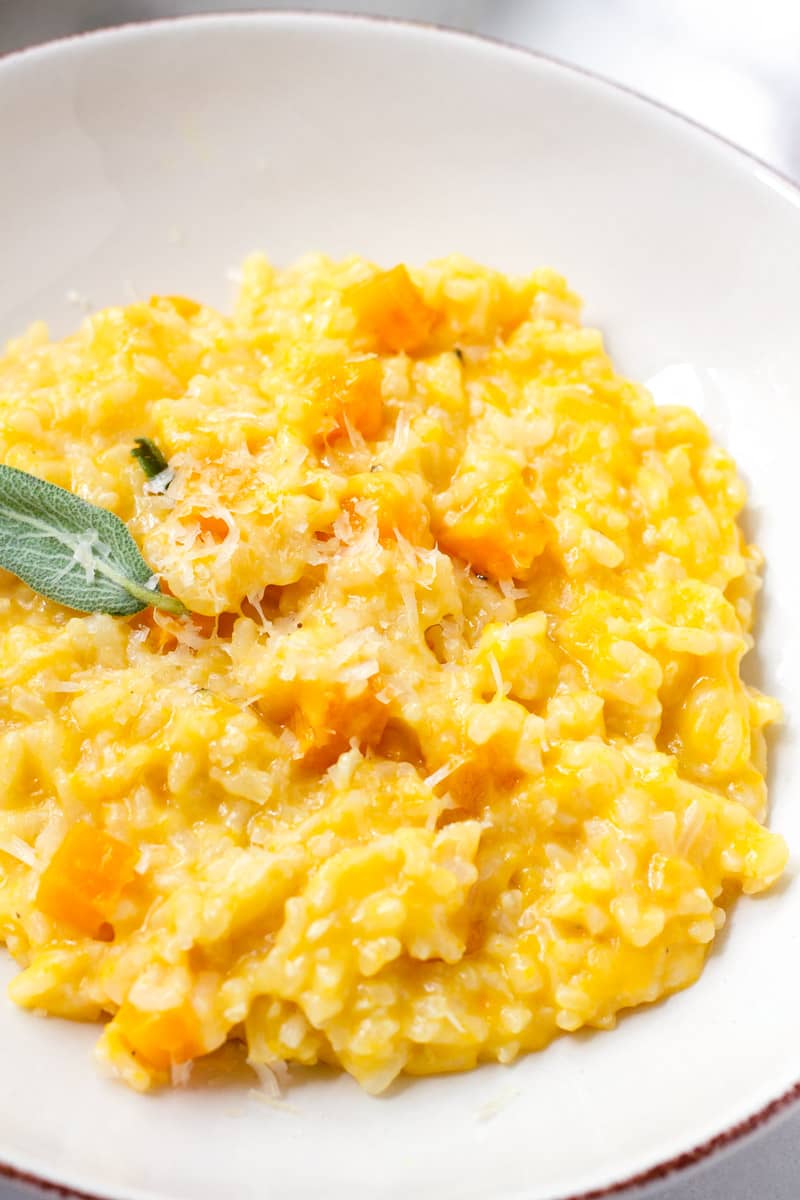 I love how elegant this butternut squash risotto is. The texture, flavor, and depth are all on point! Plus, the roasted butternut squash puree adds a nice touch of sweetness and autumn flavors.
It's truly comforting and cozy, especially during this fall weather. Happy cooking!
More comforting main dishes:
Tips for Success
Making risotto is all about stirring the rice constantly while adding the broth 1 cup at a time. But, remember not to overdo it, or it could turn gluey. Overdoing it would be stirring too vigorously, too quick or too often.
Use a good white wine. My favorite is Sauvignon Blanc.
Cook the rice until al dente or desired texture. Sometimes, it takes one less or one more cup of broth. Taste for doneness as you go.
Butternut Squash Risotto
This creamy, delicate, and delicious butternut squash risotto is the perfect fall-inspired comfort main dish. The rice is creamy and tender, and the butternut squash adds so much flavor.
Ingredients
2 ½

cups

butternut squash, cut into 1 inch cubes

Salt and pepper to taste

Olive oil

1

small shallot, finely minced

3

cloves

fresh garlic, finely minced

2

tablespoons

unsalted butter

2

cups

arborio rice

-

(do not rinse)

1

cup

dry white wine

-

such as Sauvignon Blanc

6

cups

chicken or vegetable broth, plus more as needed

⅔

cup

grated parmesan cheese, plus more for garnish

-

preferably hand-grated

Herbs for garnish

-

sage, thyme, or rosemary
Instructions
Prepare the butternut squash
Preheat oven to 400 degrees F.

Arrange the cubed butternut squash on a large sheet pan, and toss with a few drizzles of olive oil, a few sprinkles of salt and pepper. Roast the butternut squash for 30-35 minutes.

Remove from the oven and transfer to a food processor. Process it until you get a smooth puree. You should have about 1 ¼ cup of pureed butternut squash. Optional: Set aside a few cubes of the roasted butternut squash for garnish later.
Make the risotto
In a 4 or 6 quart pot, heat 1 tablespoon of olive oil over medium heat. Saute the shallot for 2 minutes, and then add the garlic and saute for 1 minute until fragrant.

Add 2 tablespoons unsalted butter and the arborio rice (do not wash the rice). Stir until fragrant and a bit nutty, about 1 to 2 minutes. Add the white wine and cook until most of the wine has evaporated, about 2-3 minutes, stirring occasionally.

To the rice, add 1 cup of broth, stirring constantly with a wooden spoon, without over-stirring. After the liquid has absorbed into the rice, add another cup of broth and repeat the stirring process. Do this with the remaining broth, one cup at a time, until al dente or tender. During the last 2 instances, it will look much creamier. This process should take about 25 minutes. Tip: after each addition of broth, increase the heat a little bit to get it going and then decrease to a constant simmer.

Add the butternut squash puree, grated parmesan, and salt and pepper to taste. Stir for another 1-2 minutes over low heat, until fully incorporated.

Serve with more parmesan and herbs as garnish, along with the roasted butternut squash cubes you set aside (you may need to dice them smaller). Enjoy!
Notes
Special equipment: sheet pan, food processor, 4 or 6 quart pot, wooden spoon.
Butternut squash: I'd highly recommend roasting and then pureeing your own quash. Canned purees often come with preservatives that could alter flavors.
Making risotto is all about stirring often, but don't overdo it! Stirring too vigorously or too much can result in gluey and dense risotto.
Rice: Use the right type of rice. Arborio is my choice here. Don't use the regular long-grain or short-grain rice since those don't contain enough starch to reach the risotto consistency.
Use a wooden spoon to stir. This will prevent scratches.
Disclaimer: Nutritional values (per serving) are approximates only.
Nutrition
Serving:
1
serving
|
Calories:
396
kcal
|
Carbohydrates:
63
g
|
Protein:
10
g
|
Fat:
8
g
|
Saturated Fat:
4
g
|
Polyunsaturated Fat:
1
g
|
Monounsaturated Fat:
2
g
|
Trans Fat:
1
g
|
Cholesterol:
20
mg
|
Sodium:
1036
mg
|
Potassium:
507
mg
|
Fiber:
3
g
|
Sugar:
2
g
|
Vitamin A:
6419
IU
|
Vitamin C:
30
mg
|
Calcium:
176
mg
|
Iron:
4
mg