I love a beautiful salad! This easy and delicious Fall Harvest Salad is perfect for the season. Not only is it beautiful, but also full of healthy and fresh ingredients, such as apples, acorn squash, kale, Brussels sprouts, and more!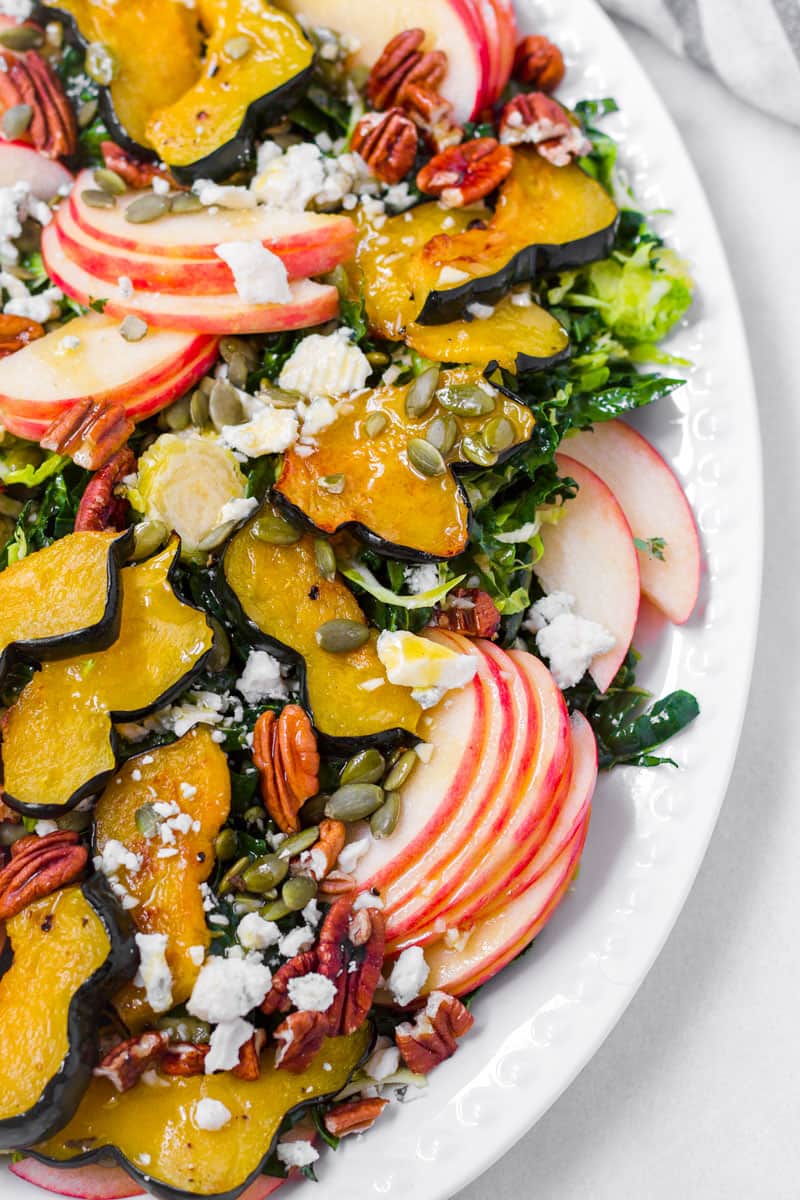 It's almost mid-October…time has flown by! The trees outside my house are turning yellow and orange, and this makes my heart so full and happy.
To celebrate my favorite season of the year, I made this beautiful fall harvest salad. It features seasonal fall ingredients, such as Honeycrisp apples, acorn squash, kale, Brussels sprouts, pumpkin seeds, pecans, and more. So good!
I love that this fall harvest salad is packed with healthy and fresh ingredients. It can also be easily customized! I like to mix it up with seasonal produce from the farmer's market from time to time.
Let me show you how to make it!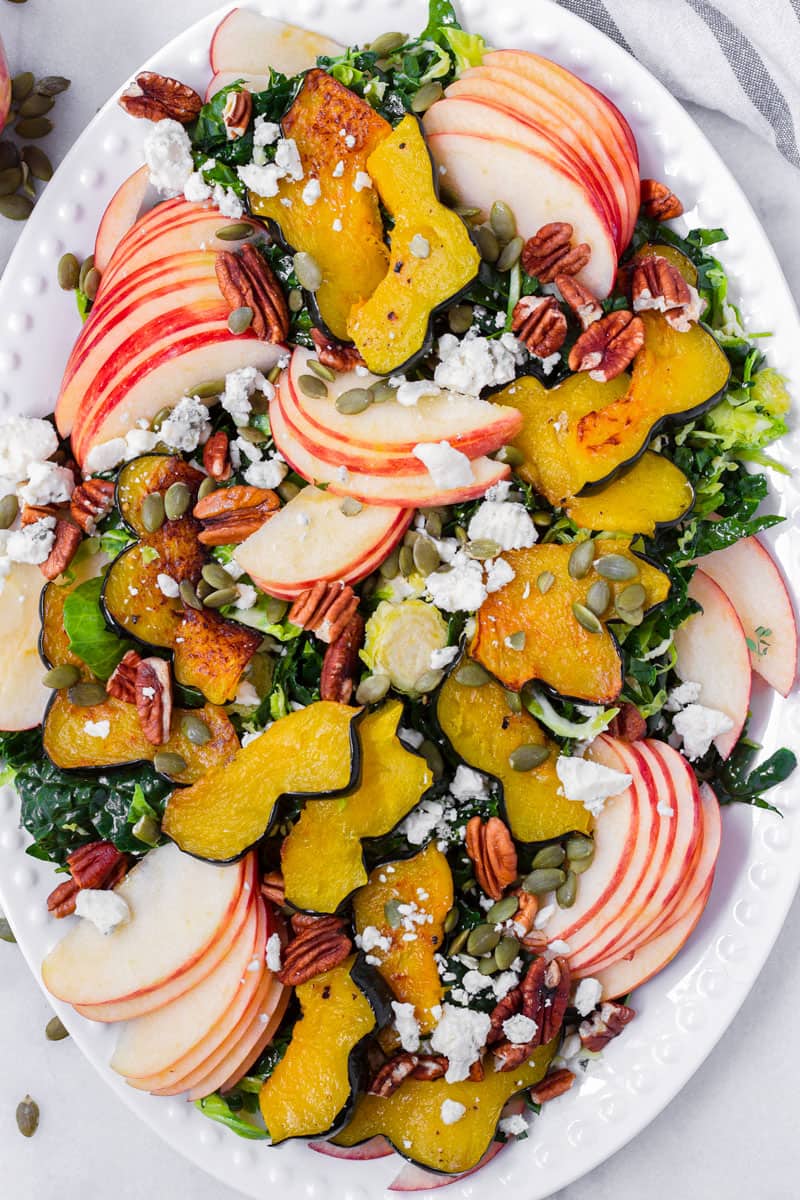 My Favorite Fall Salad
First of all, let me tell you why I LOVE this fall salad so much:
It's pretty much fall in a salad!
It's made of fresh seasonal ingredients
It's got crunch and body
It's tossed with a delicious apple cider vinaigrette
It's beautiful
It can be prepped ahead!
I could honestly give you a list of 100 reasons why it's one of my favorites!
Fresh and Healthy Ingredients
Per usual, the specific ingredients and instructions for this fall harvest salad recipe are in the recipe card all the way down, but I wanted to give you an overview of each ingredient:
Fresh apples: I love using crunchy Honeycrisp apples. You can also mix it up. I'd recommend a blend of Granny Smith, Fuji, and Honeycrisp apples.
Kale and Brussels sprouts: I like using a blend of lacinato kale and shaved Brussels sprouts.
Acorn squash: A fall favorite! Roast it in the oven to maximize flavor.
Pecans and pumpkin seeds: These will add so much delicious crunch.
Cheese: My top pick is blue cheese. You can also try feta, gorgonzola, white cheddar cubes, or goat cheese.
For the homemade apple cider vinaigrette or dressing, you need apple cider, olive oil, minced garlic, maple syrup, and dijon mustard.
To make this salad, first make sure to toss the sliced kale a Brussels sprouts with the dressing in order to soften it, especially the kale. Then, just arrange all the ingredients on a large platter and drizzle with more of the apple cider vinaigrette.
So delicious, easy, and beautiful!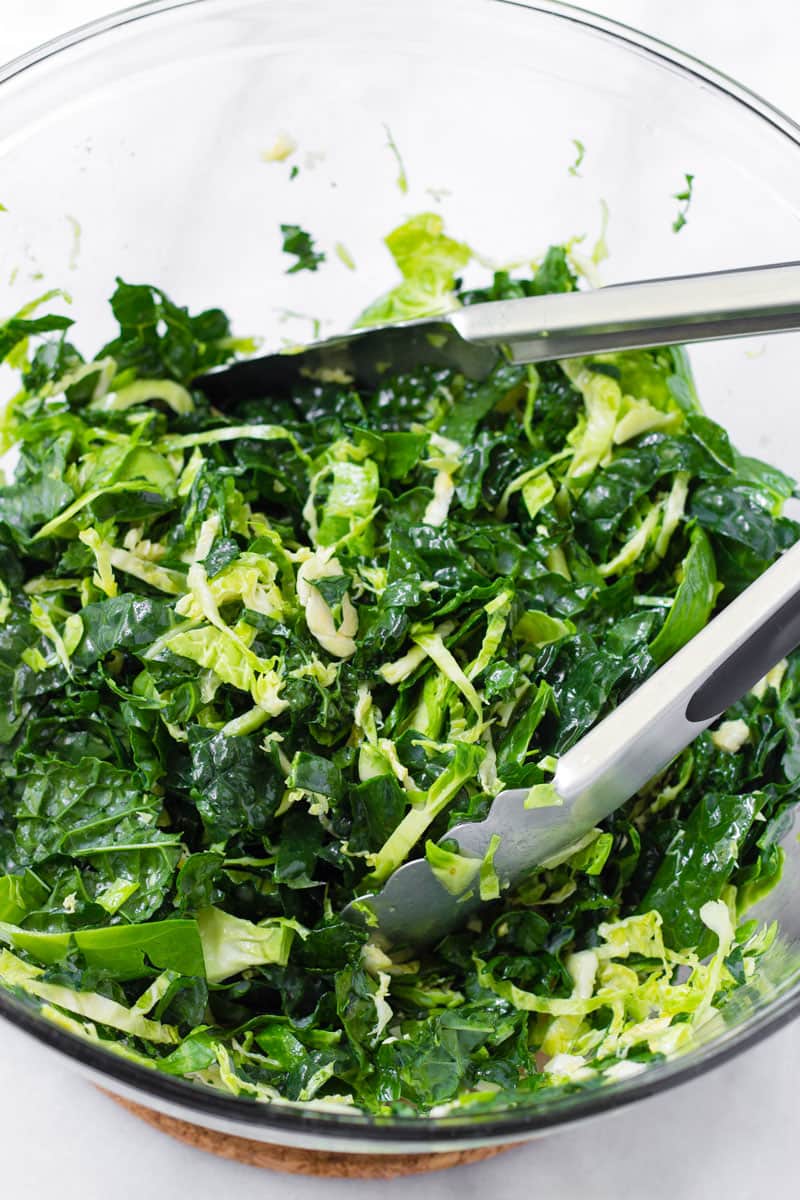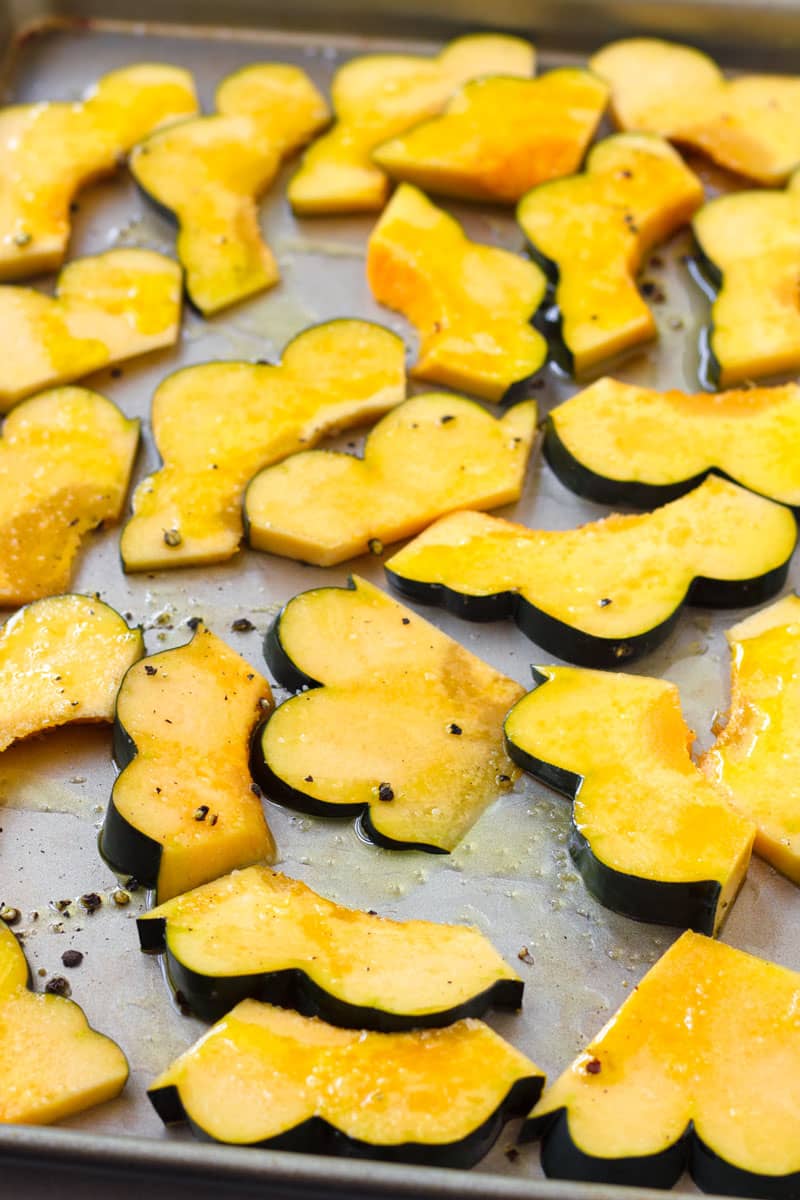 Make Ahead Tips
Make-ahead salads are convenient and a huge time-saver. Yes, you can prep this fall harvest ahead of time! Some things will have to be prepared right before serving though.
What to prep ahead:
Slice the kale and shave Brussels sprouts. Store in the fridge in a bag or container.
Cut or slice the acorn squash, so you can easily roast it when ready.
Make the apple cider vinaigrette the day before or so. Store in the fridge in a mason jar.
Crumble the cheese if needed.
What to prep right before serving:
Slice the apples: apples turn brown when left for too long, so this needs to be done right before serving.
Roast the acorn squash.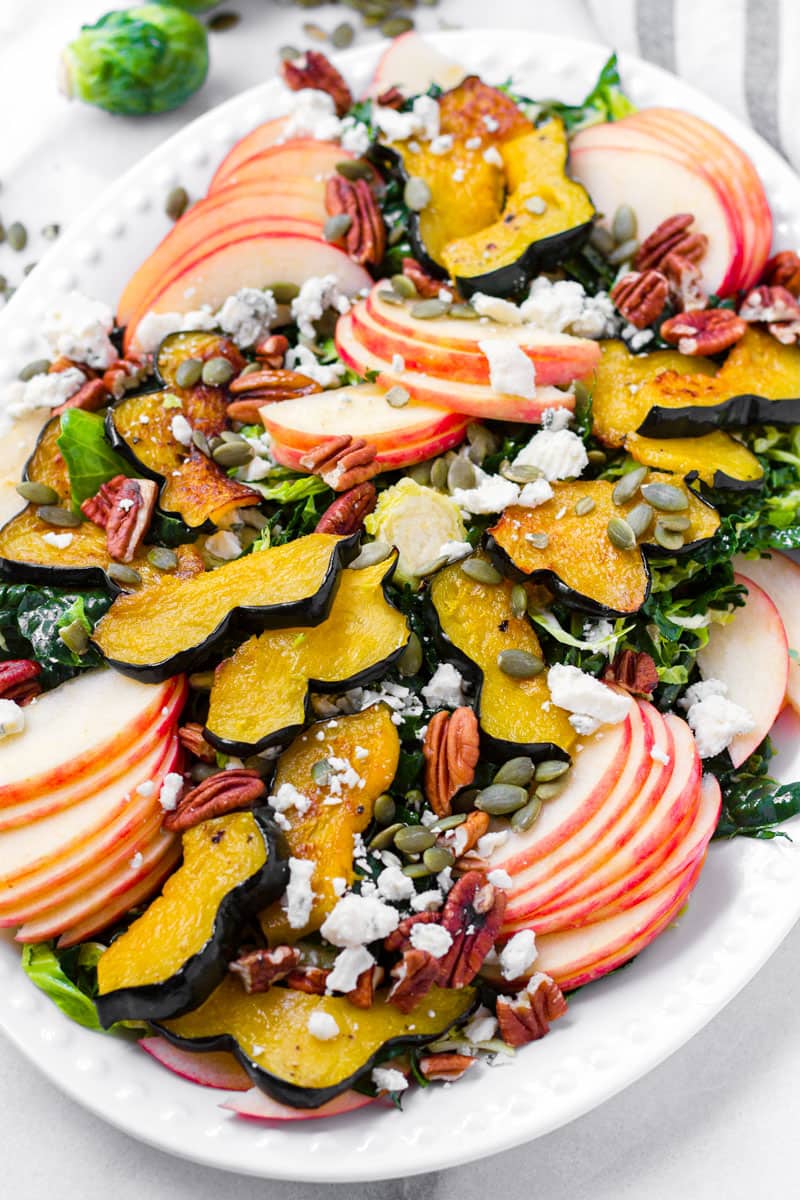 Customizations and Pairings
I love making tweaks to this salad based on what I find at the farmer's market. This is definitely a highly customizable salad, which is awesome.
These are my favorite add-ons:
Sliced pears
Pomegranate seeds
Radicchio
Quinoa or farro
Dried cranberries
As for pairings, try serving this fall salad with:
It's definitely a great holiday side salad!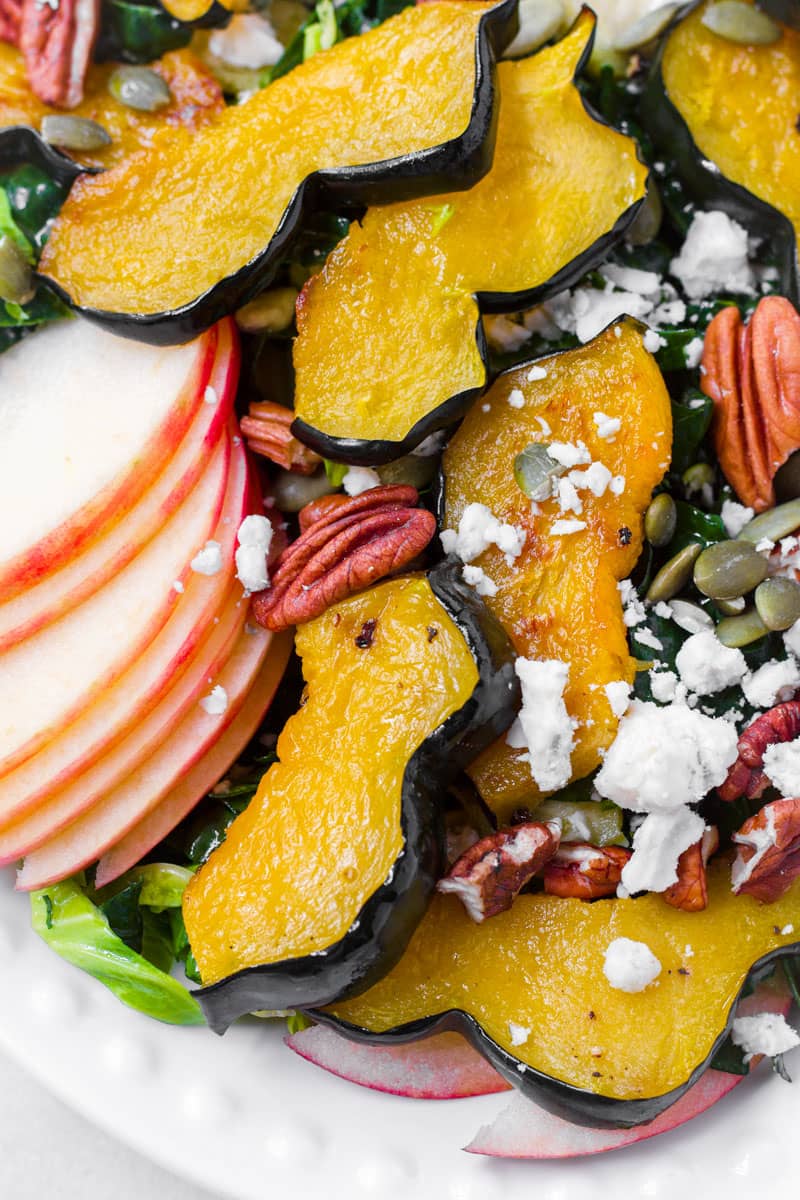 I love this fall harvest salad because it's got great flavor, texture, crunch, and freshness. All the seasonal ingredients make this salad feel really cozy and welcoming. I'll for sure be making it for the holidays!
It's a great make-ahead friendly salad as well. Several of the ingredients can be prepared ahead of time…always a plus.
I hope you love this beautiful fall harvest salad as much as I do. Thanks for reading and happy cooking!
Tips for Success
Slice the apples right before serving so they don't turn brown too early.
To mix it up, use a blend of apples, such as Fuji, Granny Smith, and Honeycrisp. You can also use pears!
If you're not a big fan of blue cheese, try feta, gorgonzola, shaved parmesan, cubed white cheddar, or goat cheese.
Fall Harvest Salad
This easy and delicious fall harvest salad is perfect for the holidays. It is made with fresh seasonal ingredients, such as apples and roasted acorn squash, and tossed with a homemade apple cider vinaigrette.
Ingredients
½

an acorn squash

Olive oil

Salt and pepper

1

large bunch lacinato kale

-

ribs removed and thinly sliced

2

cups

fresh Brussels sprouts

-

trimmed and thinly sliced

2

honeycrisp apples, sliced

¼

cup

chopped pecans

-

or to taste

¼

cup

pumpkin seeds

-

or to taste

¼

cup

crumbled blue cheese

-

or to taste
Apple Cider Vinaigrette
⅓

cup

extra virgin olive oil

¼

cup

apple cider vinegar

1

clove

garlic, finely minced

1

tablespoon

honey or maple syrup

½

teaspoon

Dijon mustard

Salt and pepper to taste
Instructions
Preheat oven to 400 degrees F. Cut the acorn squash into ½ inch slices (no need to peel the skin, but do remove the seeds). Arrange on a sheet pan, and drizzle with some olive oil and sprinkle with some salt and pepper. Roast for about 20-25 minutes, or until softened, flipping halfway through. Once ready, remove from the oven and let it cool slightly.

Meanwhile, make the apple cider vinaigrette: Add all the vinaigrette ingredients in a mason jar. Shake well until combined. You can adjust the ingredient quantities to taste too. Set aside.

In a large bowl, toss the sliced kale and Brussels sprouts with some of the prepared vinaigrette. This will help soften the kale and Brussels sprouts.

Arrange the salad: on a platter, arrange the prepared kale and brussels sprouts along with the sliced apples, roasted acorn squash, cheese, pecans, and pumpkin seeds. Drizzle with the remaining apple cider vinaigrette. Serve immediately. Enjoy!
Notes
Cheese: aside from blue cheese, you can use feta, gorgonzola, shaved parmesan, white cheddar cubes or goat cheese.
Prep ahead: Slice the kale and Brussels sprouts the day before. You can also slice the acorn squash the day before. The vinaigrette can be made up to 3 days ahead.
Add-ons: Try pears, radicchio, pomegranate seeds, quinoa, farro, or dried cranberries.
Make it a meal! Add grilled chicken to it.
Disclaimer: Nutritional values (per serving) are approximates only.
Nutrition
Calories:
249
kcal
|
Carbohydrates:
20
g
|
Protein:
4
g
|
Fat:
19
g
|
Saturated Fat:
3
g
|
Polyunsaturated Fat:
3
g
|
Monounsaturated Fat:
12
g
|
Trans Fat:
1
g
|
Cholesterol:
4
mg
|
Sodium:
97
mg
|
Potassium:
417
mg
|
Fiber:
4
g
|
Sugar:
10
g
|
Vitamin A:
1381
IU
|
Vitamin C:
43
mg
|
Calcium:
78
mg
|
Iron:
1
mg