These Crispy Baja Fish Tacos are the perfect dish to share at the table! Crunchy, moist, tender fish with a refreshing green cabbage slaw, topped with tomatoes, cilantro, avocado, and a delightful avocado crema.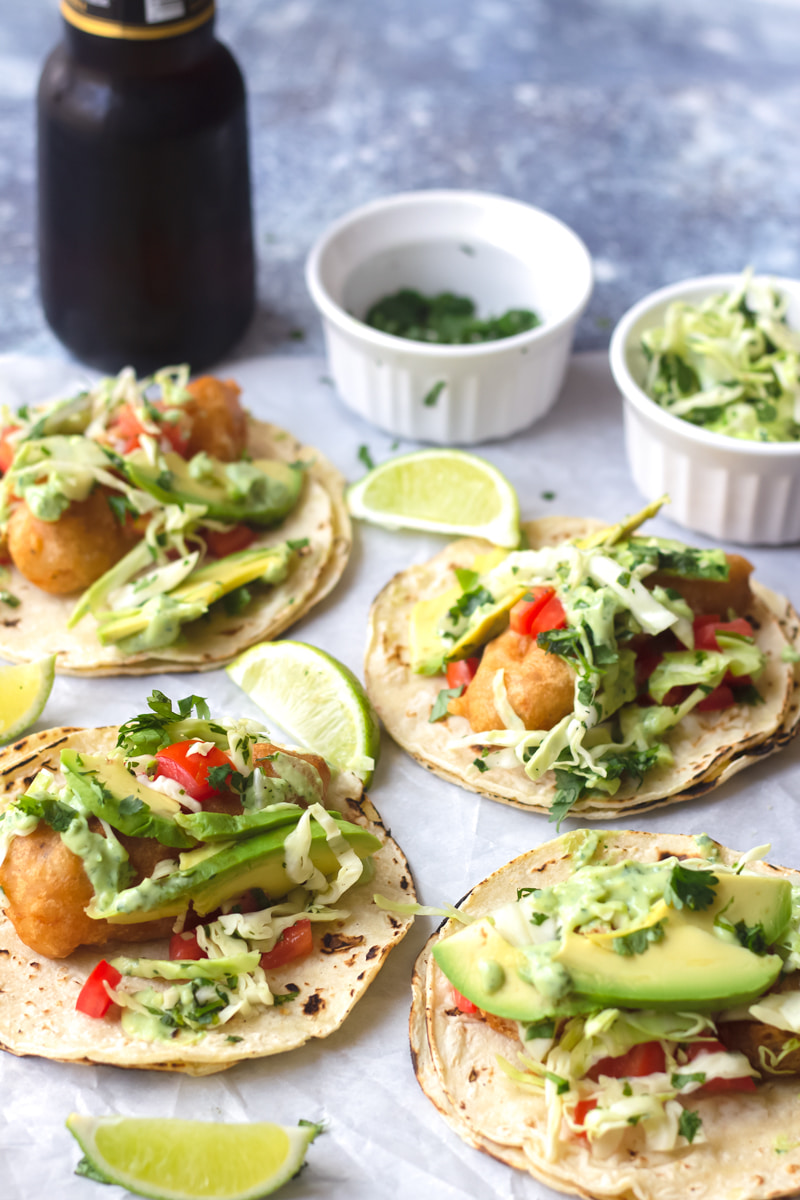 I probably eat tacos at least once a week. I just love tacos of any kind, especially fish tacos. I really don't care if they are grilled fish tacos or crispy fish tacos. In fact, I'd be super happy having one of each at the same time. Or two of each, maybe?
To me, a good taco has to be super flavorful, bold, and well-balanced. I can't tell you how many disappointing bland tacos I've had in my life – they are a big no-no! Here's the thing, if you can pretty much only have 3 bites out of a taco, then the flavors HAVE to be there.
My Crispy Baja Fish Tacos will not disappoint! Not only does the beer batter add flavor, but it also makes the fish tender and moist. The toppings – green cabbage slaw, diced tomatoes, cilantro, avocado – balance out the overall flavors. And the avocado crema is the perfect way to tie up all the components.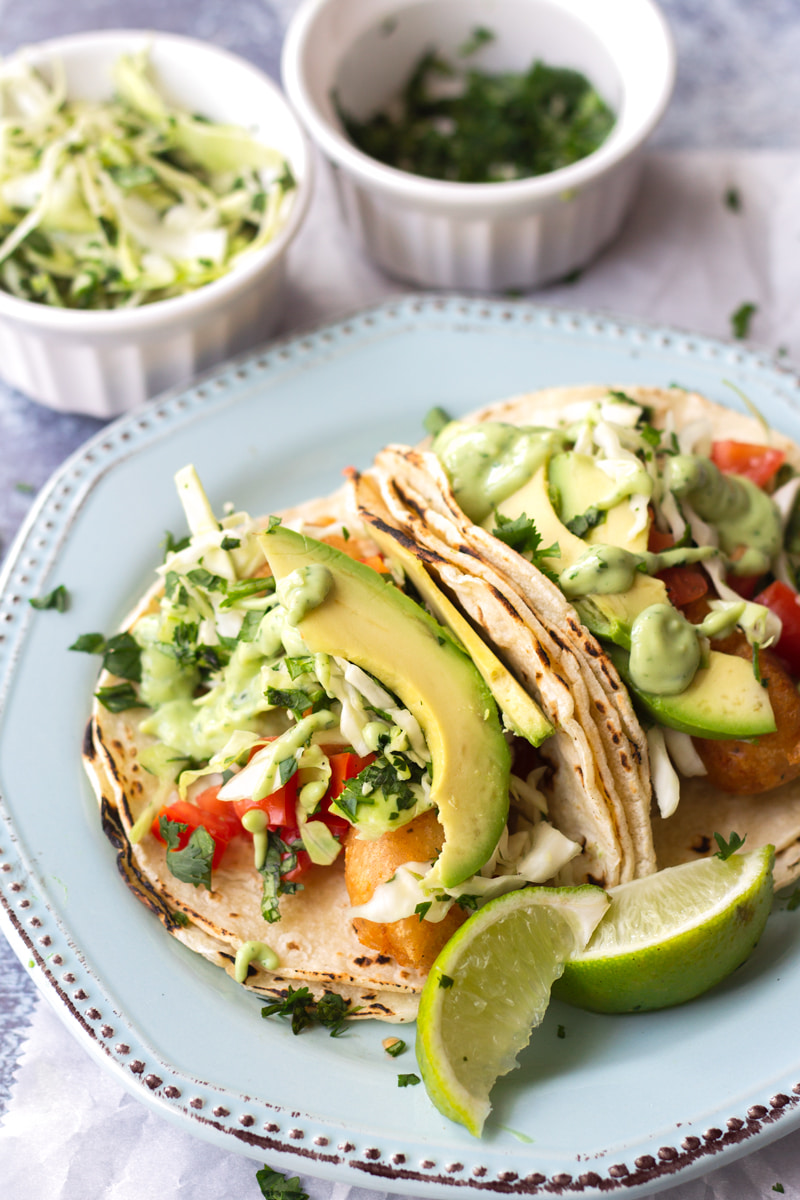 The Beer Batter
Even though the fish is the star ingredient here, the batter is the most important part. It gives the fish crunch, moisture, flavor, and airiness.
Deep frying protein in hot oil exposes it to very high temperatures, which is why it is recommended to use some type of batter or thick breading. Batters protect the meat from becoming too tough and drying up, and also adds crunchiness from the air pockets that form during the frying process.
Beer, in particular, provides extra airiness from the carbonation, creating a light batter for the fish, as opposed to a thick crispy chicken batter. Generally, beer batters are a mix of flour, beer, and spices. This combination creates a thick batter that allows the fish to cook gently for best results. Plus, it adds yummy flavors to the fish. Conclusion: give your batter some love!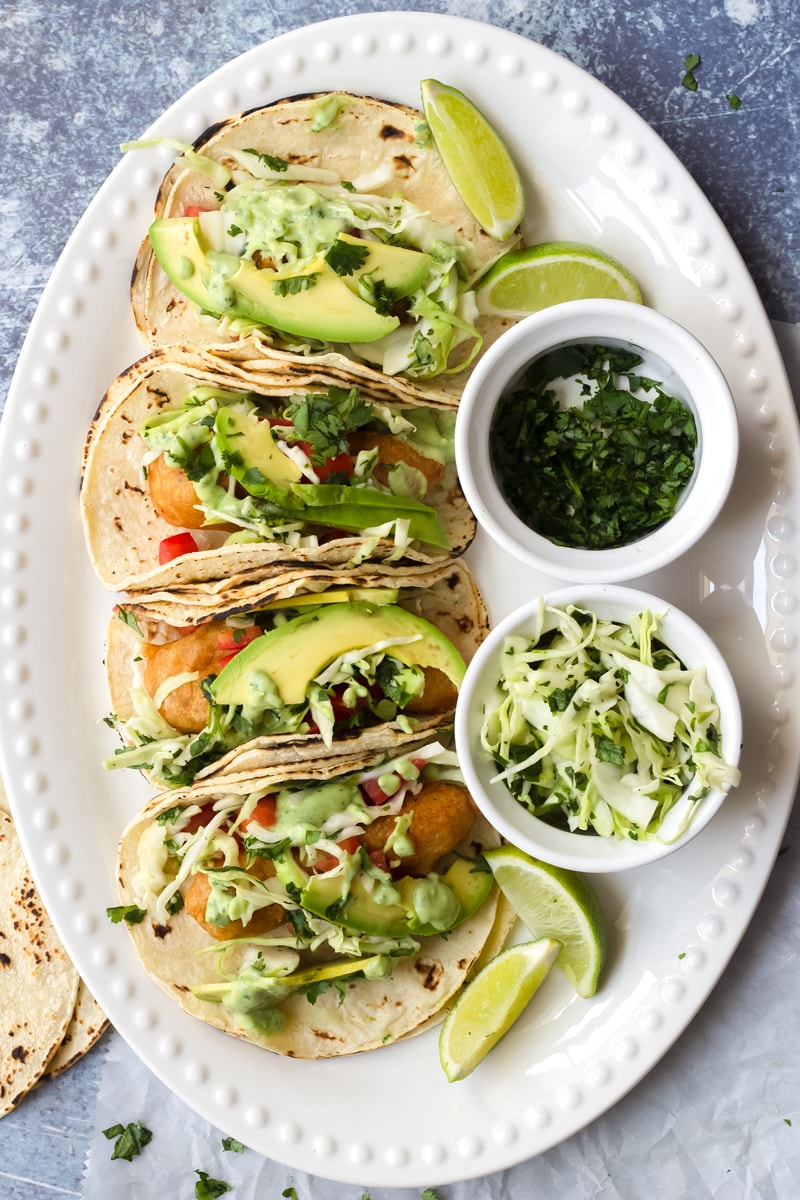 What Types of Fish Should I Use?
Any type of white fish that will hold its shape when cooking is fine. I used cod for this recipe, but I'd also recommend mahi mahi, halibut, or grouper.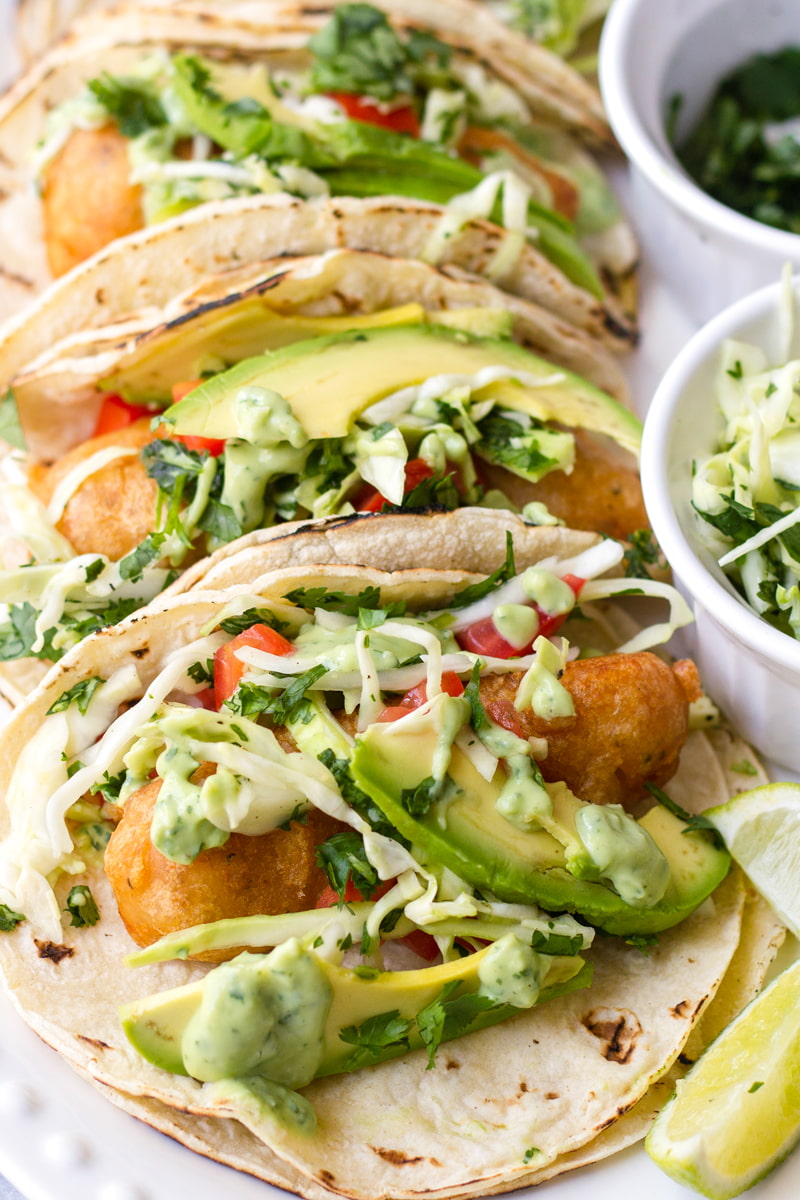 The Toppings
Great toppings make a good taco a superb taco! For my Crispy Baja Fish Tacos, I made a simple green cabbage slaw to go with diced tomatoes, chopped cilantro, and avocado slices. And to tie all the flavors together, I made a delicious avocado crema. Check out the recipe below for instructions on how to assemble these delicious Crispy Baja Fish Tacos!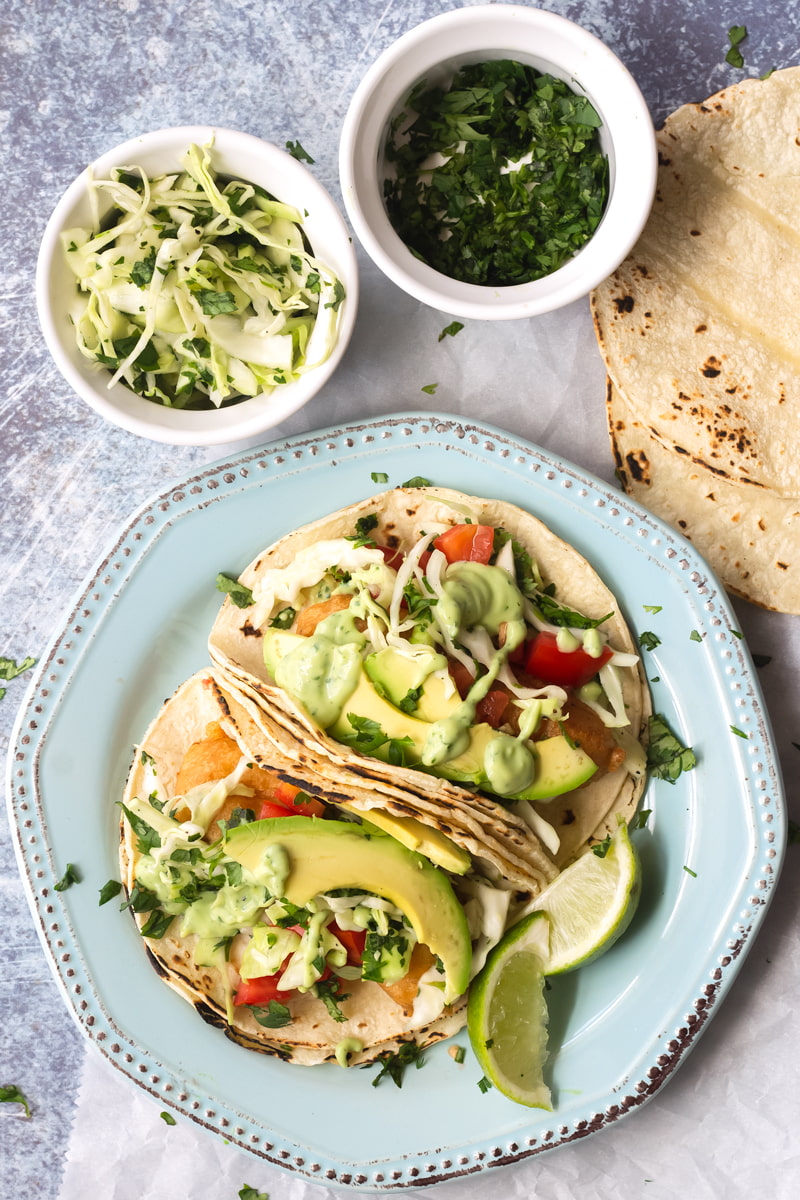 And don't forget to pin this recipe! 🙂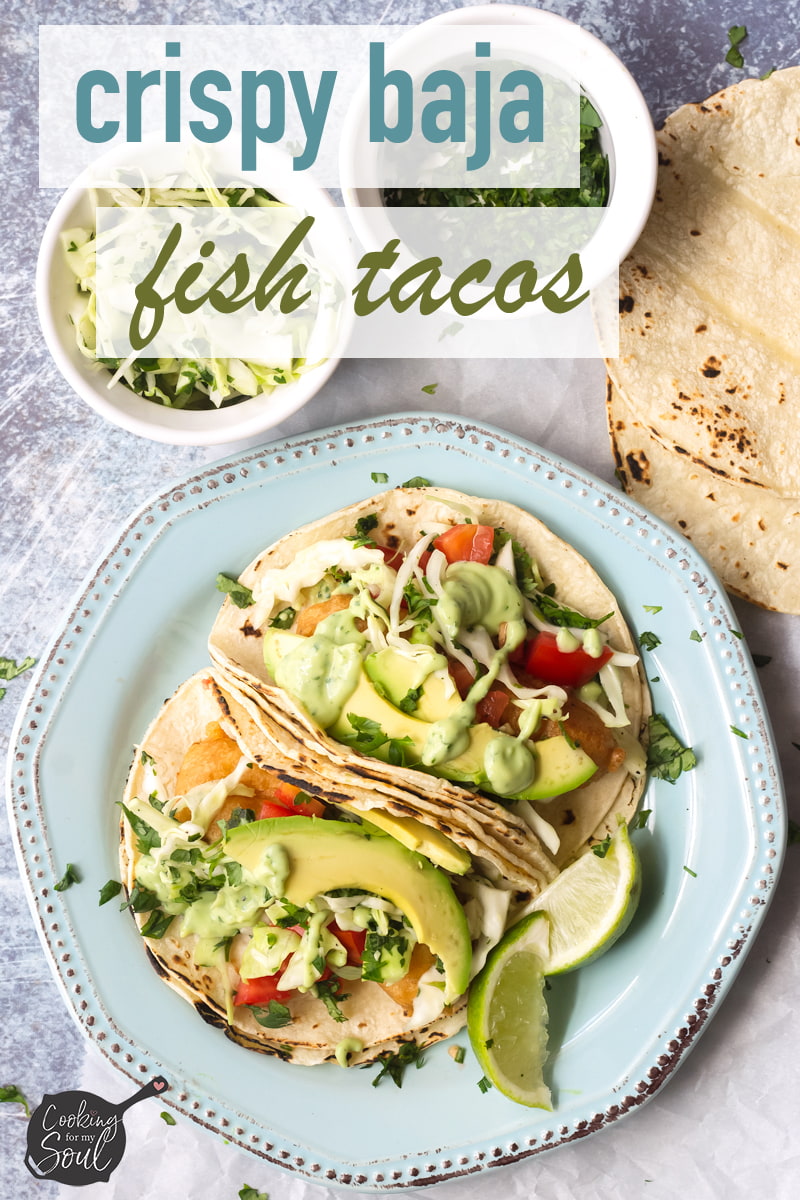 Kitchen Tips
Heat the tortillas in open flame if you can.
If you don't have a gas stove, you can heat them up on a skillet to brown it a little. If you prefer to use the microwave, wrap 3-5 tortillas at a time in damp paper towel and microwave for 30 seconds or so. You can also use the oven (wrap in foil).
Doubling up the tortillas helps to hold everything together.
Use a candy thermometer for measure the temperature of the oil.
If you try my recipe, use #cookingformysoul on Instagram! Follow me on Pinterest, Instagram, Facebook for the latest fun updates and recipes!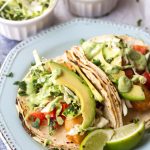 Crispy Baja Fish Tacos
These Crispy Baja Fish Tacos are the perfect dish to share at the table. The beer batter helps to keep the fish moist and tender, and the toppings and avocado crema all work together to make a delicious taco!
Ingredients
Beer Batter
2

cups

all-purpose flour

2

teaspoons

Kosher salt

1/2

teaspoon

ground black pepper

2

teaspoons

garlic powder

1/4

teaspoon

cayenne pepper

2

cups

Mexican beer

( Modelo Negra, Corona, or Dos Equis)
Green Cabbage Slaw
3

cups

shredded green cabbage

1/2

cup

finely chopped cilantro

Juice of 1 to 2 limes, to taste

Salt and pepper to taste
Fish Tacos
Vegetable oil for frying

1

cup

all-purpose flour

1 1/2 to 2

lbs

lbs cod, cut into 4 x 1/2 inch strips

1/2

teaspoon

ground cumin

Salt and pepper to taste

24

white corn tortillas (taco-size)
For Toppings
Diced roma tomatoes

Finely chopped cilantro

Avocado slices

Green cabbage slaw

(Recipe below)

Lime wedges
Instructions
Make the avocado crema per link's instructions. Place in the fridge until ready to use.

Make the batter: mix the flour, salt, pepper, garlic powder, and cayenne pepper in a large bowl. Gradually whisk in the beer, until no lumps are formed. Let rest for 15 minutes.

Meanwhile, make the green cabbage slaw: toss shredded green cabbage, lime juice, cilantro, salt, and pepper. Set aside.

Heat oil in a 3 quart Dutch oven to cover about 2 inches of the pot. Using a candy thermometer, heat oil to 350 degrees F.

Season fish with salt and pepper. Dredge fish in flour. Working in batches, dip each piece of fish into the beer batter. Deep-fry in the hot oil until for about 5 minutes, or until golden brown. Transfer to a plate lined with paper towel to drain excess oil.

To assemble the tacos: Heat tortillas on open flame or microwave. Double-up each tortilla. Place fish on tortillas. Top with the green cabbage slaw, tomatoes, cilantro, avocado slices. Drizzle with the avocado cream. Serve with lime wedges.
18