Shrimp tacos always make a fantastic meal. These Bang Bang Shrimp Tacos are the definition of deliciousness! Crispy shrimp tossed in a sweet and spicy Bang Bang sauce and topped with a homemade tangy slaw.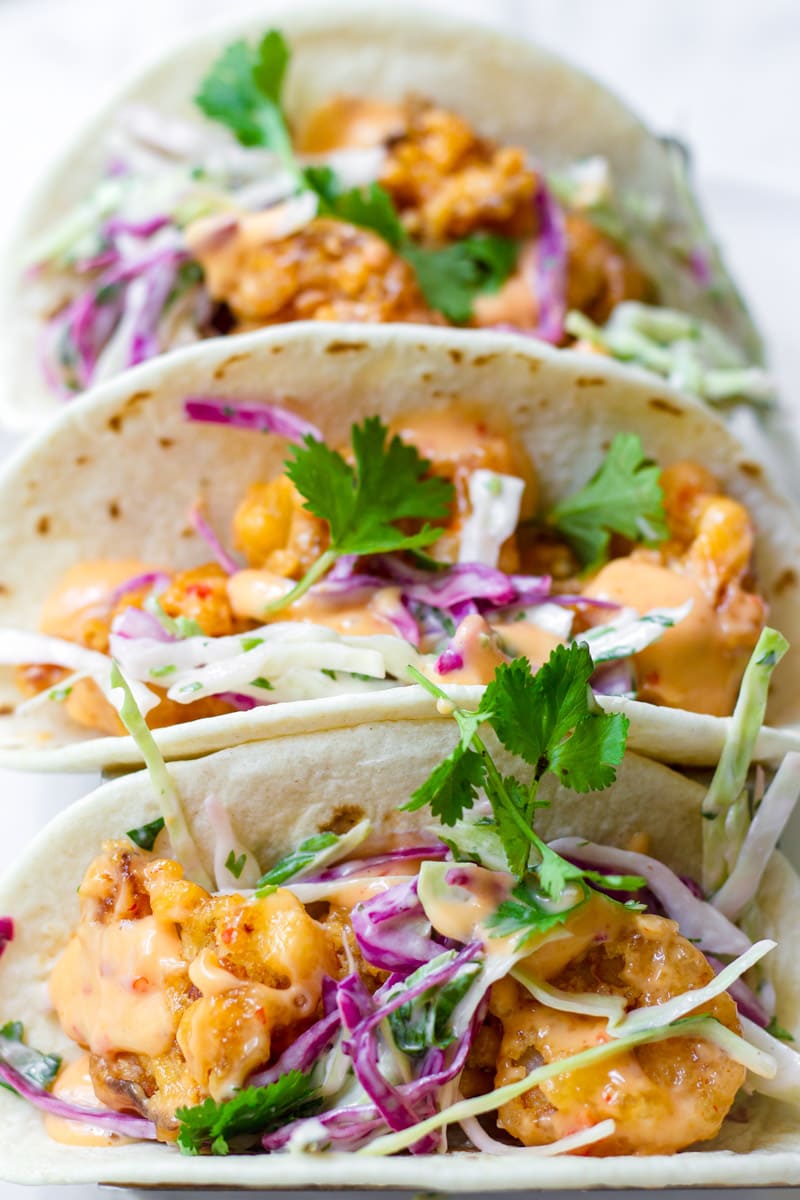 When you're a huge fan of seafood and tacos, the only natural thing to do is make combine both. I have proof of that…just go check out my homemade baja style fish tacos. Sooo…the next logical thing for a seafood and taco lover is, well, to make shrimp tacos!
I am so in love with these Bang Bang Shrimp Tacos. They are so crispy, sweet, spicy, zesty…all in one!
Bang Bang sauce is a sweet and spicy creamy sauce made of mayo, Thai sweet chili sauce, and sriracha. It's as good..or maybe better…as the version at Bonefish Grill. Just saying…! The deep fried shrimp is tossed with a delicious Bang Bang shrimp, then placed on warm flour tortillas and topped with a quick slaw.
I'm drooling over here, guys!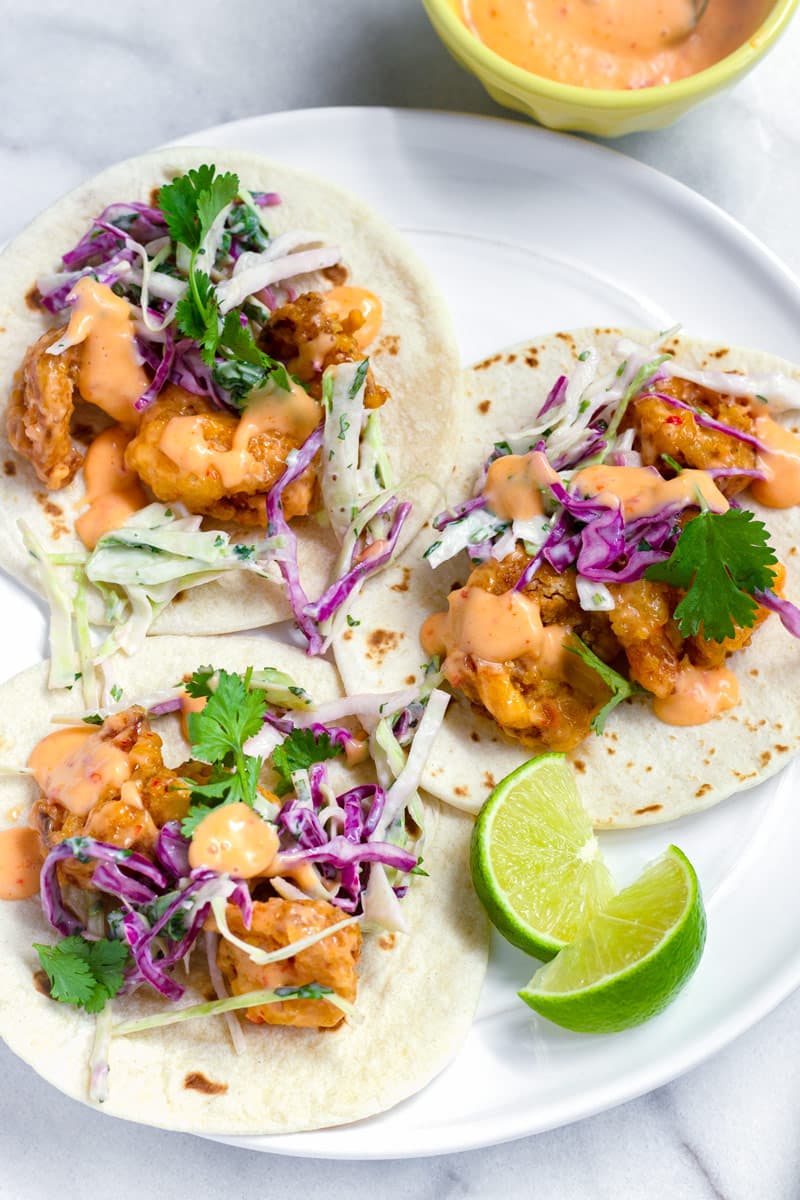 Building the Bang Bang Shrimp Tacos
There are three components in these amazing shrimp tacos: the deep fried shrimp, the Bang Bang sauce, and the easy tangy slaw. All these get assembled on a warm flour tortillas to hold bites of deliciousness!
The Deep Fried Shrimp
You'll need the following to prepare the shrimp:
Large shrimp, peeled and deveined: shrimp shrinks when cooking, so get large shrimp if you can.
Buttermilk and cornstarch: this will help tenderize the shrimp a bit and allow the cornstarch to adhere to the shrimp and create a quick batter that will result in crispy skin.
Salt and pepper
First to prepare the shrimp, season with salt and pepper. Then dip them in buttermilk and then toss with the cornstarch to coat evenly.
To fry the shrimp, heat vegetable oil (enough to cover 2 inches of a cast iron pan or Dutch oven) to 375 degrees F. You'll need a candy thermometer to measure the temperature. Fry the prepared shrimp in batches for about 3-4 minutes.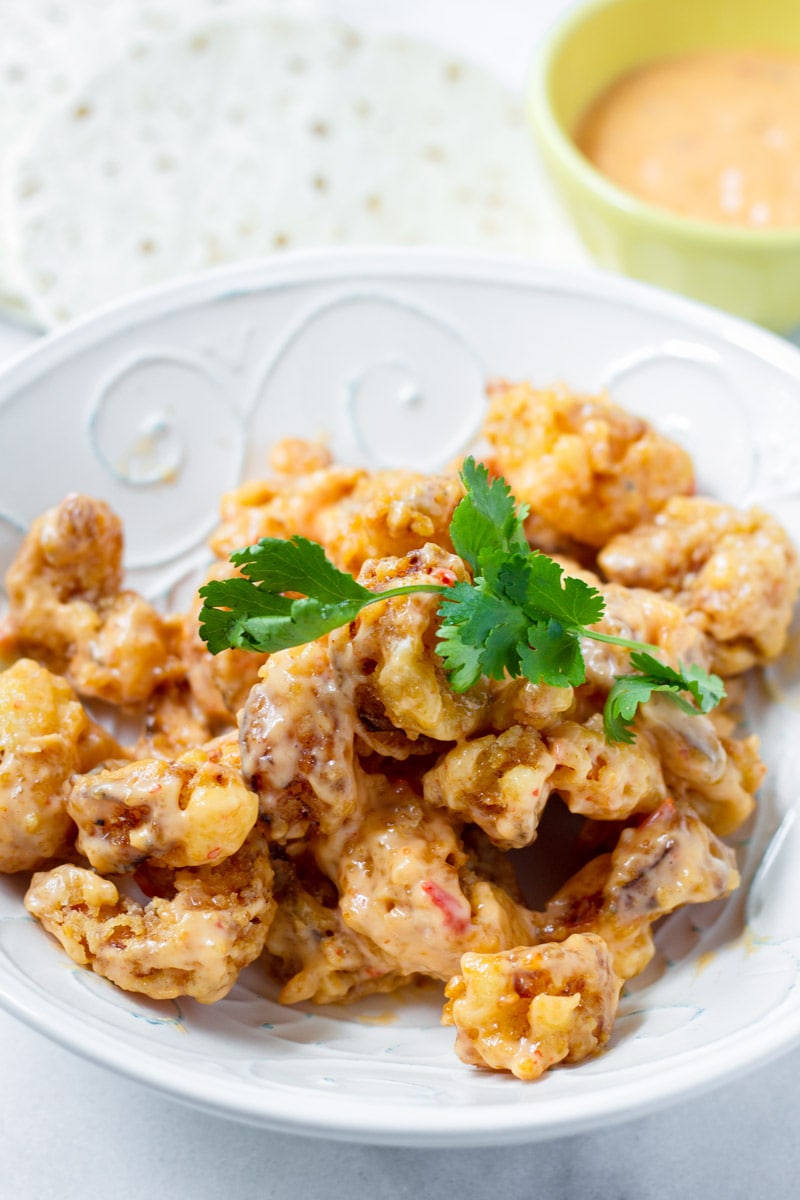 The Bang Bang Sauce
The Bang Bang sauce is really easy to make, and can even be prepped the day before! The ingredients are:
Mayonnaise
Thai sweet chili sauce
Sriracha
The combination of those three ingredients is absolutely amazing. You will love it!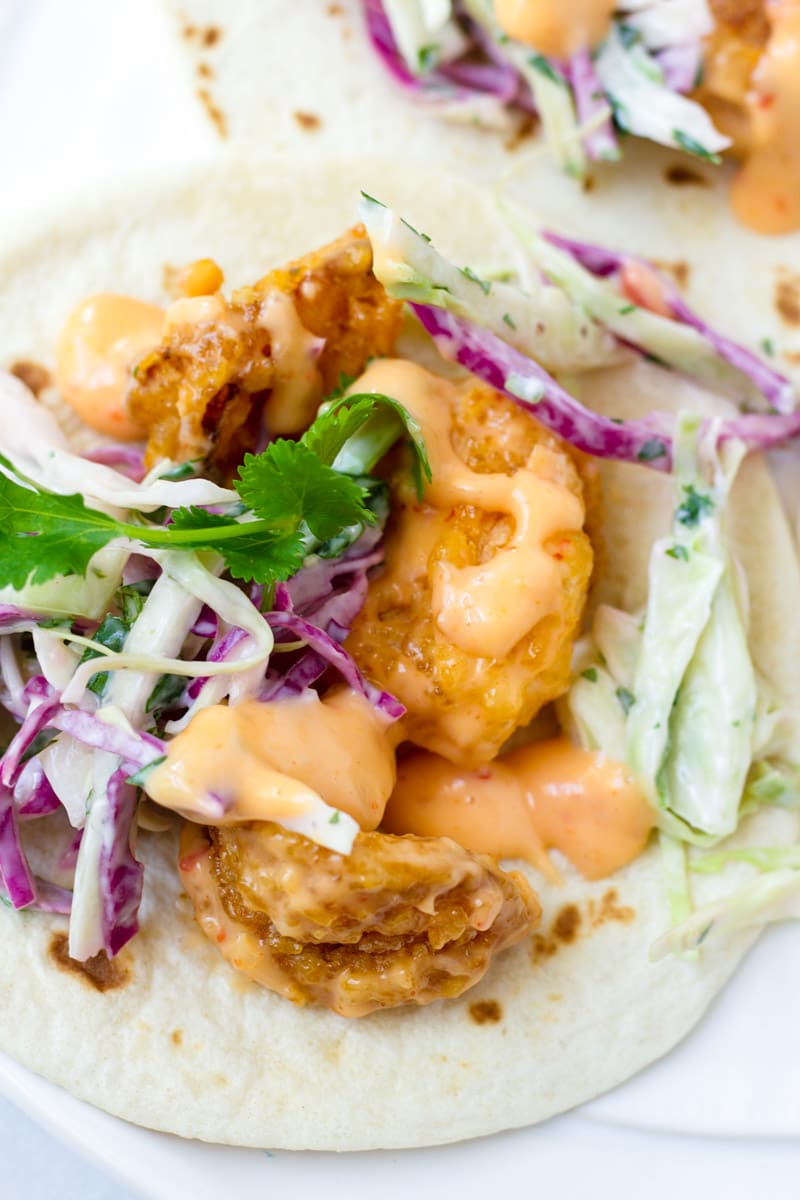 The Easy Tangy Slaw
Okay, now the easy tangy slaw!
Green and red cabbage
Scallions
Cilantro
Mayonnaise
Sour Cream
Lime
Salt and pepper
My favorite part in this slaw is the lime juice. It adds vibrance and brightness to the creamy slaw.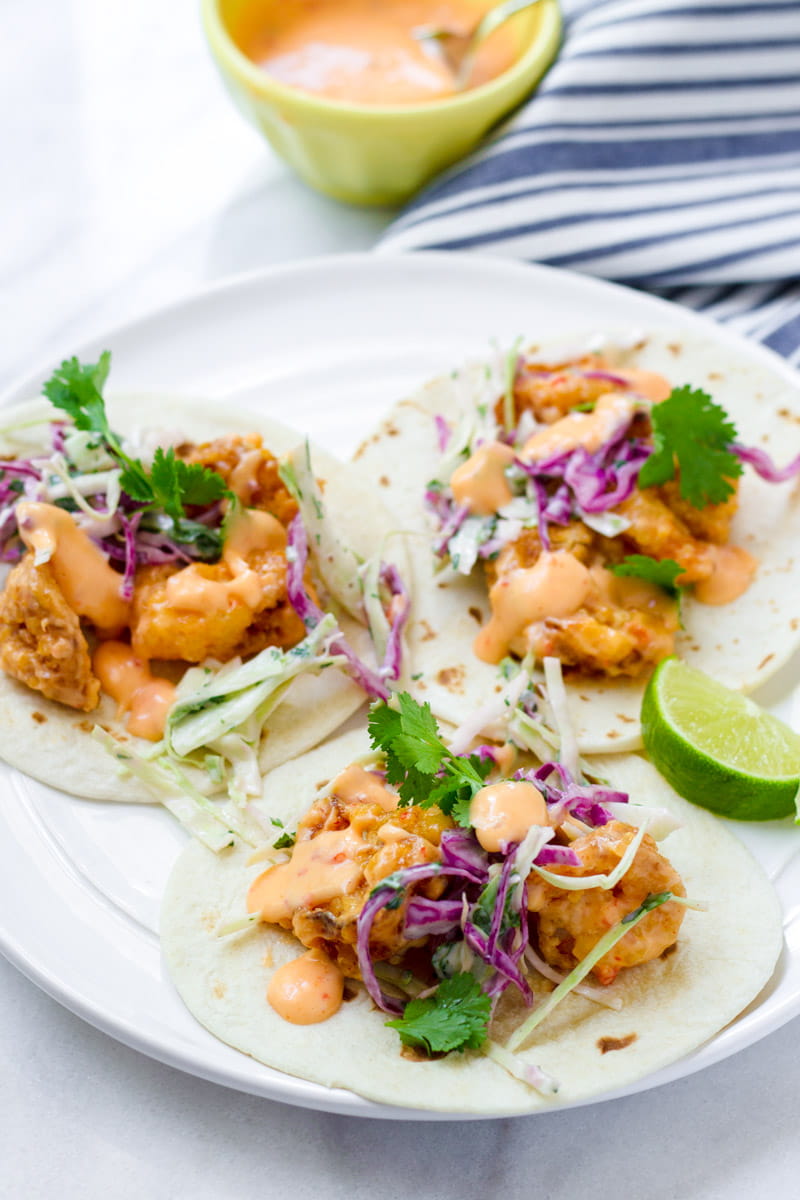 Tips for Deep Frying the Shrimp
Deep frying may seem intimidating, but it's actually very easy to do at home. And lucky for us, shrimp is one of the easiest things to deep fry! They are small and cook in 3-4 minutes.
You need a few tools for deep frying properly:
A cast iron Dutch oven or large cast iron deep skillet: cast iron is great at retaining heat.
A candy thermometer: Deep frying temperature is usually 375 degrees F. A candy thermometer, which you can easily get online or in kitchen supply stores, is great for measuring the temperature of oil.
A stainless steel strainer or slotted spoon: Something heat resistant, basically.
And here are some important tips for deep frying successfully:
Don't rush it! Oil takes some time to heat up to the right temperature. Use a candy thermometer and wait until the oil heats up to 375 degrees F.
Use oils with a high smoke point to prevent the oil from smoking. My go-to options for deep frying are vegetable or canola oil. DO NOT use olive oil since it has a low smoke point and burns quicker.
Fry in batches. Adding food to the pan with oil will naturally cause the oil temperature to go down. Frying in batches will help reach back to the right temperature much faster.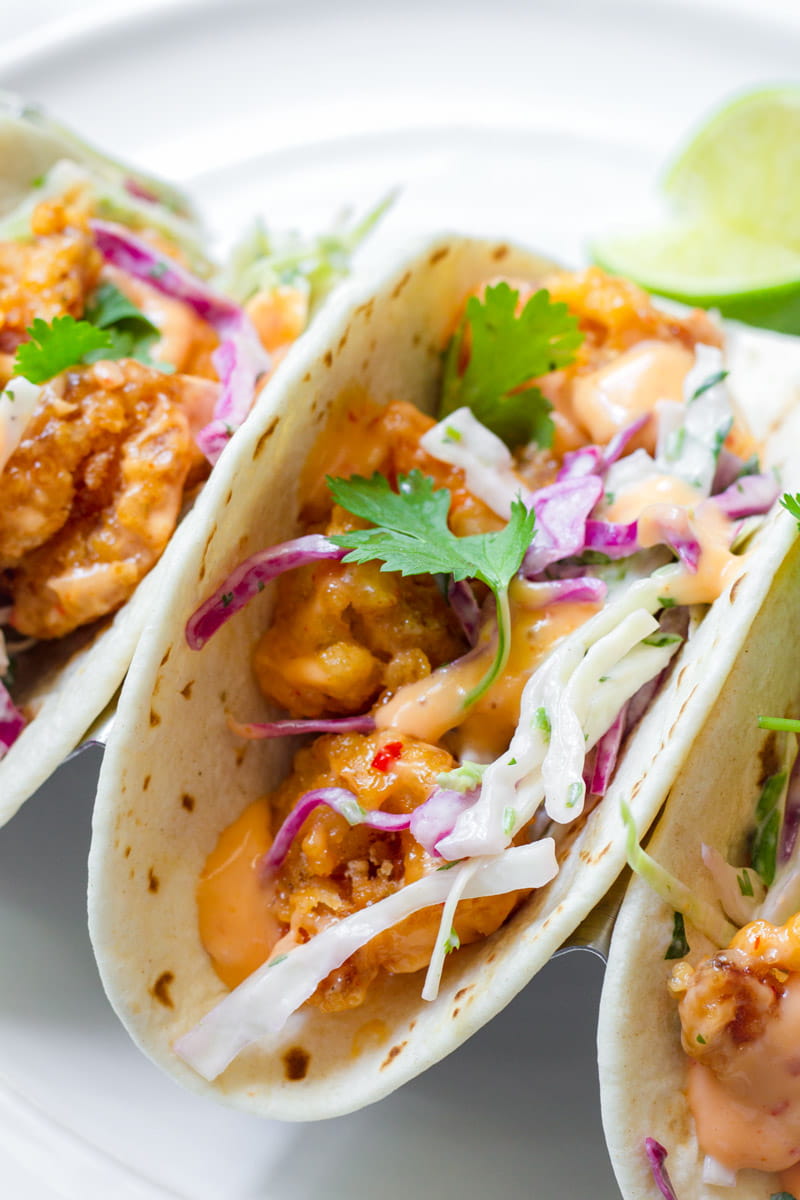 Bringing It All Together
The most fun part: building the tacos!!
I'd recommend using flour tortillas rather than corn tortillas. I think shrimp tacos are always better served with flour tortillas because they have a mild taste that don't overtake the delicate seafood. However, it's totally up to you – use anything you'd like!
About 3 pieces of shrimp are enough per taco. Top with some slaw and some more of the Bang Bang sauce.
So good and easy! I'll leave you with this drool-worthy picture of freshly made Bang Bang shrimp…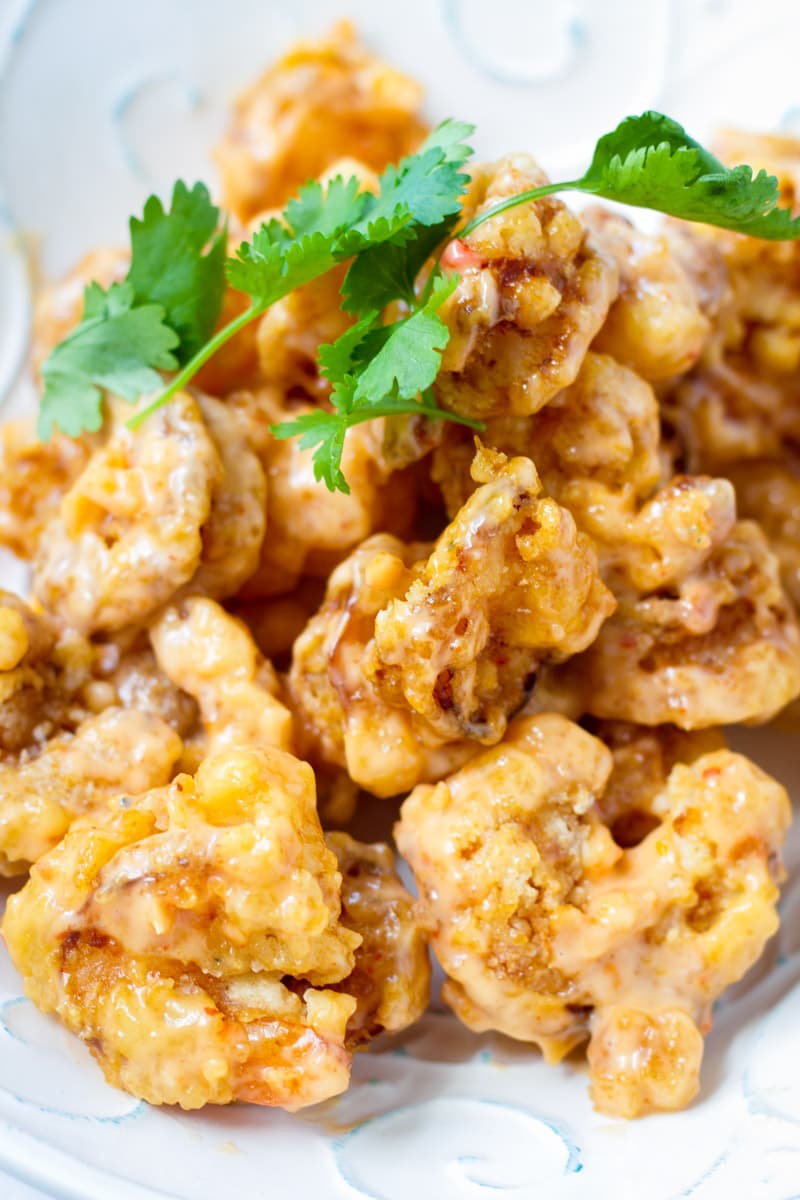 Alrighty…ready to go make some delicious Bang Bang shrimp tacos now?
I seriously loved these tacos so so much, and will be making it again next time I'm hosting friends for dinner. These tacos are made to impress!
Thanks for reading, and don't forget to pin it!
Tips for Success
For deep frying, use vegetable oil or any oil that has a high smoke point. Don't use olive oil because it was a low smoke point. Smoke point is the temp at which the oil starts to burn or smoke.
You'll need a candy thermometer to get an accurate read of the oil's temperature. Deep frying is done at 375 degrees F for best result.
Use large shrimp. Shrimp tends to shrink while cooking.
If you try my recipe, use #cookingformysoul on Instagram! Follow me on Pinterest, Instagram, Facebook for the latest fun updates and recipes!
Bang Bang Shrimp Tacos
These Bang Bang shrimp tacos are made to impress! The Bang Bang shrimp is crispy, tender, sweet, and spicy. Each bite is filled with a flour tortilla, shrimp, and a tangy slaw. It is delicious!
Ingredients
Shrimp:
1

pound

large shrimp, deveined and tails off

1

teaspoon

Kosher salt

1/4

teaspoon

ground black pepper

1

cup

buttermilk

1

cup

cornstarch

Vegetable oil for frying

(enough to fill 2 inches deep in the pan)
Cilantro Slaw:
2

cups

green cabbage, shredded

2

cups

purple cabbage, shredded

3

green onions, sliced thinly diagonally

1/4

cup

cilantro leaves, roughly chopped

1/4

cup

mayonnaise

1/4

cup

sour cream

Juice of 1 lime or to taste

Salt and pepper to taste
Bang bang Sauce:
3/4

cup

mayonnaise

4

tablespoons

Thai sweet chili sauce

1

teaspoon

sriracha, plus more to taste
Other
12

flour tortillas

(taco size)

Cilantro leaves for garnish
Instructions
Make the slaw: In a large bowl, toss all the cilantro slaw ingredients together until evenly combined. Season with salt and pepper to taste. Set aside.

Prepare the Bang Bang sauce: In another bowl, combine all the Bang Bang sauce ingredients. Set aside.

Prepare the shrimp: Pat dry the shrimp. Season shrimp with salt and pepper. Heat oil (about 2 inches deep) in a large Dutch oven until the oil's temperature reaches 375 degrees F. Use a candy thermometer to measure the oil's temperature. While the oil is heating, toss shrimp with buttermilk. Transfer the buttermilk-coated shrimp to the cornstarch, leaving any excess buttermilk behind. Toss until evenly combined.

Cook the shrimp: When the oil has reached 375 degrees F, deep fry in batches, about 3-4 minutes. If the shrimp is not not fully submerged in oil, flip halfway through to cook on both sides. Transfer cooked shrimp to a paper lined with paper towel to soak any excess oil.

In a separate bowl, toss the shrimp with about 2/3 of the Bang Bang sauce.

Assemble the tacos: For each taco, layer about 3 prepared pieces of shrimp over a flour tortilla and top with the prepared slaw. Serve with the remaining Bang Bang sauce and cilantro for garnish. Serve immediately.
Notes
Special equipment: large Dutch oven, candy thermometer.
Oil: Use vegetable oil or any milk oil that has a high smoke point. AKA, don't use olive oil. Olive oil has a low smoke point, so it will burn and smoke quickly.
Flour vs. Corn Tortillas: I love flour tortillas for the flavor profile of Bang Bang shrimp. However, feel free to use corn tortillas. If using corn tortillas, warm them up over open flame of you have a gas stove, or in the microwave oven with a damp paper towel in between every 3-5 corn tortillas.