Pancakes are one of my favorite breakfast choices. In fact, I think pancakes and maple syrup are a match made in heaven. My husband LOVES pancakes. He especially loves pancakes with caramelized apples, cinnamon, and maple syrup. That's why we get so excited when it's fall and restaurants come up with their fall breakfast specials.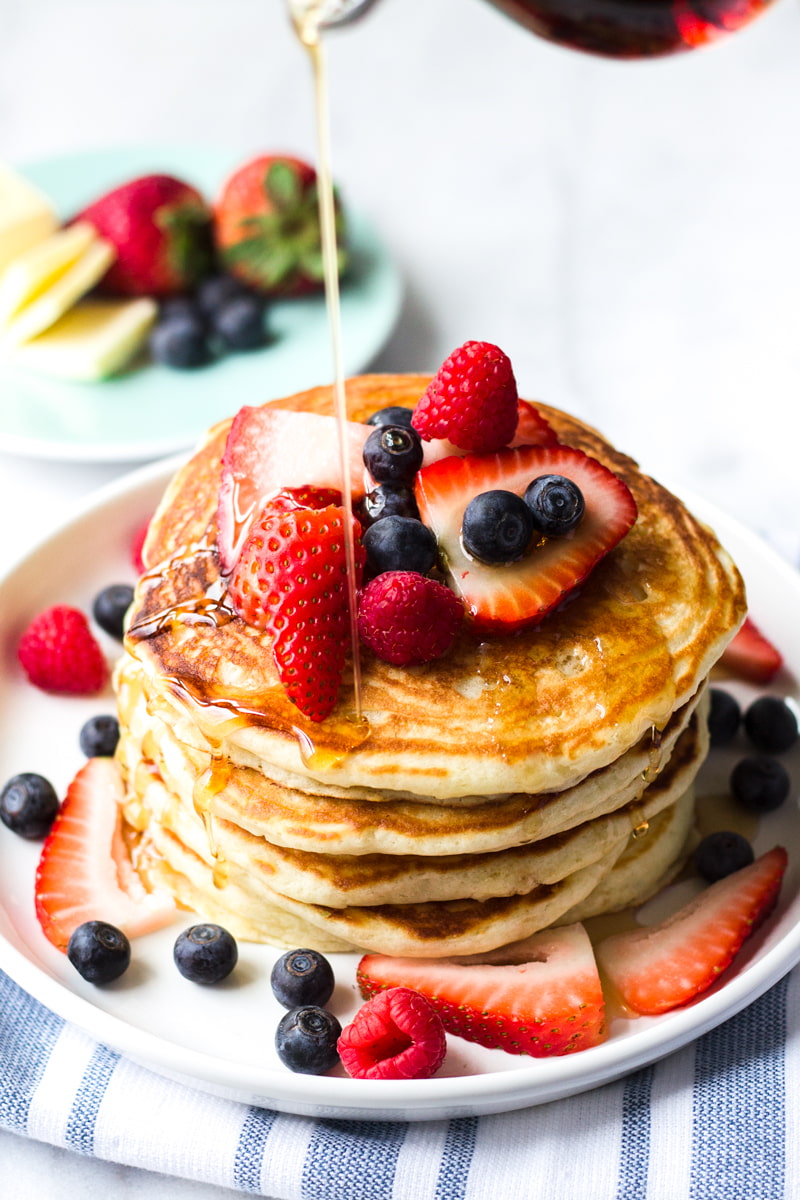 Now the question is – homemade pancakes OR restaurant pancakes? Well it depends! If you can make delicious, fluffy, and light pancakes at home, then the answer is homemade pancakes! Nothing beats the comforting aroma of pancakes in the morning.
So, what's the trick for the best fluffy pancakes? The answer is whipped egg whites! See more below.
What's in a Buttermilk Pancake?
Pancakes are pretty much a dry pancake mix + liquid components + any additional leavening agents. And obviously toppings: fruits, chocolate chips, maple syrup, caramel, etc. Yum 😛
For the dry ingredient mix, the basic components are flour, baking powder, baking soda, a little bit of salt, sugar. For the wet ingredient mix, the basic components are buttermilk, butter, eggs.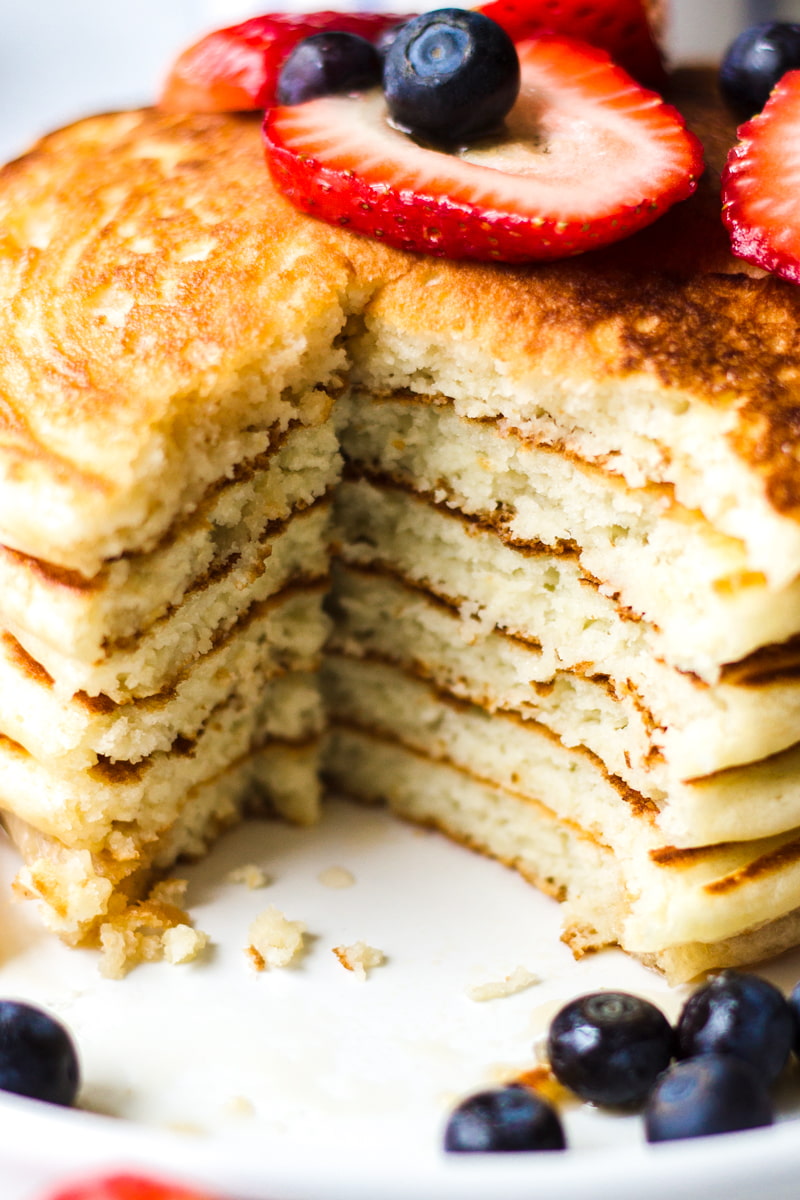 Baking Powder and Baking Soda
Let's talk about the science of pancakes! For pancakes to rise, I add baking powder, which is essentially baking soda + an acidic component in powder form. Wait…baking soda? baking powder? acid? what?
It's actually a very simple concept. Baking soda is an alkaline powder, and when it reacts with a liquid component and an acidic component, such as buttermilk or yogurt, it produces carbon dioxide, which pretty much creates the bubbles in the pancakes. The presence of carbon dioxide allows your baked goods or pancakes, in this case, to rise.
So what about baking powder? Baking powder is made of both baking soda and an acid in powder form. This means that, most often, recipes calling for baking powder don't need an acidic component. However, this isn't always the case. It's fine sometimes to add buttermilk or yogurt to give it extra moisture and a boost in flavor.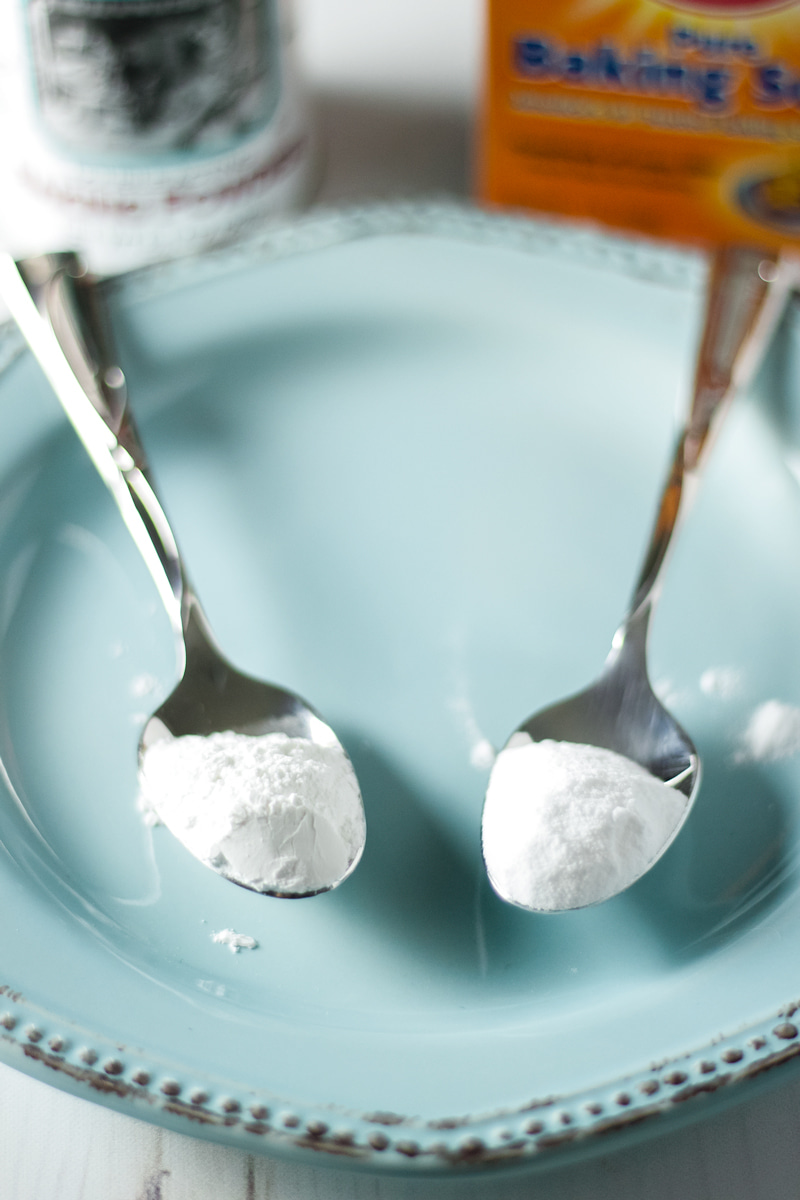 Using Whipped Eggs Whites to Make Fluffy Pancakes
Okay, so now what…? How do I make my pancakes fluffy? Well, sometimes the carbon dioxide chemical reaction described above is not enough to give pancakes that beautiful light, airy, and fluffy rise. To achieve this, add whipped egg whites to the pancake batter. When in contact with heat, the air bubbles in the whipped egg whites expand along with the air bubbles from the baking powder, giving pancakes extra height, airiness, and lightness.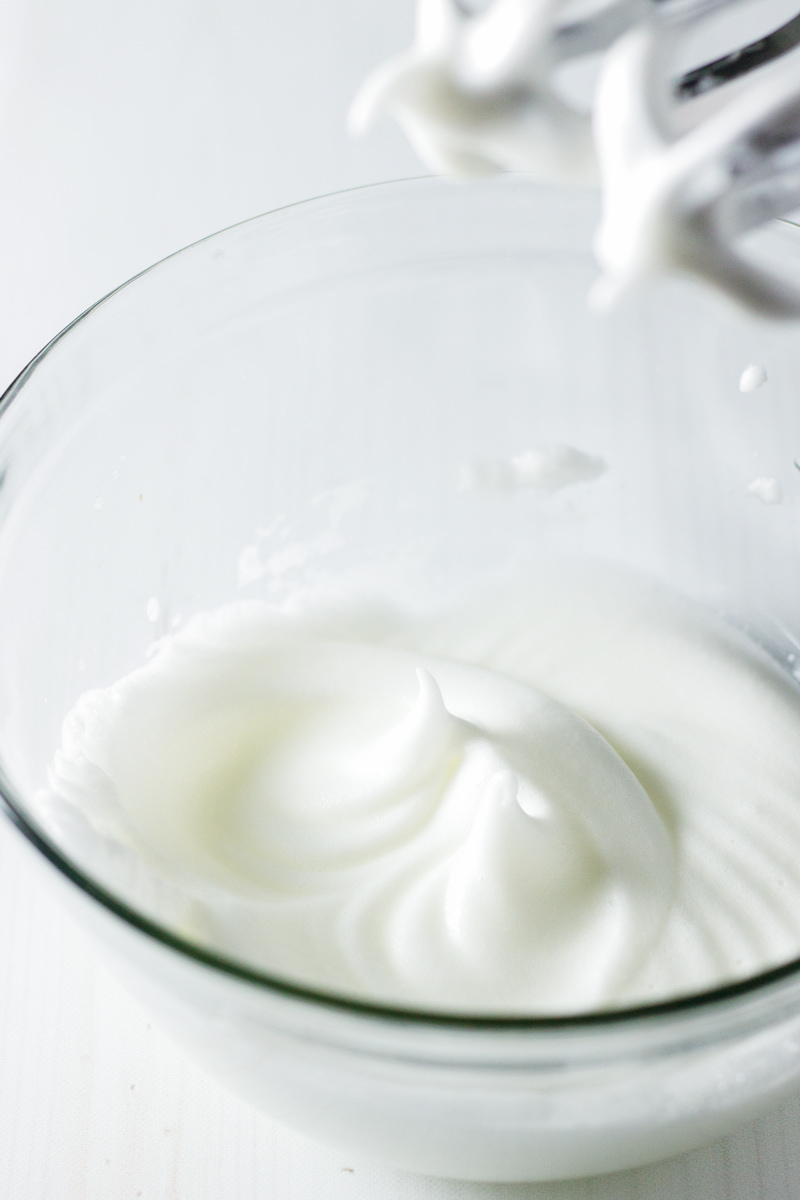 Conclusion: rise from baking powder + rise from whipped egg whites = fluffy, light, airy pancakes
How to Give Your Pancakes That Golden Color
You'll notice in my Delicious Fluffy Buttermilk Pancakes I added baking soda as well. When the acid + base reaction has already occurred (in this case with the baking powder), any extra baking soda will help with browning, which gives pancakes that golden color and its distinct delicious flavor. This is called the Maillard reaction. Be careful though, too much baking soda can lead to a soapy taste.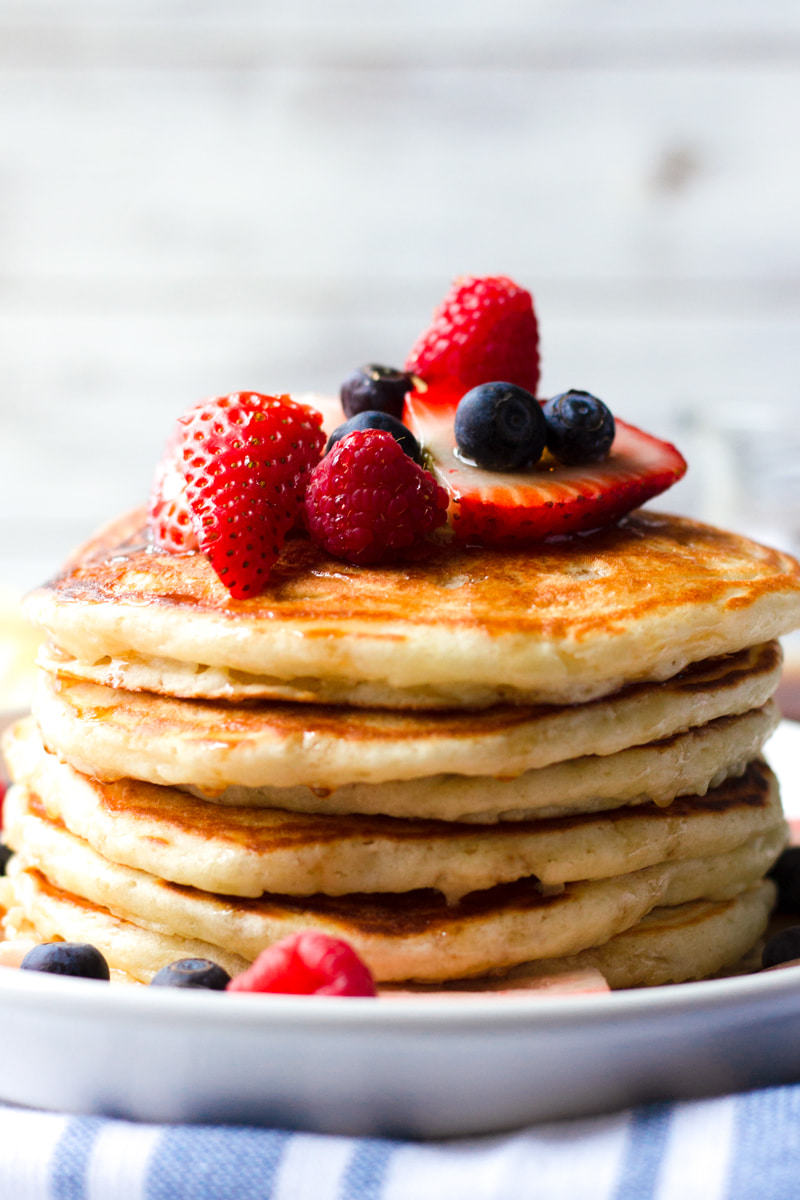 More Tips for the Perfect Pancake
Don't let the batter sit for too long. Try to cook the pancakes right after you make the batter, otherwise it will lose airiness and become gummy and dense.
Don't overmix the batter. Lumps in the batter are totally fine, and in fact, preferred.
Use approximately 1/3 cup of batter per pancake. If you drop too much batter, they will be thicker and likely undercooked.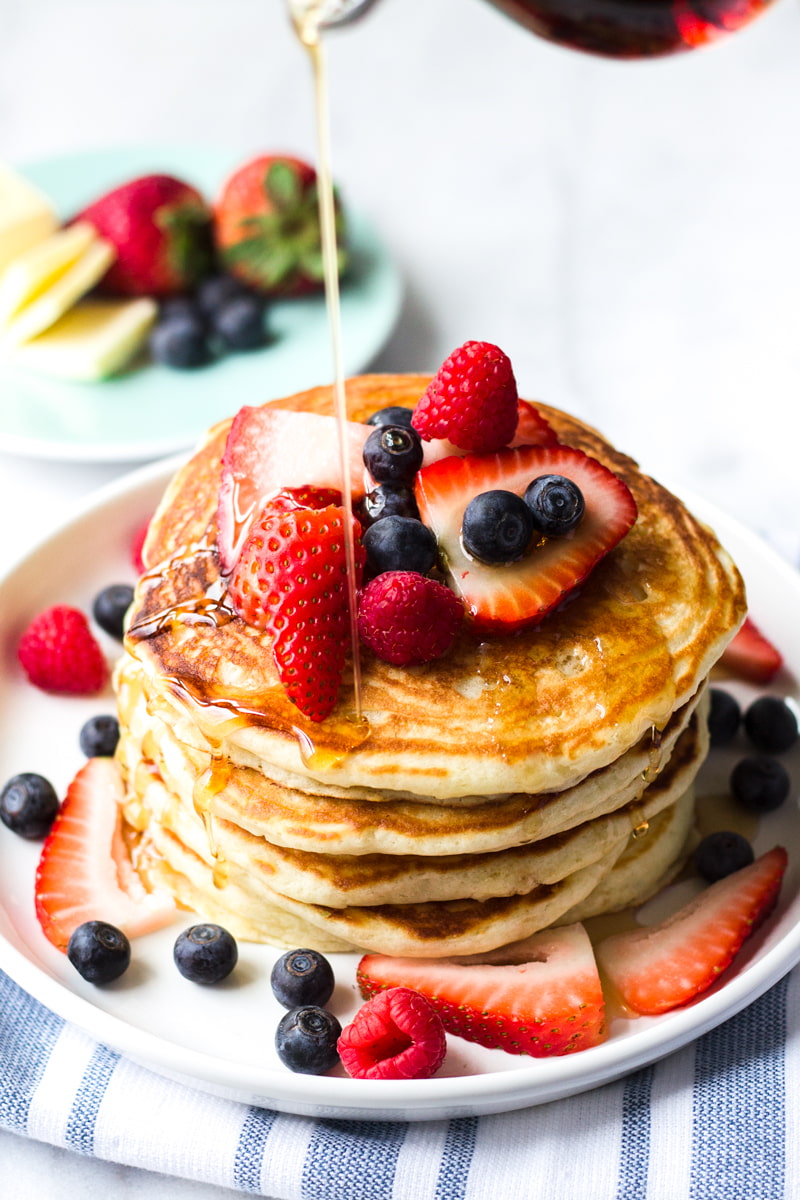 Ideas for Pancake Toppings and Fillings
Now the fun part, yay! Here are some my favorite pancake toppings:
Berries (blueberries, blackberries, strawberries, raspberries)
Berry compote
Caramelized apples
Bananas and nutella
Favorite pancake fillings:
Chocolate chips
Blueberries
Funfetti
The possibilities are endless! You can make pancake so many ways. Just to name a few, ricotta lemon pancakes, chocolate pancakes…And you know what that means? It means more fun pancake recipes are coming! Stay tuned 🙂
Check out my Delicious Fluffy Buttermilk Pancakes recipe!