This easy one pot turkey orzo soup is a great way to use all that leftover Thanksgiving turkey. It takes only 30 minutes to make. You'll love this comforting and cozy turkey orzo soup!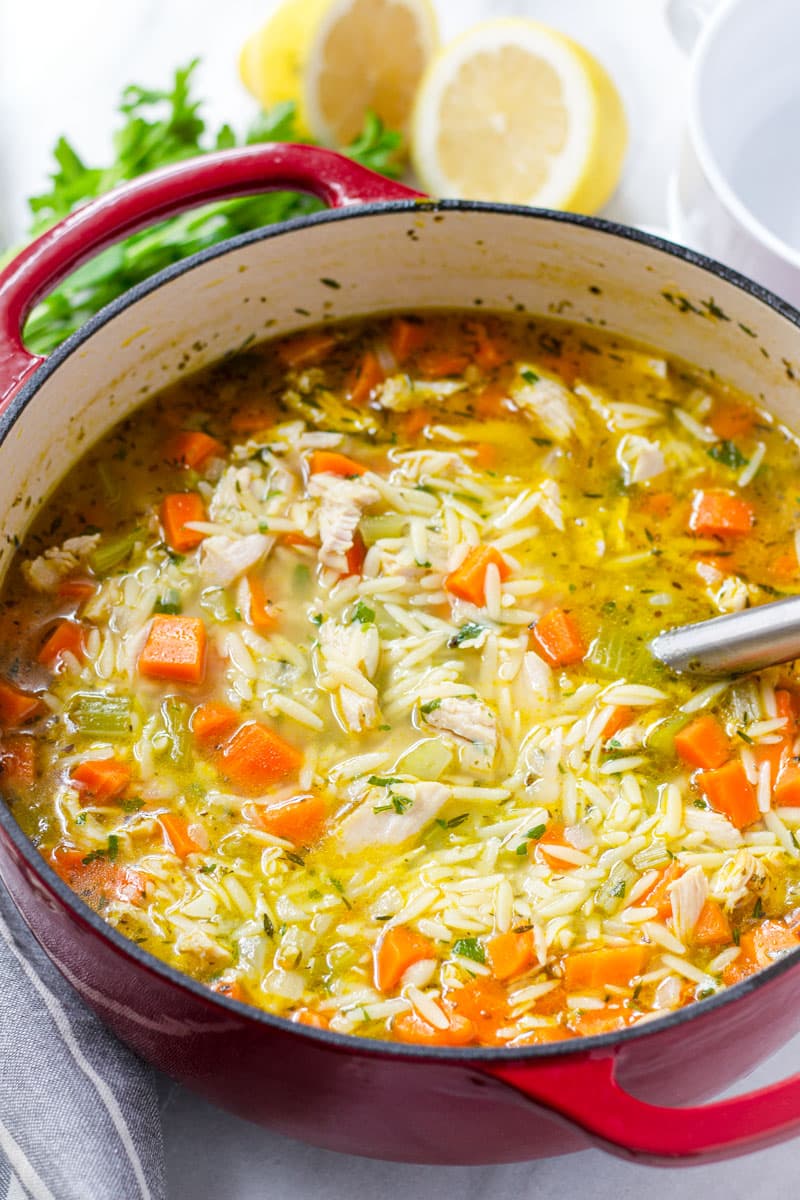 I'm already thinking about what to do with leftover turkey. In case you're wondering, I'm going to make this amazing orange honey glazed turkey breast, and I know that I will have plenty of leftover turkey. So let me tell you all about this comforting, easy, and delicious turkey orzo soup!
The turkey orzo soup is loaded with tender carrots and other vegetables, chicken broth, spices, fresh herbs, and of course, shredded leftover turkey. It comes together in about 30 minutes and makes enough for 6 to 8 people. I love adding a squeeze of lemon juice for brightness and fresh Italian parsley for freshness. It's the best!
Last year, I made a creamy turkey wild rice soup and it was a huge hit! Soups are always my go-to thing to make with leftover turkey because it's so easy and comforting, and my turkey orzo soup is no exception.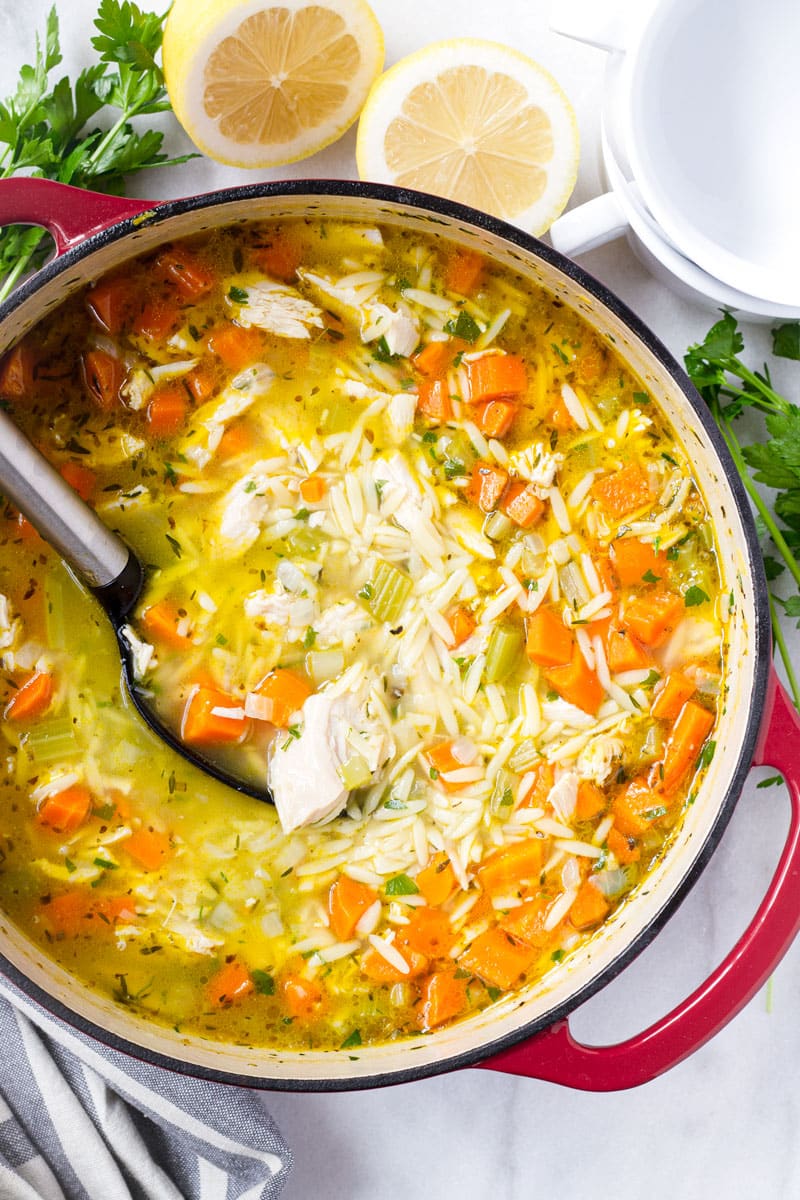 Turkey Orzo Soup Ingredients
Of course, you'll need leftover turkey to make this turkey orzo soup. But if you don't have any turkey left and you still want to make this soup, feel free to use chicken. A rotisserie chicken would be perfect.
Here's what you'll need:
Leftover turkey: Not deli turkey, obviously. I like to use turkey breast.
Olive oil: Used to sauté the veggies.
Minced garlic: C'mon, garlic makes everything better! Use fresh garlic.
Yellow onion: Diced. Use yellow or sweet onions.
Celery: Diced.
Carrots: Peeled and diced.
Fresh thyme: This will build a great flavor profile.
Dried oregano: I always use dried oregano in this type of soup. I love the aromatic flavors.
Chicken broth: You'll need about 6 to 7 cups.
Orzo: Orzo pasta looks like rice, but it's just pasta. I love the texture!
Lemon: Adds brightness and "wakes up" the soup!
Fresh Italian parsley: Fresh parsley will transform the soup. Adds tons of flavor and freshness.
Salt and pepper to taste
As you can see, this turkey vegetable soup recipe calls for very simple and fresh ingredients. I love everything about it!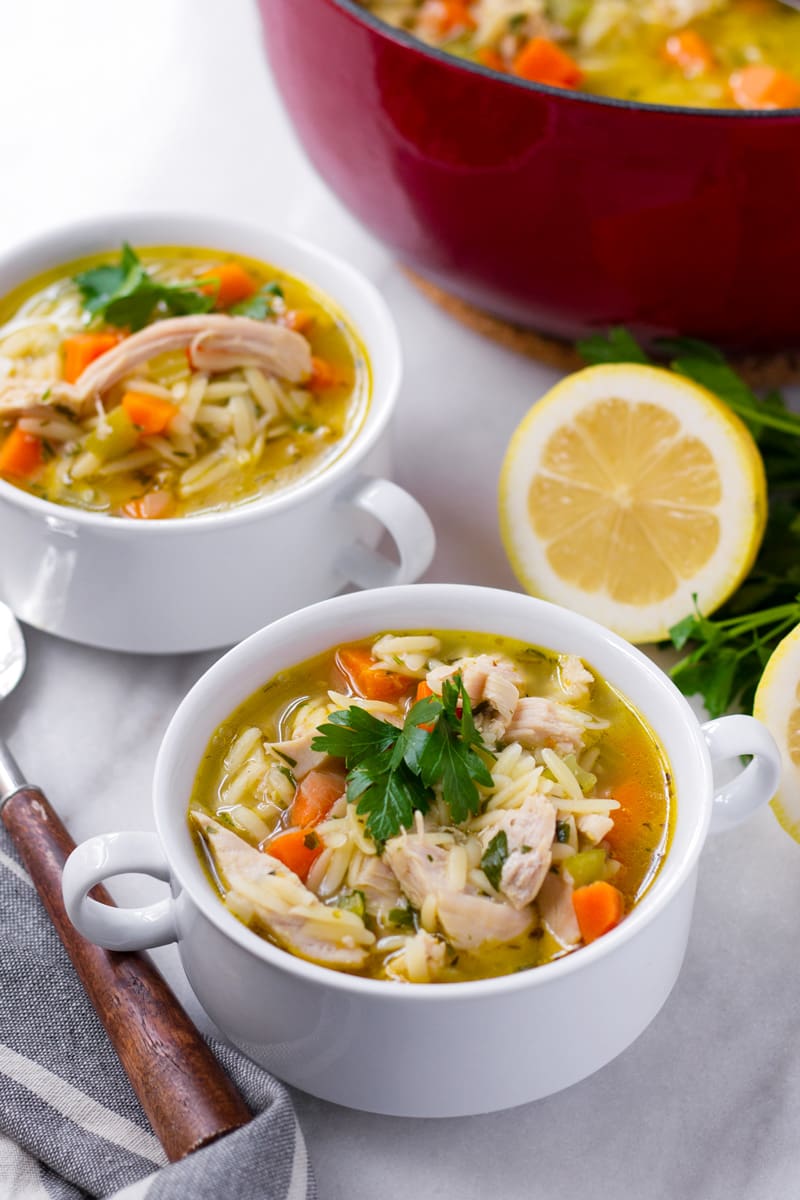 How to Make Turkey Orzo Soup
I swear, this turkey orzo soup is probably one of the easiest things to make. Takes about 30 minutes total. You can even prep some of the ingredients ahead of time (see recipe card below for make ahead instructions).
Cook the vegetables until softened: Heat some olive oil over medium high heat and add the garlic, onion, carrots, and celery. Cook until softened, stirring occasionally.
Add the herbs: Fresh thyme and dried oregano.
Stir in chicken broth and bring to a boil: You'll need about 7-8 cups of chicken broth for a large 6 quart pot.
Add shredded turkey and orzo and simmer: It should take about 15 minutes for the turkey to absorb the flavors and for the orzo to cook. This is also a good time to season the soup with salt and pepper if needed.
Add parsley and a squeeze of lemon to taste: these 2 ingredients really add brightness and freshness!
That's all! Easy peasy.
Having cooked turkey makes this turkey orzo soup super easy and straightforward. If you don't have any turkey left and still want to make it, simply use a rotisserie chicken or cooked chicken breasts.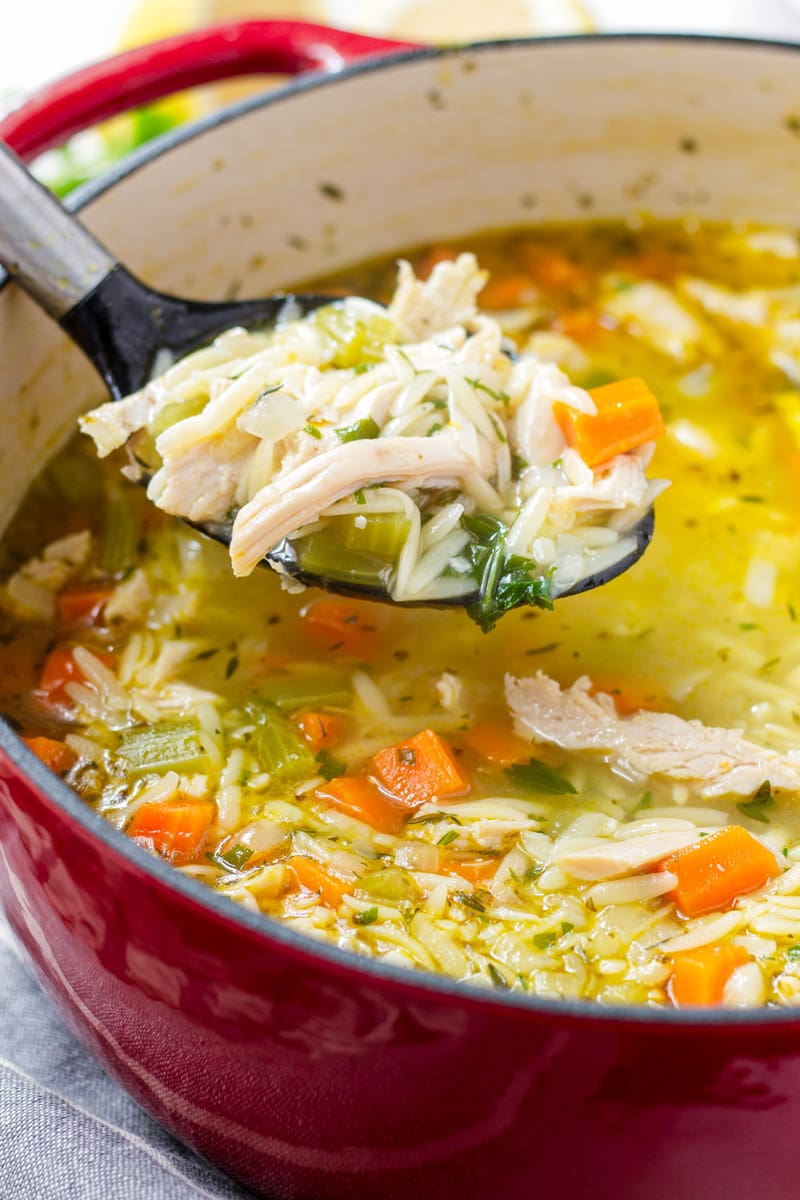 Variations and Substitutions
If you can't find certain ingredients, you can change it up. Here are some ideas:
Turkey: Use rotisserie chicken or cooked chicken breast.
Fresh thyme: If you don't have fresh thyme, use dried thyme (half the amount or to taste). Dried thyme is very strong.
Dried oregano: You can also use herbs de provence or Italian seasoning.
Orzo: Other pastas you can use are ditalini, rotini, acini di pepe, or wide egg noodles.
If you want to load this soup with extra vegetables, try adding spinach, peas, or corn. Anything you'd like!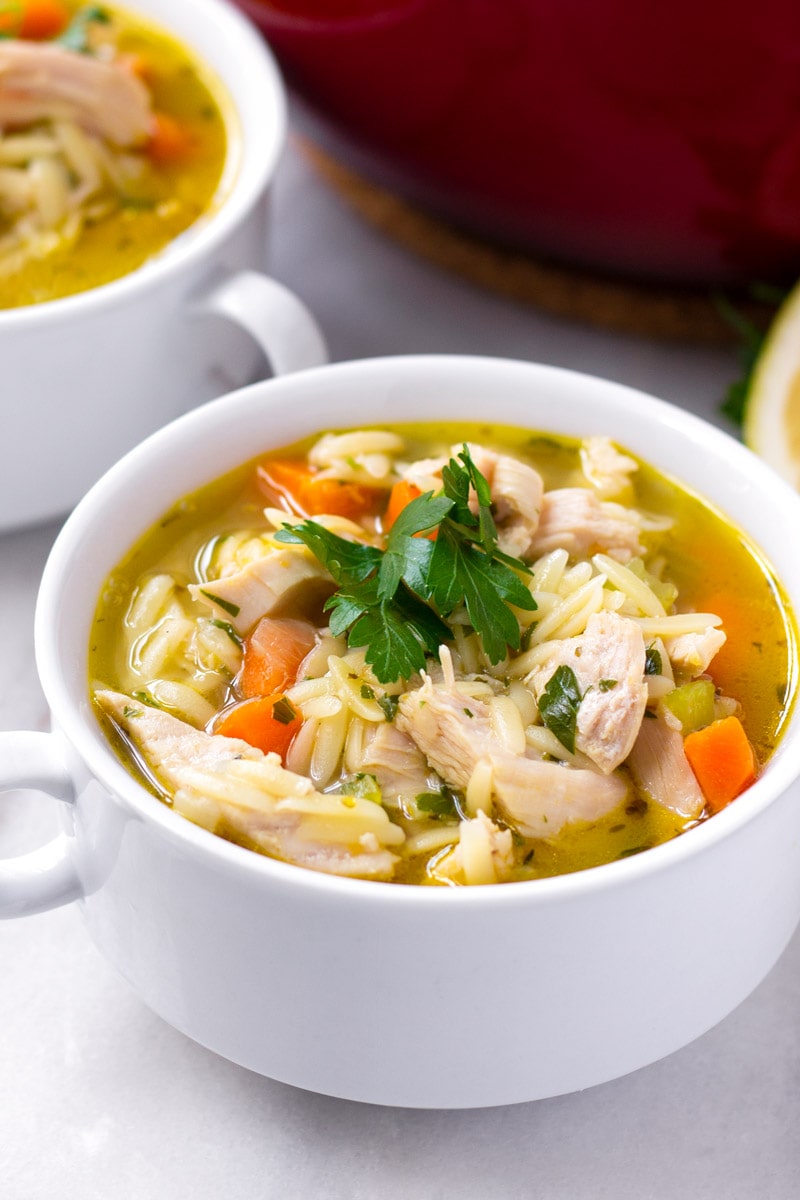 What to Serve with this Soup
I love to serve this type of soup with a side of bread. I think a baguette or ciabatta would go really well!
If you're looking for more fancy breads, try my rosemary focaccia, cast iron skillet cornbread, super soft honey dinner rolls, or sundried tomato pesto rolls. Or you could try these everything bagel rolls!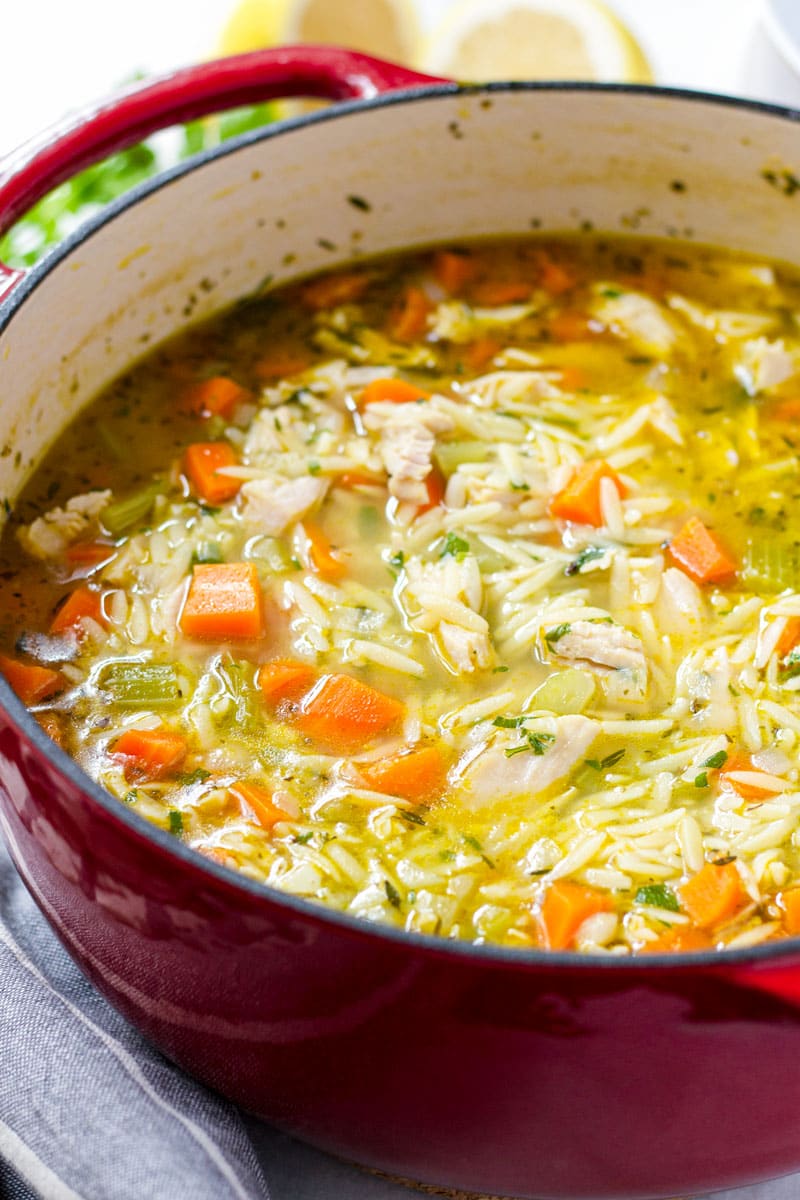 Thank you for stopping by! I love sharing tried and tested recipes with you all.
I promise that you will love this one pot turkey orzo soup. It's easy, simple, and comforting. It makes a large pot, so you'll have plenty to feed a large group of people.
If you're looking for more cozy soup recipes, check these out:
Please don't forget to pin this recipe!
If you try my recipe, use #cookingformysoul on Instagram! Follow me on Pinterest, Instagram, Facebook for the latest fun updates and recipes!
Turkey Orzo Soup
This one pot turkey orzo soup is a great idea for using all that leftover Thanksgiving turkey. It is easy, delicious, and comforting.
Ingredients
Olive oil

4

cloves

garlic, minced

1

medium yellow onion, diced

3

stalks

celery, diced

3

medium carrots, diced

2

teaspoons

fresh thyme leaves

-

(or 1 teaspoon or less dried thyme)

1/2

teaspoon

dried oregano

-

(or Italian seasoning)

6 to 7

cups

chicken broth, plus more as needed

1

cup

uncooked orzo pasta

3

cups

cooked leftover turkey breast, cubed or shredded

-

(not deli turkey)

Salt and pepper to taste

A handful of Italian parsley

1

lemon

-

(optional)
Instructions
Heat about 2-3 tablespoons of olive oil in a large Dutch oven or pot over medium heat. Sauté garlic, onion, carrots and celery until softened, about 6-8 minutes. Add thyme and dried oregano. Cook for another minute until fragrant, stirring.

Add the chicken broth and bring to a boil. Then, add shredded turkey and the uncooked orzo. Season with salt and pepper to taste if needed. Bring to a boil and lower heat to simmer for about 15 minutes, half-covered or uncovered, until orzo is tender or cooked to taste. Optional: add some water and simmer if you think the broth is too strong (it depends on which brand of broth you use).

Remove from heat. Add freshly chopped Italian parsley. If desired, serve with a lemon wedge on the side, it adds brightness to the soup. Enjoy!
Notes
Special equipment: a large pot or Dutch oven.
Make ahead: You can dice the vegetables the day before and store in the fridge in an airtight container. The turkey can also be shredded ahead of time.
Storing: Once the soup has cooled down, transfer to an airtight container and store in the fridge for up to 3 days. If freezing: let the soup cool down before storing in the freezer. Freeze up to 1 month in a freezer-friendly container. To reheat, thaw in the refrigerator.
Note on reheating: If you're storing leftovers, the orzo may have absorbed the liquid. When reheating, add some chicken broth and warm it up in a small pot or in the microwave oven.