I love making salad dressings at home. This homemade Greek salad dressing is delicious and easy to make. And it doesn't have to be used only in salads!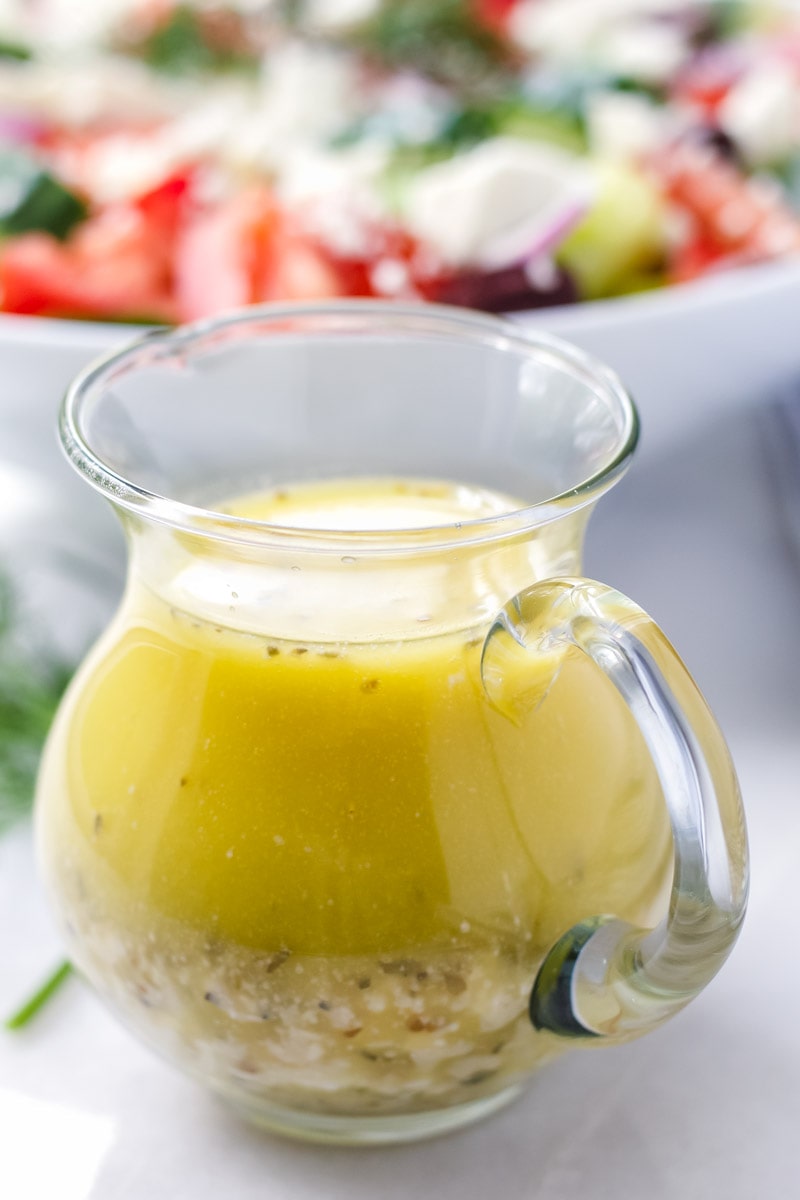 When I am not in a time crunch, I try to make my own salad dressings at home. What I like about it is that I can control the amount of seasoning, acidity, and consistency.
This homemade Greek salad dressing is definitely one of the most versatile dressings. I use it on a variety of salads and even as a marinade for chicken! It's awesome!
This Greek salad dressing is very easy to make, and can be stored in the fridge for about 5 days. So let me show you how to make it!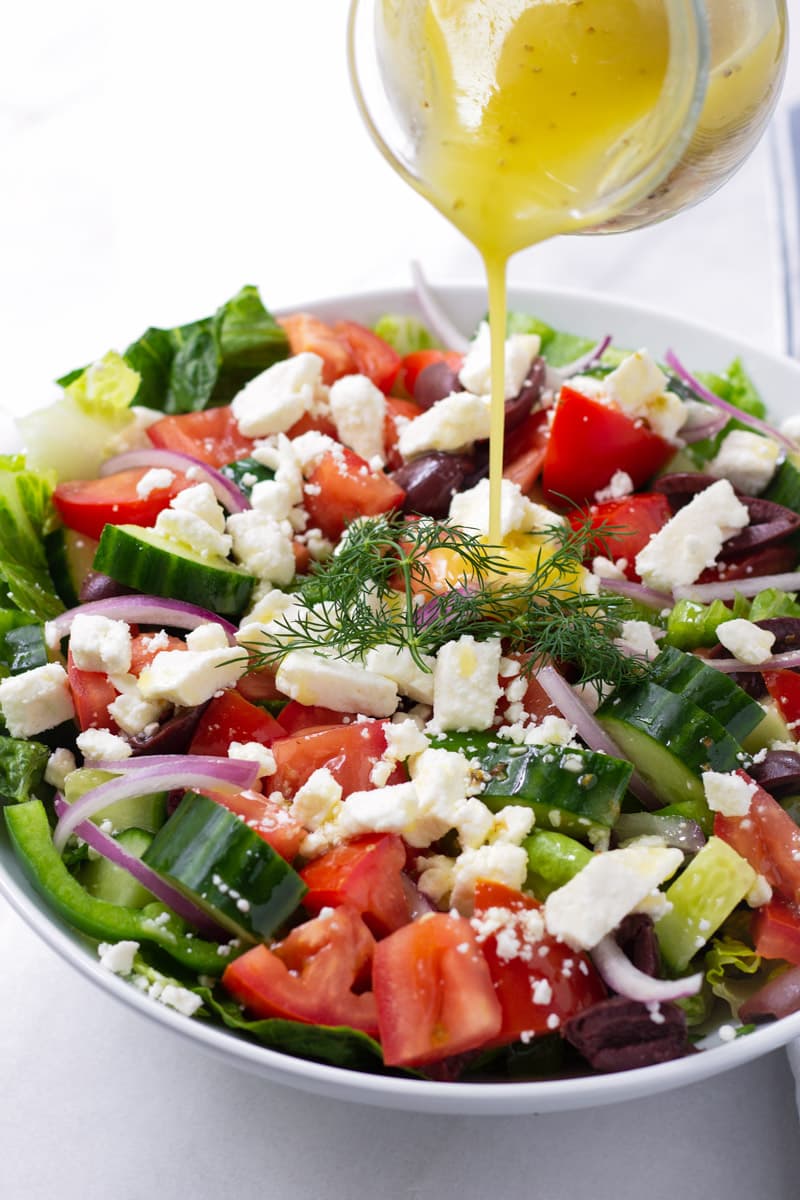 Simple Ingredients
Simple dressings are the best. My homemade Greek salad dressing recipe uses ingredients that you most likely already have in your pantry or fridge. And per usual, you can find the exact ingredient quantities and instructions in the recipe card below!
Extra virgin olive oil: Use good quality olive oil.
Lemon juice: Use fresh! It will add brightness and acidity.
Red wine vinegar: For acidity.
Dried oregano: A must in Greek cuisine! It will add great flavors.
Minced garlic: For flavor.
Dijon mustard: This is the emulsifying agent that will help all ingredients mix properly.
Crumbled feta cheese: For extra flavor.
Salt and pepper: To taste.
To make it, simply combine all the ingredients in a mason or a salad dressing shaker, and shake vigorously until fully combined.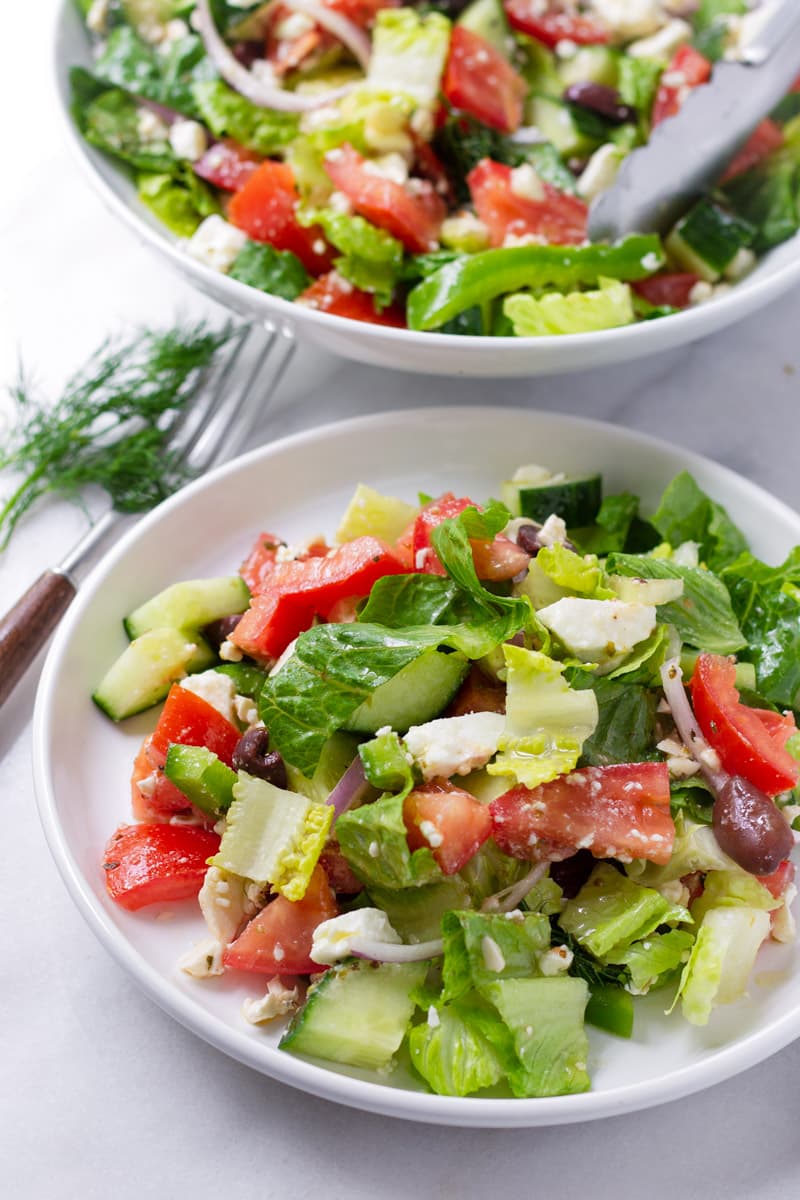 The Secret: Shake It!
I always, always, make my dressings, using a mason jar or a dressing shaker. This is especially true if the dressing consists of olive oil and lemon juice or vinegar.
Using a mason jar (with a lid) or a salad dressing shaker allows for vigorous shaking. Shaking it is the key to any good oil-based dressing! It helps the ingredients emulsify.
Emulsification consists of combining or mixing ingredients that don't usually mix well. In this case, we're mixing oil and a liquid (vinegar and lemon juice) together into one uniform dressing. Emulsification works if you use an emulsifying agent. In this case, it's the mustard. So, don't skip the mustard or the dressing will not come together.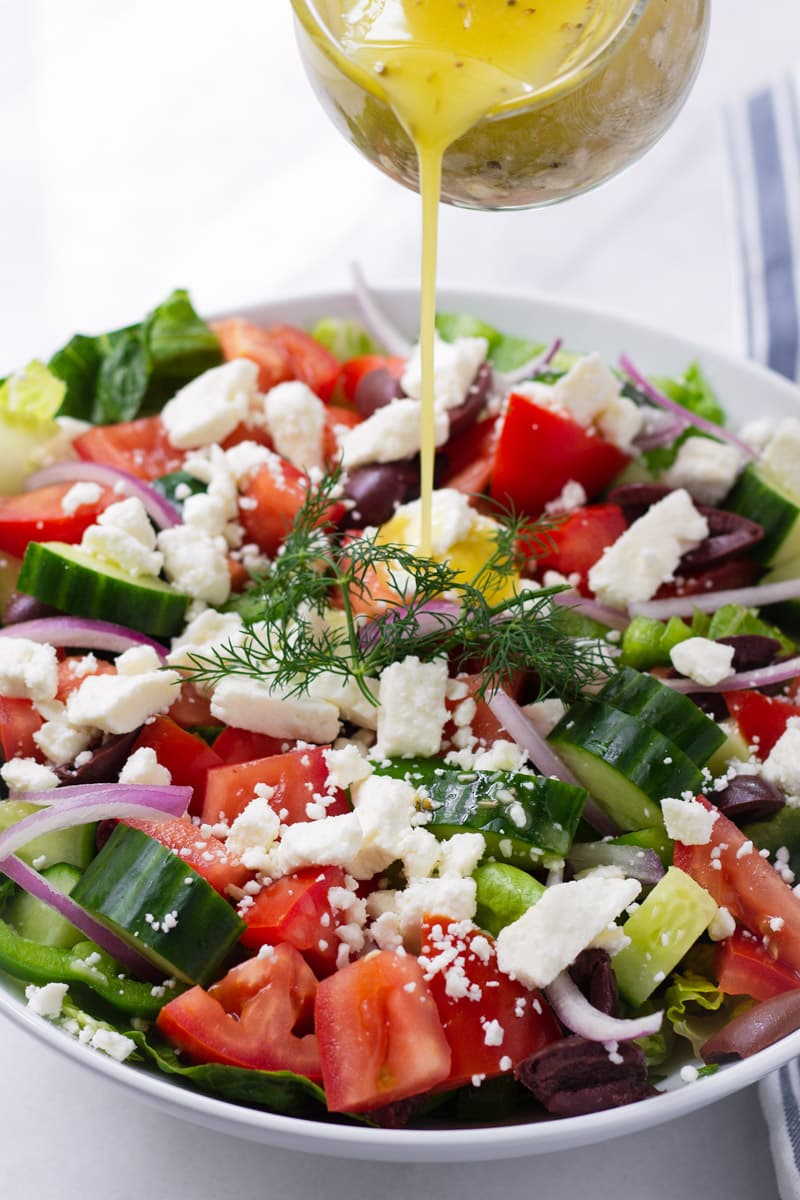 Recipe Ideas for This Dressing
Needless to say, you can use this homemade Greek salad dressing on your favorite salads. These are my favorites: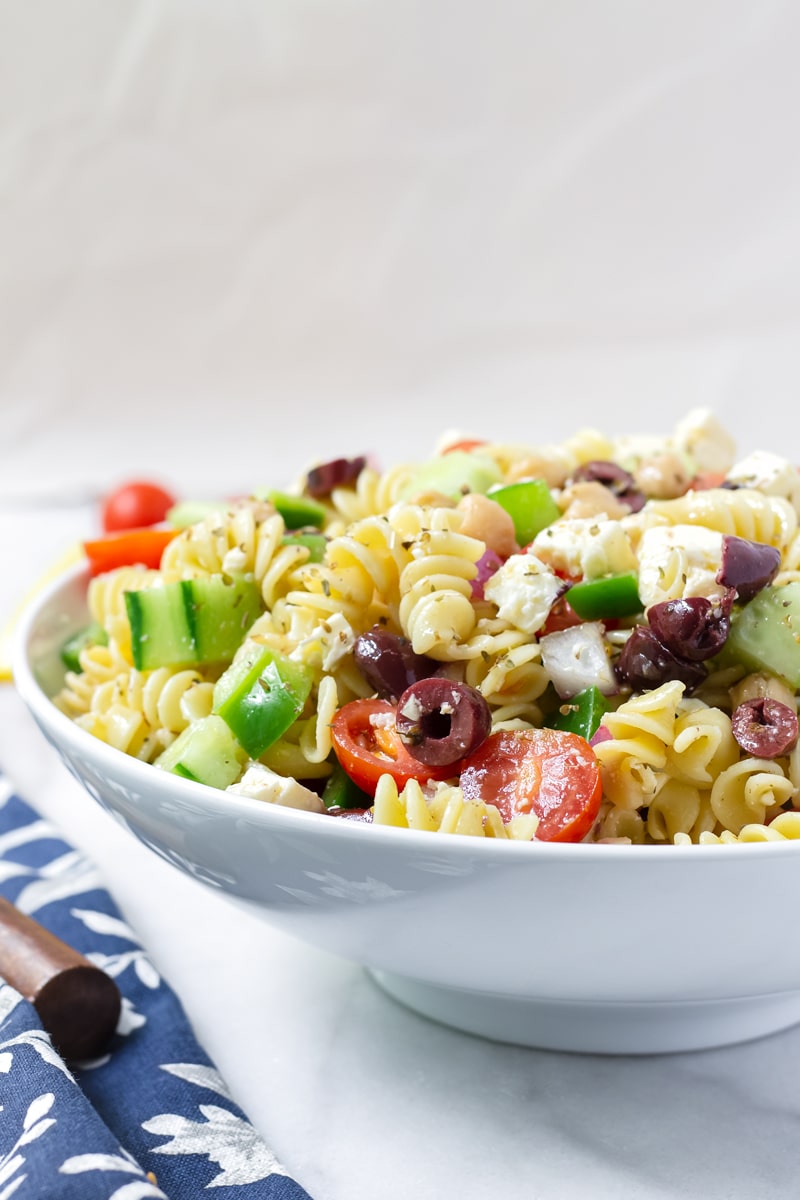 You can also use the dressing as a marinade. It works best for chicken breast, thighs, drumsticks, or wings. Marinate it for 6-8 hours or overnight. When ready to cook, simply shake off the excess dressing and cook it! I'd recommend pan-searing or grilling it. Try my recipe for moist pan-seared chicken breasts!
Make It Ahead
You can definitely make it ahead (or in this case, pre-make it) and just store it in the fridge for about 4 to 5 days. n fact, it will taste even better the longer you store it! The flavors intensify after the second day.
How you store it is important for maximizing freshness and optimal flavors. Here are some tips:
Definitely store in an airtight container. I always use a mason jar.
When ready to use, give it a few vigorous shakes to help it re-emulsify.
Thank you for reading! If you have any questions, please drop them in the comments section below.
Tips for Success
Don't skip the mustard: Mustard acts as an emulsifying agent that will help the olive oil, vinegar, and lemon juice together.
Shake vigorously! Use a major jar, a salad dressing shaker, or a container with a lid. Vigorously shake until it comes together. Whisking only it will not be enough to achieve the right consistency.
Feta cheese: Feta isn't technically part of a traditional Greek dressing, but it will add tons of good flavor.
If you try my recipe, use #cookingformysoul on Instagram! Follow me on Pinterest, Instagram, Facebook for the latest fun updates and recipes!
Homemade Greek Salad Dressing
This easy homemade Greek salad dressing is packed with flavor and just the right amount of acidity. Use it on salads or as a marinade.
Ingredients
2/3

cups

extra virgin olive oil

1

tablespoon

fresh lemon juice

2 to 3

tablespoons

red wine vinegar

1

teaspoon

dried oregano

1

clove

garlic, minced

1

teaspoon

dijon mustard

2

tablespoons

crumbled feta cheese

Salt and pepper to taste
Instructions
In a mason jar, combine all the ingredients.

Cover with lid and shake vigorously until fully incorporated. Use immediately or store in the fridge in an airtight container for up to 5 days.
Notes
Special equipment: mason jar, salad dressing shaker, or a container with a lid.
Storing: Store in an airtight container or in the mason jar in the refrigerator for up to 5 days. Always shake it again before using.
A note on mustard: The mustard here acts as the emulsifying agent, which will help the ingredients come together. Without it, it would be hard for the oil, vinegar, and lemon juice to combine properly.