I love healthy salads with bold flavors. This Mediterranean Lentil Salad is packed with fresh and healthy ingredients. It's delicious, easy, and so good for you!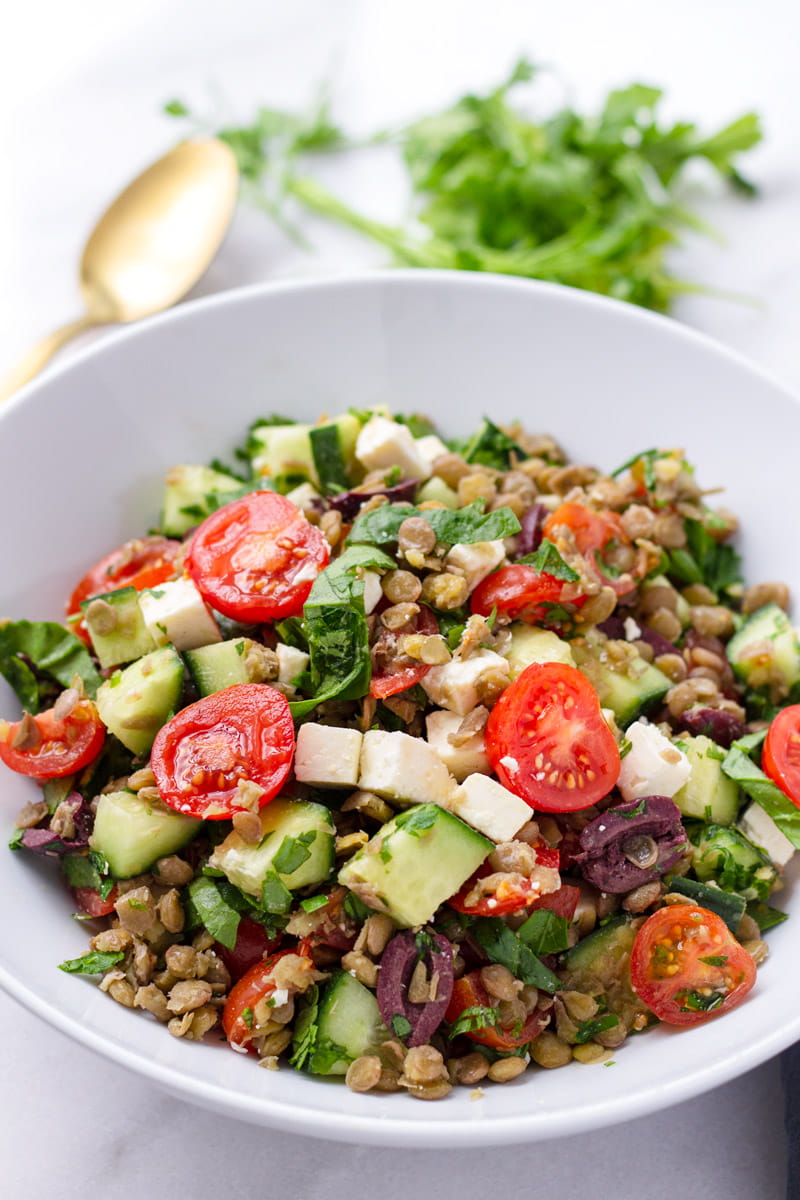 I grew up eating lentils at least twice a week. Everyone in my family loved it when we had lentil stew for dinner, and to this day, I get excited every time lentils are on the menu. I have a recipe for a healthy lentil soup with kale and carrots that I make when it gets cold outside and need something hearty and comforting.
Today I'm sharing this easy and healthy Mediterranean lentil salad recipe with you! It's packed with fresh ingredients…lentils, cucumbers, tomatoes, kalamata olives, spinach, and feta cheese. Then it's tossed with an easy vinaigrette to marry all the ingredients.
Lentils are a high source of fiber and protein. They are also very inexpensive and last for a very long time. In fact, I always keep jars of dried lentils in my pantry!
This Mediterranean lentil salad recipe definitely a keeper. Let's get cooking!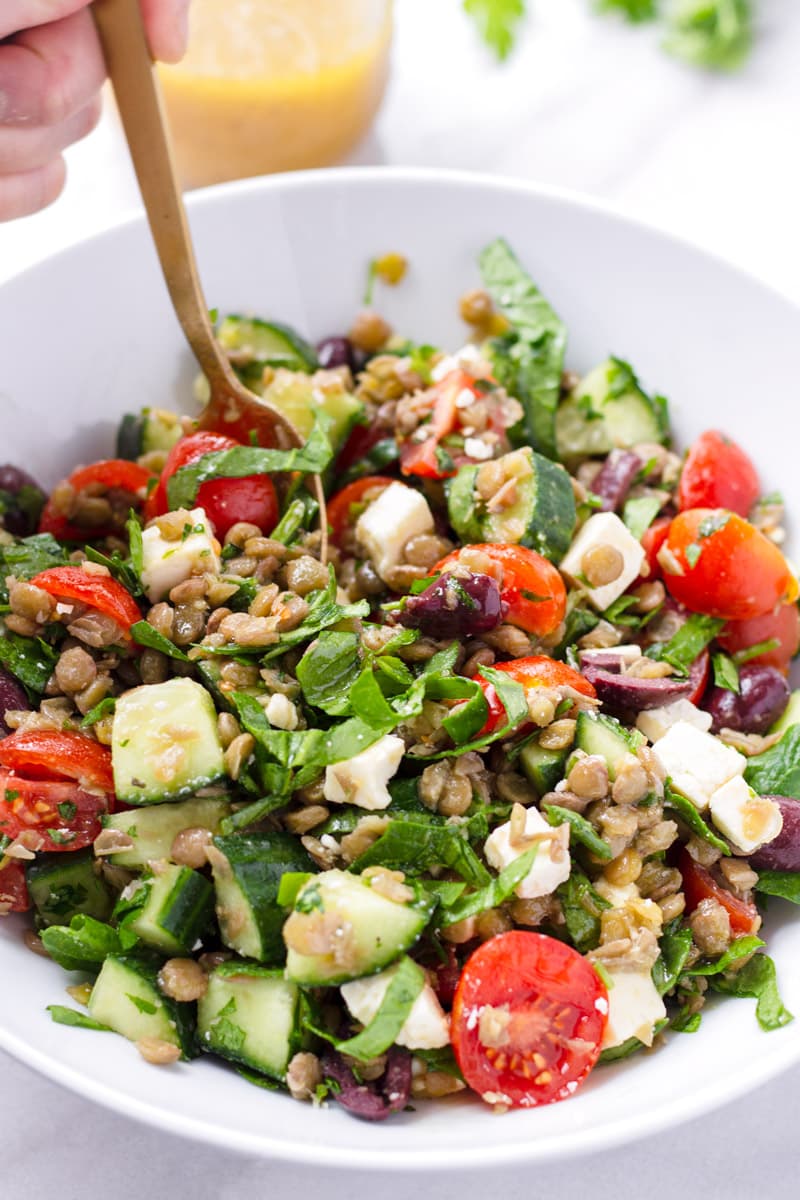 What Types of Lentils to Use
If you have never cooked lentils before, then you should know that not all lentils are the same. They vary a lot in terms of shape, texture, and color. In fact, some types of lentils completely disintegrate when cooked.
There are 4 main types of lentils: brown lentils, green lentil, red lentils, and yellow lentils.
Brown and green lentils, the most common varieties, hold their shape pretty well when cooked, making them great choices for salads, stews, and hearty soups. The difference between brown and green lentils is in the flavor. Brown lentils are milder than green lentils.
Red and yellow lentils usually disintegrate when cooked, making these great choices for smooth soups or purees.
For this Mediterranean lentil salad, we're using brown lentils for texture and mild flavor. They will hold their shape pretty well and make a great, hearty Mediterranean-style salad.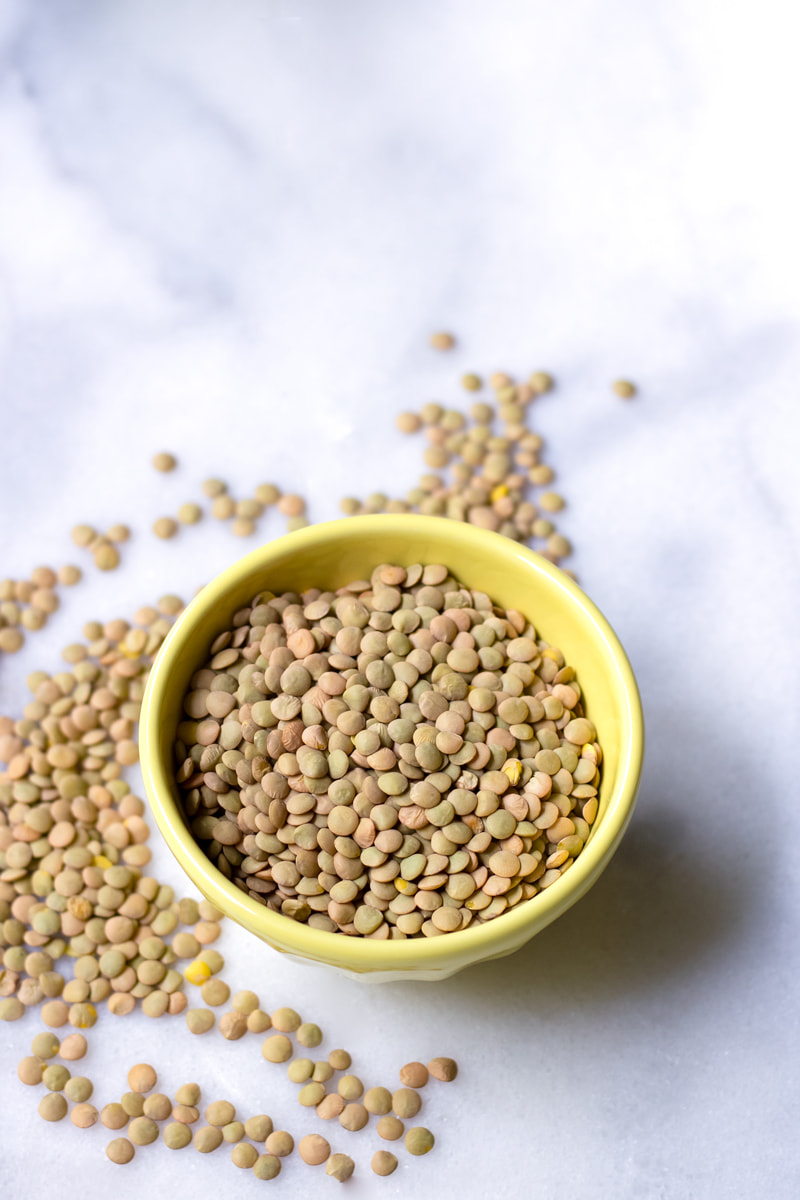 How to Cook Lentils
To cook brown or green lentils: You'll need about 3 cups of water for every cup of lentils. Gently simmer them in a medium saucepan for about 16-20 minutes, or even 25 minutes. If you cook them longer than that, they may start getting too soft and peeling a lot. Also, make sure it's a very low and gentle simmer to prevent the lentils from peeling too much.
To cook red or yellow lentils: add them to the soup or stew and cook for about 15-20 minutes.
Of course, the cooking method will vary depending on what dish you're trying to make.
Ingredients in this Mediterranean Lentil Salad
This Mediterranean lentil salad is full of awesome fresh ingredients.
Here's what you will need:
Dried brown lentils: Use brown lentils in this salad for texture. Don't use red or yellow lentils as these will disintegrate when cooked.
Cucumbers: I prefer English cucumbers since the skin is softer.
Cherry tomatoes: You can use roma tomatoes too!
Italian parsley: I prefer the flavor of Italian parsley, but curly parsley will work as well.
Kalamata olives: Love them! Try using green or any types of olives you like.
Fresh spinach: One of my favorite ingredients in this salad.
Feta cheese: Crumbled or cubed.
Red onions: Red onions can be strong, so it's optional.
Green bell peppers: Optional!
Quick Mediterranean dressing: red wine vinegar, lemon juice, olive oil, dijon mustard, honey, minced garlic, dried oregano, salt, ground black pepper.
Feel free to add any other ingredients you may like!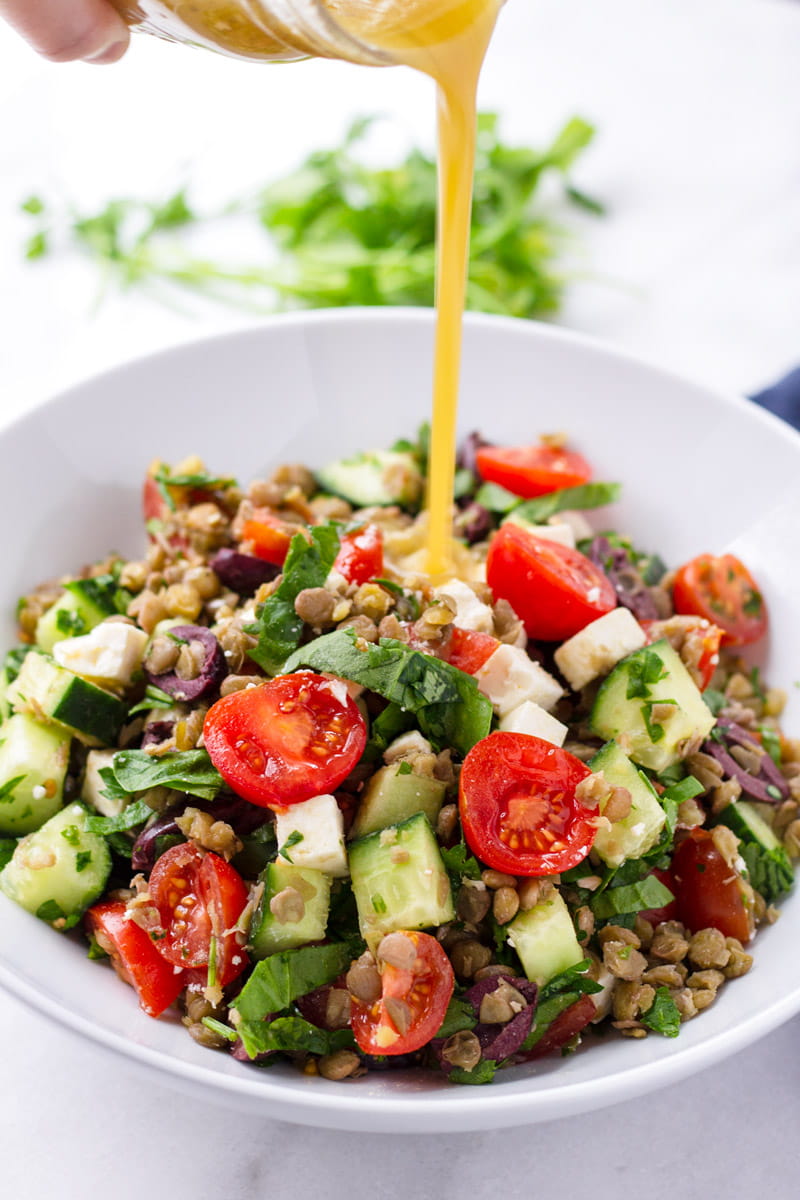 Super Easy to Make!
Making this Mediterranean lentil salad is so easy and simple. All you have to do is cook the lentils, prep the vinaigrette, chop the rest of the ingredients, and toss it all it combine!
Per usual, you can find the ingredient quantities and instructions in the recipe cars below, but to give you an idea on how to make this lentil salad:
Cook the lentils: For every 1 cup of lentils, use 3 cups of water. My brown lentils took about 16-18 minutes, and they came out a little bit firm (but not undercooked), which is how I like them.
Make the vinaigrette: This can be prepped ahead of time.
Prep the ingredients: wash and chop!
Toss to combine
Very straightforward, right?! I really love easy salads, especially if they are filling and extra healthy.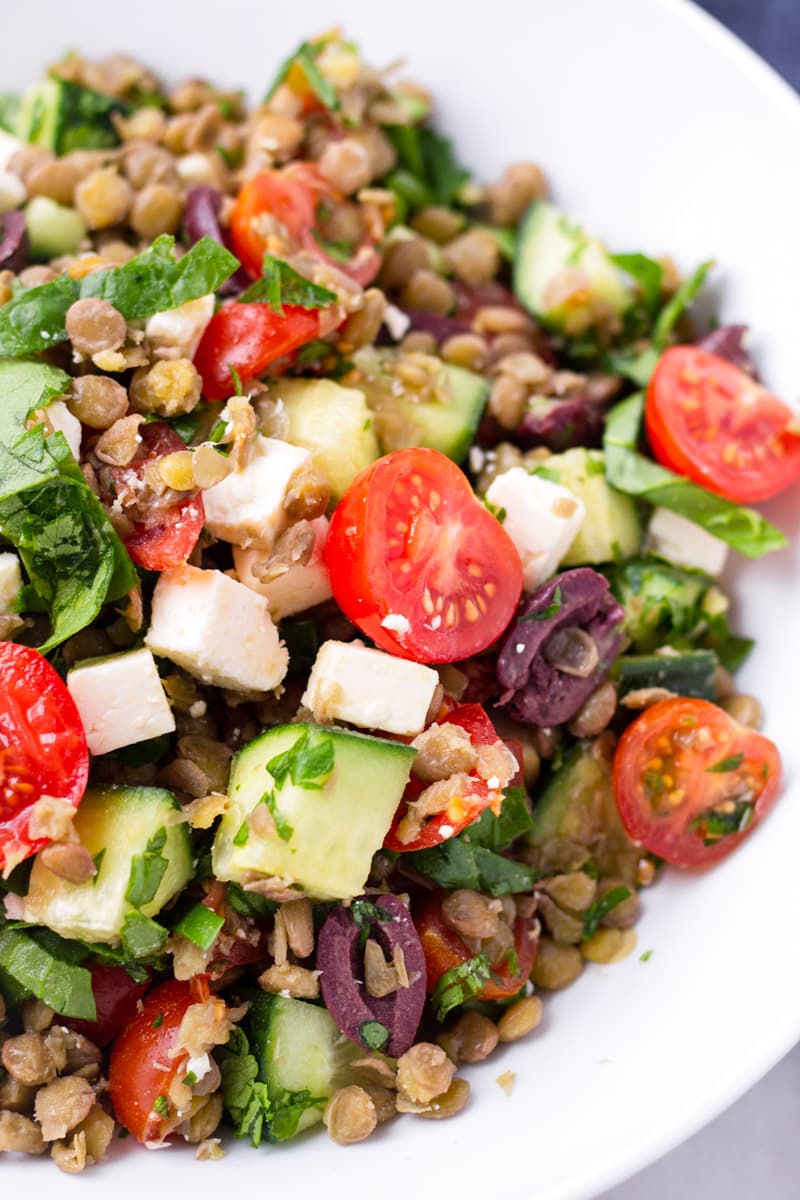 Make Ahead
You have several options to make this lentil salad ahead of time:
Make the vinaigrette ahead of time and store in a mason jar in the refrigerator. Shake well before using.
The lentils can be cooked up to 1 day in advance. Store in the refrigerator in an airtight container.
You can also combine all the prepared ingredients minus the vinaigrette, and add the vinaigrette when ready to serve.
I swear, make ahead salads are the absolute best!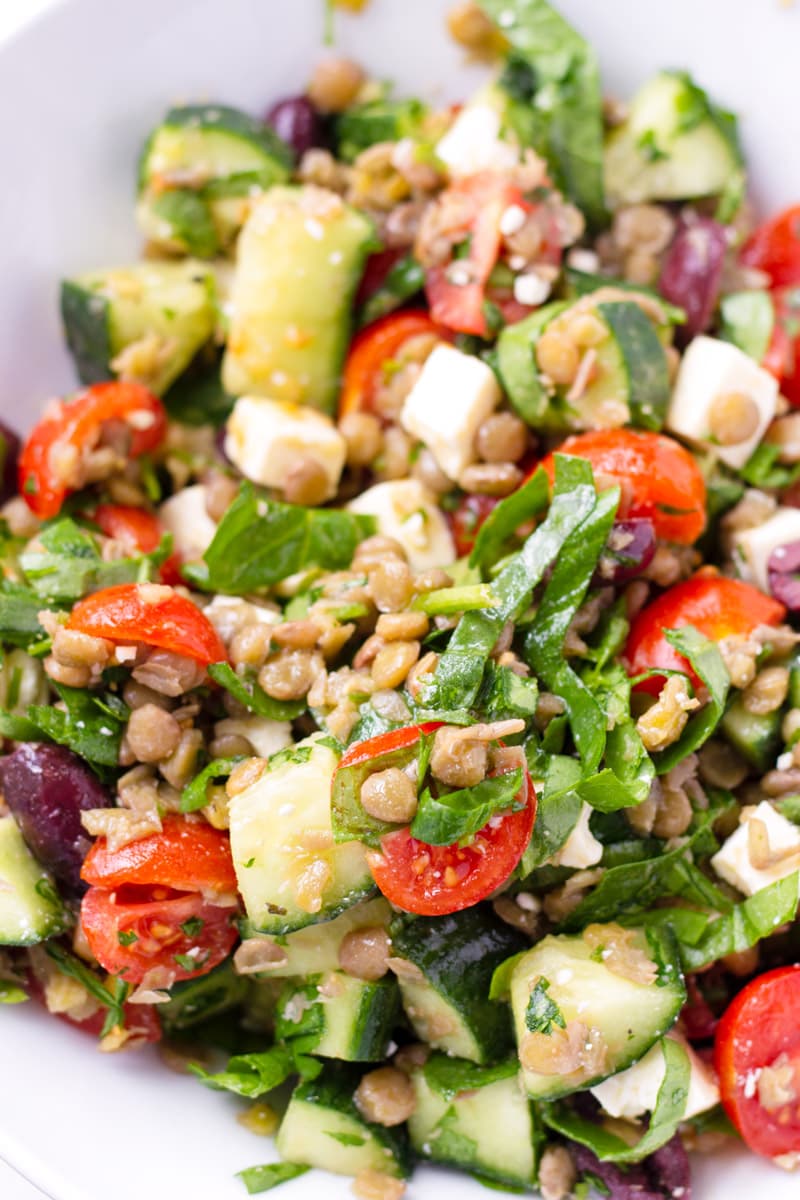 If you're looking for a healthy and well-balanced salad with lots of flavor, this is it! I'll be making this Mediterranean lentil salad over and over again because it's that good…and so should you!
I love dishes inspired by Mediterranean and Greek flavors, such as my Mediterranean salad with grilled chicken and my potluck-worthy Greek pasta salad. Yummy!
Another amazing Greek-inspired dish that I love is this Greek meatball recipe, which you can serve as an appetizer or build into a meatball gyro sandwich!
Thank you for stopping by, and remember to pin this recipe for later! Happy cooking!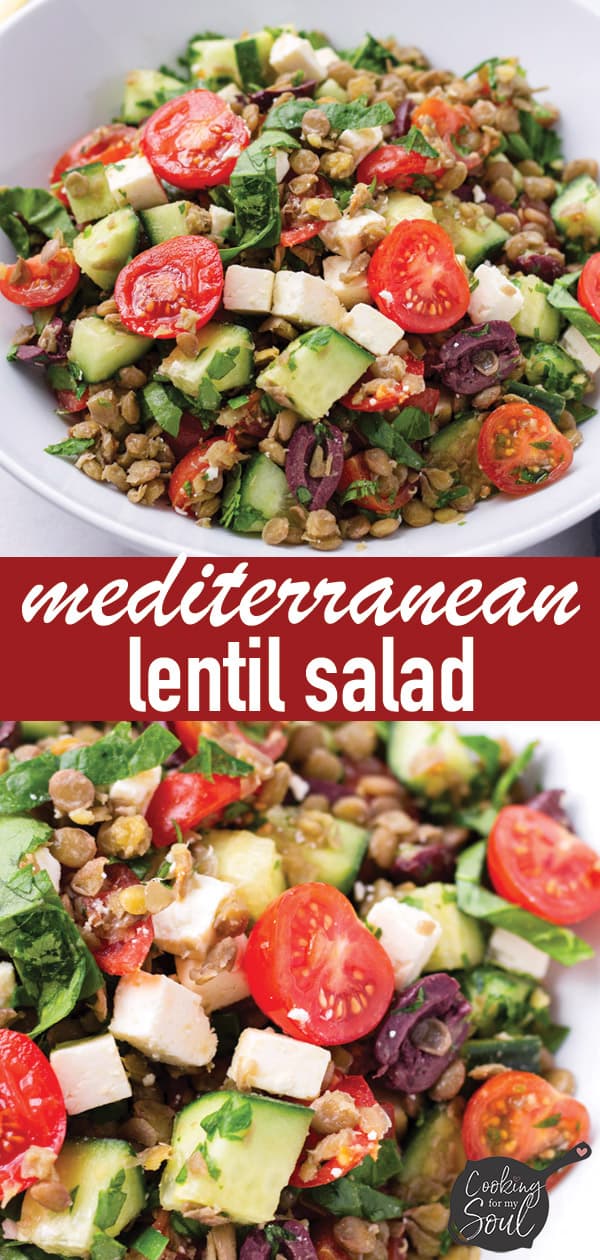 Cooking Lentils: Tips
Rinse the lentils to get rid of any impurities.
The recommendation is to cook brown lentils for about 20 minutes. For this salad, since we want the lentils to have a firmer texture, 16-18 minutes of cook time should be enough. However, taste for texture and if you want them softer, continue cooking for another 2-3 minutes. You definitely don't want undercooked lentils!
To prevent lentils from peeling or splitting as they cook, simmer them gently. A "stronger" simmer can cause lentils to peel and become mushy too fast.
It's common for the skin to come off a little bit as lentils cook, but a gentle simmer should help minimize it.
If you try my recipe, use #cookingformysoul on Instagram! Follow me on Pinterest, Instagram, Facebook for the latest fun updates and recipes!
Mediterranean Lentil Salad
Healthy and easy salads are a must! This Mediterranean lentil salad is well-balanced, delicious, and so good for you. Loaded with fresh tomatoes, cucumbers, olives, parsley, spinach, and feta cheese.
Ingredients
1

cup

dry brown lentils

-

(not red or yellow lentils)

2

cups

chopped fresh spinach leaves, packed

1 1/2

cups

halved cherry tomatoes

1 1/2

cups

diced English cucumbers

1/2

cup

chopped Italian or curly parsley

1/2

cup

Kalamata olives, pitted and halved

3/4

cup

feta cheese, crumbled or cubed

1/4

cup

diced red onions

-

(optional)

1/2

cup

diced green bell peppers

-

(optional)
Vinaigrette
2/3

cup

extra virgin olive oil

1-2

tablespoon

red wine vinegar

1

tablespoon

fresh lemon juice, plus more to taste

1 to 2

teaspoons

honey, or to taste

1

teaspoon

dijon mustard

2

cloves

garlic, minced

1

teaspoon

dried oregano

Salt and pepper to taste
Instructions
Bring 3 cups of water to a boil in a medium saucepan. Add the lentils. Bring to a light boil again, and then bring down to low heat. Simmer gently, covered, until tender but not mushy, about 16-20 minutes (Note: a very gentle simmer will prevent the skin from peeling too much). Drain any excess water. Transfer the lentils to a shallow bowl and let them cool slightly.

Meanwhile, make the dressing: combine all the dressing ingredients in a mason jar and shake well to combine. Adjust to taste.

In a large bowl, toss the cooked lentils, cucumbers, cherry tomatoes, parsley, feta cheese, olives, and spinach. If using, add the onions and green bell peppers too. Add the dressing and toss to combine. Enjoy!
Notes
Don't use red or yellow lentils because these will disintegrate when cooked.
Rinse the lentils to remove any impurities.
Simmer very gently: To prevent lentils from peeling or from becoming mushy, cook on a very gentle simmer.
Texture of the lentils: I like my lentils a bit firm (but not undercooked), so I simmer them for about 16-18 minutes. Taste them at this point, and if needed, continue cooking until cooked to your liking.
Make ahead: Both the lentils and the vinaigrette can be made 1 day in advance. You can also assemble the salad 1 day in advance, but add the vinaigrette when ready to serve to prevent it from getting soggy.
Storage: Store in an airtight container for up to 3 days in the refrigerator.