This strawberry and spinach salad with herbed chicken is loaded with candied pecans, avocado, and feta, drizzled with balsamic dressing.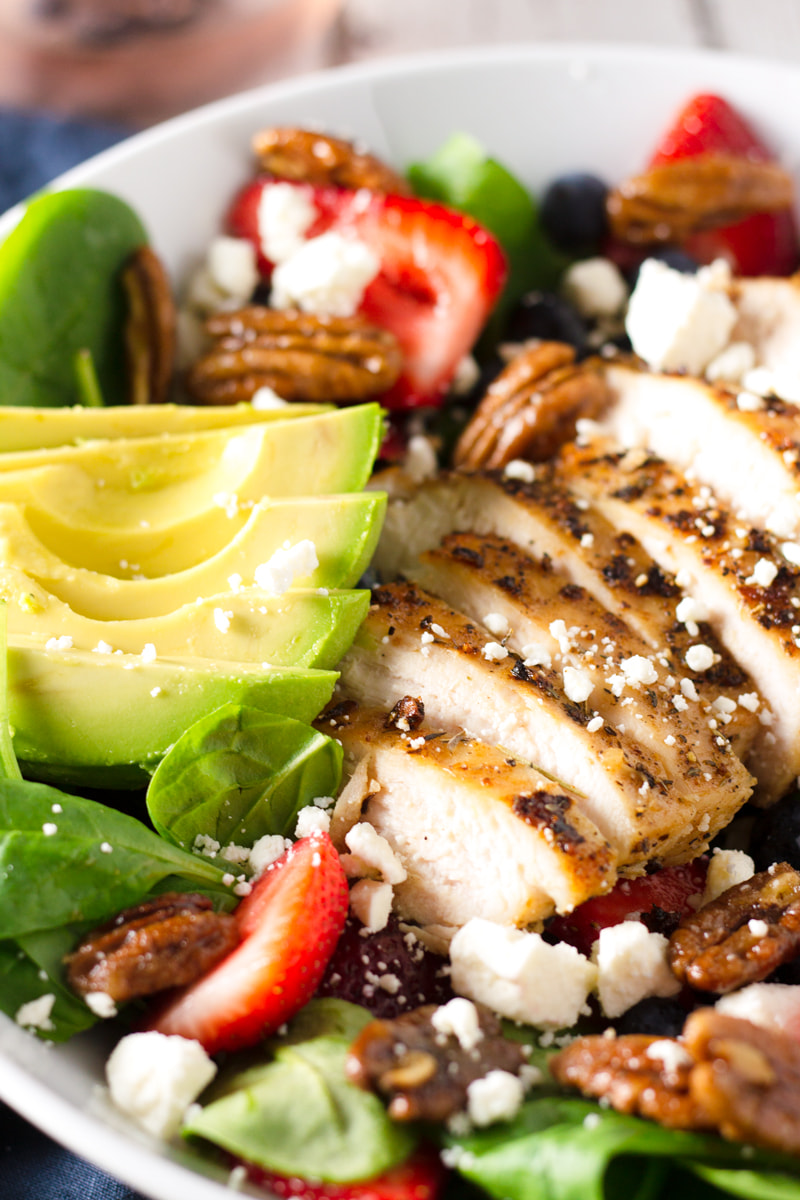 I love a good salad, especially the ones loaded with fresh veggies, nuts, fresh cheese, and some type of protein. This strawberry and spinach salad with herbed chicken is perfect for dinner!
Fresh strawberries and blueberries add natural sweetness to this salad. The candied pecans add a sweet little crunch, and the avocado and feta cheese balance out the flavors here. Oh, and the balsamic dressing just ties everything together. The chicken is packed with delicious herby and garlicky flavors. YES! It is a heck of a salad!
You'll love it.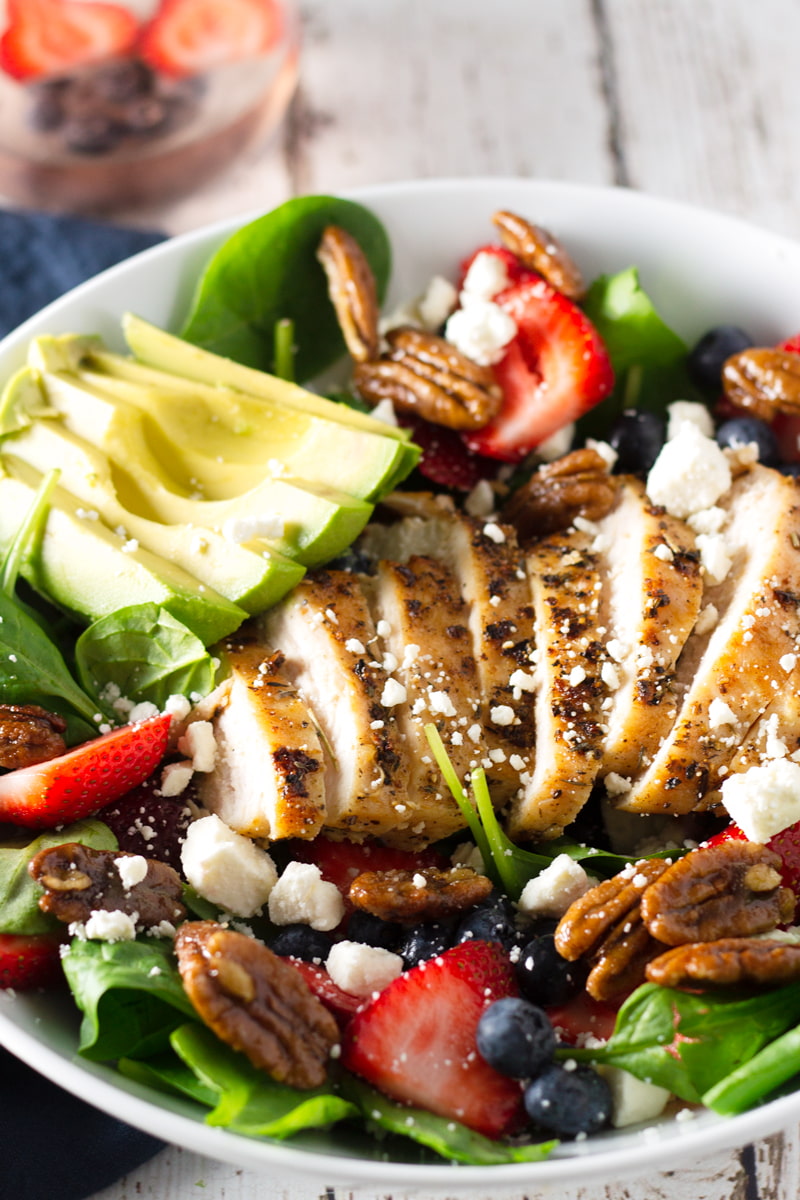 Here is what's in it:
baby spinach
sliced strawberries
blueberries
avocado
candied pecans
feta cheese
herbed chicken
balsamic dressing
All of that in a bowl is like a dream come true.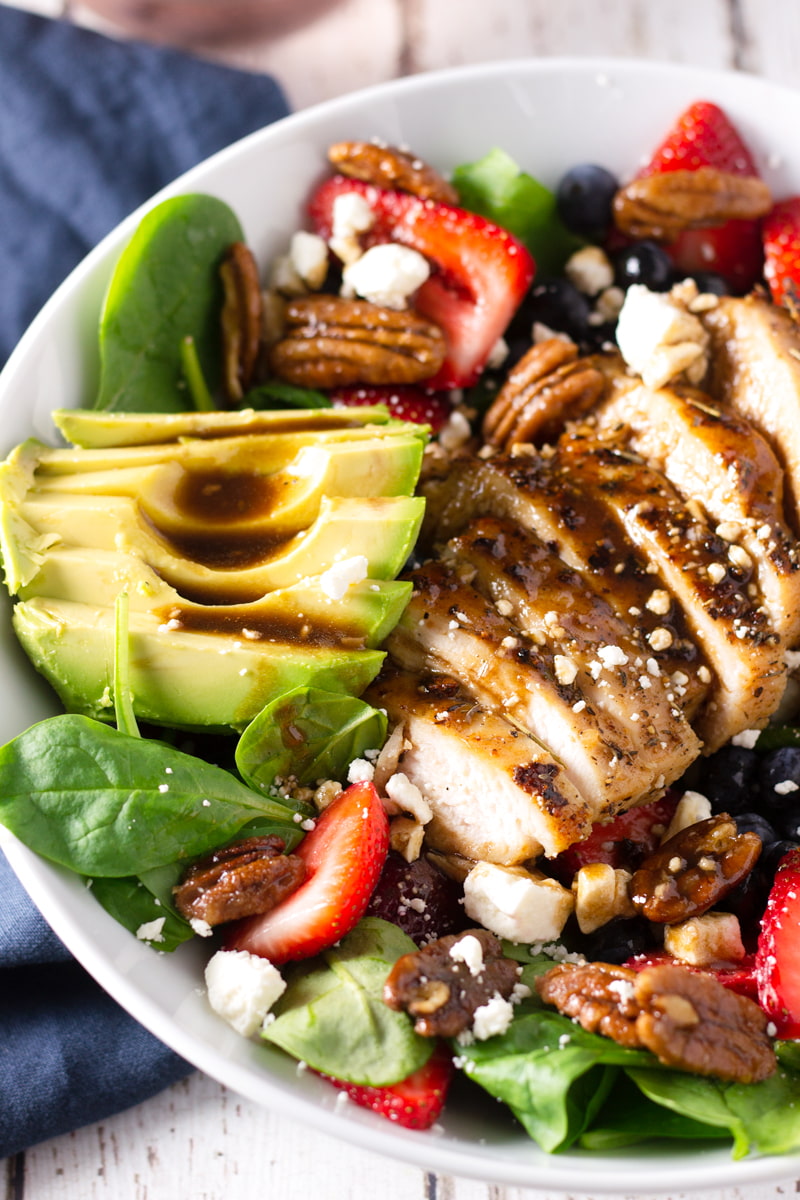 Thank you for reading, and please don't forget to pin this recipe!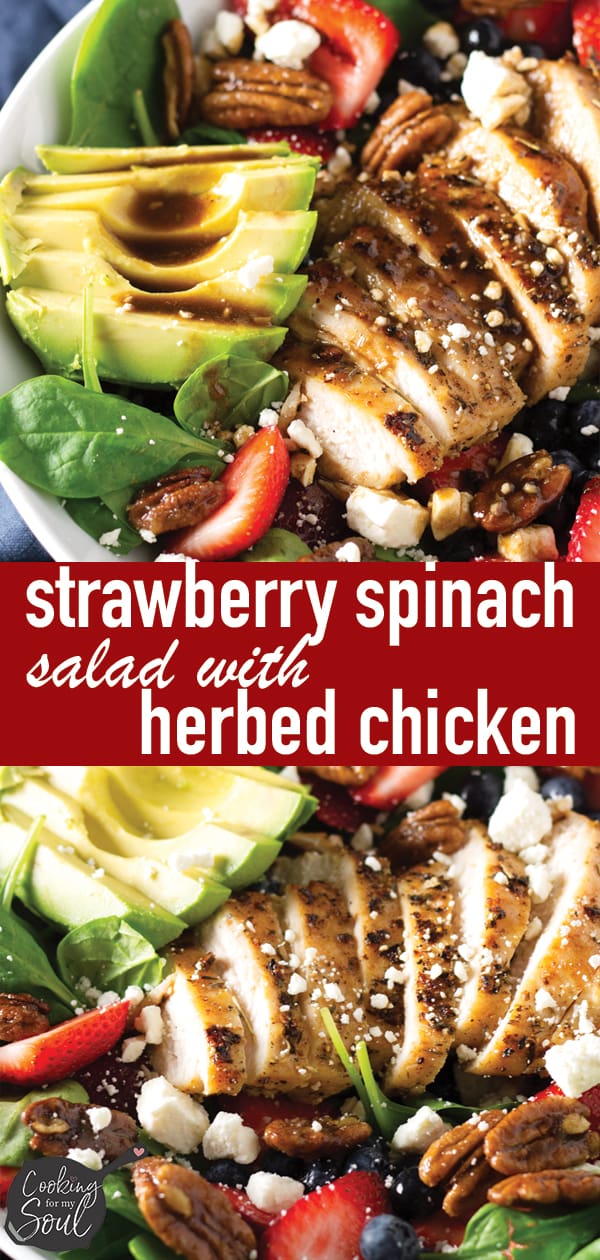 Kitchen Tips
Pound the chicken to even thickness (about 1/2 inch thick) for even cooking. This will result in a juicier chicken breast.
Let the seasoned chicken sit for about 15 minutes before cooking to allow the flavors to absorb.
Strawberry and Spinach Salad with Herbed Chicken
This salad is loaded with healthy veggies and fruits, and a delicious seared herby chicken.
Ingredients
4

cups

fresh strawberries

2

cups

blueberries

10

oz

baby spinach

2

avocados, sliced

1

cup

feta cheese, plus more if desired
Herbed Chicken
3

large chicken breasts

Olive oil

2

cloves

minced garlic

1 1/2

teaspoons

herbs de provence

Salt and pepper
Candied Pecans
1/2

cup

brown sugar

2

tablespoons

water

A pinch of salt

2

cups

pecan halves
Balsamic Dressing
1/4

cup

balsamic vinegar

2/3

cup

cup olive oil

1

clove

minced garlic

1 1/2

tablespoons

maple syrup

1

teaspoon

dijon mustard

Salt and pepper to taste
Instructions
Prepare the chicken: pound each chicken breast to even thickness, about ½ inch thick1. In a large bowl, combine pounded chicken breasts, a few drizzles of olive oil, minced garlic, herbs de provence, salt (about 1/2 teaspoon per breast), and black pepper to taste. Let sit for 15 minutes. Pan-sear chicken over medium heat2 for about 6-8 minutes per side, or until internal temperature reaches 165 degrees F. Let it rest for 15 minutes, and then slice.

Make the balsamic dressing: combine all balsamic dressing ingredients in a mason jar and cover with lid. Shake well to combine.

Make the candied pecans: Heat a skillet to medium low heat, and melt brown sugar with water. Add the pecans and a pinch of salt. Stir to coat pecan in melted sugar. Transfer to a plate and let cool.

Assemble the salad: combine spinach, strawberries, blueberries, candied pecans, avocado, and feta cheese. Top with sliced chicken and drizzle with balsamic dressing.
Notes
Pounding the chicken to even thickness (1/2 inch thick is my go-to) will help with even cooking and juicier results.
Searing chicken over medium heat allows the chicken to cook all the way through without quickly burning on the outside.