Salad for dinner is always the best! This Asian Chicken Slaw Salad is seriously to die for. It's made of crunchy veggies, chicken, and a delicious peanut butter dressing. So good. Make it tonight!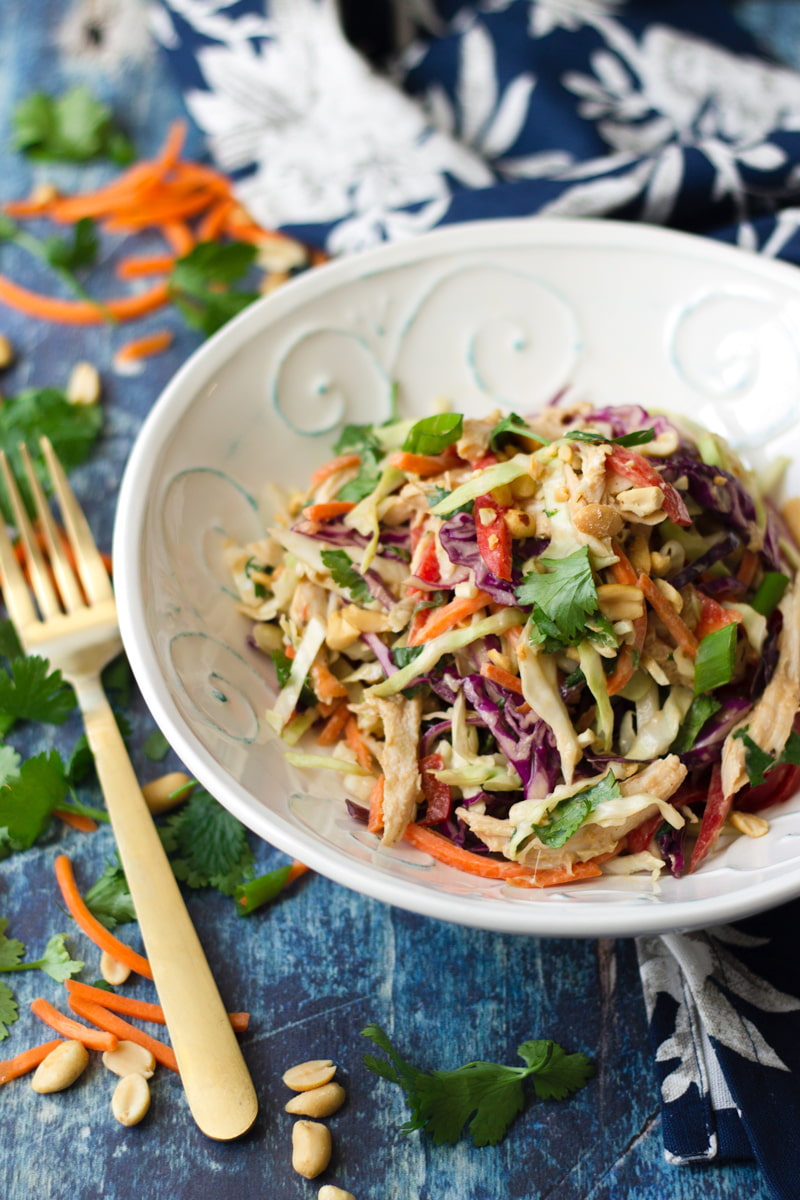 If you know me well, you'll know that I love all sorts of chicken salads (hint: I'm currently developing lots of chicken salad recipes, stay tuned!). I especially love dinner salads, which are pretty much tons of veggies with some type of protein that fills me up so I don't have to find food in the fridge at 12AM with a growling stomach.
This Asian Chicken Slaw Salad is full of freshly cut crunch veggies, chicken, peanuts, and a yummy peanut butter dressing that makes it heavenly. The best part? You can use rotisserie chicken, so you don't even have to turn on the stove!
Easy + quick + no-cook = more time for myself, aka more time to catch up on my favorite TV shows. I'll take it!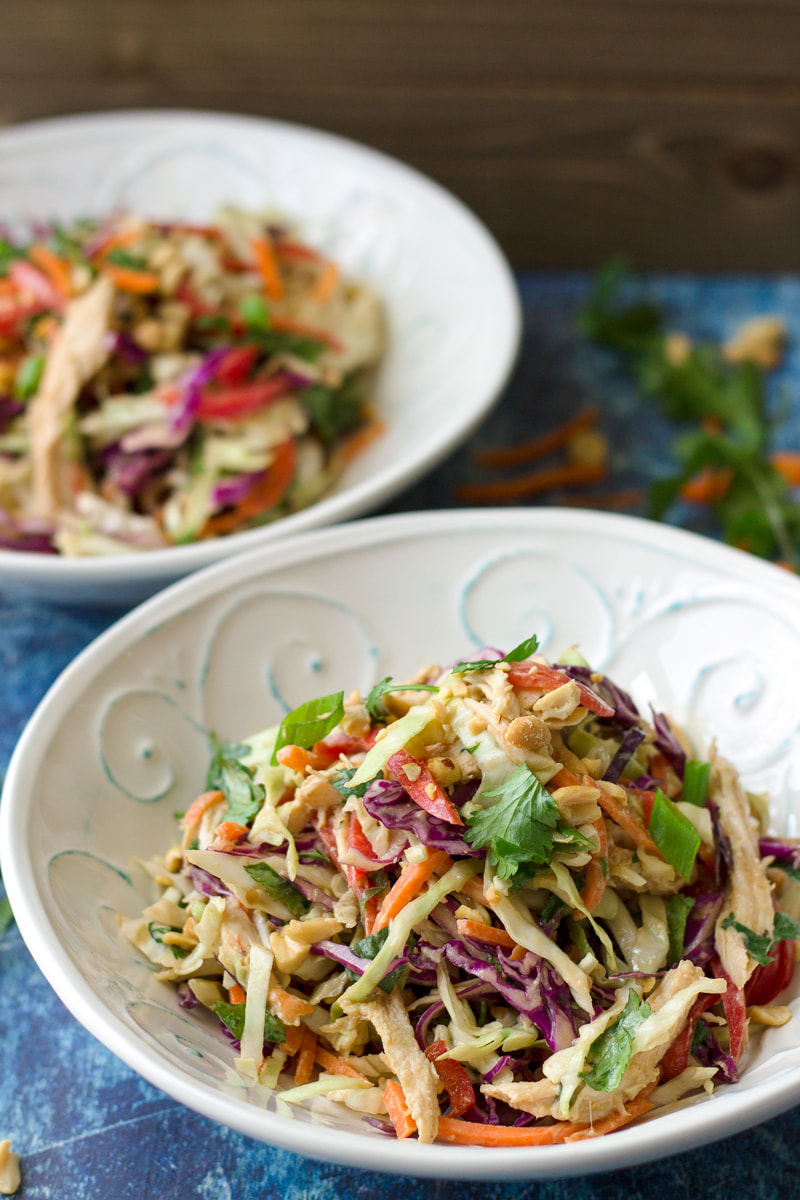 What's in this Asian Chicken Slaw Salad?
shredded rotisserie chicken
cabbage
carrots
red and yellow bell peppers
green onions
cilantro
peanuts
…and a marvelous peanut butter dressing
And now about that dressing…it's made of peanut butter, garlic, ginger, sesame oil, rice wine vinegar, soy sauce, lime juice, and crushed peanuts for an extra layer of crunchiness! I'm seriously obsessed 😛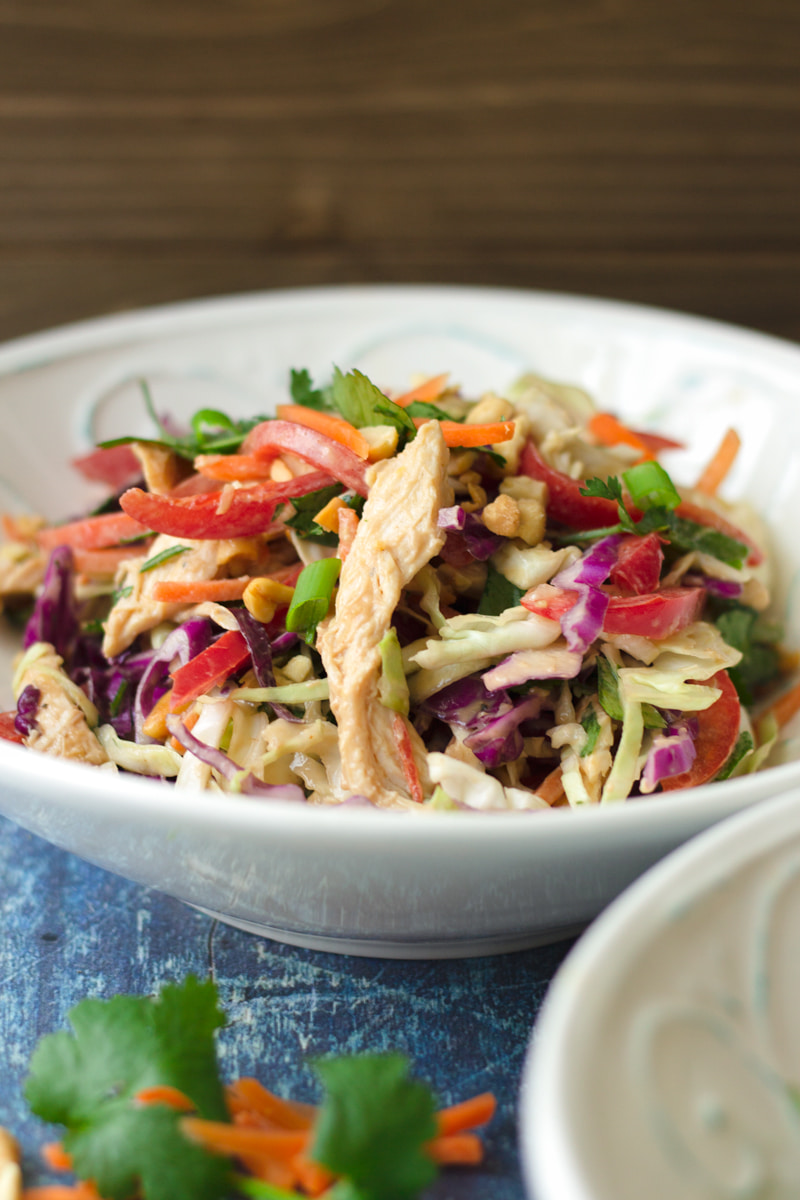 I love how every bite of this salad is so crunchy and fresh. Talking about fresh…I'd highly recommend buying fresh vegetables and cutting them up yourself, instead of buying pre-shredded or pre-bagged stuff. Trust me on this! If you don't have time to slice veggies that day, you can always prep everything the night before and store in Ziplock bag or something. As an alternative, you can also use the food processor to shred the cabbage and carrots in a matter of seconds.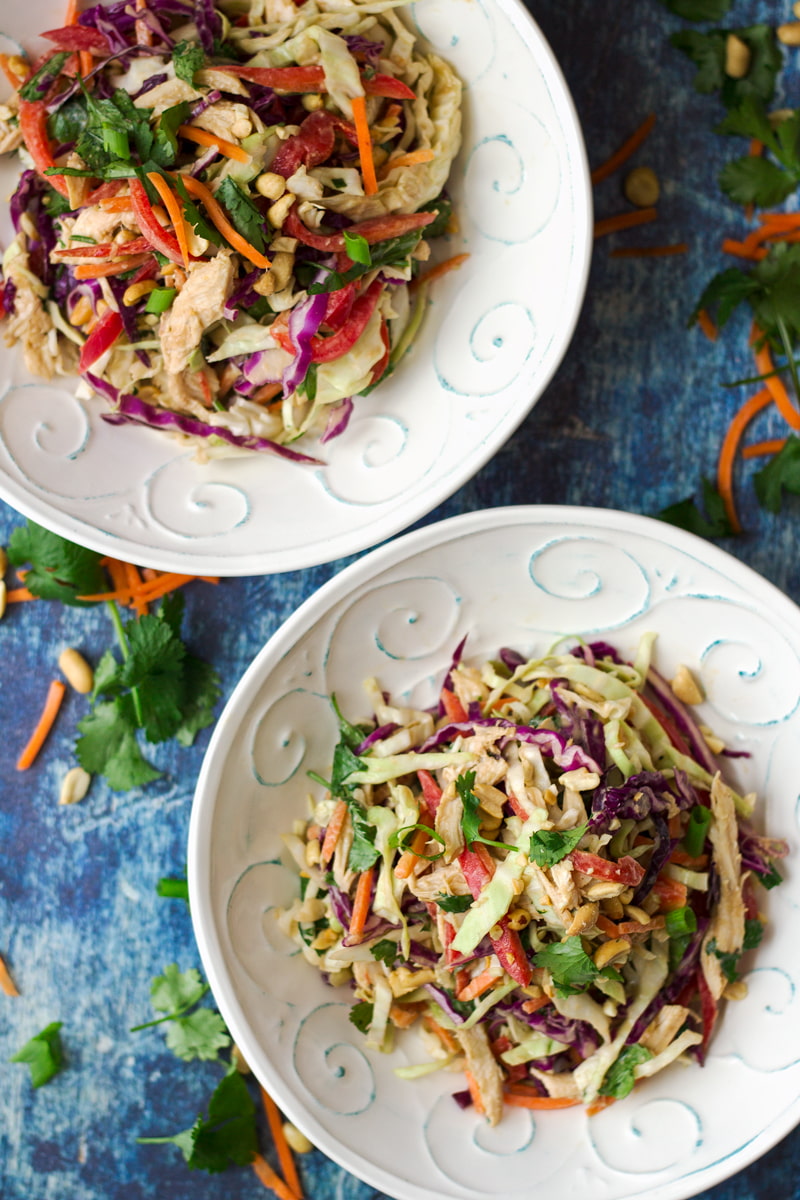 Ideas to Serve this Salad
This salad is really easy to adjust to serve a crowd. You just pretty much buy more chicken, cut up more veggies, and double or triple the peanut butter dressing ingredient quantities. Here are some ideas to serve this salad:
potlucks
large parties
picnics
family style dinner
sandwich wraps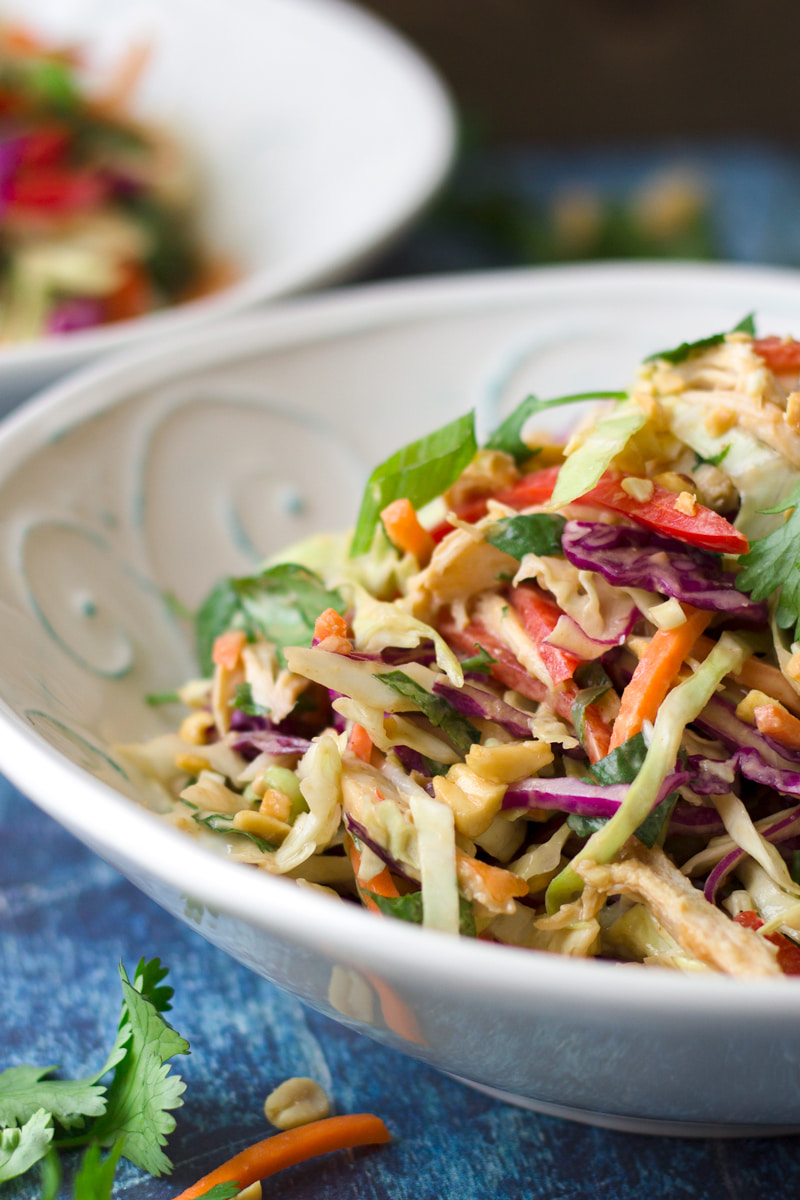 Kitchen Tips
Cut up your own veggies for maximum crunchiness and freshness. Try not to get the pre-bagged stuff unless you absolutely need to.
Use a food processor to shred cabbage and carrots in just seconds! Attach the shredding disc to the food processor, and place chunks of cabbage and/or carrots through the feed tube. It's a quick and efficient way to shred cabbage and carrots.
For a fun twist, serve on flour tortillas, pita bread, or Naan.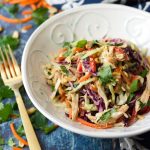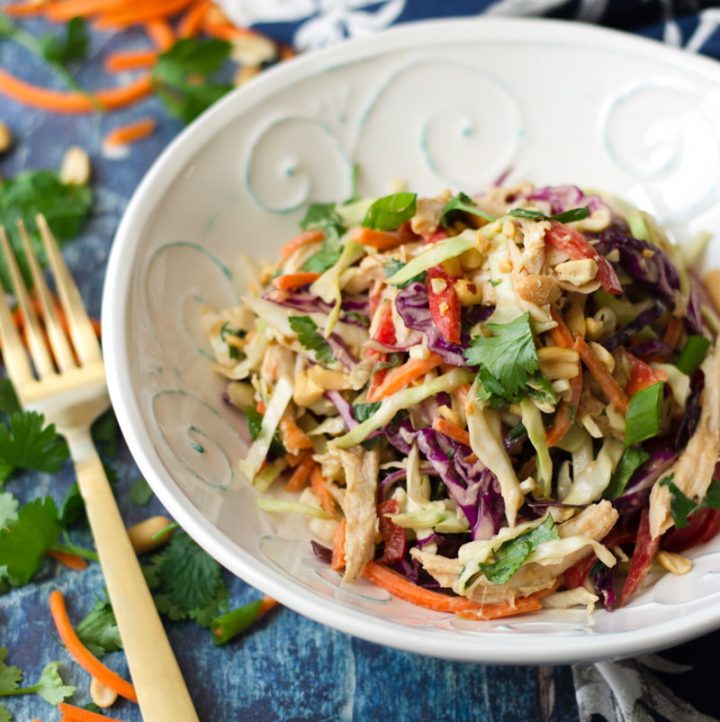 Asian Chicken Slaw Salad
This crunchy Asian Chicken Slaw Salad is perfect for dinner or potlucks. Enjoy it with a delicious peanut butter dressing. This recipe contains nuts.
Ingredients
2

cups

shredded rotisserie chicken

3

cups

green cabbage, thinly sliced or shredded

3

cups

red cabbage, thinly sliced or shredded

2

cups

carrots, sliced into matchsticks

1

red bell pepper, thinly sliced

1

yellow bell pepper, thinly sliced

1/2

cup

sliced green onions

(sliced diagonally)

2/3

cup

cilantro, roughly chopped, plus more for garnish

Crushed peanuts for garnish
Peanut butter dressing
1

large clove garlic, minced

1

tablespoon

sesame oil

2

teaspoons

fresh ginger, minced

1/2

cup

light soy sauce

1/4

cup

rice wine vinegar

2

tablespoons

fresh lime juice

1/3

cup

peanut butter

1/2

cup

crushed peanuts
Instructions
Make the peanut butter dressing: whisk together all the dressing ingredients until smooth.


In a large bowl, combine the green cabbage, red cabbage, carrots, red bell peppers, and yellow bell peppers. Then add the green onions, cilantro, and shredded rotisserie chicken.

Pour some dressing (to taste) over the salad and toss to combine. Garnish with cilantro and crushed peanuts.
18