I love this panzanella salad! It is the perfect summer salad that everyone will love. Plus, it's quick and easy to make!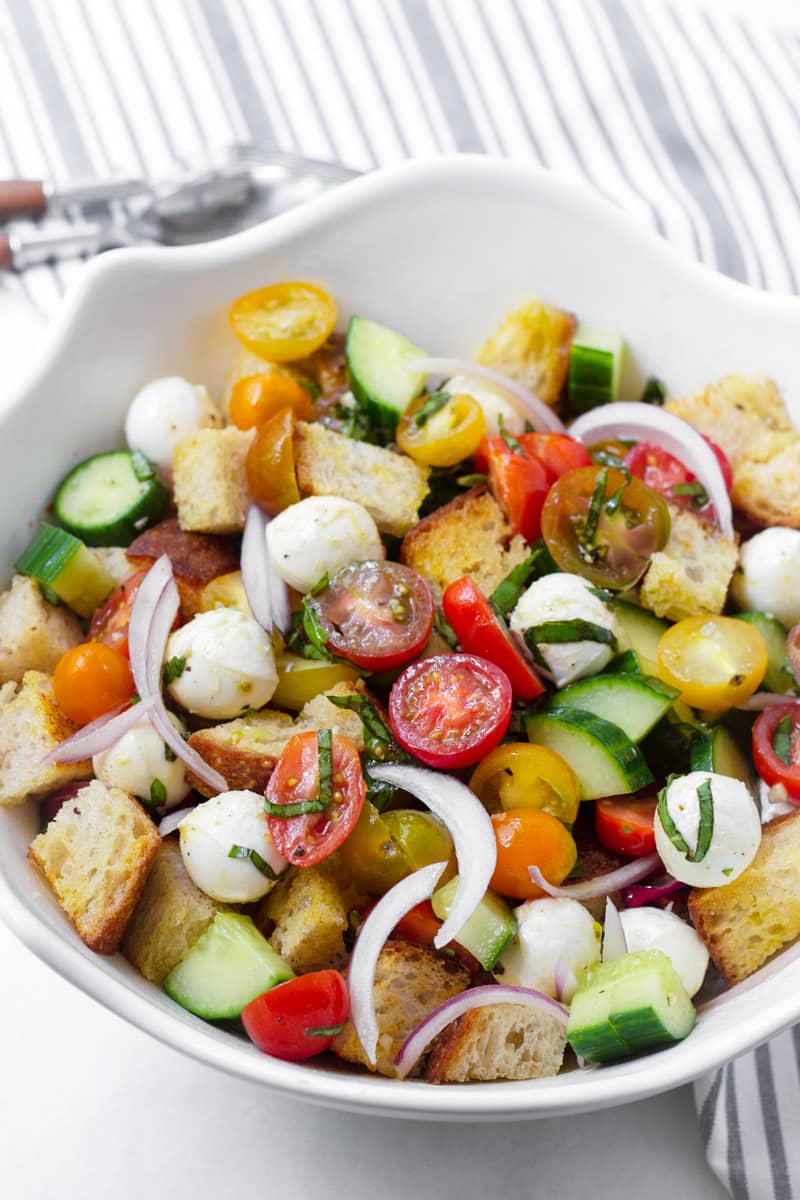 I've been testing out a bunch of summer recipes lately. I mean, it's the obvious thing to do when ripe tomatoes are in such abundance! This easy summer panzanella salad has been on my summer salad rotation, and I love it!
This easy panzanella salad is made with rustic bread, fresh tomatoes, cucumbers, onions, basil, fresh mozzarella, garlic, and olive oil. To finish it, I drizzle sweet balsamic glaze over it. It's delicious!
I like serving it with fresh Italian dishes, such as my fresh tomato basil pasta or with my roasted tomato soup.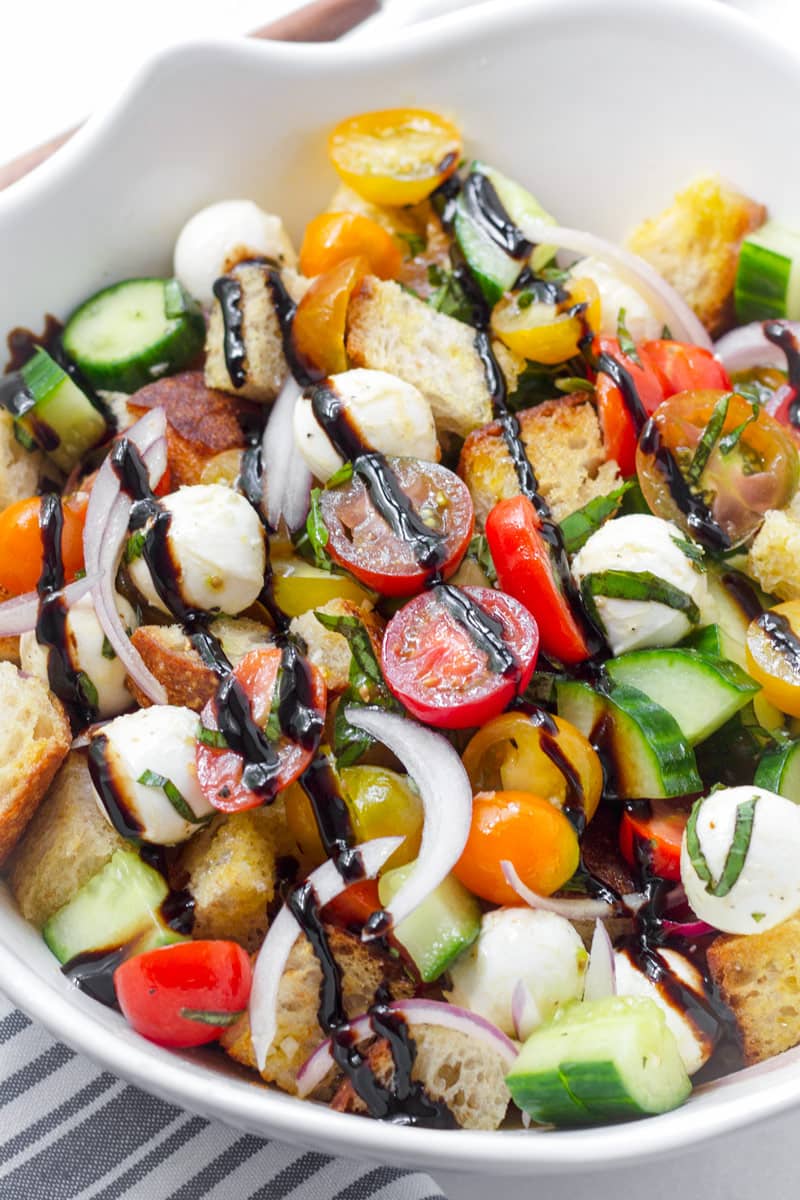 What is Panzanella Salad?
Panzanella salad is of Tuscan origin, and it features tomatoes and day-old bread. People like to add cucumbers, basil, onion, and fresh cheese too. I can see why, so yummy and fresh!
The dressing stays simple. Just olive oil is enough, but I like to use balsamic glaze too. It adds a nice touch of sweetness.
Panzanella is a very popular summer salad because that's when tomatoes are sweet and ripe. The vibrant colors and freshness make it a great summer dish, for sure!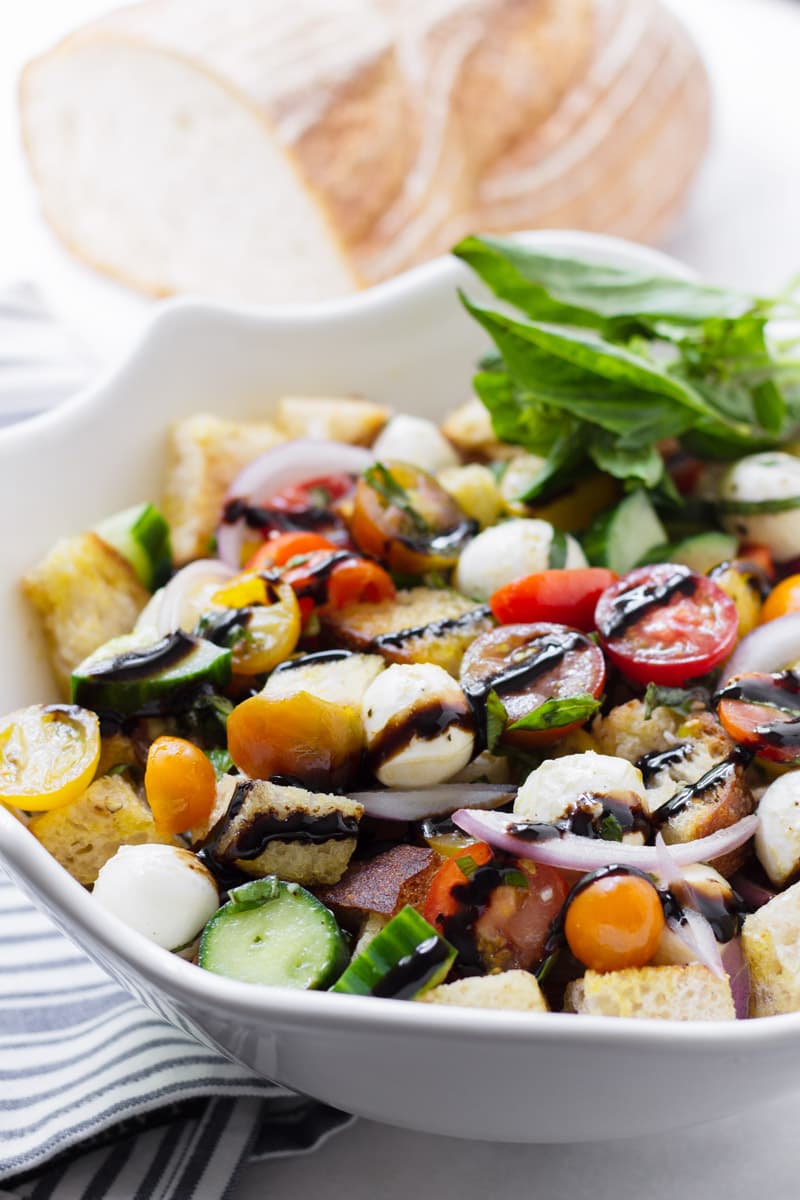 Ingredients
The ingredients needed in this salad are very simple. To give you an idea of what goes into it:
Tuscan bread: Or any crusty artisan bread will work too.
Cherry tomatoes: I like to use heirloom cherry tomatoes for color.
Cucumber: Use English cucumber, which has a softer skin.
Red onion: Thinly sliced.
Fresh basil: Sliced.
Small mozzarella balls: Love adding fresh cheese to panzanella!
Olive oil: Make sure it's good, extra virgin olive oil for best results.
Balsamic glaze: I use store-bough balsamic glaze. So much easier.
The key here is to use day-old bread so that it properly absorbs the olive oil when toasting, and to use ripe tomatoes.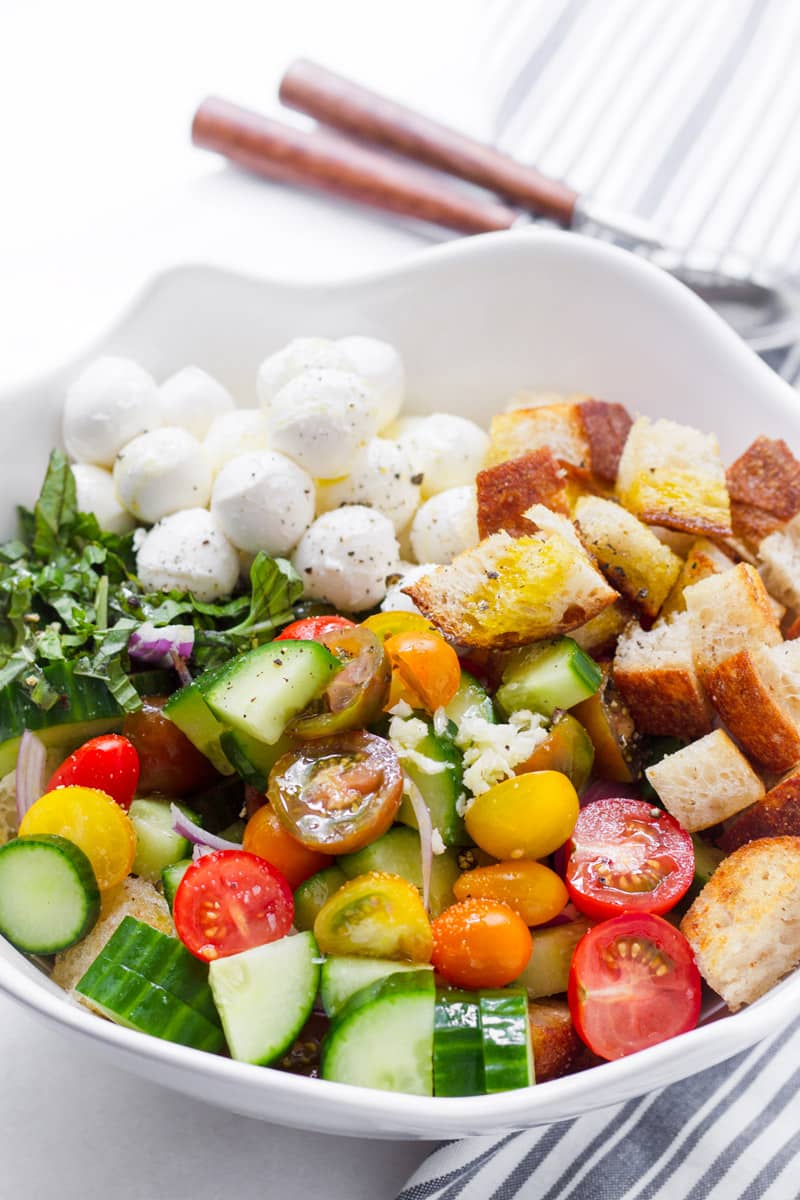 What Type of Bread Should I Use?
For panzanella salad recipes, I like to use Tuscan bread, but it's not always easy to find. In fact, I wasn't able to find it for this recipe.
So really, any type of rustic and crusty bread will work. Here are some other options if you can't find Tuscan bread:
Sourdough bread
Baguette
Ciabatta
Or any other type of crusty artisan bread
Try not to use soft bread. It won't hold its shape and won't provide that texture that is needed in a good panzanella salad.
Better yet, if you have day-old homemade artisan bread, definitely use that. I know many of you have been baking bread at home lately!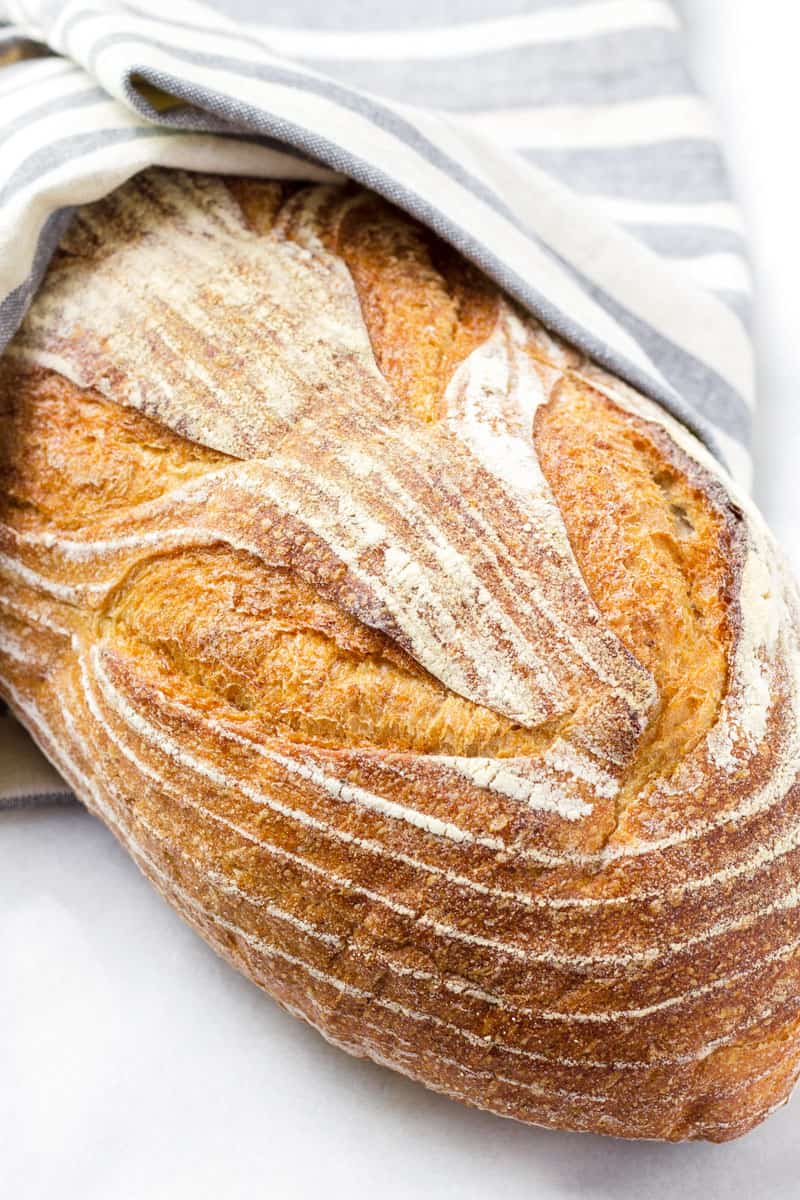 Let's Make It
Making this delicious summer panzanella salad is so quick and easy. Here are the basic steps (details in recipe card below):
Toast the bread with olive oil: Cut them into about 1 inch cubes first. Try not to move them too much, and just allow the bread to toast. Toss occasionally so they don't burn.
Toss all the ingredients: Toasted bread, tomatoes, cucumbers, red onions, basil, mozzarella balls, and minced garlic.
Drizzle with olive oil and balsamic glaze: Use robust extra virgin olive oil for delicious results. For the balsamic glaze, I just get it at the store. Make sure it's balsamic glaze and not balsamic vinegar.
Yes, really, that's it! So easy, simple, and delicious.
You don't even need a special dressing. Just some good extra virgin olive oil and balsamic glaze are enough.
Summer cooking is all about spending the least amount of time possible in the kitchen, and maximizing the time outside…enjoying the summer breeze!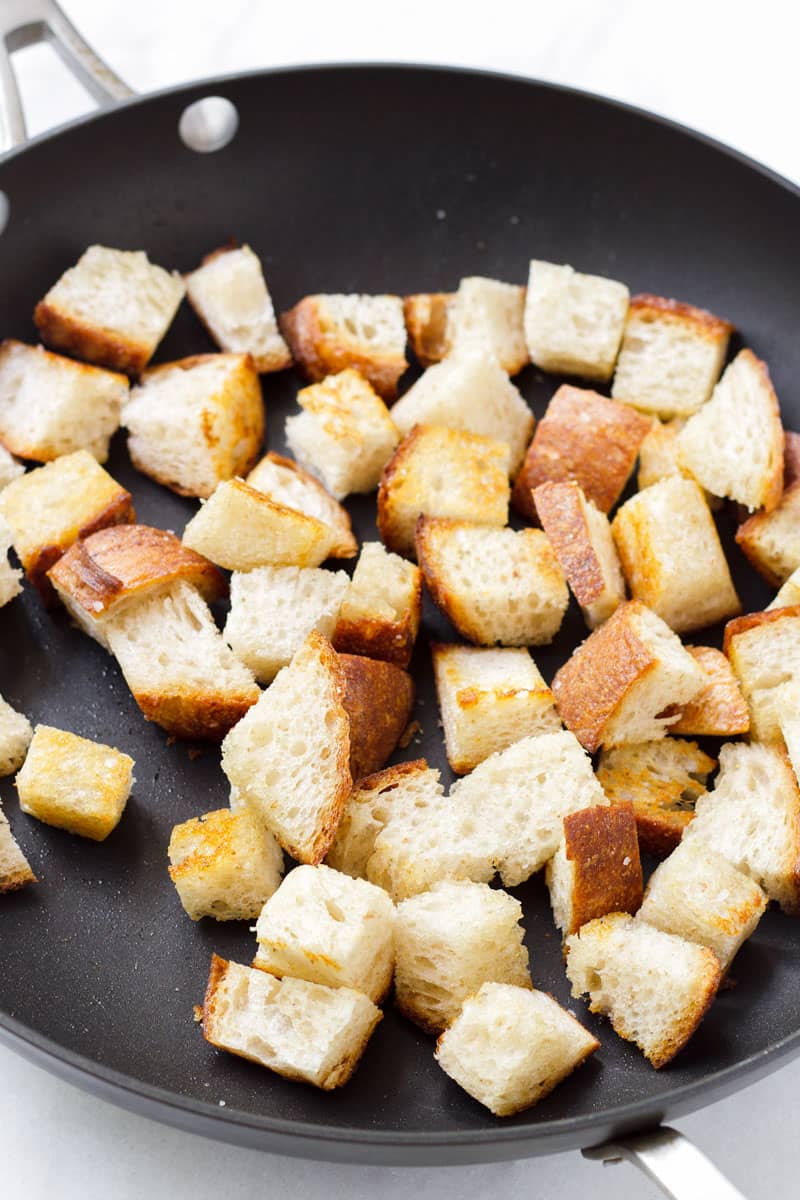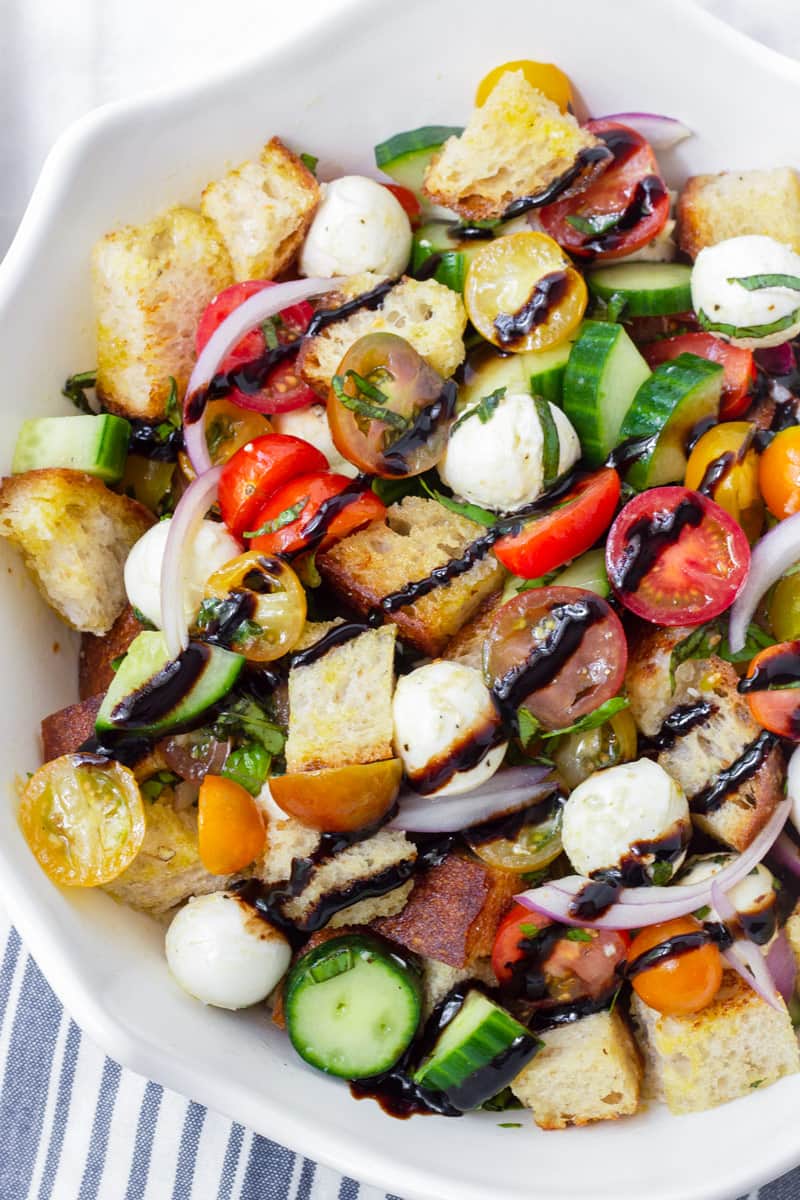 What to Serve with Panzanella
I can think of so many ways to serve this salad. Here are my top picks.
Main dish pairing ideas: tomato basil pasta, spinach stuffed chicken breast, chicken artichoke pasta.
Soups: roasted tomato basil soup, summer shrimp corn chowder.
Drinks: Your favorite wine or this delicious lemon raspberry bellini by Caroline's Cooking!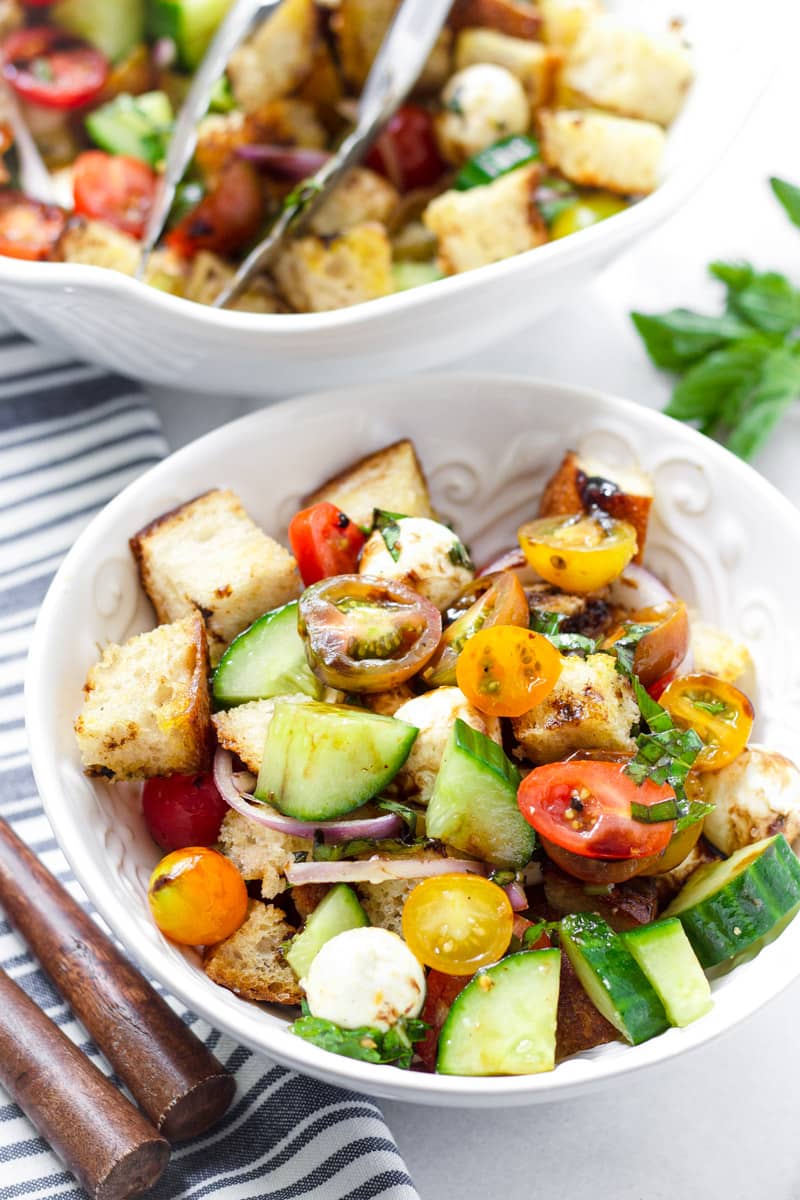 Summer salads are dreamy! So good, so fresh, and often easy to make.
I love the simplicity and the flavors in panzanella salad. It's a salad that everyone loves, full of fresh and crunchy ingredients. It is also a great way to use leftover day-old bread. A win-win!
Thank you for reading, and I hope you enjoy this recipe!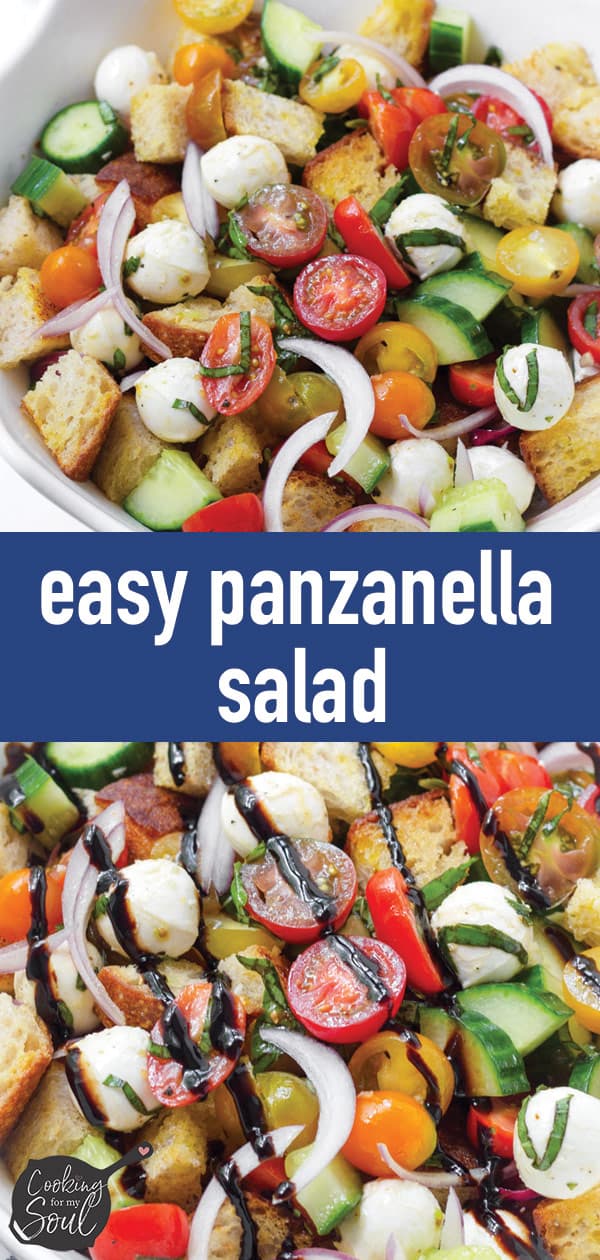 Tips for Success
Make sure you use crusty artisan-style bread. It will help with texture.
Tomatoes are the star ingredient here. Get the freshest ripe tomatoes you can find. I love using heirloom tomatoes for color.
Make sure you use balsamic glaze and not balsamic vinegar. Balsamic glaze is sweet and thick.
Panzanella Salad
This easy summer panzanella salad the perfect side salad for any occasion. Made with crusty artisan bread, fresh tomatoes, basil, cucumbers, and mozzarella cheese. Drizzled with sweet balsamic glaze!
Ingredients
4

cups

cubed Tuscan or other crusty artisan bread

-

(about 1 inch cubes)

4

tablespoons

extra virgin olive oil, divided

-

(plus more as needed)

2

cups

heirloom cherry tomatoes, halved

1

English cucumber, sliced

1/4

cup

thinly sliced red onions

8

leaves

fresh basil, sliced

1

clove

garlic, minced

1

cup

small mozzarella balls

-

(plus more if desired)

Salt and pepper to taste

Balsamic glaze for drizzling

-

(I used store-bought, see note below)
Instructions
On a large skillet, heat 1 tablespoon of olive oil over medium-high heat. Add the cubed bread and toss occasionally until golden brown and toasted, about 5-6 minutes. Drizzle more oil if needed. Season with salt to taste, and set aside.

In a large salad bowl, add the toasted bread cubes, tomatoes, cucumbers, red onions, basil, minced garlic, and the fresh mozzarella balls. Toss to combine.

Drizzle with about 3 tablespoons of olive oil, or to taste, and combine. Season with salt and pepper to taste.

Drizzle the top with some balsamic glaze to taste. Enjoy!
Notes
Balsamic glaze: Make sure you use balsamic glaze, not balsamic vinegar. Balsamic glaze is reduced and relatively thick.
Special equipment: serrated knife to cut bread (recommended), large skillet.
What type of bread to use? If you can't find Tuscan bread, use sourdough, baguette, or any type of crusty artisan bread. Don't use soft bread (won't hold their shape).
Make sure you use good olive oil. It will make a huge difference in taste. I like the use robust olive oil in salads.