This Tomato Basil Pasta is bright, fresh, and so easy to make. Made with slightly blistered tomatoes, fresh basil, olive oil, and your favorite pasta. Finish it with lemon zest for extra freshness!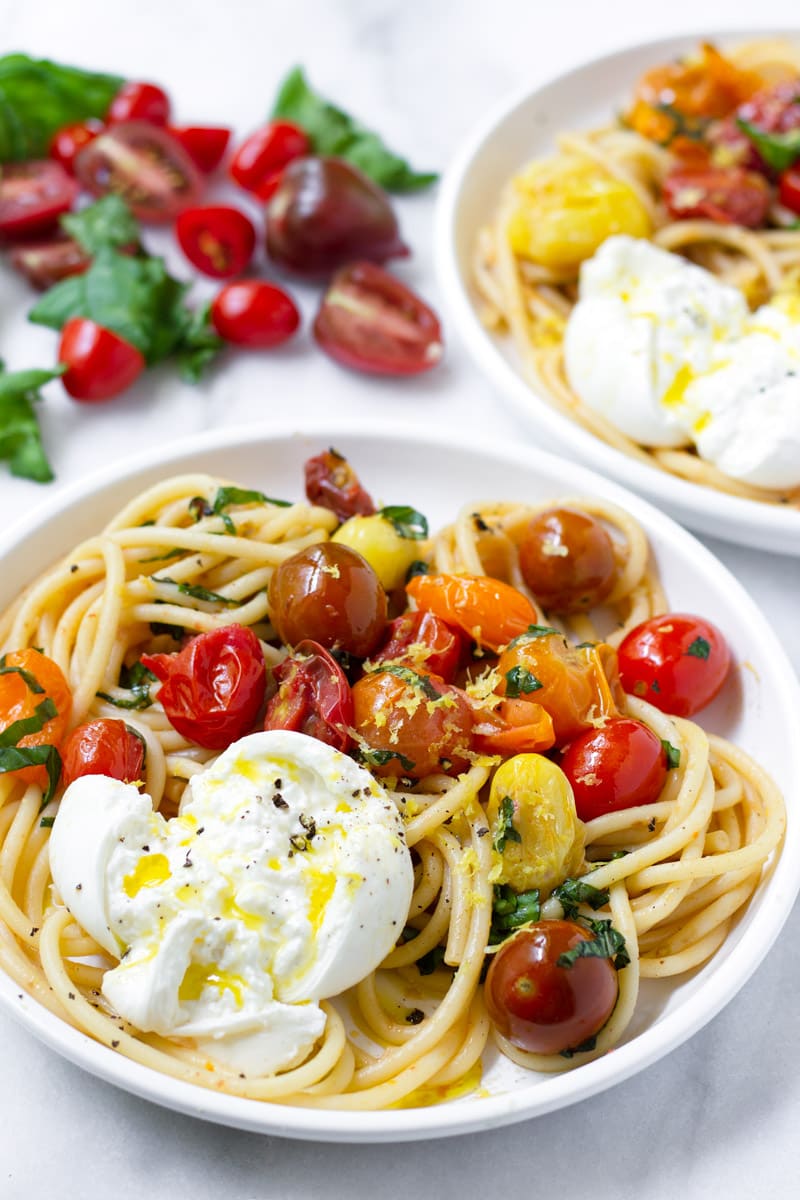 I love making summer-inspired pasta dishes around this time. You know, the kind with minimal cook time and maximum freshness. This fresh tomato basil pasta is so good and perfect for summer!
It is made with a fresh cherry tomato, garlic, and basil sauce. The cherry tomatoes are cooked for only 5-6 minutes on a skillet until they start to blister. It is then tossed with fresh basil and pasta.
I love serving this tomato basil pasta with fresh burrata cheese and lemon zest for extra brightness. It is so good and comes together in under 30 minutes!
Fresh Ingredients
To give you an idea of what you will need:
Spaghetti, fettuccine, or bucatini pasta: Cooked al dente.
Cherry tomatoes: I like using heirloom cherry tomatoes for color.
Extra virgin olive oil: Make sure it's good extra virgin olive oil. Olive oil is a key ingredient in this dish. I like to use the robust kind.
Fresh garlic: Minced.
Basil leaves: Make sure they are fresh!
Lemon zest: This is like the secret ingredient! It adds brightness, flavor, and freshness.
Salt and pepper: To taste.
Your favorite cheese: I love burrata cheese, but fresh mozzarella or shaved parmesan will work too.
Per usual, you can find the ingredient list with quantities in the recipe card below.
For best results, make sure you get the freshest ingredients possible. Freshness is what makes this tomato basil pasta so good!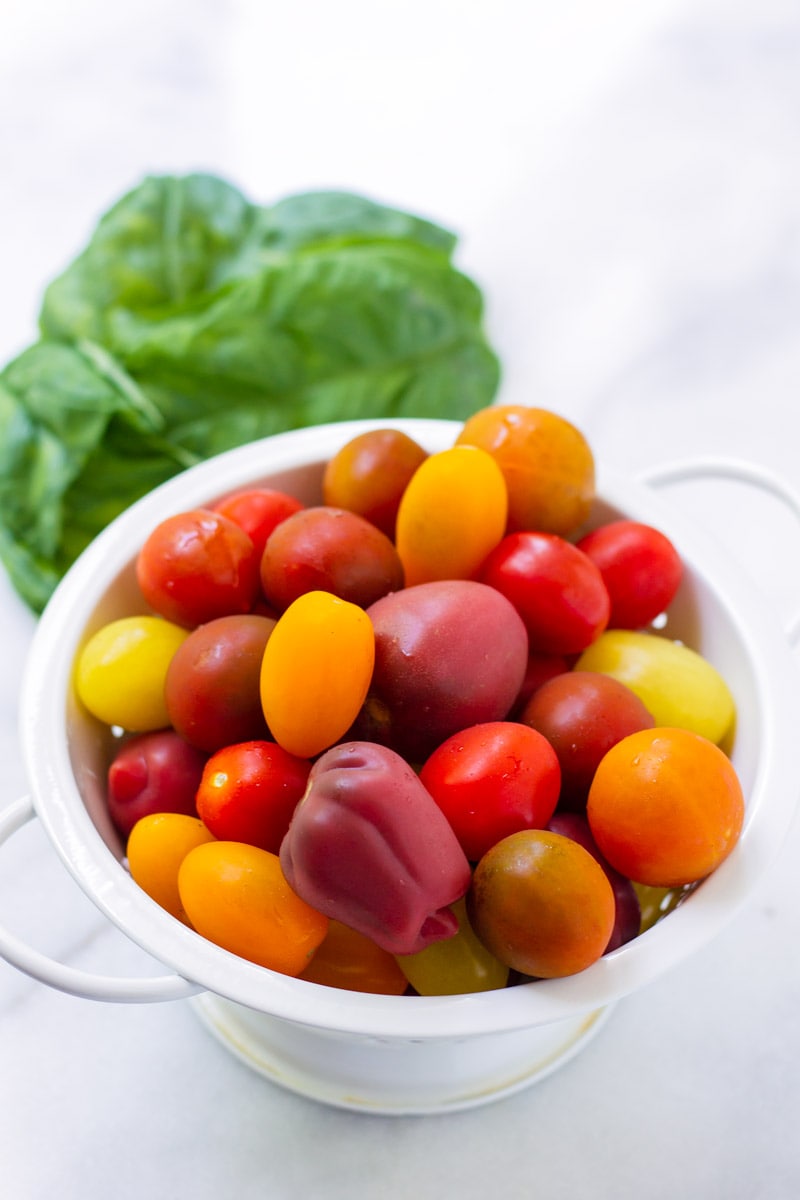 The Fresh Tomato Basil Sauce
The star in this tomato basil pasta is, of course, the fresh tomato basil sauce!
The whole point of this sauce is that it's simple, with minimal cook time. I cook the tomatoes with minced garlic and good olive oil for only about 5 to 6 minutes. The key here is to cook them just until they start to blister. You want to preserve their shape and freshness as much as possible.
It's also got fragrant garlic and fresh basil. So good and simple!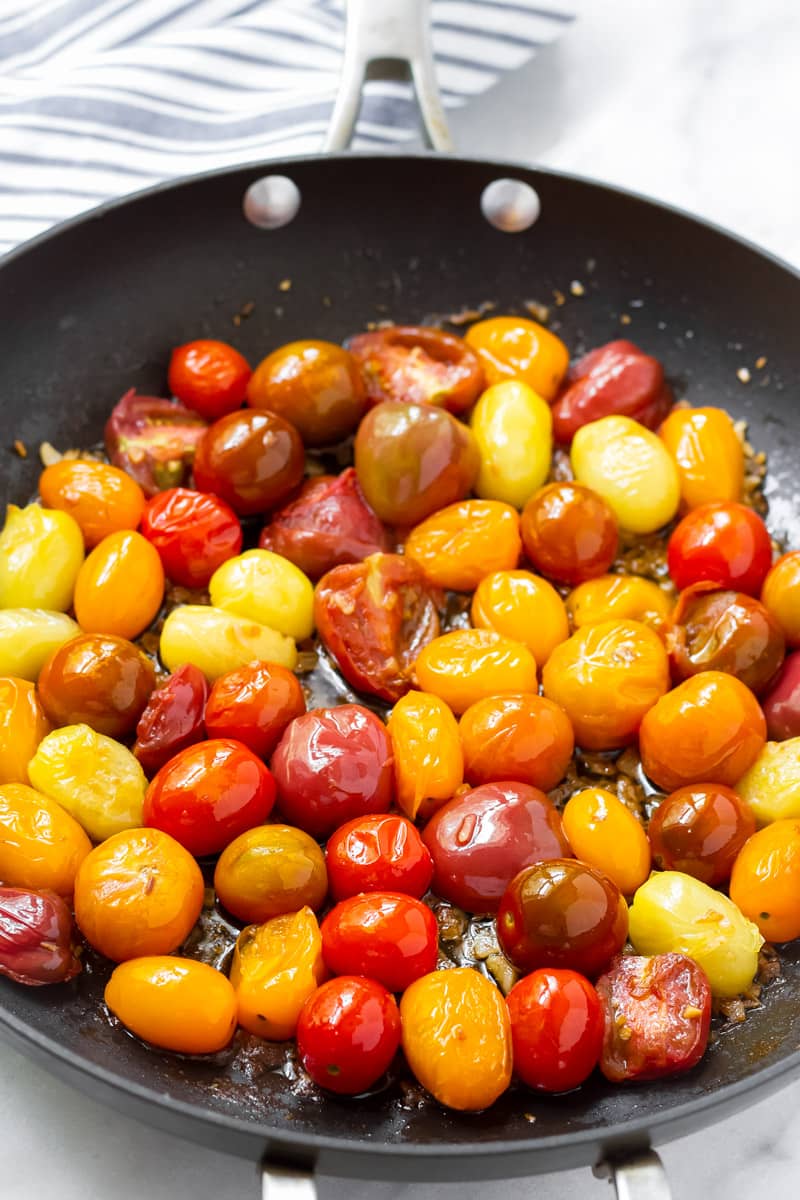 So Easy to Make!
Making this tomato basil pasta recipe is so easy, simple, and quick!
You need less than 30 minutes from start to finish. The pasta usually takes 10-12 minutes to cook, and the sauce takes less than 10 minutes. Yes, really. I'd call this a weeknight dinner winner!
Here's an overview (detailed instructions in the recipe card below):
Cook the pasta according to package directions.
Make the fresh tomato basil sauce: Takes less than 10 minutes. Really!
Toss the cooked pasta with the sauce: Season with salt and pepper to taste.
Serve! Pair it with your favorite cheese and fresh lemon zest.
That's all! So easy, simple, and tasty.
Pairing and Customizations
My favorite way to serve this dish is with creamy burrata cheese. Burrata is my absolute favorite cheese in the universe. I drizzled it with some extra virgin olive oil and freshly cracked black pepper. Dreamy!
Oh, and don't forget the lemon zest, highly recommended.
Here are some other ideas for serving:
Use your favorite cheese: great options are fresh mozzarella and shaved parmesan.
Add grilled or pan-seared chicken breasts or grilled shrimp.
Add fresh prosciutto. Yummy!
Rather than using pasta, you can try zucchini noodles (aka zoodles). I'm all in for extra healthy summer dishes!
Basically, the possibilities are endless. Customize it any way you'd like!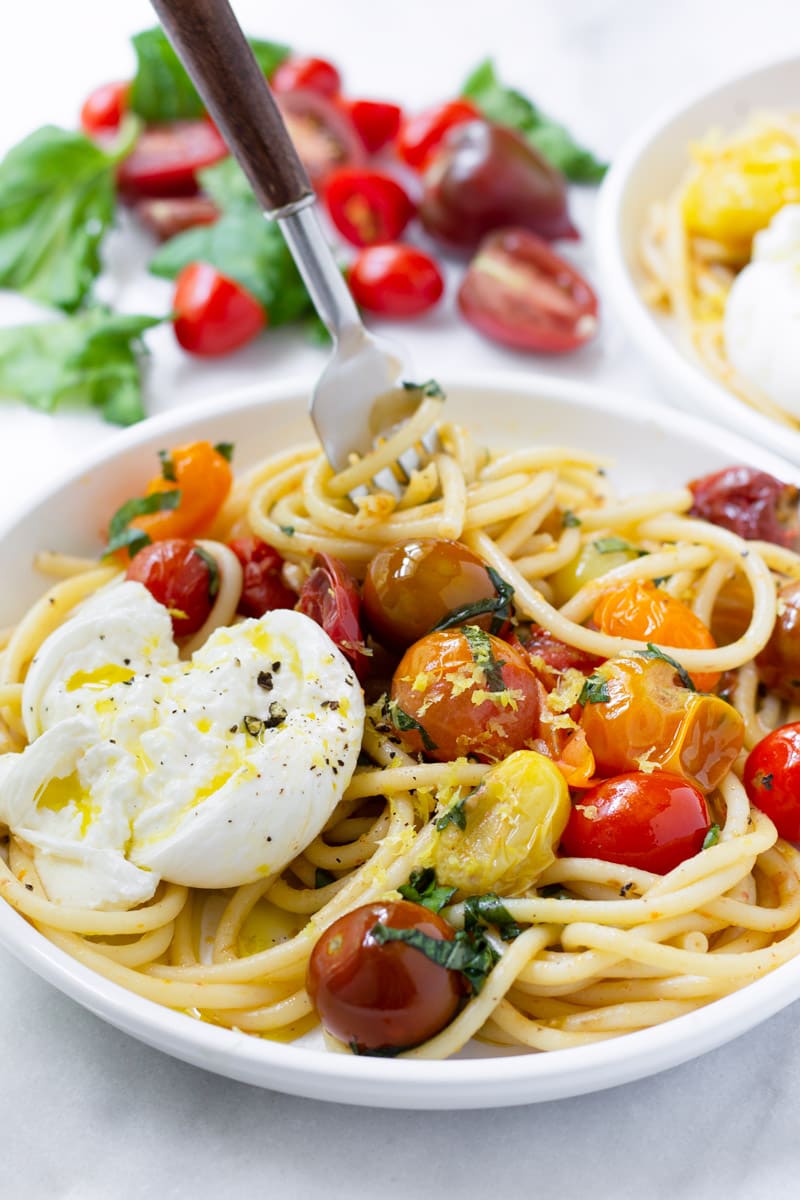 I just love fresh summer pastas so much. So so much. Imagine enjoying this tomato basil pasta with a glass of wine. Life is good!
I hope you enjoy this summer recipe as much as I do.
For more summer dinner recipes:
Thank you for reading, and please don't forget to pin this recipe!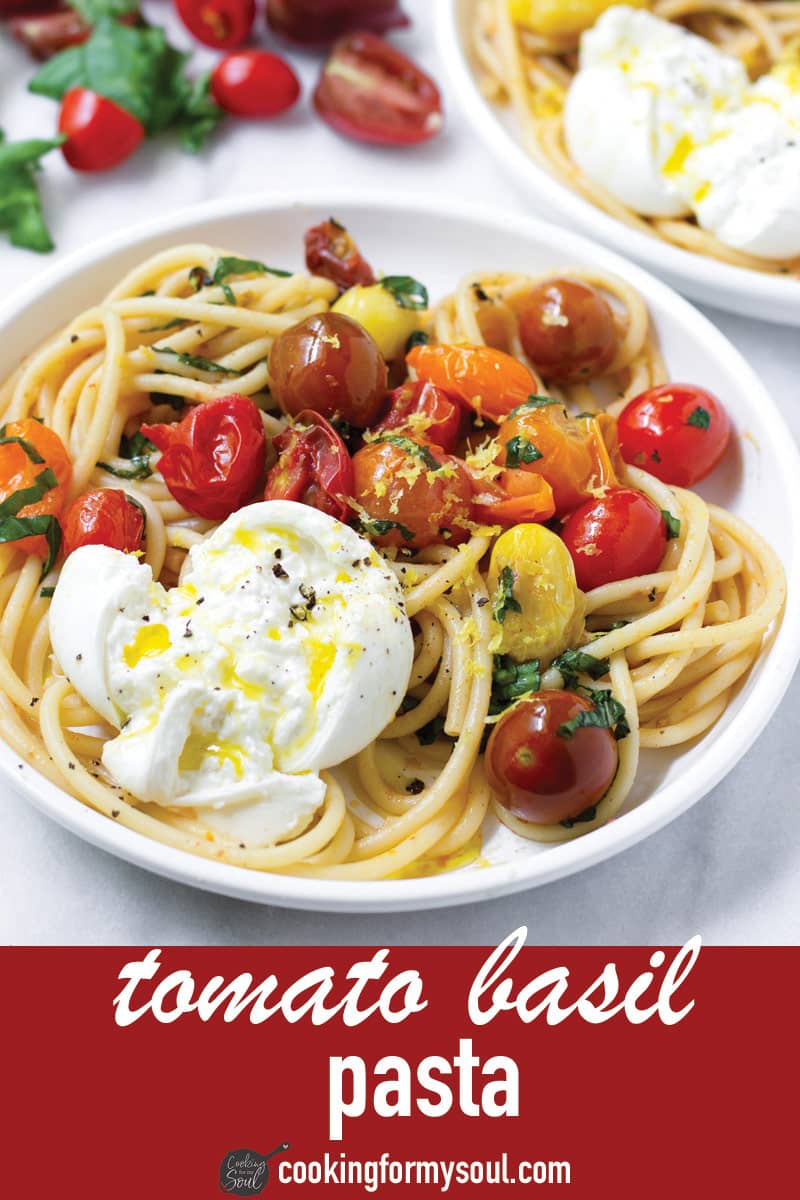 Tomato Basil Pasta
This easy tomato basil pasta is the perfect summer dinner recipe. Made with blistered cherry tomatoes, fresh basil, and garlic. It is then tossed with your favorite pasta and served with cheese and lemon zest. So bright and fresh!
Ingredients
0.75

pound

Spaghetti or bucatini pasta

4 to 5

cups

heirloom cherry tomatoes

-

(about 24 oz)

1/4

cup

extra virgin olive oil, plus more for drizzling

4

large cloves

garlic, minced

1/2

cup

fresh sliced basil, plus more for garnish

Salt and pepper to taste

Lemon zest, to taste

Fresh burrata cheese

-

(or fresh mozzarella or parmesan)
Instructions
Cook the pasta according to package directions. Drain, reserving 1 cup of the pasta water for later just in case. Set aside.

In a large skillet, heat 1/4 cup of olive oil and minced garlic over medium-high heat. Cook for about 1 minute until fragrant. Add the cherry tomatoes. Cook for about 5-6 minutes until they start bursting, stirring occasionally, but let them cook undisturbed for the most part. Season with salt and pepper to taste.

Toss the cooked tomatoes with the cooked pasta and 1/2 cup of sliced basil. Add some of the reserved pasta (little by little) water only if needed (if it's too dry). Season with more salt and pepper to taste.

Add a few extra drizzles of olive oil. Serve with your favorite cheese, some lemon zest to taste, and ground black pepper. Enjoy!
Notes
Special equipment: Large skillet, zester.
Cheese choice: If you're not a big fan of burrata cheese, try fresh mozzarella cheese or shaved parmesan.
The lemon zest: I'd highly recommend adding lemon zest to taste. It will add brightness and freshness.
Pairings: Try grilled chicken or shrimp.
Make it healthy! Instead of pasta, use zucchini noodles or zoodles.