This Tomato Basil Pasta is a super simple pasta recipe, yet incredibly flavorful and delicious. It's one of our go-to summer dinners!
It's made with slightly blistered cherry tomatoes, fresh basil, olive oil, and perfectly cooked bucatini…with a touch of fresh lemon zest for brightness and burrata for creaminess.
This 20-minute tomato basil pasta is a great option for an easy and simple weeknight dinner that the entire family will enjoy.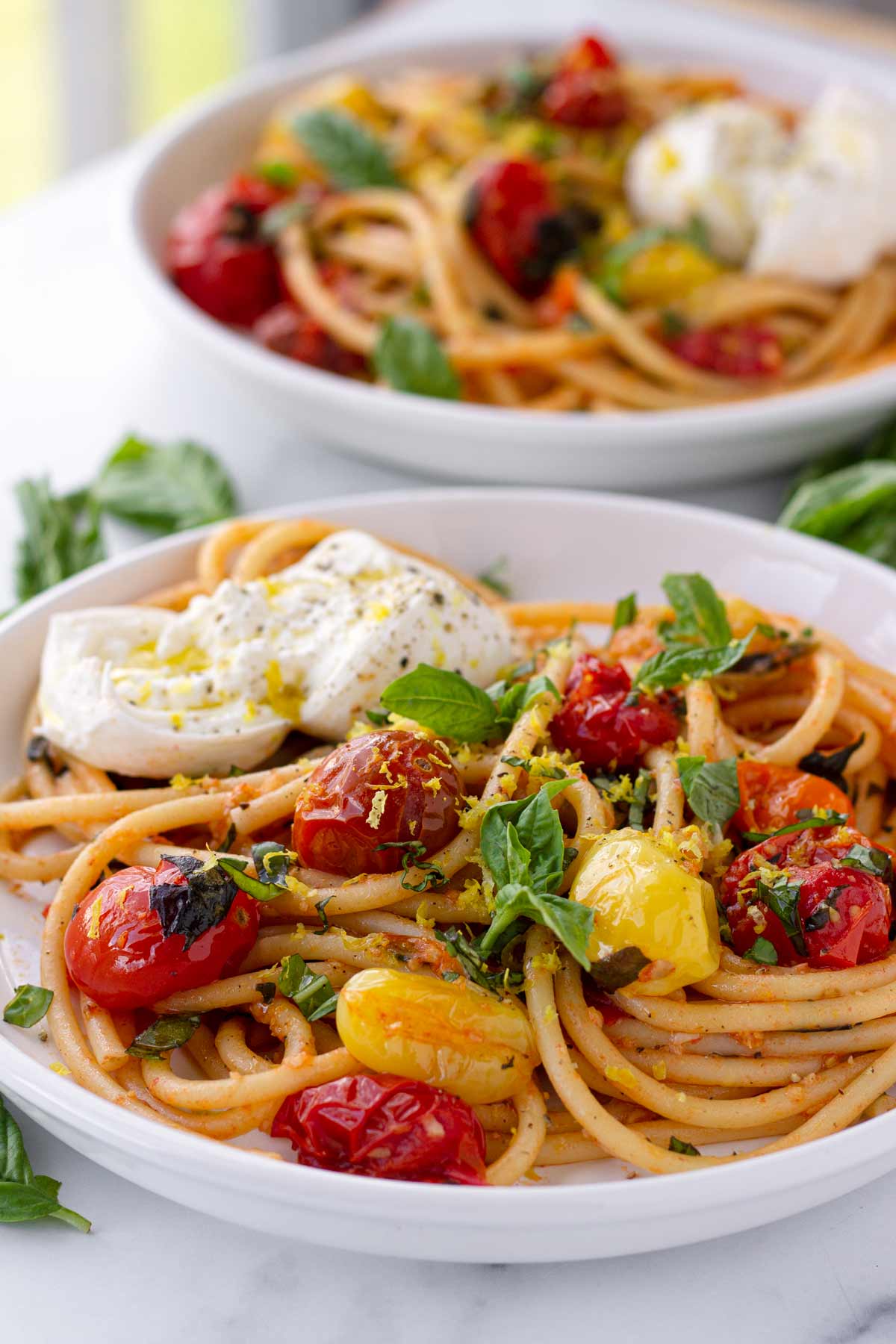 This fresh tomato basil pasta is so good and perfect for summer! I love making summer-inspired pasta dishes around this time of the year…you know, the kind with minimal cook time and maximum freshness.
The combination of ripe heirloom cherry tomatoes, aromatic basil, bright lemon zest, and creamy burrata is to die for! Truly, the best things in life are found in the simplest things.
With its vibrant colors and fresh flavors, this recipe is a go-to option for weeknight meals because it is quick and easy. 20 minutes is all it takes to make this dish from start to finish.
If you're looking for more fresh summer dinners, you have to try this Creamy Lemon Chicken, Salmon Cobb Salad, or Strawberry Chicken Salad.
Perhaps my favorite part of this tomato basil pasta is the burrata cheese! I may be biased because it's my favorite cheese on this earth. I really think the creamy and rich texture of burrata is the perfect final touch!
Why we LOVE this Tomato Basil Pasta:
Quick and easy! It's a great weeknight dinner that takes minimal effort to make.
Great way to use summer produce: Tomatoes are bursting with flavor and juiciness during the summer. Heirloom tomatoes are my favorite for that pop of color!
Versatile: This dish can be served on its own or with grilled chicken, shrimp, steak, or any protein. It goes well with any protein to make a complete meal.
Jump to:
A Quick 20-Minute Summer Pasta
Summer is the time when tomatoes are at their ripest and sweetest, making them ideal for making tomato sauce. Tomatoes are great to make so many recipes, from sauces to soups, such as my Creamy Tomato Basil Soup.
There's nothing complicated here – simply combine tomatoes, garlic, basil, salt, and pepper to create a delicious, rustic tomato sauce. It's BURSTING with flavor! No need for extra seasoning or long simmering times. That's how flavorful and juicy tomatoes are in the summer!
The whole point of this tomato basil pasta is that it's simple, with minimal cook time. The tomatoes cook just until they start to blister. You want to preserve their shape and freshness as much as possible.
What Type of Pasta to Use
For this recipe, bucatini pasta works exceptionally well. Its thick, hollow shape allows it to hold onto the delicious sauce, so that every bite is packed with flavor and balance.
If you don't have bucatini on hand, feel free to substitute it with other forms of long pasta, such as spaghetti, linguine, or fettuccine. Short pasta shapes also work great here. Try rotini, penne, or rigatoni.
Here's a quick tip: don't add oil to the water when cooking pasta. Adding oil will only prevent the sauce from sticking to the pasta later.
Ingredient Notes
You only need a handful of ingredients to make this quick and easy tomato basil pasta. Below are a few ingredient notes from recipe testing. Per usual, the ingredient quantities can be found in the recipe card down below.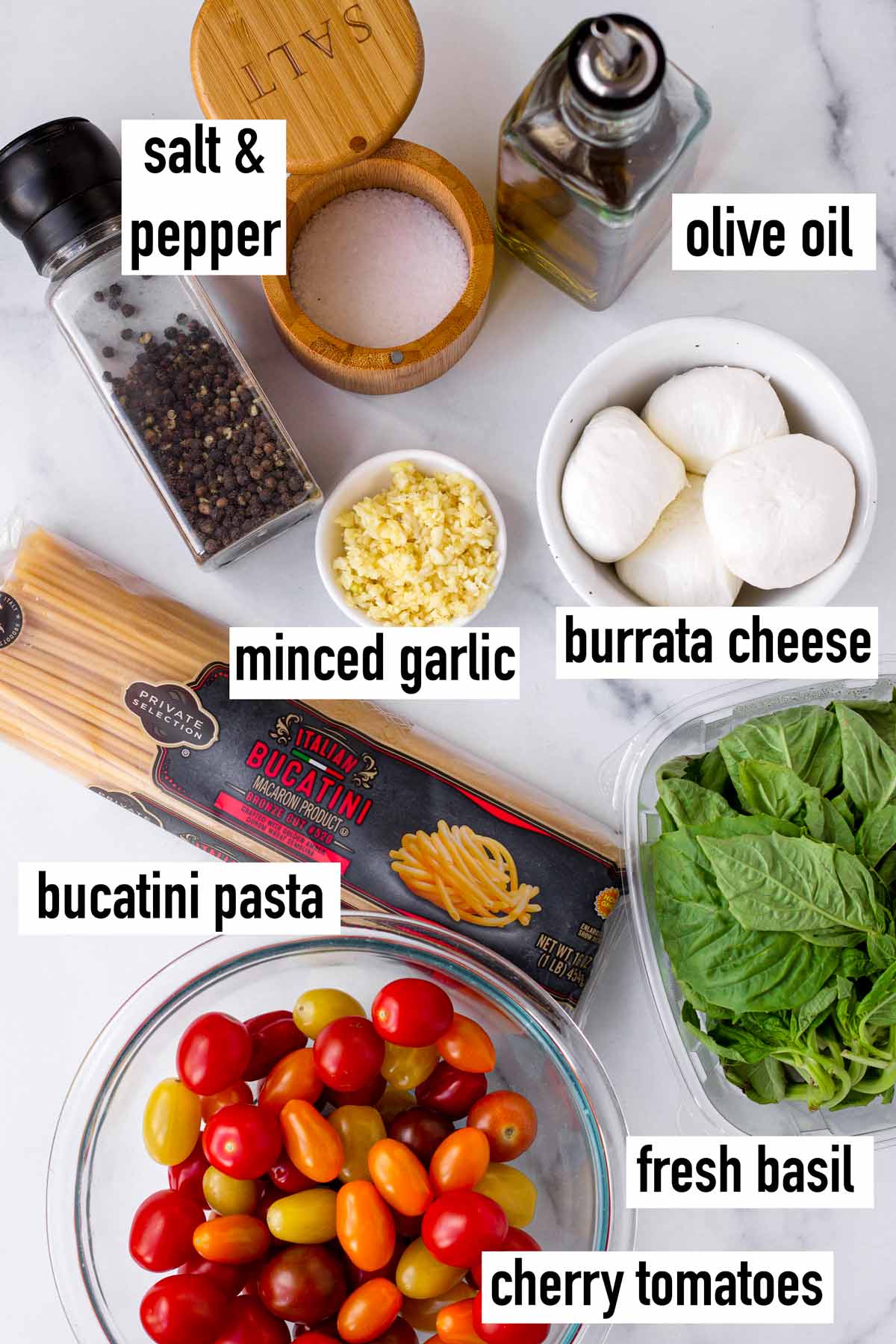 Bucatini pasta: This thick long pasta is perfect for holding the fresh tomato delicious sauce. If you can't find it, use your favorite type of pasta.
Heirloom cherry tomatoes: Choose colorful and ripe cherry tomatoes for that burst of sweetness and color. If you can't find heirloom tomatoes, regular red cherry tomatoes or even diced roma tomatoes will work too.
Olive oil: I'd recommend good, robust extra virgin olive oil for flavor.
Garlic: Adds depth of flavor and aroma to the sauce.
Fresh basil: Adds amazing fresh and fragrant flavors and color.
Lemon zest: Adds a touch of brightness you won't want to miss!
Salt and pepper to taste.
Step-by-Step Tutorial
We've been making lots of tomato basil pasta on repeat lately because it's so easy and delicious. Here's a quick tutorial on how to make it.
Step 1 | Cook pasta
In a medium pot, cook the bucatini pasta according to the package instructions until al dente. Before draining the pasta, make sure to save a cup of the starchy water. This water will be used later to incorporate the fresh tomato sauce with the pasta.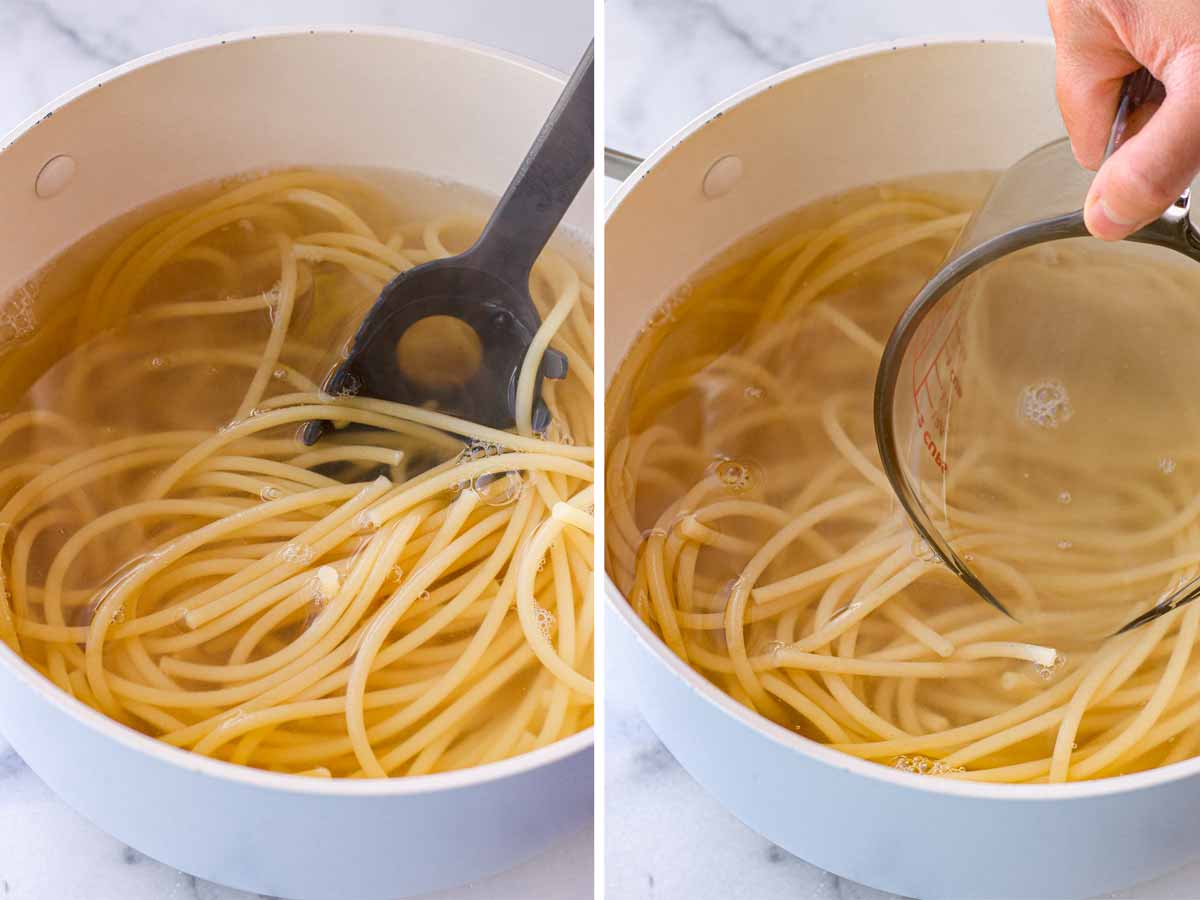 Step 2 | Make the blistered tomato sauce
In a large skillet, heat about ¼ cup olive oil over medium heat. Add minced garlic and cook until fragrant, about 1 minute. Add heirloom cherry tomatoes and cook, stirring occasionally, until they begin to blister and release their juices. Use a paring knife to poke the tomatoes to help them blister faster.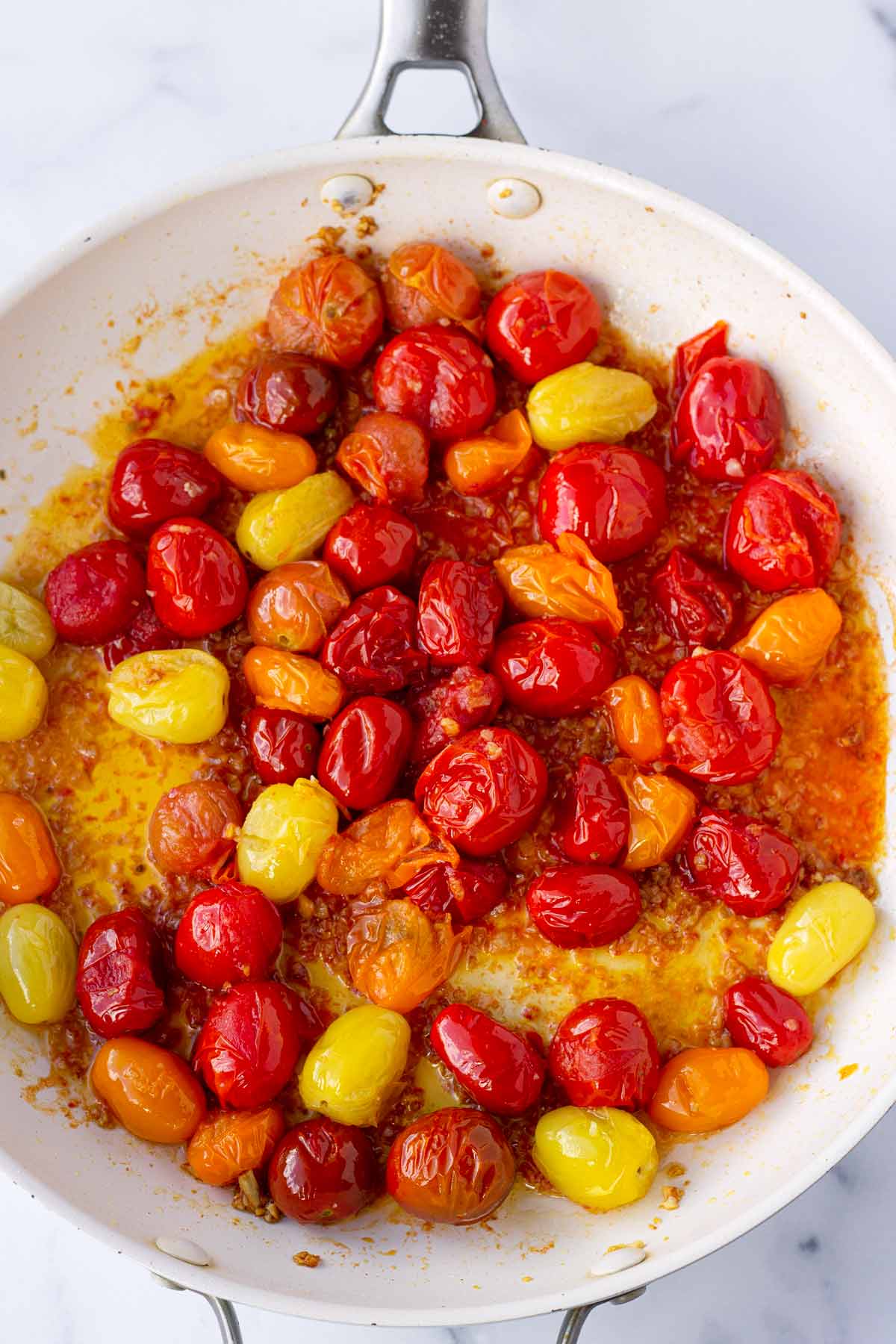 Step 3 | Toss pasta with sauce
Add the cooked pasta to the skillet with the blistered tomatoes and toss to combine. Add a splash of the reserved pasta water as needed to help create a rustic sauce from the tomatoes and to help the sauce coat the noodles.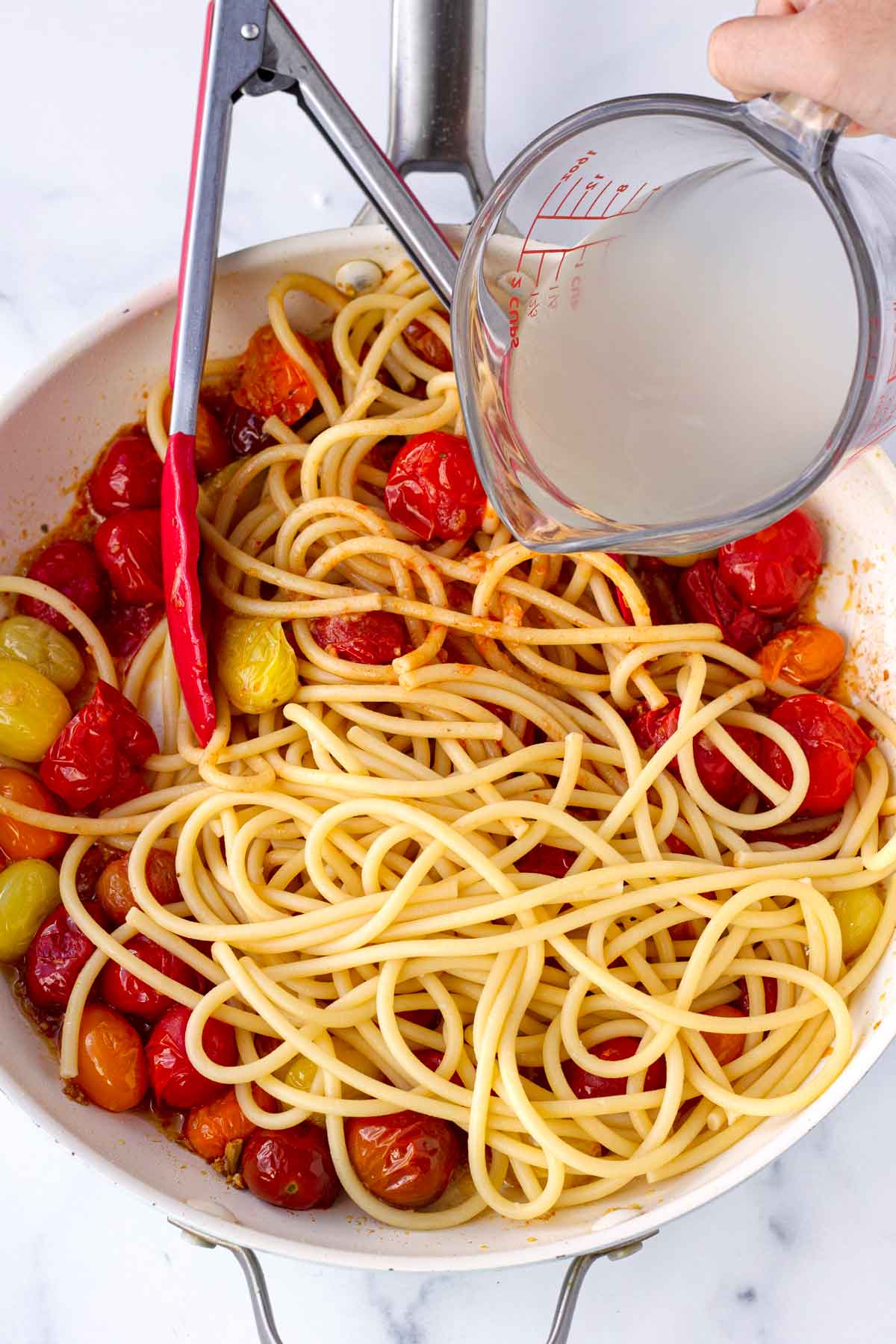 Step 4 | Add basil and finish with lemon zest
Add the fresh basil, and season with salt and pepper to taste. To finish the tomato basil pasta, drizzle with extra olive oil and add fresh lemon zest. I like to serve this dish with more fresh basil, and of course, creamy burrata cheese!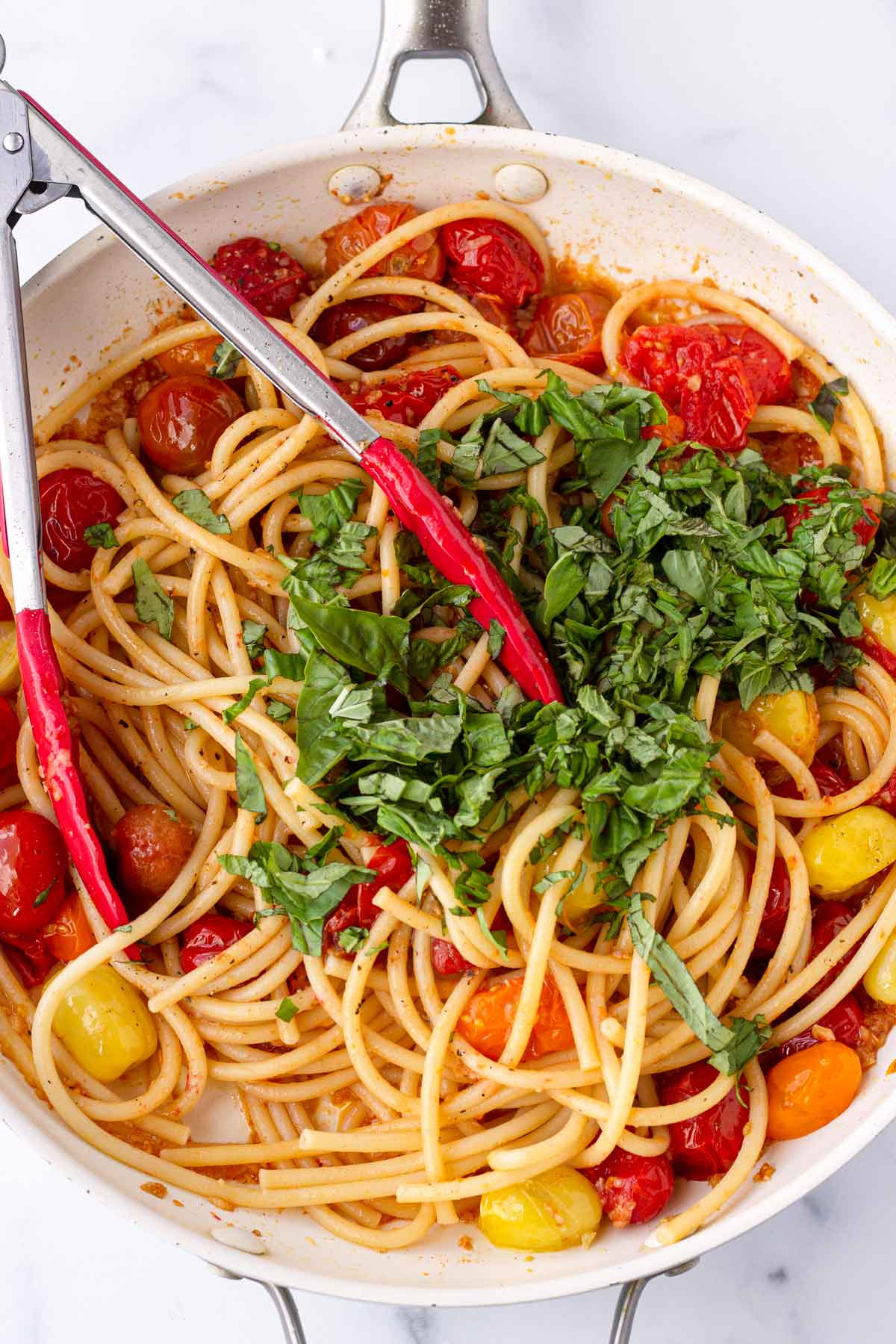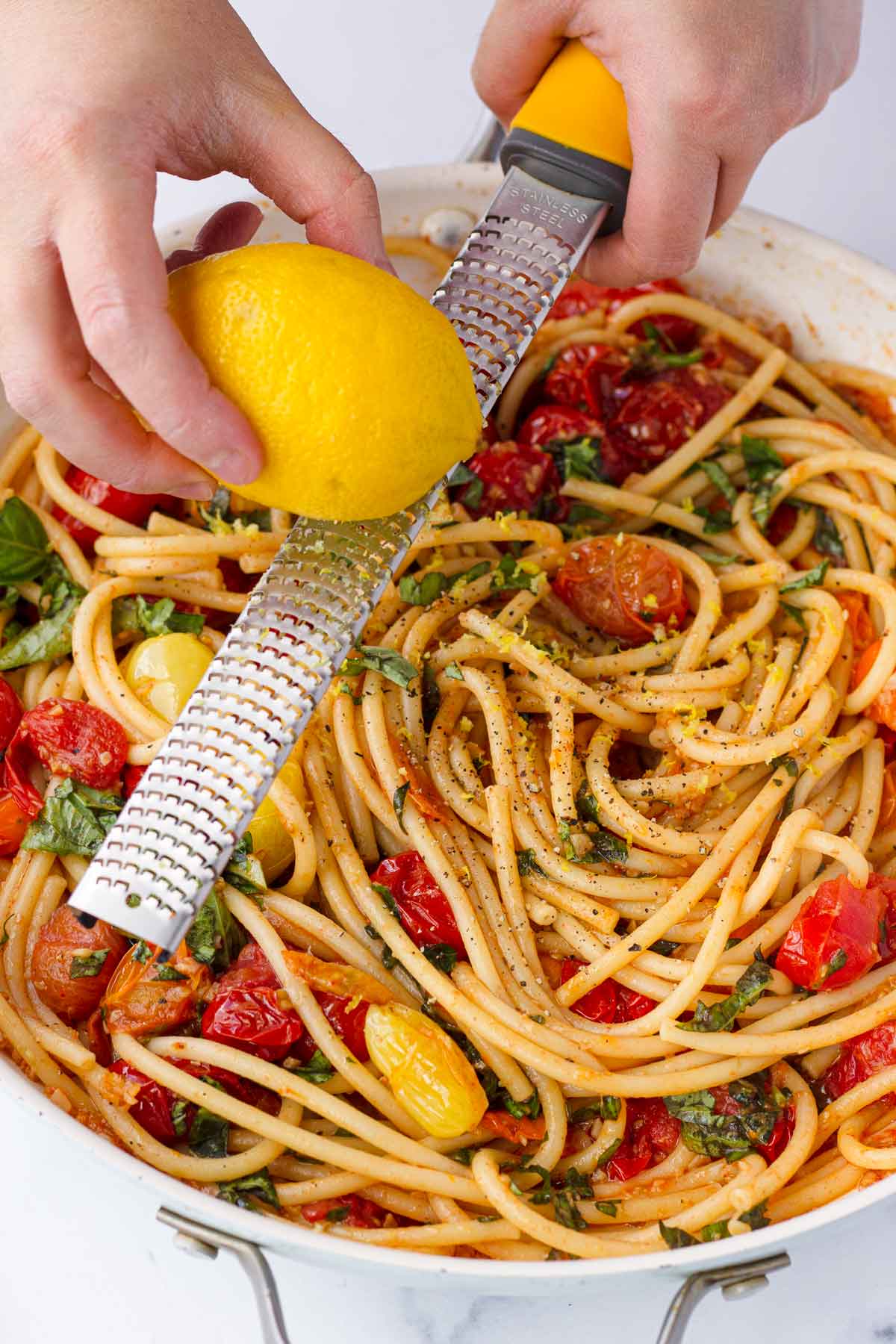 Add-ins
Feel free to customize this delicious pasta! Here are some of my favorite additions:
Kalamata olives
Sautéd zucchini or squash
Capers
Parmesan cheese
Your favorite protein! See "pairing and serving ideas" below for ideas.
To make it spicy, add some red chili pepper flakes.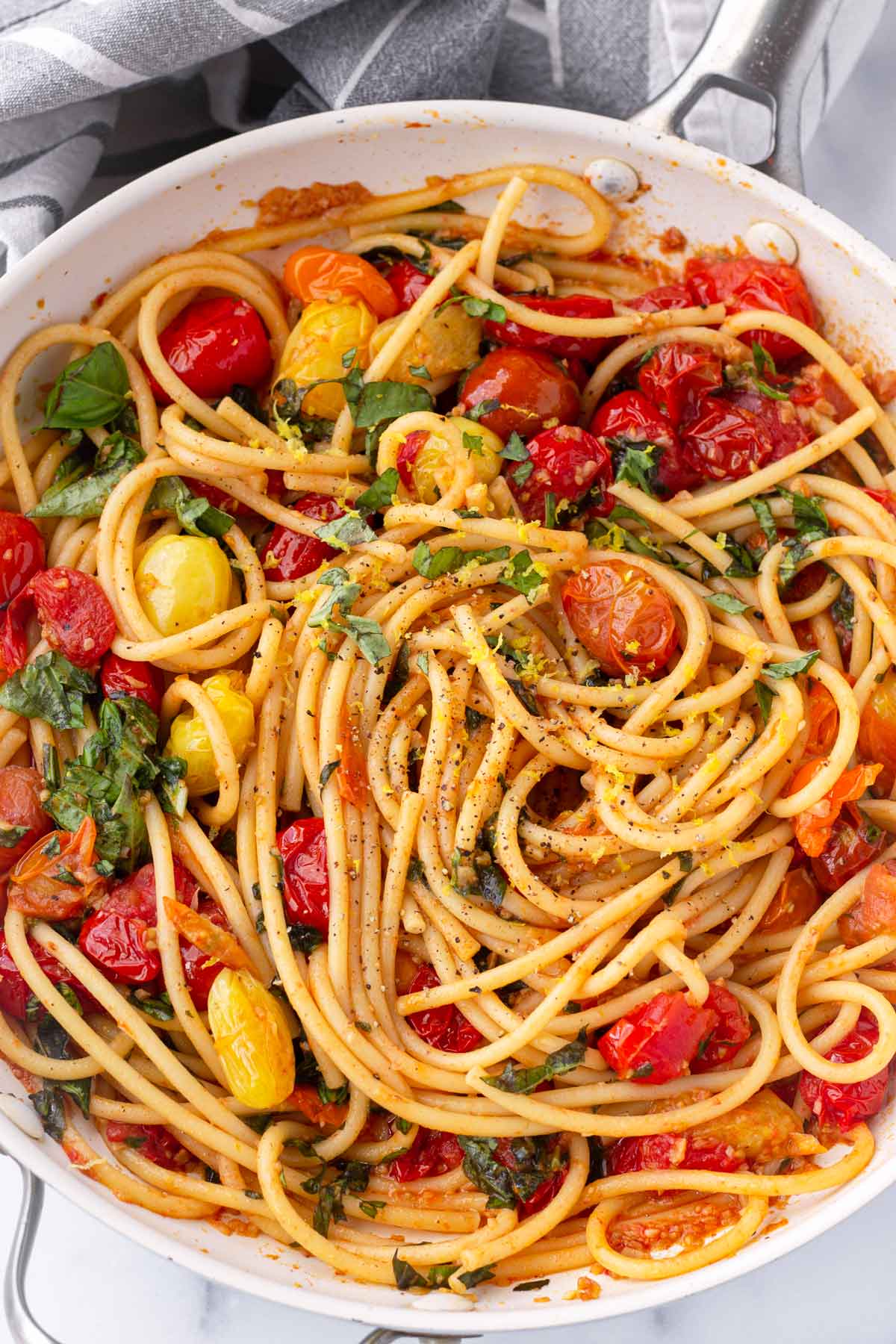 Pairing and Serving Ideas
I love to keep it simple and enjoy tomato basil pasta as is. All the fresh tomato and basil flavors go so well with the al dente bucatini pasta, and the creamy burrata cheese adds the perfect texture contrast.
You can also complement this dish with protein, extra veggies, or even a side of carbs:
More summer dishes to accompany this wonderful tomato basil pasta:
Recipe FAQs
Can I use regular tomatoes instead of heirloom tomatoes?
Yes, absolutely. Red cherry tomatoes or even diced Roma tomatoes work well.
Can I make this recipe ahead of time?
I'd recommend making tomato basil pasta fresh. It does keep well in the fridge for 2 days, but the fresh blistered tomato sauce is best fresh.
What other types of pasta can I use?
I like to use bucatini here, but you may also use spaghetti (thin spaghetti, regular, or thick) or angel hair pasta. Short pasta shapes work great too – I'd recommend rotini or penne.
Why do I need to reserve pasta water?
The starchy pasta water helps to create a smoother sauce by emulsifying the blistered tomatoes and making it cling to the pasta better.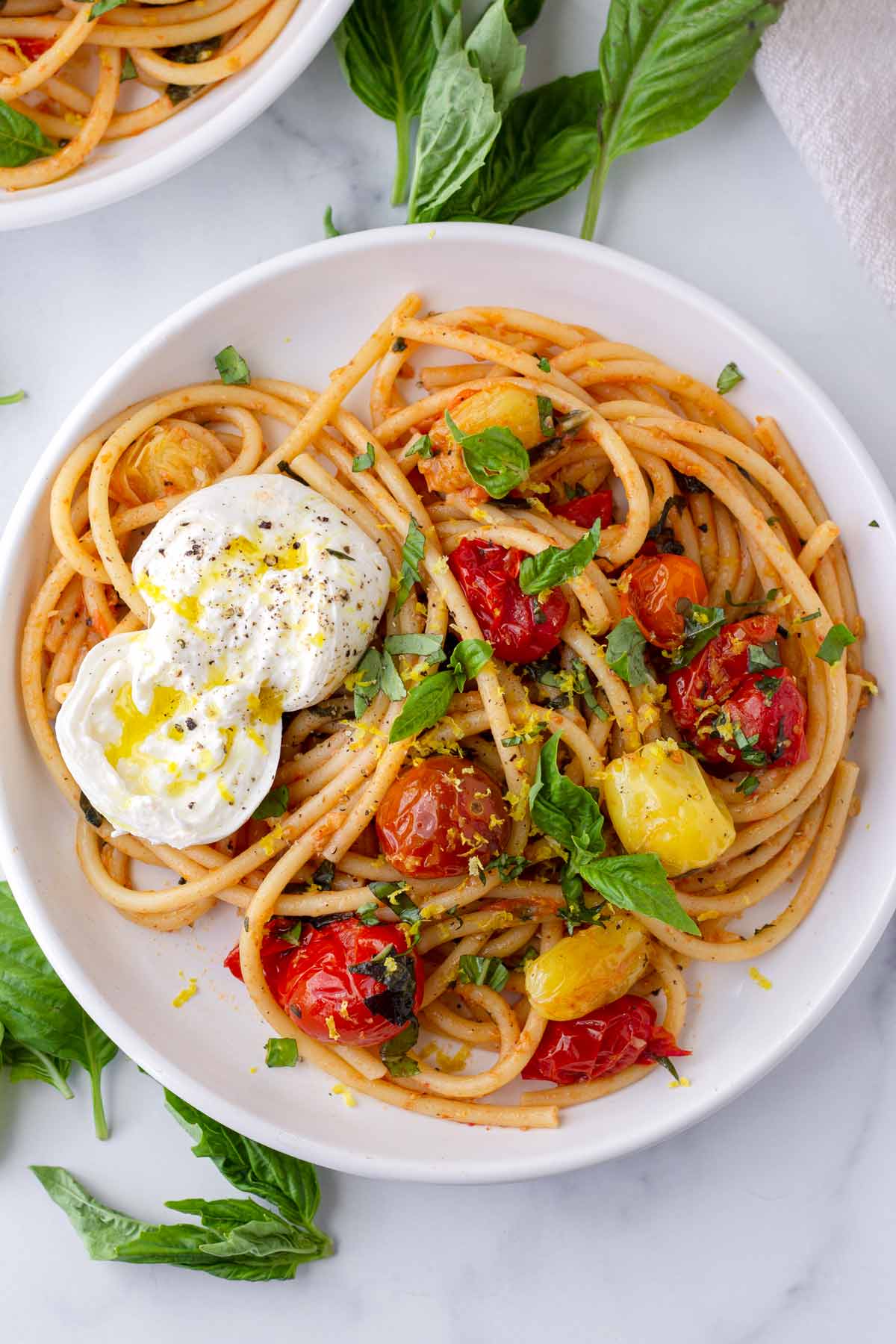 This recipe was published in 2020 and updated in May 2023 to include new photos and information.
Tips for Success
Look for good quality robust extra virgin olive oil. It will infuse the entire dish with incredible flavor.
Remember to reserve some pasta water, as you may need it to help the pasta and blistered tomatoes incorporate.
When cooking the pasta, don't add oil to the water. Doing so will prevent the sauce from clinging on the pasta. And remember to salt your water.
Don't overcook the pasta. Keep it al dente to maintain its texture and prevent it from becoming mushy.
I'd love to hear from you! If you loved my recipe, please consider leaving a 5-star rating and a comment down below. Sign up for my newsletter and follow along on Instagram, Facebook, or Pinterest
Tomato Basil Pasta
This fresh Tomato Basil Pasta is the ultimate summertime dinner! It comes together in just 20 minutes, and it's packed with bursting cherry tomato flavors, fragrant basil, and creamy burrata cheese.
Ingredients
½

pound

bucatini pasta

-

or spaghetti or linguini

4 to 5

cup

heirloom cherry tomatoes

-

about 24 ounces

¼

cup

extra virgin olive oil

-

plus more for drizzling

4

cloves

garlic, minced

½

cup

fresh sliced basil

-

plus more for garnish

Salt and pepper to taste

Lemon zest from 1 lemon

-

or to taste
Instructions
Cook the pasta according to package directions in generously salted water. Reserve 1 cup of the pasta water for later just in case. Drain and run the pasta with cold water to stop the cooking process. Set aside.

In a large skillet, heat ¼ cup of olive oil over medium heat. Add the minced garlic and sauté for about 1 minute until fragrant. Then, add the cherry tomatoes. Cook for about 5-6 minutes until they start bursting, stirring occasionally, but let them cook undisturbed for the most part. Tip: If needed, poke the tomatoes with a paring knife to help them burst faster.

Toss the blistered tomato sauce with the cooked bucatini pasta, adding some of the reserved pasta water little by little as needed until incorporated.

Add the sliced basil and toss to combine. Season with salt and pepper to taste.

Add a few extra drizzles of olive oil. Finish with more basil on top and fresh lemon zest. Serve with burrata cheese. Serve immediately. Enjoy!
Notes
Make ahead: I'd recommend serving it fresh. It does keep well in the fridge for 2 days, but the fresh blistered tomato sauce is best fresh.
Storage: Leftovers can be stored in an airtight container in the fridge for up to two days. The pasta may absorb some of the sauce and become slightly softer when reheated. To freshen it up, drizzle a little olive oil and gently reheat in the microwave.
Substitutions and variations:
Heirloom cherry tomatoes: Regular cherry tomatoes or even diced Roma tomatoes.
Bucatini pasta: Spaghetti, fettuccine, linguine, rotini, penne, rigatoni.
For a healthier take, use whole-grain pasta or even zucchini noodles.
Nutritional values (per serving) are approximates only.
Nutrition
Calories:
362
kcal
|
Carbohydrates:
49
g
|
Protein:
9
g
|
Fat:
15
g
|
Saturated Fat:
2
g
|
Polyunsaturated Fat:
2
g
|
Monounsaturated Fat:
10
g
|
Sodium:
166
mg
|
Potassium:
472
mg
|
Fiber:
3
g
|
Sugar:
5
g
|
Vitamin A:
887
IU
|
Vitamin C:
35
mg
|
Calcium:
39
mg
|
Iron:
2
mg