Potato salads are so delicious, especially with pesto sauce. This creamy and healthy pesto potato salad is packed with so much flavor. You will absolutely love it!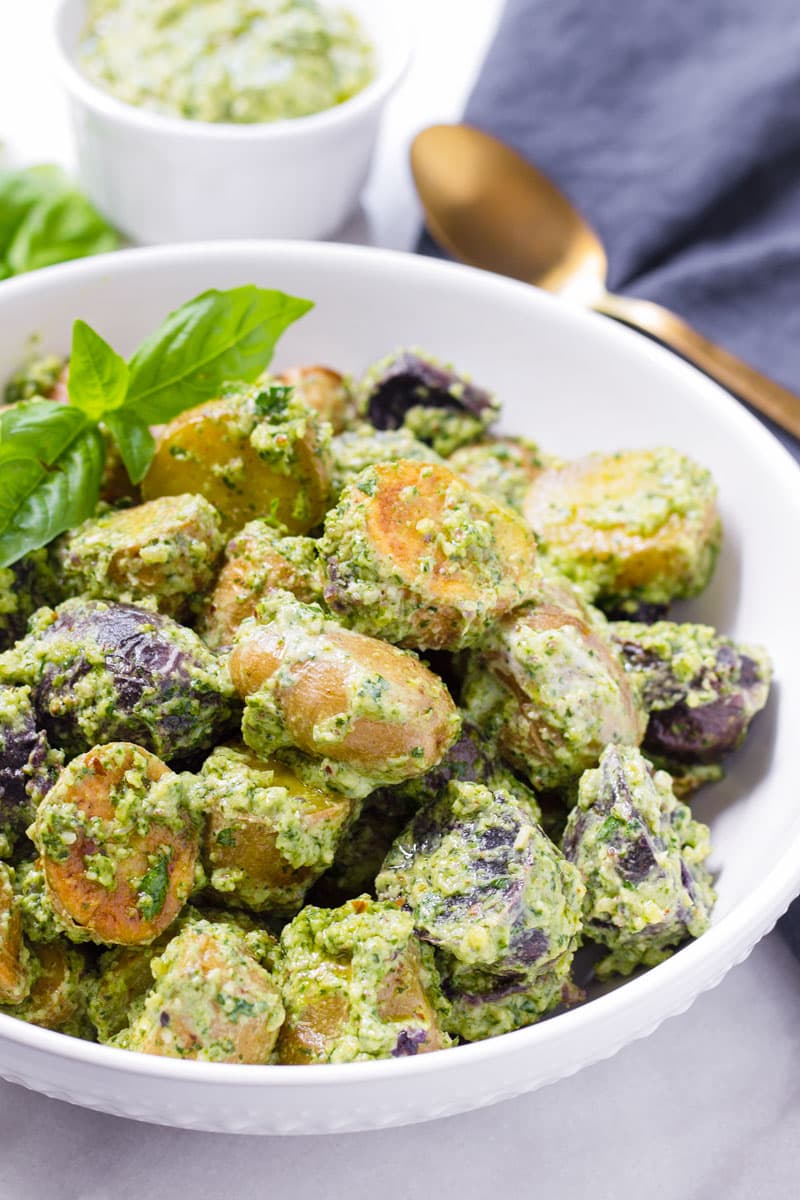 If you love potatoes and homemade pesto, this pesto potato salad is for you! The secret in this amazing potato salad recipe is roasting the potatoes. This step adds so much flavor!
Now about that creamy pesto…it's so good! It's a homemade basil pesto combined with Greek yogurt for creaminess. I'm all about healthy potato salads!
Also, I have been obsessed with potato salads lately. Seriously. Check out my latest healthy potato dill salad recipe, as well as my bacon and blue cheese potato salad recipe. They are dreamy!
Let me show you have to make this potato salad with pesto!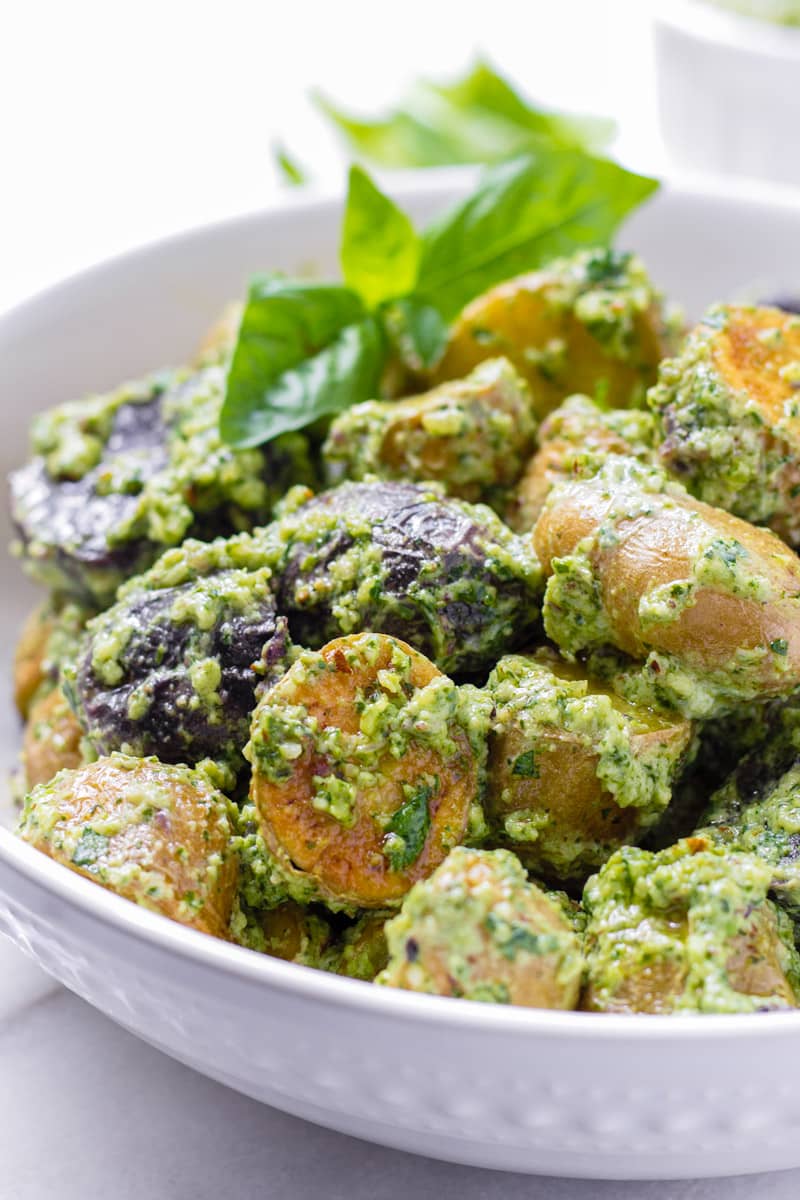 Homemade Creamy Pesto
A good homemade pesto sauce is what makes this potato salad so delicious. I have yet to find a good store-bought pesto sauce, so I always make my own at home.
I add plain yogurt to the pesto for creaminess (I'm obsessed with creamy potato salads!), but you can certainly leave out the yogurt if you want to taste the pesto as is.
This creamy pesto sauce is made of:
Basil: Fresh basil leaves.
Sliced almonds: You can also use walnuts, pine nuts, or pecans.
Grated or shredded parmesan cheese: Adds saltiness and flavor.
Garlic: Fresh cloves!
Extra virgin olive oil: Make sure you use good quality olive oil. It's that important!
Red wine vinegar: For acidity.
Red pepper flakes: For a slight kick. Totally optional!
Plain Greek yogurt: For creaminess.
Per usual, you can find the entire recipe ingredients in the recipe card below.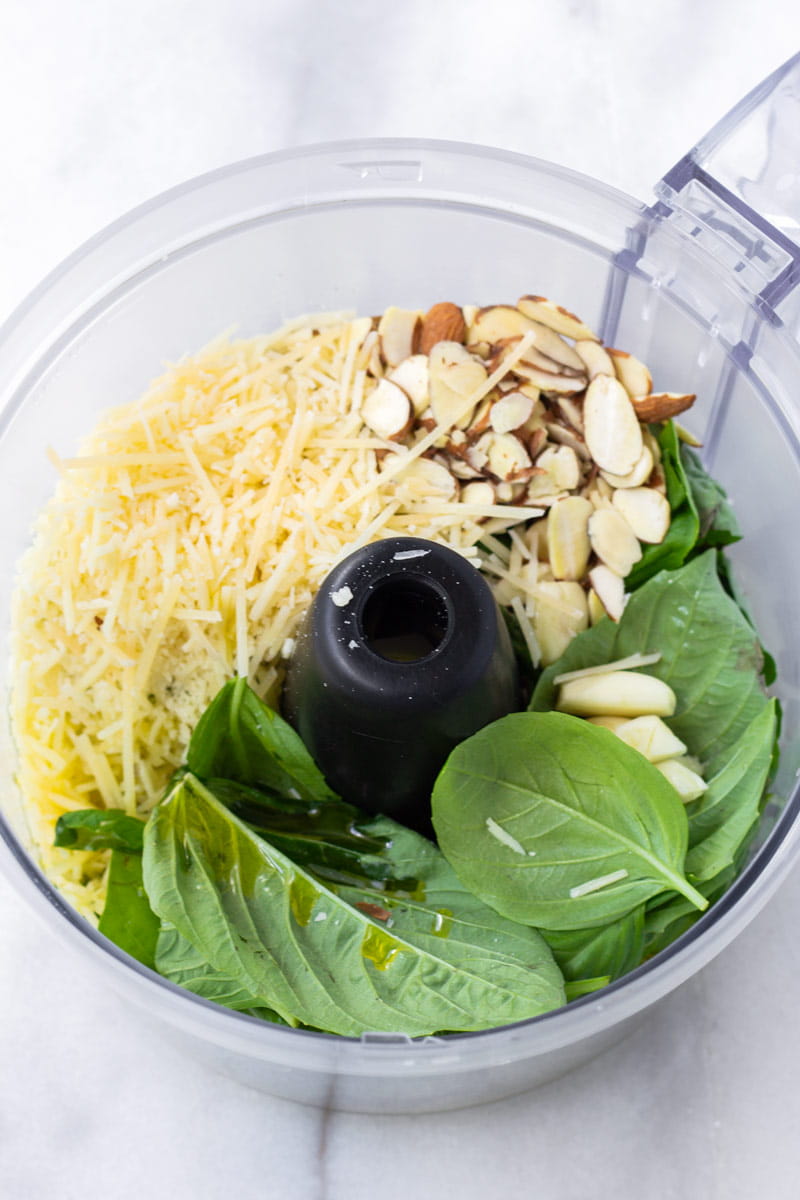 A good pesto sauce is all about adjusting it to taste. I always go easy on the vinegar and add lots of basil. Definitely feel free to add or reduce any of the pesto ingredients to your liking.
I mean…look at this vibrant green color. It's so beautiful!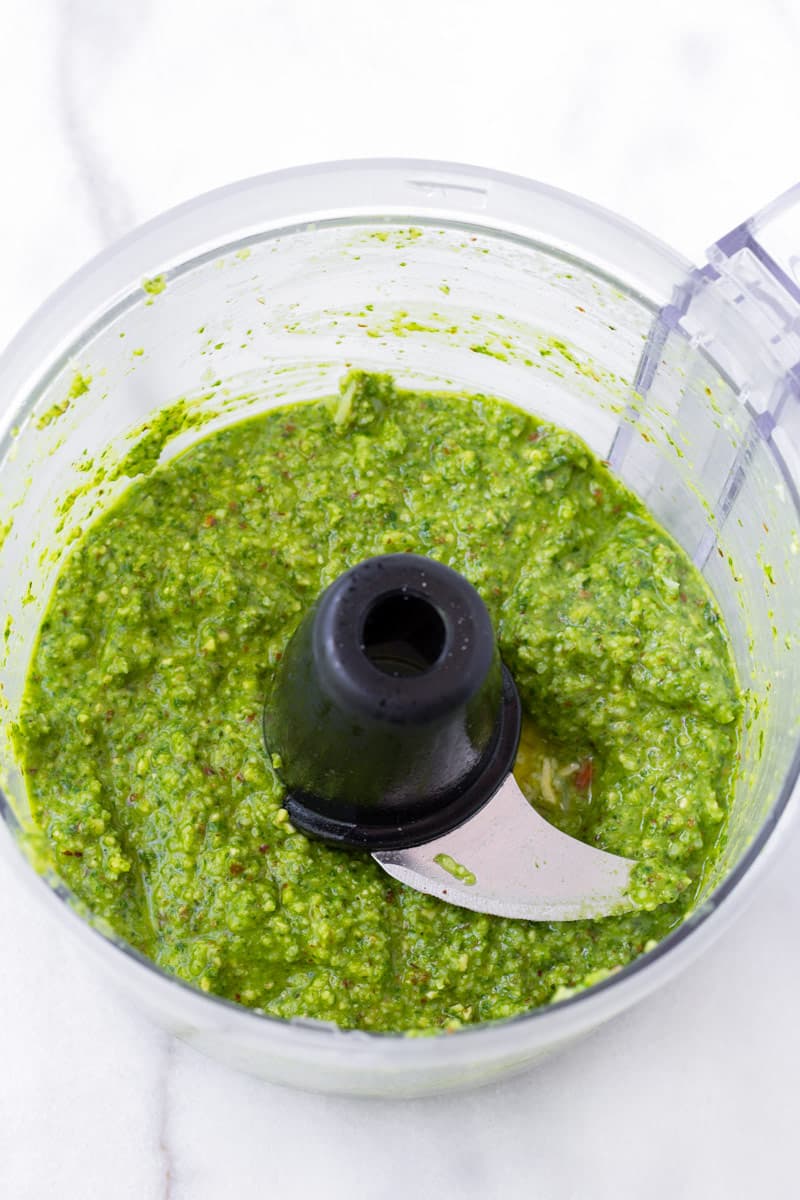 The Secret: Roast the Potatoes!
Speaking of flavor, roasting the potatoes will take this pesto potato salad to a whole new level! I mean, roasted potatoes on their own are delicious…now, imagine that with a dreamy yogurt pesto sauce!
So yes, that's the secret in this potato salad. Roast them! So yummy.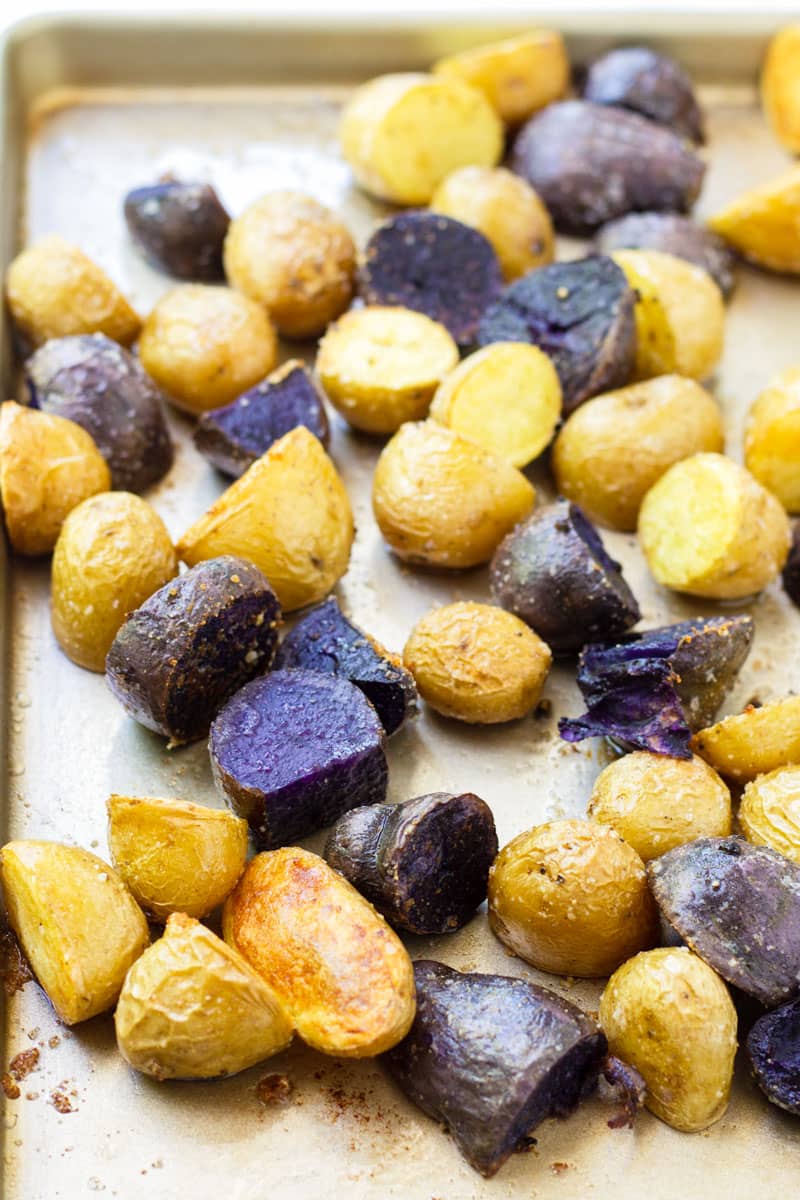 Ingredients
Here's what you will need:
Baby potatoes: I used a mix of yellow and purple potatoes.
Olive oil: For roasting.
Salt and pepper: To taste, or about 1 teaspoon.
Italian parsley: Finely chopped.
Homemade yogurt pesto, recipe below (basil, almonds, olive oil, parmesan cheese, garlic, red wine vinegar).
Good quality ingredients are essential for good results. I'd say the ingredient that matters the most here is the olive oil in the pesto. I've made pestos with lower quality olive oils, and they always turned out either bitter or bland. So now, I always make sure I use good extra virgin olive oil.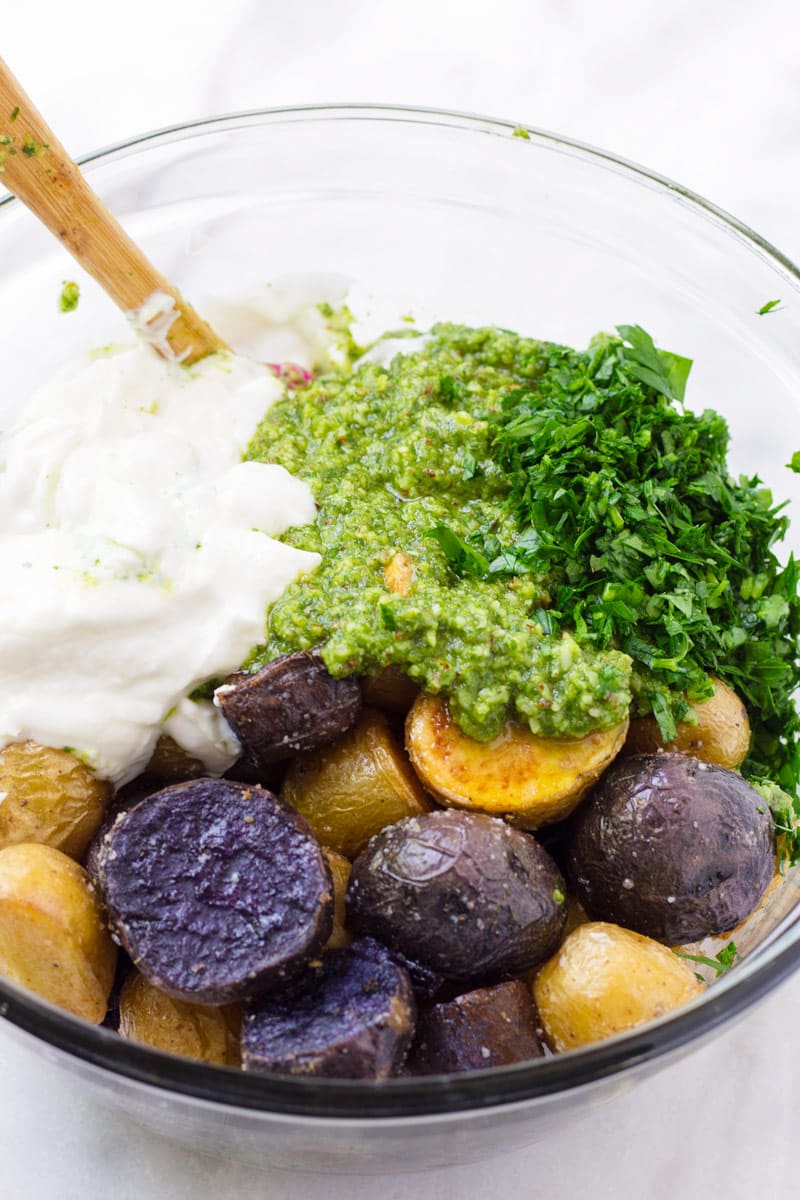 Let's Make It
Making this creamy pesto potato salad is very easy!
Per usual, the specific instructions are in the recipe card below, but to give you an idea:
Make the yogurt pesto: You can make it 1 day ahead of time too.
Roast the potatoes: Roast at 425 degrees F.
Toss to combine!
So easy! You can store the potato salad in the fridge for about 2-3 days in an airtight container.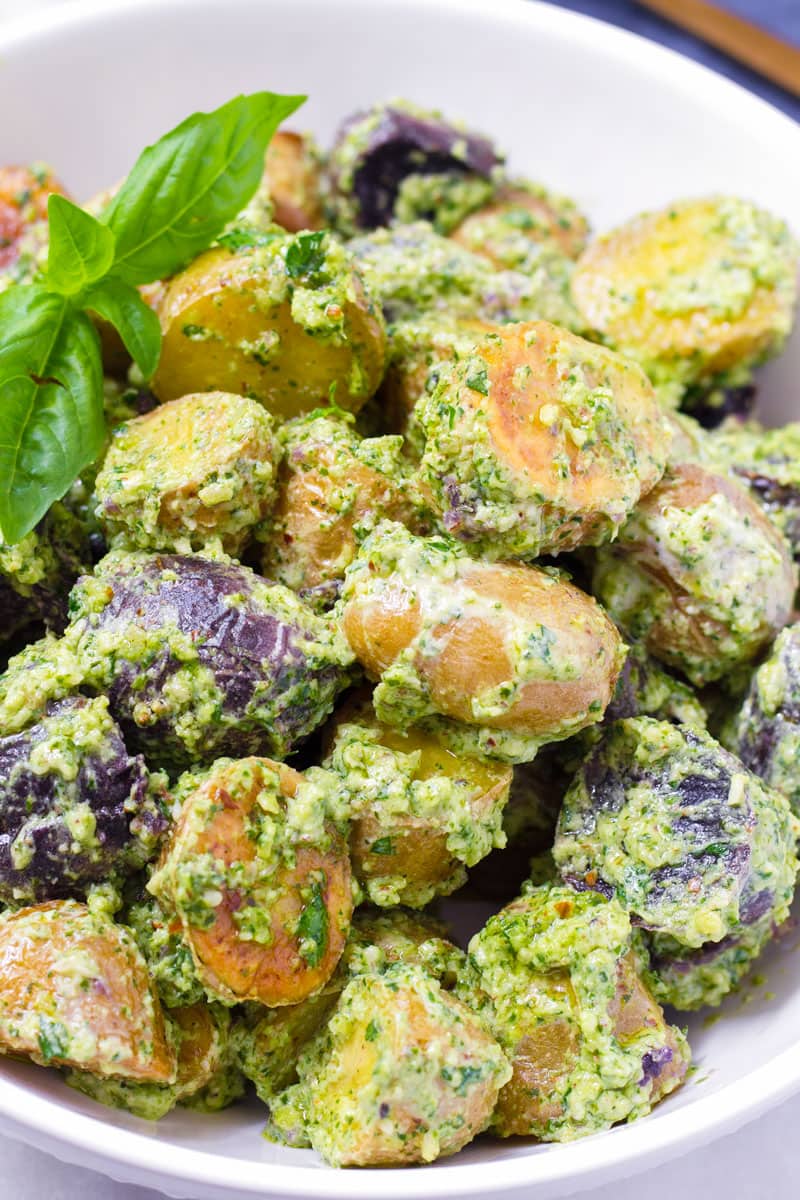 I am seriously in love with this pesto potato salad. Aside from being super delicious, it's healthy because it uses Greek yogurt for creaminess. So I never feel guilty about eating lots of it. LOTS.
I love serving it with a good burger or ribs. Now, excuse me while I go devour the leftovers…
Thanks for reading! Happy cooking!
Ideas for you summer cookout: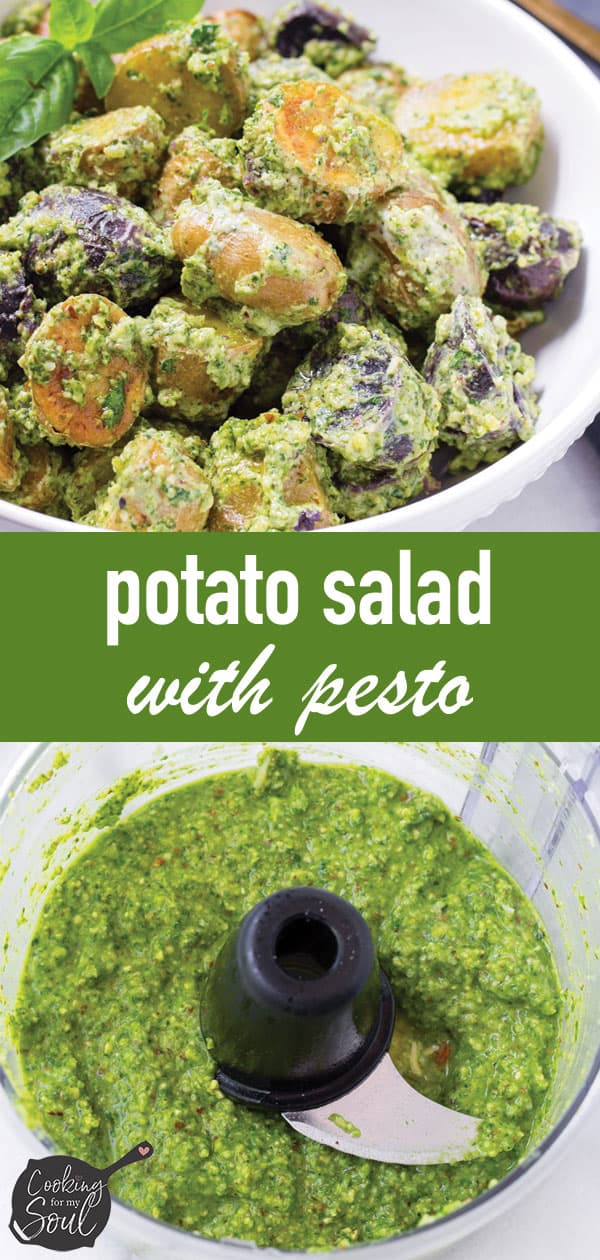 Tips for Success
Make sure the potatoes are not crowded in the roasting sheet pan. If too crowded, they will steam and not roast. If needed, use two sheet pans.
You can make the yogurt pesto 1 day in advance. Store in a mason jar or an airtight container, refrigerated.
Use good quality extra virgin olive oil. It makes all the difference!
If you try my recipe, use #cookingformysoul on Instagram! Follow me on Pinterest, Instagram, Facebook for the latest fun updates and recipes!
Pesto Potato Salad
This delicious pesto potato salad is made with roasted baby potatoes and a homemade yogurt pesto sauce. It's a great side salad dish for any occasion!
Ingredients
3

pounds

petite potatoes, halved

1/4

cup

olive oil

Salt and pepper to taste

1/4

cup

finely chopped Italian parsley
Yogurt Pesto
2

cups

basil leaves, packed

1/3

cup

sliced almonds

1/2

cup

parmesan cheese, shredded or grated

2

cloves

garlic, roughly chopped

1/2

cup

extra virgin olive oil

-

(or to taste)

1/2

tablespoon

red wine vinegar, plus more to taste

1/4

teaspoon

red pepper flakes, or to taste

-

(optional)

1/2

cup

plain greek yogurt
Instructions
Preheat oven to 425 degrees F.

In a large sheet pan, toss the halved potatoes with 1/4 cup olive oil, about 1 teaspoon salt, and ground black pepper. Arrange in an even layer, flat side down. Tip: Divide into 2 sheet pans if the potatoes are too crowded in one pan.

Roast potatoes for about 25 to 30 minutes, flipping after about 18-20 minutes. Remove from oven and set aside.

Make the yogurt pesto: In a food processor, combine all the pesto ingredients, except for the yogurt. Pulse until fully combined. Adjust to taste. Add the yogurt and combine with a spoon.

Assemble the salad: In a large bowl, toss the roasted potatoes with the chopped parsley and the prepared yogurt pesto until incorporated. Serve immediately. Enjoy!
Notes
Special equipment: large sheet pans, food processor.
Use good extra virgin olive oil for the pesto. It makes a big difference in taste.
Make ahead: Option1 – You can simply prepare the entire salad ahead of time and serve within 2-3 days. Option 2 –Roast the potatoes 1 day ahead and store in the fridge in an airtight container, and then make the yogurt pesto 1 day ahead and store in the fridge in an airtight contained. Combine both the potatoes and the yogurt pesto right before serving.
Storing: Refrigerate in an airtight container for up to 3 days.