This beautiful Watermelon Feta Salad is seriously the best summer salad! It's refreshing, super easy to make, and incredibly delicious. Perfect for your next summer picnic or cookout!
The sweetness and freshness of the watermelon pairs well with the savory feta cheese and the brightness of the basil and mint. The honey lime dressing ties it all together beautifully.
Try this watermelon feta salad this summer! It's prep-ahead friendly and perfect to keep you hydrated and refreshed.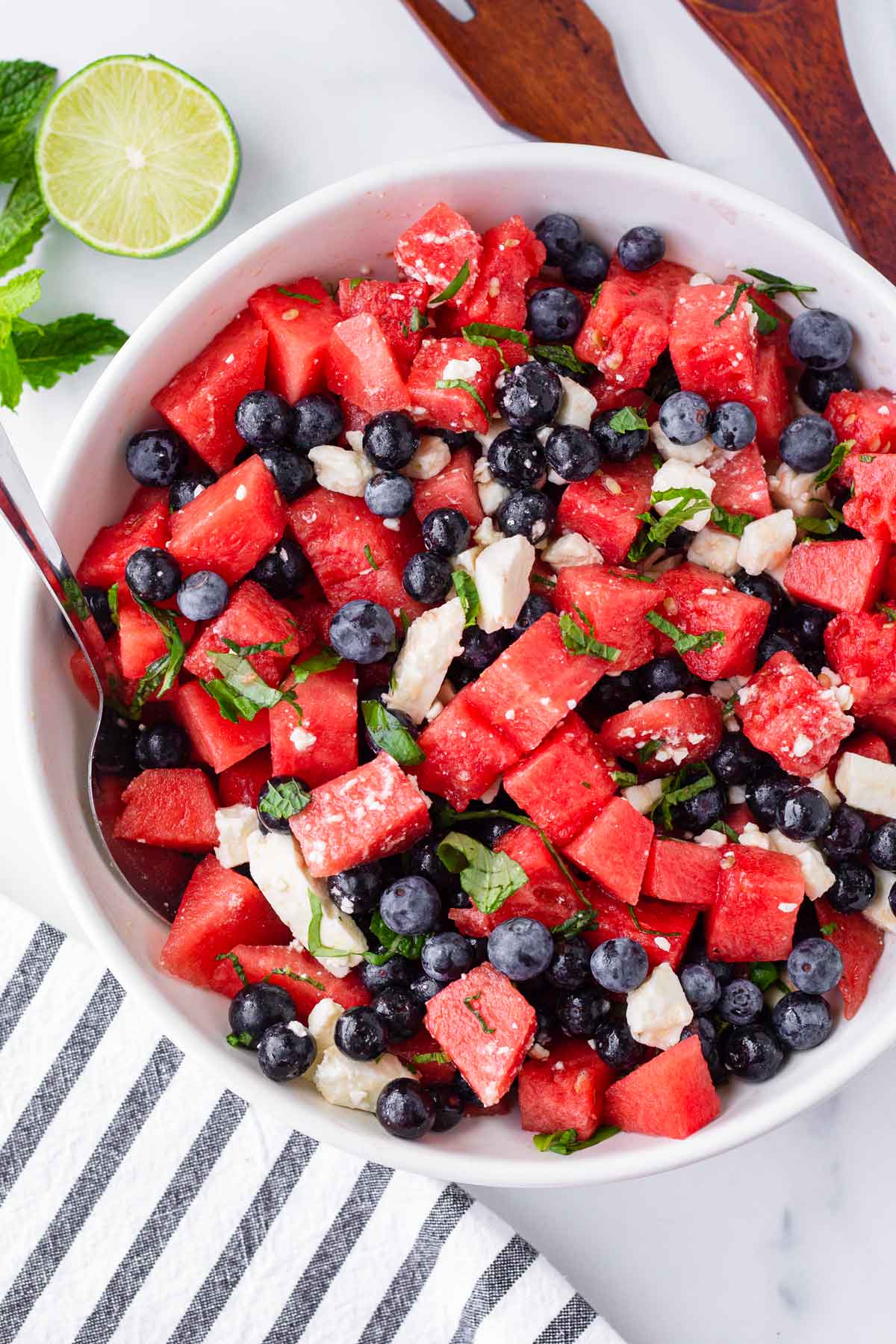 Summer is here, and the absolute best part about it is that it's watermelon season! As a huge fan of watermelon, one of the things I look forward to the most is serving this watermelon feta salad for summer cookouts and picnics.
I love watermelon so much that I've been making watermelon popsicles and watermelon slushies over and over again!
As this summer gets hotter and hotter, a refreshing summer side dish is a must! You'll enjoy the combination of sweet, juicy, and cool watermelon with creamy feta, plump blueberries, and refreshing basil and mint.
To make it even better, we dress this watermelon feta salad with a bright honey lime dressing. This salad is seriously to die for!
My perfect summer cookout side dish spread includes this salad, plus my favorite Strawberry Chicken Salad and Grilled Peach Salad. And of course, you always gotta have potato salad! Try this Creamy Pesto Potato Salad, Blue Cheese and Bacon Potato Salad, or Dill Potato Salad.
Why we love this watermelon feta salad:
It's refreshing and bright, perfect for summer!
The colors really pop! This watermelon feta salad is a showstopper.
Great flavor and texture contrast between the watermelon and feta.
Prep-ahead friendly: Chop and dice everything up in advance. It's that easy!
Jump to:
How to Pick a Sweet Watermelon
First of all, I'd recommend getting a seedless watermelon for this recipe. As for picking out a sweet, juicy, and ripe watermelon, follow these guidelines:
Look for the yellow spot, also known as the "field spot." This is where the watermelon rested on the ground while it was growing, meaning it's had enough time to ripen. Avoid watermelons with a white or green field spot, as these are signs of under-ripeness.
Give it a tap: A ripe watermelon will produce a deep, hollow sound. This means it's super juicy inside!
It should feel heavy, which means that it's juicy.
The rind: The rind of a ripe watermelon should be firm and dull, rather than shiny or overly smooth. Look for one with uniform green skin with minimal blemishes.
How to Cut Watermelon
There are many ways to cut a watermelon. For the purposes of this watermelon feta salad, we need to dice it. Here's a super quick and easy way to do it:
Make sure you use a sharp knife. Cut the watermelon into half.
Place the flat side down on the cutting board and cut each half into halves again.
Cut along the watermelon to remove the rinds.
Slice and then dice into cubes.
Storage: Cubed watermelon will keep well for about 3 days. Store in an airtight container in the refrigerator.
Freezing: For this salad, you must use fresh watermelon, as frozen watermelon will not work. However, these watermelon slushies start with frozen watermelon, so if you have any leftovers, be sure to try them!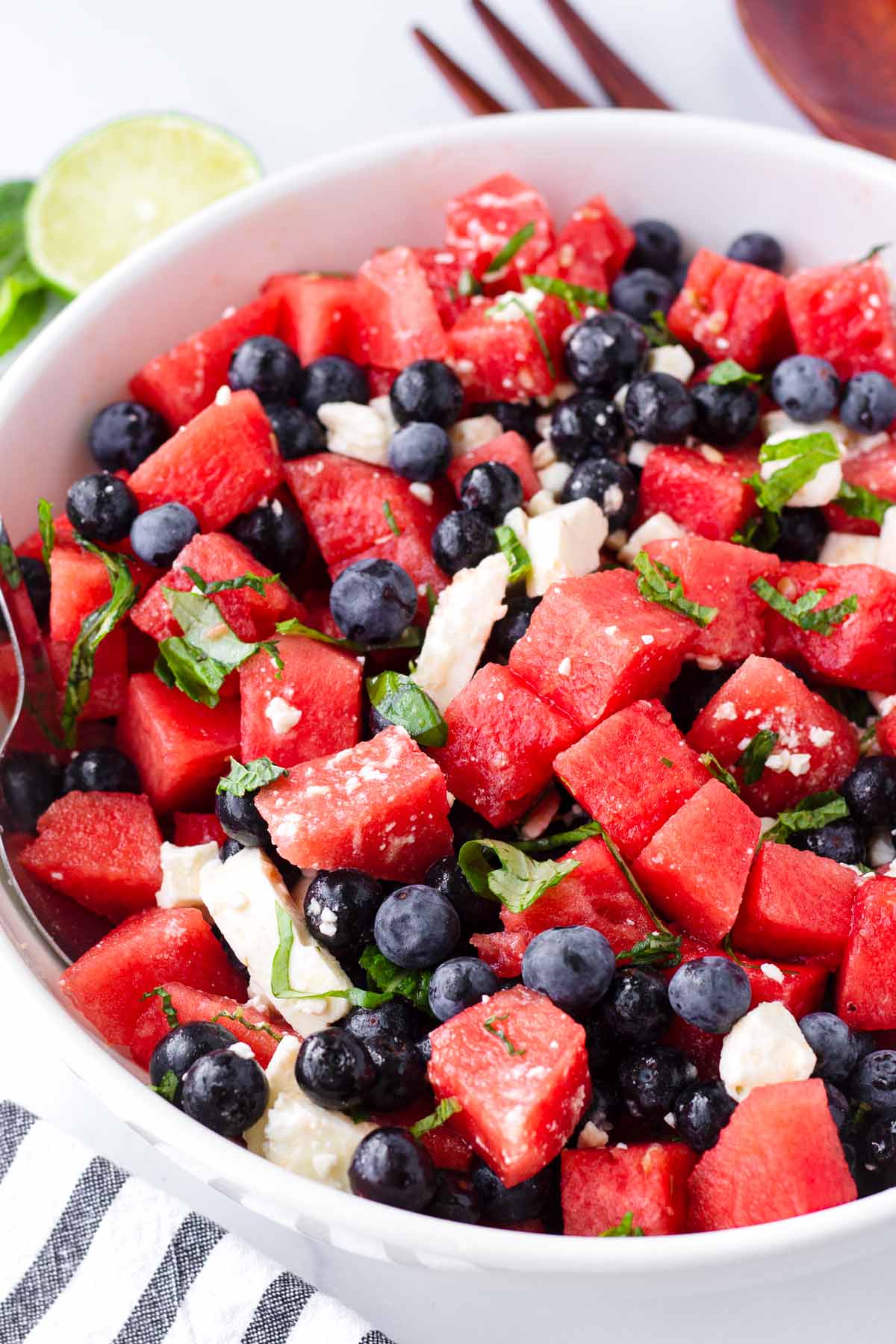 The Honey Lime Dressing
The dressing contains a little bit of olive oil for flavor and texture. It complements the feta cheese really well. Some people think that olive oil and fruit don't go together, but you'll be surprised how good it is! You don't need a lot, just 1 tablespoon of oil.
The result is an incredibly refreshing and bright lime dressing that will bring everything together. However, if you want to omit the olive oil, that's completely fine too. Just use an additional tablespoon of fresh lime juice instead.
Ingredient Notes
Making this summer watermelon blueberry feta salad requires only a few simple ingredients. Below are a few ingredient notes. As always, the full ingredient list and quantities can be found in the recipe card down below.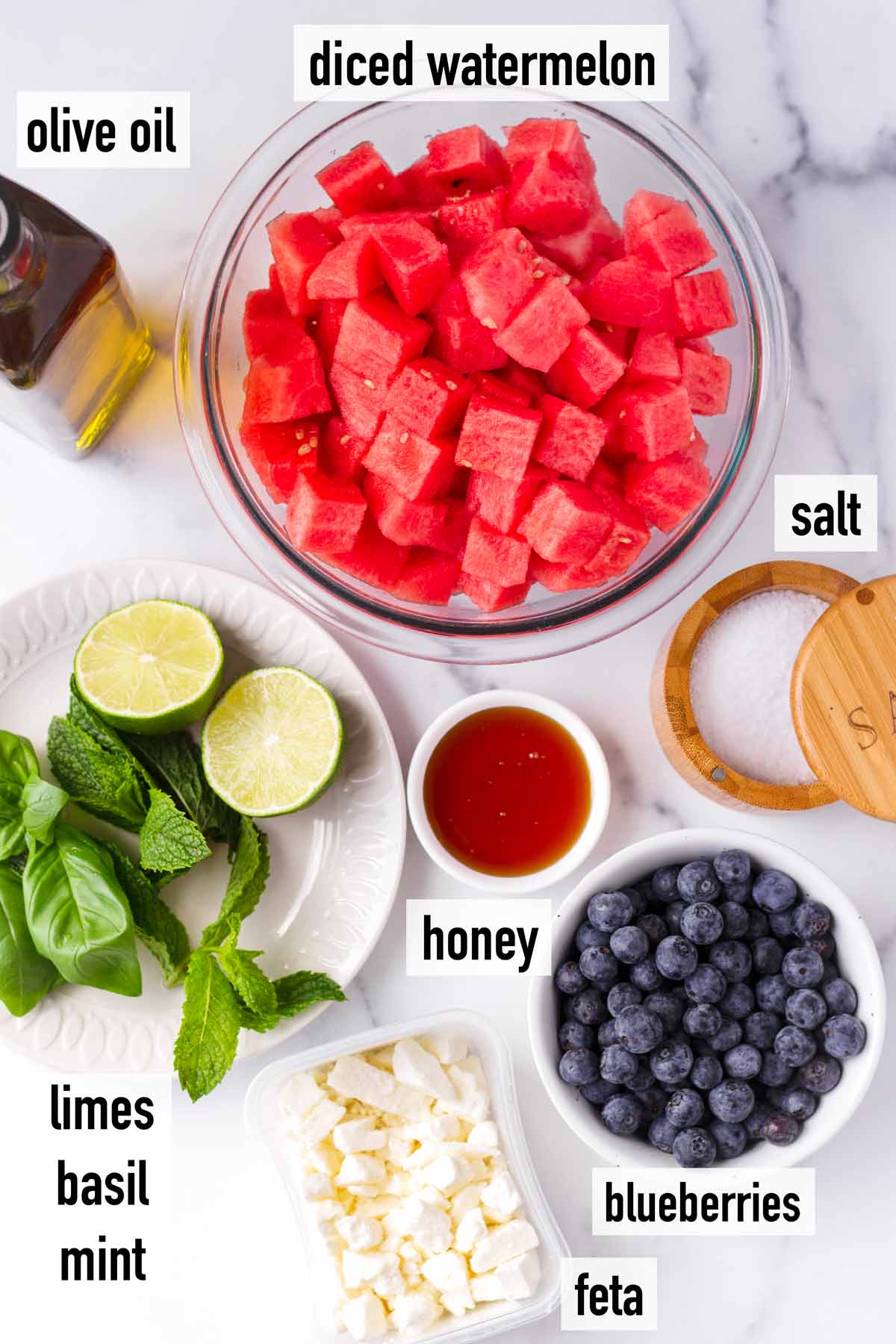 Fresh watermelon: Cut into ¾ inch cubes. Pick a ripe and sweet watermelon.
Fresh blueberries: Adds texture, sweetness, and color.
Crumbled feta cheese: Adds savory flavor contrast and a creamy texture.
Mint and basil leaves, julienned or chopped
For the honey lime dressing: fresh lime juice, honey, olive oil, salt. It's a super simple and refreshing dressing.
Step-by-Step Instructions
Making this watermelon feta salad takes just 15 minutes or less to make. It's very straightforward and easy!
Step 1 | Make the honey lime dressing
In a bowl, whisk freshly squeezed lime juice, honey, olive oil, and a pinch of salt until evenly combined.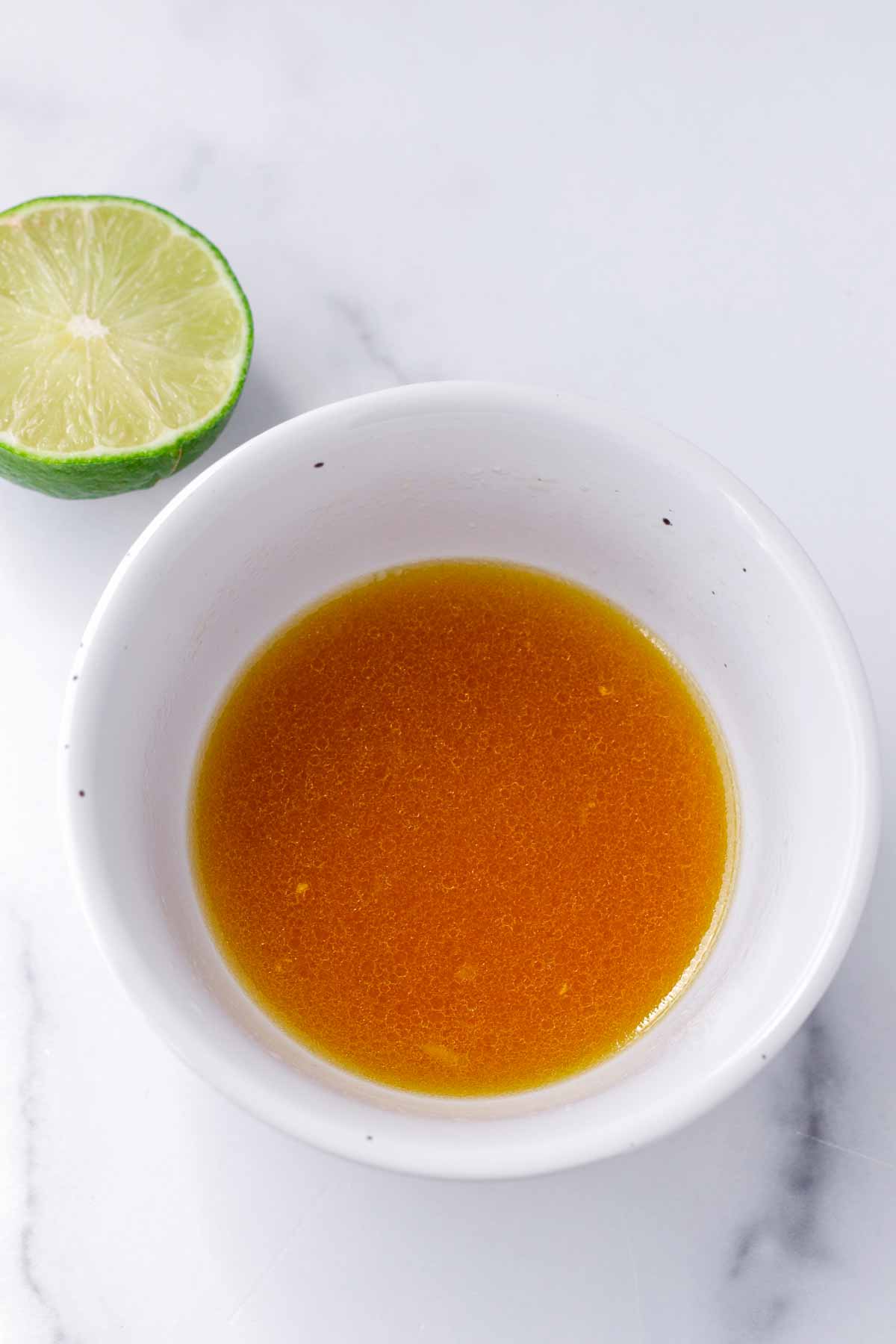 Step 2 | Prep all the salad ingredients
Get all your ingredients diced and prepped, and arrange everything in a large bowl.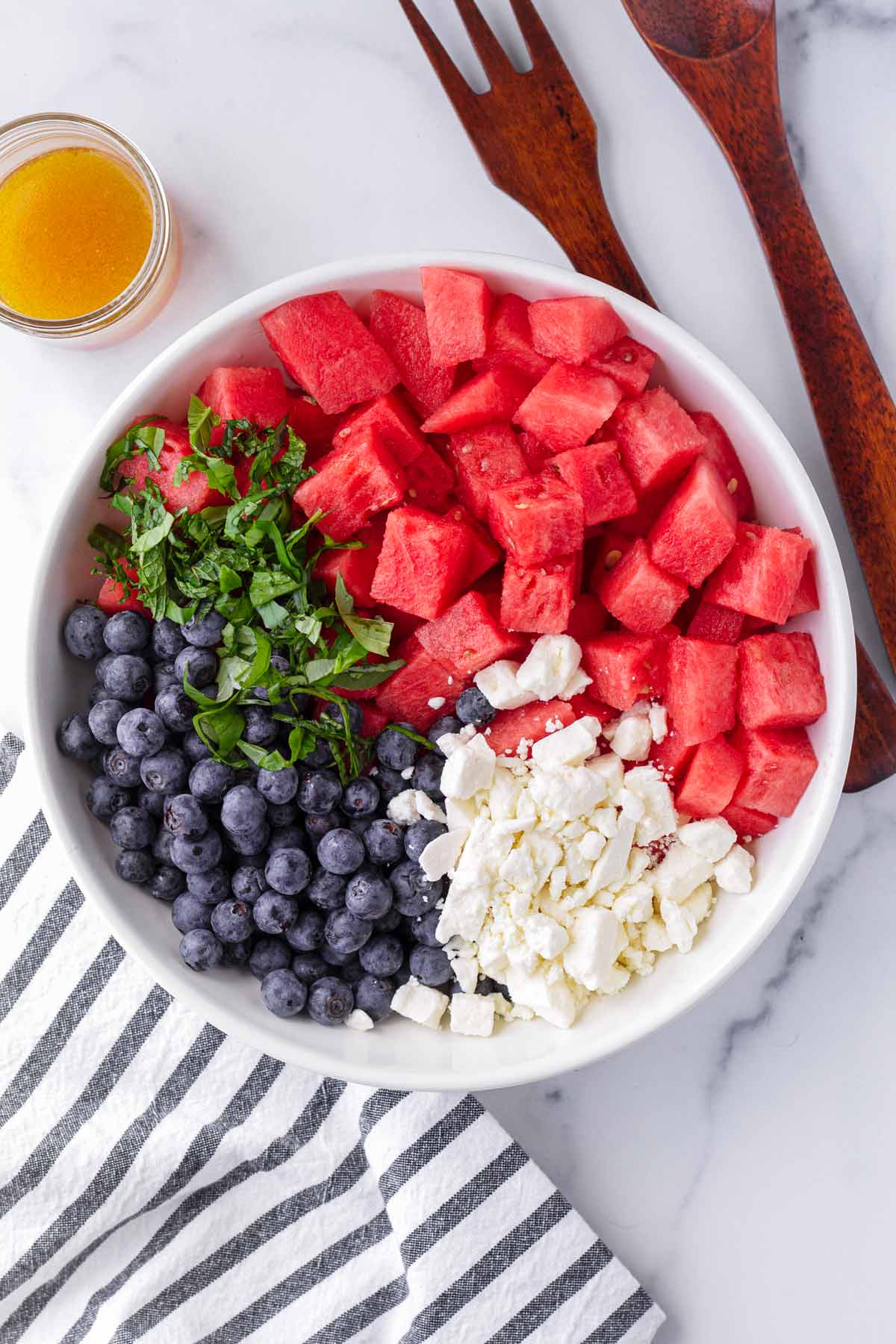 Step 3 | Toss with dressing
Drizzle the honey lime dressing over the salad and gently toss to combine. Serve the watermelon blueberry feta salad with more fresh mint and basil, if desired. That's it! super easy and simple.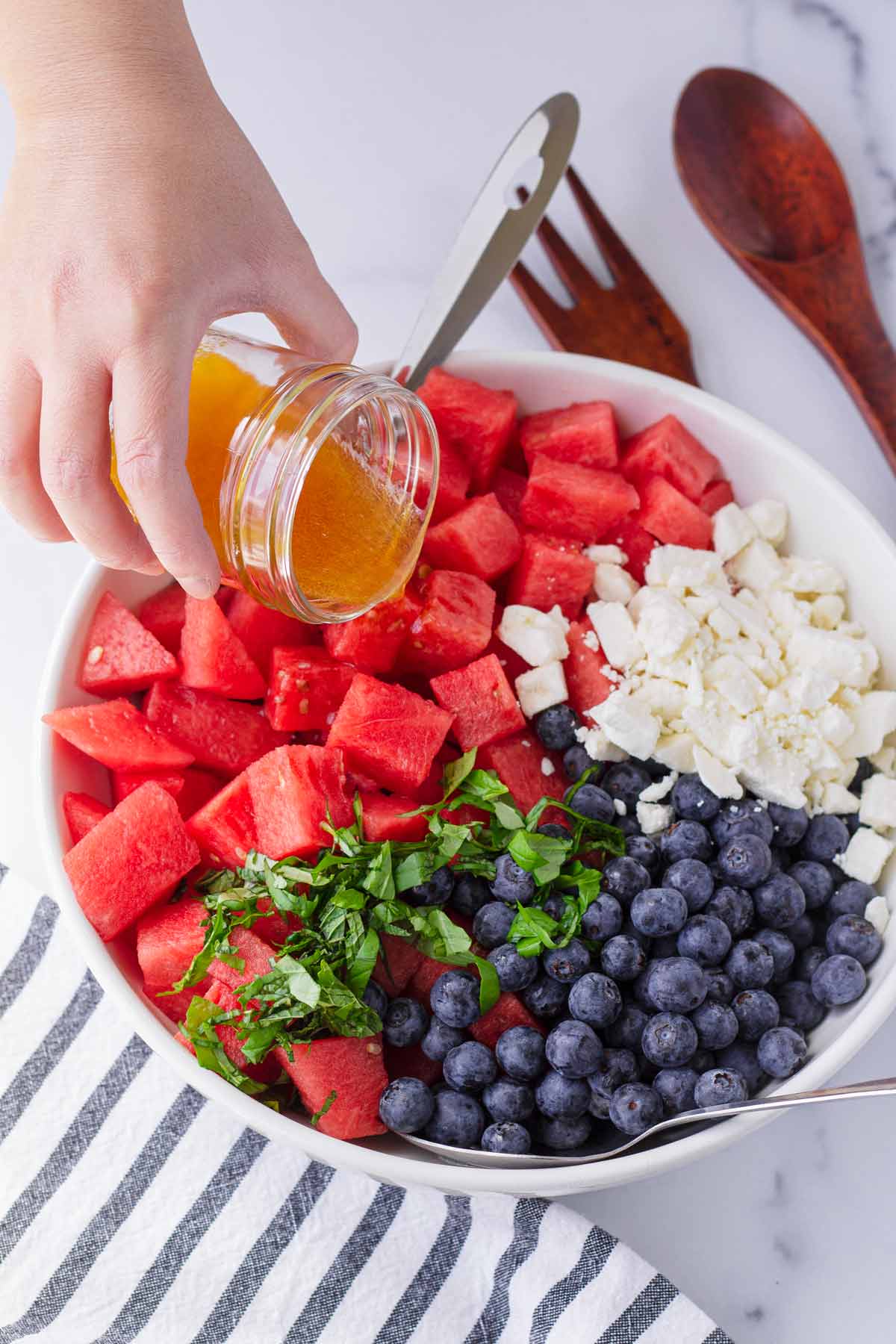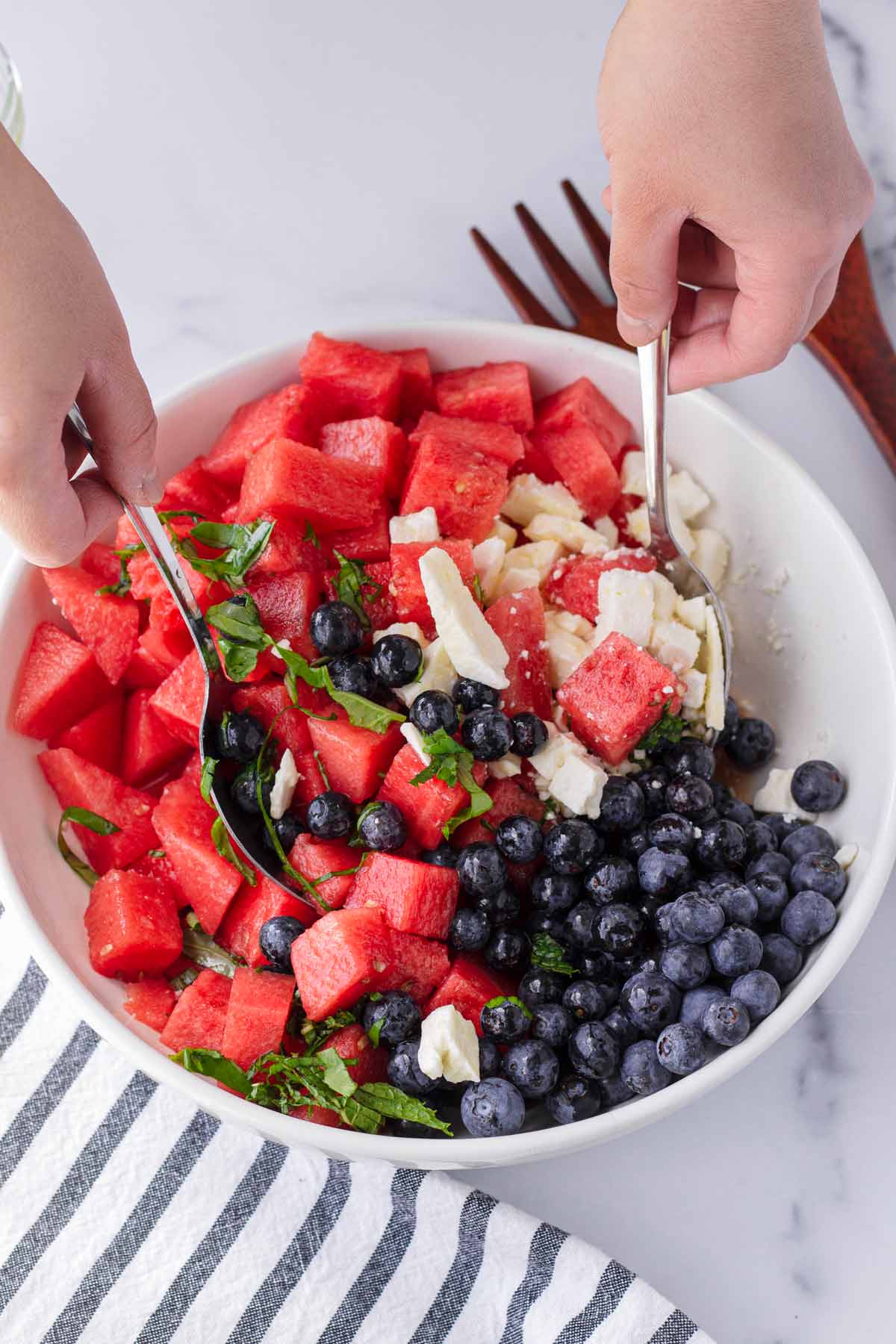 Prep Ahead Tips
I would not recommend making the entire salad in advance, as the dressing will cause the watermelon to get soggy if stored. Instead, prep all the ingredients in advance for easy assembly later:
The watermelon can be diced 1 day in advance.
The honey lime dressing can be made 1-2 days ahead.
When ready to serve, toss everything together with the prepared dressing, plus freshly sliced basil and mint.
Watermelon Feta Salad Variations
The great thing about this watermelon feta salad is that it is highly customizable. You can mix and match other ingredients to add more flavor, texture, and contrasts.
Here are a few of my favorite add-ons:
Add other fruits: Try honeydew or cantaloupe, strawberries, or blackberries.
Add refreshing veggies: Choose cool and crunchy veggies, such as cucumbers.
Add fresh red onions or pickled red onions for tangy flavors!
Finish the with a drizzle of balsamic glaze on top.
Serve on a bed of greens, such as baby arugula or mixed greens.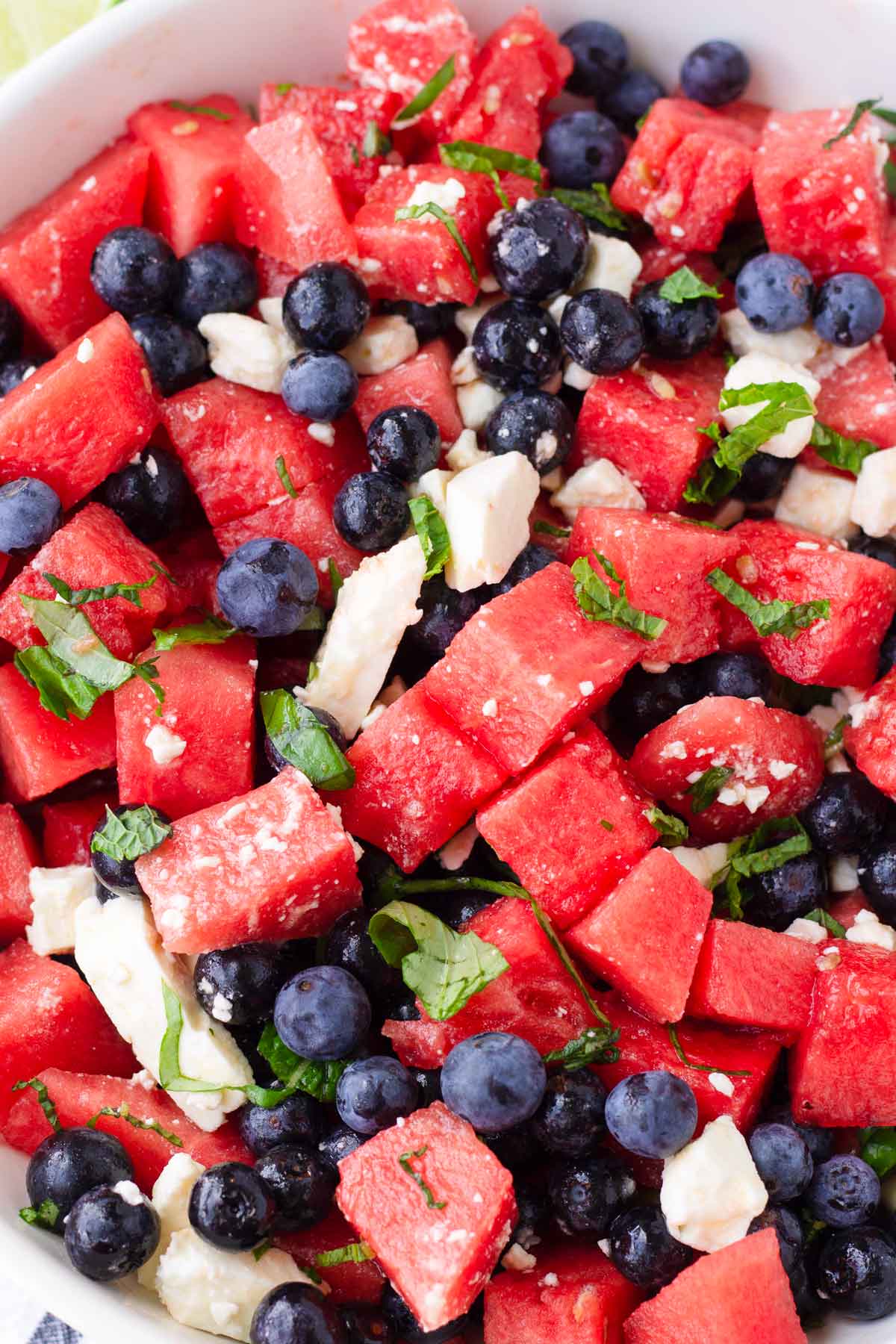 Pairing and Serving Ideas
My favorite summer cookout includes this watermelon feta salad, served with my favorite Grilled Huli Huli Chicken and Marinated Steak Kabobs.
Other great summer mains include these tender Grilled Chicken Kabobs, Hawaiian Teriyaki Burgers, and a classic American Burger.
If you're looking for more summer-inspired salads with fresh fruit, give these a try:
Recipe FAQs
Can I cut the watermelon in advance?
Yes, 1-2 days in advance should be fine, but I always recommend doing it right before serving for best results. Store pre-diced watermelon in a large container, so it's not all squished together.
Can I make the honey lime dressing in advance?
Yes, 2-3 days in advance.
Can I use frozen blueberries?
I'd recommend using fresh blueberries. Frozen blueberries will get soggy after they thaw.
How do I pick a sweet watermelon?
Find one that feels heavy for its size. When you tap it a few times, it should sound "hollow." Also, watermelons that have a yellow spot tend to be sweeter.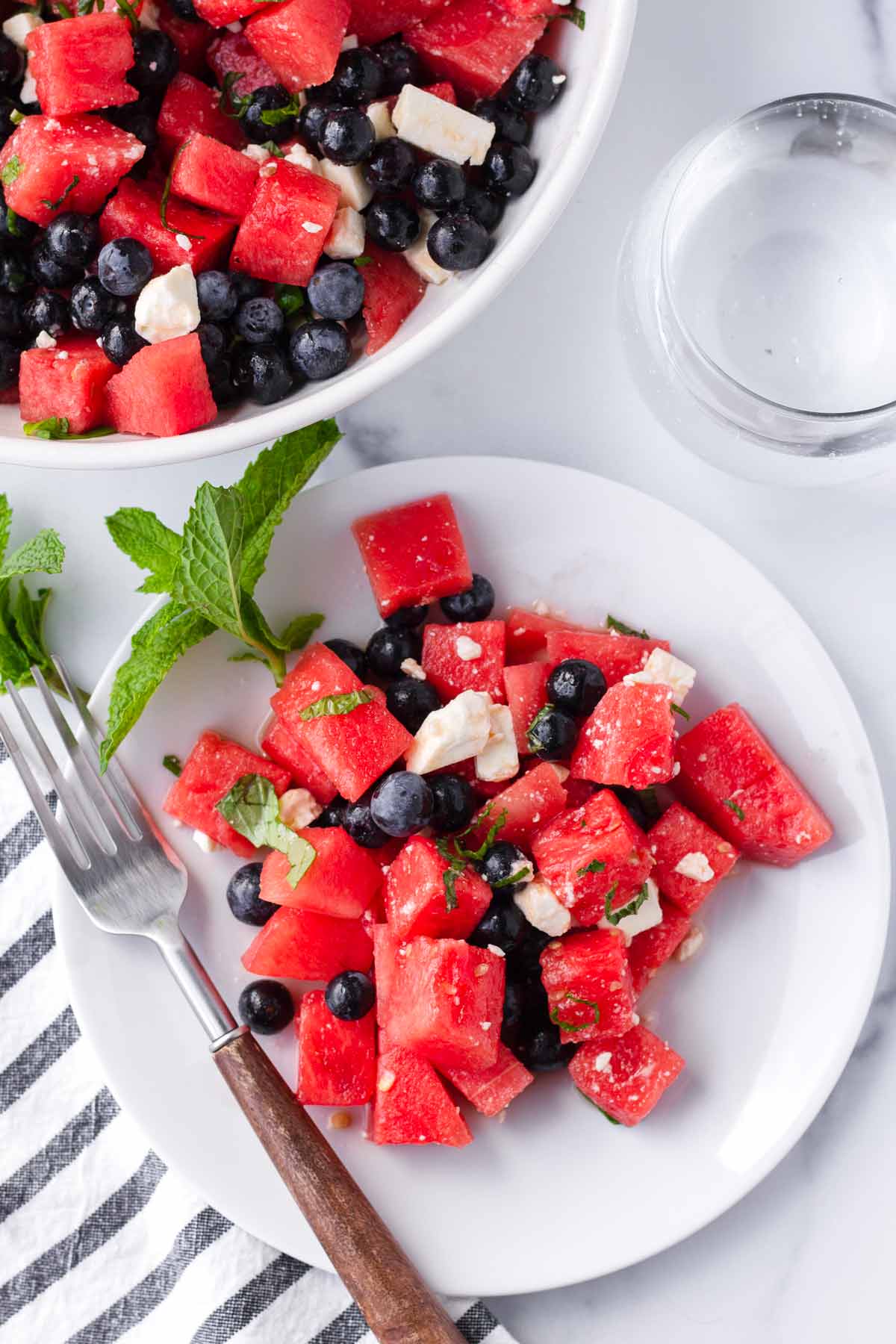 This recipe was originally published in 2019 and updated in June 2023 to include additional information and tips.
Tips for Success
For best results, buy a seedless watermelon. It's easier to eat and a good choice to make this watermelon feta salad.
To make this salad extra crisp and refreshing, refrigerate the cubed watermelon for a few hours before assembling.
Pick a ripe and sweet watermelon: Find one that feels heavy for its size. When you tap it a few times, it should sound "hollow." Also, watermelons that have a yellow spot tend to be sweeter.
Toss with the dressing right before serving so the watermelon doesn't get soggy.
This salad is best when made right before serving, but you can prep the ingredients in advance. See notes in the recipe card for details.
I'd love to hear from you! If you loved my recipe, please consider leaving a 5-star rating and a comment down below. Sign up for my newsletter and follow along on Instagram, Facebook, or Pinterest
Watermelon Feta Salad
You'll love this easy and refreshing watermelon blueberry feta salad! It takes just 15 minutes to make. It's the perfect side with for a summer cookout!
Ingredients
7 to 8

cups

seedless watermelon

-

cut into ¾ inch cubes

1 ½

cups

fresh blueberries

-

plus more to taste

1

cup

crumbled feta cheese

-

plus more to taste

Fresh mint and basil leaves, thinly sliced

-

plus more for garnish
Honey lime dressing:
Juice of 1 ½ limes

1

tablespoon

extra virgin olive oil

1 to 2

tablespoons

honey

-

to taste

A pinch of salt
Instructions
Make the honey lime dressing: In a mason jar, combine all the honey lime dressing ingredients and shake vigorously until well combined. Adjust to taste as needed.

In a large serving bowl, combine the cubed watermelon, blueberries, mint, basil, and ¾ cup of the crumbled feta. Toss with the honey lime dressing evenly.

Top with the remaining ¼ cup feta and garnish with more mint and basil leaves if desired. Serve immediately. Enjoy!
Notes
Honey lime dressing: If you want to omit the olive oil from the dressing, that's fine. Just add an extra tablespoon of fresh lime juice.
Prep ahead:

Dice watermelon and crumble the feta 1-2 days in advance. Store cubed watermelon in a large container so it doesn't get squished.
Make the honey lime dressing 2-3 days in advance.
Fresh herbs should be sliced right before serving.
When ready to serve, toss everything with the dressing.

Add-ons: Arugula, blackberries, cucumber, strawberries, red onions (raw or pickled), pistachios.
Disclaimer: Nutritional values (per serving) are approximates only.
Nutrition
Calories:
184
kcal
|
Carbohydrates:
26
g
|
Protein:
5
g
|
Fat:
8
g
|
Saturated Fat:
4
g
|
Polyunsaturated Fat:
1
g
|
Monounsaturated Fat:
3
g
|
Cholesterol:
22
mg
|
Sodium:
288
mg
|
Potassium:
290
mg
|
Fiber:
2
g
|
Sugar:
19
g
|
Vitamin A:
1287
IU
|
Vitamin C:
25
mg
|
Calcium:
145
mg
|
Iron:
1
mg