Rosemary Gruyere Potato Stacks! I love potato stacks because they are so crispy outside yet tender inside, especially when they are layered with cheese. Plus they are so fun to eat!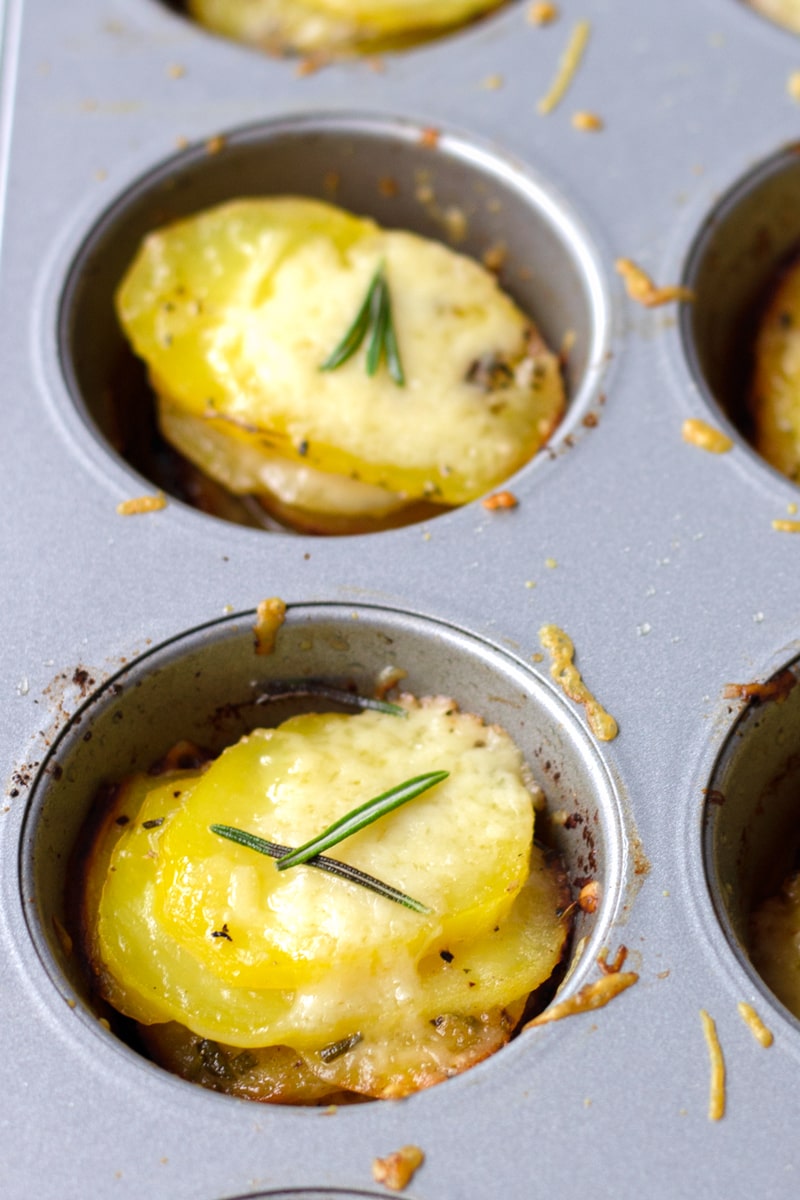 This easy potato stack recipe has become one of my favorites! The flavored baked sliced potatoes layered with shredded gruyere is just to die for. They are baked right in a muffin thin, which helps them get that beautiful crispy exterior while baking.
Muffin tin potatoes are a great way to make potatoes. Not that you'll ever be bored of mashed potatoes, but if you need ideas for potato side dishes, this muffin tin potatoes will surely be a winner.
It's the perfect side dish for any occasion. Holidays, Thanksgiving, Christmas…you name it!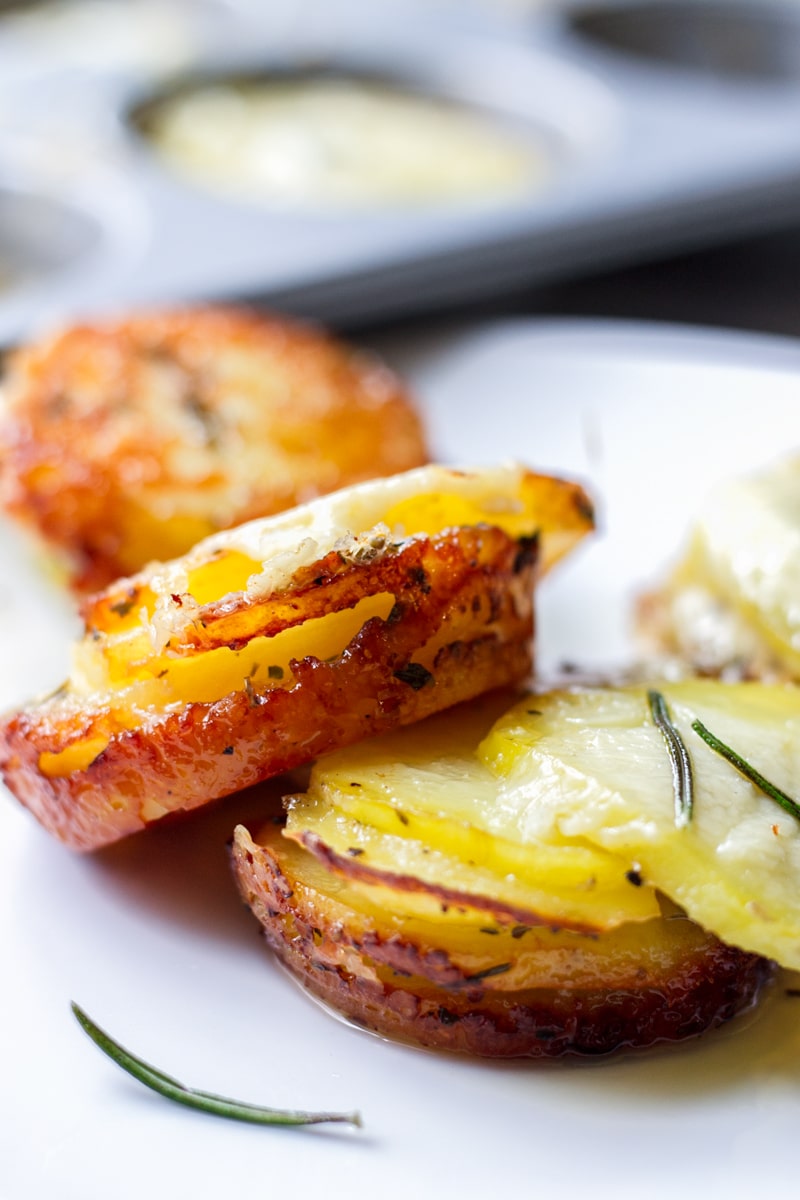 How to Make Potato Stacks
It's so easy. All you have to do is place seasoned sliced potatoes in a muffin tin, layered with cheese, and bake!
Peel and slice potatoes really thin. Some people like to keep the potato skin, that's fine too! To slice thinly, use a sharp knife (that's what I used) or a mandoline.
Place the sliced potatoes in a large bowl and season with melted butter, garlic powder, Italian seasoning, salt, and pepper. Toss to combine.
Lightly grease a muffin tin. Place 2-3 slices, then layer with cheese. Repeat. Be sure to stack them a bit taller than the muffin thin. Why? They will shrink while baking.
Bake, loosely covered with foil, about 3o minutes, until fork tender. Then top with some more cheese and bake uncovered until melted.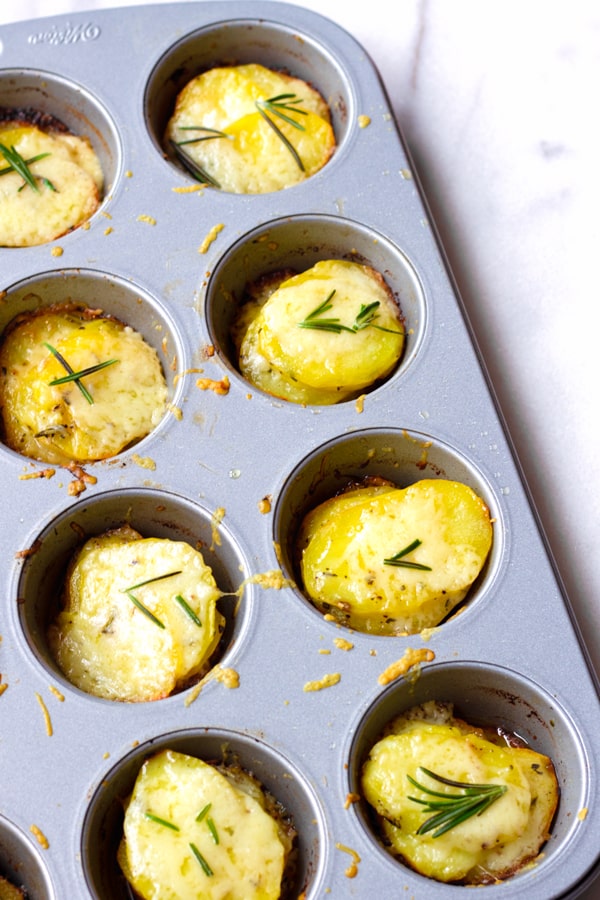 These rosemary potato stacks are so delicious! You can substitute with other cheeses too, if you prefer. Some of my favorite recommendations:
white cheddar
parmesan
asiago
What to Serve Potato Stacks With
Kitchen Tips
Use a sharp knife or a mandoline.
Use fresh rosemary for best flavors. If using dried rosemary, use less. By rule of thumb, 1 tablespoon fresh rosemary is the equivalent of 1 teaspoon dried rosemary.
Bake covered for about 30 minutes, then check that they are fork tender. If not tender yet, keep baking, covered. Once tender, you can top with more cheese and bake uncovered so the cheese melts and turns golden brown.
If you try my recipe, use #cookingformysoul on Instagram! Follow me on Pinterest, Instagram, Facebook for the latest fun updates and recipes!
Rosemary Gruyere Potato Stacks
These Rosemary Gruyere Potato Stacks are crispy on the outside and tender on the inside! And also flavored with spices and layered with delicious Gruyere cheese.
Ingredients
5 to 6

medium to large Yukon Gold potatoes

1/4

stick

unsalted butter, melted

1

teaspoon

fresh rosemary, chopped

1

teaspoon

dried Italian seasoning

1/2

teaspoon

garlic powder

Salt and pepper to taste

1 1/2

cups

shredded Gruyere cheese
Instructions
Preheat oven to 375 degrees F.

Peel potatoes and trim the edges with a knife to form a rough circle the size of the each muffin tin round. Slice thinly with a knife or a mandoline slicer.

Place sliced potatoes in a large bowl. Season with melted butter, rosemary, Italian seasoning, garlic powder, and salt and pepper to taste.

Butter the muffin thin. Place 2-3 potato slices, some cheese. Repeat until each stack is only a bit taller than the muffin tin.

Cover with aluminum foil and bake for about 30 minutes. Uncover, sprinkle more cheese on each stack and bake for another 5-10 minutes until melted and edges are golden brown.