This Stuffed Acorn Squash with a Wild Rice and Mushroom pilaf is the perfect Thanksgiving side. This is one of my best acorn squash recipes. Perfectly fragrant roasted acorn squash stuffed with a delicious wild rice and mushroom pilaf.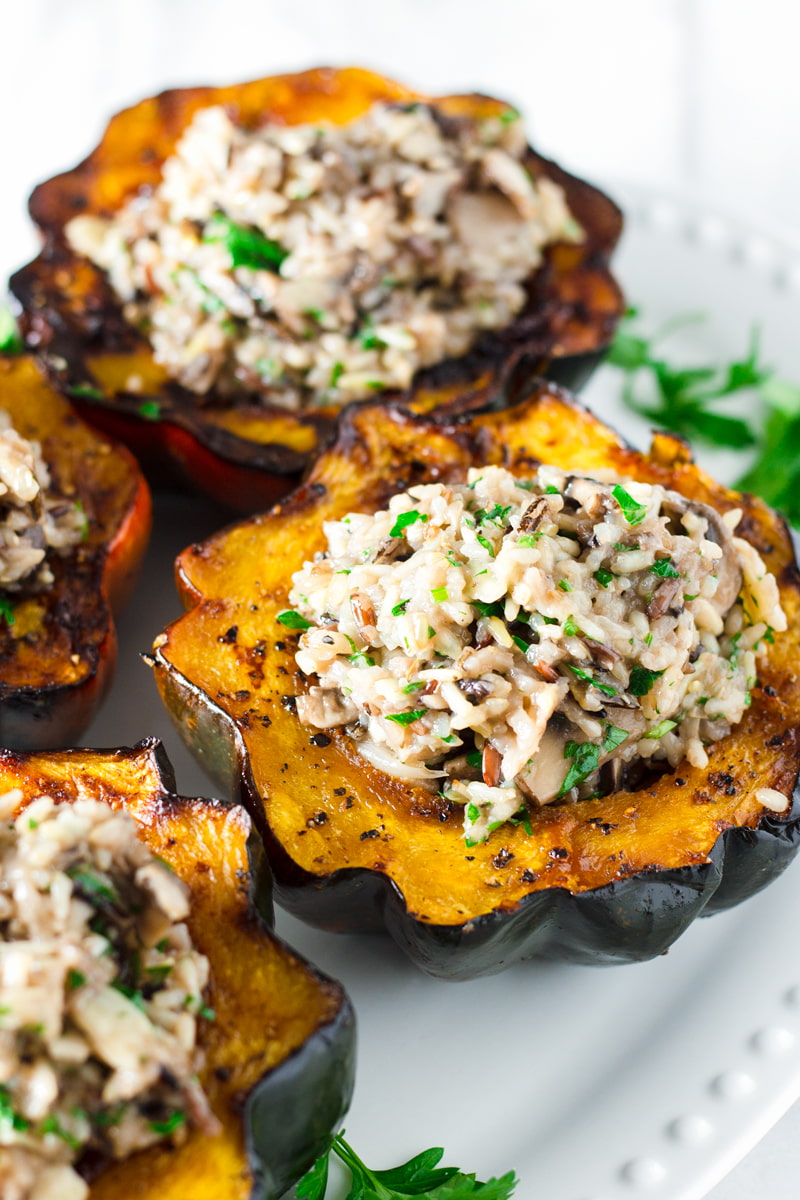 Everyone is looking for Thanksgiving recipes now. It's that time of the year when all the preparations for hosting family and friends are in motion, and I have the perfect Thanksgiving side recipe for you. It's a delicious stuffed acorn squash with a yummy wild rice pilaf. It's cozy, fun, and full of delicious seasonal ingredients.
So let's get started! I'll show you how to cut acorn squash, how to roast acorn squash, and also how to make the perfect wild rice and mushroom pilaf! 🙂
How To Cut Acorn Squash
Cutting an acorn squash is actually really easy. It requires a sharp knife and some strength!
Here are step-by-step instructions on how to cut an acorn squash:
Wash the acorn squash.
Get a sharp knife. It will make your life easier, and it's much safer.
Cut the squash by half, lengthwise or widthwise. I prefer widthwise (see image below) because it makes it look prettier.
Cut a small flat surface at the bottom of each half (see below) so that the squash can stand on its own.
Scoop out the seeds with a spoon.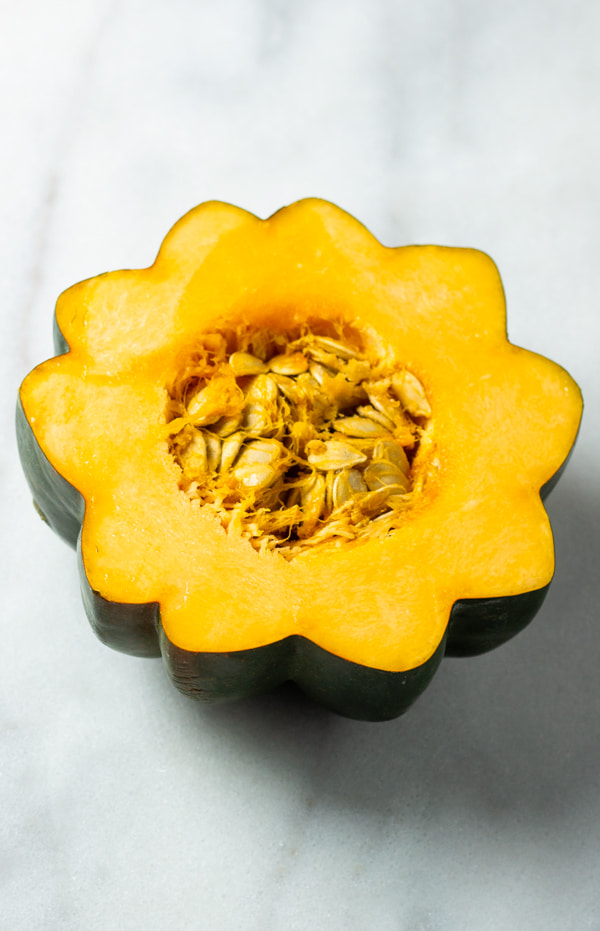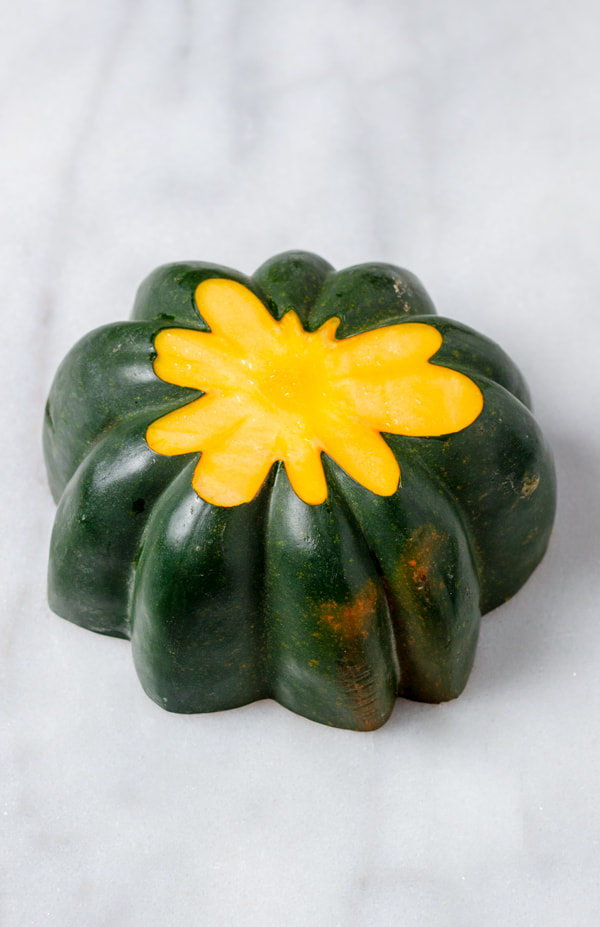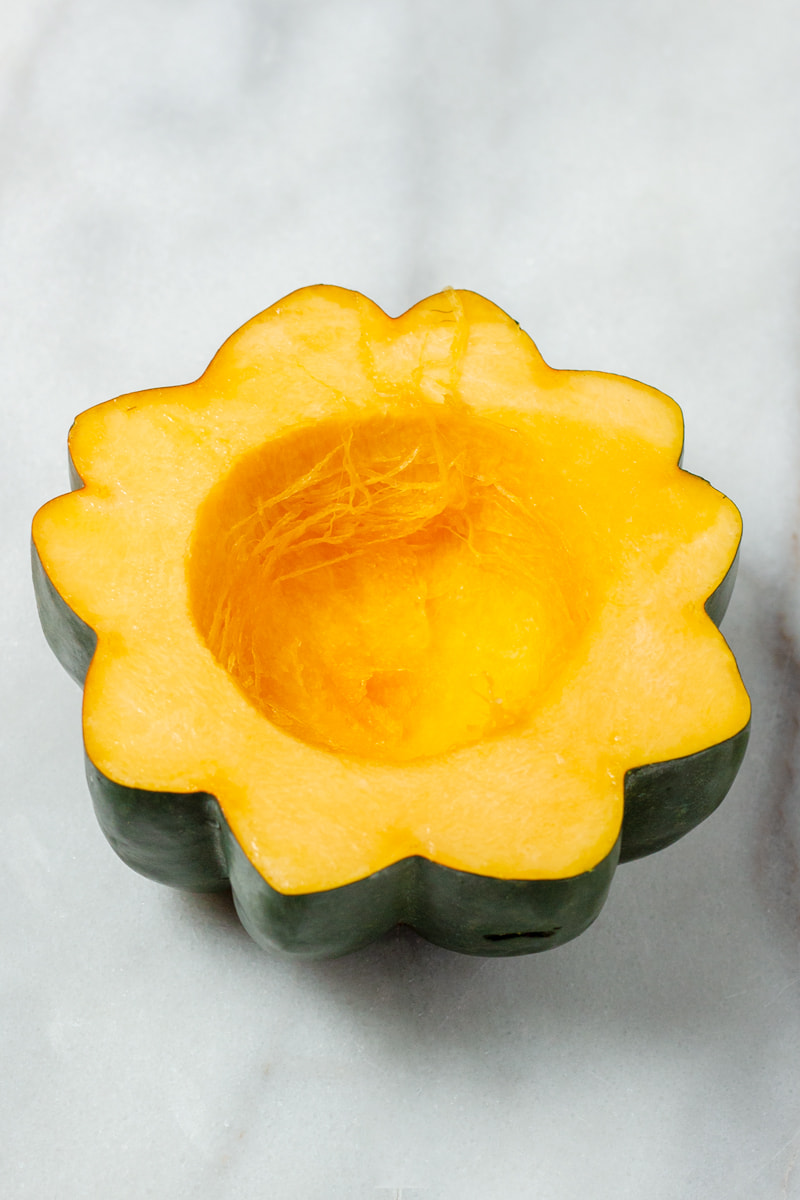 How To Roast Acorn Squash
Roasting acorn squash is my favorite way of cooking it. It brings out the true flavors of this amazing vegetable. And it's super easy!
Preheat oven to 450 degrees F.
Cut the acorn squash per the instructions above.
After you scoop out the seeds, brush with olive oil the bottom surface of the squash, and the top surface, including the cavity.
Season with salt and pepper.
Place the larger flat side down on a sheet pan, and roast for about 25-30 minutes.
After you flip them, they should be browned and slightly caramelized, like the below.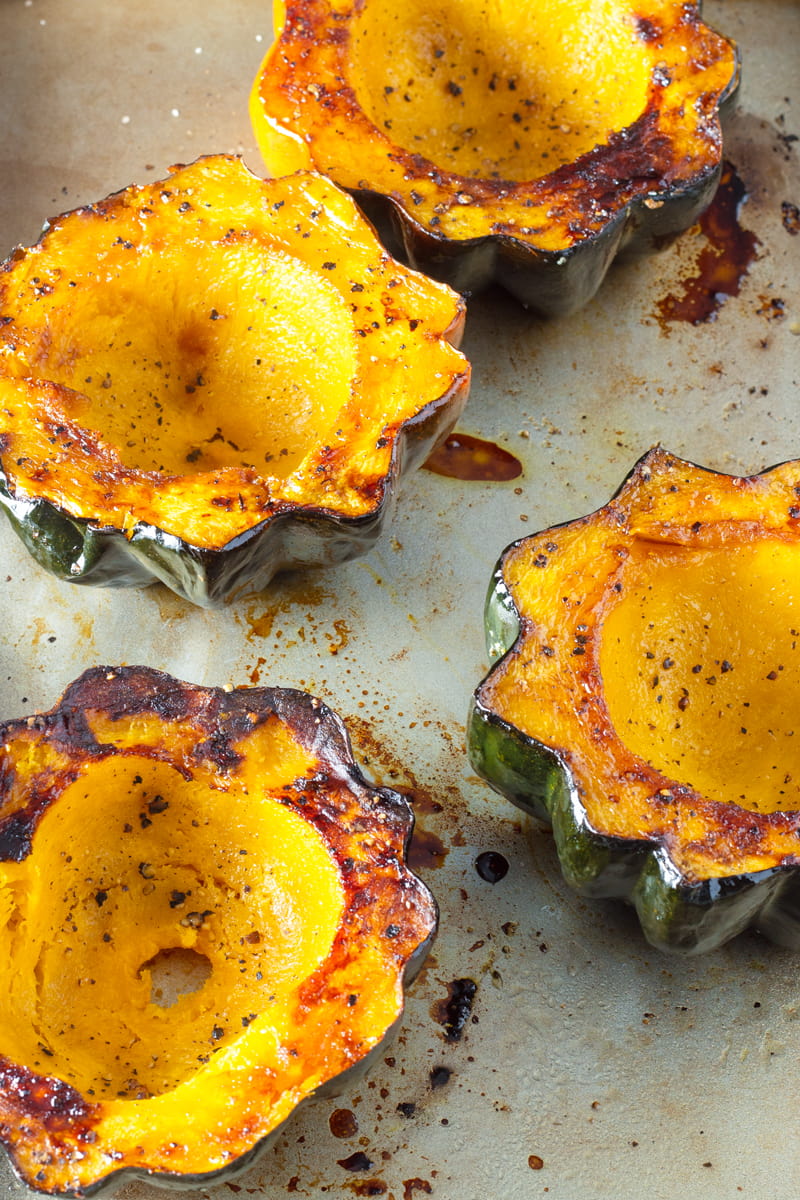 Alrighty, so that's how you prepare squash! If you have any questions on how to cut and roast acorn squash, please comment below. It's so easy. And while the squash roasts, your house will smell like heaven!
So, now let's talk about that delicious wild rice pilaf. It's so fragrant, delicious, and awesome. If you've never had wild rice before, let me tell you that it's amazing. The texture is a little bit on the chewy and firm side. It takes a bit longer to cook than regular brown or white grain rice, but worth the wait! Trust me!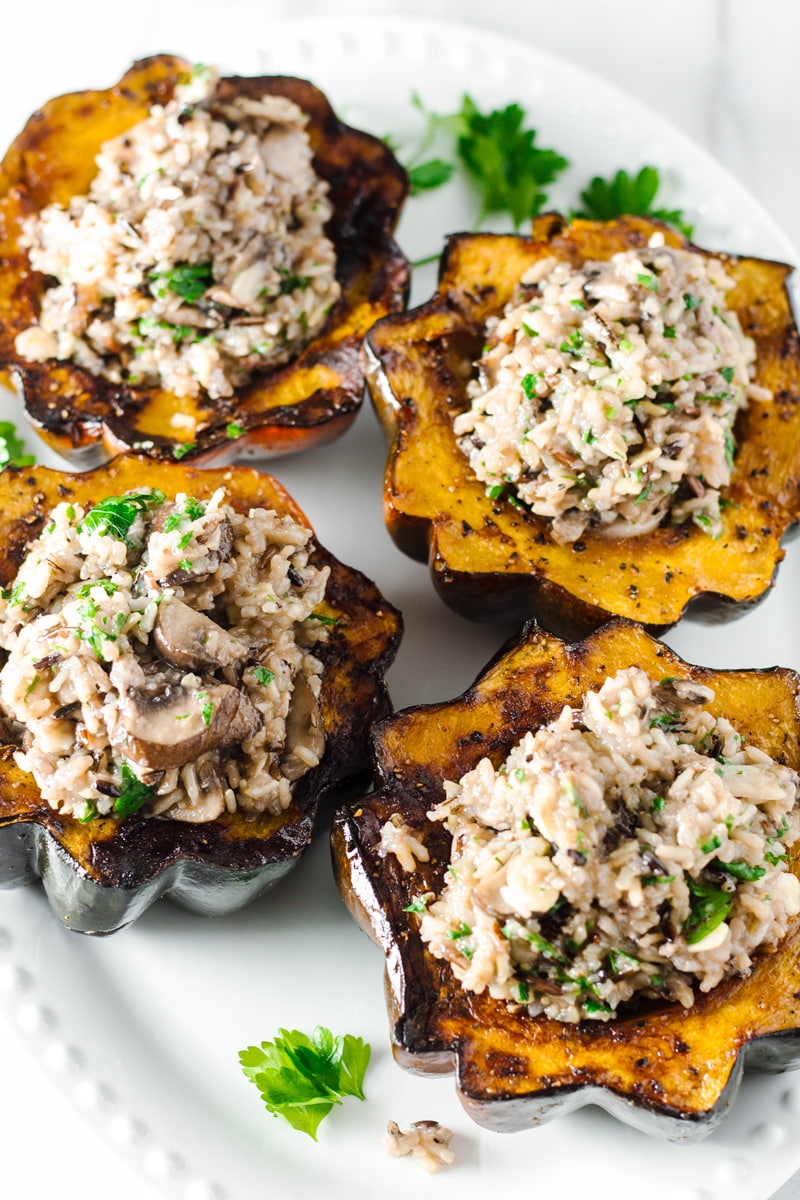 How To Make Wild Rice and Mushroom Pilaf
Make your base and aromatics: heat olive oil and/or butter, and sauté diced onions and minced garlic with spices, such as thyme, until softened and fragrant.
Add the sliced mushrooms: sauté the mushrooms along with the onions and garlic, and season with salt and pepper.
Add some white wine: this will give it depth in flavor.
Add the rice and "toast": stir in rice and cook for a few minutes to bring out its nuttiness. Add a few drizzles of olive oil. This will prevent the grains from sticking while cooking.
Add the liquid: I added about 1 1/2 cups of wild rice blend and 3 cups broth, so a 1:2 ratio. Bring to a boil.
Simmer undisturbed: once boiling, bring down to low simmer. Cover and let it cook undisturbed for 45-50 minutes. If you stir it while cooking, it will become gummy.
Let it steam: remove from heat and let it steam for about 10 minutes. Fluff with a fork.
Add-ons: add parsley and sliced almonds.
How To Tell When Wild Rice Is Done
These are signs that the wild rice blend grains are ready:
the grains have burst open in half
it's a little bit chewy yet soft at the same time
Wild rice takes some time to cook, and about 45 minutes is the minimum, I've found.
If the wild rice grains are butterflied and curled backwards, that's a sign that it's overcooked and mushy.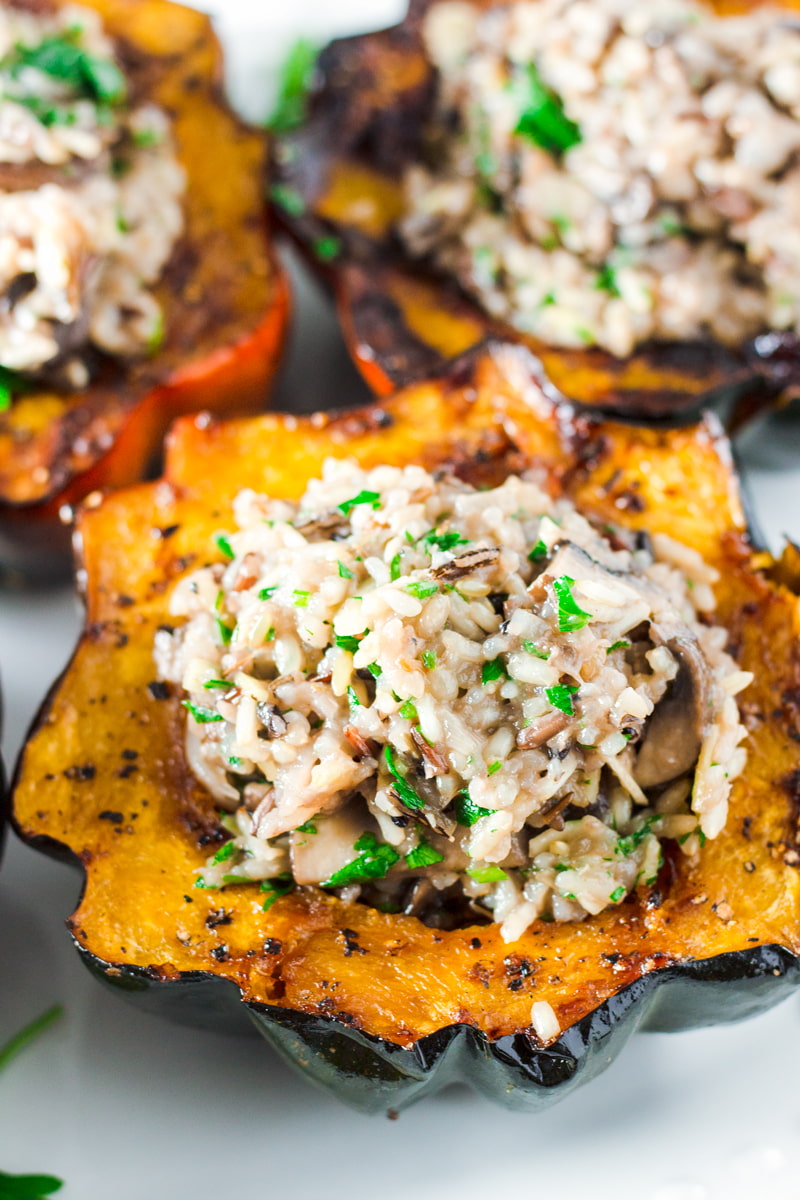 That's all! Happy cooking y'all!
And don't forget to pin this recipe! 🙂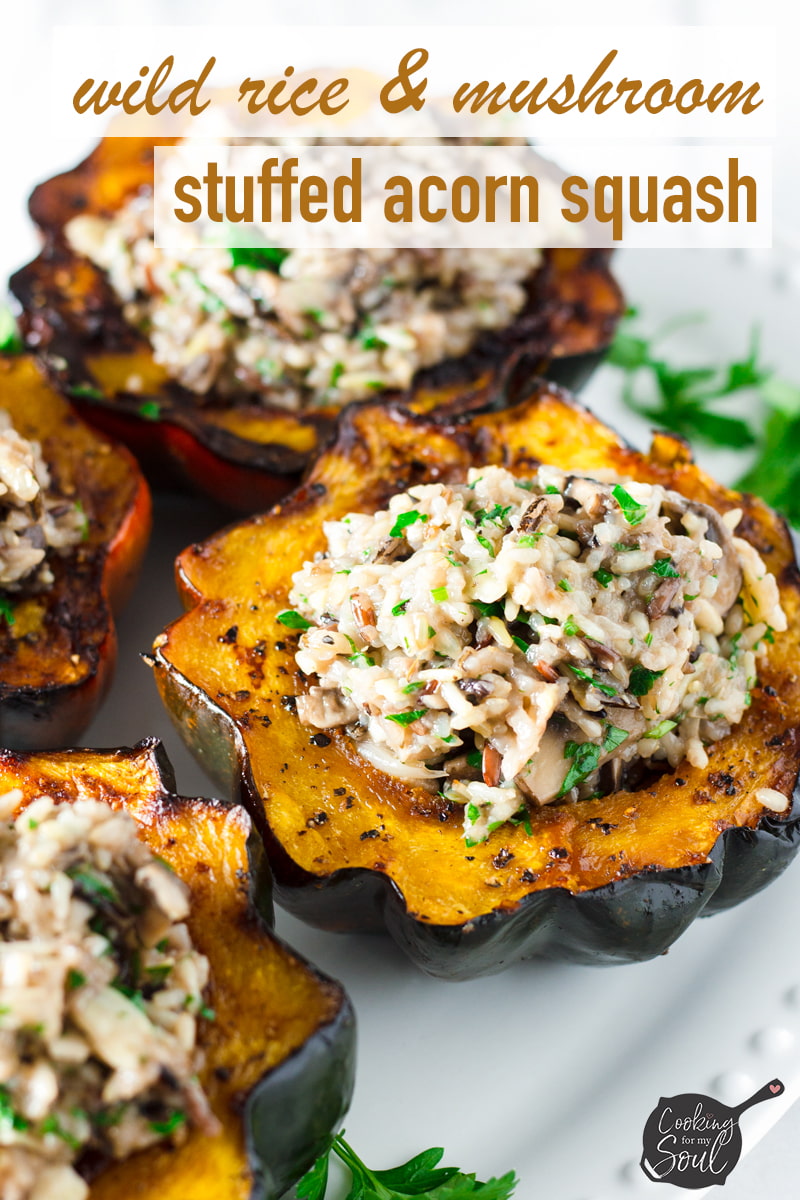 Kitchen Tips
Pick a good squash: choose one with a smooth exterior, with a dull rind. If too shiny, it's not ripe yet. Avoid acorn squash with lots of yellow, as this indicates it is overripe.
For extra depth in flavor, use a combination of unsalted butter and olive oil to sauté the onions.
Be sure to not stir the rice pilaf while it's cooking. If you do that, the texture will be like risotto.
Taste the rice pilaf for doneness at 45 minutes. If you like the texture, then it's ready.
If you try my recipe, use #cookingformysoul on Instagram! Follow me on Pinterest, Instagram, Facebook for the latest fun updates and recipes!
Stuffed Acorn Squash with Wild Rice and Mushrooms
This stuffed acorn squash recipe is perfect for a Thanksgiving side. Stuffed with a wild rice and mushroom pilaf.
Ingredients
2

acorn squashes

Salt and pepper

Olive oil

5

cloves

minced garlic

1

medium yellow onion

2

tablespoons

olive oil

2

tablespoons

unsalted butter

1/2

teaspoon

dried thyme, or 1 teaspoon fresh thyme

1 1/2

cups

wild rice blend

8

oz

baby bella mushrooms, sliced

(about 2 cups)

3

cups

vegetable or chicken broth

1/4

cup

white wine

1/2

cup

sliced almonds, crushed

1/2

cup

finely chopped parsley
Instructions
Preheat oven to 450 degrees F.

Cut each acorn squash in half (widthwise; creating a semi flat surface). Then cut a small flat surface at the bottom of each half, so that the squash can stand on its ownScoop seeds out. See section above on how to cut an acorn squash.

Drizzle and brush with olive oil, and season with salt and pepper to taste. Roast on a sheet pan, flat side down (larger flat side), for about 25-30 minutes, until golden brown and tender. Remove from oven, flip, and let it cool.

While the squash is roasting, prepare the rice pilaf. In a medium saucepan, heat olive oil and butter to medium heat. Add onions, and cook until translucent and soft, about 5 minutes. Then add garlic and thyme, and cook for another 2-3 minutes, until fragrant. Add mushrooms and cook for 1-2 minutes, stirring.

Add wine and cook until reduced. Add rice and cook, stirring, for about 2-3 minutes until it's nutty fragrance is release. Add chicken or vegetable broth, and bring to a boil. Then simmer, covered, on low for about 45-50 minutes, or until rice is cooked to your liking. Remove from heat and let sit for 10-15 minutes. Stir in almonds and parsley.

Fill each acorn squash with the rice pilaf. Top with more parsley and almonds, if desired. Enjoy!